Greece is a popular destination for travellers seeking a blend of history, culture, and breathtaking landscapes. One such gem is Corfu, an idyllic island nestled in the Ionian Sea. With its stunning coastline, vibrant atmosphere, and rich history, it's no wonder that tourists flock to Corfu from all corners of the globe. As the capital city, Athens often serves as a starting point for many visitors, leading to the question: what is the best way to travel from Athens to Corfu?
There are several options available to travellers looking to make their way from Athens to Corfu. The easiest and most direct method is by air, with flights leaving from Athens Eleftherios Venizelos International Airport (ATH) and arriving at Ioannis Kapodistrias International Airport (CFU) in Corfu in just an hour. This quick journey allows for more time to explore both destinations without sacrificing too much time in transit.
Another popular way to reach Corfu is to combine land and sea travel, where visitors can take a bus or drive a car to Igoumenitsa and then hop on a ferry to the island. While this option takes longer than travelling by plane, it provides an opportunity to enjoy the scenic route and explore other parts of Greece along the way. Ultimately, the choice comes down to individual preferences and time constraints, allowing for a personalised, unforgettable adventure as you journey from the historical centre of Athens to the picturesque shores of Corfu.
Transport Options
Flying to Corfu
The most time-efficient way to travel from Athens to Corfu is by air. The journey usually takes around 1 hour. Flights are available from Athens Eleftherios Venizelos International Airport (ATH) to Ioannis Kapodistrias International Airport (CFU) in Corfu. Airlines that operate this route include:
It is recommended to book your tickets in advance to get the best fares, which typically range between €40 and €240.
Ferry Services
Another option to get from Athens to Corfu is by using a combination of bus and ferry services. The journey takes approximately 6 hours and costs between €35 and €55. Here is a step-by-step guide for this journey:
Take a bus from Athens to the port of Igoumenitsa. Green Buses operate this route, and timetables can be found on their website.
Upon arrival at the Igoumenitsa port, board a ferry to Corfu (Kerkyra). Several ferry companies operate this route, with different schedules and prices.
It is essential to check the timetables and availability of both the buses and ferries to ensure a smooth journey. Combining bus and ferry services allows travellers to enjoy a more scenic route and experience different modes of transportation while exploring Greece.
Travel by Land
Bus Travel
Travelling by bus is an affordable option to get from Athens to Corfu. The journey involves taking a bus from Athens to the port city of Igoumenitsa, and then a ferry to reach Corfu Island. Buses from Athens to Igoumenitsa run frequently throughout the day, with the total travel time, including the ferry, taking approximately 10-12 hours.
Tickets for the bus and ferry can be booked in advance, either online or at the bus station. Prices for a one-way trip may range between €30 – €60, depending on the time of booking and travel season.
To make your bus journey more comfortable:
Book your tickets in advance to secure a seat
Bring snacks and water, as there are limited options available during the trip
Carry a neck pillow and a light blanket for more comfortable sleeping
Car Rental
If you prefer to travel by car, renting a vehicle in Athens and driving to Corfu can provide a more flexible and scenic journey. The distance between Athens and Corfu is approximately 234 miles (377 km), and the drive takes about 6-7 hours, without including stops and rest breaks.
Upon reaching Igoumenitsa, you'll need to take a car ferry across to Corfu Island, usually available throughout the day. Ferry tickets for passengers with vehicles cost around €50 – €100, depending on the car size and travel season.
Keep in mind the following tips for a smooth car rental experience:
Compare car rental prices on various platforms to find the best deal
Check the fuel policy, insurance, and additional fees before booking
Make sure to have a valid driver's licence and familiarise yourself with local driving regulations
Remember to plan your route in advance, and include any stops or sights you'd like to see along the way to make your journey between Athens and Corfu more enjoyable.
Budget Considerations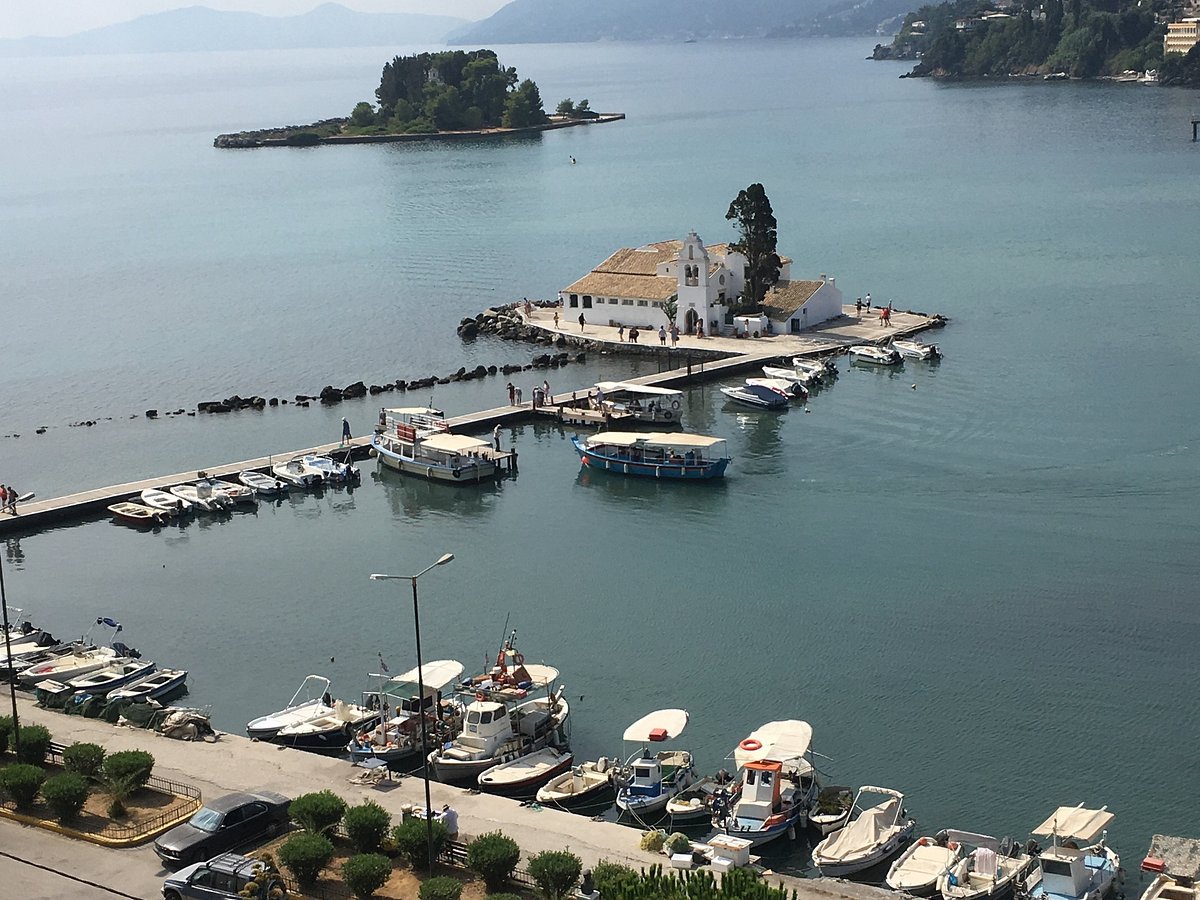 When planning your trip from Athens to Corfu, it's essential to consider the costs associated with each mode of transportation. This section will provide an overview of the costs associated with both flights and ferries to help you make an informed decision during your travel planning.
Flight Prices
Taking a flight is the quickest way to travel between Athens and Corfu, with a duration of approximately 1 hour. There are a few airlines flying this route, including Olympic Air, Ryanair, and Sky Express. Prices for a one-way ticket can range from €40 to €240, depending on the time of booking, airline, and availability. It's essential to book early to get the best deals on flights. Consider monitoring airline websites and using travel comparison platforms for any special offers or discounts.
Ferry Rates
Alternatively, you can travel from Athens to Corfu by bus and ferry. This option usually takes around 6 hours and costs between €35 and €55 per person. The journey includes taking a bus from Athens to a port where you'll board a ferry to Corfu. The ferry rates vary depending on the season and the type of seat or cabin selected for the trip. While not as fast as flying, the ferry option allows you to enjoy the beautiful views of the Greek coastline and islands along the way.
In summary, both flights and ferries offer different price points and travel experiences. Early bookings and monitoring for special offers can help you reduce costs and enjoy your journey from Athens to Corfu within your budget constraints.
Travel Time Comparison
There are various ways to travel from Athens to Corfu, each offering different travel times and levels of convenience. Here is a brief comparison of some methods of transportation and their respective durations.
By Plane: The quickest way to travel between the two destinations is by plane. The flight takes about 1 hour, with airlines like Olympic Air, Ryanair, and Sky Express offering direct services. However, it is necessary to take into consideration travel time to and from the airports, as well as the recommended 90 minutes for check-in and boarding procedures.
By Bus and Ferry: A popular option for those wanting to experience the scenic view provided by the bus and ferry. The journey comprises a 5-6-hour bus ride from Athens to Igoumenitsa and then a 1.5-2-hour ferry ride to Corfu. This method may take up to 8 hours, inclusive of transfer and waiting time. The KTEL (Green Buses) operates the intercity buses, while several ferry companies provide services from Igoumenitsa to Corfu.
By Car and Ferry: For travellers who prefer to have more control over their itinerary and schedule, driving from Athens to Corfu could be a favourable option. The driving distance between the two cities is approximately 500 km, which may take around 6-7 hours, excluding rest stops. Once in Igoumenitsa, travellers will need to board a ferry for the final leg to Corfu, adding an additional 1.5-2 hours to the journey.
By Car: An alternative method, although not recommended, is to drive the entire distance from Athens to Corfu. The route involves driving through northern Greece and Albania, followed by the coastal roads of the Ionian Sea. However, given the long driving distance of approximately 760 km, the total travel time can extend up to 10-12 hours without accounting for stops or potential delays.
In summary, the choice of travel method between Athens and Corfu significantly influences the duration and overall experience. Fly for a quick and convenient journey, opt for the bus and ferry combination for a more scenic route, or choose the car and ferry option for greater flexibility and control over your trip.