Nestled in the southern part of Rhodes, Greece, lies the quaint village of Asklipio. This charming destination offers visitors a rich historical experience through its notable sites, including an impressive Byzantine church and a medieval castle. Just a stone's throw away from the rapidly developing resort of Kiotari, Asklipio is an ideal location for travellers seeking a unique blend of history and relaxation.
One of Asklipio's must-see attractions is the castle that was built in 1479 by the Knights of St John. Grand Master D'Aubusson ordered its construction on the site of an ancient lighthouse. The castle's impressive walls measure 1.5 metres thick, and the ruins of many ancient buildings can be found within its grounds, offering visitors a glimpse into the past.
To make the most of your visit to Asklipio, ensure you take some time to stroll through the village's picturesque streets, soak in the local atmosphere, and discover the hidden gems that make this destination so unique. With free parking available in the village and the castle just a 10-minute walk away, exploring this captivating location has never been easier.
History of Asklipio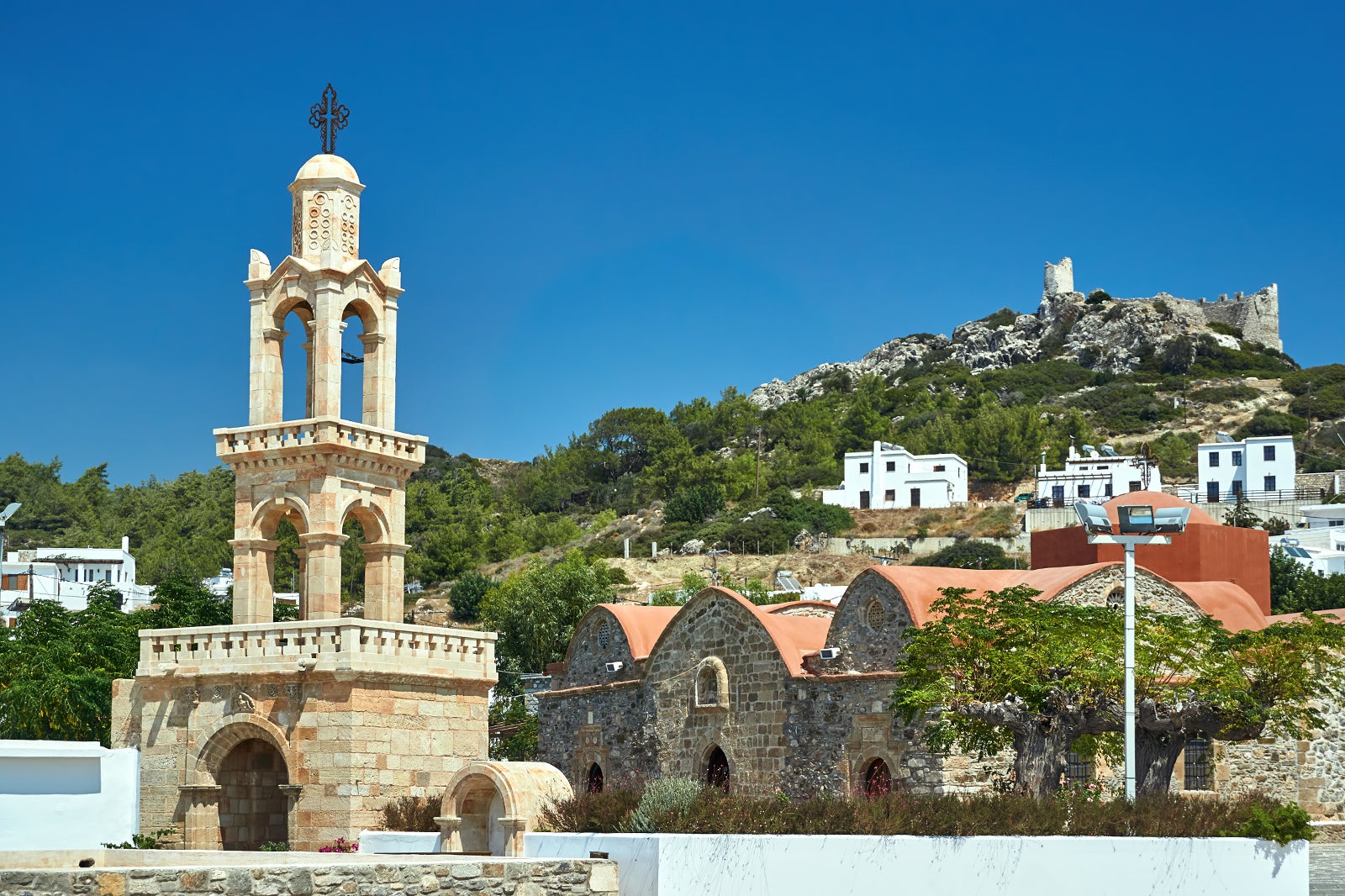 Asklipio is a small, quaint mountainous village located 64 km southeast of the capital of Rhodes. Built amphitheatrically, this charming village showcases the unique natural surroundings of the area. Asklipio dates back to the ancient times and has an interesting history worth exploring.
The most notable feature of Asklipio is the Medieval Castle, which was built by the Knights of Saint John in the 13th century. This castle, known as the Castle of Asklipios, is a Knightly fortress, and although only ruins remain today, it is still worth visiting. The castle offers lovely views across the valley, providing a glimpse into the past.
In the centre of the village stands a splendid church dedicated to the Virgin Mary, a testament to the village's Byzantine past. This beautiful structure showcases the architectural prowess of the era and is a must-see for history enthusiasts. Additionally, visitors can find an old Olive press which has been transformed into a Folklore Museum, offering an insight into the traditional way of life in the village.
While visiting Asklipio, one can fully appreciate its rich history, from the ancient times to the medieval period, through the Byzantine church, the medieval castle, and the Folklore Museum. These historical sites provide visitors with a comprehensive and exciting journey through the village's captivating past.
Visiting Asklipio: Everything You Need to Know
How to Get to Asklipio
Asklipio is a village on the island of Rhodes, Greece, and getting there is fairly simple. It is essential to understand the various methods of transportation available. This guide focuses on how to get to Asklipio, so you can plan your journey more effectively.
By Air
Rhodes has an international airport, Diagoras International Airport (RHO), which connects the island to various European cities. From the airport, you can rent a car or take a taxi to Asklipio. The distance between the airport and Asklipio is approximately 40km, and the journey should take around 50 minutes by car.
By Land
There are a few options to reach Asklipio by land:
Car rental: Renting a car is a convenient way to get to Asklipio and explore the beautiful landscapes of Rhodes. You can rent a car at the airport or from various rental agencies in Rhodes town.
Taxi: Taxis are available at the airport, Rhodes town, and major tourist locations. You can also book a taxi in advance for a hassle-free journey to the village.
Public transportation: Buses on Rhodes connect the towns and villages, but be aware that the frequency and schedule may vary. Check the local bus timetable for accurate information on reaching Asklipio from your starting point.
Remember to plan your journey according to the transportation method that best suits your needs and preferences. Enjoy your visit to Asklipio and its historical and cultural attractions.
Accommodation Options
When visiting Asklipio, you have various accommodation options to choose from. As the village is situated in the southern part of Rhodes, some visitors may prefer to stay in the rapidly developing resort of Kiotari, which is not too far away from Asklipio. Kiotari offers a range of hotels and resorts, suitable for different tastes and budgets.
In addition to staying in Kiotari, visitors can also consider booking accommodations in the nearby villages or the main capital, Rhodes town. As Asklipio is located 64 km southeast of Rhodes, travellers can choose from a broader selection of hotels and rentals by staying in the capital or nearby areas.
Several popular accommodation options in the area include:
Condos: Self-contained apartments with all the necessary amenities for a comfortable stay, allowing travellers more flexibility and privacy during their visit.
Apartments: Similar to condos, apartments provide a home-away-from-home experience with private living spaces, bedrooms, and kitchens.
Houses: For larger groups or families, renting a house might be a more suitable option, providing extra space and private facilities.
Hotels: Ranging from basic to luxury, hotels usually offer a range of amenities, such as pools, restaurants, and concierge services.
Pet-friendly accommodations: If you plan to bring your furry friend along, look for accommodations that specifically cater to allowing pets.
It is recommended to book accommodations well in advance, especially during peak travel seasons, to ensure availability and secure your preferred lodging options. Using online booking platforms is an easy way to compare different accommodation types, read reviews, and find the best deals for your visit to Asklipio.
Must-See Attractions
Visiting Asklipio on the Greek island of Kos offers a unique opportunity to explore ancient medical history and the birthplace of modern medicine. In this guide, we will take a look at two key attractions of Asklipio: the Asclepeion and Hippocrates' House.
Asclepeion
The Asclepeion is a must-see attraction in Asklipio. a temple dedicated to Asclepius, the ancient Greek god of medicine. Constructed in the 4th century BC, this ancient healing centre is where legendary physician Hippocrates is said to have been trained.
Spread over three levels, the Asclepeion features stunning architecture, such as Doric columns and archways. Visitors can also enjoy panoramic views of the surrounding countryside from the top level. Take your time to explore the site and immerse yourself in the history of this fascinating archaeological gem.
Hippocrates' House
Another essential stop in Asklipio is Hippocrates' House, situated in the modern village of Asklipion. As the birthplace of Hippocrates, the "Father of Medicine," this location holds a special significance in medical history.
The house has been transformed into a small museum, displaying ancient medical tools, copies of Hippocrates' original writings, and informative exhibits about the life and work of this remarkable physician. Don't miss the chance to learn more about the man whose teachings shaped the foundations of modern medicine.
While exploring Asklipio, keep the following points in mind:
Wear comfortable shoes as the terrain may be uneven
Bring sun protection (hat, sunglasses, sunscreen) for sunny days
Respect the archaeological sites by not climbing on fragile structures
Visit early in the day or late afternoon to avoid the midday heat and crowds
Take your camera to capture the beauty of the sites and the landscape
Remember to stick to a confident, knowledgeable, neutral, and clear tone of voice, and use British English spelling and grammar.
Local Cuisine to Try
Asklipio, a charming village in Rhodes, Greece, offers a delightful culinary experience for visitors, especially for those who adore Mediterranean and Greek dishes. The local cuisine is characterised by the use of fresh ingredients, diverse flavours, and a variety of cooking techniques.
Nikolas Traditional Taverna is a well-known Asklipio restaurant offering a wide range of dishes to suit different dietary preferences. Not only do they serve traditional Mediterranean and Greek food choices, but they also offer pizza and grill options for those who prefer a familiar taste. If you have any specific dietary needs, don't worry as there are vegetarian, vegan, and gluten-free options available.
One of the most recommended dishes to try is their grilled meat offering, both pork and lamb, which are known to be cooked to perfection. These dishes provide a truly authentic experience, allowing you to enjoy the flavours that characterise Greek food.
When visiting Asklipio, it's highly suggested that you take part in a food tour or cooking class to learn more about the local cuisine and even try crafting your favourite Greek dishes yourself. This can be a wonderful way to immerse yourself in the rich flavours and traditions of the region.
Finally, since Greek and Mediterranean food is known for its variety of dishes that showcase fresh produce, don't forget to add a local salad to your meal. These salads celebrate the vibrant tastes of olives, tomatoes, and feta cheese in a simple yet unforgettable combination.
In conclusion, a visit to Asklipio isn't complete without tasting the local cuisine and experiencing the diverse flavours that embody Greek culture and tradition. So, make sure to add these dishes and experiences to your itinerary when planning your trip to Asklipio.
Events and Festivals
Asklipio, located in Rhodes, Greece, is a beautiful destination that offers various events and festivals throughout the year. These celebrations showcase the rich culture and history of the region, providing visitors with an authentic experience during their visit.
One of the most anticipated events in Asklipio is the Virgin "Zoodochos Pigi" festival. This celebration takes place on the Friday after Easter during the daytime. Locals and visitors alike come together to commemorate this religious event, which honours the springtime and the life-giving attributes of the Virgin Mary.
Another noteworthy festival in Asklipio is the Transfiguration of the Saviour. Held on the 5th and 6th of August, this religious event sees the faithful gather in prayer and reflection. It is a significant occasion that highlights the strong faith and spiritual connection of the community within the village.
Lastly, the Assumption of the Virgin Mary festival is celebrated on the 15th of August. This prominent event brings together locals and tourists to celebrate the belief in the Virgin Mary's bodily ascent into heaven. The festival often features processions, dances, and other activities that allow the community to embrace and uphold their faith.
These events and festivals make visiting Asklipio a unique experience, immersing travellers in rich cultural traditions while exploring the breathtaking beauty of the region.
Cultural and Historical Significance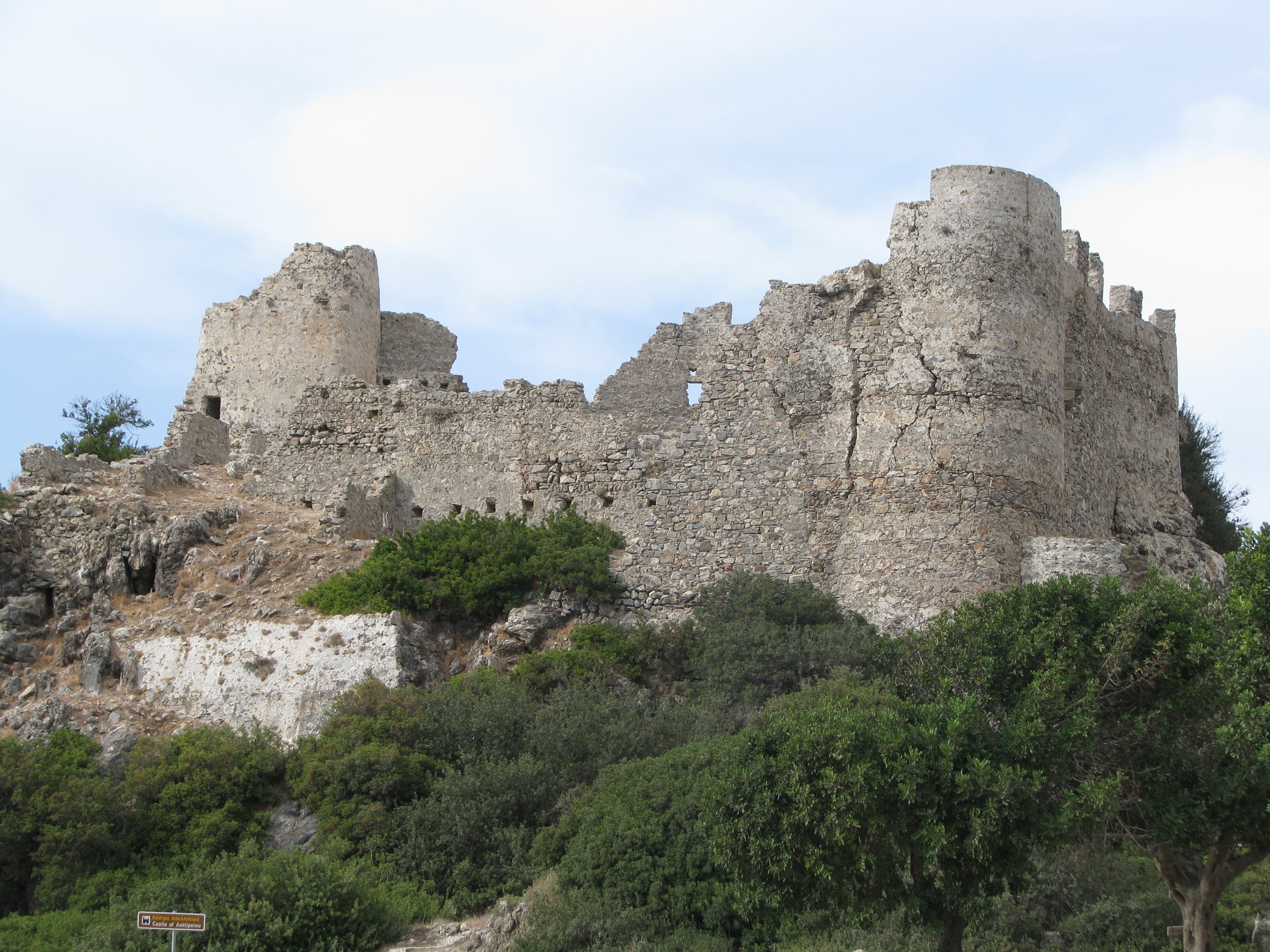 The Asklipio Castle, located on the island of Rhodes in Greece, holds great cultural and historical significance. Built in 1479 by the Knights of St John under the order of Grand Master D'Aubusson, the castle stands as a testament to the island's medieval past. The site of the castle was chosen due to its ancient lighthouse, blending elements of both ancient and medieval history.
Asklipio Castle played a crucial role during the Byzantine period and the time of the Knights. Its position and sturdy construction allowed it to provide protection to the inhabitants of the surrounding villages against enemy attacks. The castle features impressive rectangular bulwarks and two massive towers, illustrating the military prowess of the builders.
Visitors to the Asklipio Castle can witness the impressive 1.5-metre-thick walls and explore the ruins of various ancient buildings within the castle grounds. Besides its historical value, the castle offers breathtaking views of the surrounding area, allowing visitors to appreciate not only its architecture but also its strategic importance.
While there, tourists should also pay a visit to the nearby Clock Tower, or Roloi, which is the highest point of the Old Town of Rhodes. The best time to visit the Clock Tower is after dusk, where its illumination adds to the overall charm and beauty of this historic site.
In conclusion, visiting Asklipio Castle can provide a valuable insight into the history and culture of Rhodes and its medieval period. Its lasting legacy as a fortress makes it an essential attraction for tourists interested in understanding the rich past of this fascinating island.
Tips for a Memorable Visit
Visiting Asklipio can be a fantastic experience, but it's essential to be prepared and know what to expect. Here are some tips to help you make the most of your time in this charming village on the island of Rhodes.
First and foremost, make sure to visit the notable historical sites in Asklipio. The superb Byzantine church and the medieval castle are must-sees and offer a glimpse into the island's rich history. Take your time to explore these attractions and appreciate their architectural beauty and cultural significance.
While visiting Asklipio, don't miss the opportunity to indulge in local Greek cuisine. The village has an array of tavernas and restaurants where you can taste traditional dishes made with fresh, locally-sourced ingredients. Be sure to try favourites like moussaka, souvlaki, and tzatziki for a truly authentic culinary experience.
As with any tourist destination, it's best to be mindful of peak season when planning your trip to Asklipio. Greece is a popular summer destination, and during this time, accommodation and transportation options may be in high demand. Booking your flights, accommodation, and any necessary car rentals or ferry tickets in advance can save you time and stress, and help ensure you secure the best options for your visit.
Finally, embrace the local culture and take the time to interact with the people of Asklipio. The residents are known for their warm hospitality and genuine friendliness. Engaging in conversations with locals can provide you with unique insights into their daily lives and cultural traditions, enhancing your overall travel experience.
By following these tips, you'll be well-prepared for a memorable visit to Asklipio, immersed in the rich history, delicious cuisine, and warm hospitality that this enchanting village has to offer.