Corfu Town, also known as Kerkyra, is a beautiful destination on the island of Corfu, Greece. This charming town is well-known for its historical sites, vibrant culture and delicious cuisine. But did you know that Corfu Town also boasts some lovely beaches? While not as numerous as other areas on the island, these beaches offer a perfect balance between relaxation and convenience.
Close to the town centre, Faliraki Beach, previously known as "Alekos' beach", offers crystal-clear waters and an intimate atmosphere. Surrounded by the stunning natural beauty of the island, Faliraki Beach is ideal for those who prefer peace and tranquillity, while still within easy reach of the town's amenities. Additionally, the famous beach resort of Paleokastritsa, located on the western coastline of Corfu, is home to several breathtaking beaches, including Agios Spiridon, Spiros Beach, and Agia Triada. Known for their deep waters and a mix of sandy and rocky seabeds, these beaches provide a variety of aquatic activities such as water skiing, parasailing and boat rentals.
Whether you are visiting Corfu Town for the historical sights or simply to unwind on a sun-kissed beach, this enchanting location will not disappoint. As you discover the magnificent beaches, you'll see why Corfu has captured the hearts of so many travellers over the years.
Top Corfu Town Beaches
Kontogialos Beach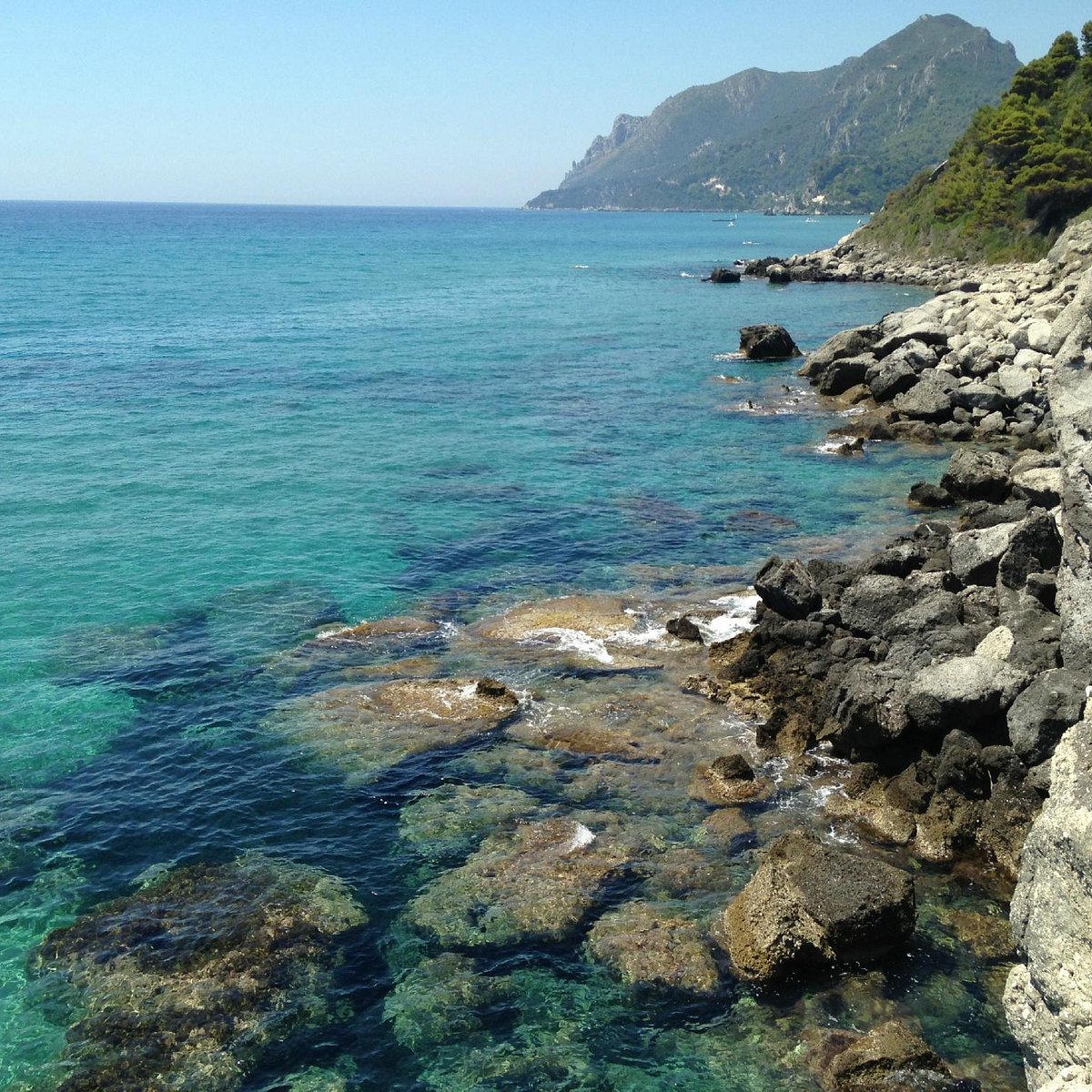 Kontogialos Beach is a beautiful sandy beach located just a short drive from Corfu Town. The crystal-clear waters and stunning views of the surrounding hills make this beach a favourite among both locals and tourists. With various amenities such as sunbeds and umbrellas available for rent, as well as several beachfront tavernas serving delicious local cuisine, Kontogialos Beach provides a perfect setting for a leisurely day out.
Glyfada Beach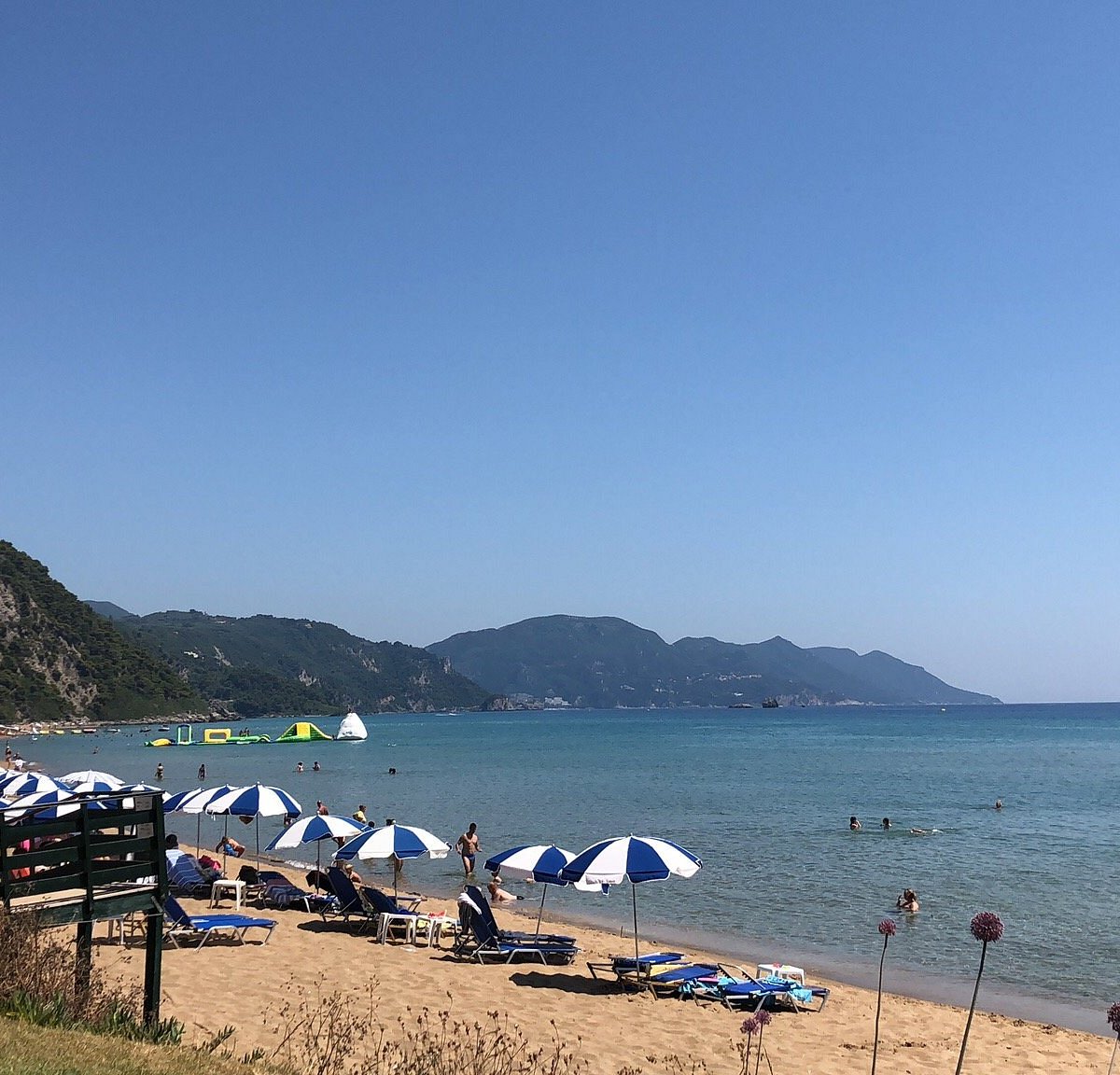 Glyfada Beach is another popular spot near Corfu Town known for its soft golden sand and turquoise waters. The beach is well-maintained, and it offers sunbeds, umbrellas, and facilities for water sports, ensuring a comfortable and enjoyable day at the sea. Additionally, the nearby restaurants and bars provide a wide range of dining options and refreshing beverages for beachgoers. The captivating sunsets at Glyfada Beach are not to be missed, making for an unforgettable experience on this idyllic shoreline.
Issos Beach
Issos Beach, situated on the southwest coast of Corfu, is a vast and picturesque sandy beach surrounded by dunes and cedar forest. The azure waters, diverse landscape, and fine sand make Issos an ideal destination for nature lovers and sun worshippers alike. The beach is well-organised, featuring facilities such as sunbeds and umbrellas, as well as a selection of water sports and activities for thrill-seekers. Visitors can also enjoy traditional local dishes and refreshing beverages at the nearby tavernas and beach bars. Issos Beach truly offers something for everyone, ensuring a memorable day out in a unique natural setting.
Family-Friendly Beaches
Dassia Beach
Dassia Beach, located on the east coast of Corfu, is a popular family-friendly destination. The beach offers a perfect mix of pebbles and sand, with calm and shallow waters that make it safe for children to play in. The lush green backdrop adds to the picturesque setting, making it an ideal destination for a family trip.
A variety of activities are available for all ages, including water sports like canoeing, pedal boats, and windsurfing. The beach is also lined with numerous bars, restaurants and shops, providing ample options for food, drinks, and entertainment. Sunbeds and umbrellas are available for rent, ensuring that families can enjoy a comfortable day by the sea.
Agios Georgios South
Agios Georgios South is another family-friendly beach in Corfu, situated on the southwestern coast of the island. The expansive sandy shore offers plenty of space for children to play and build sandcastles, while the shallow waters make for a safe swimming environment. The beach is set against a backdrop of green hills, providing a serene and beautiful atmosphere.
At Agios Georgios South, families can experience various water sports such as banana rides, water skiing, and parachuting. For those looking to relax, sunbeds, umbrellas, and beach bars ensure a comfortable and enjoyable day at the beach. The nearby village also offers additional dining and entertainment options.
In summary, both Dassia Beach and Agios Georgios South offer an excellent mix of natural beauty, family-friendly amenities, and a range of activities, making them top choices for family holidays in Corfu.
Corfu Town has some fantastic hidden gem beaches that combine pristine waters, stunning landscapes, and a peaceful atmosphere. This section highlights two such beaches: Chalikounas Beach and Prasoudi Beach.
Chalikounas Beach
Chalikounas Beach is located on the southwest coast of Corfu Island. This beach is a perfect destination for those who seek tranquillity and untouched beauty. Surrounded by natural sand dunes, Chalikounas Beach offers crystal clear waters, a long stretch of golden sand, and a serene atmosphere.
Some highlights of this beach include:
Seclusion: Chalikounas is less crowded than other popular beaches on the island, offering visitors a chance to relax and enjoy the beauty of nature.
Watersports: Clear waters and steady winds make this location ideal for kitesurfing, windsurfing, and other water sports activities.
Natura 2000 Conservation Area: Nearby Lake Korission creates a unique environment for diverse flora and fauna, allowing for excellent birdwatching and nature walks.
Prasoudi Beach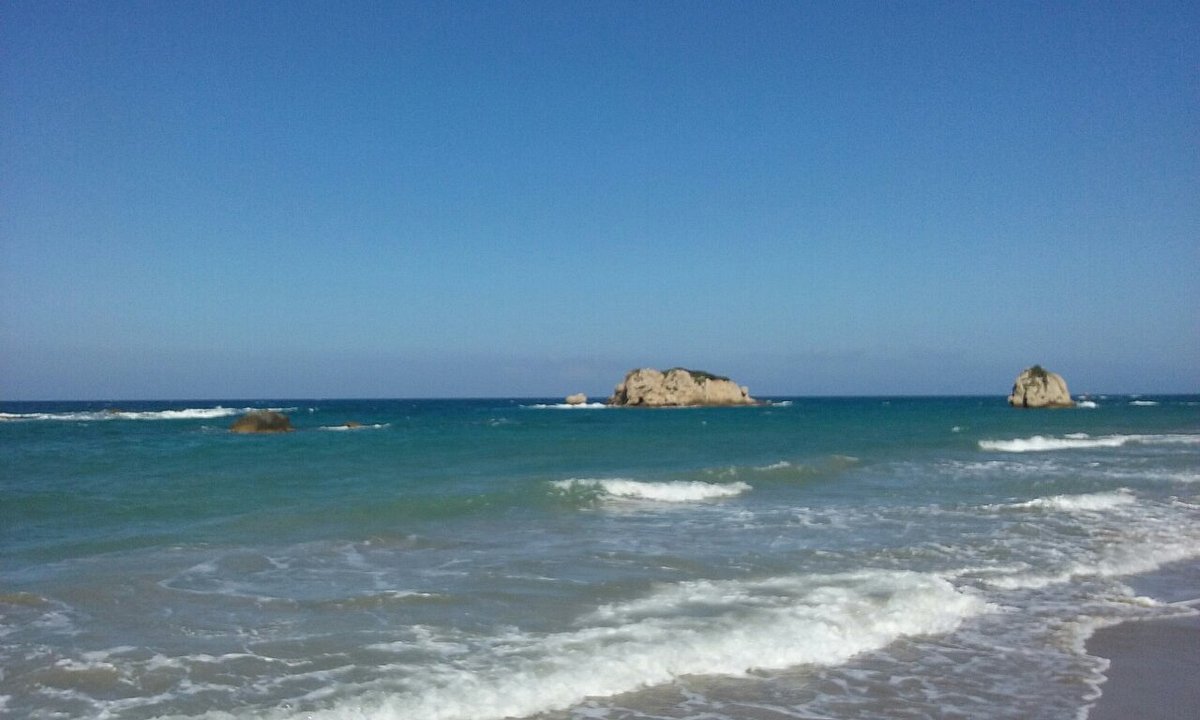 Prasoudi Beach is a small, picturesque beach in the southern part of Corfu Island, also offering a quiet and secluded environment. The peaceful ambience and stunning coastline make it perfect for a relaxed day off the beaten track.
Here are some features worth noting about Prasoudi Beach:
Coves: The surrounding area has numerous small coves allowing visitors to explore and find their perfect spot on the beach.
Authentic Greek atmosphere: Less developed than other parts of the island, Prasoudi offers an authentic Greek village experience, complete with a traditional taverna right by the beach.
Accessibility: Despite its relatively remote location, the beach has easy access with a car park close to the beach.
These hidden gem beaches in Corfu Town are perfect for those looking to escape the tourist crowds and enjoy natural, pristine coastlines. While it may require a little more effort to reach them, Chalikounas and Prasoudi beaches provide a captivating experience for visitors and a glimpse into the true beauty of the island.
Beach Amenities
Sunbeds and Umbrellas
Corfu Town beaches offer a variety of sunbeds and umbrellas for visitors to rent and enjoy a comfortable day under the sun. The beaches usually have sunbeds and umbrellas readily available, allowing you to relax and protect yourself from the sun while appreciating the beautiful scenery.
Water Sports
For those who enjoy excitement and adventure, Corfu Town beaches have several water sport options. Popular activities include water skiing, parasailing, and boat rentals. Many beaches on the island have watersports centres, where you can easily try out different activities and make the most of your coastal experience.
Cafes and Restaurants
When it comes to dining options, Corfu Town beaches offer a range of seaside cafes and restaurants where you can enjoy delicious local cuisine, refreshing drinks, and stunning views. Many of the establishments near the beach provide comfortable seating and prompt service, ensuring you have an enjoyable and convenient meal after a day spent swimming or sunbathing.
How to Get There
Car or Motorbike Rental
Getting to the beautiful beaches of Corfu Town is quite easy and convenient. One of the popular options is to rent a car or motorbike. There are numerous rental agencies available in the town where you can reserve your desired vehicle. Hiring a car or motorbike provides the freedom to explore the island's beaches at your own pace. It's also an excellent choice for those who prefer independent travel.
Keep in mind that driving in Corfu can be somewhat challenging due to narrow roads and limited parking spaces, so make sure you feel comfortable driving in such conditions. Don't forget to familiarise yourself with the local traffic rules and to have a valid driver's licence.
Bus Service
Alternatively, you can rely on the local bus service as your primary means of transportation to and from Corfu Town beaches. The island has an extensive network of green or blue buses that cover most popular destinations, including beautiful beaches such as Faliraki, Anemomilos, and Mon Repos.
Green buses operate within the island while blue buses connect Corfu Town to other destinations. Bus schedules can be found at bus stations or on their respective websites. Just make sure to check the timetable and plan your trips accordingly.
Remember to carry change for bus fares, know your destination's bus number, and always double-check the departure times. This way, you can enjoy a smooth and hassle-free journey to the stunning Corfu Town beaches and make the most of your visit to this incredible island.
Safety Tips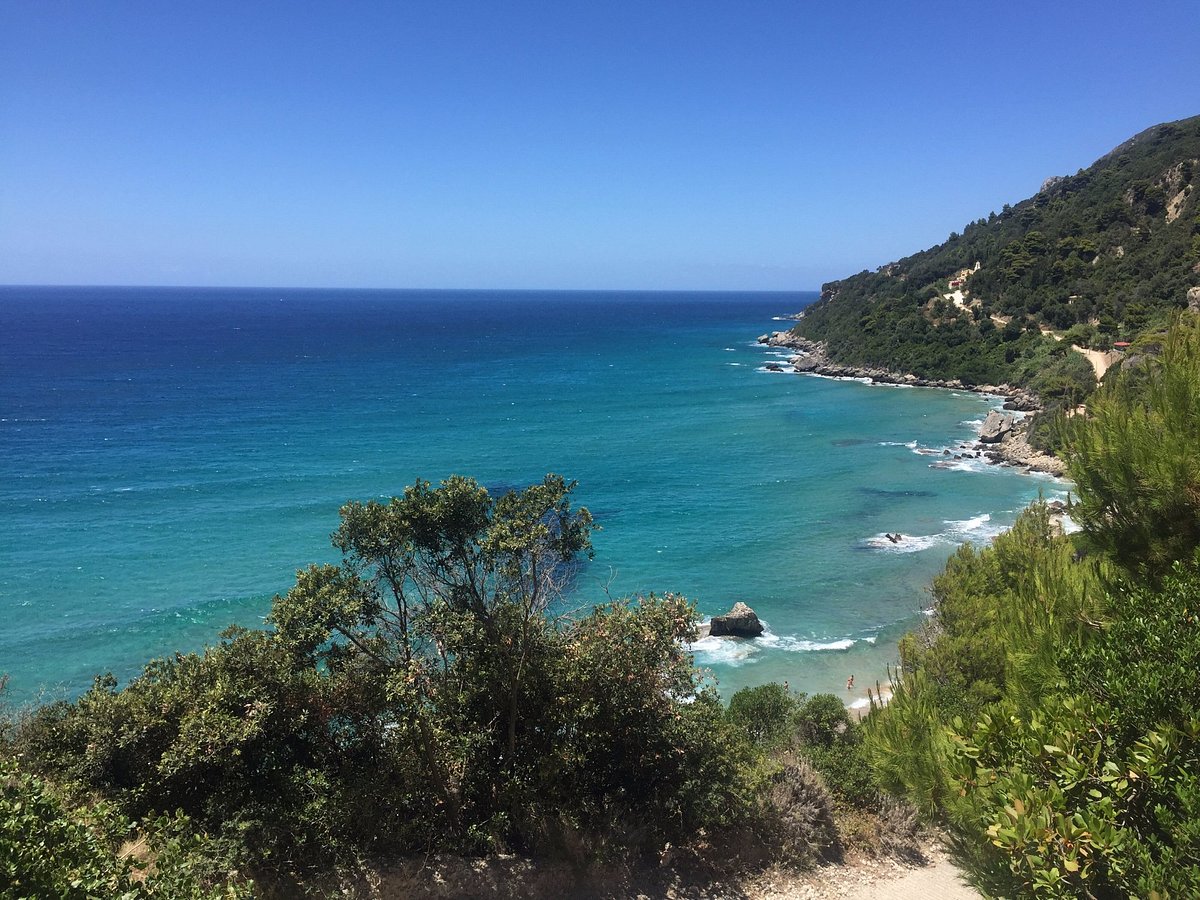 Corfu Town's beaches are generally considered safe for swimming and sunbathing, but as always, exercise caution and follow these friendly safety tips to maximise your enjoyment and minimise any potential risks.
Be aware of swimming conditions: Though most beach areas are suitable for swimming, it's essential to observe local flags and signs indicating the water's safety. Keep an eye out for red flags or notices warning of strong currents, jellyfish, or other hazards. Avoid swimming on your own, and stay within designated swimming areas where lifeguards are present.
Apply sun protection: The Mediterranean sun can be intense, so never underestimate the importance of using a high-factor sunscreen. Apply it generously and reapply every two hours or after swimming. Wear a wide-brimmed hat, sunglasses, and consider a UV-protective rash guard or clothing when spending extended periods on the beach.
Stay hydrated: Heatstroke and dehydration can occur quickly under the hot sun, especially if you're swimming or engaging in water sports. Ensure you have enough water on hand to last throughout your time at the beach, and sip on it regularly throughout the day. Opt for refreshing water or fruit juices over alcoholic beverages, which can contribute to dehydration.
Keep an eye on your belongings: Corfu Town's beaches can get busy, particularly during peak season. Be mindful of your personal belongings and don't leave them unattended while swimming or sunbathing. Consider using a waterproof pouch to keep essential items like your phone, keys, and money with you in the water.
Avoid rip currents: If you find yourself caught in a rip current, stay calm and avoid panicking. Swim parallel to the shore until the current releases its grip, and then swim diagonally back towards the shore. Alert a lifeguard or someone on the beach if you need any assistance.
By following these safety tips, you can have a stress-free and enjoyable experience at the beautiful beaches of Corfu Town. Stay safe, relax, and have a great time!