The scenic island of Corfu is a popular destination for holidaymakers seeking sun, sea, and a taste of Greece's Ionian charm. However, it is not the only gem in the vicinity, as a number of enchanting smaller islands nearby offer equally captivating experiences for those with a sense of adventure. From picturesque landscapes to crystal-clear turquoise waters, these islands exude beauty and serenity, providing an idyllic escape from the bustling crowds of Corfu.
A variety of Greek islands are within easy reach of Corfu, each offering unique attractions and pristine landscapes. Spending time exploring these lesser-known islands allows visitors to delve deeper into Greek culture, sample delicious local cuisine and partake in various activities, all while enjoying the laid-back lifestyle synonymous with Mediterranean getaways. Accommodation options range from quaint family hotels to luxurious private villas, ensuring a perfect stay tailored to individual preferences.
Key Takeaways
A number of charming smaller islands are situated near Corfu, offering an idyllic escape and additional travel options.
These lesser-known islands provide opportunities to experience Greek culture, delicious cuisine, and an array of activities.
Visitors can choose from a wide range of accommodation options to suit their needs while exploring islands close to Corfu.
Greek Islands Close to Corfu
Paxos
Paxos is a stunning island located close to Corfu, boasting beautiful beaches, endless green landscapes, and crystal-clear waters. The island offers a tranquil atmosphere, making it an ideal destination for those looking to relax and escape the crowds. Monodendri is a cosmopolitan beach located on the east coast of Paxos where visitors can enjoy a sun-soaked day by the turquoise sea.
Antipaxos
A smaller sister island to Paxos, Antipaxos is known for its breathtakingly beautiful beaches with soft white sand and sparkling azure waters. Voutoumi and Vrika are two of the island's most popular beaches, perfect for swimming, snorkelling, and soaking up the sun. Despite its small size, Antipaxos offers a serene escape for travellers seeking natural beauty and tranquillity.
Erikoussa
Erikoussa is part of the Diapontia Islands, a small group of picturesque islets situated a short distance from Corfu. With a small population and limited tourist infrastructure, Erikoussa provides visitors with an authentic Greek island experience. The island's pristine beaches, lush vegetation, and clear waters make it an idyllic destination for relaxation and adventure.
Othonoi
Another island in the Diapontia group, Othonoi is a delightful hidden gem for travellers looking to explore charming villages, captivating landscapes, and quiet beaches. With only a few residents and minimal tourists, Othonoi offers an escape from the hustle and bustle of Corfu while still showcasing the region's natural beauty and charm.
Mathraki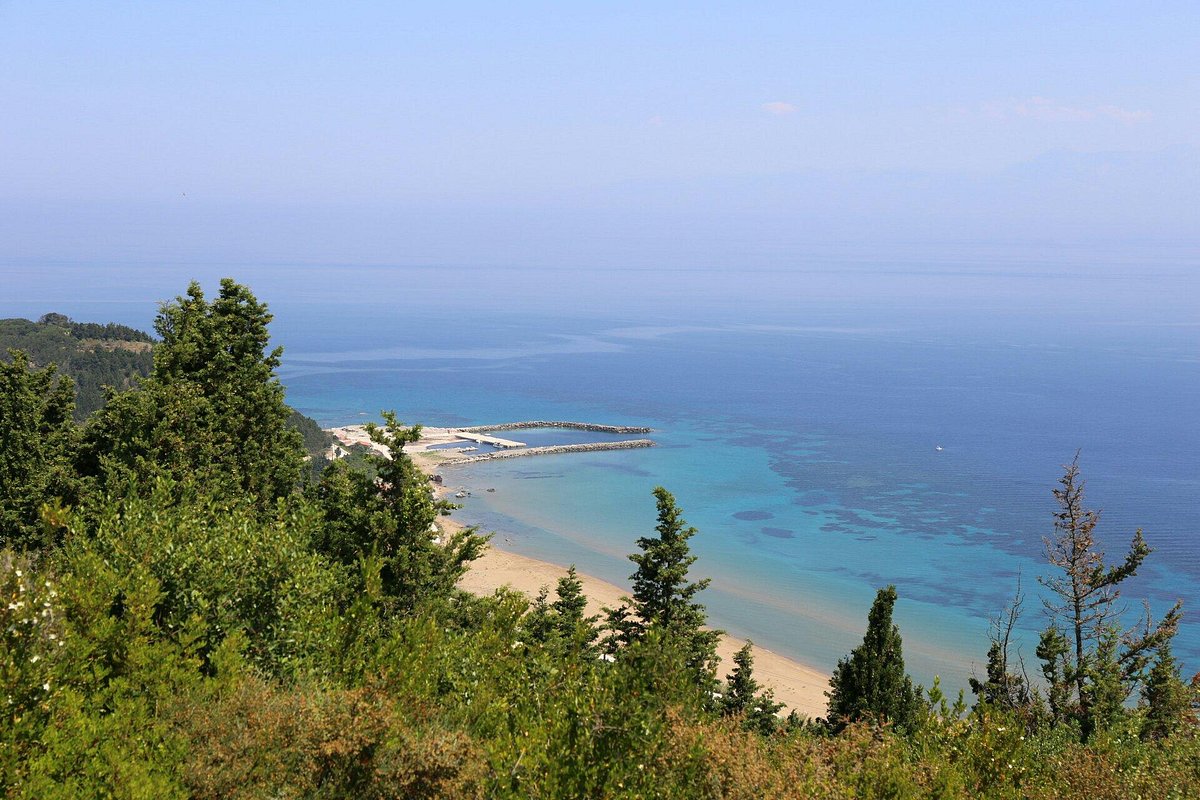 Just 5.5 miles off the western coast of Corfu, Mathraki is the closest island on this list and is perfect for day trips or overnight stays in local family hotels. Known for its unspoilt beauty and peaceful atmosphere, Mathraki provides visitors with a true retreat from the modern world. The island's inviting sandy beaches, crystal-clear waters, and warm hospitality make it a must-visit destination for travellers exploring the Ionian Sea.
Exploring Corfu's Smaller Islands
Corfu might be the main attraction in the Ionian Sea, but there are several smaller islands nearby that are worth exploring for their own unique charm and beauty. One such pair of islands is Paxos and Antipaxos, known for their crystal-clear turquoise waters and stunning natural landscapes. These islands offer a relaxed atmosphere and are perfect for travellers looking to enjoy nature and breathtaking swimming spots.
Kefalonia is another captivating island near Corfu, which is often visited alongside Corfu due to its shared popularity among travellers. Kefalonia is the largest of the Ionian Islands and boasts incredible scenery, including lush green landscapes, picturesque villages, and idyllic beaches. It is an excellent destination for those who want to appreciate the region's natural beauty.
Mathraki is the southernmost and smallest of the Diapontia Islands, located only 2 nautical miles from Corfu. Despite its proximity, Mathraki remains relatively isolated due to the many rocks surrounding it, making access challenging. Nonetheless, adventurous travellers will be rewarded with an unspoiled and serene island experience.
When thinking about the beautiful islands near Corfu, you mustn't forget Paxi. Paxi offers a great escape in nature, featuring blue crystalline waters and verdant landscapes. Some of its best beaches are Pounda and Monodendri, located on the eastern coast near Longos village. The quiet and tranquil atmosphere of these beaches makes them ideal for travellers seeking relaxation away from the crowds.
In summary, the islands near Corfu offer an array of experiences, from lush landscapes and turquoise waters to hidden and serene beaches. They provide a fantastic opportunity to make the most of your trip to the Ionian Sea and embark on an unforgettable island-hopping adventure.
Activities and Attractions
Beaches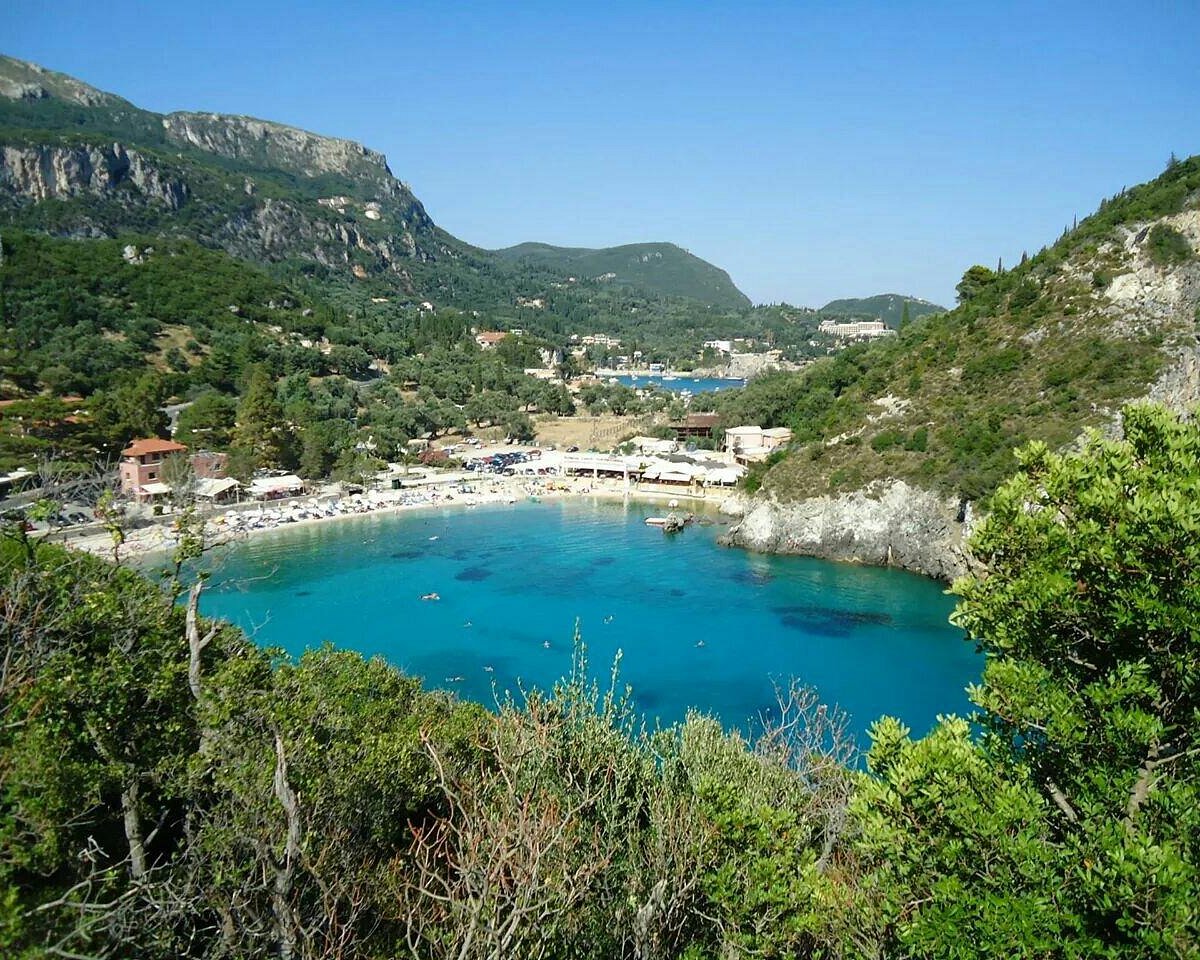 Corfu has several stunning beaches to choose from. Some of the most popular ones include Palaiokastritsa Beach, known for its crystal-clear waters and picturesque scenery, and Sidari Beach, which features unique rock formations and a vibrant atmosphere. For a quieter experience, you can explore the nearby islands of Paxos and Antipaxos, where you'll find pristine sands and untouched natural beauty.
Hiking
For those who prefer to explore on foot, Corfu offers plenty of hiking opportunities. The Corfu Trail is a 220 km long-distance walking path that takes you through the island's varied landscapes, including olive groves, coastal cliffs, and mountain terrains. Alternatively, you can explore the trails in Pantokrator Mountain, offering breathtaking views of the island and its surroundings.
Historical Sites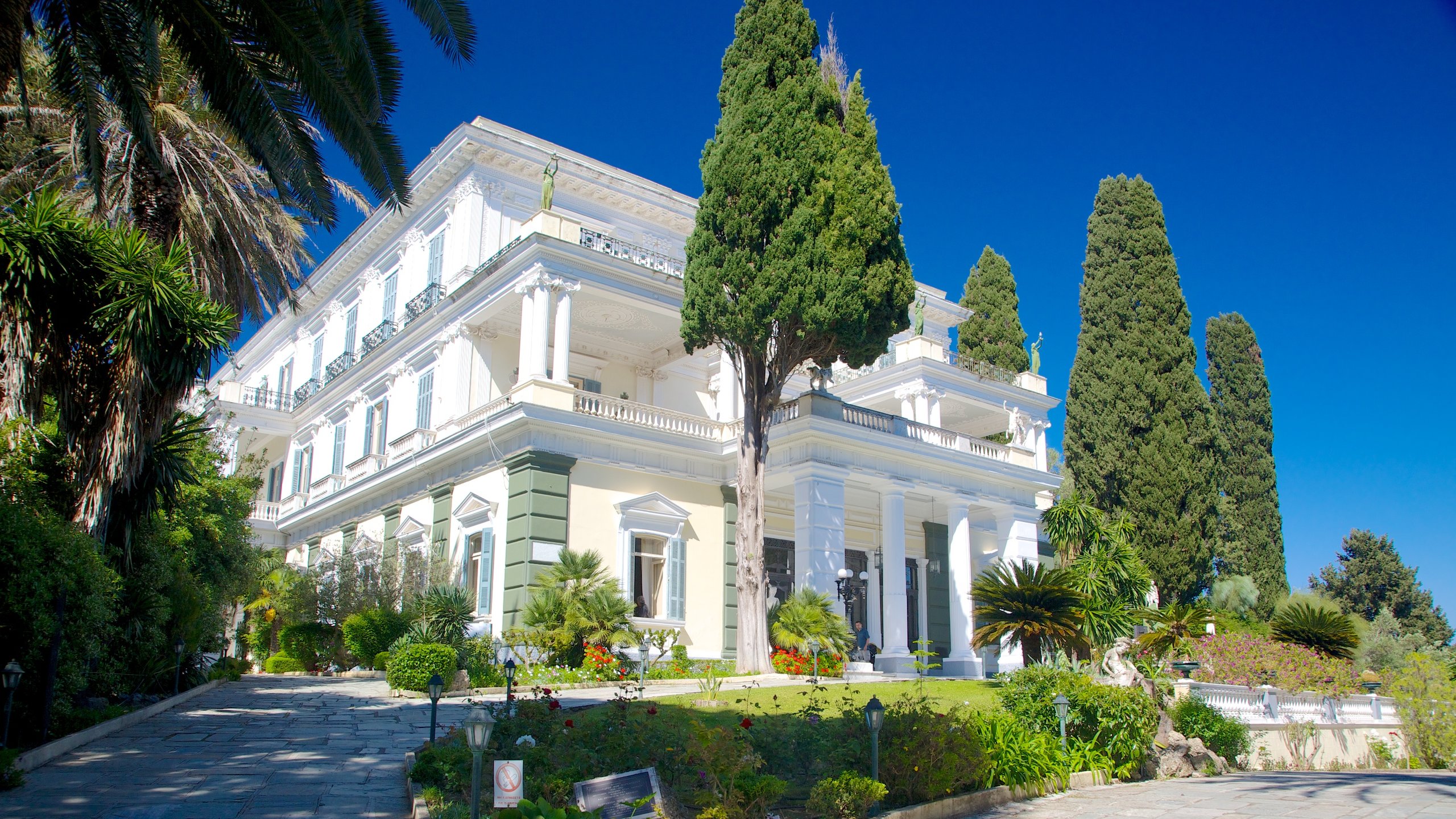 Corfu has a rich history and numerous intriguing sites to visit. Among the must-see attractions are the Achilleion Palace, featuring stunning neoclassical architecture and beautiful gardens, and the Old Fortress in Corfu Town, which dates back to the 6th century. Don't miss the opportunity to roam the charming streets of Corfu Town's Old Town, a UNESCO World Heritage site with Venetian-inspired architecture and cobbled alleyways.
Outdoor Sports
For the active traveller, Corfu offers a range of outdoor sports and activities:
Sailing and water sports: Take advantage of the island's crystal-clear waters and favourable winds by embarking on a sailing adventure or trying your hand at various water sports like windsurfing, kite-surfing, and snorkelling.
Cycling and Mountain biking: Corfu's varied terrain makes it an excellent destination for enthusiasts looking to explore the island's beauty on two wheels.
Vespa, Scooter & Moped Tours: Experience the joy of riding a Vespa or scooter around the island while taking in the picturesque scenery and discovering hidden gems.
Corfu and its nearby islands truly offer something for everyone, from relaxing beaches and idyllic landscapes to captivating historical sites and exciting outdoor activities. Make the most of your visit by immersing yourself in the rich experiences the region has to offer.
Accommodation Options
When planning a visit to the beautiful islands near Corfu, it's essential to find the right accommodation that suits your needs and budget. Here are some options available, divided into luxury resorts, villa rentals, and budget accommodations.
Luxury Resorts
For a luxurious and indulgent stay, there are several high-end resorts on the islands near Corfu. These resorts offer top-notch amenities, such as on-site restaurants, spa facilities, and private beaches. Some luxury resorts to consider include:
Mayor Mon Repos Palace – Art Hotel (Corfu): This elegant hotel offers stunning sea views, exceptional dining experiences, and a serene atmosphere for relaxation.
Kontokali Bay Resort & Spa (Kontokali): Nestled on a beautiful beachfront, this resort offers an all-inclusive option, with multiple dining venues, a spa, and a private marina.
Villa Rentals
For travellers seeking more privacy and space, villa rentals can be an ideal choice. These accommodations often come with fully equipped kitchens, private pools, and spacious living areas. Some reputable villa rental options on the islands near Corfu include:
Barbati Luxury Villas (Barbati): These stylish villas offer modern amenities and a convenient location close to the beach and local shops.
Kassiopi Villas (Kassiopi): These villas feature stunning sea views, private pools, and easy access to nearby restaurants and attractions.
Budget Accommodation
If you're travelling on a budget, there are several affordable lodging options on the islands near Corfu. These accommodations provide basic amenities and a comfortable stay at reasonable prices. Some budget accommodation recommendations are:
Sunlight Hotel (Sidari): A simple, clean hotel with a pool and an on-site bar, Sunlight Hotel is an affordable option in Sidari.
Cavos Beach House (Kavos): With a variety of room options, including dormitory-style rooms, this budget-friendly accommodation is close to the beach and nightlife in Kavos.
Keep in mind your preferences, budget, and travel style when choosing the perfect accommodation for your island getaway near Corfu.
Local Cuisine
Traditional Dishes
Corfu's local cuisine is diverse and flavoursome, featuring a blend of Roman, Venetian, and Greek culinary influences. To truly appreciate the gastronomic delights of the islands near Corfu, visitors should explore some of their signature dishes:
Pastitsada: A spiced meat dish, usually made with beef or chicken, cooked in tomato sauce and served with thick pasta.
Sofrito: A tender, slow-cooked meat dish typically made with veal or beef, seasoned with garlic, white wine, vinegar, and a mix of fresh herbs.
Bourdeto: A robust, spicy fish stew made with white fish and flavoured with saffron, garlic, and paprika.
Wine and Spirits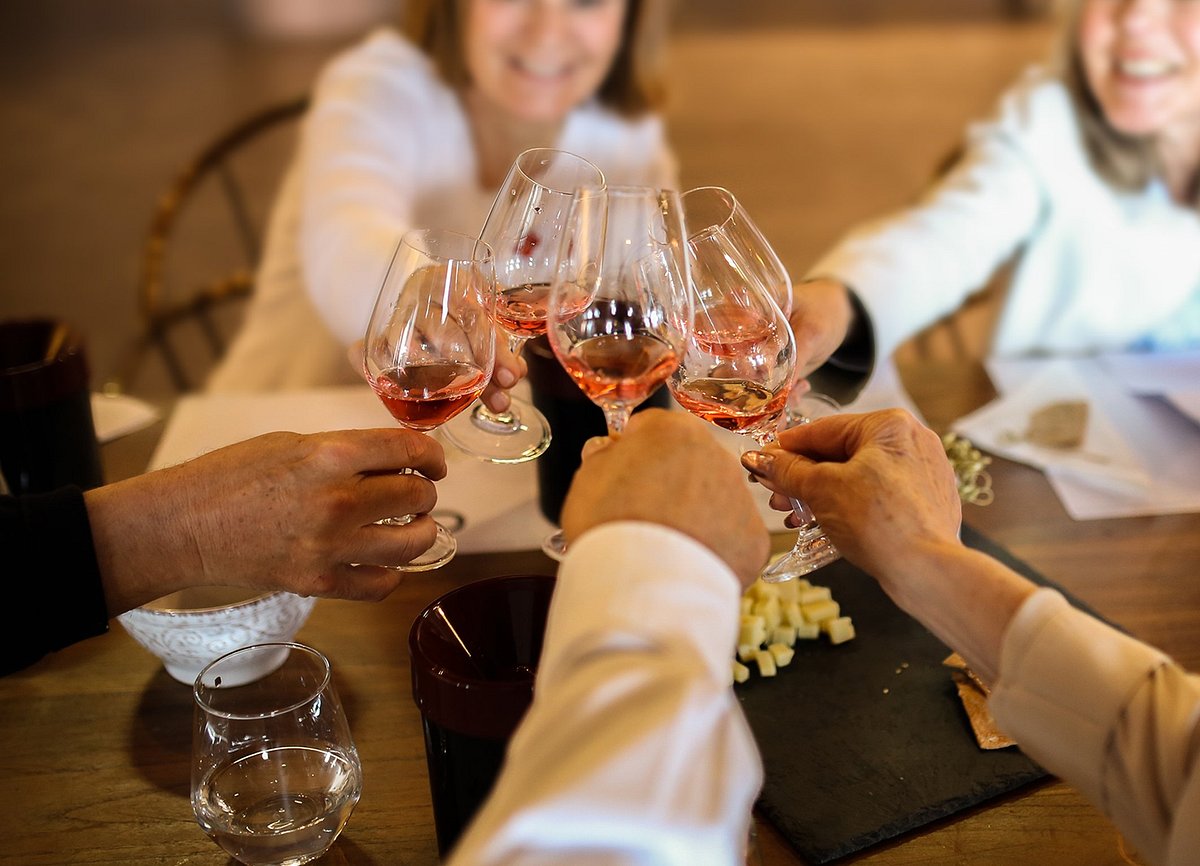 The Ionian islands, including those near Corfu, are home to some truly unique and exquisite wines:
Kakotrygis: A local grape variety producing dry, citrusy white wines with hints of green apple and pear.
Mavrodaphne: A full-bodied, sweet red wine, rich in notes of dark chocolate and dried fruits. Ideal as a dessert wine.
Robola: A popular white wine variety found in neighbouring Kefalonia, known for its bright acidity and flavours of lemon and green apple.
For those who enjoy stronger spirits, the islands offer their own traditional options as well:
Ouzo: A popular anise-flavoured spirit, often enjoyed as an aperitif, either neat or mixed with water and ice.
Tentoura: A warming, spiced liqueur native to the islands, with flavours of cinnamon, cloves, and nutmeg. Perfect as an after-dinner drink.
Seafood
Fresh seafood is a staple of the cuisine in the islands near Corfu. Travellers can treat their taste buds to an array of mouthwatering seafood dishes:
Grilled Octopus: Tender octopus marinated in olive oil and lemon juice, then grilled to perfection for a simple, delicious appetiser or main course.
Stuffed Squid: Fresh squid filled with a savoury mix of rice, parsley, and diced vegetables, then roasted in the oven or grilled on charcoal.
Shrimp Saganaki: Delectable shrimps cooked in a tangy tomato sauce, infused with feta cheese, herbs, and a hint of garlic and chili.
Getting There and Around
Ferries and Boat Tours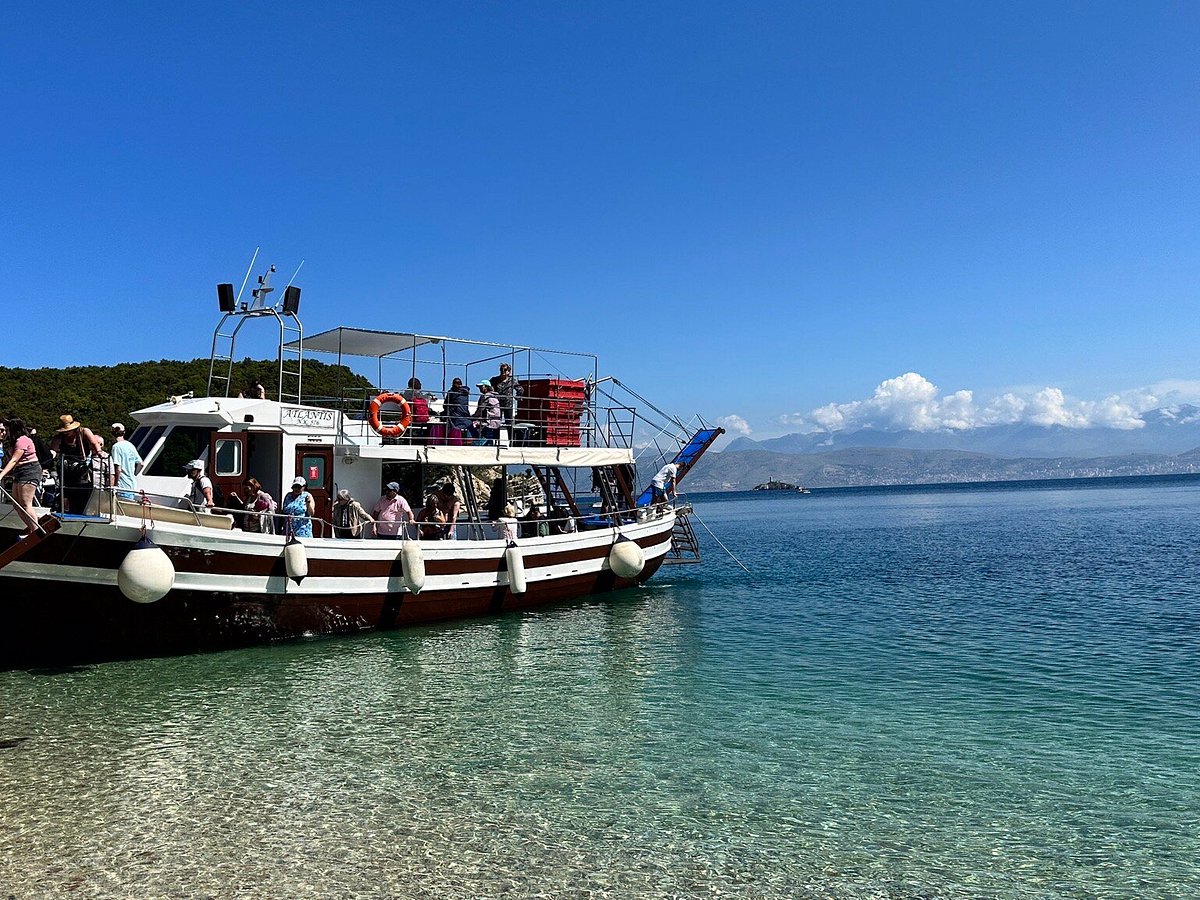 There are several ways to explore the beautiful islands near Corfu. One of the most popular and accessible options is taking a ferry or joining a boat tour. Ferries regularly travel between Corfu and nearby islands such as Paxos, Mathraki, and Erikousa. These ferries typically run daily during the high season, with more limited schedules off-season. Boat tours are another great way to explore these islands, as they often include guided trips and stops at picturesque locations for swimming and sightseeing. The advantage of a boat tour is that it may cover multiple islands in a single day, allowing travellers to experience a variety of landscapes on their visit.
Private Yacht Charters
For a more luxurious and personalised experience, one might consider hiring a private yacht charter. This option allows you to set your own itinerary and visit the islands at your leisure, making it the perfect choice for exploring the islands' hidden gems and secluded beaches. Private yacht charters are available in a range of sizes to accommodate different group sizes. These charters often include a captain and crew who can assist with navigation and provide local knowledge. While this option is typically more expensive than ferries or boat tours, it offers an unparalleled level of comfort and flexibility, allowing you to experience the beauty of the islands around Corfu in a truly memorable way.