Nestled on the north-west coast of Corfu, Liapades is a picturesque village boasting a pleasant blend of traditional charm and natural beauty. Only a short 25-minute drive away from Corfu city, Liapades offers a relaxing retreat for visitors seeking a tranquil and scenic getaway. Famous for its local wine production and agriculture, the village boasts a population of around 1,000 residents who take pride in sharing their welcoming culture with tourists.
At the heart of Liapades, visitors can explore the stunning beaches, crystal clear waters, and captivating terrain. Paradise Beach and Rovinia Beach are particularly popular spots, attracting sun-seekers and water sports enthusiasts alike. For a change of pace, tourists may spend an evening at Medusa Bar, taking in the vibrant atmosphere and mingling with both locals and fellow travellers.
No trip to Liapades is complete without exploring its charming surroundings. From renting a boat at Ninos Boat Rental and cruising the nearby coves, to hiking throughout the lush mountainous region, there is plenty to keep tourists entertained. As you wander the winding streets of Liapades and immerse yourself in the village's rich history, you'll undoubtedly fall in love with this idyllic Greek destination.
How to Reach Liapades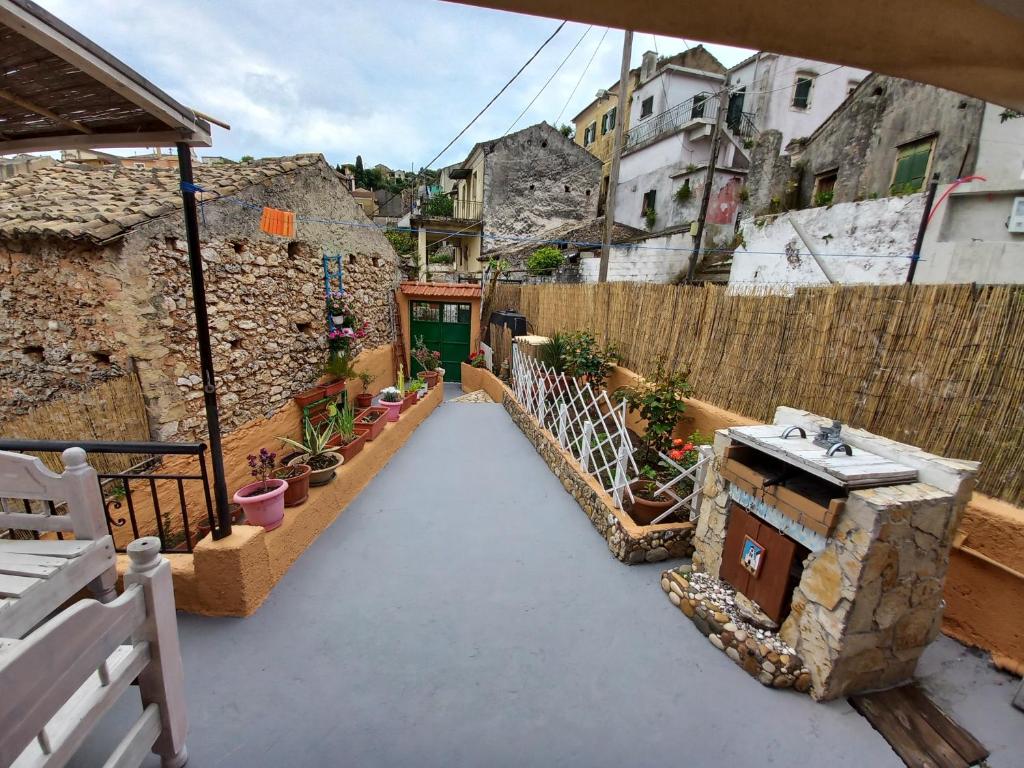 Getting to Liapades is quite simple and enjoyable. As it is located on the Northern midwest side of Corfu, you have a few options to consider when planning your journey. In this section, we'll share some friendly advice on the most convenient ways to reach the charming village of Liapades.
Firstly, if you're flying into Corfu International Airport, a 25-minute drive is all you need to reach Liapades. You can easily hire a taxi, rent a car, or even use a bus service to get you there. By opting for a car rental or taxi, you have the added benefit of stopping by the picturesque locations along the journey.
For those looking to incorporate Liapades into their island-hopping itinerary, renting a small boat or taking a water taxi can be both a practical and enjoyable way to get there. Not only will you enjoy the stunning views of the Corfu coastline, but you can also explore several beautiful beaches on your way to Liapades, such as Rovinia and Klimatia. Keep in mind that accessing some of the beaches might be challenging on foot, due to varying degrees of footpath difficulty.
If you are staying in a nearby village or planning a day trip in Corfu, consider using local bus services that connect various parts of the island. This is an affordable and hassle-free option to reach Liapades while experiencing everyday Corfu life.
In summary, Liapades has something for everyone and getting there is a breeze, whether by land or sea. Choose the most suitable transportation option, and you'll be in Liapades in no time, ready for your unforgettable holiday experience! Remember, the tone of this section is friendly, and the information provided is in British English.
Accommodation Options
Liapades offers a variety of accommodation options for tourists to enjoy this charming Greek village. From hotels and resorts to villas and apartments, there's something to suit everyone's taste and budget.
Hotels and Resorts
The top hotels in Liapades cater to different preferences and budgets. Some of the best hotels in the area include:
New Studios Mazis: Boasting garden views, New Studios Mazis offers accommodation with a balcony, around 1.9 km from Liapades Beach.
Acapulco Pool Bar: Well-reviewed for its beach and pool club.
To find the best deals on hotels and resorts in Liapades, be sure to check websites like Tripadvisor and Booking.com for the latest prices and availability.
Villas and Apartments
For those who prefer more private accommodation options, Liapades also offers a range of villas and apartments for rent:
A&V Corfu Transfers: Provides transfer services for tourists staying in villas and apartments.
Ninos Boat Rental: Offers boat rentals that complement villa and apartment stays.
It's worth exploring specific booking websites or contacting local estate agents to find a villa or apartment that suits your needs in this beautiful village. Remember to book early, especially during the high season, to secure the best options for your stay.
Beaches and Natural Attractions
Liapades, located on Corfu's north-west coast, is a quaint and quiet beach resort that caters to travellers seeking solace and relaxation. With several beautiful beaches and natural attractions, it's the perfect place to unwind and enjoy the azure waters of the Ionian Sea.
Rovinia Beach
Rovinia Beach, a hidden gem amongst the coves of Liapades, offers a natural sanctuary for visitors. With its crystal-clear waters and stunning pebbled shores, it's a picturesque spot perfect for swimming and sunbathing. To truly enjoy Rovinia Beach, consider the following tips:
Bring an umbrella, water and snacks, as there aren't many facilities nearby.
Prepare for a short hike to the beach, as it's not directly accessible by car.
Enjoy the serenity of this beautiful beach, as it is often less crowded than its neighbours.
Gefyra Beach
Gefyra Beach, another splendid offering in Liapades, is a small pebbled beach with charming rock formations and invitingly clear blue waters. A favourite amongst travellers seeking a more peaceful beach experience, Gefyra Beach provides the following:
Sunbed rentals for a comfortable and sun-soaked lounging experience.
Nearby boat hire and paddle boats for exploring the surrounding coves.
A calm and soothing atmosphere perfect for a tranquil day by the sea.
While visiting Liapades, take the time to soak in all the beaches and natural attractions this lovely resort has to offer. With a friendly and welcoming atmosphere, the memories you create here will last a lifetime.
Activities and Experiences
Hiking and Walking Trails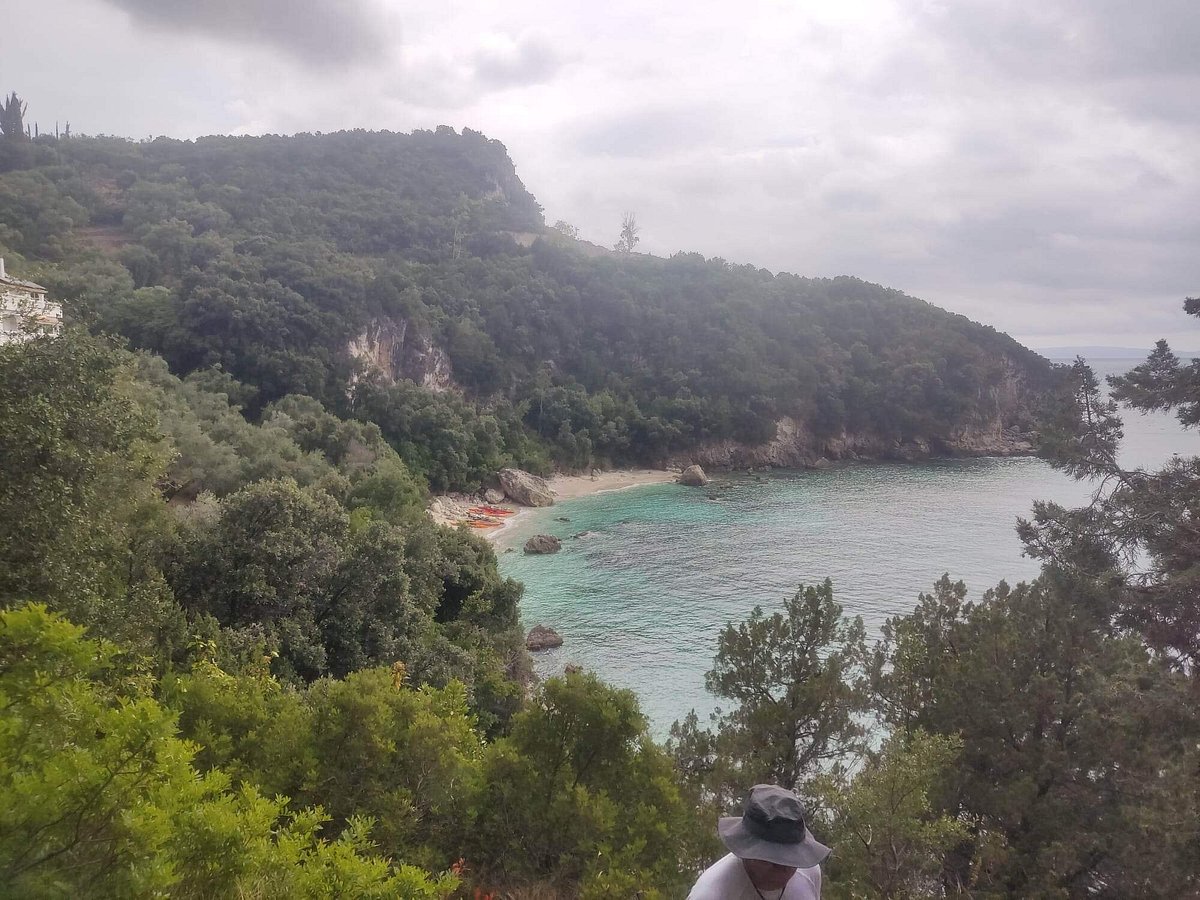 Liapades offers a variety of hiking and walking trails for those who love exploring the outdoors. One option is the path to Rovinia beach, which offers beautiful views, but may require some navigation skills as the terrain can be a bit challenging. Another option is the route to Krouza Plaka, where you will find lesser-known beaches with varying degrees of difficulty in reaching them. If you prefer a gentle stroll, the area around Liapades village will still reward you with stunning views and a taste of rural Greece.
Boat Trips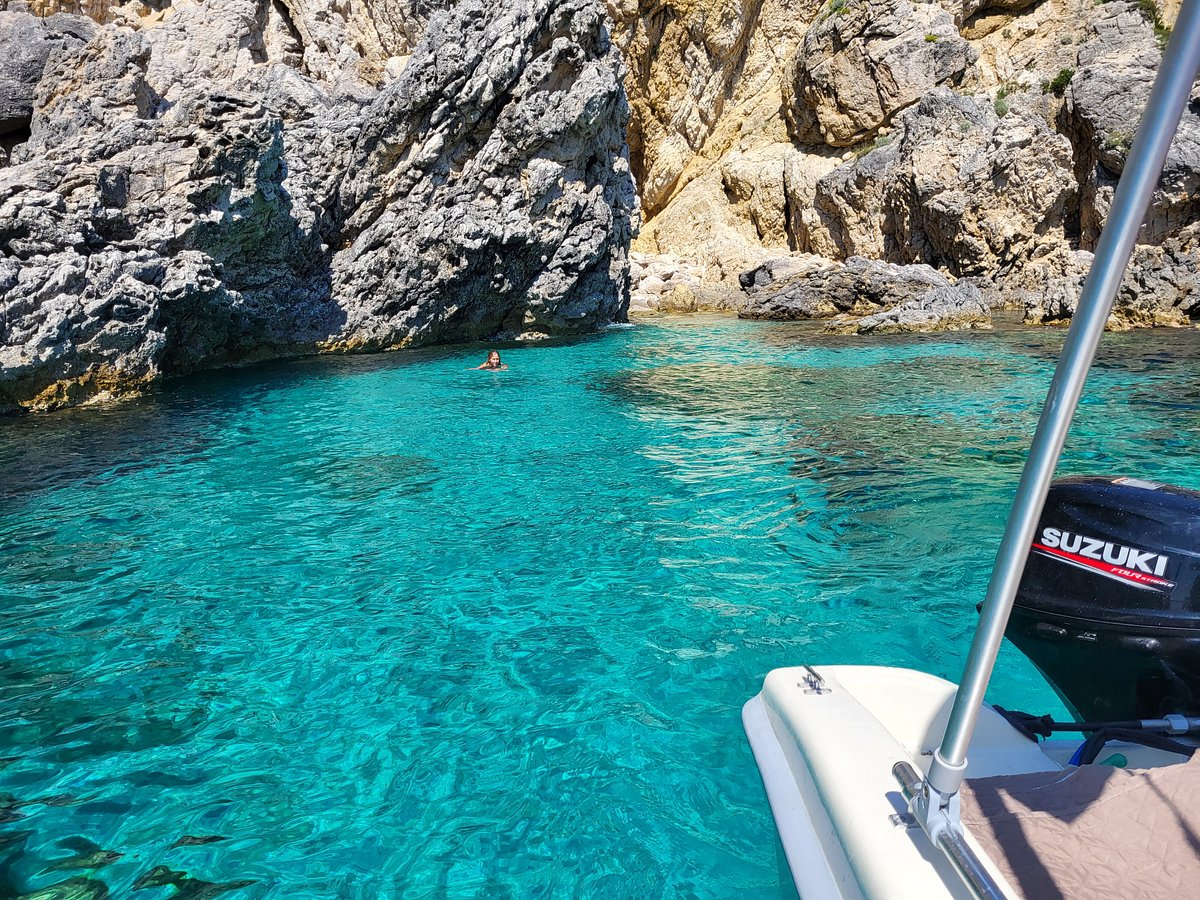 For those who enjoy spending time on the water, Liapades has several options for boat trips. Ninos Boat Rental is a popular choice, where you can rent a small boat and explore the nearby beaches, stunning cliffs, caves, and crystal-clear waters surrounding Liapades. Alternatively, you can join a group tour like Spiros Revis Day Trips to discover the picturesque Paxos and Antipaxos islands and the mesmerising Blue Caves.
For a more relaxed experience, you can hop on a water taxi which will transport you between gorgeous beaches like Rovinia and the double-sided Limni beach. Keep in mind that these beaches can get busy, especially during peak season, so plan your trip accordingly.
Dining and Nightlife
Local Restaurants
Liapades offers a variety of restaurants that serve delicious Mediterranean and Greek cuisine. Some popular spots include:
Flavor: Highly rated for their great food and service (source: Tripadvisor).
Taverna To Steki: Known for exquisite Mediterranean and Greek dishes (source: Tripadvisor).
Spiros: Recommended by the Wanderlog team for its tasty offerings (source: Wanderlog).
Abakas: Another locals' and travellers' favourite for enjoying flavourful meals (source: Wanderlog).
Aspros Taverna: An excellent choice for experiencing the best flavours of Liapades (source: Wanderlog).
Aria Grill: Recognised as one of the best tavernas in Liapades, it serves mouth-watering Mediterranean and Greek dishes (source: Tripadvisor).
Bars and Nightlife
For those looking for a good time and lively atmosphere, Liapades has a few nightlife options as well:
Medusa Bar: This bar offers a great atmosphere and good music, ensuring a fun and safe night out with its staff using hand sanitiser frequently (source: Tripadvisor).
Remember to enjoy the dining and nightlife experiences in Liapades responsibly and have a great time!
Historical and Cultural Sites
Traditional Village
Liapades is a charming traditional village located on Corfu's north-west coast. The village begins at the base of the mountain and ascends to around 200 meters above sea level. The old part of Liapades is where most of the local villagers reside, while the lower part of the village, towards the beaches and down the mountain, is primarily occupied by hotels and rooms to let for tourists.
The friendly atmosphere and the well-preserved, narrow streets of the old village invite visitors to explore the beauty of the area. Here, you will find traditional Corfiot architecture, lively coffee shops, and an authentic taste of local Greek culture.
Monastery of St Nicholas
The Monastery of St Nicholas is another must-visit site in Liapades. This historic religious building is nestled amongst lush green landscapes, offering a peaceful and serene setting for visitors. The monastery is dedicated to St Nicholas, the patron saint of sailors, and has a significant importance in local history.
The Monastery of St Nicholas features beautiful frescoes, an icon-studded iconostasis, and a tranquil courtyard that provides an ideal spot for quiet reflection. From the monastery grounds, you can enjoy panoramic views over the village and surrounding landscapes, making it a perfect place for nature lovers and photographers alike.
Practical Information
Weather
The weather in Liapades can be quite pleasant throughout the year. Summers are warm and sunny, with temperatures ranging from 20°C to 30°C, while winters are mild and wet, with temperatures ranging between 9°C and 16°C.
For the most enjoyable experience, it's recommended to visit Liapades during the late spring or early autumn months when the weather is milder, and there are fewer crowds.
Currency and Payment
In Liapades, as it is in the whole of Greece, the official currency is the Euro (€). It's always a good idea to carry some cash with you, as some small local shops and tavernas may not accept card payments. However, most tourist-oriented businesses, such as hotels, restaurants, and supermarkets, will likely accept major credit and debit cards. Additionally, ATMs are available for cash withdrawals.
When it comes to tipping, it's customary to leave a small gratuity of around 10% in restaurants and cafes if you are satisfied with the service.
Health and Safety
Liapades is generally considered a safe destination for tourists. However, it's always good to take standard precautions like securing personal belongings and avoiding unlit areas late at night.
In case of medical emergencies, the nearest hospital is in Corfu Town, which is approximately a 25-minute drive from Liapades. For minor health concerns, there is likely to be a pharmacy in the village or nearby. It would also be prudent to carry any essential medications with you and purchase travel insurance before embarking on your trip.
Remember to apply sunscreen and stay hydrated during the warm summer months, and exercise caution when swimming in the sea, as there may be strong currents in some areas.
Conclusion
In this friendly guide, we explored the charming village of Liapades on the Northern midwest side of Corfu, just a couple of kilometres away from the famous Paleokastritsa. As a quieter beach resort, it provides a perfect getaway for travellers wanting to experience an authentic Greek village.
As we discovered, Liapades is slightly inland and uphill, with a local Corfiot population adding to its charm. For beach lovers, Liapades Beach is one of the main attractions, and it is ranked #2 of 8 things to do in the area. Furthermore, its convenient location allows for a short 25-minute drive to the city, making it an ideal base for exploring other attractions in Corfu.
During your stay, don't miss out on opportunities to explore nearby attractions, such as the All Day Cruise to the Paxos and Antipaxos Islands with Blue Caves. In addition, there are top-rated tours and activities available for making the most of your trip. Take your time to savour the local cuisine and visit the restaurants recommended by fellow travellers.
In conclusion, Liapades offers a delightful blend of traditional village life, beautiful beaches, and access to other remarkable sights in Corfu. It is undoubtedly a destination worth considering for your next Mediterranean adventure.