Nestled between the villages of Vato and Pelekas on the picturesque island of Corfu, Myrtiotissa Beach has long been hailed as one of the world's finest beaches. This hidden gem boasts fine golden sand, clear teal-coloured waters, and a stunning backdrop of towering cliffs covered in lush greenery. Whether you're a nature enthusiast or just looking for a serene spot to unwind, Myrtiotissa Beach should be on your must-visit list when exploring the wonders of Corfu.
The beach's unspoilt beauty can be attributed to its challenging accessibility; visitors are required to traverse a steep and partly surfaced road to reach it. However, this seclusion has also attracted a niche audience, making it an unofficial hotspot for nudists. Despite this, there's something for everyone at Myrtiotissa Beach; sun worshippers can relax on the soft sands, adventure seekers can explore the rocky seabed through snorkelling, and those looking for a more leisurely experience can unwind with a refreshing cocktail from the nearby standing bar.
Thanks to the abundant trees, rills flowing through the cliffs, and generally verdant surroundings, Myrtiotissa Beach has remained a relatively pristine haven for visitors to Corfu amidst Greece's many tourist hotspots. So, come prepared to navigate the challenging terrain to enjoy this peaceful, scenic slice of paradise.
Myrtiotissa Beach Overview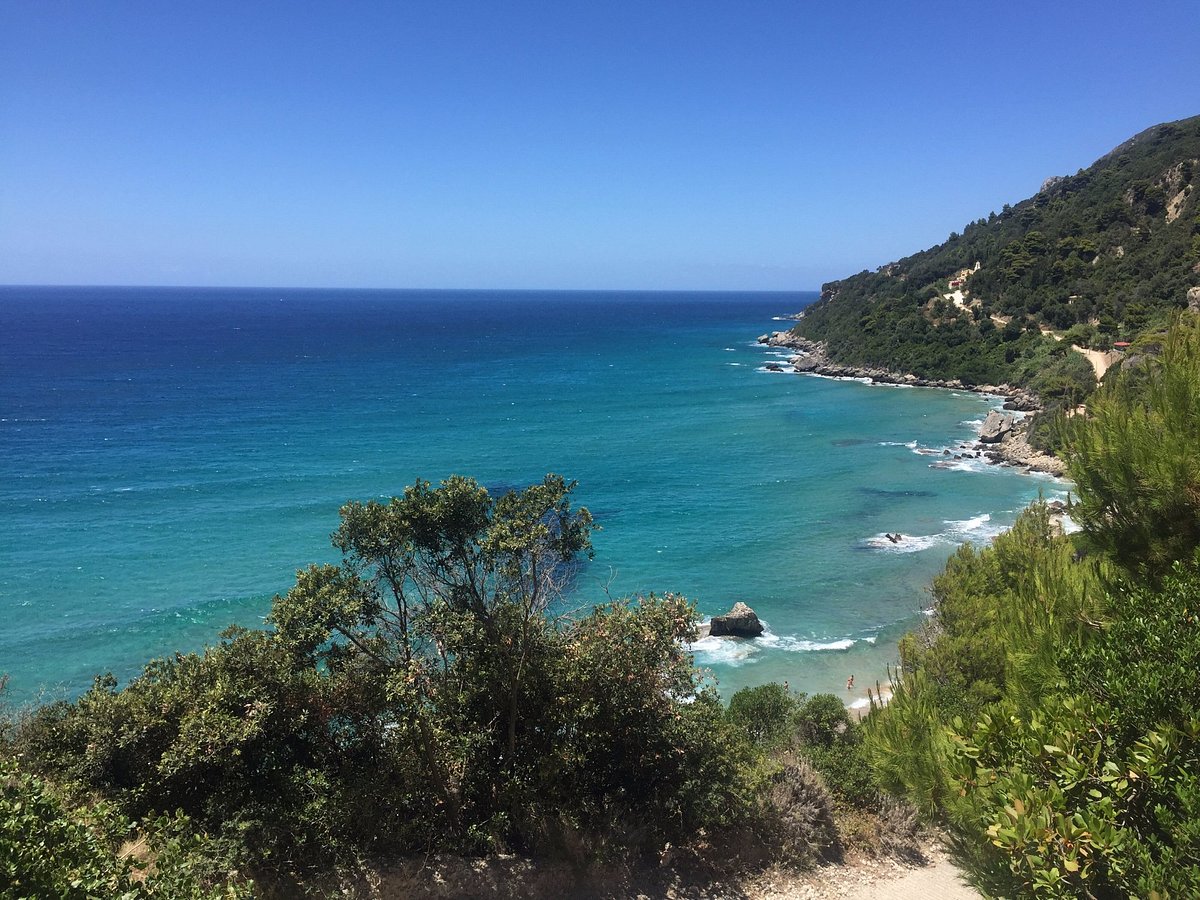 Location
Myrtiotissa Beach is situated on the west coast of Corfu, 16 km from Corfu Town. This stunning beach can be accessed by car, but the road to the beach is narrow and steep, so motorists are advised to park about a kilometre from the shore and walk the rest of the way.
Why Visit?
Myrtiotissa Beach is widely considered one of the most beautiful and unspoiled beaches in Corfu. Its fine golden sand and crystal-clear teal-coloured waters make it an ideal spot for swimming, sunbathing, and snorkelling, thanks to its rocky seabed.
Once hailed by writer Lawrence Durrell as arguably the best beach in the world, Myrtiotissa has managed to retain much of its original charm and natural beauty due to its difficulty to reach. Though it is now a popular destination for nudists, it remains relatively pristine and offers visitors a chance to experience a more tranquil side of Corfu.
Visitors to Myrtiotissa Beach can also enjoy sipping on a refreshing cocktail from the standing bar, making it the perfect spot for a relaxing day at the beach.
Getting to Myrtiotissa Beach
Myrtiotissa Beach is a beautiful and unspoiled stretch of shoreline located on the west coast of Corfu Island, Greece. Known for its fine golden sand, clear teal-coloured waters, and a rocky seabed ideal for snorkelling, it is a popular destination for visitors to the island. In this section, we will explore how to reach Myrtiotissa Beach by car, bus, and on foot.
By Car
Hiring a car is a convenient way to get around Corfu and reach Myrtiotissa Beach. From Corfu Town, head west on the main road towards Pelekas. Once you reach Pelekas, follow the signs for Myrtiotissa Beach. The journey takes approximately 30 minutes, depending on traffic. Keep in mind that the road to Myrtiotissa Beach can be steep and narrow at times, so exercise caution while driving.
By Bus
Travelling by bus is an affordable, eco-friendly alternative to driving. The public bus system in Corfu (known as the Green Buses) services Myrtiotissa Beach. From Corfu Town, take bus route number 11 towards Glyfada or Pelekas and disembark at the designated Myrtiotissa Beach stop. The bus journey takes approximately 45 minutes.
On Foot
For those who enjoy hiking, there is a moderately challenging trail that leads to Myrtiotissa Beach. The trail starts from the village of Pelekas and takes around 3 hours and 19 minutes to complete. The trail is open year-round and provides stunning views of the coastline and surrounding area. Please note that some sections of the trail may have no shade, so wearing appropriate clothing, sunscreen, and bringing adequate water is essential.
Amenities and Facilities
Sunbeds and Umbrellas
At Myrtiotissa Beach, you can find recliners and umbrellas to make your beach experience comfortable and enjoyable. Although it is an unofficial nudist beach, visitors should not have any problem finding a spot to relax comfortably while enjoying the stunning surroundings.
Beach Bars
While there are no refreshment facilities directly on the beach, due to its protected and undeveloped nature, a small canteen is available just a few minutes' walk away from Myrtiotissa Beach. Here, you can grab some drinks and snacks to keep you refreshed during your time at the beach.
Restaurants and Taverns
For those wishing to enjoy a meal after a day spent at Myrtiotissa Beach, there are a few restaurants and taverns in the nearby villages of Vato and Pelekas. These local establishments serve a variety of Greek and international cuisine, allowing you to taste the true flavours of Corfu while taking in the breathtaking views of the coastline. Although not directly on the beach, they are just a short drive or walk away, providing a convenient and delicious dining option for beach-goers.
Activities at Myrtiotissa Beach
Swimming and Sunbathing
Myrtiotissa Beach, located on the west coast of Corfu, is an ideal spot for swimming and sunbathing. The crystal clear waters and soft sands create an inviting environment for beachgoers. As you swim along the shore, don't forget to grab a refreshing cocktail from the standing bar that's available on-site. Although the beach was once popular among the nudist community, today, you'll find umbrellas and lounge beds for rent, which can make the small beach quite crowded during peak times.
Snorkelling
If you're an enthusiast for underwater exploration, Myrtiotissa Beach is perfect for snorkelling. The rocky seabed and clear waters provide excellent visibility for observing the diverse marine life. Don your snorkel gear and dive-in to discover a colourful world beneath the surface.
Hiking Trails
For those looking to stretch their legs and explore the surrounding area, Myrtiotissa Beach offers some fantastic hiking trails. The beach is hard to reach, which has helped preserve its pristine nature – making it an ideal destination for nature lovers. To access the beach, opt for a challenging hike down the steep and only partially surfaced road. Park your vehicle on the hilltop and prepare yourself for a rewarding hike with breathtaking views of the coast.
Accommodation Options
Hotels
When visiting Myrtiotissa Beach in Corfu, there are various hotels available nearby to suit your budget and preferences. In close proximity to the beach, you'll find a range of hotels, some offering amenities such as free Wi-Fi, breakfast, swimming pools, and parking. For instance, you may consider:
Hotel A: 4-star hotel with a pool, breakfast included, and free parking.
Hotel B: Family-friendly 3-star hotel offering free Wi-Fi and breakfast.
Remember to check reviews and plan your stay according to your requirements.
Villas
For those who prefer more space and privacy, renting a villa can be an ideal option. Numerous villas are available in the area surrounding Myrtiotissa Beach, with varying sizes and amenities. Some villas may even offer private swimming pools and garden areas. Here are a couple of examples:
Villa 1: Spacious villa with 3 bedrooms, a private pool, and free Wi-Fi.
Villa 2: Cosy 2-bedroom villa in a peaceful location, with a garden and Wi-Fi.
Before booking a villa, ensure you know the exact location and available facilities to fully enjoy your stay.
Apartments
Apartments are a more affordable and flexible accommodation option for visitors who prefer a home-away-from-home experience. They usually offer various facilities, such as kitchenettes for self-catering and separate living spaces. Here are two examples of apartments near Myrtiotissa Beach:
Apartment A: Studio apartment close to the beach, with a kitchenette and Wi-Fi.
Apartment B: 1-bedroom apartment with a balcony, Wi-Fi, and a fully-equipped kitchen.
As with hotels and villas, it's essential to research thoroughly and choose the right apartment to suit your needs and preferences.
Remember to enjoy your time exploring Myrtiotissa Beach and the beautiful island of Corfu, taking advantage of the accommodation options that best suit your needs!
Nearby Attractions
Paleokastritsa Monastery
Paleokastritsa Monastery is a must-visit destination for those who appreciate historical sites and religious architecture. Founded in the 12th century, the Monastery is situated on a hilltop, offering stunning views of the surrounding area. As well as exploring the well-preserved buildings, a visit to the on-site museum is highly recommended. Here you'll find a fascinating collection of Byzantine icons, religious artefacts, and manuscripts.
La Grotta Beach Bar
For a more laid-back experience, head down to the famous La Grotta Beach Bar. Nestled among the rocks along the coastline, this bar is the epitome of a hidden gem. Accessible by stairs carved into the cliffs, La Grotta offers an unparalleled atmosphere with its crystal-clear waters and unique location. Spend a leisurely afternoon swimming, snorkelling or simply relaxing with a drink in hand while taking in the beautiful scenery that this unique venue has to offer. Remember to pack your camera, as the views and surroundings make for unforgettable holiday memories.
Born and raised on the sun-drenched island of Crete, Sofia Mavromatis is a seasoned traveler and writer with a deep-rooted love for Greece's vibrant culture, stunning landscapes, and rich history.