Nestled on the northwestern coast of Corfu, Paleokastritsa Beach offers a picturesque getaway for visitors seeking stunning natural beauty and crystal-clear waters. With its beautiful coastal scenery winding around striking bays, this popular beach resort promises a memorable and tranquil experience under the warm Mediterranean sun.
Surrounded by lush greenery, rocky cliffs, and white sandy beaches, Paleokastritsa is ideal for both relaxation and those seeking action-packed water sports adventures. With several beaches to choose from, such as Agios Spiridonas, Liapades, Alipa, and Paradise Beach, visitors are spoilt for choice when it comes to finding their perfect spot to unwind. Additionally, the historic Paleokastritsa Monastery perched atop a hill draws crowds eager to explore its serene surroundings and commanding views.
Beyond sunbathing and swimming, guests can wander over to the popular La Grotta beach bar, explore the nearby Angelokastro castle, or embark on a boat tour to fully appreciate the beauty of the region. A day spent exploring vibrant Paleokastritsa Beach and its surroundings will undoubtedly leave visitors with lasting memories of this idyllic Greek island paradise.
Getting to Paleokastritsa Beach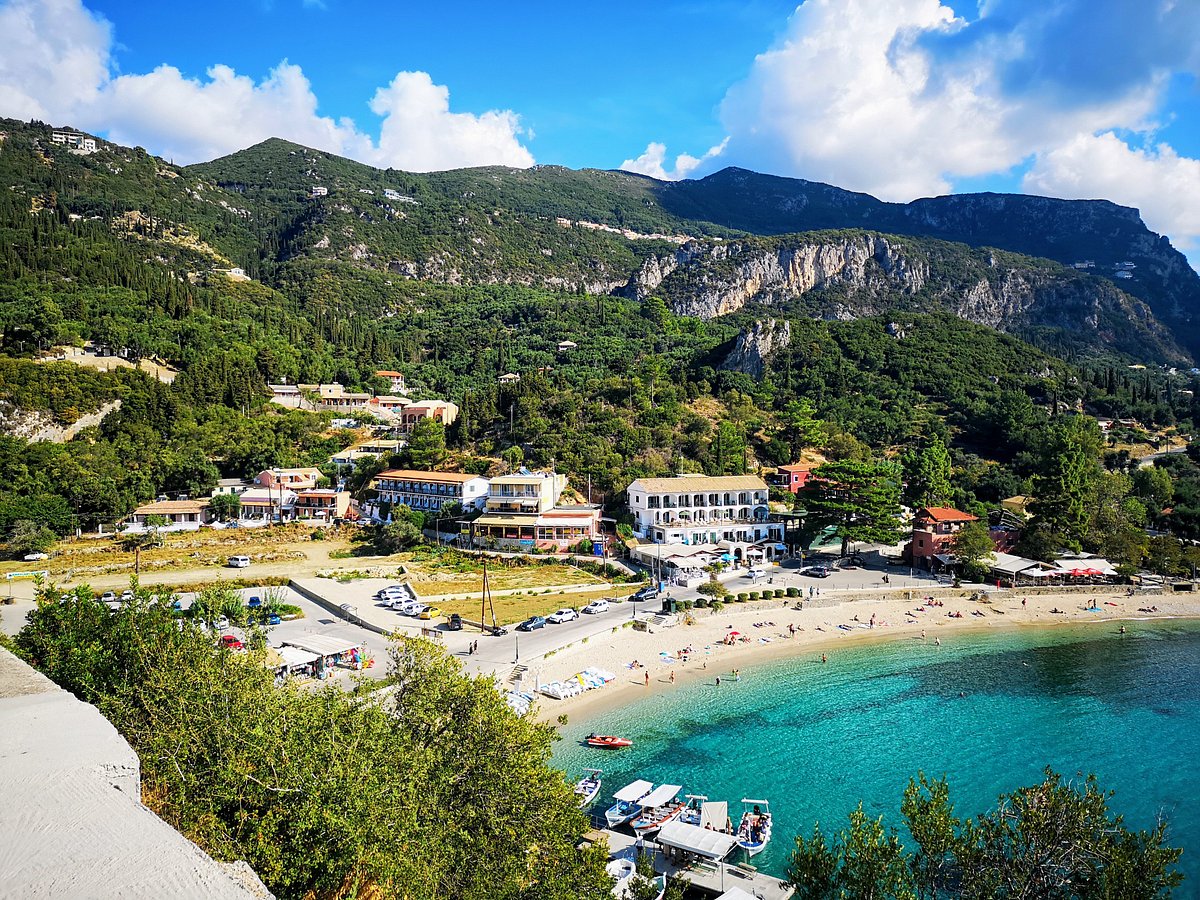 Paleokastritsa Beach is a popular destination on the island of Corfu, known for its crystal clear waters, white sandy beaches, and stunning natural beauty. In this guide, we will explore the best ways to reach this panoramic paradise.
By Car
Renting a car is a convenient way to explore the island and reach Paleokastritsa Beach. The main access point to the beach is via Agios Spiridon Beach, which is just across the road from Paleokastritsa's main car park. To make your journey even smoother:
Plan your route in advance and utilise GPS devices
Familiarise yourself with local driving laws and requirements
Drive cautiously on the winding coastal roads
By Public Transport
If you prefer to travel by public transport, Paleokastritsa Beach can be easily reached by bus from Corfu Town. The local green buses run regular services to the beach, taking approximately 30-50 minutes, depending on the route. To make your journey hassle-free:
Check the bus timetables and plan your trip accordingly
Purchase tickets from the bus station or on board
Board the bus at the designated bus stop
Keep a look out for the Paleokastritsa main car park stop, as it is the closest to the beach
No matter which mode of transportation you choose, arriving at Paleokastritsa Beach is sure to be an exciting part of your Corfu adventure.
Beach Facilities
Sunbeds and Umbrellas
Paleokastritsa Beach offers sunbeds and umbrellas for all visitors looking to relax and soak up the sun. The beach is lined with a great number of sunbeds, perfect for spending a day at the beach. Plus, the umbrellas provide shade and protection from the sun, ensuring a comfortable experience.
Water Sports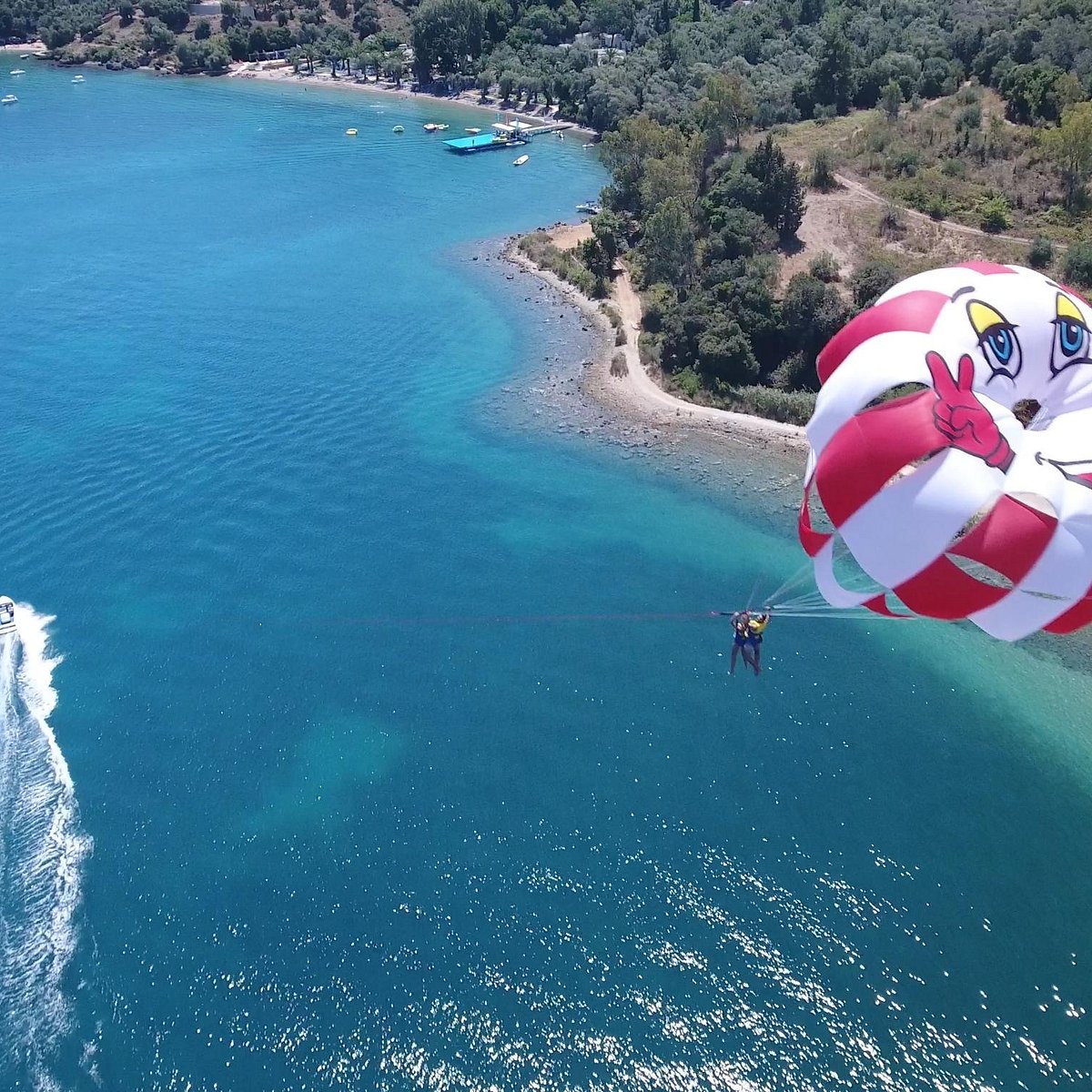 Keeping visitors entertained, Paleokastritsa Beach is well-equipped with a variety of water sports available. Adventurous types can partake in activities such as:
Jet skiing: Experience the thrill of speeding across the crystal-clear waters.
Parasailing: Get a bird's eye view of the stunning coastline while being towed by a boat.
Banana boat rides: Enjoy a thrilling ride on an inflatable banana boat along the waves.
Pedalos: Rent a pedal boat with friends or family and leisurely explore the nearby areas of Paleokastritsa.
Please note that all water sport activities are subject to seasonal availability and may vary in pricing. It's always a good idea to verify with the local service providers before planning your day at the beach.
Dining and Accommodation
Restaurants and Cafés
Paleokastritsa is known for its delightful dining options, offering visitors the chance to enjoy a diverse selection of Mediterranean and Greek cuisine. Some of the top restaurants and cafés include:
Il Pozzo: With rave reviews, this Mediterranean and Greek restaurant is a must-visit. They offer a beautiful atmosphere and a fantastic dining experience.
Flavor: A Mediterranean and Greek restaurant just 0.7 miles away from Corfu, Flavor offers a pleasant experience and delicious food.
Tango Cafe – Bar: This café and bar offer a delightful blend of coffee, tea and bar options, perfect for relaxing moments, located only 0.5 miles away.
Hotels and Apartments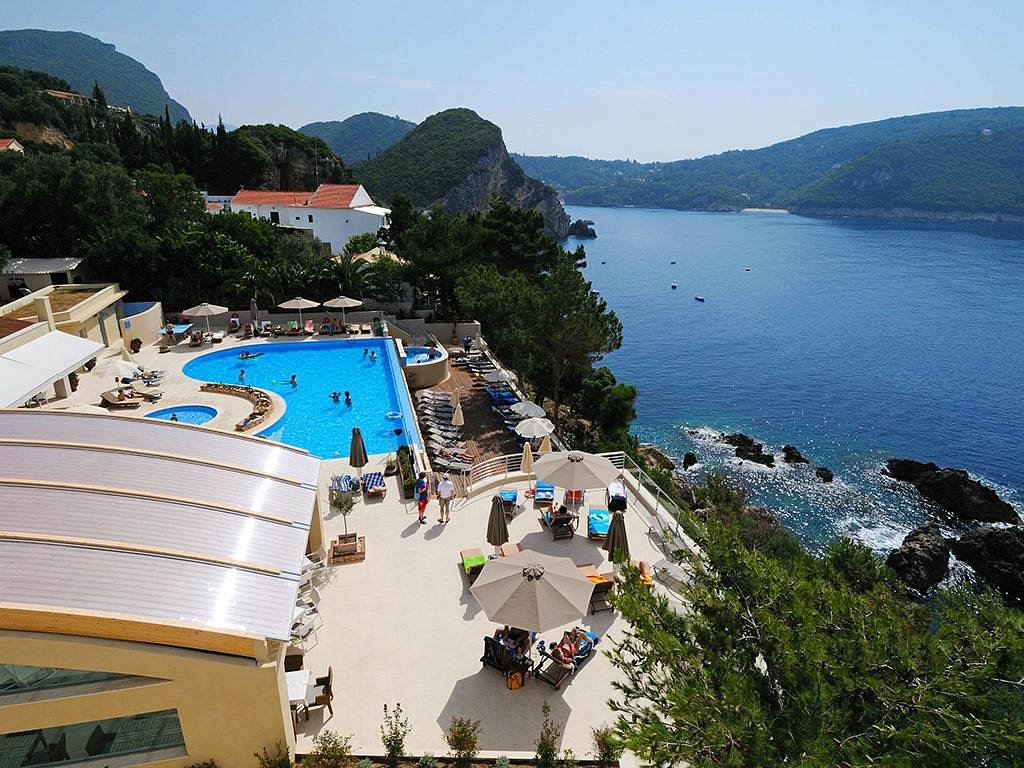 For those looking for cosy accommodation in Paleokastritsa, a range of hotels and apartments cater to different tastes and budgets. Here are a few recommended options:
The 5 best hotels in Paleokastritsa: Choose from a selection of highly-rated hotels in the area to ensure a comfortable stay.
The 5 best Airbnbs in Paleokastritsa: Enjoy a home-away-from-home experience by staying in one of the top-rated Airbnbs in this beautiful resort town.
Best experiences and tours in Paleokastritsa: Enhance your visit by booking unique experiences and tours to explore the stunning surroundings and make the most of your trip.
Nearby Attractions
The Monastery of Paleokastritsa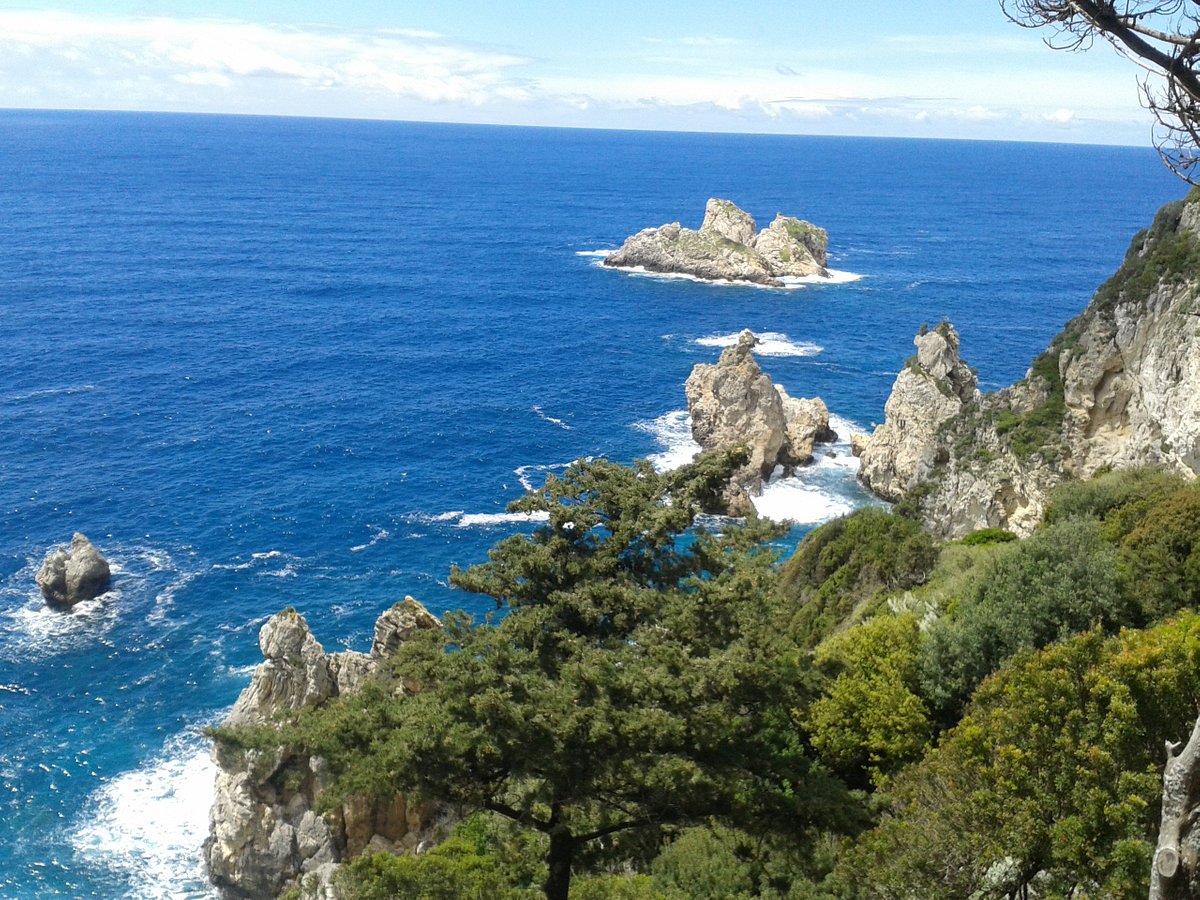 The Monastery of Paleokastritsa is a must-see attraction, sitting on a hill just 0.2 miles from Paleokastritsa Beach. This historic monastery dates back to the 13th century and offers visitors a chance to explore the quaint buildings, picturesque courtyard, and interesting religious artefacts housed within. Additionally, the stunning panoramic views of the coast from the monastery grounds are well worth the visit.
Hiking Trails
For nature lovers and adventure enthusiasts, Paleokastritsa offers several beautiful hiking trails to explore. One popular option is the trail from Liapades, located just 0.7 miles from Paleokastritsa Beach. This private hiking tour allows you to discover the azure beaches and unspoiled landscapes of this stunning region.
Another popular trail starts in Paleokastritsa itself and winds around the local coastline, providing fantastic views and access to various secluded coves and beaches along the way. Walking tours offer a guided experience, enriching your hike and ensuring you don't miss any of the area's hidden gems. Remember to pack comfortable shoes, sunscreen, and water for a safe and enjoyable hike.
Born and raised on the sun-drenched island of Crete, Sofia Mavromatis is a seasoned traveler and writer with a deep-rooted love for Greece's vibrant culture, stunning landscapes, and rich history.