Nestled along the west coast of the enchanting Corfu Island lies a breathtaking haven for travellers, Paradise Beach. This magnificent beach is renowned for its crystal-clear blue waters, towering white cliffs and captivating panoramic views. As one of the top tourist attractions in Corfu, Paradise Beach is an absolute must-visit destination for anyone seeking a memorable Greek holiday experience.
With its picturesque scenery and accessible location for boat trips from nearby Paleokastritsa, Paradise Beach promises to surprise and delight visitors of the island. The stunning northwest coastline of Corfu also boasts dramatic cliffs and mesmerising sea caves, adding to the area's charm and allure. It's no wonder tourists from far and wide can't help but fall in love with this captivating piece of paradise.
Don't miss the chance to explore the enchanting beauty that Paradise Beach offers. Whether you're looking to unwind on a sunbed by the mesmerising shoreline, or yearning for a thrilling adventure exploring the sea caves, this extraordinary beach will undoubtedly provide a delightful experience leaving you with unforgettable memories.
Getting to Paradise Beach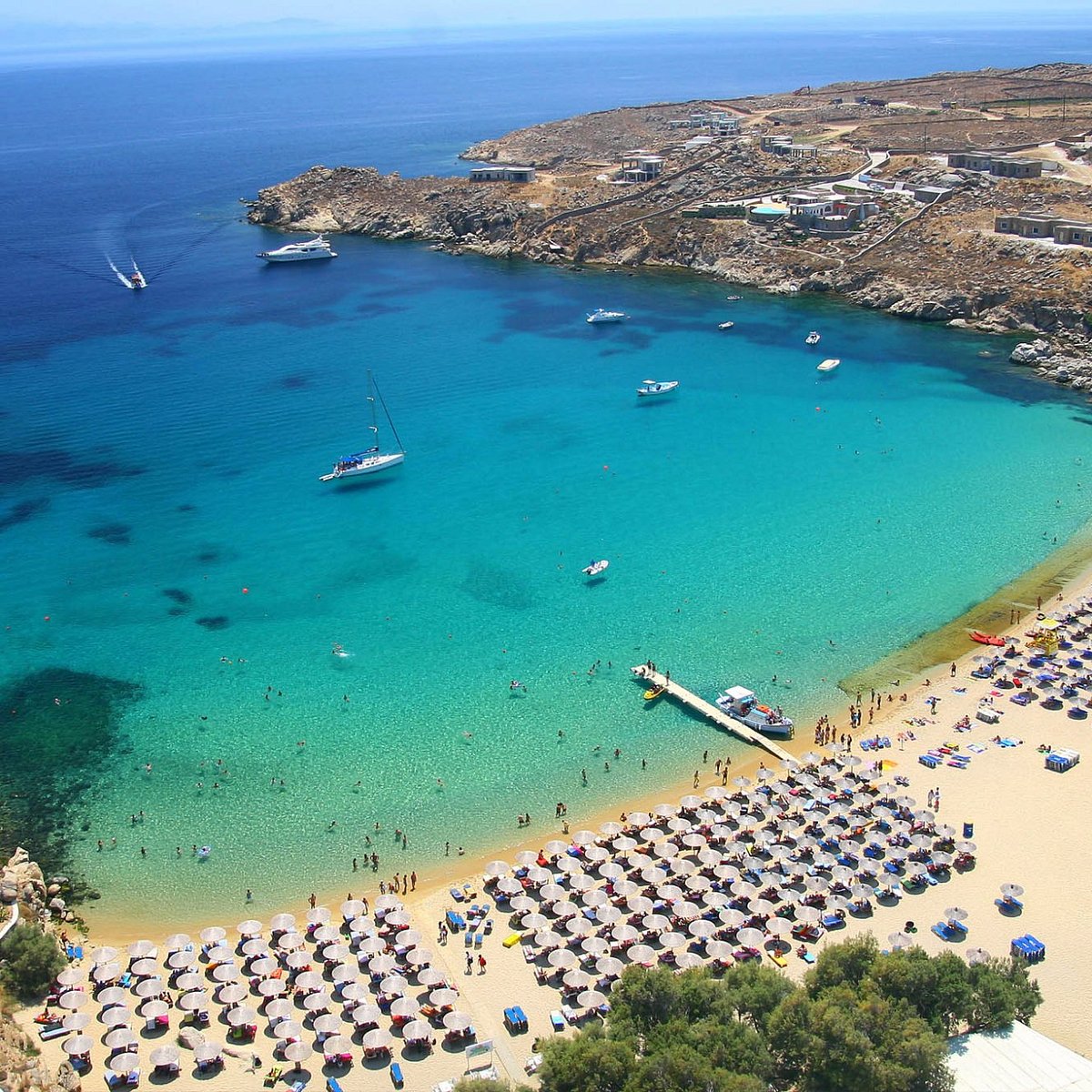 Paradise Beach in Corfu is a stunning destination known for its clear blue waters, dramatic cliffs, and pristine environment. There are two primary ways to reach this beautiful beach: by boat or hiking. This section will provide brief information about both options, so you can choose the most suitable and convenient method for your visit.
Arrival by Boat
One of the most popular and convenient ways to reach Paradise Beach is by taking a boat trip. Boats depart frequently from the nearby town of Paleokastritsa and offer a short and scenic journey to Paradise Beach. Along the way, you can marvel at the surrounding natural wonders, such as the sea caves and dramatic cliffs of Corfu's northwest coastline.
Hiking Trails
Alternatively, if you prefer a more adventurous and active approach, you can opt for one of the numerous hiking trails to reach Paradise Beach. The picturesque Liapades Beach, also known as Gefyra, is a nearby option that offers a beautiful hiking trail to Paradise Beach. The trail is approximately 2 kilometres long and provides an opportunity to walk through lush greenery, witness stunning views of the coastline, and immerse yourself in nature's beauty.
Regardless of which option you choose to reach Paradise Beach, rest assured that you'll be rewarded with an unforgettable experience at one of Corfu's most stunning locations.
Facilities and Amenities
Sunbeds and Umbrellas
Paradise Beach, also known as Chomi Beach, offers a beautiful and relaxing setting for tourists. Here, you can rent sunbeds and umbrellas to make your visit more comfortable. Lie down, soak up the sun and enjoy the crystal blue waters and picturesque views of this gorgeous beach. It is important to note that vendors can be pushy, so be prepared to either buy what they're selling or politely decline.
Restaurants and Bars
After spending time on the beach, you may want to grab a bite to eat or a refreshing drink. While Paradise Beach itself does not have a wide selection of restaurants and bars, you can find several dining options in the nearby town of Paleokastritsa. Take a short trip to the town, and you'll be able to choose from various restaurants and bars to suit your taste and budget. Satisfy your cravings and indulge in delicious Greek cuisine or international favourites to complement your beach experience.
Water Sports
Adding excitement to your visit to Paradise Beach, there are several water sports available for you to participate in. From snorkelling to swimming, there's plenty of fun to be had by all. Don't forget to explore the stunning sea caves along the north-west coastline of Corfu on your boat trip from Paleokastritsa. The unique and captivating sea caves offer an exciting opportunity to witness the incredible colours of the Adriatic Sea. Remember to bring your camera, as you'll definitely want to capture memories of this unforgettable experience.
Nearby Attractions
Paleokastritsa Monastery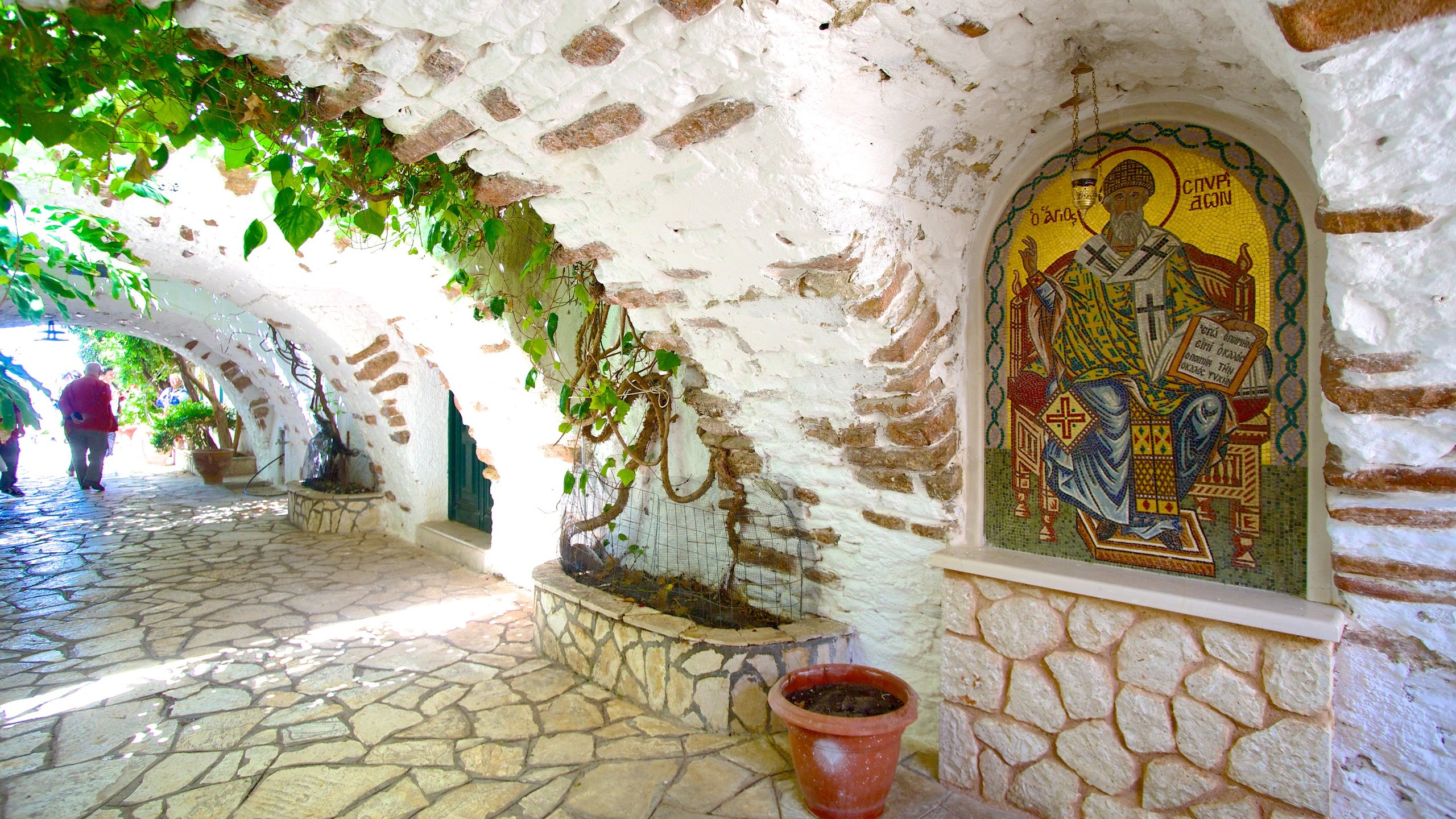 The beautiful Paleokastritsa Monastery is an essential stop on your visit to the area. Established in 1228, the monastery showcases impressive architecture and breathtaking views of the Ionian Sea. The tranquil atmosphere and well-kept gardens make it the perfect spot for relaxation and reflection. Besides, you can also enjoy discovering the small museum displaying Byzantine icons and ecclesiastical artefacts.
Angelokastro
Angelokastro, situated atop a hill, is an impressive 13th-century Byzantine castle that overlooks the sea. It's a fantastic destination for history enthusiasts, offering stunning panoramic views of the coastline and surrounding landscape. While the climb up is moderately challenging, it's worth the trek for the stunning scenery. Don't forget to bring your camera to capture the beautiful sights!
Corfu Old Town
A visit to Corfu Old Town is a must as it's steeped in history and charm. The UNESCO World Heritage site features narrow cobblestone streets, Venetian architecture, and lively town squares. Some highlights include:
Spianada Square: The largest square in the Balkans, featuring lovely green areas and beautiful landmarks such as the Liston, a Venetian-built gallery with numerous cafes and restaurants.
Saint Spyridon Church: A stunning landmark worth visiting, housing the relics of the patron saint of Corfu, Saint Spyridon.
Old and New Fortress: Two remarkable fortresses showcasing Venetian architecture, offering panoramic views of the town.
While exploring, take the opportunity to shop for souvenirs, enjoy a leisurely meal at a local taverna, or even sample traditional Greek treats such as baklava and loukoumades from the various bakeries found along the way.
So, when visiting Paradise Beach, make sure to leave time for these must-see attractions nearby. Enjoy!
Accommodation Options
When planning your visit to Paradise Beach, Corfu, you'll find various accommodation choices. In this section, we'll cover hotels, villas and apartments, and camping options.
Hotels
There are several hotels near Paradise Beach that cater to different budgets and preferences. Some options include:
For a luxury stay, consider the Corfu Imperial Grecotel at Kontokali or Ikos Dassia.
Villas and Apartments
If you prefer more privacy and space, consider renting a villa or apartment. Paleokastritsa, a gorgeous village near Paradise Beach, offers many options. Websites like Airbnb and HomeAway can help you find the perfect place. Additionally, Angel's Pool Bar Apartments offers apartment-style accommodation.
Camping
For budget travellers and those who love being closer to nature, camping is an option. Unfortunately, there aren't any specific camping sites right near Paradise Beach. However, you can explore camping sites across Corfu, especially on the western side of the island. Check local rules and regulations to ensure responsible camping.
Tips for Visiting Paradise Beach
Paradise Beach is a must-see destination on the island of Corfu in Greece. To make the most of your visit, follow these friendly tips when planning your trip.
Best Time to Visit
Visiting Paradise Beach early in the day is highly recommended. The water around the beach tends to fill up quickly with people, so arriving early will allow you to enjoy the beach with fewer boats and smaller crowds. Also, consider visiting during the shoulder seasons (May and October) when the weather is still pleasant and tourist numbers are lower.
Safety Precautions
Swim with caution: Be mindful of the pebble-strewn beach and rocky coastline, and keep an eye out for any sudden changes in water depth.
Sea caves exploration: If you plan to explore sea caves along the way, ensure you do so with an experienced guide or as part of a tour group.
Sun protection: The sun can be intense, so ensure you apply sunscreen, wear a hat and have some form of shade available.
Follow water safety guidelines: Always be cautious while entering and exiting the water, as well as when swimming or snorkelling. Heed any warnings or signs posted on the beach.
Environmental Awareness
Practice "Leave No Trace" principles: Make sure to take all your rubbish with you when you leave, and don't leave any marks, graffiti or other impacts on the environment.
Respect marine life: Be conscious of the local marine ecosystem and avoid disturbing any wildlife you may encounter while swimming or snorkelling. Avoid touching coral, as even the lightest touch can damage it.
Support local businesses: Choose to rent beach chairs or umbrellas from local businesses rather than bringing your own, to support the local economy.
Conclusion
Paradise Beach, found on the west side of Corfu island, is certainly a must-visit destination for anyone vacationing in the area. This picturesque beach, with its crystal-clear blue waters, breathtaking white cliffs, and unforgettable views in all directions, is one of the top tourist attractions in Corfu.
While the beach may sometimes face strong waves and colder water, this does not detract from the overall beauty and appeal of Paradise Beach. Visitors may want to plan their trip between May and October when they can truly appreciate the beach's natural wonders.
In conclusion, Paradise Beach is undeniably a gem in Corfu's rich collection of stunning beaches. With its unique landscape and serene atmosphere, it offers a fantastic opportunity for a day trip or simply lounging on the beach, away from the hustle and bustle of the more crowded tourist areas. So, when you find yourself exploring the magical Ionian Sea, make sure not to miss this distinct slice of paradise.