Corfu, a picturesque Greek island in the Ionian Sea, is a popular holiday destination known for its verdant landscapes, pristine beaches, and vibrant culture. As summer unfolds its full glory, August in Corfu dazzles visitors with a warm and sunny climate that makes exploring the island an absolute treat. With temperatures soaring up to 31.3°C during the day and sinking to a pleasant 18.8°C at night, the perfectly balmy conditions provide an excellent backdrop for several outdoor activities.
In August, the island of Corfu boasts long days with an average of 11 hours of sunshine, promising ample opportunity for sunbathing, sightseeing, or experiencing its buzzing nightlife. The sea temperature is comfortably warm at about 25°C, inviting beach lovers to dive into the azure waters and enjoy water sports such as snorkelling, swimming, or simply relaxing on the Mediterranean shores. With just 4mm of precipitation per month, the chances of encountering rain on your holiday are extremely low, making it an ideal time to experience the beauty of Corfu.
To make the most of your visit to Corfu in August, it is essential to pack light and cool clothing to adapt to the hot and humid weather. With an average humidity of 64%, ensure to stay hydrated, apply sun protection, and take necessary precautions against heat cramps and heat exhaustion. So gear up, and get ready to immerse yourself in the magnificent island of Corfu that effortlessly combines sun-kissed beaches, ancient history, and exhilarating experiences in the warm embrace of August.
Overview of Weather in Corfu in August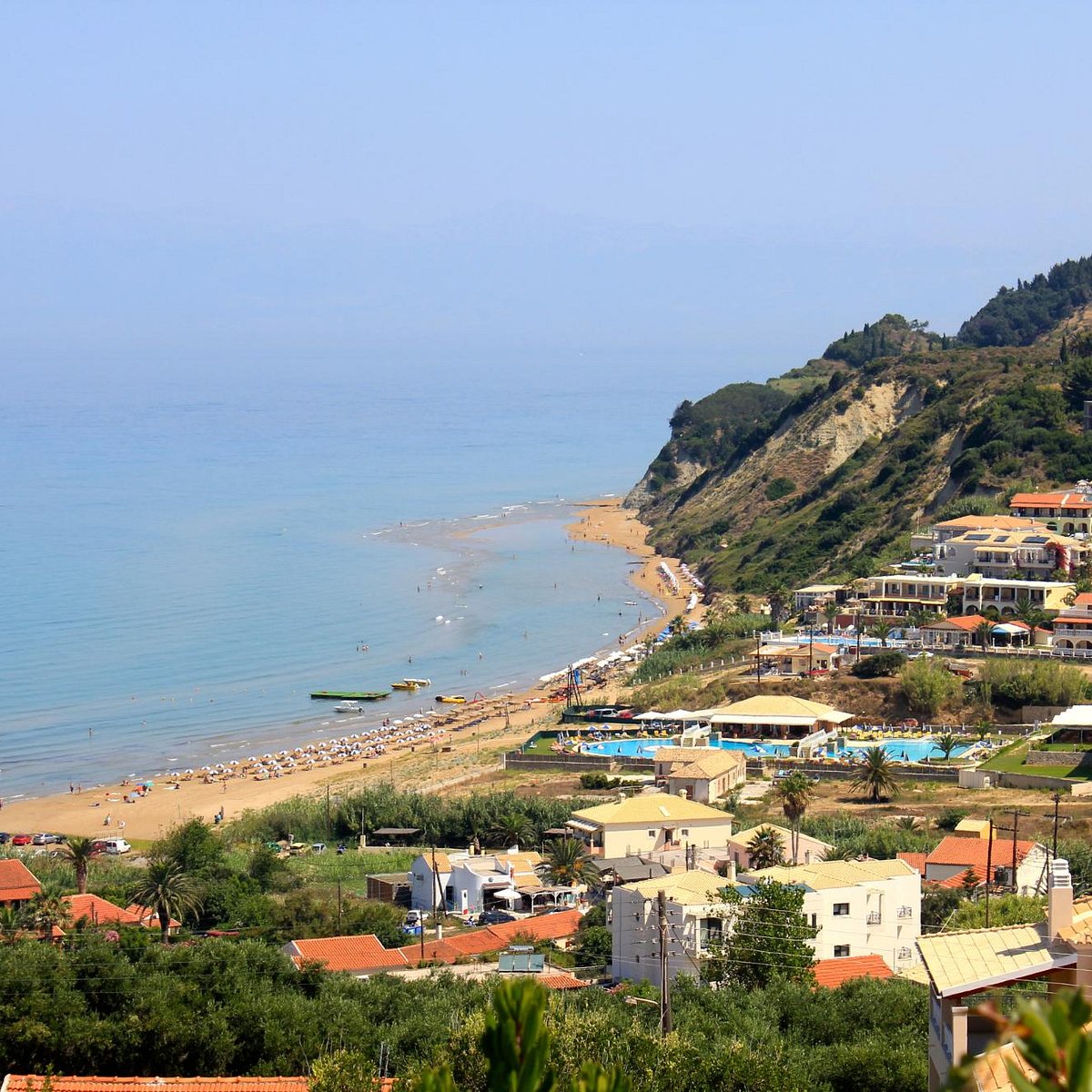 Corfu, an Ionian island located off Greece's northwest coast, enjoys pleasant weather in August. This section covers the temperature ranges, sunshine hours, and rainfall during this time of year on the island, to help travellers better plan their activities and make the most of their visit.
Temperature Ranges
In August, Corfu experiences warm temperatures, making it an ideal destination for beach activities and exploring the island. The average high temperature is around 31.3°C (88.3°F), while the average low temperature is around 18.8°C (65.8°F). It's advisable for visitors to pack light, breathable clothing to stay comfortable throughout the day.
Sunshine Hours
The island is blessed with abundant sunshine during August, allowing for ample opportunities to enjoy outdoor activities or simply relax by the poolside or on the beach. Paleokastritsa, a picturesque destination on the island, sees an average of 333 hours of sunshine throughout the month. This translates to roughly 13 hours of sun per day, making it a great time to visit and explore all that Corfu has to offer.
Rainfall
Although there might be occasional rain showers during August, the island generally experiences low levels of rainfall during this time of year. In Kávos, Corfu sees an average of 19mm (0.7 inches) of rainfall, while Agios Spyridon Corfu records around 24mm (0.9 inches). This means that while visitors should be prepared for occasional showers, overall, they can expect predominantly dry and sunny days.
In summary, August is a lovely time to visit Corfu, with warm temperatures, abundant sunshine, and low rainfall. Armed with this information, travellers can plan a wonderful summer holiday on this beautiful Ionian island.
Activities to Enjoy during August in Corfu
Outdoor Recreation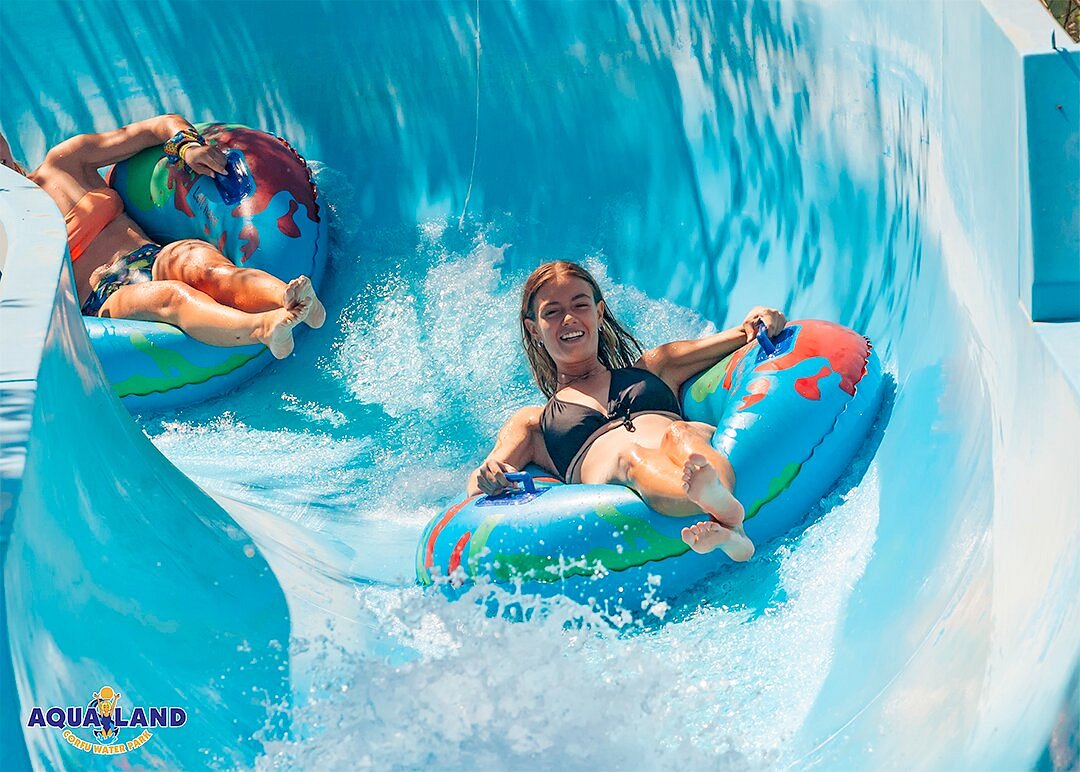 August in Corfu offers plenty of outdoor recreational activities for visitors to enjoy. With average temperatures of 28°C, the weather is perfect for exploring the island's natural beauty. Many visitors opt for hiking or cycling in the picturesque countryside. Corfu's diverse landscape, including olive groves, cypress forests, and coastal paths, offers a variety of stunning views.
A visit to Aqualand Corfu Water Park is also an excellent choice for families and adrenaline-seekers. The park boasts numerous slides for all ages, a fun wave pool, and plenty of opportunities for relaxation.
Cultural Events
August is a bustling time for cultural events in Corfu, from theatrical performances to art festivals and concerts. The vibrant atmosphere of the island is most apparent during this month, with numerous events available for tourists to attend. Make sure to check the local listings during your visit to discover the variety of entertainment options available during your stay.
Beach Activities
As one of the prime beach months in Corfu, August features warm waters and long stretches of sun-soaked coastlines. The island's numerous beaches offer opportunities for sunbathing, swimming, and snorkelling. With the clear turquoise waters, you can spot an array of marine life, making it a fantastic experience for adults and children alike.
For those seeking more adventure, try your hand at various watersports such as windsurfing, jet-skiing, and parasailing. Many beachside rental shops offer equipment and lessons for beginners and experienced visitors alike. Just remember to stay safe by following the instructions and guidelines provided!
Travel Tips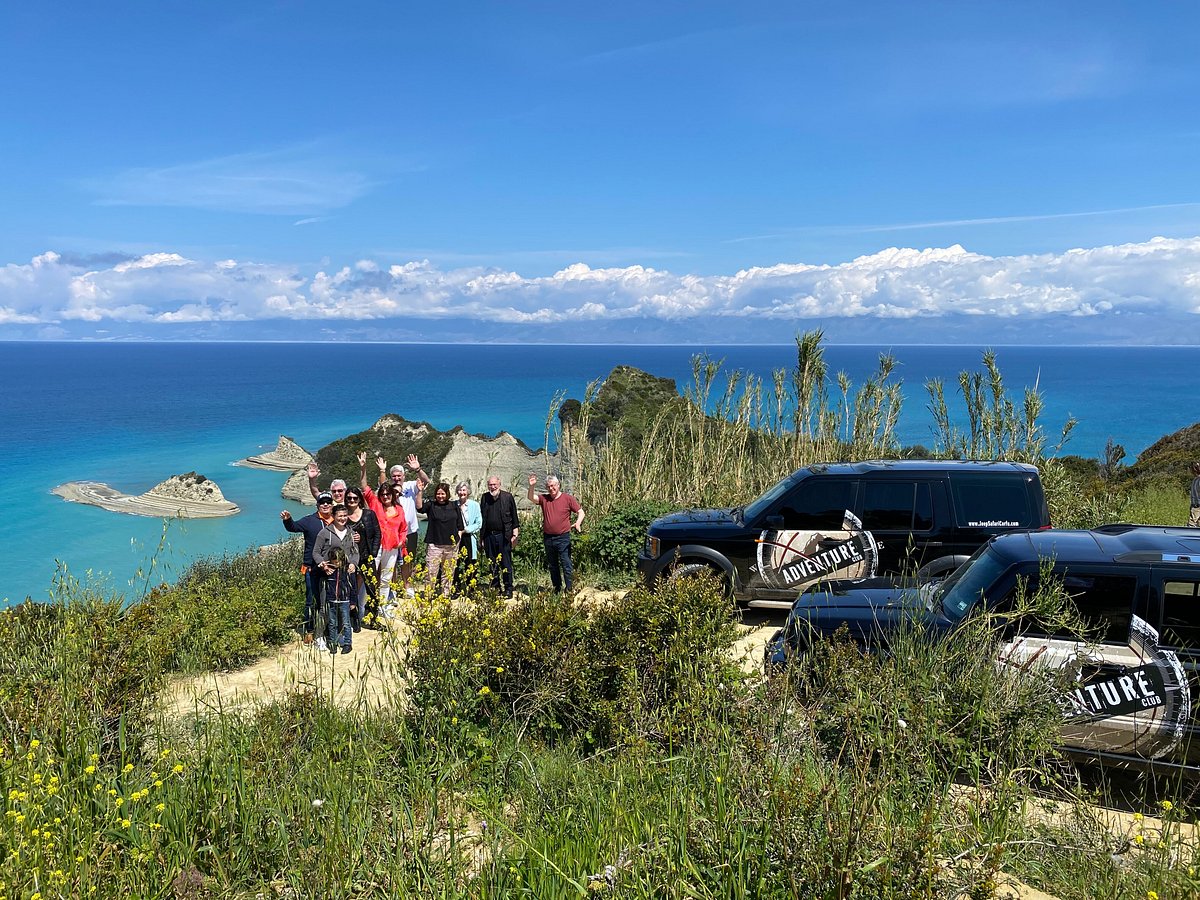 Packing Recommendations
When visiting Corfu in August, remember it's one of the hottest and driest months, with average low temperatures of 21°C (70°F) and average high temperatures of 31°C (88°F). Considering this, pack the following items:
Lightweight clothing: Opt for breathable fabrics like cotton and linen.
Swimwear: You'll want to hit the beach, so make sure to bring swimsuits and cover-ups.
Sun hat and sunglasses: Protect your face and eyes from the strong sun.
Comfortable footwear: Pack sandals for the beach and comfortable walking shoes for exploring.
Light jacket or shawl: Occasionally, evenings can be cooler.
Peak Season Considerations
August is a busy time in Corfu, as it's both the hottest month and when many Greeks take their holidays. With that in mind:
Book accommodations early: Secure your preferred accommodation in advance to avoid disappointment.
Expect crowds: Prepare for busy beaches, restaurants, and tourist attractions.
Consider alternative activities: Explore less popular sites and attractions to avoid the crowds and discover hidden gems.
Hydration and Sun Protection
August in Corfu means long days of sunshine, averaging 12 hours per day. To stay safe and healthy under the sun, follow these tips:
Drink plenty of water: Carry a reusable water bottle and remember to drink regularly.
Apply sunscreen: Choose a sunscreen with a high SPF rating and reapply every few hours, especially after swimming.
Stay in the shade: Avoid prolonged exposure to direct sunlight during peak hours (10 AM – 4 PM) and take breaks in the shade when possible.
Wear protective clothing: Opt for lightweight, long-sleeved shirts and trousers to shield your skin from the sun.
By keeping these travel tips in mind, you can ensure a comfortable and enjoyable trip to Corfu in August.
Born and raised on the sun-drenched island of Crete, Sofia Mavromatis is a seasoned traveler and writer with a deep-rooted love for Greece's vibrant culture, stunning landscapes, and rich history.