Heraklion, the bustling capital of Crete, offers a fascinating blend of history, culture, and natural beauty. This charming city is home to awe-inspiring ancient ruins, delicious culinary experiences, and gorgeous beaches just a short distance away. Visitors to Heraklion will quickly find themselves immersed in the fascinating stories, vibrant atmosphere, and inviting spaces that this Cretan city has crafted over its long and storied past.
Top attractions in the area include the Palace of Knossos, one of the most well-preserved Minoan sites on the island, just five kilometres southeast of Heraklion. This archaeological treasure draws history lovers from around the globe, eager to uncover the mysteries of the ancient Minoan civilization. Additionally, travellers will find an array of cultural and culinary experiences waiting just within the city limits, with day tours, cooking classes, and local wineries offering a taste of authentic Cretan life.
After a day spent exploring the historic sites, visitors can unwind along the city's sun-soaked coastline, or venture further to discover the nearby hippie haven of Matala and its iconic beachside caves. No matter your interest, Heraklion provides a captivating window into the diverse landscape, rich heritage, and unmatched hospitality that Crete has to offer.
Historical Sites
Knossos Palace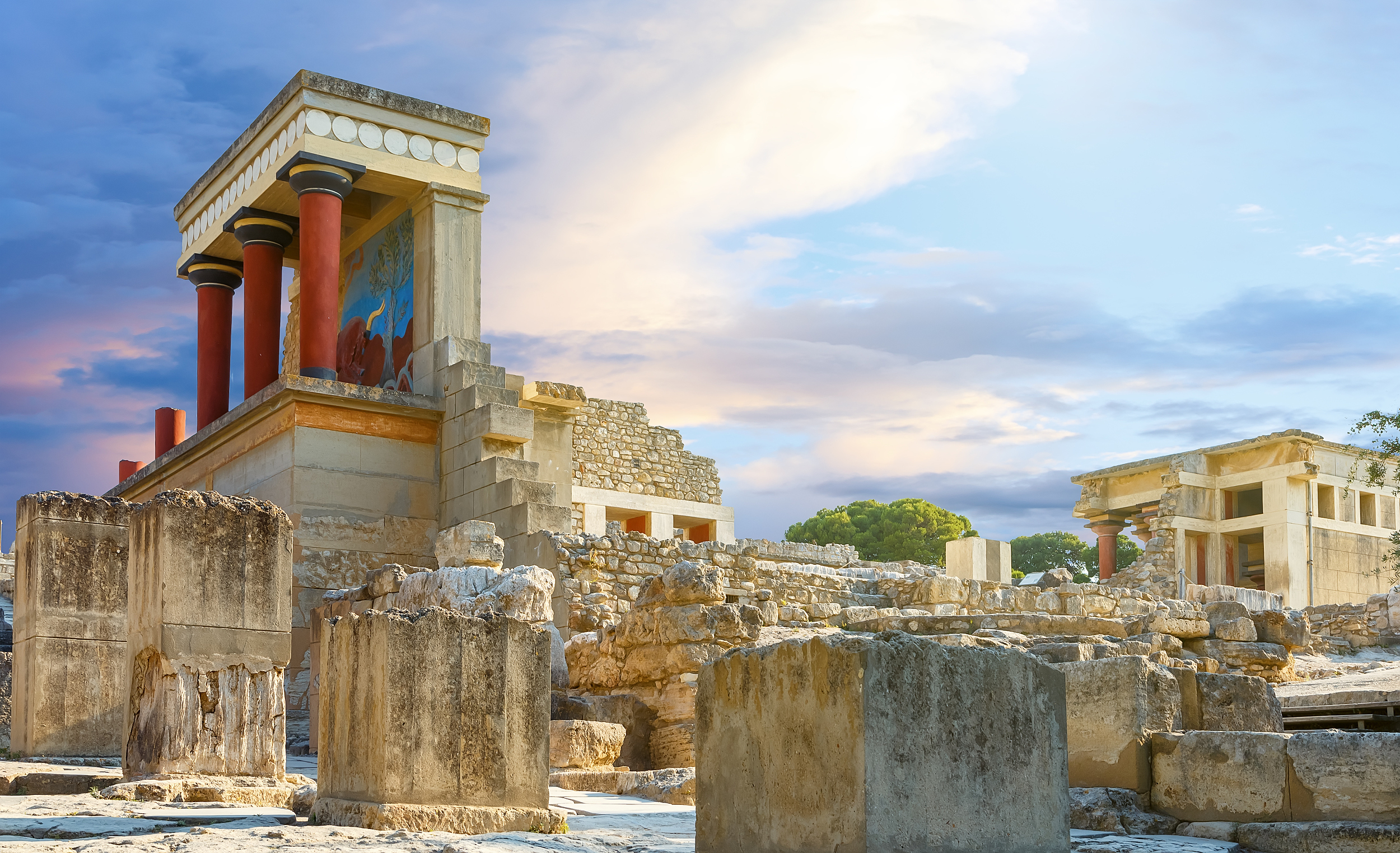 Knossos Palace is one of the most famous and important archaeological sites in Crete. Located just 5 kilometres southeast of Heraklion, this ancient Minoan site boasts well-preserved ruins that give visitors a glimpse into the illustrious past of the island's civilisation. As you explore the vast palace complex, you'll encounter vibrant frescoes, storerooms, and the renowned Throne Room of King Minos. Whether you're a history buff or simply curious about ancient cultures, Knossos Palace is an essential stop on any Heraklion itinerary.
Heraklion Archaeological Museum
To gain a deeper understanding of Crete's rich history and the Minoan culture, be sure to visit the Heraklion Archaeological Museum located in the city centre. This museum houses an extensive collection of artefacts from the Minoan period, including pottery, jewellery, and sculptures. Many of the important findings from Knossos can also be found here, such as the famous Phaistos Disc and the Bull-Leaper fresco. The museum's exhibits are arranged chronologically, providing a comprehensive overview of Crete's ancient past and making it clear visitor experience.
Koules Fortress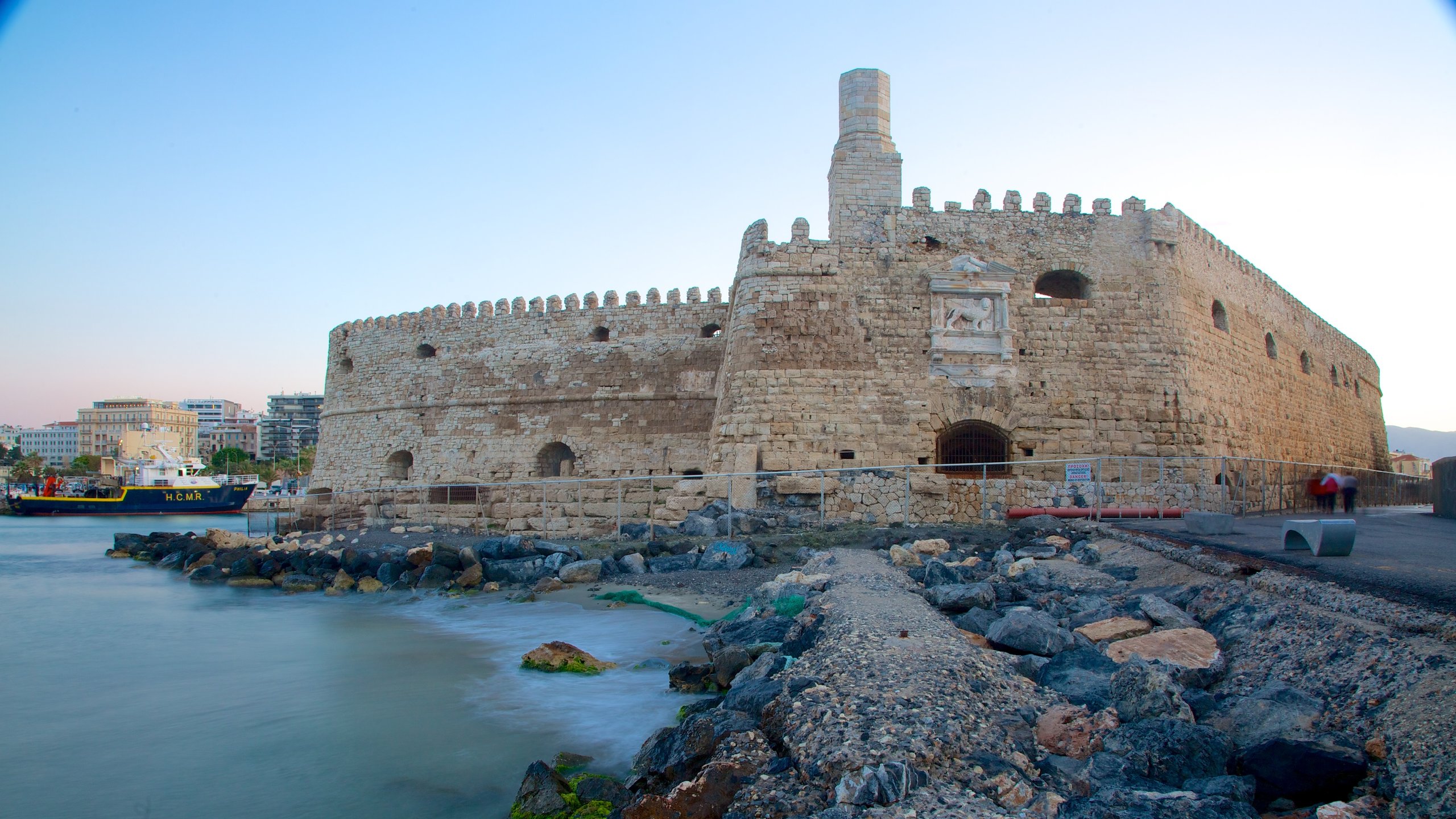 For a change of pace, head to Koules Fortress, a well-preserved 16th-century Venetian fortress overlooking the Heraklion harbour. This imposing structure, also known as the Castello a Mare, served as a defence against pirate and Ottoman attacks during the Venetian rule of Crete. Today, visitors can take a guided tour of the fortress's interior, where you'll find exhibition rooms displaying historical artefacts and information on the building's history. Climb to the fortress's rooftop for stunning panoramic views of Heraklion and the sea. This historic site offers a unique glimpse into Crete's maritime past and the Venetian influence on the island.
Cultural Activities
Natural History Museum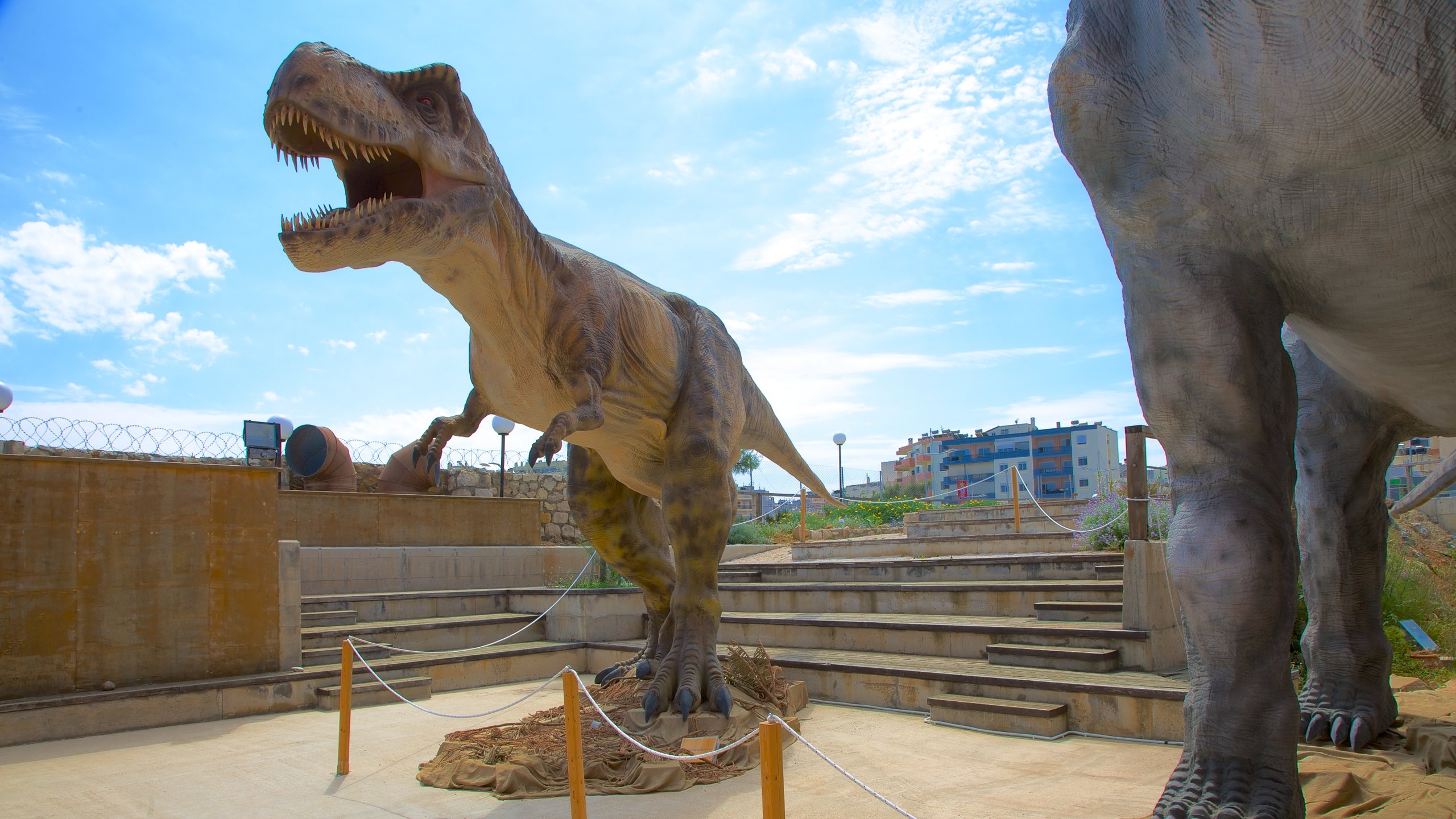 The Natural History Museum of Crete offers an engaging and informative journey through the impressive biodiversity of the island. With its state-of-the-art displays and interactive exhibits, visitors can explore the various ecosystems, geology, and the evolution of flora and fauna on the island. The museum also conducts regular educational activities and workshops, making it an ideal destination for families and nature enthusiasts alike.
Heraklion Venetian Walls
Venture to Heraklion's historic centre and immerse yourself in the rich history of the city by visiting the Venetian Walls. These impressive walls, dating back to the 15th century, served as a robust defence mechanism for the city during the Venetian era. Take a leisurely stroll around the walls and marvel at the intricate craftsmanship of the bastions, while soaking in the picturesque views of the city and its nearby coastline.
Historical Museum of Crete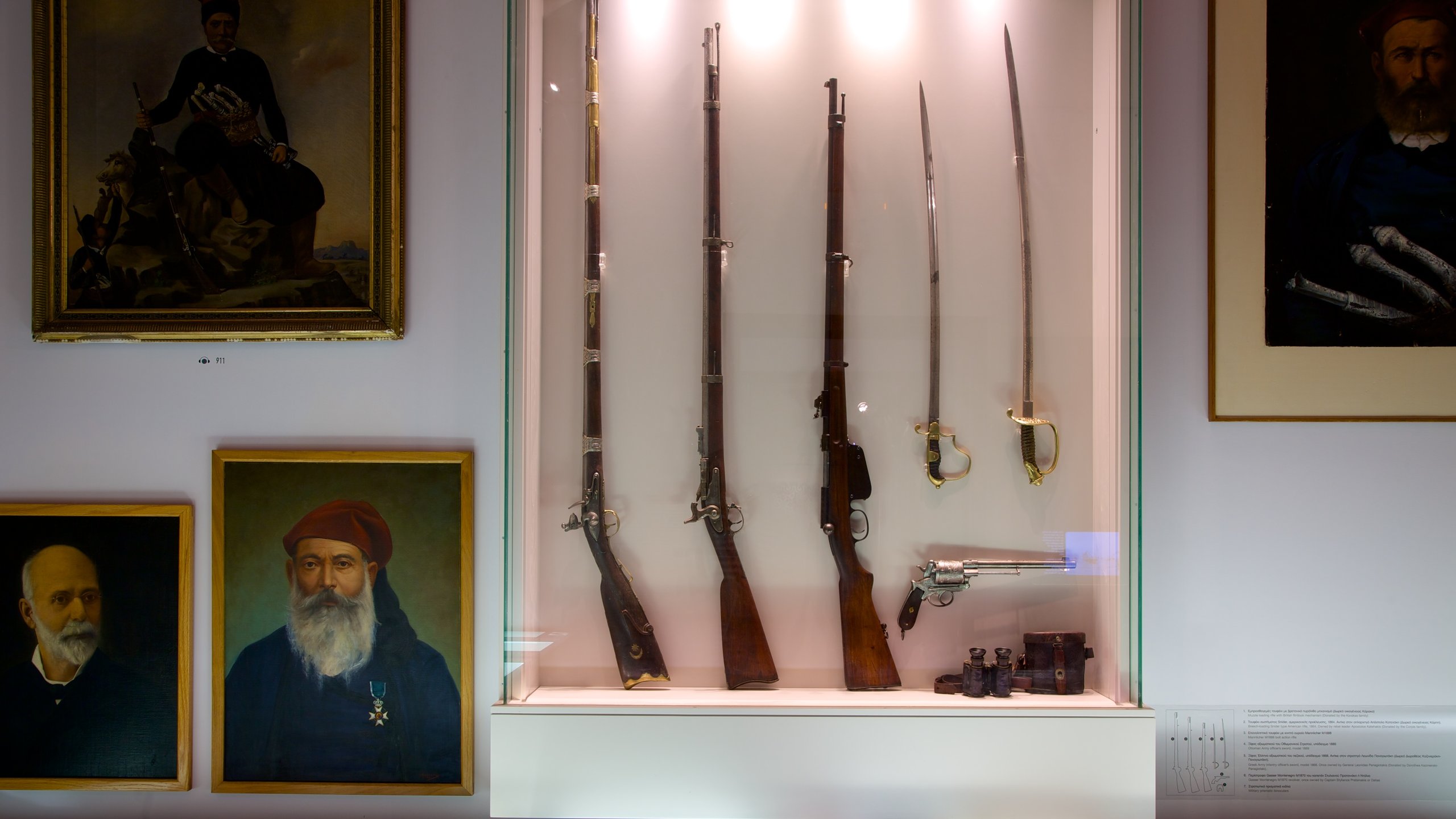 The Historical Museum of Crete introduces visitors to the island's fascinating history, starting from the 4th century AD. This comprehensive museum showcases a wealth of artefacts, art pieces, and information about the social, political, and economic development of Crete throughout the centuries. Some highlights include Byzantine art, Ottoman Empire exhibits, and Cretan folk art. As you roam through the various rooms, you'll gain a deeper understanding of the island's rich cultural fabric and the diverse influences that have shaped its identity.
Outdoor Adventures
Agia Pelagia Beach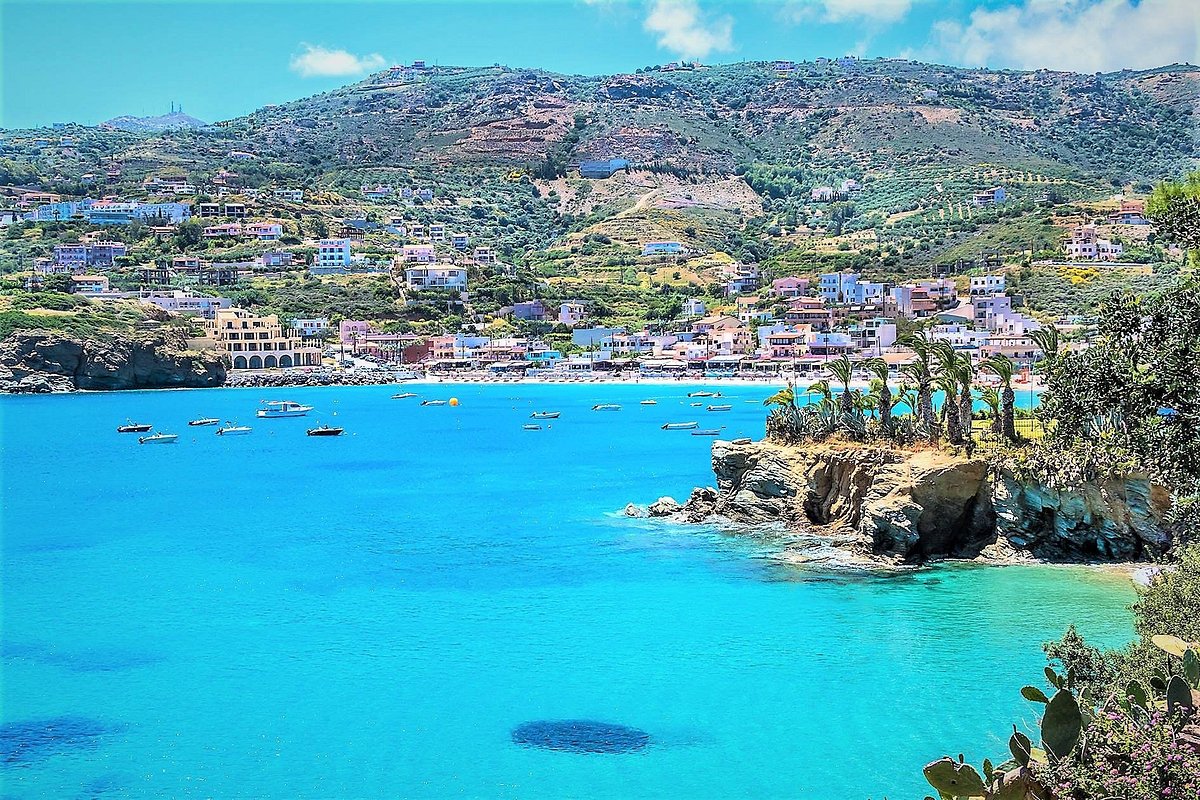 Agia Pelagia Beach is a popular destination for outdoor enthusiasts visiting Heraklion, Crete. This picturesque beach is known for its crystal-clear waters and soft golden sand, making it an ideal spot for sunbathing and swimming. The beach is also surrounded by a vibrant village, offering a variety of shops, tavernas, and accommodation options for visitors.
For the more adventurous, water sports are abundant at Agia Pelagia Beach. You can participate in activities like:
Snorkelling: Explore the underwater world and discover a variety of marine life.
Scuba diving: Join a diving tour and uncover the hidden depths of the Mediterranean Sea.
Windsurfing: Test your skills in the steady breeze or even take a lesson if you're new to the sport.
Paddleboarding: Enjoy the calm waters while cruising along the coastline.
Cretaquarium
If you're fascinated by marine life but prefer staying dry, a visit to the Cretaquarium in Heraklion is highly recommended. As one of Europe's largest and most modern aquariums, it offers an incredible insight into Mediterranean marine life. Within its 60 tanks, you'll discover over 2,000 aquatic creatures, from colourful corals to enormous sharks.
While exploring Cretaquarium, don't miss the chance to:
Watch live feedings: Observe as sharks, rays, and other predators are fed, providing a unique way to learn about their habits and diets.
Join a guided tour: Enhance your visit with a guided tour to ensure you don't miss out on any essential information or fascinating tidbits.
Visit the touch pool: Get hands-on and touch some friendly sea creatures, like starfish and sea cucumbers, in this kid-friendly interactive area.
In summary, Heraklion offers a variety of exciting outdoor adventures, with Agia Pelagia Beach providing water-based activities in beautiful surroundings and Cretaquarium showcasing the wonders of Mediterranean marine life.
Shopping and Local Cuisine
Lions Square
Lions Square, located in the heart of Heraklion, is known for its historical significance and vibrant atmosphere. Here, you can find an array of cafes and restaurants offering traditional Cretan cuisine for a delightful taste of the local flavours. While dining in this charming square, you'll be surrounded by beautiful Venetian architecture and the iconic Morosini Fountain, creating a truly unique dining experience.
Heraklion Central Market
Heraklion Central Market, also known as 1866 Street, is a bustling shopping hub that showcases local, independent businesses and traditional Cretan goods. The market not only offers an excellent selection of local produce and artisanal products but also provides a blast of authentic Cretan culture. Here are some highlights of the market:
Local produce: Discover fresh fruit, vegetables, herbs and spices, all sourced from the region's fertile lands.
Cretan cheese: Sample a variety of locally-made cheeses—including the soft, creamy mizithra and slightly tangy graviera—right from the cheese producers.
Olive oil: Crete is renowned for its high-quality olive oil; browse the many shops offering cold-pressed, extra-virgin oil and olives from local growers.
Cretan crafts and souvenirs: Don't miss the opportunity to shop for unique, handcrafted goods and traditional souvenirs, such as leather products, ceramics, and Cretan textiles.
While shopping at the Heraklion Central Market, consider taking the time to enjoy a delicious meal at one of the market's quaint tavernas, where you can savour traditional Cretan dishes prepared with locally-sourced ingredients.
Day Trips and Excursions
Heraklion, Crete is a fantastic destination for travellers looking to explore the rich history and natural beauty of the region. In this section, we will discuss two popular day trips and excursions from Heraklion: Chania and Samaria Gorge. These locations offer unique opportunities for adventure and cultural immersion.
Chania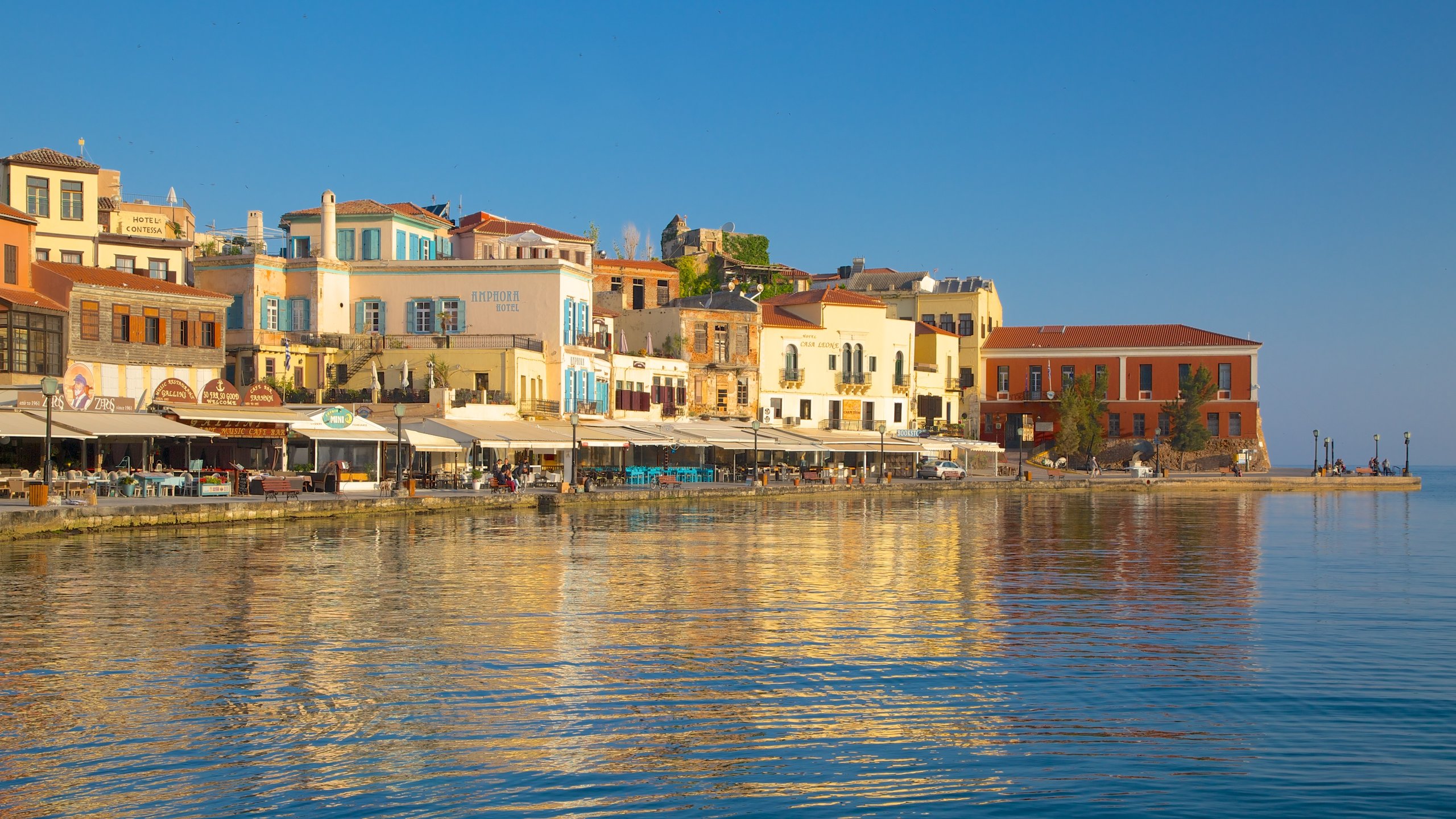 Chania is a charming port city located on the northwest coast of Crete, just a 2-hour drive from Heraklion. This picturesque town is known for its Venetian architecture and stunning harbour, making it a popular destination for tourists. Here are a few notable attractions to see during your visit to Chania:
The Venetian Harbour: A historical gem lined with colourful buildings, inviting restaurants, and bustling cafes. Stroll along the waterfront, take a leisurely boat trip, or enjoy a meal overlooking the turquoise water.
The Old Town: Wander the cobblestone streets, admire the well-preserved buildings, and discover traditional craft shops tucked away in hidden alleyways.
The Nautical Museum: Learn about Crete's maritime history through an engaging collection of ship models, paintings, and artefacts.
Samaria Gorge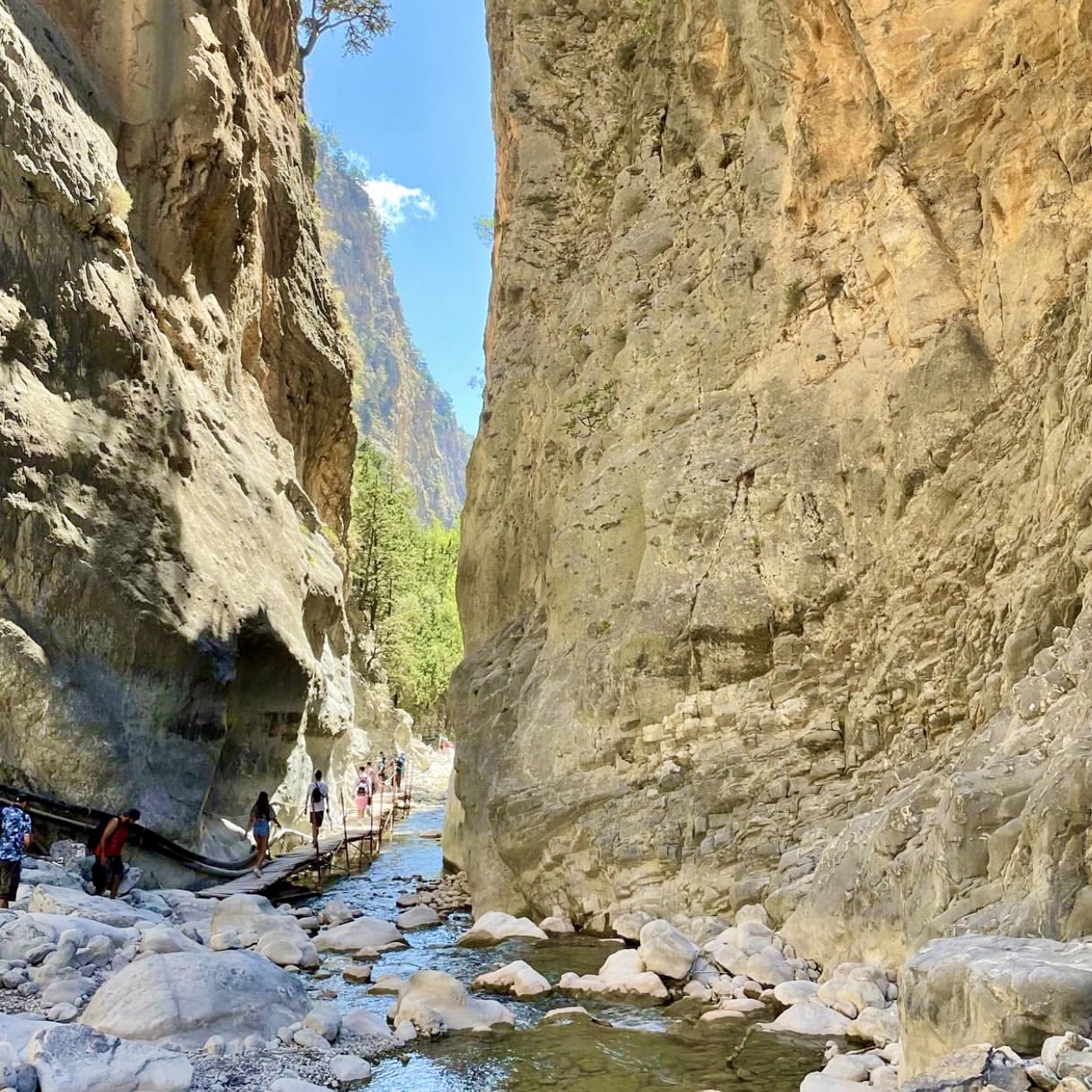 The Samaria Gorge, one of Europe's longest and most famous gorges, is a must-visit for nature lovers and adventure seekers alike. This stunning natural wonder is located within the White Mountains National Park, approximately a 2.5-hour drive from Heraklion. Here's what you can expect from a trip to Samaria Gorge:
The Hike: The gorge offers a challenging but rewarding 16 km (10-mile) trek through a magnificent landscape. The walk takes approximately 5–7 hours to complete, and although it's not an easy hike, it's well worth the effort.
Wildlife Spotting: As you traverse the gorge, keep an eye out for the native flora and fauna that thrive in this protected area. You may spot the endangered Cretan wild goat, known as the Kri-Kri, as well as various species of birds and plants.
Agia Roumeli Village: Upon completion of the hike, you'll reach the small coastal village of Agia Roumeli, where you can relax and enjoy a well-deserved meal before catching the ferry back to Crete's mainland.
These day trips from Heraklion provide visitors with the opportunity to experience the diverse beauty of Crete and uncover some of the island's most enchanting historic and natural gems. Whether you're exploring the charming streets of Chania or hiking the breathtaking trails of the Samaria Gorge, your adventures will surely leave you with unforgettable memories.
Born and raised on the sun-drenched island of Crete, Sofia Mavromatis is a seasoned traveler and writer with a deep-rooted love for Greece's vibrant culture, stunning landscapes, and rich history.