Crete, the largest of the Greek islands, experiences a mix of weather conditions in February, making it a unique time to visit. As the island emerges from its winter season, visitors can expect some sunny days, although changeable weather such as rain, wind, and chilly nights are still common during this month. February is considered a quiet period for tourism on the island, providing travellers with an opportunity to experience Crete like a local.
The weather in coastal areas of Crete can vary, with average daytime temperatures around 12°C, highs of 16°C at the warmest part of the day, and lows of 8°C during the night. Snowfall is a rare occurrence on Crete's coastlines, but it has been known to happen from time to time, usually in certain years like 1992, 2004, and 2017. Despite the occasional unpredictability of the sun during this time, Crete remains an off-season gem, boasting relatively mild sea temperatures of 16°C for those who wish to take a dip.
Crete's mountain ranges running east to west have a significant impact on climatic conditions, contributing to regional weather variations across the island. In summary, Crete's weather in February presents a range of experiences, from sunny days to colder, wetter spells, offering visitors a different perspective on this popular Greek destination.
Weather Overview in Crete in February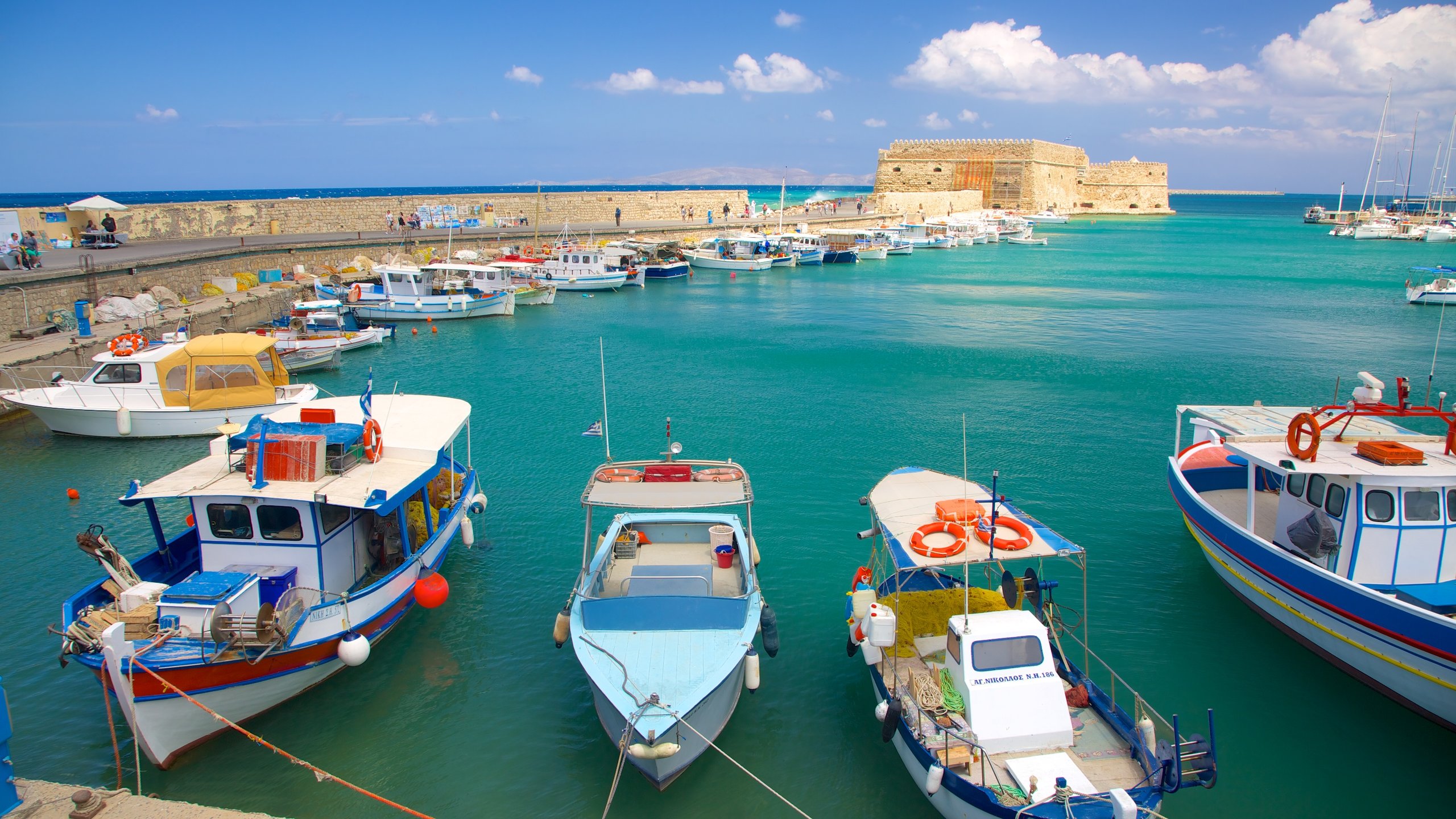 Temperature
In February, the weather in Crete is mild and often wet. The average high temperature is around 16°C (61°F), while the average low temperature drops to about 8°C (46°F). During the day, temperatures can reach an average of 11.8°C (53°F) and at night, it goes down to 11.3°C (52°F).
Rainfall
February tends to experience a moderate amount of rainfall in Crete. The average monthly rainfall is about 64mm, and rain typically falls on 11 days throughout the month. Although there is a possibility of encountering wet weather, the rainfall is generally not excessive.
Sunshine Hours
During February, Crete receives an average of 3 hours of sunshine per day. This is relatively low compared to other months but still allows for sufficient daylight to explore the island. It is essential to keep in mind that the weather can be unpredictable, and overcast days may still occur, reducing sunshine hours further. However, when the sun does appear, it can provide a lovely warmth on the island.
Regional Weather Variations in February
North Coast
In February, the weather along the north coast of Crete is mild but can be quite wet. The average temperature is 12°C (54°F), with high temperatures reaching up to 16°C (61°F) during the day. Nighttime lows can drop down to 8°C (46°F), so be prepared for cooler evenings. Rain is common, with approximately 64mm of precipitation and 11 days of rainfall during the month. The sea temperature is around 16°C, making it relatively mild for those wanting to take a dip.
South Coast
The south coast of Crete tends to be slightly warmer than the north coast during February. Daytime temperatures can reach 16°C (61°F), while nighttime lows drop to around 9°C (48°F). Though it experiences fewer rain days than the north coast, some showers are still expected during the month. The sea temperature is also slightly higher, at around 17°C (63°F).
Inland Areas
Crete's inland areas are cooler and wetter than the coastal regions in February. Expect average daytime temperatures of around 9°C (48°F) and nighttime lows dipping down to 3°C (37°F). Rainfall can be more frequent, and it is not uncommon to see snow on the highest peaks of Crete's mountains.
To summarise, the regional weather variations in Crete during February are:
North Coast: Average temperature 12°C, highs 16°C, lows 8°C, 64mm of rainfall, 11 rainy days
South Coast: Average temperature 14°C, highs 16°C, lows 9°C, fewer rain days
Inland Areas: Average temperature 9°C, highs 11°C, lows 3°C, cooler and wetter, snow on mountain peaks
What to Pack and Wear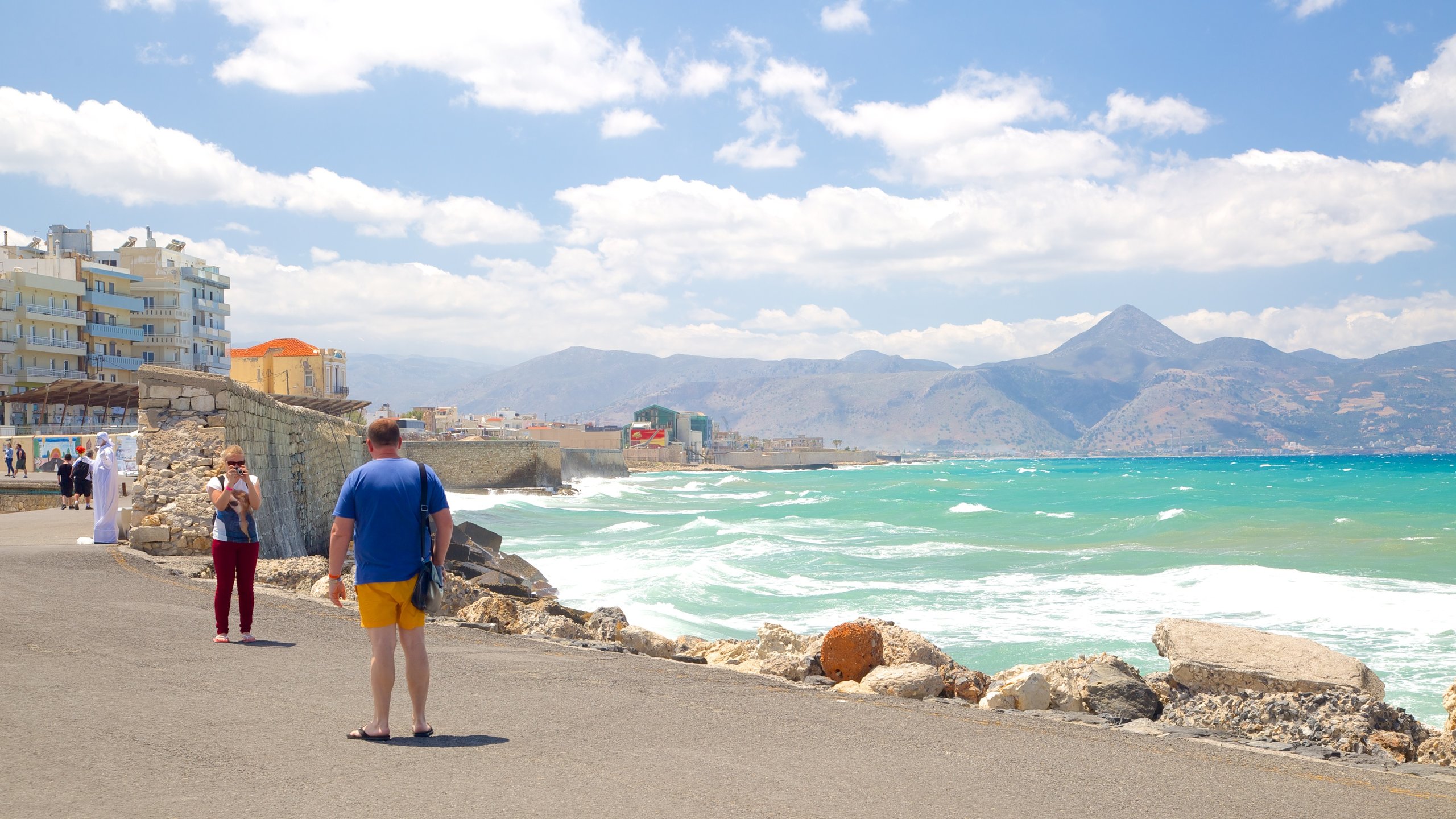 Clothing
In February, Crete experiences mild winter weather. You should expect daytime temperatures ranging from 10-17°C (50-62°F) and nighttime lows between 3-9°C (37-48°F). To prepare for various weather conditions, pack the following clothing items:
Light layers: Bring long-sleeved tops, light sweaters, and cardigans made of breathable materials like cotton and linen.
Bottoms: Pack a mix of jeans and leggings for choosing suitable options depending on the weather.
Outerwear: Bring a lightweight jacket or raincoat to accommodate unpredictable weather and occasional showers.
Footwear: Comfortable walking shoes or trainers are recommended for daytime activities. Include a pair of warm, waterproof shoes for wet conditions.
Accessories
In addition to the clothing essentials, packing the right accessories can make your trip to Crete more comfortable. Here are some suggestions:
Scarf: A light yet warm scarf is useful for extra warmth and protection against the wind.
Hat: Opt for a beanie or a woolen hat to keep your head warm during cooler temperatures.
Umbrella: Pack a compact, easy-to-carry umbrella for unexpected rain showers.
Socks: Several pairs of warm, moisture-wicking socks are recommended to keep your feet dry and cozy.
Your February visit to Crete will be more enjoyable when you're prepared with the appropriate attire and accessories. Stick to the suggestions above to ensure a comfortable trip, no matter the weather conditions.
Activities and Sightseeing
Visiting Crete in February offers a unique opportunity to experience the island like a local. Although the weather can be changeable with rain, wind, and some chilly nights, there are plenty of activities and attractions to enjoy during this quiet time.
Outdoor Activities
In the cooler months, hiking and exploring villages are great options for outdoor activities in Crete. Venture to the picturesque Loutro village, nestled on the shore with crystal clear waters and traditional charm.
Additionally, you may want to discover the hidden gems around Balos Beach, known for its legendary beauty. Although swimming might be too chilly, you can still enjoy the coastal walk or birdwatching in the area.
Remember to dress in layers as temperatures vary during daytime activities. It's recommended to pack suitable clothing for rain and wind as well.
Indoor Attractions
When the weather isn't favourable, there are plenty of indoor attractions to enjoy on the island. Crete boasts several fascinating museums and historical sites, such as the Heraklion Archaeological Museum which houses artefacts from the Minoan civilisation or the Knossos Palace, a famous archaeological site with guided tours available.
For those interested in art or religion, visit the monasteries like Arkadi Monastery or art galleries such as the Municipal Art Gallery in Heraklion. These locations provide a glimpse into the island's history and rich cultural heritage.
Don't forget to indulge in authentic Greek cuisine at local tavernas or join a cooking class to learn traditional recipes. With fewer tourists during this time, you'll have the opportunity for a more personalised and immersive experience.
Born and raised on the sun-drenched island of Crete, Sofia Mavromatis is a seasoned traveler and writer with a deep-rooted love for Greece's vibrant culture, stunning landscapes, and rich history.