Ios, a picturesque island in the Cyclades group of Greece, beckons travelers with its golden beaches, crystal-clear waters, and charming villages. This gem in the Aegean Sea offers an alluring blend of natural beauty and cultural attractions, making it a must-visit destination for tourists from all walks of life. Whether you're a history enthusiast or a sun-seeking beach lover, Ios has something to offer for everyone.
One of the top spots to visit in Ios is Manganari Beach, known for its blue flag status and pristine waters. The island also has a rich history, boasting the well-preserved Bronze Age settlement of Skarkos. Aside from the historical sites and stunning beaches, Ios offers a wealth of beautiful landscapes, buzzing nightlife, and delicious dining experiences.
As you plan your visit to Ios, make sure to include a mix of activities that cater to your interests and make the most of the island's diverse offerings. From the ancient charm of Skarkos to the contemporary allure of its bars and restaurants, Ios invites you to immerse yourself in the best of Greek hospitality, culture, and natural beauty.
Beaches and Natural Attractions
Mylopotas Beach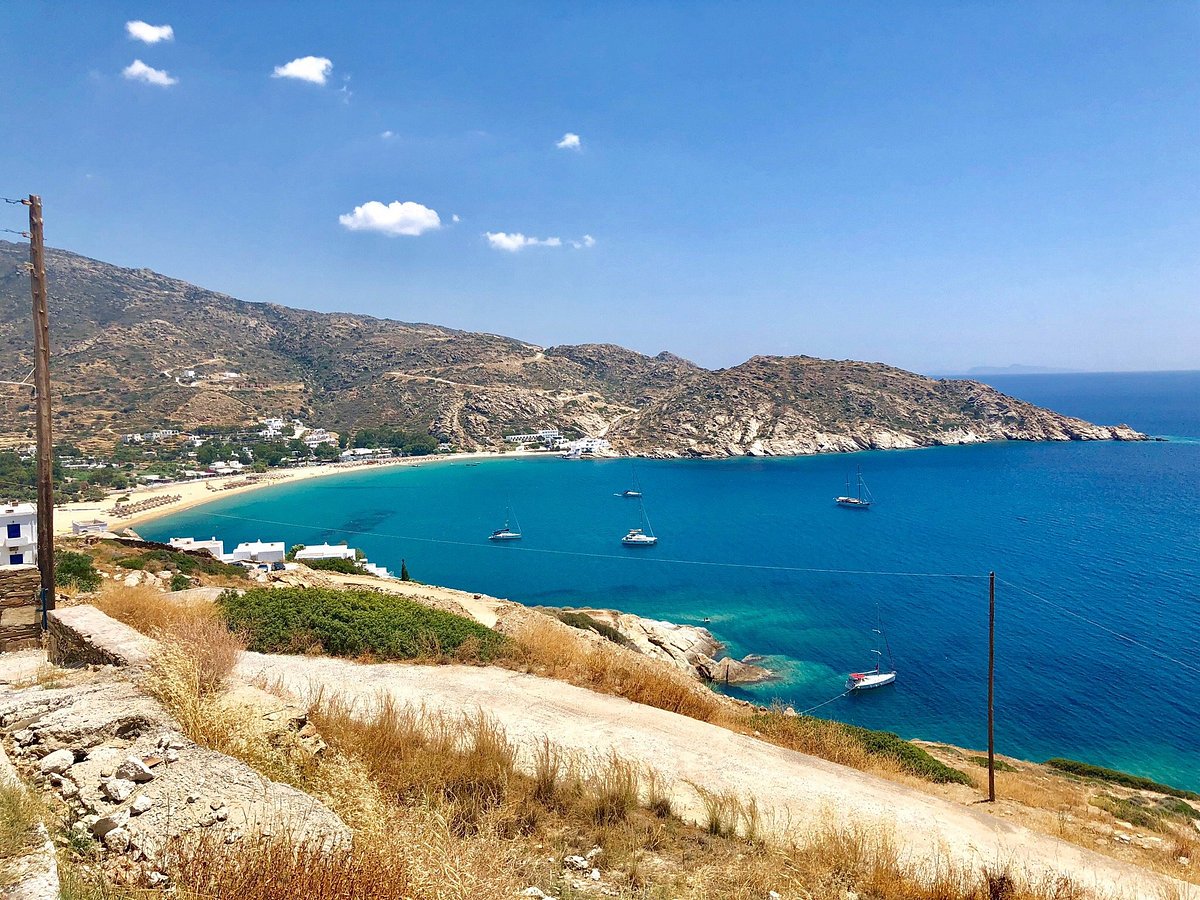 Mylopotas Beach is a popular spot for tourists and locals alike, known for its crystal-clear waters and golden sand. Visitors can enjoy sunbathing, swimming and various water sports like windsurfing and paddleboarding. Beach bars and tavernas are available for refreshments and traditional Greek dishes.
Agia Theodoti Beach
Agia Theodoti Beach is a more secluded option for those seeking tranquillity and a less crowded environment. The beach is surrounded by hills and has plenty of sunbeds and umbrellas for a relaxing day in the sun. Snorkelling and swimming are popular activities, as the beach boasts vibrant marine life and excellent water conditions.
Manganari Beach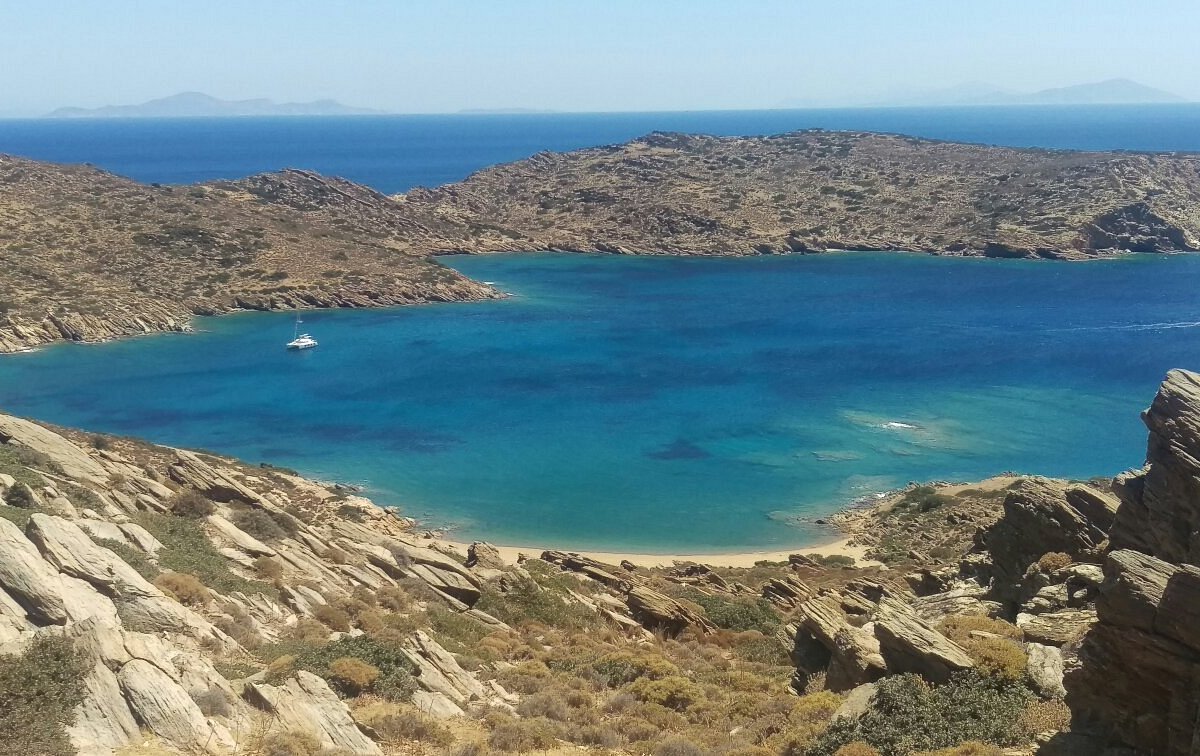 Regarded as the best beach in Ios, Manganari Beach boasts blue flag status for its cleanliness, environmental management, and safety. It's an ideal location for families, as the waters are shallow and calm. Sunbeds, umbrellas, and beach facilities cater to the needs of beachgoers, while nearby tavernas offer delicious food and drinks.
Outdoor Activities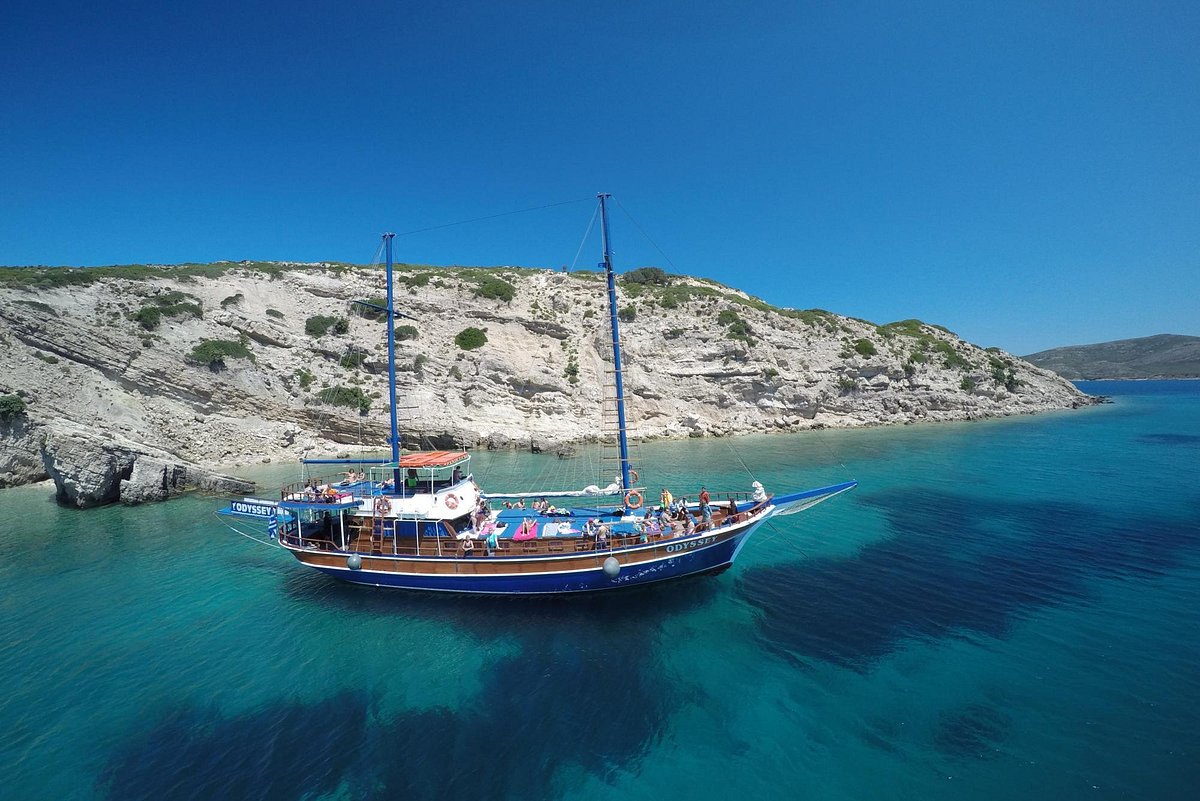 Ios offers a variety of outdoor activities for adventurers and nature lovers. Some popular options are:
Boat trips: Explore the island's hidden beaches, coves, and caves by setting sail on a boat trip. Keep an eye out for dolphins and turtles in the crystal-clear waters around the island.
Hiking: For history enthusiasts, a hike to Homer's Tomb will not only reward you with historical significance, but also stunning views of the surrounding landscape. Alternatively, trek up to Panagia Gremiotissa Church for panoramic views of Chora.
Water sports: Get your adrenaline pumping with activities like windsurfing, jet skiing, and scuba diving available at various beaches, such as Mylopotas Beach.
Cultural and Historical Sites
Chora Castle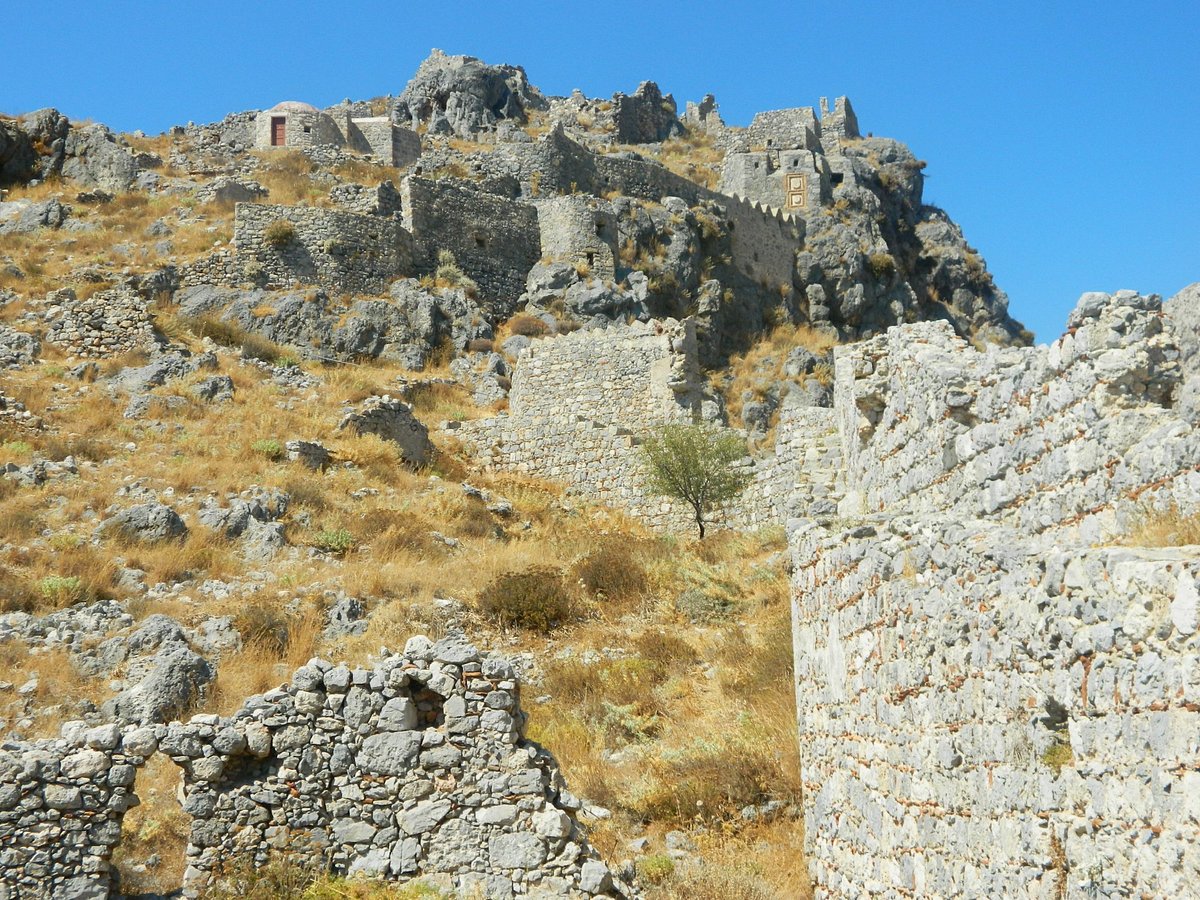 Chora Castle, also known as Hora Castle, is located in the heart of Ios Old Town. This historical site features a maze of narrow alleyways lined with charming cafes, shops, and bars. The whitewashed houses, adorned with blue painted doors and windows, create a picturesque setting. As you stroll through the winding streets, you'll discover the impressive Venetian castle ruins, offering stunning views of the surrounding area.
Archaeological Site of Skarkos
One of the top attractions on Ios Island is the ancient site of Skarkos. This Early Bronze Age settlement offers a fascinating insight into the island's history. The well-preserved ruins, featuring stone walls, structures, and even a drainage system, showcase the advanced architecture from ancient eras. The archaeological site gives visitors an opportunity to learn about the civilisation that inhabited Ios thousands of years ago.
Paleokastro Monastery
Situated atop a hill in the eastern part of Ios Island, the Paleokastro Monastery is a remarkable historical site. The 13th-century Byzantine monastery complex can be reached via a hiking trail, offering a rewarding challenge for adventure seekers. Once you arrive, you'll be greeted by the remains of the monastery, which include the reconstructed chapel of Agios Stavros. Don't miss the opportunity to take in the panoramic views of the island and the surrounding Aegean Sea.
Nightlife and Entertainment
Party Beach Clubs
Ios is well-known for its vibrant nightlife and party atmosphere, particularly at the island's popular beach clubs. One of the most famous beach clubs on the island is Paradise Beach Club in Mylopotas Beach. It offers an energetic atmosphere with live DJ sets, beach parties, and various events throughout the summer season. Another beach club worth visiting is Far Out Beach Club, also situated at Mylopotas Beach, where you can enjoy a refreshing cocktail while dancing under the Greek sun.
Bars and Pubs
The island's nightlife culture primarily revolves around its numerous bars and pubs. Chora, the main town of Ios, is known for its exciting bar scene. Some popular bars in Chora include:
Astra Bar: This lively bar offers a rooftop terrace where you can enjoy panoramic views of Chora while sipping on a delicious cocktail.
Slammer Bar: Renowned for its "slammer shots," this establishment is the perfect spot for visitors looking for a night of wild fun.
Orange Bar: A popular spot for those seeking a laid-back atmosphere, Orange Bar is known for its creative cocktails and cosy ambiance.
Live Music Venues
In addition to its clubs and bars, Ios is home to many live music venues that offer an alternative nightlife experience for those interested in listening to tunes while enjoying a drink. Disco69, located in the main square of Chora, is a trademark of the island's nightlife scene, featuring regular live performances by local and international artists. Other venues hosting live music events include:
Lost Boys: This bar and live music spot is known for its great selection of indie and alternative tunes.
Ios Club: A prime location for acoustic and rock bands, Ios Club often hosts talented musicians who perform well into the night.
Local Cuisine and Dining
Ios Island offers a diverse range of dining options that cater to various tastes and preferences. From succulent seafood dishes to traditional Greek tavernas and cosy cafes, there's something for everyone to enjoy.
Seafood Restaurants
Ios boasts an impressive variety of seafood restaurants that serve fresh and delicious fish, calamari, and octopus dishes. Some of the top seafood establishments on the island include:
Manganari Beach Taverna: Located on the beautiful Manganari Beach, this eatery offers traditional Greek seafood dishes in a picturesque setting.
Drakos: Situated at Mylopotas Beach, Drakos serves fresh fish, seafood pasta, and scrumptious local recipes.
Traditional Tavernas
If you're looking to taste the authentic flavours of Greek cuisine, there are numerous traditional tavernas on Ios island, such as:
Grandma's: Known for their homemade dishes, this taverna offers a comfortable and inviting atmosphere.
Pokila: Located in Chora, Pokila serves mouth-watering meat platters, Greek salads, and a selection of local cheeses.
Cafes and Pastry Shops
For a lighter meal or a sweet treat, Ios has an array of cafes and pastry shops. These establishments offer a wide range of delicious options:
Bakery Spiridoula: A local favourite, Bakery Spiridoula offers a variety of freshly baked bread, pastries, and cookies.
Yialou Cafe: Situated in Chora, this quaint cafe is the perfect spot for sipping coffee, indulging in a savoury snack or enjoying a traditional Greek dessert.
Take the time to explore the culinary delights Ios has to offer – you certainly won't be disappointed.
Shopping and Souvenirs
Local Art Shops
Ios is home to a variety of local art shops where you can find beautiful pieces of art inspired by the island's landscapes and traditions. These shops showcase the talent of local artists and offer unique souvenirs such as paintings, pottery, and sculptures. Visiting these art shops allows you to support the local art community and take a piece of Ios culture home with you.
Handmade Products
The island's artisans excel in creating handmade products that reflect the rich history and culture of Ios. Some popular items include traditional Greek embroidery, woven textiles, and handmade jewellery. Additionally, you'll find hand-painted ceramics and pottery crafted by local artists, making them an excellent choice for a unique and personal souvenir.
Embroidery: Intricate patterns inspired by Greek folklore
Textiles: Woven with authentic Greek techniques
Jewelry: Hand-crafted pieces featuring local materials
Food and Sweets
As a visitor to Ios, indulging in the local cuisine is a must. While exploring the island, be sure to keep an eye out for local delicacies and sweets to bring back as delicious souvenirs. Some popular choices include:
Honey: Ios is known for its high-quality honey, which is produced by bees that feed on thyme, making its flavour truly unique.
Olive oil: A staple of the Mediterranean diet, the olive oil from Ios is aromatic and flavourful, perfect for cooking or as a salad dressing.
Sweets: The island is home to a variety of traditional Greek sweets, such as loukoumi (Greek Delights) and pasteli (sesame seed and honey bars), which can be found at local bakeries and sweet shops.