Kos, one of the most popular islands of the Dodecanese in Greece, offers visitors an incredible mix of golden sand beaches, crystal clear waters, archaeological sites, and activities for the whole family. Whether you're seeking an exciting nightlife experience in Kardamena or a peaceful family vacation in Tigaki, Kos has something for everyone.
As you begin to explore this stunning Greek island, you'll encounter historical and cultural attractions such as the ancient Asklepion, the renowned Sanctuary of Asclepius, where the great physician Hippocrates was trained in the 5th century BC. Kos also boasts numerous picturesque beaches, day trips, 4WD tours, and water tours to keep travellers entertained.
From its rich history and sacred religious sites to its abundant options for food, wine, and nightlife, Kos offers a well-rounded experience for visitors of all ages and interests. So, as you plan your unforgettable trip to this beautiful part of the Mediterranean, rest assured that Kos will leave a lasting impression.
Historical Sites
Asklepieion
The Asklepieion on Kos Island is an essential historical site for visitors. This sanctuary was dedicated to the Greek god of medicine, Asclepius, and served as a healing centre in ancient times. The site consists of three levels, with each level revealing different structures and architectural styles. The most striking feature is the Doric temple on the second terrace, surrounded by elegant columns.
Ancient Agora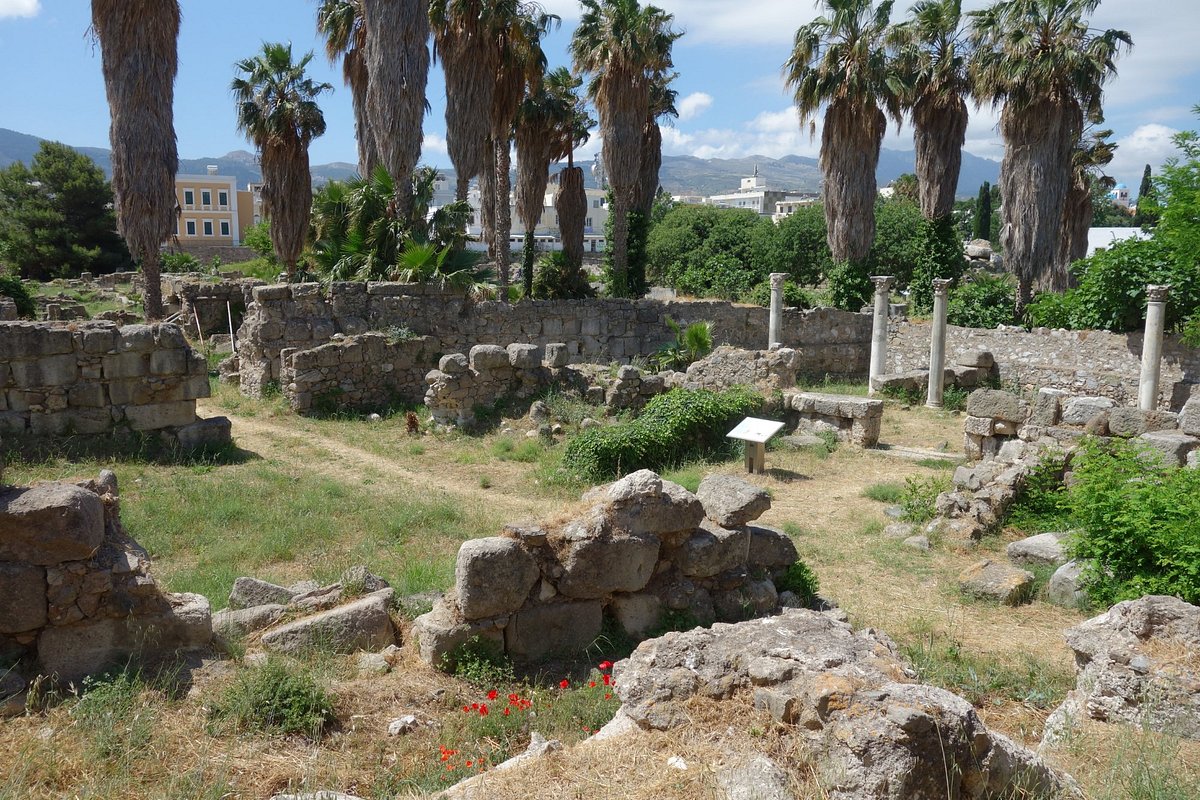 Kos is home to a well-preserved Ancient Agora or marketplace, which dates back to the Hellenistic and Roman periods. Excavations have uncovered various ruins, including temples, a stoa, and even ancient shops. Set amongst lush vegetation, the Ancient Agora provides a unique insight into the daily life and commerce of the ancient inhabitants of Kos.
Temples: Discover the remains of several temples dedicated to gods such as Hercules, Aphrodite, and Apollo.
Stoa: The stoa at the Agora features a long colonnade with dozens of columns, where merchants would have displayed their wares.
Roman Odeon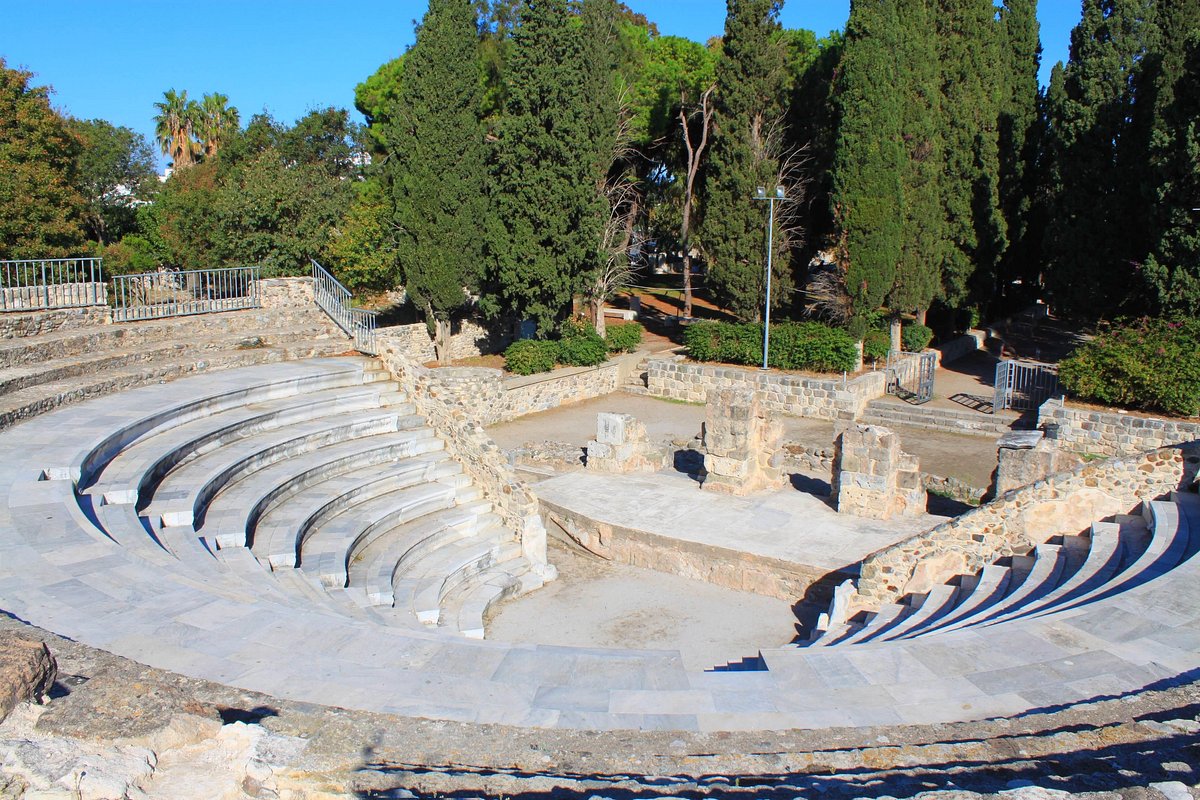 The Roman Odeon, or amphitheatre, is another key attraction in Kos. This well-preserved structure was once used for hosting various events such as theatrical performances, concerts, and public gatherings. The Odeon is built from local volcanic stone and features elegant rows of seats, making it an important example of Roman architecture on the island.
Table of Roman Odeon Features:
| Feature | Description |
| --- | --- |
| Capacity | The Odeon could accommodate up to 750 spectators. |
| Rows | There are 19 rows of seats in total, some of which display inscriptions. |
| Stage | An elaborate stage once stood in front of the seating area. |
These historical sites showcase the rich and varied history of Kos Island, making them essential destinations for visitors interested in exploring the island's past.
Beaches
Paradise Beach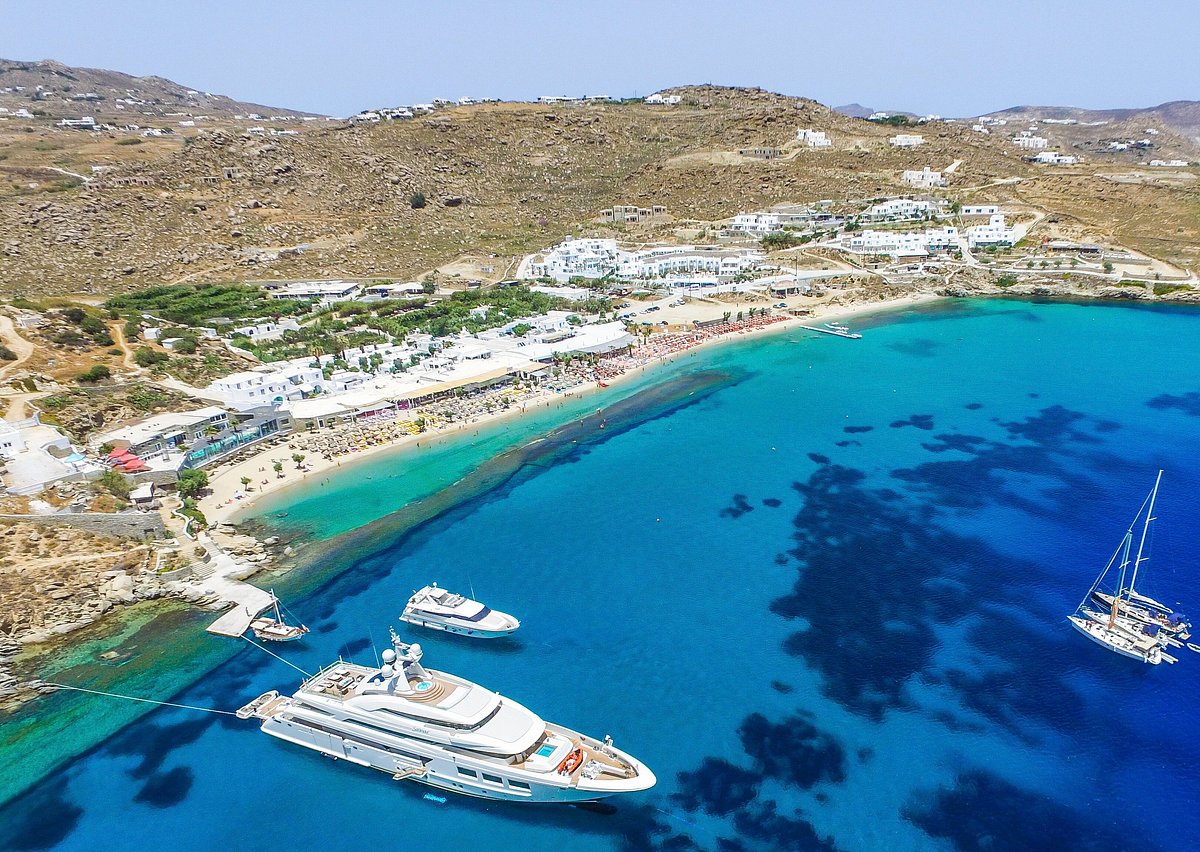 Paradise Beach, also known as Agios Stefanos Beach, is one of the most popular beaches in Kos. It boasts fine golden sand and crystal-clear waters, making it an ideal spot to swim, sunbathe, and indulge in water sports. The shallow waters are perfect for families with children. You can rent sunbeds and umbrellas, while several nearby tavernas offer delicious food and refreshing beverages.
Kefalos Beach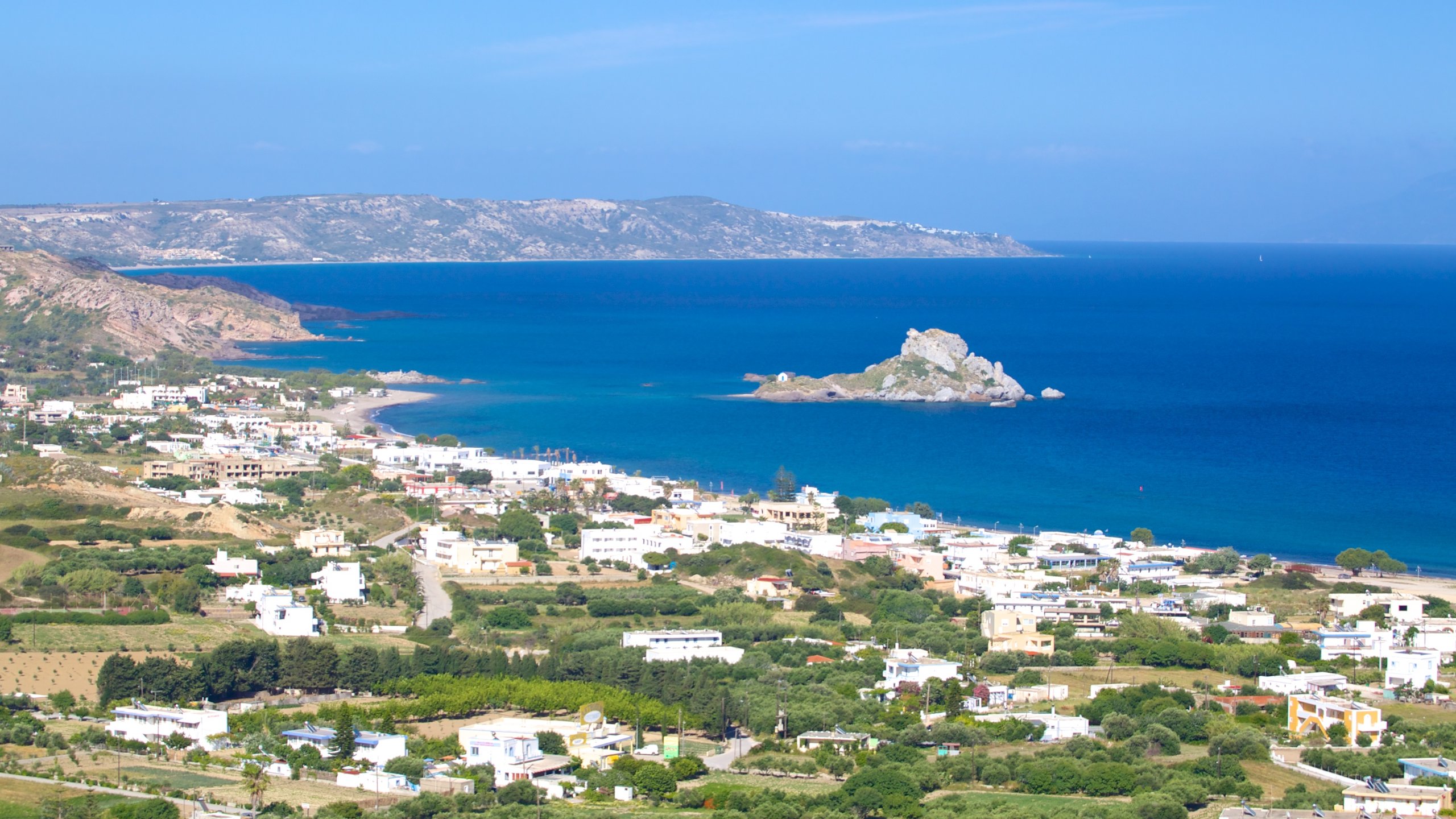 Kefalos Beach is situated on the southern coast of Kos Island. It is known for its beautiful golden sand and turquoise waters, which are also ideal for swimming and snorkelling. The beach is lined with tamarisk trees that provide a natural shade, making it an excellent choice for those seeking a more relaxed atmosphere. There are also sunbeds and umbrellas available for rent, as well as a few beach bars and restaurants to grab a bite to eat.
Tigaki Beach
Tigaki Beach is located on the northern coast of Kos and is famous for its soft, white sand and clear, shallow waters. It's an ideal beach for families, as well as those looking to enjoy water sports, such as windsurfing and kitesurfing. Wooden boardwalks make it easy to navigate the dunes and tamarisk trees that surround the beach. Facilities include sunbeds and umbrellas for rent, as well as numerous nearby cafés and restaurants to keep you well-fed and hydrated throughout the day.
Outdoor Activities
Kos, a stunning Greek island in the Dodecanese, offers an array of outdoor activities for visitors seeking adventure and a chance to explore the region's natural beauty. This section will delve into three popular activities: Hiking in Plaka Forest, Cycling Tours, and Watersports.
Hiking in Plaka Forest
Plaka Forest is a serene, lush green space, home to diverse flora and fauna. Hiking through this beautiful forest can be an incredible experience, allowing you to encounter peacocks and tortoises roaming freely among the woods. The well-maintained trails are suitable for all ages and fitness levels, providing opportunities to unwind and immerse yourself in nature at your own pace.
Cycling Tours
Cycling is an excellent way to explore Kos and its picturesque landscape. With numerous cycling routes available, visitors can embark on self-guided tours or join organised group rides. Popular routes include:
Kos Town to Tigaki: This coastal ride provides stunning sea views and a chance to explore Kos Town's historic sites.
Kefalos to Mastichari: Cycle through traditional villages and lovely beaches, experiencing the authentic local atmosphere.
Kos Town to the Asclepeion: Follow the historic steps of Hippocrates, the father of modern medicine, and visit the ancient Asclepeion temple.
Watersports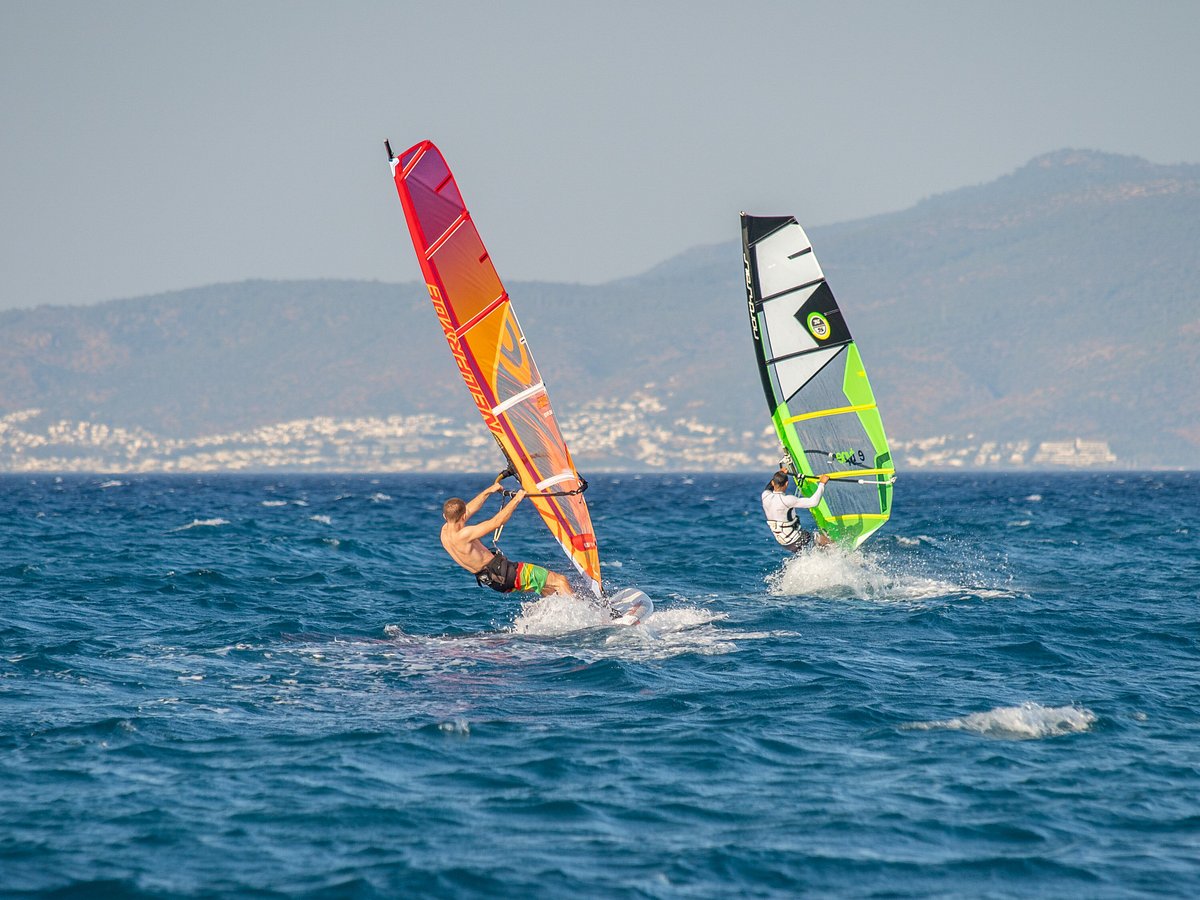 Kos is synonymous with its beautiful beaches, making it a prime location for watersports enthusiasts. Some popular watersports available on the island include:
Windsurfing: Kos offers excellent windsurfing conditions, particularly in the Psalidi, Tigaki, and Mastichari areas.
Scuba diving: Explore the underwater world around Kos Island, with dive sites suitable for beginners and experienced divers alike.
Flyboarding and waterskiing: For adrenaline seekers, Kos' beaches have plenty of options for extreme watersports.
Boat trips: Discover nearby islands, coves, and bays, experiencing the beautiful regional waters on a boat trip.
Local Cuisine
Traditional Meze
Kos Island is known for its rich and diverse local cuisine. Traditionally, the islanders enjoy meze, a delightful spread of small dishes meant for sharing. When visiting Kos, it's a must to try some of its signature dishes like Krasotyri, a unique spicy cheese that contains wine. Another local delicacy is the tomato spoon dessert, a sweet and tangy treat that showcases the island's delicious tomatoes.
Many restaurants in Kos serve traditional meze dishes in a relaxed atmosphere. Several authentic Greek taverns can be found in the smaller backstreets of Kos Town, such as Mummy's Cooking (Ευδοκία-Eudokia) and Family Zorbas on Diagora Square 11.
Seafood Restaurants
Kos Island is surrounded by the beautiful Aegean Sea, providing an abundance of fresh seafood. The island's restaurants offer a plethora of seafood dishes, often prepared with locally-grown ingredients. One popular choice for seafood lovers is Astakos Fish Taverne in Kos Town.
Some of the delicious seafood dishes you can expect to find in Kos include:
Grilled octopus: A tender and flavorful dish served with an olive oil and lemon dressing
Fried calamari: Fresh squid lightly battered and fried to perfection
Fish souvlaki: Skewers of seasoned and grilled fish served with vegetables and tzatziki sauce
When dining in Kos, be sure to enjoy the seafood offerings paired with locally-produced wines. The island boasts various indigenous varieties of wine that perfectly complement the fresh, local flavours of the cuisine.
Day Trips
Nisyros Island
Nisyros Island is a popular day trip destination from Kos, known for its stunning volcanic landscapes and picturesque villages. Hop on a boat from Kos harbour and immerse yourself in the island's natural beauty and rich history. Take a stroll through the charming village of Mandraki, with its narrow streets and traditional architecture. Make sure to visit the island's fascinating volcano, where you can explore the hydrothermal crater of Stefanos and learn about the island's geological history. In Nisyros, you'll also have the opportunity to enjoy authentic Greek cuisine at local tavernas and take in the serene atmosphere of this lesser-known island gem.
Kalymnos Island
Another fantastic day trip destination is Kalymnos Island, a haven for climbers and adventure seekers due to its rugged landscape and impressive rock formations. Accessible by boat from Kos, this island offers a unique blend of natural beauty, fascinating history, and exciting outdoor activities. Explore the island's charming main town, Pothia, with its colourful neoclassical mansions and lively harbour. Unleash your adventurous side by trying rock climbing at one of the island's many climbing spots, or simply admire the dramatic landscapes while hiking through the island's well-marked trails. Kalymnos is also known for its rich maritime history and traditional sponge-diving industry, which you can discover at the island's interesting museums.
Born and raised on the sun-drenched island of Crete, Sofia Mavromatis is a seasoned traveler and writer with a deep-rooted love for Greece's vibrant culture, stunning landscapes, and rich history.