The Greek island of Mykonos is a popular holiday destination, known for its vibrant nightlife, beautiful beaches, and charming villages. While Mykonos itself has plenty to offer, there are also several nearby islands worth exploring for travellers seeking a more diverse experience. These islands are part of the Cyclades group, located in the Aegean Sea, offering a range of attractions, activities, and accommodation options for visitors.
Some of these islands may be lesser-known gems, each with their unique character and charm. Whether you're interested in archaeological sites or traditional Greek culture, there's something for everyone in the vicinity of Mykonos. The best time to visit these islands is during the shoulder seasons of spring and autumn when the weather is pleasant but less crowded than the busy summer months.
Key Takeaways
Mykonos and nearby islands offer diverse attractions and activities
Visiting lesser-known islands provides unique experiences and insights into Greek culture
Exploring during shoulder seasons offers pleasant weather and fewer crowds.
Islands Close to Mykonos
Tinos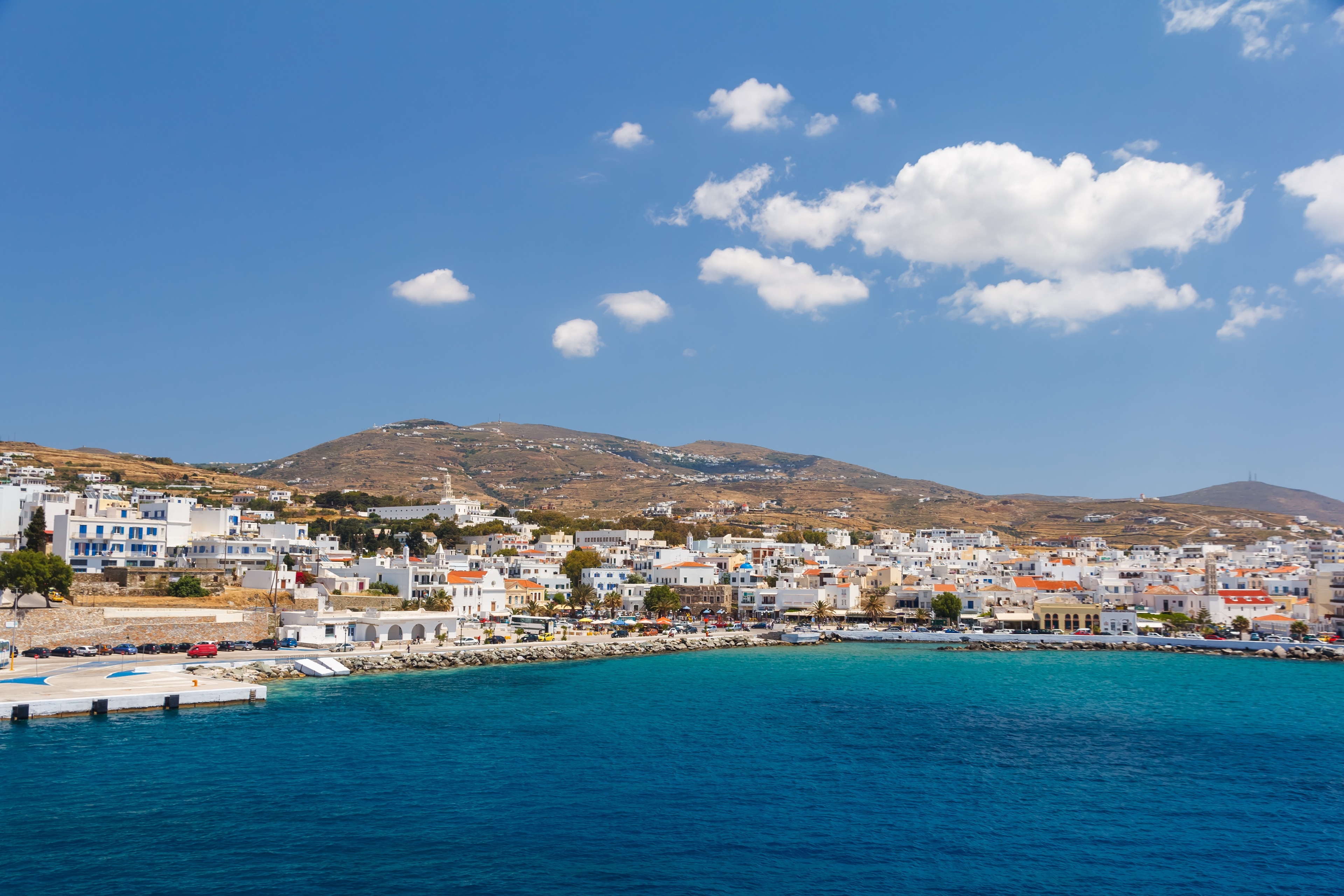 Tinos is the closest inhabited island to Mykonos and is popular with Greeks, particularly those on religious pilgrimages. This little-visited island offers a unique experience for international visitors who wish to explore its authentic Greek culture. The island is well known for the Panagia Evangelistria Church, making it an important religious destination for many Greeks.
Syros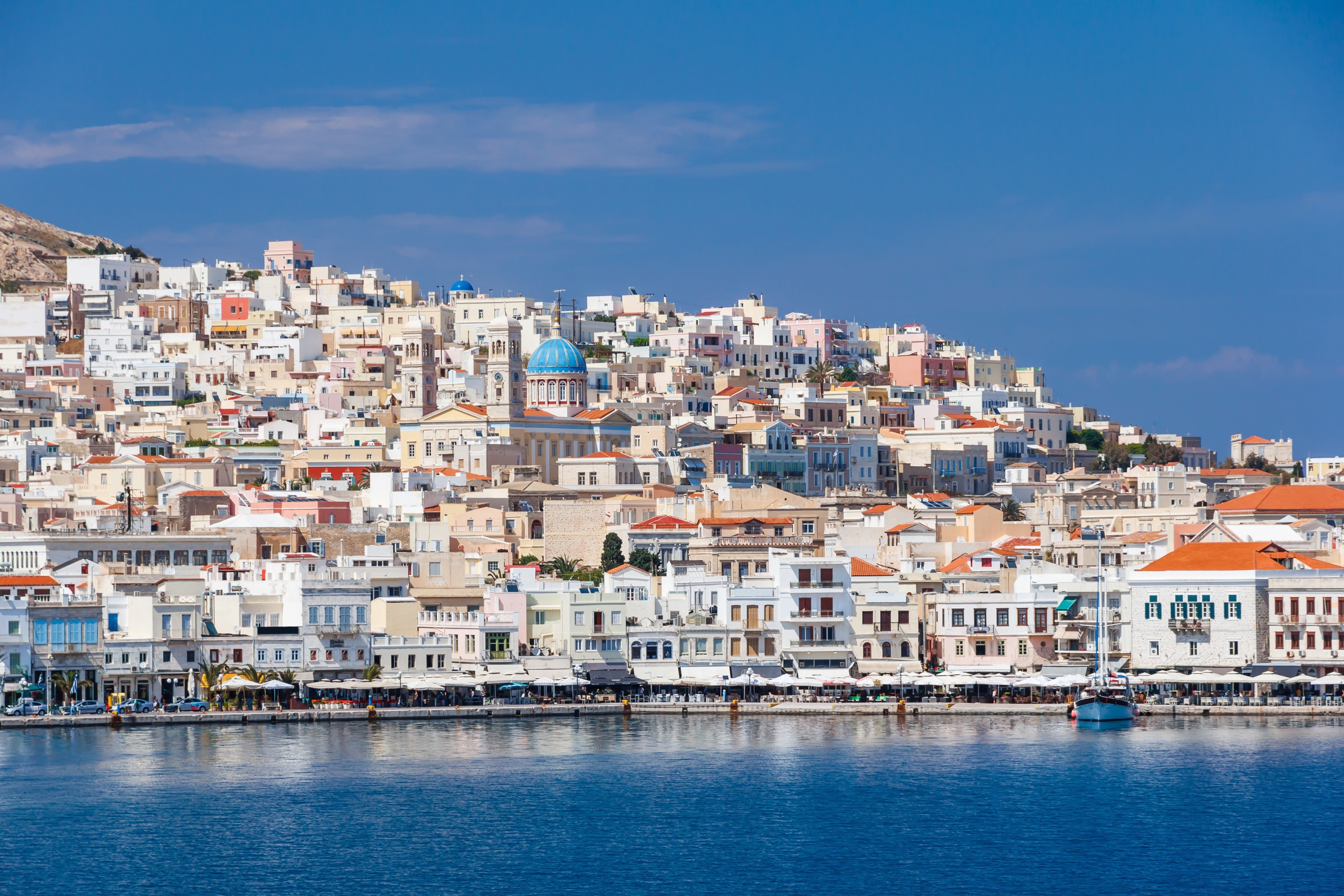 Syros, another nearby island, is home to Ermoupoli, one of the most stunning inland places of the Cyclades. Once you arrive at the island by ferry, you'll be greeted by neoclassical buildings in natural, earthly colours, reflecting the Venetian influence combined with Cycladic elements. This island offers a fascinating blend of history, architecture, and culture to those who venture to explore it.
Paros
Paros is yet another attractive option among the islands near Mykonos. Known for its traditional villages, beautiful beaches, and vibrant nightlife, this destination holds a wide appeal. A visit to the coastal village of Naoussa will reveal charming whitewashed alleys and quaint tavernas, making Paros an ideal choice for those eager to experience authentic Greek island life.
By choosing to visit any of these islands close to Mykonos, travellers will gain insight into the unique qualities that each island has to offer, providing a diverse and exciting adventure in the Cyclades region.
Cyclades Island Group
The Cyclades is a group of Greek islands in the Aegean Sea, known for their stunning beauty and rich history. They are a popular tourist destination, thanks to their beautiful beaches, charming villages, and ancient archaeological sites. Mykonos is one of the central islands in the Cyclades, making it the perfect starting point for exploring nearby islands.
Naxos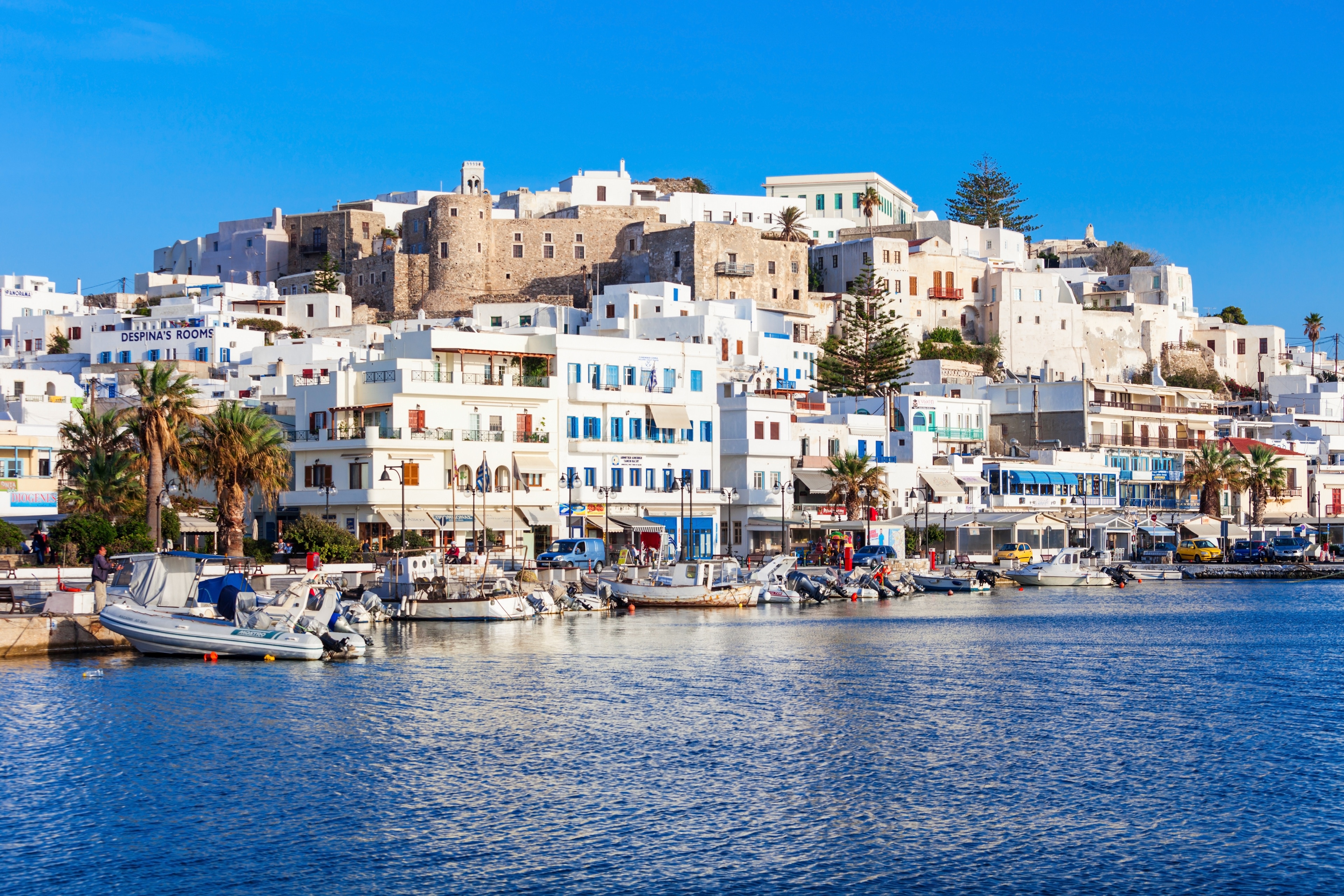 Naxos is the largest island in the Cyclades and offers a diverse range of experiences for visitors. With its lush green landscapes, endless sandy beaches, and charming villages, it's an excellent destination for a relaxing holiday. Hiking enthusiasts will appreciate the numerous paths and trails that lead to spectacular panoramic views. Naxos is also home to the Portara, the remains of an ancient temple dedicated to Apollo, making it a must-visit for history buffs.
Santorini
Arguably the most famous island in the Cyclades, Santorini is renowned for its dramatic cliffs, white and blue buildings, and stunning sunsets over the caldera. The island was formed by a massive volcanic eruption, which lends a unique landscape with black sand beaches, dramatic cliffs, and the central caldera. Santorini offers a fascinating mix of luxury and tradition, with its high-end shops, restaurants, and hotels nestled among the iconic Cycladic architecture. For those interested in history, the prehistoric settlement of Akrotiri and the archaeological site of Ancient Thera are must-see destinations on the island.
Ios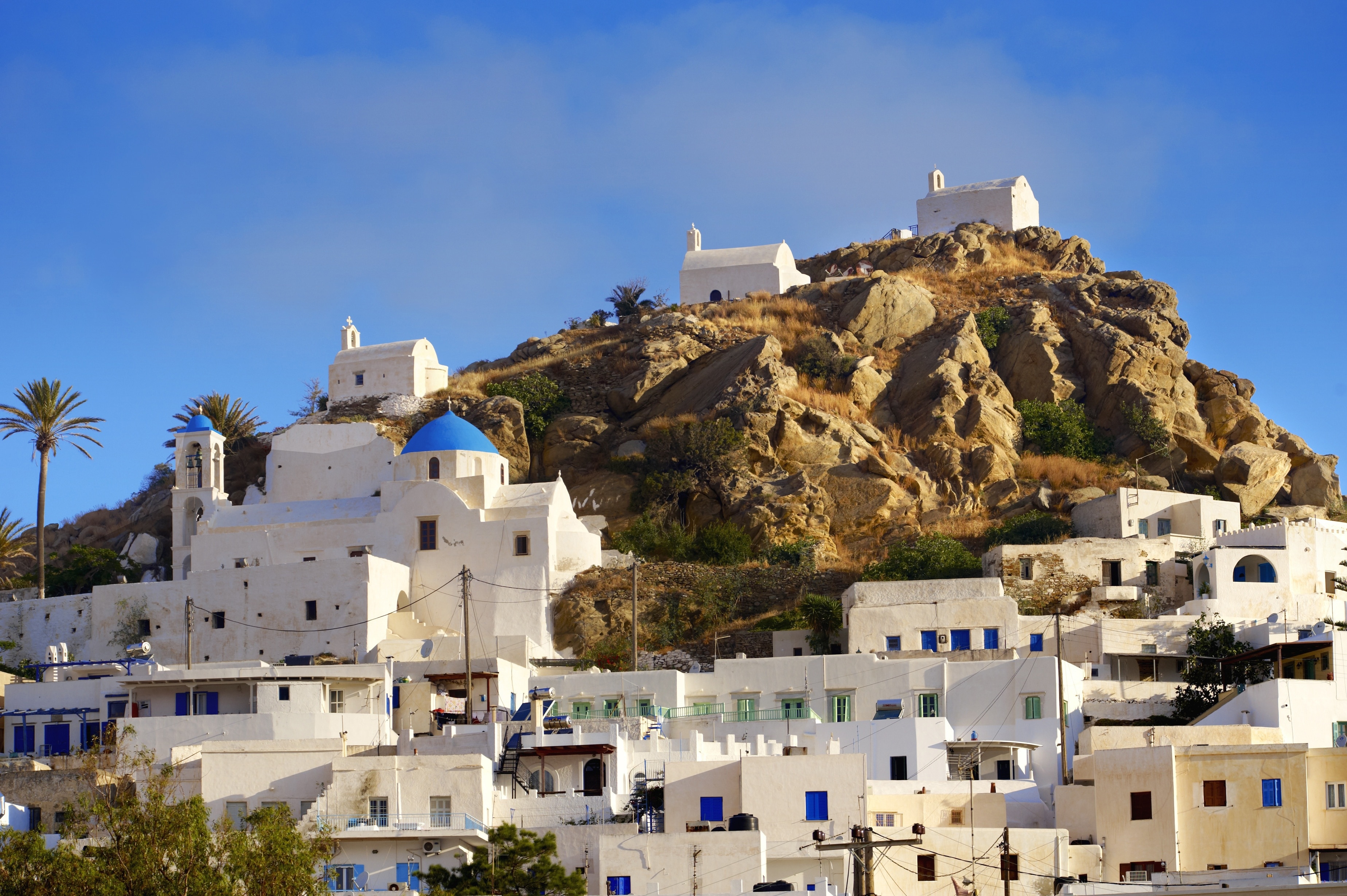 Ios is known for its vibrant nightlife and beautiful sandy beaches, making it a particularly popular destination for younger travellers. During the day, its many beaches offer plenty of opportunities for sunbathing, swimming, and water sports. When the sun sets, the island comes alive with its energetic party scene, attracting visitors from across the globe to its bars and clubs. Ios is also home to a number of historic sites, including the Homer's Tomb and the ruins of Skarkos, a prehistoric settlement.
Overall, these islands are just a few of the incredible destinations to explore in the Cyclades, each offering unique attractions and experiences to suit a variety of travellers. Mykonos, Naxos, Santorini, and Ios are only the beginning when it comes to discovering the beauty and charm of this Greek island group.
Lesser-Known Islands Nearby
Rhenia
Rhenia is one of the Greek islands closest to Mykonos and an ideal destination for a lovely day trip. This uninhabited island offers a welcome retreat of peace and solitude, in contrast to the busy streets and beaches of Mykonos. With its unspoiled beaches and crystal-clear waters, Rhenia is perfect for those looking for a serene escape and a chance to connect with nature.
Delos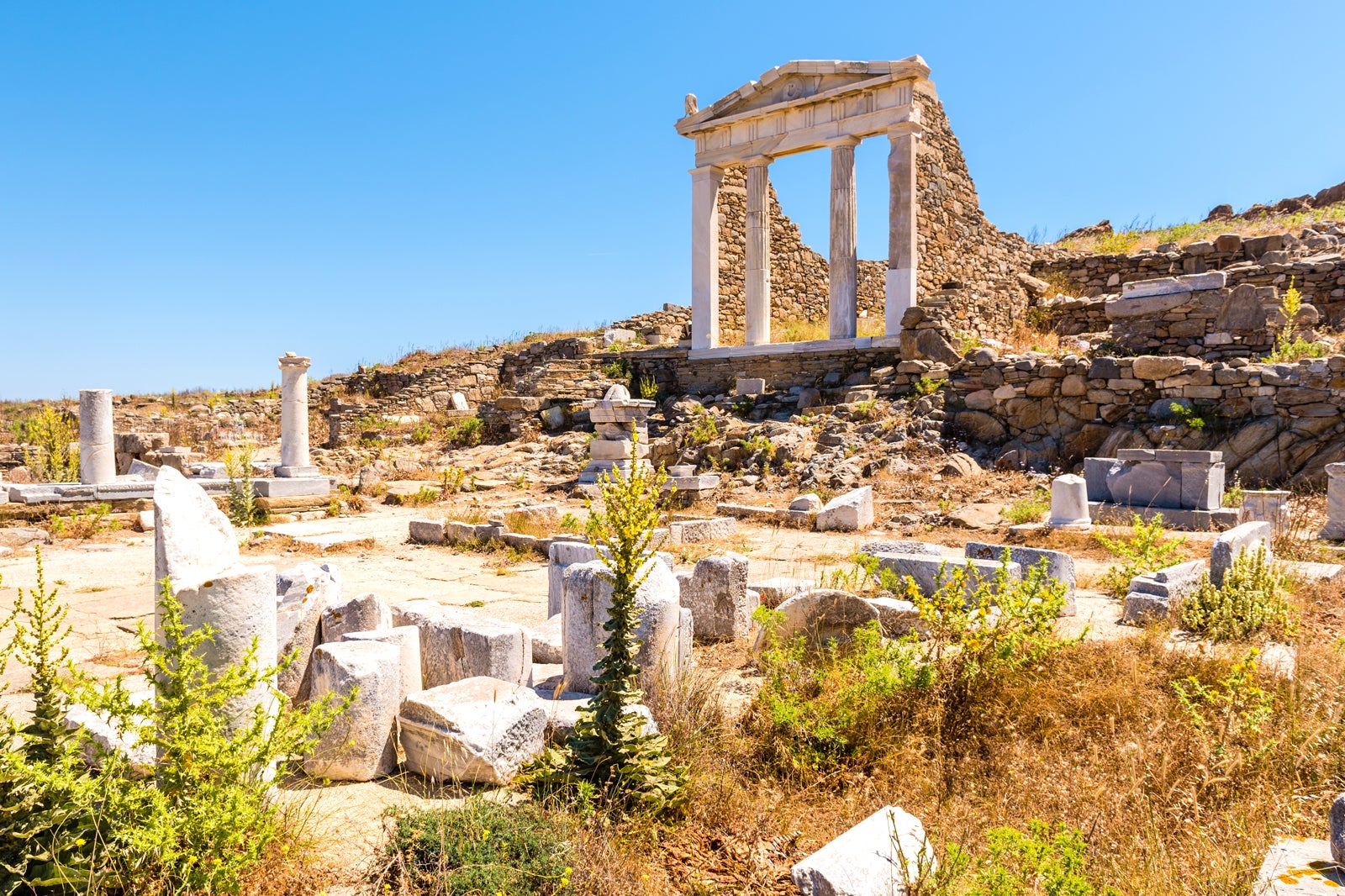 Just a short boat ride from Mykonos, Delos is a small yet historically significant island. As a UNESCO World Heritage site, it boasts fascinating archaeological sites dating back to ancient Greece. Visitors can explore the ancient ruins, such as the Terrace of the Lions and the House of Dionysus, while learning about the island's rich history and mythology. Its exceptional cultural value and well-preserved landmarks make Delos an extraordinary destination for history enthusiasts.
Antiparos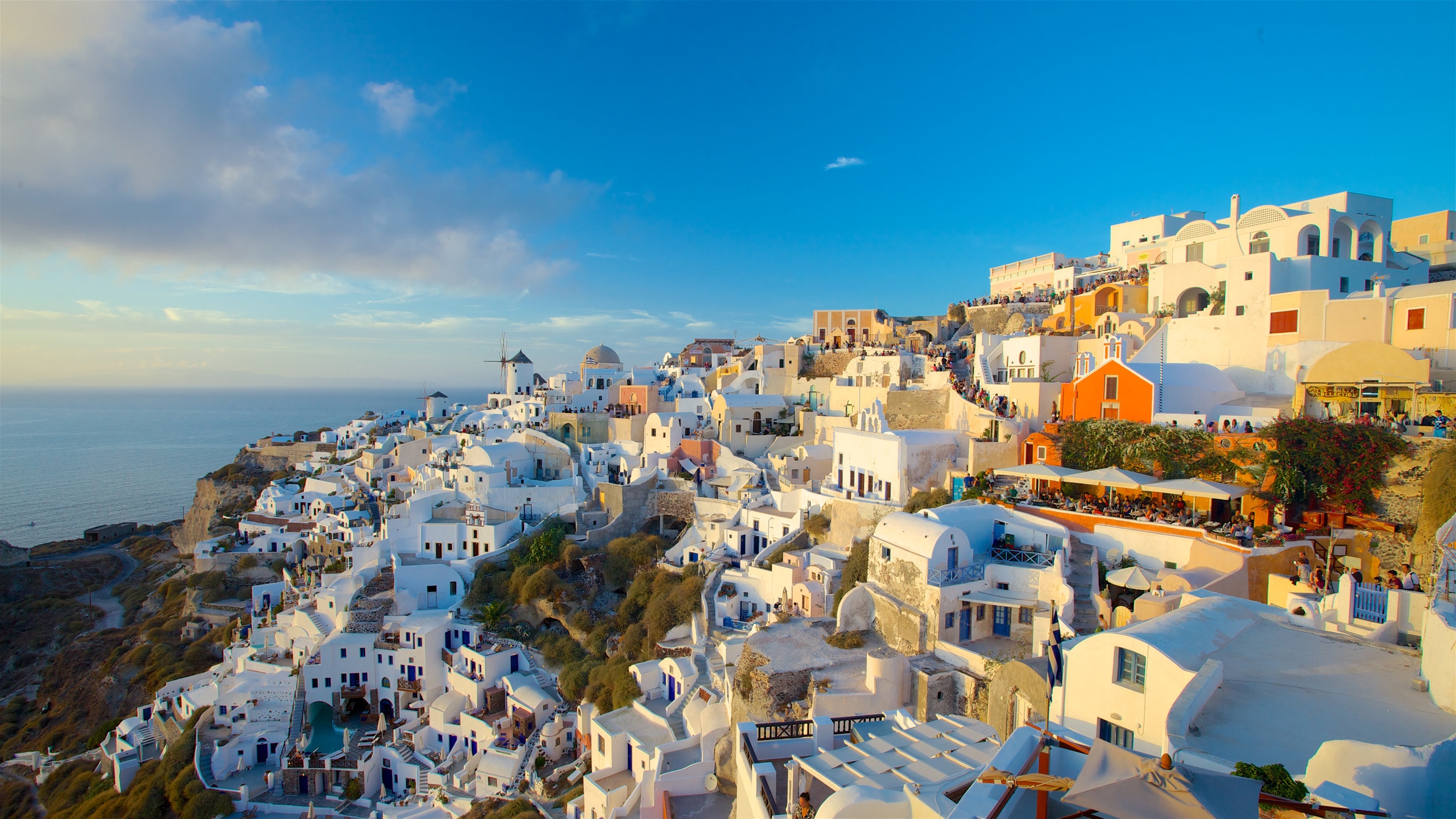 A charming and laid-back island, Antiparos is located southwest of Paros and can be easily reached by ferry from Mykonos. Known for its golden sandy beaches, crystal-clear waters, and traditional Cycladic architecture, Antiparos offers a tranquil atmosphere and authentic Greek island experience. While the island may be small, it boasts an array of activities for visitors, such as visiting the magnificent Antiparos Cave, exploring the quaint village of Antiparos, or simply relaxing on its beautiful beaches.
Travelling to Nearby Islands
Ferries and Boat Services
Travelling to nearby islands from Mykonos is quite convenient, thanks to the availability of ferries and boat services. The most popular Greek islands to visit after Mykonos include Santorini, Paros, Naxos, and Milos. These islands can be reached effortlessly through fast ferries that operate several times a day during peak season.
For instance, getting to Paros from Mykonos usually takes less than an hour. In some cases, you can even find frequent car ferries that allow you to explore neighboring islands such as Antiparos.
Another attractive destination near Mykonos is Santorini, which can also be accessed easily by ferry. Santorini, along with Mykonos, is one of the most famous Greek islands, known for its stunning views and unique architectural style.
Planning Your Trip
When planning your trip to nearby islands, it is essential to consider the ferry schedules, as they may vary based on the season or the specific destination. Here are some tips for organizing your island-hopping adventure:
Research the available ferry connections and routes to the islands you want to visit. This will help you determine travel times and ensure a smooth journey.
Book your ferry tickets in advance, especially during peak seasons, to secure a spot and avoid potential queues at the port.
Reserve accommodations ahead of time, particularly on popular islands like Santorini and Paros, to ensure availability and a comfortable stay.
Consider renting a car or scooter on the islands to facilitate exploring and make the most of your experience.
By following these tips, you can enjoy a hassle-free and memorable trip while exploring the charming Greek islands near Mykonos.
Best Time to Visit
Visiting Mykonos and the nearby islands, like Santorini, Paros, Naxos, and Milos, can be a wonderful experience, offering beautiful landscapes, stunning beaches, and lively nightlife. To make the most of your trip, it is important to know the best time to visit these islands.
Spring (May and June) is an ideal time to visit Mykonos. The weather is mild, and the beautiful wildflowers carpet the hillsides, making for a picturesque setting. During these months, the island is not as densely crowded as in the peak of summer, allowing for a more relaxed and enjoyable trip. Moreover, most tourist facilities and services are fully operational, with the exception of a few all-night beach parties.
Autumn (September and October) is another great time to visit Mykonos. Like spring, the crowd is less dense during these months, making it a more pleasant time to explore the island's various attractions. The weather remains pleasant and warm in September and October, offering visitors the chance to experience the stunning beaches and crystal-clear waters without being overwhelmed by the summer crowds.
In summary, the best time to visit Mykonos and the nearby islands is during the shoulder months of May, June, September, and October. By visiting during these periods, you can enjoy all that these stunning islands have to offer while avoiding the massive crowds of the peak summer season. The overall experience is enhanced by mild weather and a more laid-back atmosphere, ensuring a memorable trip to the beautiful Greek islands.
Accommodation Choices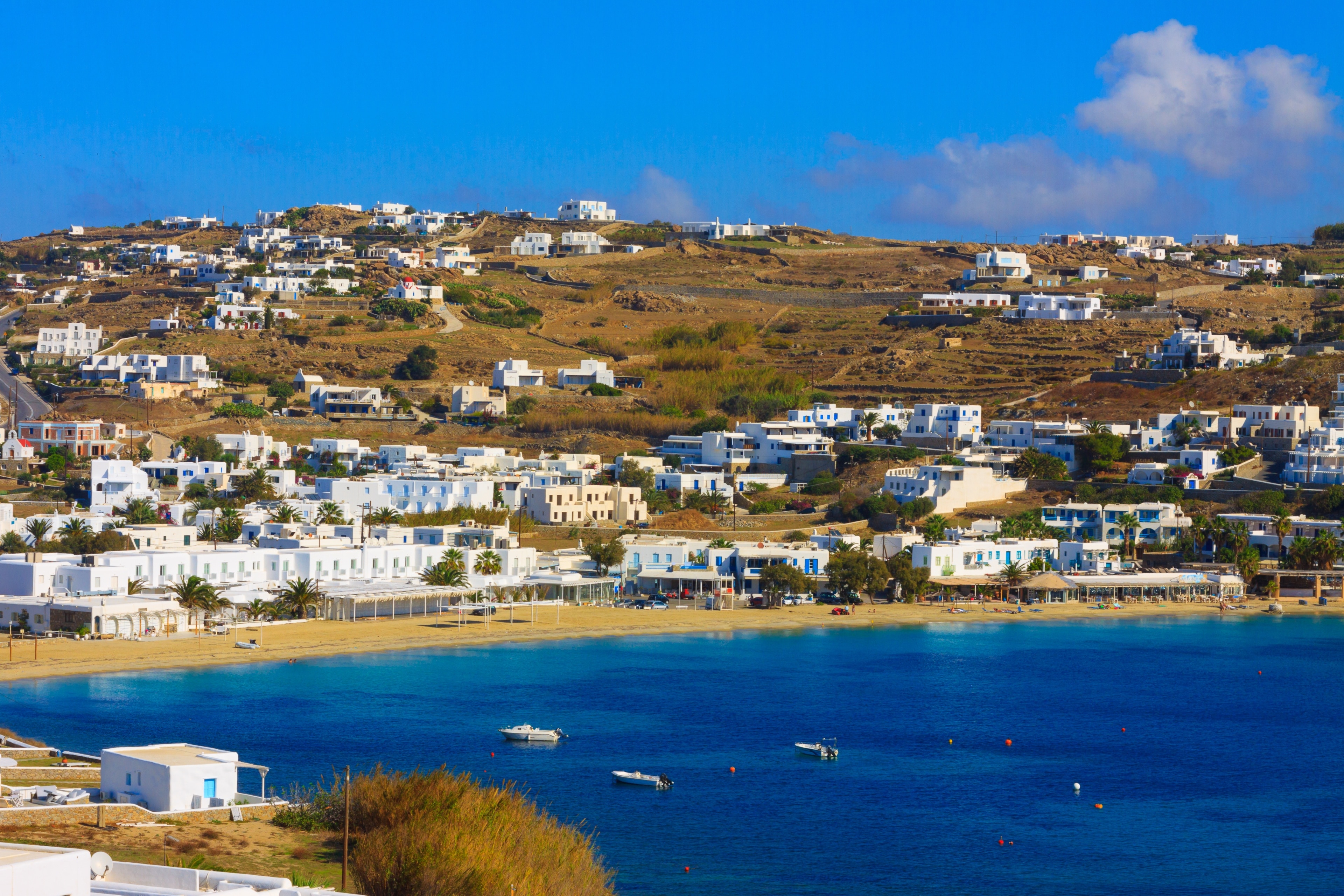 When considering your stay in Mykonos, a wide array of accommodation options are available to suit your preferences. Many hotels and villas across the island cater to different budget ranges, ensuring a comfortable and enjoyable experience.
Luxurious properties can be found in Agios Ioannis Mykonos, which boasts 83 hotels, including high-end resorts and boutique options. If you are searching for a more budget-friendly stay, consider the 47 hotels in Tourlos. This area offers a mix of affordable accommodation and mid-range options.
If you're visiting Mykonos for the stunning beaches such as Elia Beach and Super Paradise Beach, you have 48 and 26 hotels to choose from, respectively. These locations offer beach front access, with a range of properties that cater to various budgets.
Platis Gialos Beach is also a popular destination for travellers seeking a base near the water. With a large, beautiful coastal settlement and a long sandy beach, the area is ideal for families and couples alike. Platis Gialos offers around 10-15 minutes' drive to Mykonos town and has a significant number of hotels and restaurants. Another attraction here is the range of water sports available.
Kalo Livadi and Glastros are two more regions in Mykonos that boast 30 hotels each, providing travellers with more options in their quest to find the perfect place to stay.
In summary, Mykonos has a wealth of accommodation choices across the island. Regardless of your budget or preferences, you're sure to find a suitable option for your visit to this popular Greek destination.
Activities and Attractions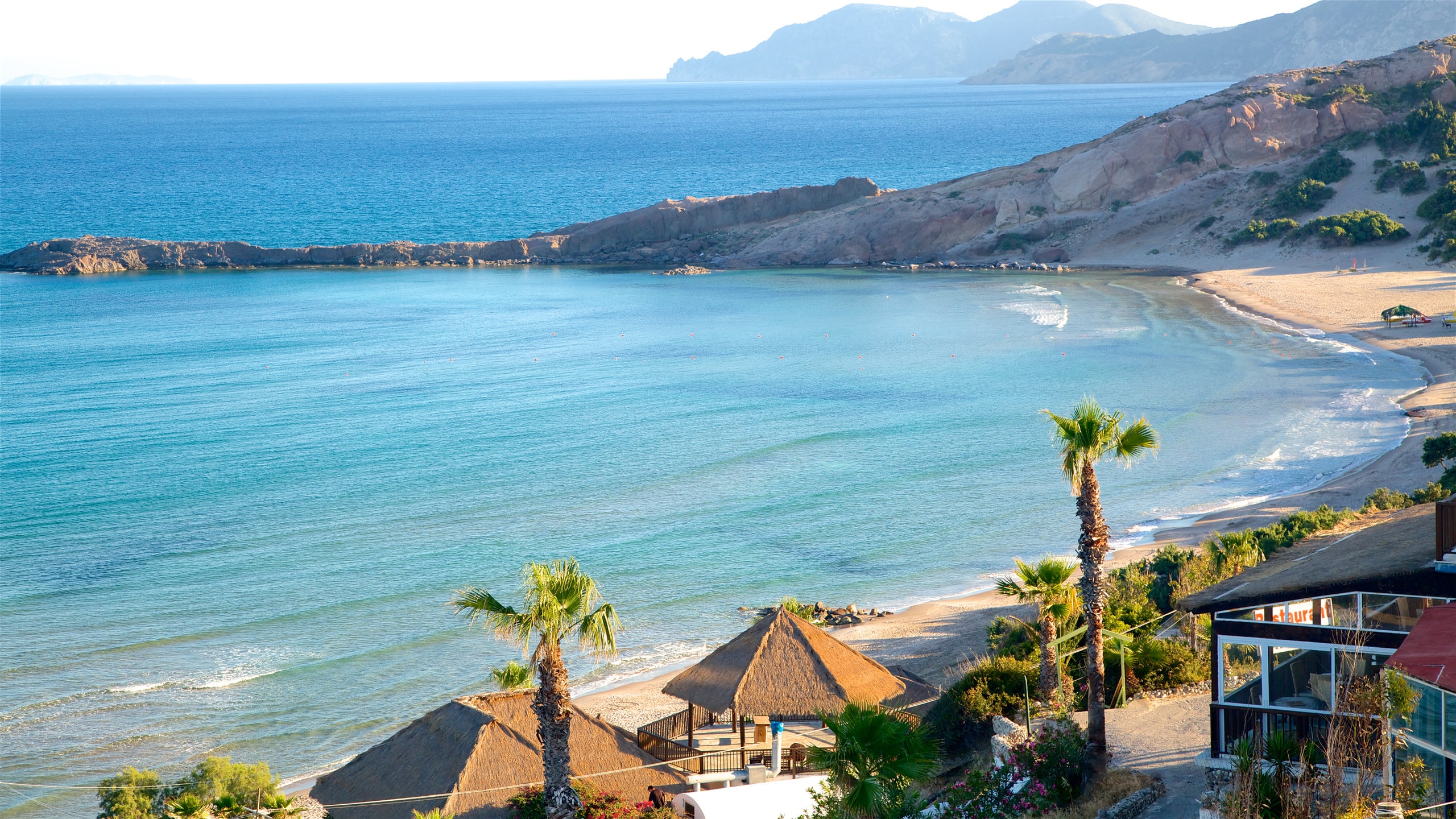 One of the most famous islands near Mykonos is Santorini. Known for its stunning sunsets, white-washed buildings, and blue-domed churches, it's a must-visit destination for many tourists. While in Santorini, you can explore the historical site of Akrotiri, hike the scenic Fira-Oia trail, or relax at the famous Red Beach.
Another nearby island is Syros. This elegant gem, known as the Nymph of the Aegean Sea, boasts vibrant Venetian architecture and charming inland towns and villages. Ideal for a laid-back vacation, Syros offers a chance to experience the beauty of the Greek Cycladic islands without the crowds. In Syros, you can visit the enchanting Ermoupolis, explore the medieval town of Ano Syros, and unwind at any of the serene sand beaches.
Mykonos itself is known for its beaches, where you can sunbathe, relax, snorkel, and party. Paradise Beach is home to several world-famous beach bars and clubs, making it the perfect spot for a lively evening. For a more relaxed experience, Mykonos is home to various art galleries, museums, and fascinating historical sites like the iconic windmills.
Outdoor enthusiasts will appreciate the many activities available in Mykonos and the surrounding islands, such as:
Sailing and Sunset Cruises
Guided Bus and 4WD Tours
Scenic Day Trips
Cultural and Historical Tours
For those interested in exploring the culinary side of Greece, Mykonos and neighbouring islands offer:
Wine Tastings
Cooking Classes
Culinary Tours
Unique Dining Experiences
So, whether you're interested in the natural beauty, history, or vibrant nightlife of the Greek islands, Mykonos and its surrounding islands have a wealth of activities and attractions to suit every traveller's needs.