Mykonos, a picturesque island in the Southern Aegean region of Greece, attracts numerous tourists every year, especially during the summer months. Known for its vibrant nightlife, pristine beaches, and pleasant weather, August is one of the most popular times to visit this idyllic destination. As the island is swept by the renowned Meltemi winds, holidaymakers can enjoy comfortable, warm temperatures, making it a perfect time to indulge in various outdoor activities and beachside fun.
Characterised by its warm Mediterranean climate, Mykonos in August offers temperatures averaging around 26°C (78.5°F), with daily highs and lows perfect for sunbathing, swimming, and exploring the island's iconic attractions, such as the windmills of Kato Mili and the narrow streets of Little Venice. The month of August also brings with it minimal rain; as a result, visitors can reliably enjoy long, sunny days and unforgettable sunsets.
While the bustling high season may mean that the island is more crowded than usual, there is no shortage of events and festivals worth attending. From the summer-long Cultural Festival, showcasing free concerts, art exhibitions, and more, to the lively Xlsior gay festival, August in Mykonos offers a variety of experiences for tourists looking to make memories and embrace the island's unique charm.
Mykonos Weather in August
Temperature and Humidity
In August, Mykonos experiences a pleasantly warm average temperature of 25°C. The average high reaches around 29°C and the average low is around 21°C. Over the course of the month, temperatures may exceed 30°C on occasion, particularly inland.
The onshore breeze provides some relief, especially near the coastal areas. Humidity remains moderate, making the overall atmosphere comfortable for holidaymakers.
Rainfall and Wind
August is generally a dry month in Mykonos with minimal rainfall. In the rare event of rain, it usually doesn't last long or affect the overall holiday experience. The island also benefits from a light sea breeze, which helps to keep temperatures pleasant during the day and at night.
Sunshine and Cloud Cover
Mykonos is blessed with an abundance of sunshine in August, with an average of 13 hours of daylight each day. The sun sets around 8 pm, allowing for ample time to enjoy the beaches and explore the island during daylight hours. Cloud cover is minimal during this month, providing clear skies and picturesque sunsets.
Activities and Events
Beaches and Water Sports
In August, Mykonos offers ideal weather for enjoying its beautiful beaches and engaging in water sports. With temperatures ranging from the mid-70s to low-90s Fahrenheit (mid-20s to mid-30s Celsius), visitors can spend their days sunbathing, swimming, or participating in a variety of water activities. Popular water sports include:
Windsurfing: The island is known for its strong winds, making windsurfing a popular choice for adventure lovers.
Jet skiing: For those looking for an adrenaline rush, jet skiing is a thrilling way to explore the coastline.
Scuba diving and snorkelling: Discover Mykonos' underwater world by scuba diving or snorkelling at nearby reefs and shipwrecks.
Outdoor Excursions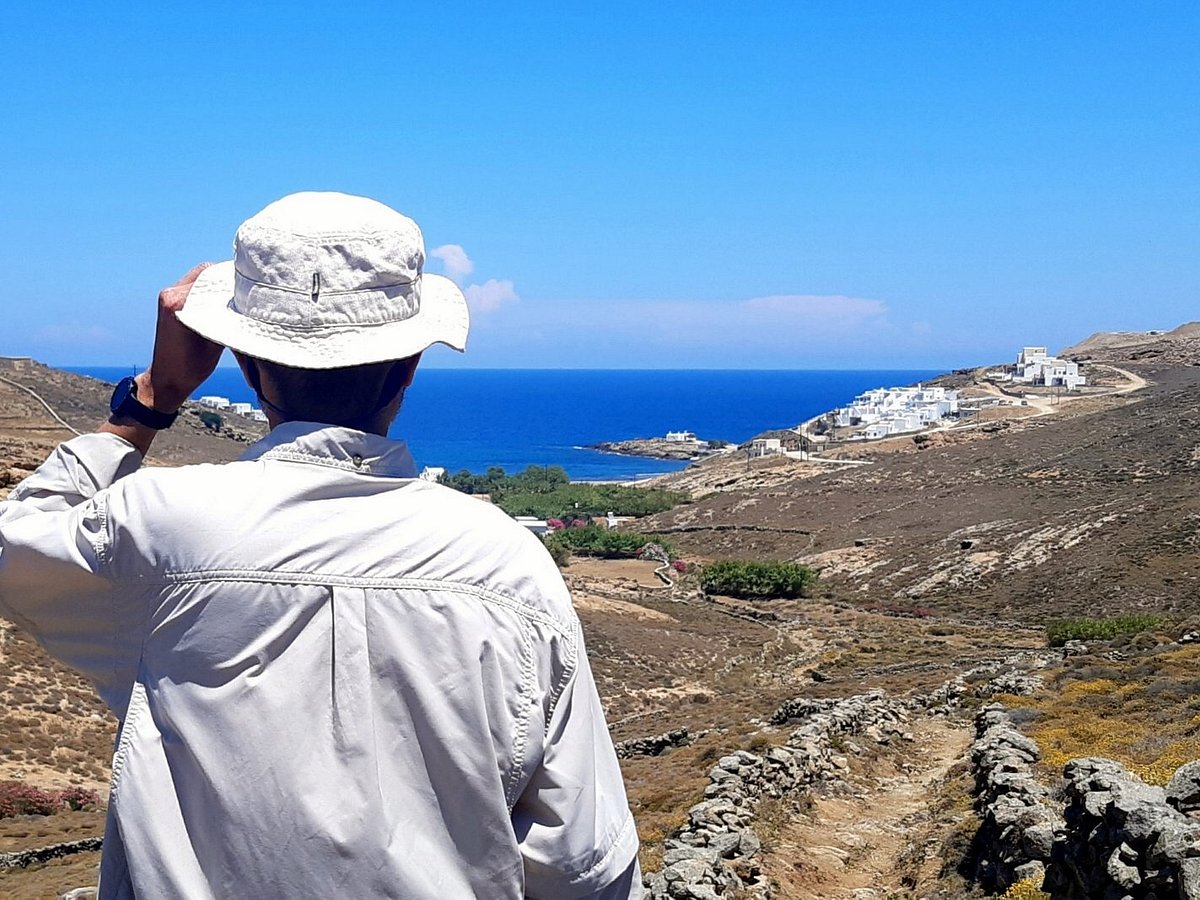 Mykonos has more than just beaches to offer. August's sunny and warm weather is perfect for venturing into the great outdoors and exploring the island's natural beauty. Some popular outdoor activities and excursions:
Hiking: Explore the island's diverse landscapes, from rocky coastlines to lush hills, by embarking on scenic hikes.
Cycling: Rent a bike and navigate Mykonos' picturesque villages and countryside while getting a workout.
Festivals and Nightlife
August is also a busy month for festivals and nightlife events in Mykonos. Some highlights include:
Cultural Festival: This summer-long event features free concerts, gallery shows, and various other cultural experiences, allowing visitors to immerse themselves in the island's traditions and arts.
Xlsior Mykonos: Taking place in late August, this popular gay festival boasts a variety of parties, DJ performances, and events centred around Mykonos' vibrant LGBTQ+ scene.
Nightclubs and bars: August is prime time for partygoers, with plenty of clubs and beach bars hosting live music, DJ sets, and themed events throughout the month.
Packing Tips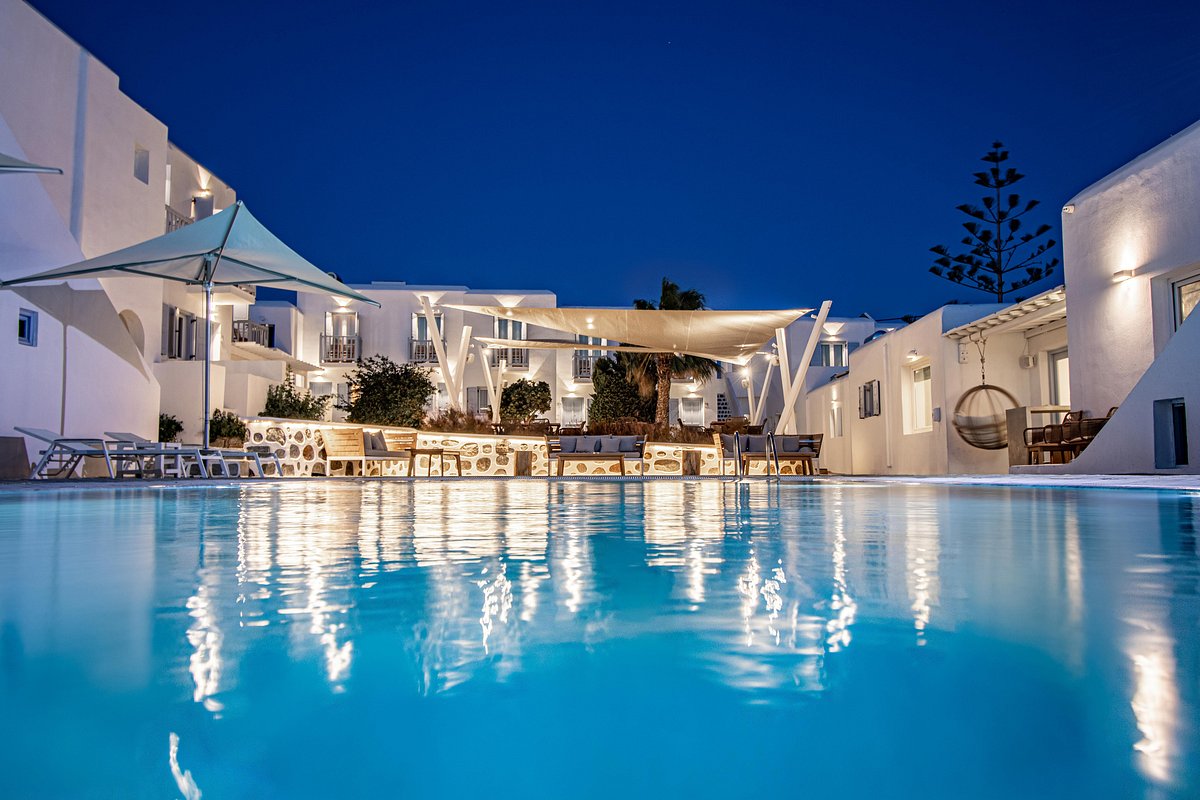 Clothing and Essentials
In August, Mykonos experiences its hottest month with temperatures usually ranging from 24°C to 28°C (75°F to 82°F). Therefore, it's crucial to pack light and breathable clothing. Keep the following items in mind:
Lightweight clothing: Pack t-shirts, shorts, sundresses, and other light clothes made of natural materials like cotton or linen.
Swimwear: Remember to bring swimwear as the sea temperature is perfect for swimming and beach activities.
Comfortable footwear: Opt for sandals, flip-flops, or lightweight walking shoes for exploring the island.
Sunglasses, hat and sunblock: Make sure to protect yourself from the sun's rays with these essential items.
Small bag or backpack: A lightweight bag will come in handy for daily outings, allowing you to carry necessities such as water, sunscreen, sunglasses, and a camera.
Health and Safety Items
To ensure a safe and comfortable trip to Mykonos in August, don't forget to pack the following health and safety items:
Sunscreen: As mentioned earlier, the sun will be intense, so pack a high-SPF sunscreen to avoid sunburn.
Insect repellent: Since mosquitoes can be common in the warmer months, bring along an insect repellent to protect your skin.
First-aid kit: Pack a small first-aid kit that includes essentials like band-aids, painkillers, and any personal medication you require.
Hydration: Carry a reusable water bottle to stay hydrated during hot days spent exploring the island.
Travel insurance: It's always a good idea to have travel insurance for any unforeseen medical emergencies or accidents.