Mykonos, an enchanting Greek island in the Southern Aegean, offers captivating views and vibrant nightlife, making it a popular holiday destination. June, the beginning of the summer season, is undoubtedly an ideal time for tourists to explore the island in all its glory. The warm and sunny weather coupled with relatively fewer crowds than the following months provide a pleasant atmosphere for enjoying outdoor activities and water sports.
During June, Mykonos experiences an average high temperature of 30°C (86°F) and an average low of 21°C (70°F), providing a comfortable climate for visiting the iconic beaches and picturesque villages. With around 14 hours of daily sunshine, this month offers ample opportunity for sun-seekers to bask in the warmth while admiring the panoramic views of the azure Aegean Sea, which has a refreshing average temperature of 24°C (75°F). Apart from the occasional showers, rainfall is scarce in June, ensuring that visitors have mostly clear skies for their holiday escapades.
As the island fully opens during this month, the shoulder season of May and June is the best time to get a taste of Mykonos' rich cultural and natural attractions before the exorbitant prices and peak tourist traffic take hold in July and August. The lack of all-night beach parties also appeals to those who prefer a more tranquil experience. Overall, June presents an idyllic setting for experiencing the enchanting charm of Mykonos, as visitors can indulge in sightseeing, sunbathing, and relishing the authentic local flavours.
Average Weather Conditions in June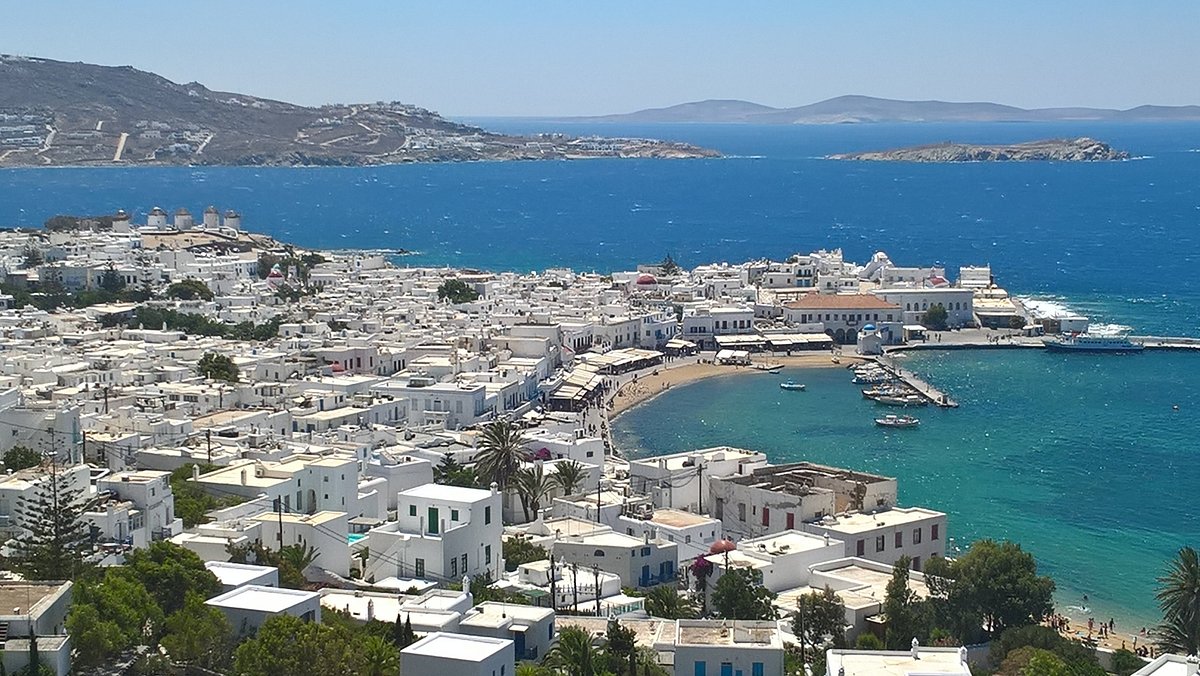 Temperature
In June, the weather in Mykonos is typically warm and pleasant. The average temperature is around 23.7 °C (75 °F), with minimum temperatures averaging 18°C (64.4°F) and maximum temperatures reaching up to 26.7 °C (80.1 °F). It's noteworthy that the coldest nights usually occur at the beginning of the month, with temperatures potentially dropping to around 17.5 °C (63.5 °F).
Rainfall
Rainfall is minimal in Mykonos during June, as the island enters its dry season. On average, there is only 1 day of rainfall in June, with a total of around 7mm (0.28″) of accumulated precipitation throughout the month. This makes June one of the driest months in Mykonos, allowing tourists to fully enjoy their holiday and explore the island.
Humidity
Humidity levels in June are fairly comfortable, but they may vary depending on the time and weather conditions. Generally, the humidity levels are lower during the daytime, when temperatures are warmer, and increase in the evenings and early mornings as the temperature cools down. Overall, June's humidity is not likely to cause significant discomfort for travellers.
Sunlight
In June, Mykonos receives a generous amount of sunlight, making it an attractive destination for sun-seekers. On average, there are 14 hours of sunshine per day, giving tourists ample opportunity to explore the beautiful island, relax on the beach, or participate in various outdoor activities. With long sunny days and clear skies, June is a great time to visit Mykonos and immerse oneself in its vibrant atmosphere.
Activities and Events in June
Outdoor Activities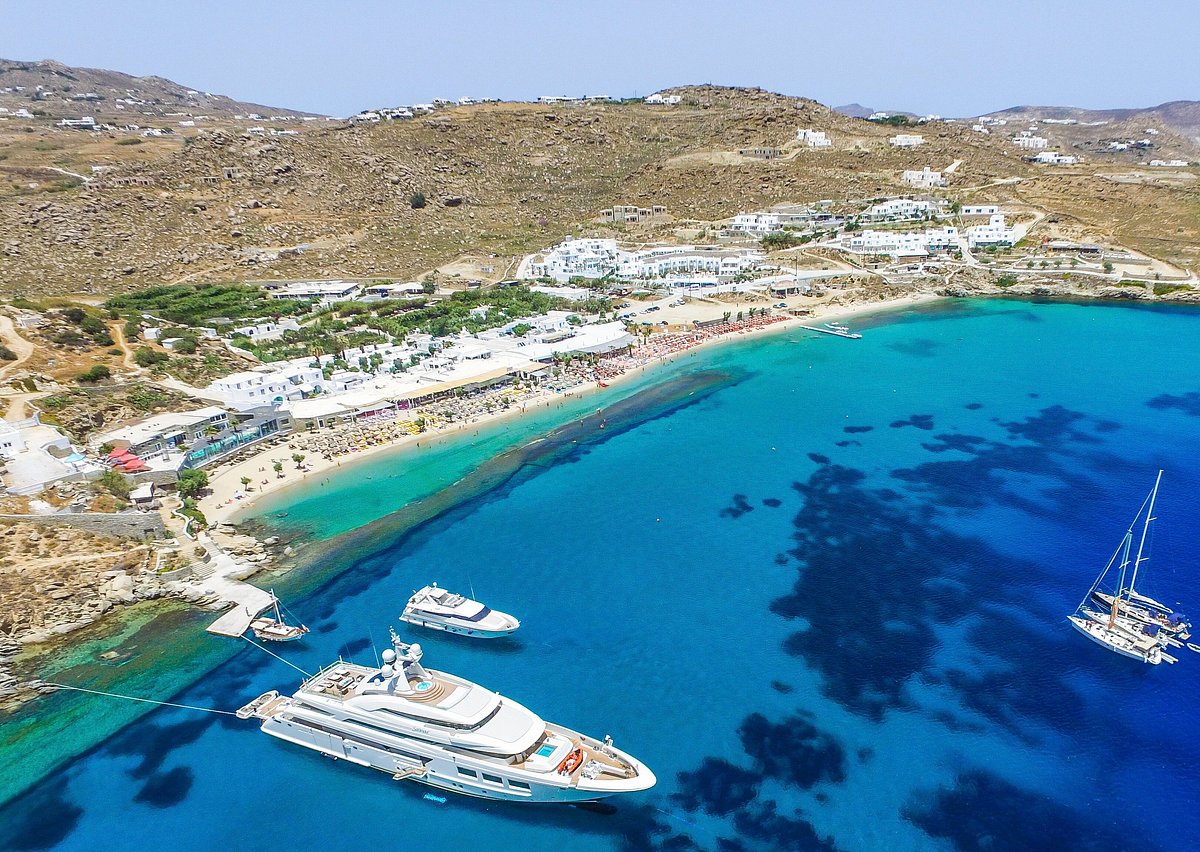 June is a fantastic time to visit Mykonos and indulge in some outdoor adventures. With average temperatures in the upper 20s°C and the sun shining brightly, visitors can hit the beautiful beaches and enjoy water sports like paddleboarding and windsurfing. Take advantage of the famous Meltemi breezes to keep you cool as you explore the island. Some popular beaches to visit in June include:
Paradise Beach: Renowned for its lively atmosphere and parties
Agios Sostis Beach: Ideal for a tranquil getaway, away from the crowds
Elia Beach: Perfect for families, offering sunbeds, umbrellas and watersports facilities
For those who love hiking or cycling, Mykonos offers stunning landscapes and picturesque villages to explore. Don't forget to visit the iconic windmills of Mykonos or the ancient site of Delos, a UNESCO World Heritage site.
Festivals and Celebrations
June marks the beginning of the summer season in Mykonos, and the island comes to life with various local and international events. Keep an eye out for the following celebrations:
Mykonos Summer Festival: This annual event brings together music, dance, and theatre performances from around the world, showcasing the island's rich cultural scene.
XLSIOR Mykonos: An international LGBTQ event taking place in June or July, offering exciting beach and dance parties.
Remember to check the specific dates for events and festivals each year, as they may vary. Immerse yourself in the vibrant atmosphere of Mykonos during your June visit!
What to Pack and Wear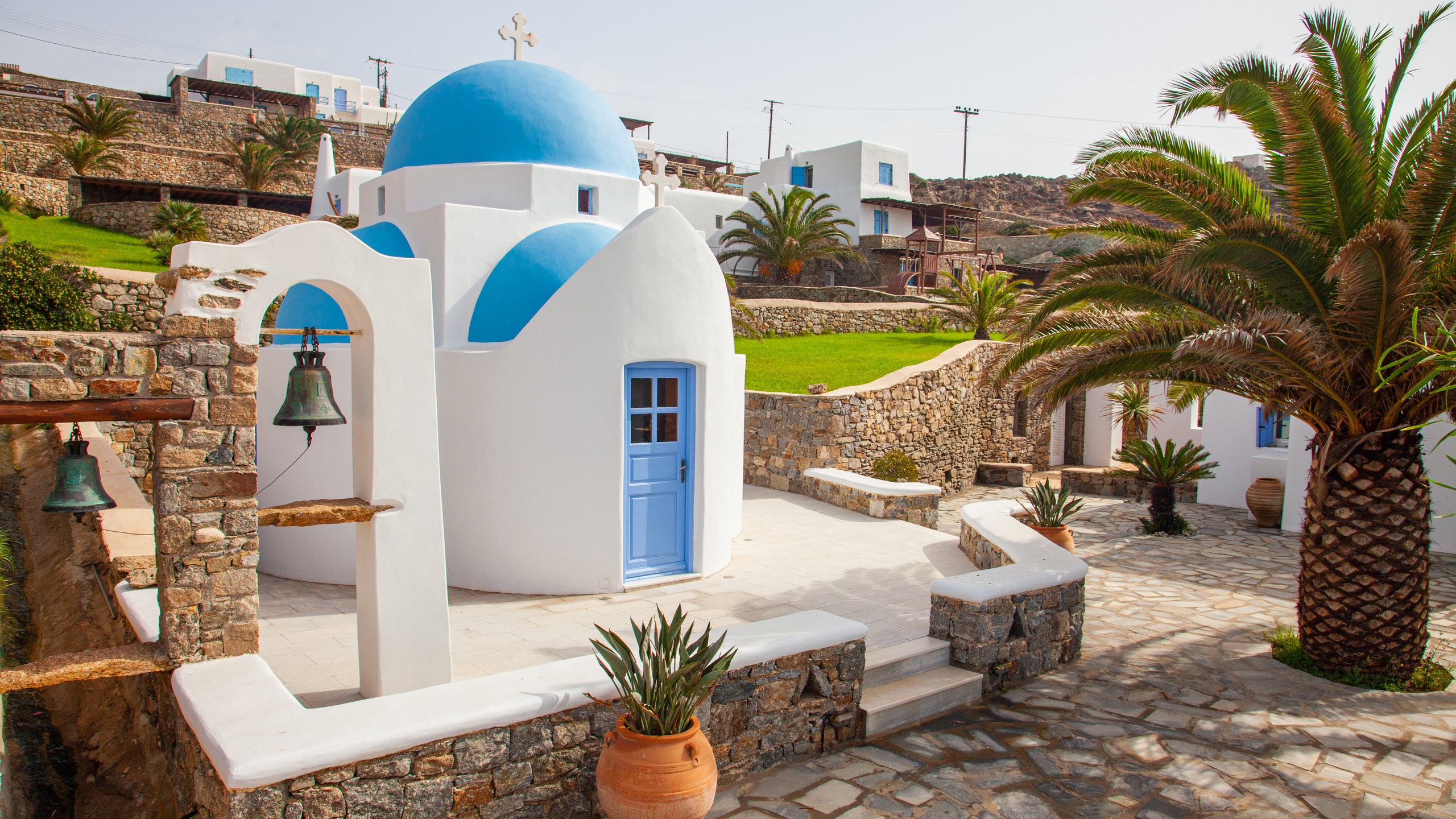 Clothing
In June, the weather in Mykonos is typically warm, with temperatures ranging from 23 to 24°C during the day and around 18°C at night. To stay comfortable during your visit, consider packing the following items:
Light t-shirts: Bring a few lightweight t-shirts for daytime wear.
Long-sleeve shirts: Pack one or two long-sleeve shirts for cooler evenings.
Light trousers or skirts: Opt for light, breathable fabrics to stay comfortable during the day.
Shorts: You'll need a few pairs of shorts for the warmer weather.
Swimwear: Don't forget your swimwear for times you spend on the beaches or by the pool.
Sandals or flip-flops: These are perfect for beach days and casual outings.
Closed-toe shoes: Bring a pair for evenings or more formal occasions.
Sunglasses and hats: These will protect your eyes and head from the sun.
Essentials
Apart from clothing, there are some essentials you should pack to ensure a comfortable and hassle-free trip. Here's a list of must-haves:
Sunscreen: Mykonos can get quite sunny in June, so pack a high-SPF sunscreen to protect your skin.
Insect repellent: Mosquitoes can be a nuisance on the island, so carry a repellent to help keep them at bay.
Beach towels: Bring a few to use at the beach or by the pool.
Water bottle: To stay hydrated during your trip, pack a reusable water bottle.
Travel adapter: Mykonos uses standard European plugs, so bring an adapter if needed.
Toiletries: Remember to pack travel-sized toiletries, such as body wash, shampoo, conditioner, and toothpaste.
Medications: Carry any necessary prescriptions or over-the-counter medications, such as pain relievers and allergy medicine.
Chargers: Remember to pack chargers for all of your electronic devices, like your phone, camera, and tablet.