Mykonos, a stunning island in the Southern Aegean, Greece, is well-known for its vibrant nightlife, beautiful beaches, and distinctive Cycladic architecture. As March approaches, this picturesque destination experiences a gentle transition from winter to spring. While the lively summer atmosphere is still a few months away, visitors can enjoy a more serene and tranquil side of the island during this time.
During March, Mykonos sees a noticeable rise in temperature, averaging around 12°C, with overnight lows of 8°C and daytime highs of 15°C. The lessened rainfall makes for a relatively dry month with plenty of opportunities to explore the island's natural beauty and charming villages without the bustling crowds of the peak season. While the weather may not be ideal for sunbathing or swimming, it is perfect for eisurely strolls and discovering hidden gems.
Visiting Mykonos in March allows travellers to appreciate its enchanting beauty at a more leisurely pace than during the busy summer months. With mild weather and an air of relaxation, March can be the perfect time for an escape to this captivating Greek island.
Weather Overview in March
Temperature Ranges
In March, the temperature in Mykonos, Greece, starts to rise, heralding the arrival of spring. The average temperature is around 12°C (54°F), with highs of 15°C (59°F) and lows of 8°C (46°F). Mornings and evenings can be quite chilly, so it's essential to pack suitable clothing for variable temperatures.
Rainfall and Humidity
Mykonos experiences moderate rainfall during March, with an average of 94 mm spread over 6 days. This is much lower than the winter months, but the weather can still be changeable and unpredictable. The average humidity in March is around 71%, making it a relatively comfortable time of year to explore the island.
Wind and Sea Conditions
March can be quite windy in Mykonos, with an average wind speed of 15 mph. The island is known for its 'Meltemi' winds, which tend to blow stronger during the summer months, but they can still have a presence in March. As for the sea, the average sea temperature is 16°C (61°F) in March, which is relatively cool and may not be suitable for swimming or watersports for some visitors.
Activities and Events
Outdoor Activities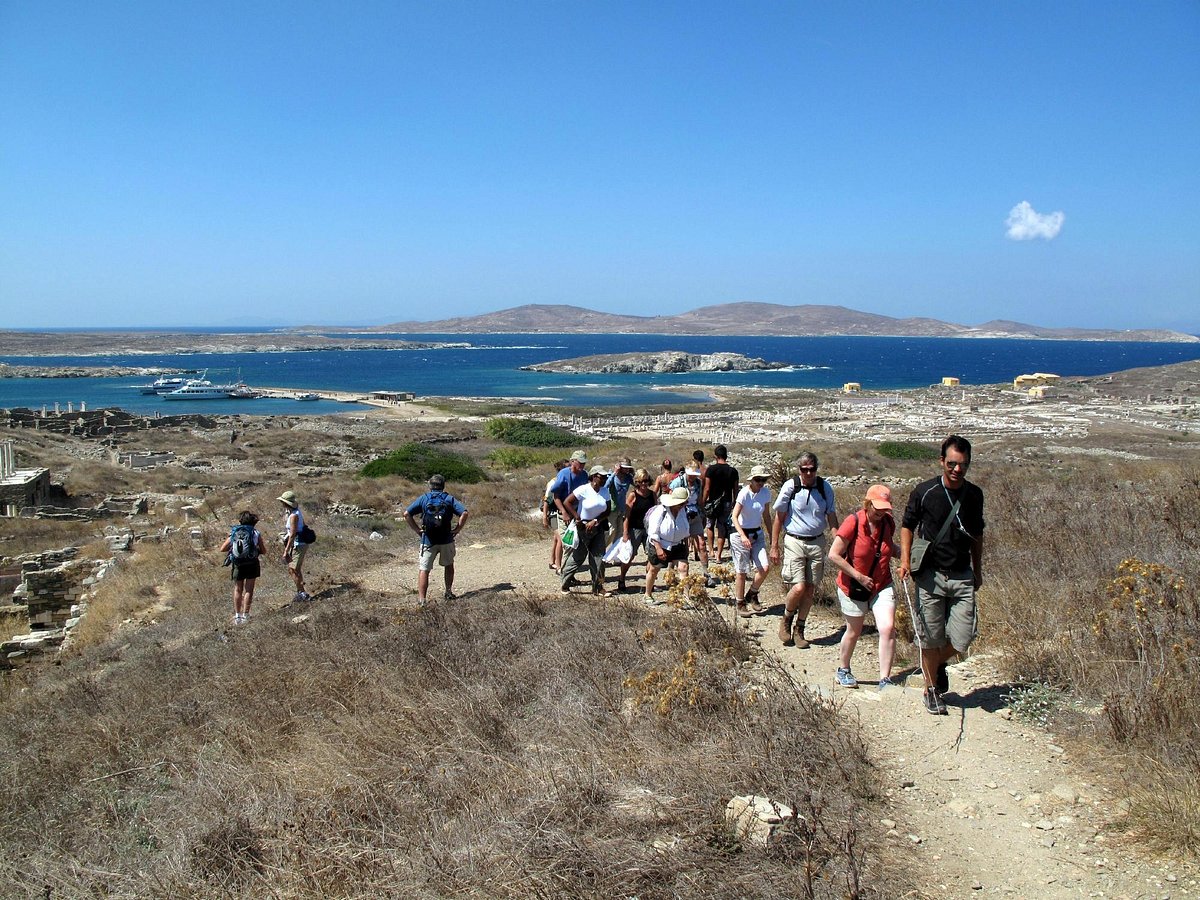 In March, Mykonos experiences mild temperatures and a higher likelihood of rain compared to summer months. This makes it a great time for exploring the island at a more relaxed pace, free from the large summer crowds.
Hiking: With cooler temperatures, March is a good time for hiking around Mykonos. Discover picturesque villages and winding paths that connect various areas of the island.
Beach walks: Enjoy the calming waves and serene atmosphere on Mykonos' beaches without the hustle associated with peak season.
Indoor Activities
For those occasional rainy days in March, Mykonos offers various indoor activities to keep you entertained:
Art galleries: Visit local art galleries and dive into the vibrant art scene of Mykonos.
Museums: Learn more about Greek history and culture at places like the Archaeological Museum, the Aegean Maritime Museum, and the Folklore Museum.
Wellness treatments: Indulge in a spa day or pamper yourself with a massage at one of the island's numerous wellness centres.
Festivals and Celebrations
There may not be as many events happening in Mykonos during March compared to the busy summer months, but you can still find a few celebrations to enjoy:
Greek Independence Day: On 25th March, join the locals in celebrating Greek Independence Day, which commemorates the start of the War of Greek Independence in 1821. Witness parades and other festive events related to this national holiday.
Remember not to include any conclusions or say "overall" or anything like that.
Packing Tips for Mykonos in March
Clothing Recommendations
In March, the weather in Mykonos begins to warm up, with average temperatures ranging from 57°F (14°C) to 64°F (18°C). To prepare for this mild weather, it's essential to pack versatile clothing options. Consider the following suggestions:
Lightweight layers: Pack light jackets, cardigans, and long-sleeve tops to wear during the day and in the evenings.
Comfortable trousers and jeans: These are ideal for daytime strolls and nighttime outings.
A few T-shirts and tops: As the month progresses, temperatures may rise, making short sleeves suitable for some days.
A thin scarf or shawl: This can be used as an extra layer during cooler evenings.
Footwear: Comfortable walking shoes, trainers, or sandals are best for exploring Mykonos on foot.
Essential Accessories
Apart from clothing, consider packing the following essential accessories for a comfortable and enjoyable trip to Mykonos in March:
Sunglasses and sunscreen: Although the sun may not be as strong as during the summer months, UV protection is still necessary.
A small umbrella or light rain jacket: Rainfall can occur during March, so it's essential to be prepared for sudden showers.
A reusable water bottle: Stay hydrated while exploring the island.
A power adapter: Mykonos, like the rest of Greece, uses the European-style two-pin plug, so ensure you have the appropriate adapter for your devices.
A small day bag: A lightweight backpack or tote can be helpful for carrying any essentials while exploring Mykonos.
By packing these clothing items and essential accessories, you can ensure a comfortable and enjoyable visit to Mykonos in March.