Nestled on the picturesque eastern coast of Sicily, Giardini Naxos boasts a perfect blend of natural beauty, rich history, and diverse attractions. This charming seaside resort, located in the city of Messina, offers a myriad of activities and experiences for visitors of all ages. With its enchanting views and delightful Sicilian charm, Giardini Naxos beckons travellers from around the world, leaving them with unforgettable memories.
When exploring this beautiful destination, one can't miss the impressive Alcantara Gorges, a majestic canyon with crystal clear waters and breathtaking basalt rock formations. For the more adventurous, the body rafting tour is the ideal way to fully appreciate the natural wonders of the area. Meanwhile, art and history enthusiasts will enjoy the numerous historical and cultural sites, as well as the local festivals and events that bring Giardini Naxos to life.
Outdoor activities abound, with various water sports, day trips, and excursions available for those who desire an adrenaline rush. For a more laid-back experience, guests can indulge in leisurely strolls by the sea, discovering the town's array of restaurants and bars that showcase the delightful tastes of Sicilian cuisine. Whatever your preference, Giardini Naxos offers an alluring array of experiences that cater to every traveller's needs.
Historical Attractions
Archaeological Museum
The Archaeological Museum located in Giardini Naxos is an insightful destination for those interested in history and archaeology. The museum showcases artifacts and relics from the ancient Greek colony of Naxos, which was founded around 734 BC. Visitors can explore the fascinating exhibits that display a wide range of objects, such as Greek pottery, sculptures, and coins. The well-preserved artifacts help to paint a vivid picture of the daily life and culture of the ancient inhabitants of the area.
Archaeological Park
Another must-visit historical attraction in Giardini Naxos is the Archaeological Park. This expansive park contains the remains of ancient settlements that have been meticulously excavated and preserved. As you stroll through the park, you can observe the remnants of walls, houses, and other structures that once formed the backbone of the ancient city of Naxos.
The park also offers a beautiful landscape and stunning views of the surrounding area, including the picturesque coastline and Mount Etna. While exploring the park, visitors can gain a deeper understanding of the rich history and heritage of Giardini Naxos, as well as appreciate the natural beauty of the region.
Natural Wonders
Giardini Naxos, situated on the island of Sicily, is a beautiful destination known for its spectacular natural wonders and breathtaking views. The landscape in and around the area provides visitors with the opportunity to experience some unforgettable outdoor activities.
Isola Bella
Isola Bella, a small island near the coast of Giardini Naxos, is a must-visit destination for those interested in exploring the natural beauty of Sicily. This picturesque island, often referred to as the "Pearl of the Ionian Sea", is connected to mainland Taormina by a narrow strip of sand. The island is home to a wide variety of flora and fauna, making it an ideal spot for nature lovers. Visitors can engage in activities such as:
Sunbathing and swimming in the crystal-clear waters
Snorkelling to observe the colourful marine life
Hiking around the island to take in the breathtaking views
Mount Etna
Mount Etna, one of the world's most active volcanoes, is another extraordinary natural attraction in close proximity to Giardini Naxos. The volcano rises to an impressive height of more than 3,329 meters and offers some truly awe-inspiring views of the surrounding area. Visitors can enjoy a range of activities on Mount Etna, including:
Hiking or trekking on numerous trails around the volcano
Guided tour of the lava tubes and volcanic craters
Cable car and 4×4 excursions to higher altitudes
Witnessing the spectacular sight of a lava flow, depending on the activity of the volcano
Visitors exploring Mount Etna are advised to wear suitable footwear and clothing, and to enlist the services of a professional guide for a safe and informative experience.
In summary, Giardini Naxos offers a wealth of natural wonders for visitors to explore, including the picturesque Isola Bella and the awe-inspiring Mount Etna, creating unforgettable outdoor experiences in this stunning region of Sicily.
Beaches and Water Sports
Giardini Naxos is a fantastic destination for beachgoers and water sports enthusiasts. In this section, we will discuss the popular beach Lido di Naxos and recreational boating opportunities available in the area.
Lido di Naxos
Lido di Naxos is a beautiful sandy beach with clear, turquoise waters, perfect for a relaxing day in the sun. The beach offers various facilities, including sunbeds, umbrellas, beach bars, and restaurants, ensuring a comfortable and enjoyable stay. For those who seek adventure, there are also several water sports on offer, such as:
Scuba diving and snorkelling: Explore the underwater world and discover a fascinating array of marine life in the crystal clear waters.
Kayaking and paddleboarding: Glide across the water's surface, taking in the stunning coastal views and enjoying a peaceful and rejuvenating experience.
Jet skiing and banana boating: For individuals seeking a thrilling and adrenaline-filled adventure, trying out these fast-paced water sports can be an unforgettable experience.
Recreational Boating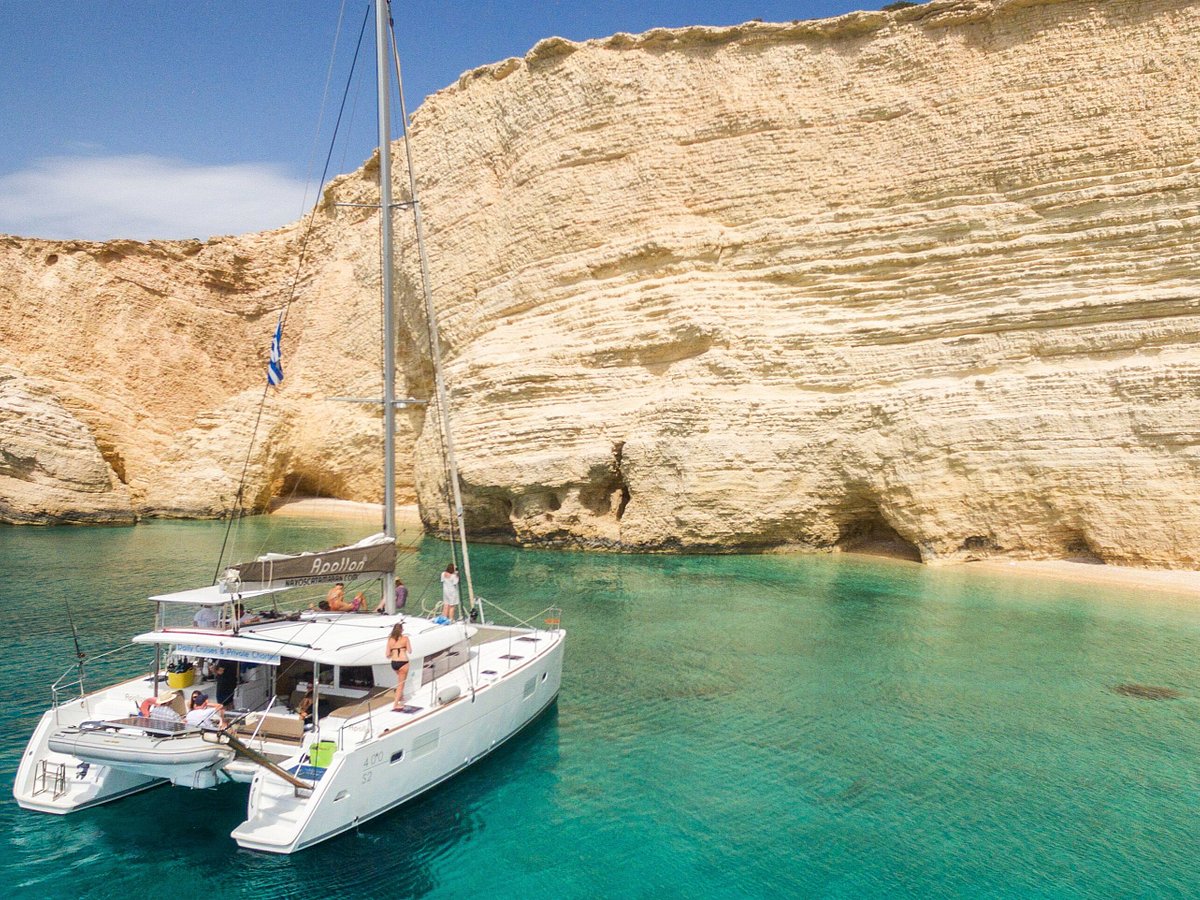 Giardini Naxos offers numerous opportunities for recreational boating, allowing visitors to explore the stunning coastline and nearby attractions. Some popular boating activities in Giardini Naxos include:
Boat Tours: Take a guided tour of the coastline, discovering hidden coves and inlets that can only be accessed by boat. These tours often include stops for swimming and snorkelling.
Fishing Charters: Embark on a fishing adventure with knowledgeable local guides, who will take you to prime fishing spots and provide you with tips and techniques to enhance your fishing experience.
Sailing and Water Cruises: Explore the beauty of the Mediterranean on a leisurely sailing excursion or immerse yourself in luxury aboard a water cruise, both of which offer a unique and memorable experience.
In conclusion, Giardini Naxos provides abundant opportunities for beach relaxation and water sport adventures. Whether you wish to unwind on the stunning Lido di Naxos beach or embark on exciting recreational boating experiences, this picturesque Italian destination caters to a wide range of interests.
Cultural Highlights
Festa di San Pancrazio
The Festa di San Pancrazio is a significant religious and cultural event held annually in Giardini Naxos. Honouring the town's patron saint, St. Pancras, the festival is celebrated with great enthusiasm and is a must-see cultural highlight for visitors. The event typically takes place in May and features a mix of religious processions, traditional music, joyful dancing, and local cuisine. Visitors have the opportunity to witness the deep-rooted traditions and customs of the town, while also immersing themselves in the vibrant, festive atmosphere.
Taormina International Film Festival
Taormina International Film Festival, also known as the Taormina Film Fest, is a prestigious event that takes place every year in the nearby town of Taormina, located just above Giardini Naxos. Established in 1955, the festival has gained international acclaim over the years and showcases a curated selection of films from around the globe. With its screenings set in the beautiful ancient Greek theatre, the festival offers a unique blend of history, culture, and cinema.
Throughout the duration of the festival, visitors can attend various screenings, panel discussions, and exclusive events featuring prominent figures from the world of cinema. This highly-awaited event combines the charm of Taormina with the magic of the movies and provides an unforgettable cultural experience for all attendees.
Dining and Nightlife
Seafront Restaurants
Giardini Naxos boasts a selection of excellent seafront restaurants with picturesque views of the Mediterranean Sea. One of the highly rated establishments is A Putia, offering delicious Italian and seafood dishes. The restaurant has received positive feedback for its excellent ambience and attentive service. Another fantastic option is Al Vicolo dei Capricci, which serves Italian and fast food at affordable prices, making it perfect for a quick and satisfying meal.
Wine-Tasting
Sicily is well-known for its outstanding wines, and Giardini Naxos is no exception. As you explore the town, make sure to indulge in wine-tasting experiences to enjoy the rich flavours of the region. Many local wine bars offer a variety of Sicilian wines for you to sample, alongside scrumptious antipasti, allowing you to immerse yourself in the local cuisine and culture. So, while in Giardini Naxos, don't miss the chance to savour the finest wines that Sicily has to offer.
Shopping
Corso Umberto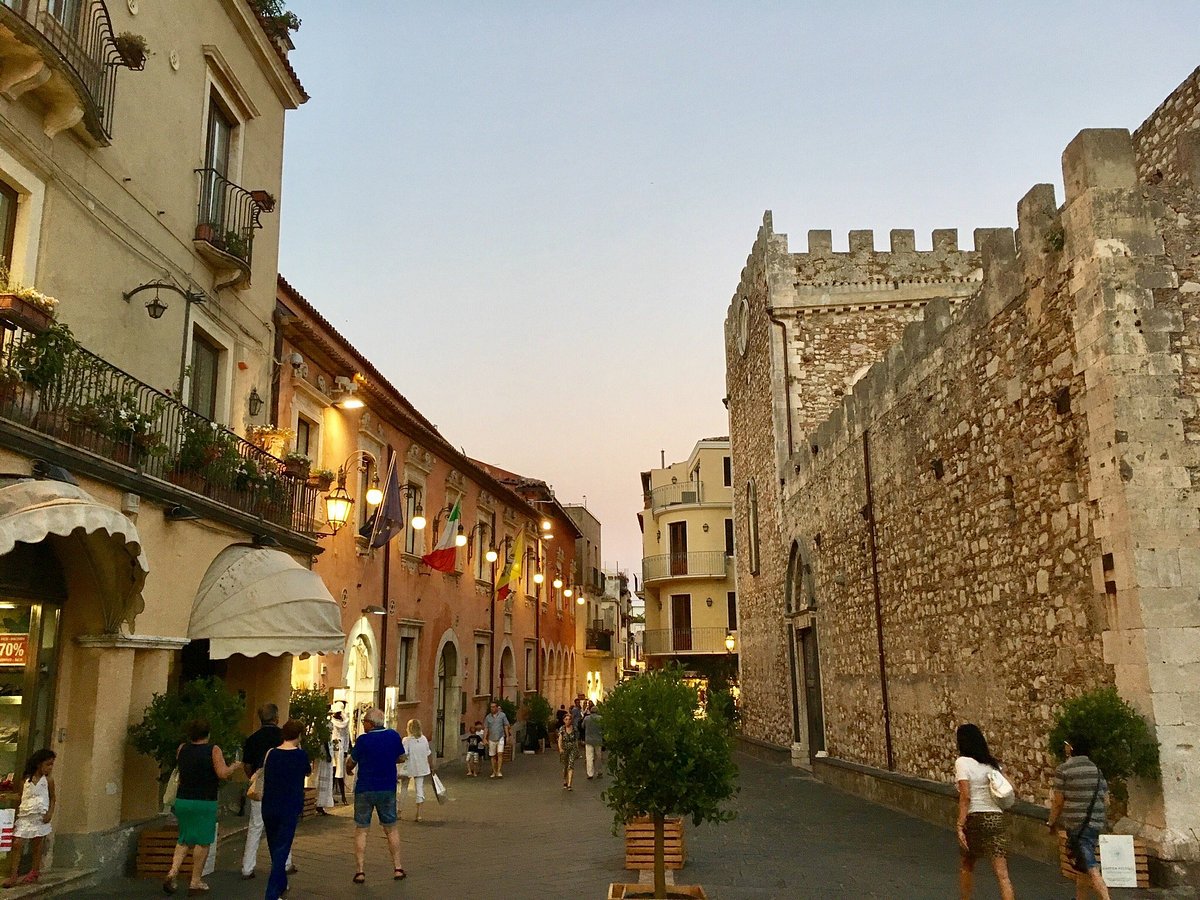 When visiting Giardini Naxos, one must take a stroll along the famous Corso Umberto. This vibrant shopping street offers a variety of stores, ranging from designer boutiques to charming local shops. You will find an array of products such as clothing, accessories, and souvenirs, making it a fantastic destination for fashion enthusiasts and tourists alike. Take your time, soak in the atmosphere, and enjoy the unique shopping experience that Corso Umberto provides.
Local Markets
For those who appreciate a more authentic and traditional shopping experience, Giardini Naxos also hosts numerous local markets. These markets allow visitors to delve into the rich local culture, offering a variety of fresh and locally produced items. Here are some great markets to explore:
Melanina Sicilian Experience: With a focus on Sicilian delicacies, this market offers a delightful insight into the island's flavours and tastes. Their Sicilian tasting sessions are popular with both locals and tourists.
BluArte I due Giardini di Naxos: This market is known for selling beautiful handmade items, perfect for finding unique gifts and souvenirs.
Centro Commerciale "I Gabbiani": Located just a short distance from Taormina, this shopping mall is an excellent place to find reasonably priced fresh fish, meat, and other goods.
Please remember that these lists are not exhaustive but rather meant to give you a starting point when visiting Giardini Naxos. Whether you prefer the bustling atmosphere of Corso Umberto or the more authentic charm of local markets, Giardini Naxos caters to all your shopping desires.