Paros, a stunning Greek island in the heart of the Cyclades, is known for its picture-perfect beaches and crystal-clear turquoise waters. Visitors flock to this idyllic destination every summer, and it is easy to see why. With a variety of sandy shores catering to different preferences, Paros has something for everyone, from quiet, secluded coves to bustling seaside spots with thrilling watersports.
Kolymbithres beach, for instance, is not just a serene bay with beautiful blue water. It also features unique rock formations that complement the pristine golden sands, making it one of the most impressive and popular beaches in Paros. For those seeking a more tranquil experience, heading to the smaller Mikri Santa Maria might be a fitting choice. This little gem offers privacy and is neighboured by neat local tavernas for a truly authentic Greek experience.
Another must-see in Paros is the renowned Golden Beach, or Chrissi Akti, which is home to the Poseidon of Paros—a top-rated beach resort on the island. Golden Beach is also a windsurfing paradise, attracting enthusiasts from all over the world. No matter what kind of beachside adventure you're looking for, Paros promises an unforgettable experience that will leave any traveller captivated.
Top Beaches in Paros
Paros is a Greek island known for its pristine beaches and crystal-clear waters. This section highlights four of the best beaches in Paros: Kolymbithres Beach, Golden Beach, Santa Maria Beach, and Livadia Beach.
Kolymbithres Beach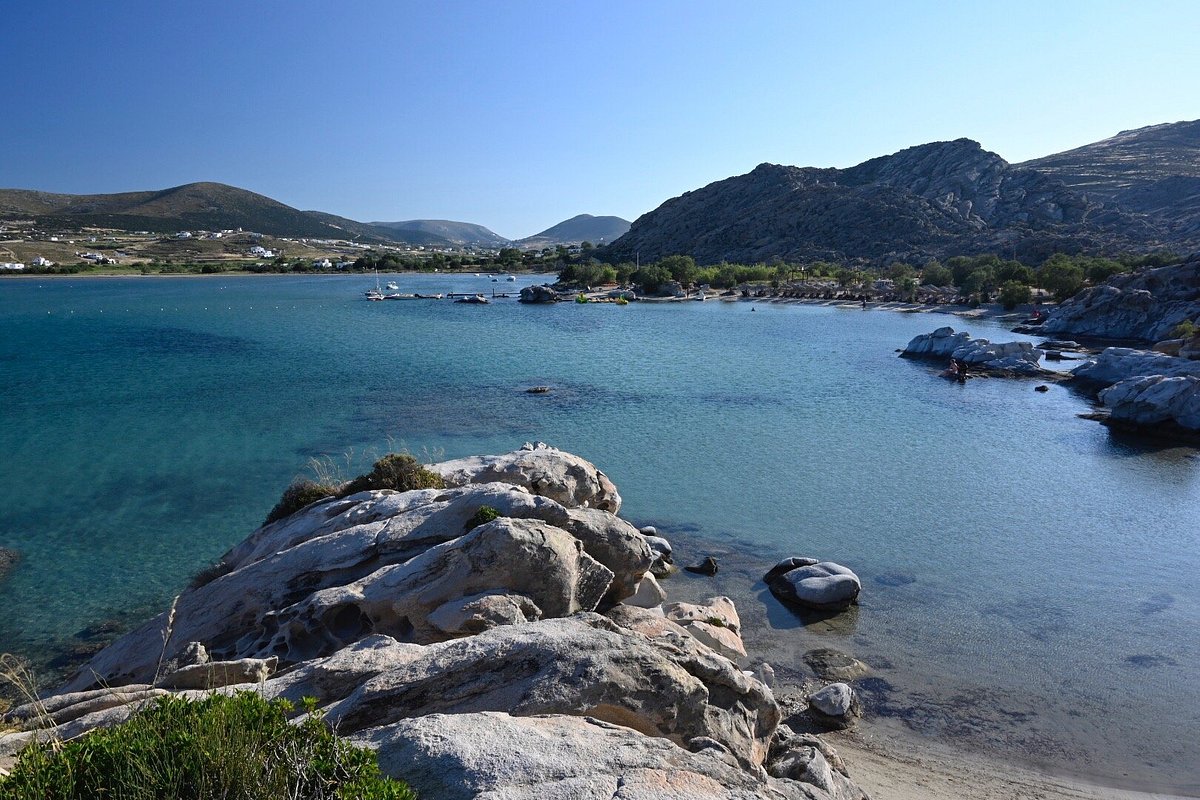 Kolymbithres Beach is considered one of the most impressive beaches in Paros. Known for its unique, sculpted rock formations, this beach offers a picturesque landscape and a relaxing atmosphere. The clear, turquoise water is perfect for swimming or snorkelling. Visitors can also find sun loungers, umbrellas, and a small café nearby.
Golden Beach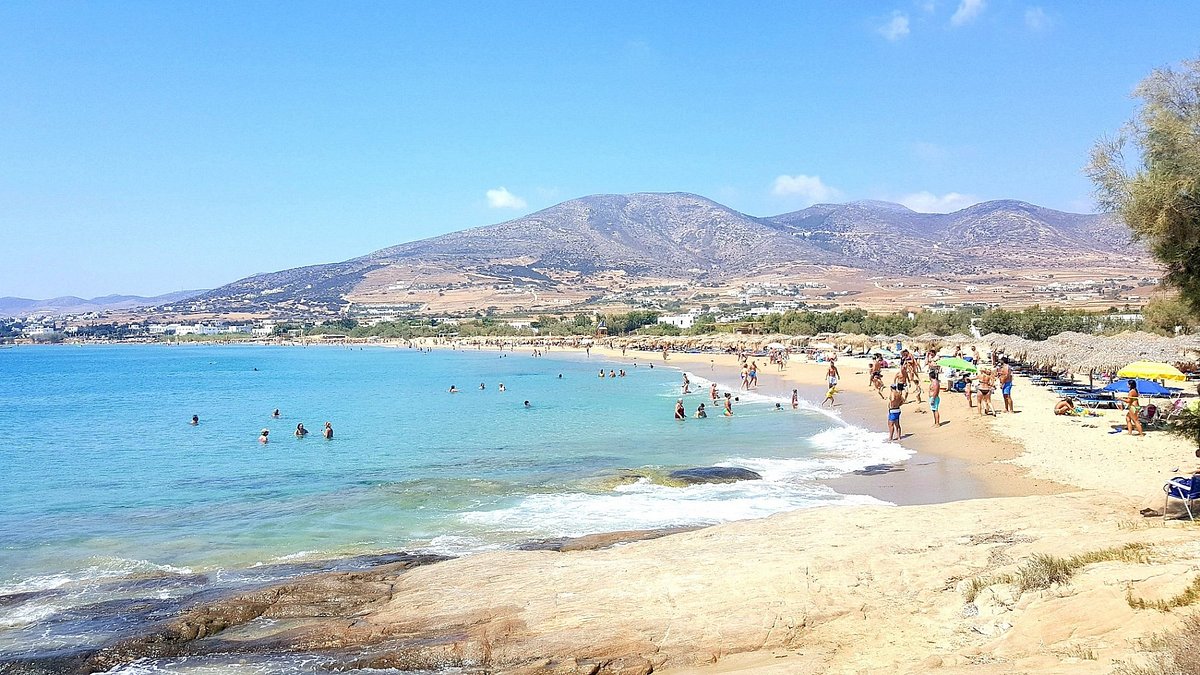 Also known as Chrissi Akti in Greek, Golden Beach is renowned for its stunning stretch of golden sand and its reputation as the best beach resort in Paros. This beach is ideal for both relaxation and water sports, thanks to its perfect windsurfing conditions. The Poseidon of Paros, a lovely beachside hotel, is located nearby, offering travellers a comfortable stay with easy access to this beautiful beach.
Santa Maria Beach
Santa Maria Beach is popular among both locals and tourists for its pristine white sand, crystal-clear waters, and calm atmosphere. It is an excellent spot for those who enjoy water sports, as it offers great conditions for windsurfing and kitesurfing. There are also sunbeds and umbrellas available for rent, as well as beach bars and restaurants nearby.
Livadia Beach
Livadia Beach is conveniently located near the town of Parikia, making it an easily accessible beach for visitors who do not want to travel far from the main town. This beach features soft sand and shallow waters, making it an ideal spot for families. There are a variety of restaurants, cafés, and bars nearby, as well as sun loungers and umbrellas for rent. Livadia Beach is also popular for its lively atmosphere, with occasional beach parties and live music events in the summer months.
Beach Activities and Facilities
Water Sports
Paros offers a variety of water sports for beachgoers to enjoy. Some popular options include:
Windsurfing: Paros is well-known for its breezy weather, making it ideal for windsurfing enthusiasts. Popular spots for this activity are the Golden Beach and Pounda Beach.
Kiteboarding: Similar to windsurfing, kiteboarding is another popular activity on the island, and Greece. Pounda Beach is a top destination for kiteboarders due to its consistent winds.
Stand-up Paddleboarding: For those looking for a more relaxed water activity, stand-up paddleboarding is a great option. Many beaches, such as Kolympethres and Santa Maria Beach, offer paddleboard rentals and lessons.
Sun Loungers and Umbrellas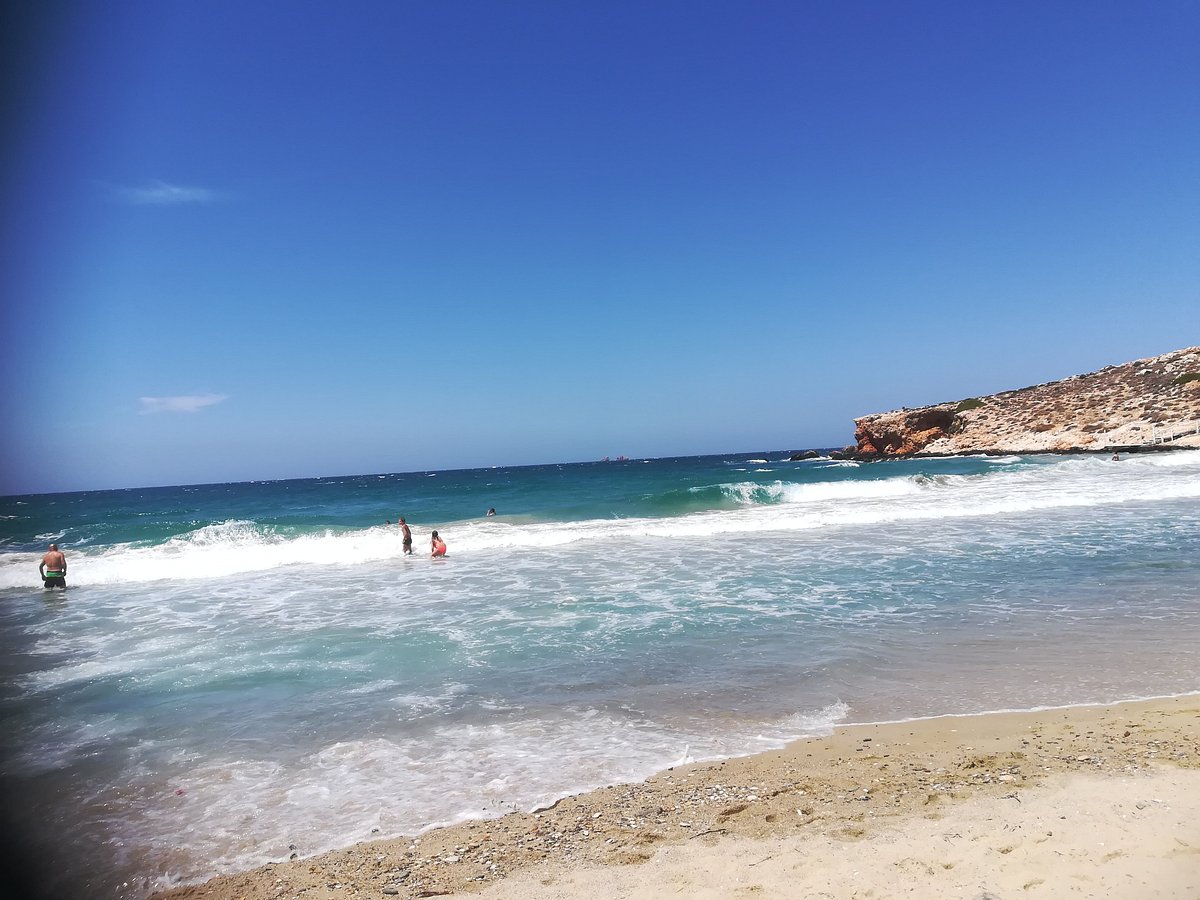 Most of the beaches in Paros provide sun loungers and umbrellas for visitors to rent, ensuring a comfortable day at the beach. A few examples include:
Kolymbithres Beach: This picturesque beach offers sun loungers and umbrellas spread across its golden sands, making it a perfect spot for relaxation.
Paros Park Beach: Located near the Paros Park, this beach offers facilities like sun loungers, umbrellas and a small beach bar.
Santa Maria Beach: Featuring crystal-clear waters and golden sand, this popular beach provides sun loungers and umbrellas along with beachside service.
Beach Bars and Restaurants
Paros has a diverse selection of beach bars and restaurants for visitors to enjoy while soaking up the sun. Some notable places to grab a bite or a refreshing drink include:
Piperi Beach Bar: Located on Piperi Beach in Naoussa, this bar offers a vibrant atmosphere along with delicious cocktails and snacks.
Farou Restaurant: Situated on Logaras Beach, this well-reputed taverna serves up traditional Greek dishes made from local ingredients.
Siparos Beach Bistro & Bar: Set on Santa Maria Beach, this beachside bistro provides a relaxed setting for visitors to enjoy fresh seafood, Mediterranean cuisine and refreshing beverages while taking in the breathtaking views.
Accessibility and Accommodation
Public Transport
Paros is well connected by public transport, with local buses serving most of the popular beaches. The bus network operates from the main towns of Parikia and Naoussa, providing easy access to various beach destinations. Bus schedules are subject to seasonal changes, so it's best to check the timetable in advance.
Ticket Prices: One-way tickets range from €1.80 to €2.50, depending on the distance.
Nearby Hotels and Resorts
Several hotels and resorts throughout Paros offer great accommodation options close to the best beaches. Some notable establishments include:
Parikia Area:
Akrotiri Hotel: A 3-star traditional hotel with breathtaking views, located near the sandy beach of Agia Irini.
Paros Palace: A luxury hotel that sits atop a hill, offering panoramic views of Parikia Bay.
Naoussa Area:
Lilly Residence – Boutique Suites: This upscale boutique hotel is located near the famous Piperi Beach.
Senia Hotel: A 4-star property with a stunning pool area and a short walk to the delightful Naoussa beaches.
Golden Beach Area:
Poseidon of Paros: This beach resort located at Golden Beach (Chrissi Akti) is considered the best in Paros.
Silver Rocks Hotel: A charming hotel situated near New Golden Beach, offering beautiful sea views and comfortable accommodations.
In conclusion, the accessibility of Paros' beaches is aided by the efficient public transport system. Various accommodation options are also available for visitors looking to stay close to the best beaches on the island.
Frequently Asked Questions
Where are the best family-friendly beaches on Paros?
Golden Beach (Chrissi Akti) is a great choice for families with its fine sand and clean, shallow waters. Kolymbithres is another family-friendly beach with its unique rock formations and turquoise waters, offering a captivating atmosphere for both kids and adults.
Where are the best beaches for couples on Paros?
Couples may find romantic seclusion at Molos Beach, known for being relatively quiet and protected from the wind. Glyfada Beach also offers a beautiful and intimate setting with its golden sand and clear, warm waters, perfect for couples to relax.
What is the safest beach on Paros?
Kolymbithres is considered one of the safest beaches in Paros due to its sheltered setting and lack of strong currents. Families can enjoy the shallow, calm waters and the surrounding natural beauty without any major safety concerns.
Where are the best beaches on Paros on windy days?
Paros is known for its windy conditions, which can be great for specific activities. The beaches of Pounta and Golden Beach are ideal for windsurfing on windy days, as they are exposed to the island's prevailing winds and tend to have ideal conditions for the sport.
Where are the best beaches for water sports on Paros?
For water sports enthusiasts, Golden Beach is a top-notch destination with its well-developed water sports facilities, particularly for windsurfing. Additionally, Santa Maria Beach offers various water sport options, including windsurfing, kiteboarding, and paddleboarding.
Born and raised on the sun-drenched island of Crete, Sofia Mavromatis is a seasoned traveler and writer with a deep-rooted love for Greece's vibrant culture, stunning landscapes, and rich history.