Nestled on the southeastern coast of the enchanting Greek island of Rhodes, Kiotari is a charming destination that effortlessly blends natural beauty with cultural attractions. Known for its pristine beaches, relaxing atmosphere, and warm hospitality, Kiotari has something for everyone, from sunseekers to adventure enthusiasts. As you explore this alluring destination, discover the abundance of activities and experiences awaiting you amidst the splendid coastal landscapes and rich historical sites.
At the heart of Kiotari's appeal is its vast, picturesque beach, which offers a variety of water sports, sunbeds, and even an aqua park for endless hours of entertainment. However, the fun doesn't stop at the shoreline. Numerous tours and excursions are available to suit a range of interests, such as cultural and theme tours or day trips to nearby villages. The surrounding area is also brimming with captivating places to visit, including the historical village of Asklipio, with its charming churches and fascinating museum.
With such a diverse array of activities and attractions on offer, there is no doubt that Kiotari is a beloved destination on the island of Rhodes, beckoning eager visitors year after year.
Beaches and Water Activities
Kiotari Beach
Kiotari Beach is an expansive beach that has experienced significant growth in recent years. Despite this, it remains unspoiled by tourist crowds and maintains its charm. The beach offers a variety of amenities and activities, such as:
Snorkelling
Scuba diving
Water sports
Canoes
Facilities for children
Showers
Beach loungers
WC
Parking
Windsurfing and Kitesurfing
Kiotari is an ideal location for both windsurfing and kitesurfing enthusiasts. The consistent winds and open spaces offer perfect conditions for both beginners and experienced surfers. There are several centres in the area where you can rent equipment or take lessons from qualified instructors.
Boat Trips
For those wishing to explore beyond the shoreline, several boat trips are available from Kiotari. These excursions include:
Full-Day Cruise Tour to Rhodes Island with Lunch from £47.24 per adult
Adventure Tours from £69.98 per adult (price varies by group size)
These boat trips offer a fantastic way to see the beautiful coastline and discover hidden beaches and coves, creating unforgettable memories of your time in Kiotari, Rhodes.
Historical Attractions
While Kiotari is a great destination for its beach and watersports, the area is also home to some unique historical attractions. This section highlights two of the must-visit historical sites in Kiotari, Rhodes.
Asklipio Village
Asklipio Village is located near Kiotari and offers tourists a glimpse into the rich history of the island. This picturesque village is famous for its charming churches and a small museum showcasing local artefacts. Strolling around the narrow streets, visitors can get a sense of the local tradition and lifestyle. Don't forget to visit the Byzantine church of Panagia (Virgin Mary), which has impressive frescoes dating back to medieval times. This village is an excellent place for history enthusiasts to explore and immerse themselves in the local culture.
Monastery of Panagia Tsambika
The Monastery of Panagia Tsambika is a significant religious and historical site on Rhodes island. Situated atop a hill overlooking the sea, the 11th-century monastery is dedicated to the Virgin Mary. It's believed that many pilgrims visit this sacred place to seek blessings for fertility or healing. The monastery houses an ancient icon of the Virgin Mary, which is known to be miraculous.
Visiting the Monastery of Panagia Tsambika offers not only a spiritual journey but also provides stunning views of the surrounding landscape, making it a perfect spot for photography enthusiasts. Whether you're interested in history, religion, or stunning natural landscapes, a visit to this monastery is well worth your time.
By exploring the historical attractions around Kiotari, visitors can gain a deeper understanding of the island's rich past and appreciate the cultural significance of Rhodes.
Outdoor Adventures
Kiotari, Rhodes offers an array of outdoor adventures for nature lovers and thrill-seekers. From picturesque hiking trails to exciting horse riding experiences, this destination leaves visitors with memories to cherish for a lifetime.
Hiking Trails
Kiotari's sublime landscape provides perfect hiking opportunities for those seeking to explore the South Aegean region. As you immerse yourself in its beautiful surroundings, you'll experience a unique connection with nature. The diverse terrain, ranging from lush forests to stunning coastlines, allows for hikes suitable for beginners and experienced walkers alike. Some popular hiking trails in Kiotari include:
The Kiotari Coastal Trail: This easy and picturesque trail snakes along the coast, providing breathtaking views of the sea and Kiotari's shoreline.
Mountain Paths: For those seeking a more challenging experience, Kiotari's mountain paths offer the chance to explore the region's rugged terrain and enjoy panoramic views of the surrounding landscapes.
Horse Riding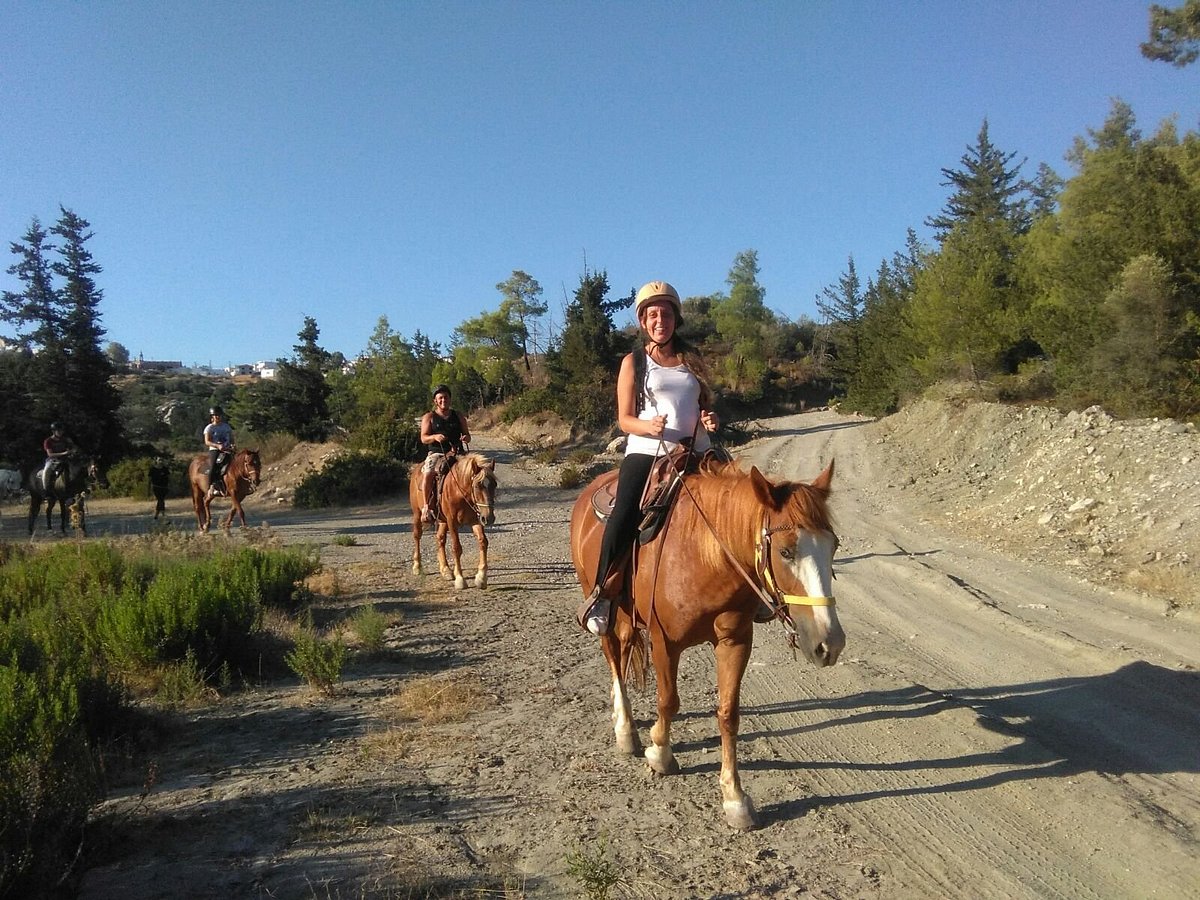 For a more leisurely outdoor experience, Kiotari offers horse riding opportunities for visitors to enjoy. This activity caters to people of all ages and experience levels, providing an unforgettable experience amidst the area's natural beauty. Horse riding in Kiotari can include:
Guided Tours: Local stables offer guided horse riding tours, allowing visitors to explore the striking scenery on horseback while benefiting from the knowledge of experienced guides. These tours often include routes along the coast, through rolling hills, and into the peaceful countryside.
Lessons: For those new to horse riding or looking to improve their skills, lessons are available to ensure a safe and enjoyable experience.
The combination of diverse hiking trails and captivating horse riding experiences make Kiotari an ideal destination for outdoor adventure enthusiasts. Don't miss the chance to immerse yourself in the region's natural beauty while creating lifelong memories in the process.
Food and Drink
Local Restaurants
Kiotari offers a range of fantastic dining options that will satisfy your taste buds. One of the local favourites is Stefano, a restaurant well known for its seafood and Mediterranean dishes. They serve mouth-watering scallops, fried calamari and a seafood sharing platter. Another popular seafood restaurant in Kiotari is Il Porto, where you can enjoy dishes such as moussaka and shrimp saganaki, as well as grilled octopus.
Make sure to visit these restaurants and experience the authentic flavours of Kiotari's local cuisine:
Stefano: Seafood, Mediterranean | $$ – $$$
Il Porto: Seafood, Mediterranean | $$ – $$$
Greek Cooking Class
To get a truly immersive experience of Kiotari's culinary scene, consider participating in a Greek cooking class. This is an excellent opportunity to learn how to prepare traditional Greek dishes using fresh, local ingredients while getting hands-on experience in the kitchen. By the end of the class, you will have a better understanding of Greek cuisine, and you can impress your friends and family by recreating these delicious dishes back home. Search for available classes in Kiotari to find the perfect one to suit your interests and schedule during your stay.
Relaxation and Wellness
Spa Experiences
Kiotari, Rhodes offers a variety of relaxation and wellness options for visitors seeking to unwind and rejuvenate. One of the top choices for a spa experience is the Bliss Wellness Spa. The spa has a reputation for well-trained therapists and a diverse range of treatments. Guests can choose from Thalgo and Anna Semmonin treatments, ensuring a personalised and luxurious experience.
The Bliss Wellness Spa offers both short, 15-minute 'taster' sessions and longer, 50-minute deep tissue massages. These massages are tailored to address specific problem areas and provide an effective and professional service. Additionally, the spa is equipped with an indoor pool and hot tubs, ensuring a complete wellness experience for guests.
When visiting Kiotari, Rhodes, make sure to book your spa experience in advance, as availability can be limited during peak seasons. The Bliss Wellness Spa is a popular destination for visitors seeking relaxation and rejuvenation, so it's best to secure your spot in advance to avoid disappointment.
Overall, Kiotari offers a delightful range of wellness opportunities for visitors to indulge in. With exceptional facilities like Bliss Wellness Spa, you're sure to leave feeling refreshed and revitalised after your visit.
Shopping
Kiotari is a lovely destination in Rhodes that offers visitors a variety of shopping experiences. From local crafts to chic clothing, there is something for everyone in this charming town. In this section, we will focus on traditional souvenirs that can be found in Kiotari, allowing you to bring a piece of your memorable vacation home.
Traditional Souvenirs
One of the top places to shop for traditional souvenirs in Kiotari is Le Desir Shopping – Kiotari Rhodes. This specialty and gift shop features a wide range of items, from local products and unique mementos to linen clothing and high-quality leather goods. Additionally, they offer a selection of silver and gold jewellery, as well as popular brand name watches2.
If you're looking for a more authentic Greek experience, consider exploring the selection at Breeze Multistore, another popular shopping destination in Kiotari. Known for its beautiful linen dresses, cotton shirts, and a variety of souvenirs, Breeze offers a delightful shopping experience1.
Whether you are looking for a keepsake to remember your visit to Rhodes or a gift for someone back home, Kiotari offers a wealth of shopping options for traditional souvenirs. From handcrafted jewellery to unique local products, you are sure to find something special in this charming town.
Local Events and Festivals
Cultural Celebrations
In Kiotari, Rhodes, there are a variety of cultural events and festivals to experience. One of the most notable celebrations in the region is the Strawberry Festival in the nearby village of Paradise, which takes place at the beginning of June. This vibrant, community-driven event showcases the local strawberry production and offers visitors the opportunity to sample various strawberry-based delicacies.
Mid-July brings several festive events to the island of Rhodes. Two significant celebrations are the Festival of Agia Marina and the Prophet Elias celebration. On the 16th and 17th of July, the Festival of Agia Marina is held in the villages of Paradisi and Apolakkia. This religious festival honours Saint Marina and is marked by traditional music, dancing and local food.
Similarly, the Prophet Elias celebration is held on the 19th and 20th of July in Ialyssos, commemorating the Prophet Elias. This cultural event is an opportunity to appreciate the deeply rooted religious traditions on the island, featuring church services and processions alongside local festivities.
Another noteworthy event in the region is the Watermelon Festival in South Rhodes, typically taking place the first Saturday after the 17th of July. As one of the main agricultural producers on the island, Rhodes celebrates the watermelon harvest with music, dancing, and naturally, plenty of watermelon to enjoy.
While staying in Kiotari, don't miss out on attending these unique, cultural events and festivals, as they offer a true taste of the local customs and traditions.
Born and raised on the sun-drenched island of Crete, Sofia Mavromatis is a seasoned traveler and writer with a deep-rooted love for Greece's vibrant culture, stunning landscapes, and rich history.