Nestled on the northern end of the east coast of Rhodes Island, the charming town of Afandou offers travellers a delightful blend of picturesque landscapes, cultural attractions, and pristine beaches. Just a 25-minute drive from both the airport and Rhodes Town, the capital of the island, Afandou is an ideal destination for a relaxing and memorable holiday experience.
When visiting Afandou, one of the must-see attractions is its stunning beach. Afandou Beach, ranked as the number one thing to do in the area by TripAdvisor, is known for its crystal-clear waters and beautiful surroundings. Just be cautious of the stones when entering the sea, as it can be a bit rocky for the first couple of feet. Afandou is also one of the largest villages in Rhodes, surrounded by verdant hills, and offers a wide range of accommodations, including hotels, apartments, and villas for rent.
In addition to the alluring coastline, there is an abundance of things to do in Afandou that cater to every traveller's tastes. Boat tours, fishing charters, and cultural excursions are amongst the top attractions, ensuring visitors have ample activities to fill their stay. From exploring the historic sites to indulging in local cuisine and wine, this enchanting village will captivate your senses and make for an unforgettable trip.
Getting to Afandou
Afandou is a lovely town located at the northern end of the east coast of Rhodes island. To reach this charming destination, you have several options.
By air: The closest airport to Afandou is Rhodes International Airport, also known as Diagoras Airport. It is approximately 25 minutes away by car. Numerous airlines offer direct flights from various European cities to Rhodes, especially during peak tourist season.
Car rental: Upon arriving at Rhodes International Airport, you can rent a car for a convenient mode of transportation. Numerous car rental agencies are available at the airport, making it easy to find a suitable vehicle. The drive to Afandou is simple, as it's a straight route on the main road leading to the east coast.
Public transport: If you prefer using public transport, buses are a popular and affordable option. The local bus service, known as KTEL, operates routes connecting Rhodes Town, the airport, and various towns on the island, including Afandou. The bus stop is close to the airport, and the journey will take approximately 30 minutes. Timetables can be found on the KTEL Rhodes website.
Taxi: Alternatively, taxis are readily available at the airport for a faster and more comfortable journey to Afandou. Although they can be more expensive than public transport, this option may suit travellers looking to arrive directly at their accommodation.
Once you're in Afandou, the town boasts an array of places to stay, including hotels, apartments, and villas, ensuring you'll find suitable accommodation for your stay.
Accommodation Options
Hotels and Resorts
Afandou is a town located on the northern end of Rhodes island's east coast, offering a variety of hotels and resorts from which to choose. One popular option is the Afandou Bay Resort Suites, which guests have praised for its friendly reception, beach location, and pool facilities1. Another great option is the Rodos Star Hotel, situated just a 15-minute walk from Afandou Beach, featuring an outdoor swimming pool with a sun terrace and a Mediterranean Sea view from its balconies2.
Villas and Apartments
For travellers seeking a more independent stay, Afandou offers several apartments and villas to choose from. A favourite among visitors is the Afandou Village Apartments. These apartments are well-rated, offering great value for money and a comfortable stay. When booking a villa or apartment in Afandou, it is essential to remember the preferred location, budget, and guest experience.
Attractions and Activities
Afandou Beach
Afandou Beach is a beautiful stretch of coastline known for its crystal-clear waters and fine pebbles. It is a popular spot for relaxation, sunbathing, and swimming. This beach caters to both families and individual travellers, providing a range of facilities such as sunbeds, umbrellas, and beach restaurants. The well-maintained water quality, as well as the availability of water sports, make it a great day out.
Golf Course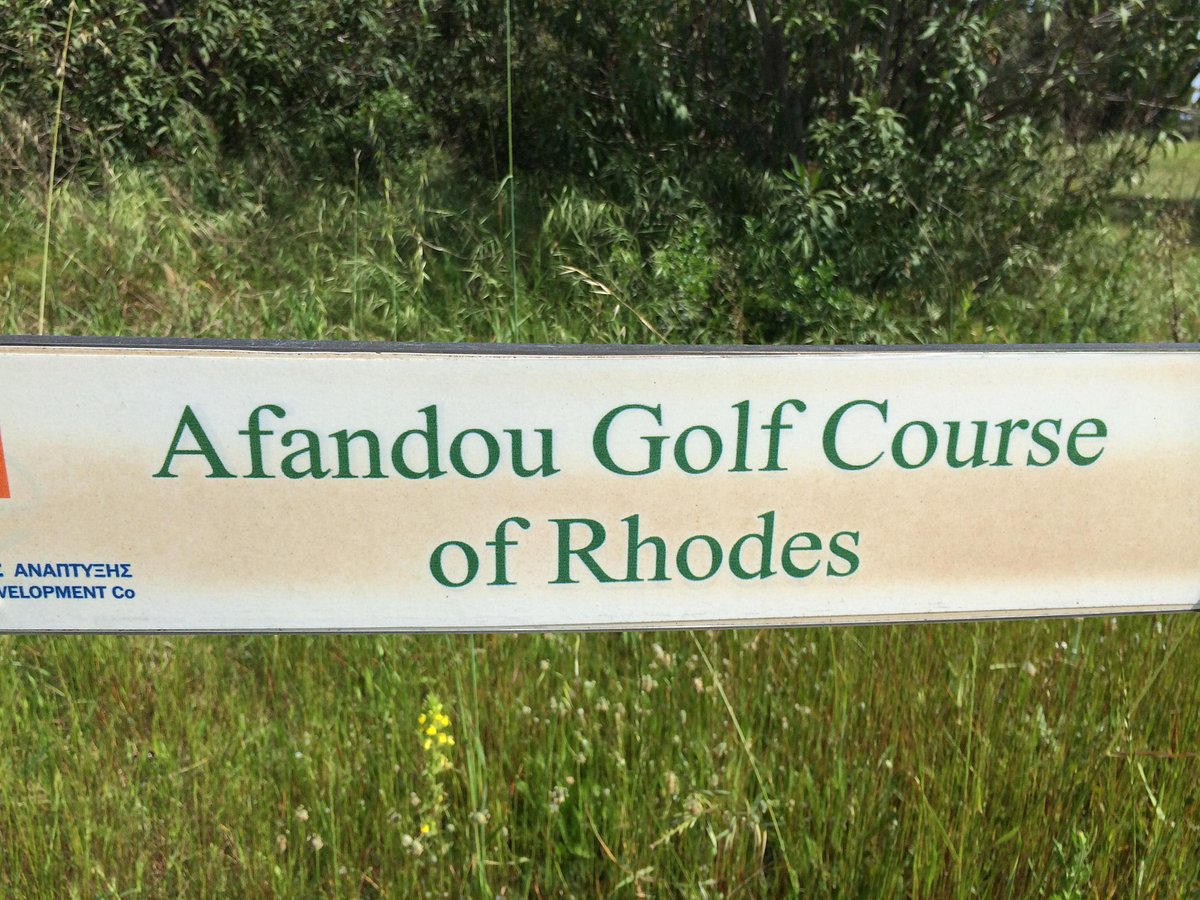 Afandou is home to one of the few golf courses in Greece, the Afandou Golf Club. This 18-hole, par 73 course covers over 100 acres and blends seamlessly with the surrounding landscape. Designed by Donald Harradine, it offers a challenging yet enjoyable experience for golfers of all skill levels. The on-site clubhouse provides equipment rental and refreshment facilities, ensuring a comfortable day at the greens.
| Hole | Par | Yards |
| --- | --- | --- |
| 1 | 4 | 500 |
| 2 | 5 | 495 |
| 3 | 3 | 210 |
| 18 | 5 | 520 |
Old Town
A visit to Afandou is incomplete without strolling through the Old Town. This historic area offers a glimpse into the village's rich past, featuring narrow streets, traditional houses, and vibrant squares. Notable sights include the Church of the Archangel Michael, adorned with exquisite frescoes, and the Folklore Museum, housing a collection of local artefacts and traditional crafts. The Old Town is also home to several local tavernas, where visitors can enjoy authentic Greek cuisine and experience the friendly, welcoming atmosphere.
Cuisine and Restaurants
Afandou, a charming town on the east coast of Rhodes island, boasts a delightful array of dining options for food lovers. The town's cuisine primarily features Greek and Mediterranean dishes, with a few international options sprinkled in to cater to diverse taste buds.
To Kanati is a popular choice among locals and visitors alike, offering Greek and Mediterranean fare in a relaxed atmosphere. With rave reviews for their excellent meze dishes, this hidden gem is definitely worth a visit when in Afandou.
Another highly recommended restaurant is the Golfer Restaurant. Known for serving Mediterranean and Barbecue cuisine, guests often praise their home-cooked Greek style dishes, like the feta and honey saganaki. Don't miss out on their delicious Greek salad when you stop by.
For those craving Italian cuisine, Sergio's Italian Restaurant should be on your must-visit list. This eatery is known for its exquisite flavours and welcoming atmosphere, making it a favourite among many travellers.
At Sky-Line Cafe Bar Restaurant, you can enjoy a spectacular view along with your meal. Their menu offers a variety of dishes, ensuring that there is something to suit everyone's palate.
Another excellent option for seafood lovers is SHARK Fish restaurant. With their fresh fish and irresistible flavours, this place is an essential experience when visiting Afandou.
In addition to these top-rated spots, there are several other amazing eateries in Afandou for you to explore. Indulge in mouth-watering delicacies like Kerasma's comforting dishes or treat yourself to a scrumptious steak at El Toro Steak House.
While enjoying your culinary adventure in Afandou, don't forget to sample traditional Greek dishes like souvlaki, moussaka, and spanakopita. With its colourful blend of flavours and warm hospitality, Afandou's cuisine is sure to delight your taste buds and leave you with unforgettable gastronomic experiences.
Shopping Opportunities
When visiting Afandou, you'll find a variety of shopping options to explore. Although Afandou may not have the vast selection of souvenir shops found in other tourist destinations, it still offers some interesting options for visitors looking to pick up unique items and essentials during their stay.
In the village, there are two fairly big supermarkets, Spanos near Golden Days Hotel and Flevaris up behind the church. These supermarkets provide a good range of products, catering to both locals and tourists. For those staying on the main road, Panayotas is a large supermarket that offers a wide array of goods, including groceries, toiletries, and other necessities.
For art lovers, Afandou is home to a shop selling paintings, which is a great place to find a creative reminder of your time on the island. In addition, the village itself features quaint local shops and boutiques where you can discover unique products and handmade crafts.
Despite the smaller scale of shopping opportunities, Afandou's charm lies in its local character and warm hospitality. Tourists can enjoy a more authentic and laid-back shopping experience compared to the bustling souvenir shops in larger resorts.
Local Transport
Afandou is a town situated on the northern end of the east coast of Rhodes island. It is approximately 25 minutes by car from both the airport and Rhodes Town. To explore Afandou and its surroundings, there are several local transport options available.
The island's public bus service is a popular and affordable choice for travelling between Afandou, Rhodes Town, and other nearby destinations. The bus stop in Afandou is located at Rodo Star and connects to both Lindos and Rhodes Town. However, for detailed information about bus schedules, it's best to check locally upon arrival or consult with your hotel or accommodation provider.
Another option for getting around Afandou is by renting a car or a scooter. This will allow you to explore the town and nearby areas at your own pace, giving you complete flexibility with your schedule. Numerous car and scooter rental companies are available in the area, and many hotels and apartments also provide options for rentals.
Taxis are an additional alternative for travelling within and outside Afandou. They can be booked in advance or hailed directly from the streets, with prices generally being higher for pre-booked rides or during peak season. If you prefer a more personalised service, various private transfer companies also operate within the town and can be arranged through your accommodation or online.
Overall, when visiting Afandou, there are numerous local transport options to choose from, fitting various preferences and budgets. Remember to take your time and select the method that best suits your travelling needs and enjoy your time in this beautiful town.
Cultural Events
Afandou is a vibrant town with a rich cultural scene where visitors can experience various events throughout the year. One of the most significant events is the Panigiri Festival. This popular festival is celebrated annually in honour of the town's patron saint, Saint John the Baptist. It includes a range of activities such as live music, traditional dancing, and delicious local food. The Panigiri Festival is an excellent opportunity for tourists to immerse themselves in the local culture and traditions.
Another noteworthy event is the Carnival celebration, which takes place every year in February or early March. Afandou's Carnival is known for its colourful costumes, lively parades, and festive atmosphere. Participants enjoy dancing and singing in the streets, along with various entertainment shows, creating a unique experience for visitors.
Afandou also hosts a variety of cultural exhibitions, showcasing local artists, photographers, and craftspeople. These exhibitions provide a chance for visitors to appreciate the talent and creativity of the local community, while also learning about the history and culture of the region.
In addition to these events, the town is also home to several religious celebrations throughout the year. These include Easter celebrations, which are marked by a series of processions, church services, and local feasts. Furthermore, the Assumption of the Virgin Mary on August 15th is another important religious event, featuring various festivities and a large procession.
Visiting Afandou during any of these cultural events is an excellent way to experience the town's unique atmosphere and hospitality. From lively festivals to insightful exhibitions, these events are sure to enrich your visit and provide lasting memories.
Climate and Best Time to Visit
Afandou enjoys a lovely Mediterranean climate with warm, sunny summers and relatively short, mild winters. The sunny weather is perfect for holidaymakers, making the town an appealing destination throughout the year.
The best time to visit Afandou is during the months of June to September. During this period, the weather is at its most ideal for beach activities, sunbathing, and sightseeing. The hottest month in Afandou is July, which sees average daily highs of 30°C and lows of around 24°C, making it perfect for spending days at the beach or exploring the historical sites nearby.
While the summer months are undoubtedly the most popular for tourists, don't overlook the charm of visiting Afandou during the shoulder seasons of spring and autumn. The weather remains mild and pleasant, with temperatures averaging in the low to mid-20s°C. These months offer a more relaxed atmosphere, with fewer crowds and potentially lower prices for accommodations and flights.
In summary:
Summer (June – September): Warm and sunny weather, ideal for beach and outdoor activities. Expect temperatures averaging between 24°C and 30°C. High tourist season.
Spring (April – May) and Autumn (October – November): Mild and pleasant weather, suitable for sightseeing, with fewer crowds. Average temperatures range from low to mid-20s°C. Shoulder seasons offering a more relaxed atmosphere.
It's worth keeping an eye on the local weather forecast before your trip to ensure you're well-prepared for the conditions during your stay in Afandou.
Practical Tips for Visitors
Afandou is a charming town located at the northern end of the east coast of Rhodes island. When planning a visit to this picturesque location, here are some practical tips to make your trip more enjoyable.
First and foremost, it's essential to understand how to reach Afandou. The town is approximately a 25-minute drive from both the airport and the capital, Rhodes Town. You may rent a car or use public transport, such as buses or taxis, to reach your destination.
Once you arrive in Afandou, finding accommodation is simple. The town offers a variety of places to stay, including hotels, apartments and villas, catering to various budgets and preferences. It's recommended to book your accommodation well in advance, especially during peak tourist season.
One of the main attractions in Afandou is the beautiful beach with clear waters. When visiting the beach, be cautious while entering the sea as the first 2 feet are quite stony. Sun loungers are available for hire at a reasonable €10 for two for the day. Remember to pack some comfortable and sturdy swim shoes to avoid potential injuries.
When it comes to things to do in Afandou, you won't be short of options. Explore the downtown area, where you'll find intriguing museums, boutique shops and delicious dining options. For a more immersive and indulgent experience, consider signing up for a wine tour that takes you to nearby regions such as Emponas, Kritinia and Pataludes.
Before embarking on your journey, check the weather forecast for the time you plan to visit. The climate in Afandou is typically Mediterranean, with mild winters and warm, dry summers. Dress accordingly and don't forget to pack sunscreen, sunglasses and a hat to protect yourself from the sun.
Finally, be respectful of the local customs and culture. Greeks are generally hospitable and friendly, but it's essential to be considerate and polite in order to make the most of your visit to Afandou. By following these practical tips, you are sure to have a memorable and enjoyable trip.