As spring unfolds, the picturesque island of Rhodes in Greece experiences a delightful boost in its weather. April marks the beginning of an incredible blend of warmth and sunshine, making it an ideal time for travellers to explore the island's rich history, stunning beaches, and natural beauty.
During April, the daytime temperatures in Rhodes hover around a comfortable 21°C, perfect for exploring the cobbled streets of the Old Town or soaking in the sun at the beach. Although it is the start of the tourist season, April is still relatively crowd-free compared to the busy summer months, allowing visitors to enjoy a more relaxed atmosphere on this enchanting island.
However, as the nights can still be a bit cool, it's wise to bring along a light jacket and some warm layers to ensure you're comfortable during your visit. Despite the few days of rainfall expected, the abundance of sunshine and pleasant temperatures make April an attractive time to experience the captivating allure of Rhodes.
Weather Overview in April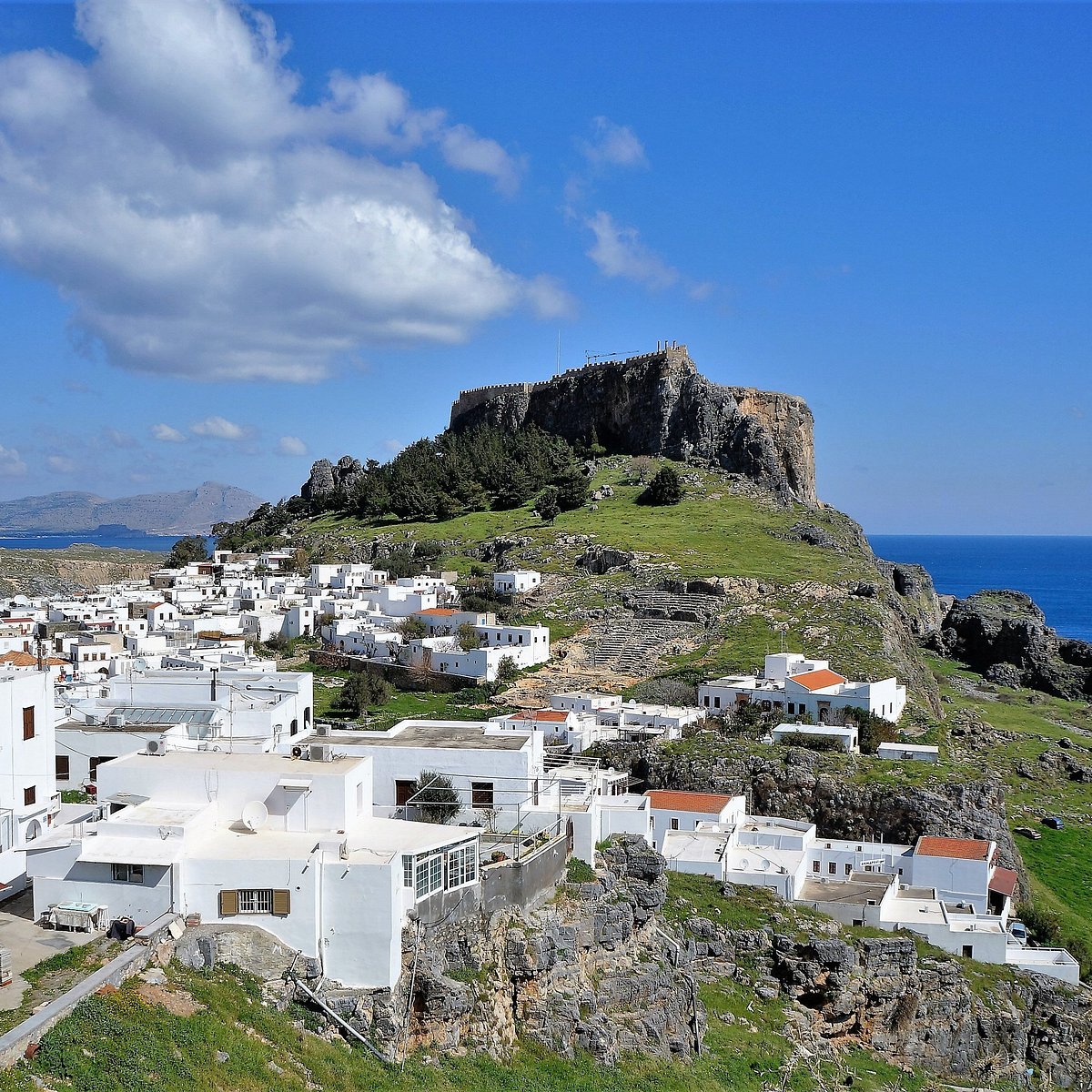 Temperature Ranges
April marks the beginning of summer and the start of the peak tourist season in Rhodes. During this month, daytime temperatures can generally reach highs of around 21°C. However, it can get quite cool at night, so make sure to pack some warmer clothes for the evenings. The average low temperature in Rhodes, Greece, is 16.1°C.
Rainfall Patterns
In April, Rhodes experiences an average of 4 mm of rainfall per month. This makes it a relatively dry month, allowing visitors to make the most of the outdoor activities and attractions on the island. The humidity during this month is relatively low at 65%, which adds to the pleasant weather conditions that draw tourists to Rhodes in April.
Comparing Weather to Other Months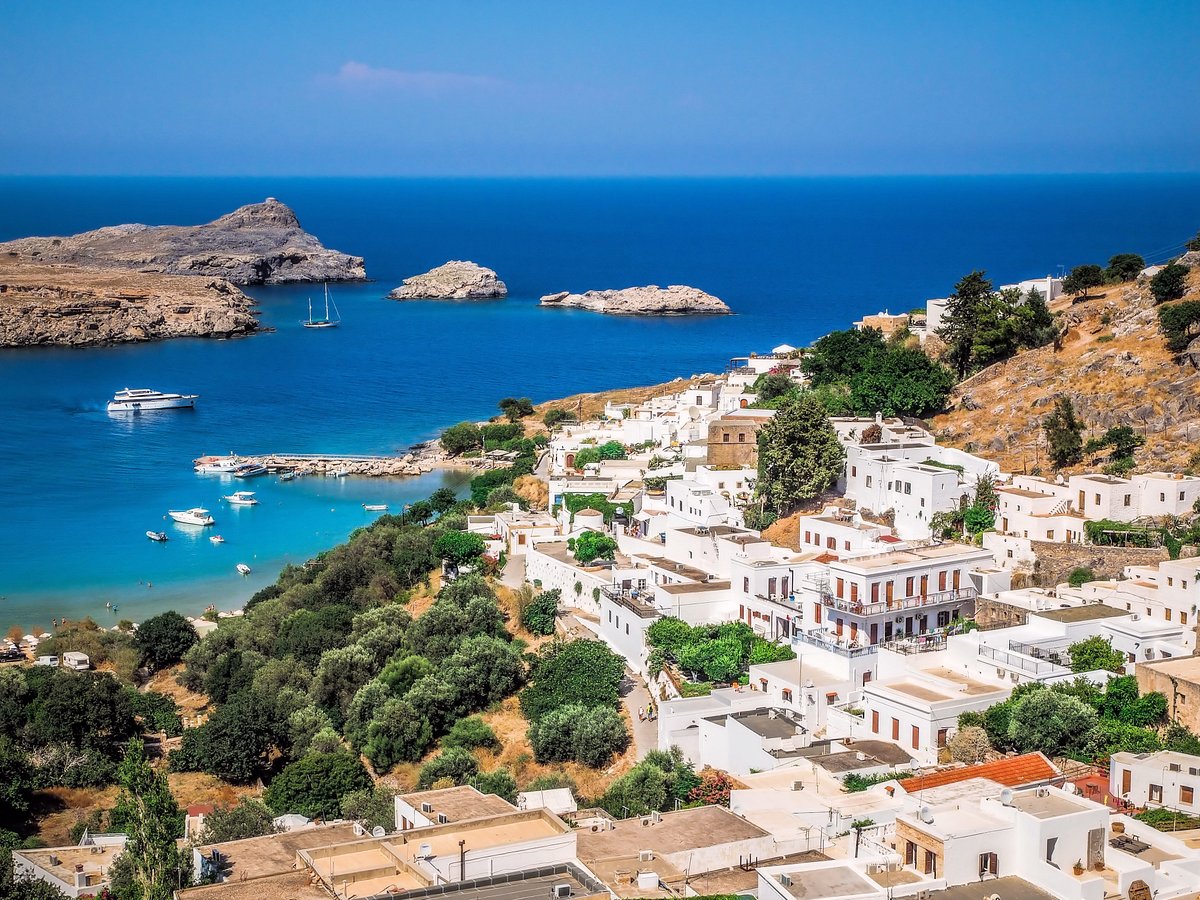 March Weather
In March, Rhodes experiences milder weather compared to April. During this month, temperatures often fall within a range of around 15/17°C (59/63°F), with the daily average temperature hovering near 14°C (57°F) according to Climates to Travel. In addition to the relatively mild temperatures in March, you can expect more frequent rainfall compared to April. However, there are still plenty of sunny days to enjoy during this month.
May Weather
May is when the weather in Rhodes starts to heat up, marking the beginning of more summer-like conditions. The temperatures in May are notably higher than those in April, typically ranging from 18°C (64°F) to 24°C (75°F). Rainfall decreases significantly in May, making it a more attractive time for outdoor activities, such as visiting beaches and exploring the island's many historical sites.
During this month, you can anticipate daily highs of up to 25°C (around 77°F) and lows of approximately 18°C (around 64°F) reported by SunPope. In addition to this, the humidity levels also start getting lower in comparison to April and March, thus making the weather more comfortable for tourists visiting the island.
Activities and Events in April
Outdoor Activities
April is a lovely time to visit Rhodes due to its mild weather and thinner crowds, making it perfect for exploring the island. The average temperature is around 18°C, sunny days are fairly common with a 69% chance of sunshine, and there's only about 4mm of rain throughout the month.
One popular outdoor activity is walking along the wildflower-flecked trails, taking in the scenic beauty of Rhodes. The island's historical hotspots are also less crowded in April, which makes sightseeing more enjoyable. Be sure to visit the famous ruins like the Acropolis of Lindos and the medieval Old Town of Rhodes.
Tip: Bring a light jacket or jumper for the evenings, as temperature may drop.
Local Events
April is typically a quieter month for local events and festivals, but there are still some things happening on the island that you can participate in. Although the major events in Rhodes like the Strawberry Festival and the celebrations of Agia Marina happen in June and July, you can still experience Greek culture by visiting the quiet and laid-back traditional villages on the island.
There, you can indulge in local cuisine at the many authentic tavernas, get a glimpse of the customs and traditions, and interact with the warm and welcoming people. Moreover, you can visit Apollona, a village that hosts a small folklore museum displaying various traditional items and handicrafts.
Remember, the activities and events may vary on a yearly basis, so it's always a good idea to check with local resources or your accommodation for current information before planning your trip.
Packing Tips for Rhodes in April
Clothing Recommendations
April in Rhodes generally experiences mild temperatures, ranging from 13°C to 20°C. Therefore, it is highly recommended to pack layers so that you can adjust your attire according to the fluctuating temperatures. Here are some suggestions:
Lightweight jackets: A lightweight jacket will be very useful for cooler mornings and evenings since the weather can be unpredictable in April.
Short-sleeve shirts and long-sleeve shirts: Pack a mix of short-sleeve and long-sleeve shirts to comfortably enjoy the weather during the day.
Trousers and jeans: Bring a combination of trousers and jeans that could be easily paired with other clothing items.
Dresses and skirts: For women, dresses and skirts are ideal for a comfortable and stylish look.
Comfortable shoes: Pack a pair of comfortable shoes, such as sandals, sneakers, or walking shoes, for exploring the island.
Essential Items
Apart from clothing, there are several essential items that you should consider packing for your trip to Rhodes in April:
Sun protection: Even though it's not yet the peak of summer, it is important to pack sun protection, including a sun hat, sunglasses, and sunscreen, as the sun can still be strong during the day.
Reusable water bottle: Staying hydrated is crucial, and carrying a reusable water bottle can be both eco-friendly and cost-effective.
Swimwear: If you plan on visiting the beaches, pack your swimwear and a beach towel.
Travel-size umbrella or rain jacket: April may experience occasional rain showers, so having a travel-size umbrella or a rain jacket can come in handy.
Portable travel charger: To ensure your devices stay charged while exploring the island, don't forget to bring a portable travel charger.
Born and raised on the sun-drenched island of Crete, Sofia Mavromatis is a seasoned traveler and writer with a deep-rooted love for Greece's vibrant culture, stunning landscapes, and rich history.