Athens and Santorini are two of Greece's most popular destinations, offering travelers a mix of rich history, stunning landscapes, and charming local culture. As Athens, the capital city, is filled with iconic ancient landmarks such as the Parthenon and the Acropolis, it provides a fantastic opportunity for visitors to immerse themselves in Greek history and mythology. On the other hand, Santorini, a breathtakingly beautiful island in the Aegean Sea, is famous for its unique architecture, pristine beaches, and captivating sunsets. Together, these two locations create an unforgettable travel experience that allows you to discover the ancient and modern aspects of Greek life.
To make the most of your time and ensure a seamless transition between destinations, it's essential to plan your transportation from Athens to Santorini. There are a couple of popular options to consider depending on your travel preferences and itinerary. One way to reach Santorini is by plane, which takes approximately 45 minutes and is especially convenient if you have a limited amount of time to spend on the island. Alternatively, you may choose to embark on a scenic ferry ride that typically takes around 5 hours from Athens' Piraeus port or 3 hours from Rafina port.
Regardless of your chosen mode of transport, be it a quick flight or a leisurely ferry journey, both options will lead you to the enchanting island of Santorini. With its crisp white buildings, blue-domed churches, and dramatic caldera views, this picture-perfect destination awaits to charm you, making the trip from Athens to Santorini a fantastic addition to any Greek holiday.
Traveling from Athens to Santorini
Santorini, a famous Greek island, is a popular destination for tourists visiting from Athens. There are two main ways to travel from Athens to Santorini: by flight or by ferry. In this section, we will discuss both options to help you decide the best mode of transportation for your trip.
Flight Options
The quickest and most convenient way to reach Santorini from Athens is by taking a flight. Several airlines operate multiple flights daily from Athens International Airport (also known as Eleftherios Venizelos) to Santorini. Some of the airlines that serve this route are:
Aegean Airlines
Olympic Air
Ryanair
Sky Express
The flight duration is approximately 45 minutes, making it ideal for short trips or those on tight schedules. Ticket prices can range from €68 to €135, depending on the airline and booking time.
Ferry Services
An alternative and picturesque way to travel from Athens to Santorini is via ferry. This mode of transportation allows passengers to experience Greece's beautiful landscapes and island network. It is not only cost-effective but also a relaxing way to travel without the typical stresses associated with flying.
There are two main ports in Athens from where ferries depart for Santorini:
Piraeus Port: The main port in Athens, located roughly 12 km southwest of the city centre. Ferries from Piraeus to Santorini take anywhere from 4.5 to 7.5 hours, depending on the type of ferry.
Rafina Port: Situated approximately 30 km east of the city centre. The ferries from Rafina to Santorini take around 3 hours.
When selecting a ferry service, passengers have the option to choose from high-speed and conventional ferries. The high-speed ferries offer a shorter travel time but may come at a higher price, while the conventional ones are more affordable at the cost of a longer journey.
Some of the popular ferry companies operating on this route include:
Blue Star Ferries
SeaJets
Golden Star Ferries
It is essential to compare ticket prices and travel times before making a booking, ensuring that your preferred mode of transportation meets your travel requirements and budget.
Duration and Distance
By Air
The distance between Athens and Santorini is approximately 186 miles (300 km). The most convenient and quickest way to travel between the two destinations is by plane. A direct flight between Athens (ATH) and Santorini (JTR) covers a distance of around 218 km and typically takes around 45-50 minutes. Several airlines operate this route, including Aegean Airlines, Ryanair, and Sky Express.
Ticket prices can range from €25 to €135, depending on the airline and booking time. Plan ahead to find the best deals.
By Sea
An alternative option to travel from Athens to Santorini is by ferry. The distance between the two locations is 146 miles (234 kilometers) or 126 nautical miles (203 kilometers). Ferries operate between Piraeus port in Athens and Santorini, with the journey taking approximately 5 hours 16 minutes.
Ticket prices for the car ferry range from €80 to €189. Note that travel duration might be shorter (roughly 3 hours) if you choose to depart from Rafina port instead. Again, planning ahead will help you secure the best prices and timings.
A Comparison of Transport Methods
Cost Differences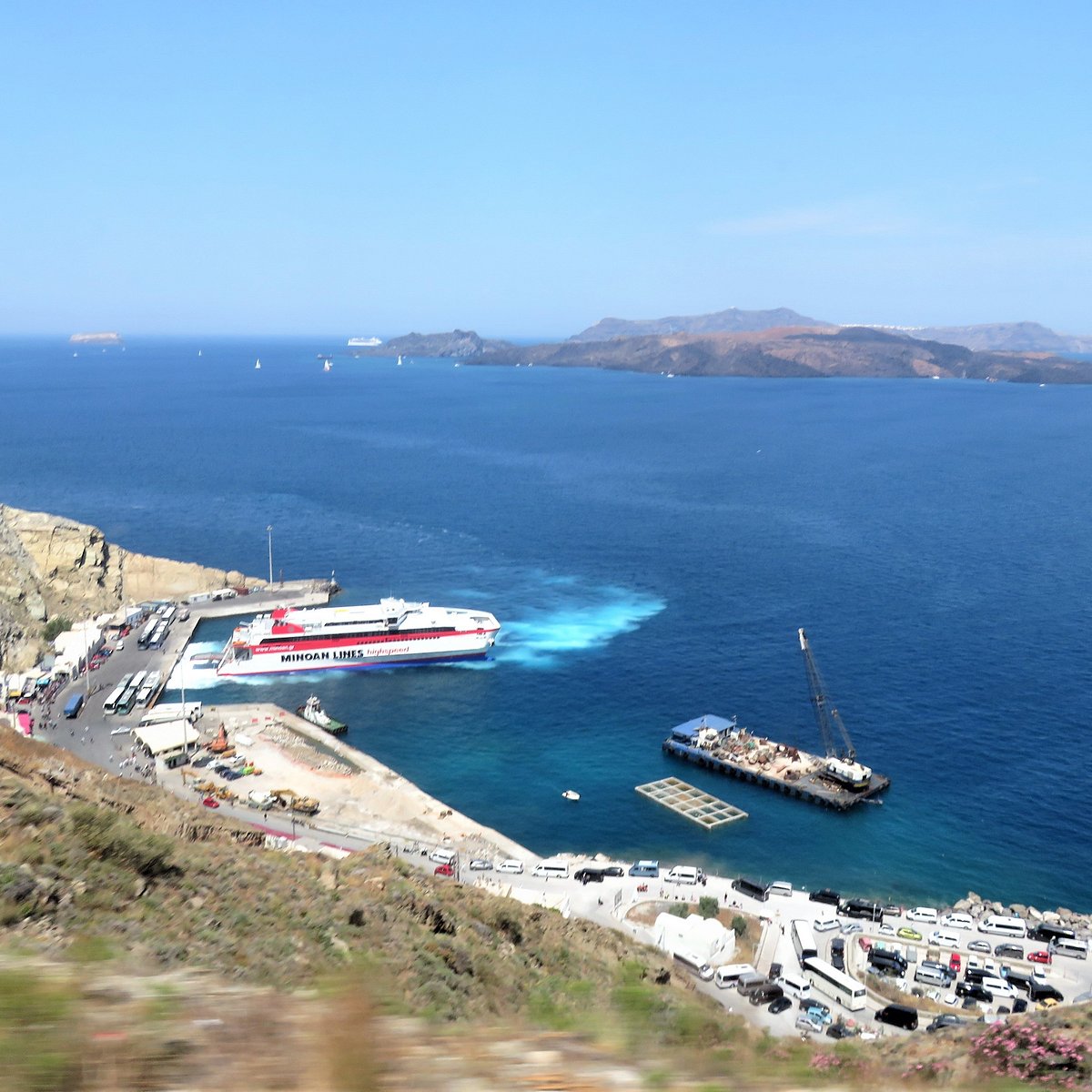 When travelling from Athens to Santorini, there are two primary transport options available: plane and car ferry. The cost for each method can vary depending on a variety of factors:
Plane: The prices for flights from Athens (ATH) to Santorini (JTR) can range from €68 to €135.
Car ferry: The costs involved with travelling via car ferry depend on factors such as the type of ferry, the chosen route, and the season.
Comfort and Convenience
Each transport method has its own level of comfort and convenience, as follows:
Plane:

Travel time is approximately 45 minutes to 2 hours 30 minutes.
Direct flights from Athens to Santorini are available, offering the fastest and most convenient option.
Air-conditioned cabins with seating options.

Car ferry:

Travel time ranges from 5 hours 16 minutes to 8 hours, depending on the ferry type and route.
Multiple ferry routes are available, typically with departures from either Rafina or Piraeus port.
Ferry amenities may include seating options, dining, and lounges, depending on the type of ferry chosen.
Scenic Views
While both transport options provide a means to reach Santorini, the experience of the journey may be more important to some travellers based on the scenic views offered:
Plane: Although the flight offers limited opportunities for sightseeing, it can still provide stunning aerial views of the Greek islands upon approach to Santorini's airport.
Car ferry: Travelling by ferry allows for an immersive experience through the Aegean Sea, with picturesque views of the islands and the chance to observe the marine life along the way.
Accommodation in Santorini
Santorini is a popular destination known for its beautiful views and vibrant atmosphere. The island offers a wide range of accommodation options, catering to various budgets and preferences. In this section, we will explore some budget choices and luxury options for your stay.
Budget Choices
For travellers on a budget, Santorini has several affordable accommodation options. Here are some recommendations:
Villa Manos: A family-run hotel located in Karterados, offering clean and comfortable rooms at affordable prices. Amenities include a swimming pool, bar, and free Wi-Fi.
Fira Backpackers Place: A budget-friendly hostel situated in the heart of Fira, providing dormitory-style rooms and private rooms. Facilities include a shared kitchen, lounge, and laundry services.
Caveland: Located in a traditional 18th-century winery in Karterados, this unique hostel offers dormitory and private rooms decorated with cave-style architecture. Amenities comprise a shared kitchen, swimming pool, and outdoor terrace.
Luxury Options
If you're looking for a more luxurious stay, Santorini offers upscale accommodation choices. Some top luxury options include:
Astra Suites: A 5-star hotel situated in Imerovigli, featuring breathtaking views of the caldera. Guests can enjoy spacious suites, an infinity pool, and gourmet dining on-site.
Grace Hotel Santorini: This luxury boutique hotel in Imerovigli offers an exclusive experience, with elegantly designed rooms, a fine dining restaurant, and a champagne lounge. The infinity pool and stunning caldera views are highlights of this property.
Canaves Oia Suites: Located in the picturesque village of Oia, this 5-star hotel provides luxurious suites with private plunge pools, a gourmet restaurant, and an outdoor pool with spectacular views of the caldera.
When choosing accommodations in Santorini, consider your budget and preferred amenities to ensure a comfortable and enjoyable stay on this beautiful island.
What to Do on Santorini Island
Santorini is a stunning Greek island that offers a variety of activities and sights worth exploring. Known for its unique landscape, blue-domed churches and picturesque villages, this island is an ideal destination for those looking to experience true Greek culture and beauty. In this section, we will discuss must-visit sights, along with various activities and experiences for an unforgettable time on Santorini Island.
Must-Visit Sights
Oia: Wander through the narrow streets of this charming village and admire its whitewashed buildings and blue-domed churches. Do not miss the chance to watch the mesmerising sunset from Oia's castle ruins.
Fira: Visit the island's capital to enjoy breathtaking views of the caldera, shop for souvenirs, and discover interesting museums such as the Museum of Prehistoric Thira.
Red Beach: A unique spectacle due to its red sand and cliffs, Red Beach offers a splendid backdrop for relaxation and photography.
Activities
Wine Tasting: Santorini is famous for its unique wines, particularly Assyrtiko. Visit one of the many local wineries and taste the variety of flavours these volcanic wines offer.
Sailing: Embark on a sailing tour around the island, exploring hidden coves, beaches, and the awe-inspiring caldera. Choose between an intimate sunset sail or a full-day exploration.
Hiking: Santorini offers a range of hiking trails, including the scenic Fira to Oia trail, which gives you stunning views of the caldera while passing through traditional villages.
Experiences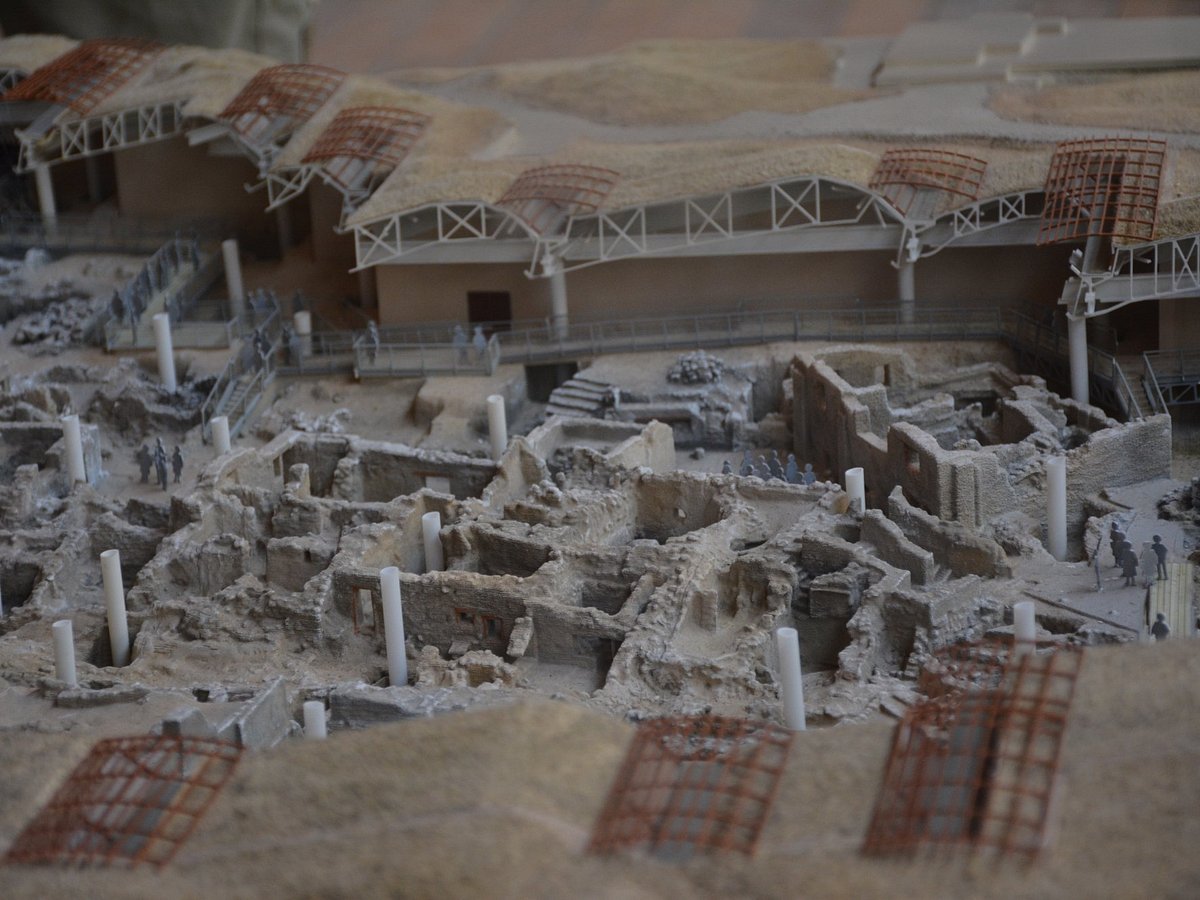 Ancient Akrotiri: Step back in time and explore the ruins of this prehistoric city, which was buried under volcanic ash in the 17th century BC.
Volcano Tour: Discover the active volcano on a guided tour, where you can learn about its history and witness the fascinating landscape up close. Don't forget to take a dip in the natural hot springs nearby.
Local Cuisine: Indulge in Santorini's delicious gastronomy, featuring ingredients grown on the island, such as cherry tomatoes, fava beans, and white aubergines. Enjoy splendid dishes in local tavernas with unparalleled views of the shimmering Aegean Sea.