The enchanting Greek island of Santorini, with its dramatic volcanic landscape and majestic sunsets, is a popular destination for travelers worldwide. While Santorini is undoubtedly a bucket-list destination, its equally stunning neighbours within the Cyclades group of islands are also worth exploring. A visit to these nearby islands, such as Mykonos, Ios, Folegandros, Naxos, Thirassia, Sikinos, and Anafi, offers a delightful blend of picturesque landscapes, impressive archaeological sites, and traditional Greek architecture.
Island hopping these neighbouring gems is an excellent way to discover the diversity of Greek culture and escape the bustling tourist hotspots. With reliable ferry connections between the islands, a spontaneous adventure through the crystal-clear waters of the Aegean Sea will tantalize your senses and create unforgettable memories. From the lively nightlife of Mykonos to the serene beaches of Folegandros and the unspoiled charm of Sikinos, there is an island for every type of traveler.
Key Takeaways
Several picturesque islands near Santorini offer diverse experiences for travelers
Islands such as Mykonos, Naxos, and Folegandros can be easily reached by ferry
Visiting these neighbouring islands allows you to explore unique attractions and taste local cuisine
Islands Near Santorini
Thirasia
Thirasia is a small, charming island located just west of Santorini. This tranquil destination offers an authentic taste of traditional Greek island life, featuring picturesque villages and idyllic landscapes. Visitors can explore the winding streets of Manolas, the island's principal settlement or enjoy a relaxing swim at the pristine beach of Korfos.
Anafi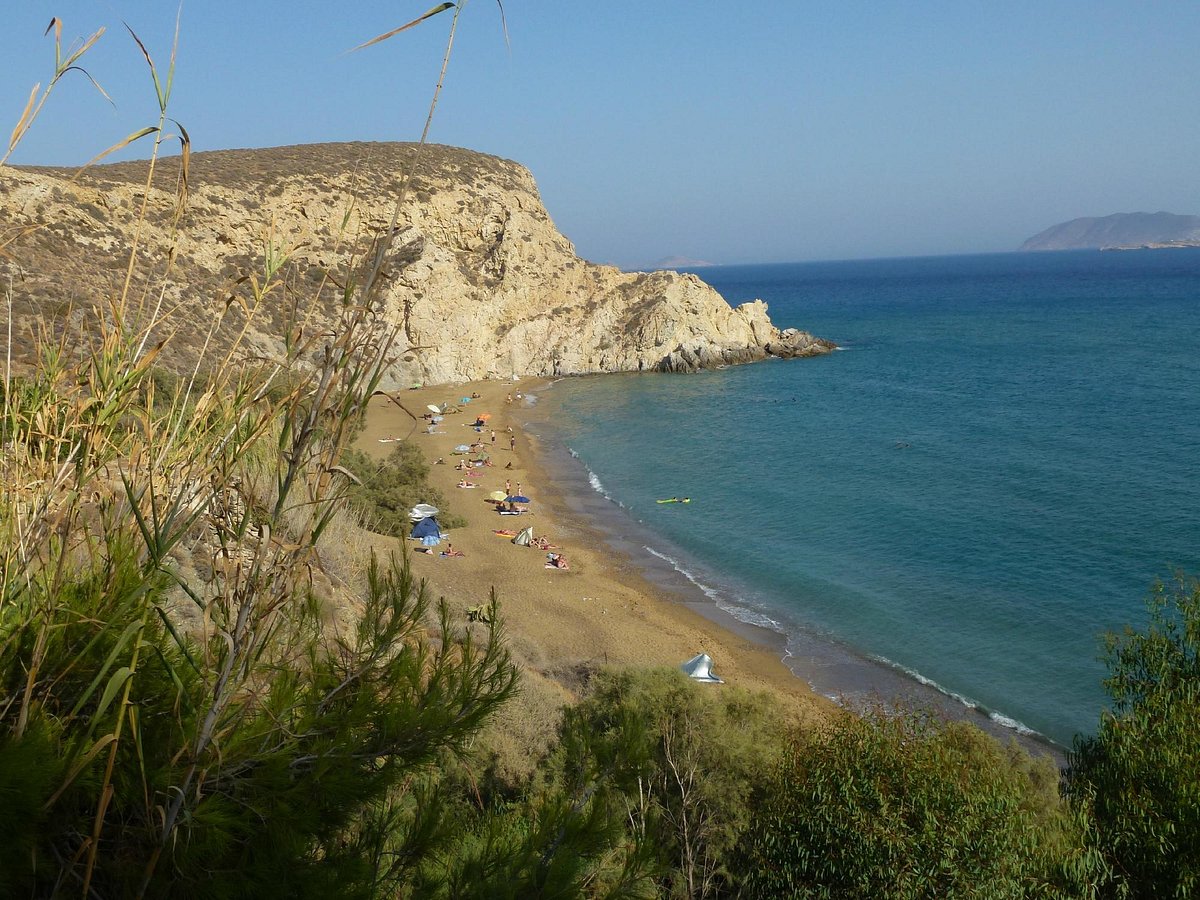 Anafi is a serene, untouched island situated east of Santorini. It's a perfect destination for those seeking peace and tranquillity, surrounded by the azure waters of the Aegean Sea. The island is home to numerous secluded beaches, including Roukounas and Megas Potamos, where visitors can bask in the sun and take in the stunning surroundings. Anafi's quaint Chora (village) overlooks the sea, providing splendid views and scenic walks through its narrow streets.
Ios
Ios, located to the north of Santorini, offers a combination of vibrant nightlife and beautiful beaches. This island draws in both party-goers and beach lovers, boasting stunning sandy shores like Mylopotas and Magganari. Apart from its lively atmosphere, Ios is rich in history, with numerous archaeological sites and ancient ruins for visitors looking to explore the island's past.
Folegandros
Folegandros, a small island near Santorini, is known for its wild beauty and traditional Cycladic architecture. The island's charming Chora (village) sits atop a cliff, boasting breathtaking views of the Aegean. Pristine beaches, such as Agali and Katergo, provide excellent opportunities for swimming and sunbathing. The serene atmosphere of Folegandros, combined with its striking landscapes, makes it a favoured destination for travellers seeking a more laid-back experience.
Milos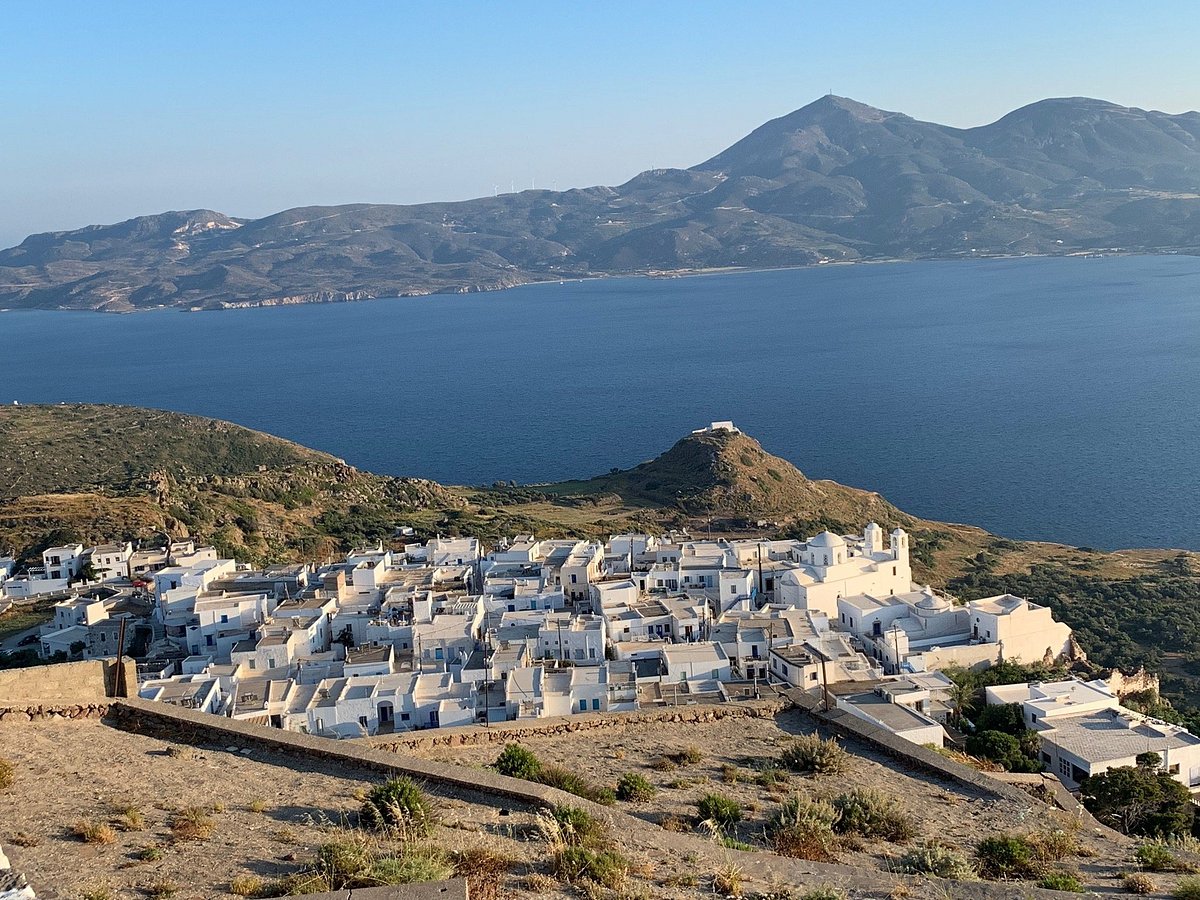 Milos, located southwest of Santorini, is a volcanic island with a diverse landscape and numerous stunning beaches. With over 70 beaches to choose from, visitors will be spoilt for choice, with some of the most famous being Sarakiniko and Kleftiko. The unique geological features of Milos, coupled with the island's rich mining history, make it a fascinating destination for travellers seeking an intriguing mix of nature and culture.
Accessibility and Sea Routes
Santorini, a stunning Greek island, boasts excellent connections with the rest of Europe and nearby Greek islands. This makes it a favourable choice for island hopping or short island vacations. Santorini's strategic location ensures easy sea route access from various ports and a convenient travel experience for visitors.
Ferries are a popular mode of transportation to and from the island, connecting Santorini with Athens, Italy, and other Greek islands. Some of the nearby islands worth visiting include Mykonos, Ios, Thirassia, Naxos, Folegandros, Sikinos, and Anafi.
During the tourist season, the island of Santorini offers a comprehensive bus network, allowing travellers to move around seamlessly and at affordable rates. In addition, taxis abound on the island and are also reasonably priced. For those seeking freedom and flexibility in their travel itinerary, hiring a motorbike or car emerges as an excellent alternative. However, it is essential to consider parking availability when opting for these modes of transportation.
Visitors with mobility challenges can also enjoy an accessible trip to Santorini, as the island provides private tours and shore excursions suitable for wheelchair users, scooter users, and slow walkers. These services cater to not only individuals with disabilities but also non-disabled travellers, ensuring a pleasant experience for all.
Santorini's accessibility and numerous sea routes create an inviting environment for tourists looking to explore the island and its stunning nearby neighbours. Its efficient transportation services and commitment to inclusivity contribute to its renown as a premier island destination.
Popular Attractions
Santorini, a stunning Greek island located in the Aegean Sea, offers visitors plenty of opportunities to explore nearby islands, each with their unique charms and attractions. Among these lesser-known gems are Mykonos, Ios, Thirassia, Naxos, Folegandros, Sikinos, and Anafi, all easily accessible via daily trips or short island-hopping vacations.
Mykonos is perhaps the best-known island in proximity to Santorini. This Cycladic paradise boasts amazing beaches, a vibrant nightlife scene, and stunning architecture with its iconic white-washed buildings. First-time visitors often combine their Santorini holiday with a trip to Mykonos, ensuring an unforgettable Greek island experience.
Ios, located between Santorini and Mykonos, is known for its beautiful sandy beaches and picturesque natural landscapes. This island offers an array of activities for travellers, ranging from water sports and hiking to beach parties and more relaxed pursuits like sunbathing or enjoying the local cuisine in charming tavernas.
A short distance away from Santorini is Thirassia, a small and serene island ideal for those seeking tranquillity away from the more crowded tourist hotspots. Here, visitors can explore traditional settlements, hike up the imposing cliffs, or dive into crystal-clear waters at pristine beaches.
Naxos is the largest of the Cyclades islands and renowned for its mouth-watering cuisine, mesmerising ancient ruins, and fantastic beaches. It is the perfect destination for history enthusiasts, food lovers, and beach aficionados alike.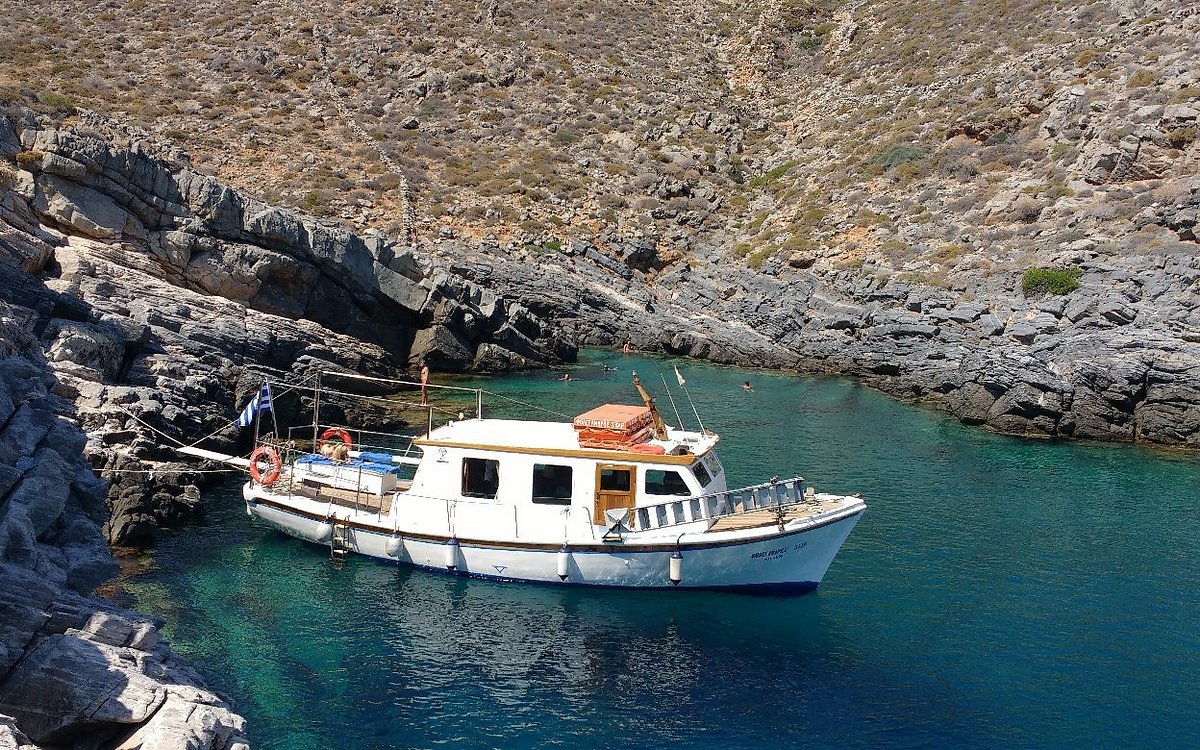 Travellers who appreciate authenticity and unspoiled beauty should visit Folegandros. This rugged island's charm lies in its untouched landscapes, quaint villages, and idyllic beaches. Its main settlement, Chora, with its labyrinthine alleyways and stunning views, is definitely worth exploring.
In contrast, Sikinos offers more solitude and a slower pace of life. This mostly traditional and undeveloped island provides a taste of Greek island life from a bygone era. Its beautiful beaches, fantastic walking trails, and small villages invite visitors to relax and get away from modern distractions.
Lastly, Anafi is a secluded gem in the Aegean Sea, often overlooked by tourists. This island's beaches are perfect for relaxation and nature lovers can enjoy scenic hikes through its breathtaking landscapes. The simplicity and serenity of Anafi offer a truly unique experience for those who venture to its shores.
Accommodation Options
When visiting islands near Santorini, you will find a range of accommodation options to suit your preferences and budget. On these islands, you can choose from luxurious resorts, charming boutique hotels, cosy guesthouses, and budget-friendly hostels.
Mykonos offers a variety of choices when it comes to accommodation. High-end resorts with lavish amenities and stunning views can be found in popular areas such as Psarou and Platis Gialos. For more budget-conscious travellers, guesthouses and hostels are available in areas like Mykonos Town and Ornos.
On the island of Naxos, you will find a mix of hotels, villas, and apartments. The upscale hotels tend to be concentrated around Agios Prokopios and Agios Georgios beaches, while more affordable options are scattered throughout the island, such as in Naxos Town and Plaka Beach.
Folegandros offers a more laid-back atmosphere with a selection of small boutique hotels and traditional guesthouses. Many of these accommodations can be found in the picturesque villages of Chora and Ano Meria, providing guests with a taste of the island's authentic charm.
In Anafi, accommodations are limited but provide a genuine Greek experience. You can find a few quaint guesthouses and family-run hotels in the island's main village, Chora. These options offer a chance to immerse yourself in the local culture and enjoy the serenity of this less touristy island.
Ios caters to a wide range of travellers, from partygoers seeking lively accommodations to those looking for a more tranquil experience. The island is known for its popular beach clubs and vibrant nightlife, with various hotels and hostels located near Mylopotas Beach. For those seeking seclusion, quieter accommodation options can be found in the areas of Gialos and Manganari beaches.
Remember, when planning your visit to these Greek islands near Santorini, it's important to consider your preferences and budget to find the perfect accommodation for your trip.
Cuisine and Local Specialities
Santorini is known for its unique and delicious cuisine, which reflects the rich culinary heritage of the island. A visit to these nearby islands provides an opportunity to explore their local specialities.
One of the popular dishes in Santorini is fava, a split-pea purée with a velvety texture and distinct flavour. This tasty, hearty dish can be found on many menus throughout the island.
Another must-try food is ntomatokeftedes, also known as tomato fritters. They are made from tomatoes, onion, mint, and flour, then deep-fried to perfection. This dish showcases the island's famous tomatoes, which benefit from the volcanic soil and unique climate.
Santorini is also home to a signature wine, the assyrtiko variety. Grown on the volcanic slopes of the island, this white wine is well known for its refreshing taste and distinct minerality. It pairs perfectly with the island's fresh seafood and other local dishes.
When exploring nearby islands like Mykonos, Ios, Thirassia, Naxos, Folegandros, Sikinos, and Anafi, don't miss out on their own local dishes. For example, Mykonos is famous for kopanisti, a tangy and spicy cheese, while Naxos is known for its arseniko cheese, a strong, aged cheese made from sheep or goat's milk.
Islands like Folegandros and Sikinos offer their own culinary delights, such as matsata, a handmade pasta dish served with rabbit or rooster, and sfougato, a tasty omelette with local cheese, vegetables, and herbs.
In conclusion, the islands surrounding Santorini offer an array of culinary experiences waiting to be discovered. Be sure to indulge in their local specialities for an authentic taste of Greek island cuisine.
Best Time to Visit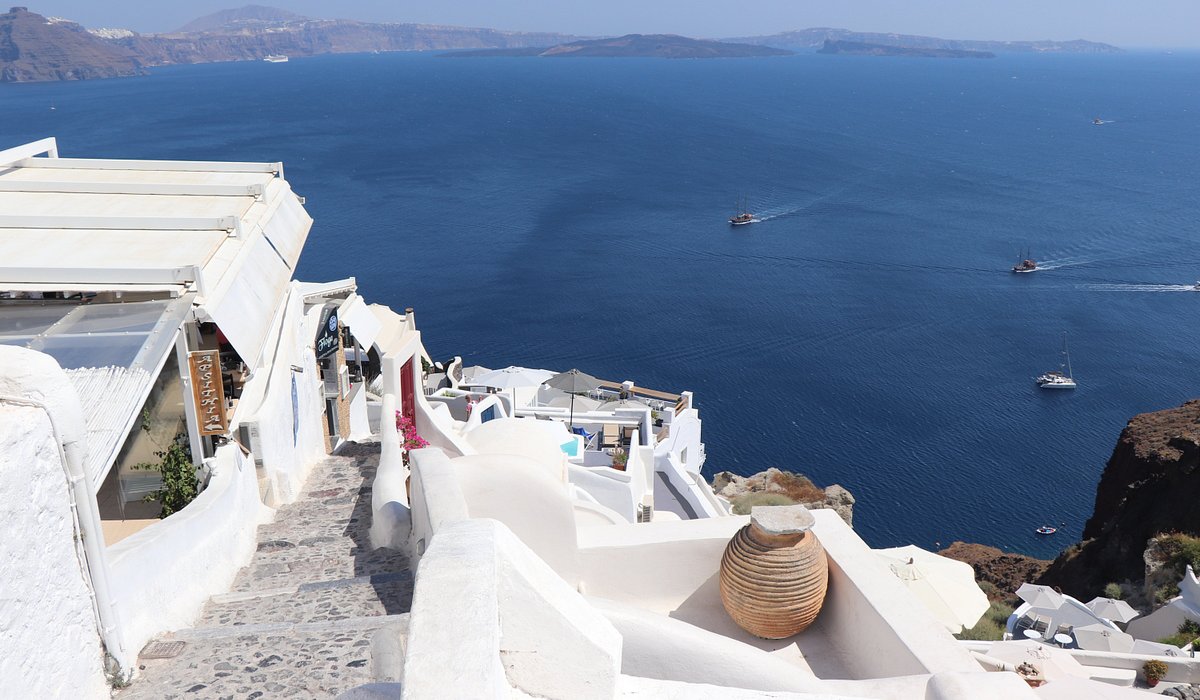 Visiting Santorini can be an unforgettable experience, but choosing the right time to visit is crucial to make the most of your trip. The best time to visit Santorini Island for optimal weather and safety is between late spring and early autumn.
May to June offers pleasant weather, with comfortable temperatures perfect for sightseeing, beach visits, and outdoor activities. May is also the start of the high season, so you can expect a slight increase in tourist numbers during this time. However, it's still far less crowded than the peak summer months, making it a great time to explore the island without too much hustle and bustle.
July to August is the warmest period on Santorini Island, with average high temperatures of around 29.1°C and nighttime lows of around 23.6°C. During these months, the weather is hot and sunny, perfect for beach lovers and sun worshippers. However, be prepared for larger crowds and higher accommodation prices, as this is the peak season for tourism on the island.
For travellers seeking a quieter, more relaxed visit, September to October is a fantastic time to travel to Santorini. The weather is still warm, but the tourist crowds have started to dissipate, making it easier to enjoy the amenities and attractions at a more leisurely pace. Additionally, the sea temperatures remain warm enough for swimming and water sports, so you can still enjoy beach life without the summer crowds.
Visiting the islands near Santorini can also be a rewarding experience. Some of the best islands to explore near Santorini include Mykonos, Naxos, Paros, Folegandros, and Milos. When planning your travel itinerary, be sure to incorporate enough time to visit and appreciate these stunning neighbouring islands.