Mykonos and Santorini are two of Greece's most iconic destinations, each offering unique experiences for travellers seeking sun, sea, and stunning views. A trip between these two picturesque islands promises an unforgettable journey, whether you're island-hopping or looking to experience both destinations as part of a longer vacation.
The most common way to travel from Mykonos to Santorini is by ferry, with daily connections available between April and October. Leaving from Mykonos New port (Tourlos) and arriving at Athinios Port in Santorini, these ferries provide a convenient and enjoyable trip across the Aegean Sea. Depending on the vessel and weather conditions, the journey typically takes between two to three hours, making it a manageable and scenic voyage.
For those seeking alternatives to ferries, flights and private helicopter transfers are available between Mykonos and Santorini. Additionally, numerous island-hopping packages cater to travellers who wish to explore several Greek islands in a single trip. Ultimately, the choice comes down to personal preference, budget, and travel goals.
Mykonos to Santorini: Travel Options
When planning a trip between the two popular Greek islands of Mykonos and Santorini, you have two main options for transportation: ferry services and air travel. We will explore the details of both options below.
Ferry Services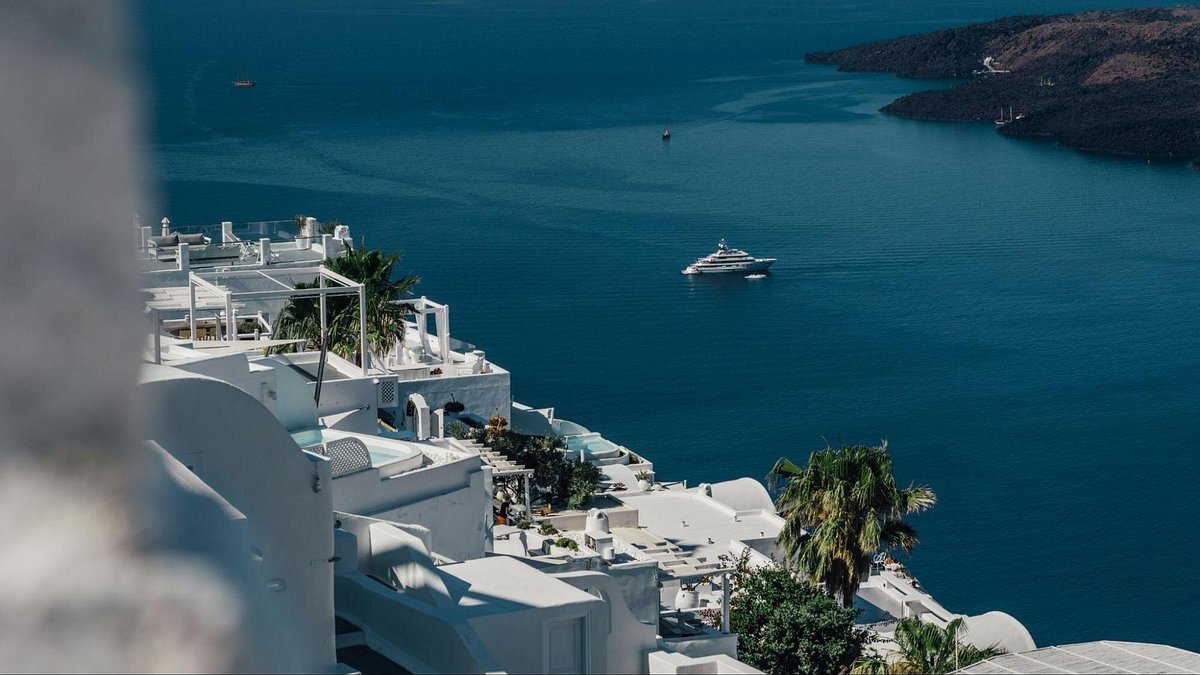 Ferry services are the most popular and common means of transportation between Mykonos and Santorini. The journey typically takes around 2.5 hours, with the distance between the islands being 114 km (71 miles or 62 nautical miles). There are various ferry operators offering routes between the two islands, which allows travellers to choose from a range of departure times and ticket prices.
Ferry ticket discounts are often available for certain passenger categories, such as:
Children aged 5 to 10 years old
Permanent residents of the islands (holders of a Unique Islander Number)
Ferries offer a comfortable journey with onboard facilities like seating areas, snack bars, and restrooms. Keep in mind that during the high tourist season, it is advised to book your tickets in advance to secure your preferred travel date and time.
Air Travel
An alternative to ferry services between Mykonos and Santorini is air travel. Flights between the two islands are usually short, with an approximate duration of 1 hour and 48 minutes. However, there are often limited direct flights, and it may be necessary to connect through Athens, which could extend the total travel time.
Air travel may be a more expensive option compared to ferry services, but it can offer a quicker journey for those with a time constraint. Remember that booking flights in advance can also help you secure better fares and availability.
Ferry Routes and Companies
High-Speed Ferries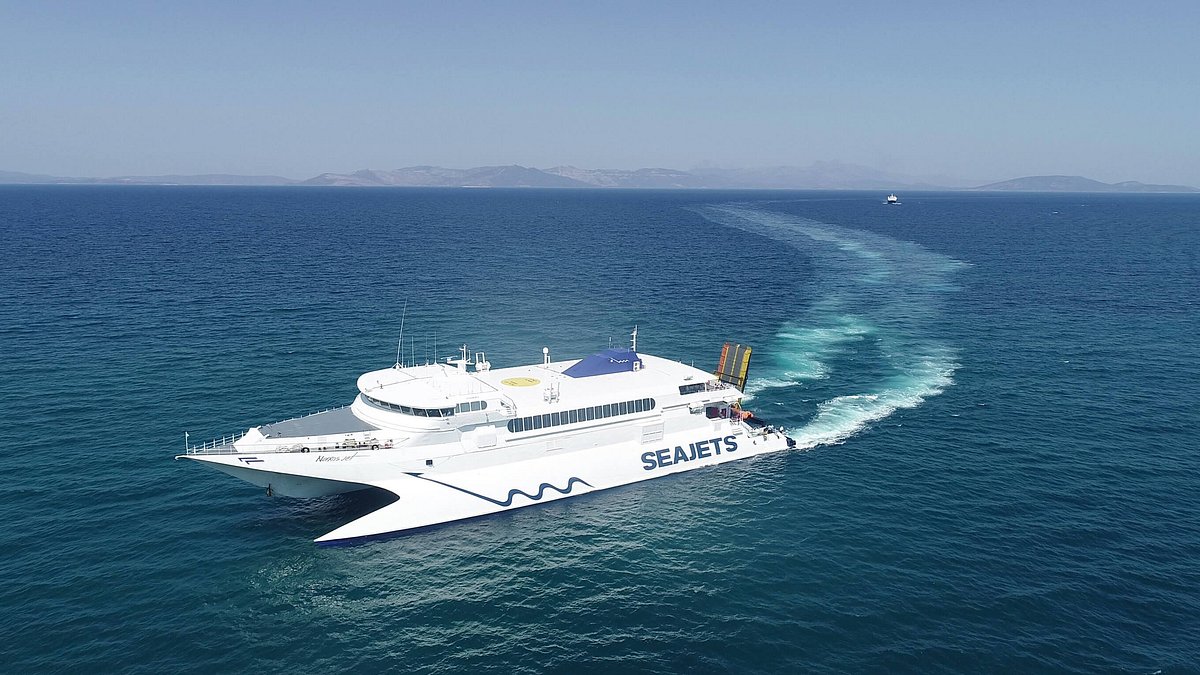 High-speed ferries provide a quick and convenient option for travelling from Mykonos to Santorini. The route is operated by three main ferry companies: Seajets, Minoan Lines, and Golden Star Ferries. High-speed ferry services typically take around 2 to 3 hours for the crossing, and ticket prices range between €67 and €90.
Here is a summary of the three main high-speed ferry operators:
Seajets: This company operates a fleet of modern vessels with a variety of onboard amenities. Their high-speed ferries provide a comfortable and efficient service.
Minoan Lines: As part of the Grimaldi Group, Minoan Lines offers a reliable ferry service on this route. With well-maintained vessels and excellent facilities, passengers can enjoy a smooth and pleasant crossing.
Golden Star Ferries: Known for its punctuality and comfortable accommodation options, Golden Star Ferries is a popular choice for travellers seeking high-speed service. Their vessels cater to different budgets and preferences, making for a flexible travel option.
Conventional Ferries
There are no conventional ferries that currently operate between Mykonos and Santorini. High-speed ferries remain the primary maritime transportation choice for travellers in this route. Anyone seeking this mode of transportation should focus on the three high-speed ferry companies mentioned in the previous section.
Sailing Duration and Frequency
The sailing duration between Mykonos and Santorini on a ferry typically ranges from 2 hours and 50 minutes to 3 hours and 1 minute. The exact duration may vary depending on the weather conditions and the type of vessel used for the journey.
Ferries operate daily between these two popular Greek islands, ensuring a consistent and convenient travel option for tourists and locals alike. The first trip from Mykonos to Santorini departs at 09:25, while the last trip is scheduled at 14:00. In the reverse direction, from Santorini to Mykonos, the first ferry leaves at 09:00 and the last one at 14:15.
Regarding the ticket prices, they can range from €67.00 to €156.70, offering a choice for different budgets and preferences. Below is a summary of the key information:
Mykonos to Santorini

Trip frequency: Every day
First trip: 09:25
Last trip: 14:00
Average duration: 2h 57m
Price range: €67.00 – €156.70


Santorini to Mykonos

Trip frequency: Every day
First trip: 09:00
Last trip: 14:15
Average duration: 3h 1m
Price range: €67.00 – €156.70
In conclusion, travellers can expect a quick and comfortable journey between Mykonos and Santorini thanks to the daily ferry services providing various options for timing, duration, and price.
Air Travel Details
Flight Duration
The flight time between Mykonos (JMK) and Santorini (JTR) is approximately 43 minutes, covering a distance of around 115 km. However, most flights have a layover in Athens, which may result in flight times ranging from 2.5 to 8 hours, depending on the length of the layover.
Airlines
Several airlines operate flights between Mykonos and Santorini, including:
Neos
Flydubai
TUI Fly Belgium
Airports
The airports involved in this journey are the Mykonos Island National Airport (JMK) and the Santorini Airport (JTR).
Ticket Prices and Booking
Peak vs Off-Peak Season
Ferry ticket prices for a single trip between Mykonos and Santorini range from €67 to €90. The final cost depends on various factors, such as the type of vessel (high-speed or conventional), seat or cabin type, vehicle transportation, and available discounts and offers. Ticket prices may vary depending on the time of year, with peak season (typically during the summer months) prices being higher than off-peak season prices.
Online Booking Options
Several online platforms allow you to book your ferry tickets between Mykonos and Santorini. Some popular options include:
Ferryhopper: Ferryhopper provides a comprehensive search for available offers, schedules, and tickets to plan your ferry trip between Mykonos and Santorini.
Skyscanner: Skyscanner offers flight booking options for those who prefer to travel by air. Prices range from €119 for a one-stop flight between the two islands.
Greeka: Greeka offers information on various types of vessels and operators that connect Mykonos and Santorini, such as Golden Star Ferries, SeaJets, Fast ferries, and Minoan Lines.
Omio: Omio provides an easy way to find and book ferry tickets, with an average ticket price of €80 and the cheapest available for €70.
Make sure to book your tickets well in advance to secure the best prices and availability, especially during the peak season.
What to Expect and Tips
Weather Conditions
The weather in both Mykonos and Santorini during the summer months is generally sunny and warm, with temperatures ranging from 25°C to 32°C. You can expect clear skies, moderate winds, and occasional instances of windy conditions. The famous Meltemi winds can pick up during peak season (July – August), which can affect ferry schedules. Be sure to check for potential weather updates before departing.
Navigating the Ports
Mykonos: The Mykonos port, also known as the New Port or Tourlos, is located approximately 2.5 kilometres from Mykonos Town. The port is easily accessible by taxi or bus service, which runs frequently during peak season. Remember to arrive at least 30 minutes before departure to secure boarding.
Tips for Mykonos Port:
Taxi: Taxis are limited on the island, so pre-booking is essential.
Bus: The bus station is situated near Mykonos Town's old harbour, providing easy access.
Santorini: The Athinios Port in Santorini is located about 10 kilometres from the island's capital, Fira. Regular buses and taxis are available to connect you to the various destinations across the island.
Tips for Santorini Port:
Bus: Buses to Fira and other locations on the island depart from the port regularly. Timetables are available at the port.
Taxi: Just like in Mykonos, pre-booking a taxi is highly recommended. Taxi queues tend to be long, particularly during peak hours.
Ferry duration and cost: The ferry journey from Mykonos to Santorini takes between 1 hour 45 minutes to 3 hours 35 minutes, depending on the ferry type. Ticket prices range from €49 to €67 for a one-way adult ticket. It's advisable to book your tickets in advance to ensure availability.