Mykonos and Santorini are two of the most famous and most visited islands in Greece. Known for their beautiful landscapes, exceptional food, and vibrant nightlife, these islands attract countless tourists each year. While they share similarities, their unique attributes cater to different types of travellers, making it essential to compare and contrast these stunning destinations before booking your next getaway.
Santorini's breathtaking caldera, white-washed buildings, and romantic sunsets offer an extraordinary experience, making it an ideal destination for couples and travellers seeking a relaxing escape. In contrast, Mykonos is known for its lively atmosphere, beautiful beaches, and energetic nightlife, appealing to those who are looking for excitement and socialising during their holiday.
Apart from the stunning landscapes and distinct atmospheres, there are key differences involving accessibility, lodging options, and cultural experiences that can influence one's decision when choosing between Mykonos and Santorini. Delving into these factors will help travellers make an informed decision and ensure an unforgettable experience in Greece.
Geographical Differences
Topography
Mykonos and Santorini are both part of the Cycladic chain of islands in the Aegean Sea, a group that comprises over 20 islands. However, they have distinct topographies. Mykonos is relatively flat with some rolling hills, making it easier to explore on foot or by vehicle. The island's highest point, Profitis Ilias, stands at a modest 341 meters above sea level. On the other hand, Santorini is more dramatic in its landscape, formed by a massive volcanic eruption that left behind a striking caldera. The caldera's cliffside towns, such as Oia and Fira, offer stunning views but can be more challenging to navigate due to steep inclines and uneven terrain.
Climate
Both Mykonos and Santorini share a Mediterranean climate that features hot, dry summers and mild, wet winters. However, there are slight differences between the two. Mykonos is known for its consistent wind, especially during the summer months, earning it the nickname "Island of the Winds". This breeze makes Mykonos summers more bearable, with temperatures reaching up to 29°C. Santorini, being slightly farther south, experiences slightly warmer summers, with temperatures reaching up to 32°C. Winters in both islands are relatively mild, with average temperatures ranging from 10°C to 15°C. Rain is more likely to occur during winter, but both islands generally enjoy a high amount of sunshine throughout the year.
Attractions and Activities
Beaches
Santorini and Mykonos both boast stunning beaches. Santorini is known for its dramatic, volcanic coastline and unique beaches with dark sand and pebbles. Notable beaches on the island include Red Beach, Kamari Beach, and Perissa Beach. The crystal-clear waters and unique geological formations will leave you in awe.
Mykonos has a different style of beaches, with golden sand and a more traditional beach atmosphere. Beaches like Psarou, Ornos, and Super Paradise cater to different preferences, offering everything from family-friendly spots to party scenes. Water sports like windsurfing and kitesurfing are popular on Mykonos.
Historical Sites
Both islands also offer remarkable historical sites for visitors to explore. Santorini is home to the Akrotiri prehistoric ruins, an impressive archaeological site that some believe to be the lost civilisation of Atlantis. Ancient Thira, another site on the island, offers a peek into Greek and Roman history with ancient ruins and stunning views.
Mykonos has its own share of history, including the archaeological site of Delos, a nearby island considered to be the birthplace of Apollo and Artemis. The island also features iconic windmills and the beautiful Little Venice district in Mykonos Town, providing plenty of opportunities for exploration and photography.
Nightlife
When it comes to nightlife, both islands certainly have their appeal. Santorini offers a more laid-back, romantic atmosphere with sunset bars and wine tastings. Some popular spots include Oia and Fira, where you can enjoy cliff-side bars and charming tavernas.
Mykonos, on the other hand, is known for its vibrant and glamorous party scene. With numerous beach clubs, trendy bars, and world-class DJs, Mykonos attracts those who want to dance the night away. Key nightlife spots include Mykonos Town and the popular beach clubs of Paradise and Super Paradise.
Accommodation Options
When comparing Mykonos and Santorini in terms of accommodation, both islands offer a variety of options catering to different preferences and budgets. This section will delve into the luxury and budget accommodation choices available on each island.
Luxury
Mykonos is known for its glamorous and luxurious hotel options. High-end tourists can enjoy the many exclusive resorts and boutique hotels dotted around the island. These establishments often provide top-notch amenities, such as private pools, spa facilities, fine dining, and stunning views of the glistening Aegean Sea.
Santorini, on the other hand, is famous for its unique cave-style villas and hotels. Many of these are located along the Caldera, offering unparalleled views of the iconic Santorini sunset. Luxurious accommodations in Santorini are characterised by their Cycladic architecture, infinity pools, and elegant design. Some of the island's higher-end stays include intimate, romantic settings perfect for honeymooners and couples celebrating special occasions.
Budget
For travelers seeking more affordable accommodation options, both Mykonos and Santorini have plenty to offer as well. Hostels, guesthouses, and budget hotels are available on both islands, catering to a variety of backpackers, solo travelers, and families.
In Mykonos, budget accommodations can be found throughout the island, providing basic amenities and often clean, comfortable rooms. Cheaper stays are usually situated away from the more touristy areas, allowing travellers to get a more authentic experience of local life on the island.
Santorini also boasts an array of budget-friendly lodgings, including family-run guesthouses and more modestly-priced hotels. These affordable options typically offer basic comforts, such as en-suite bathrooms and air conditioning, with some even featuring a small balcony or terrace to enjoy views of the surrounding landscape.
In summary, both Mykonos and Santorini provide a wide range of accommodation options to suit travellers with varying preferences and budgets – from opulent luxury resorts and boutique hotels to more economical stays catering to budget-conscious visitors.
Transportation
Getting There and Around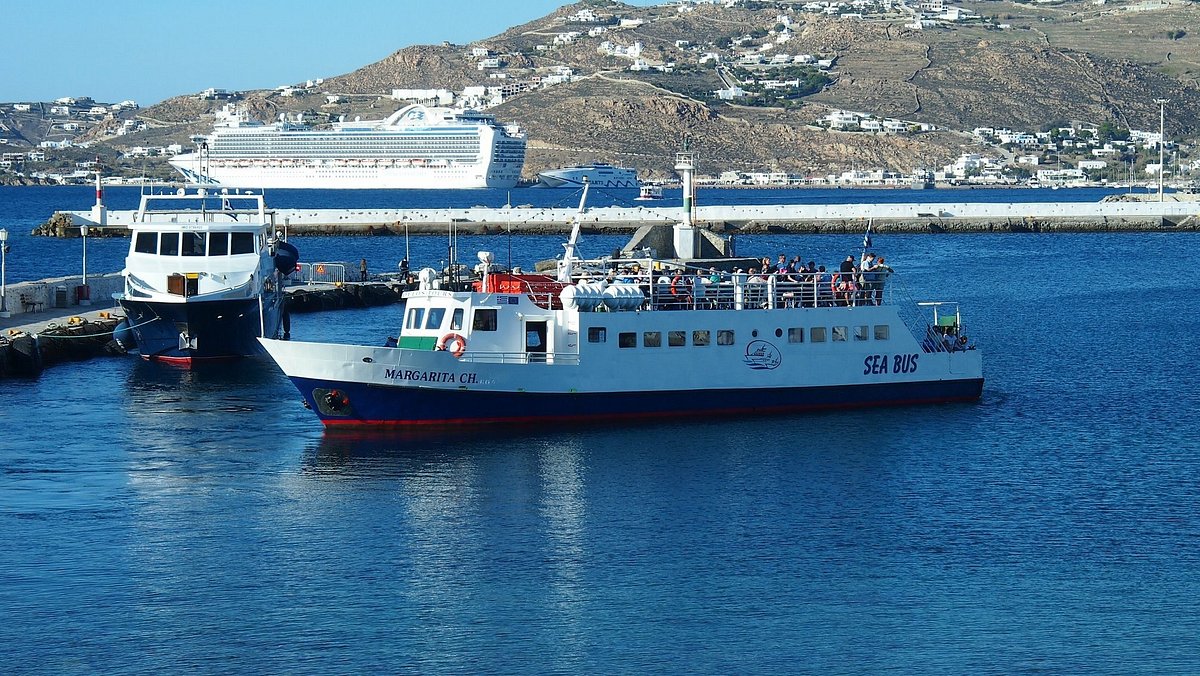 Both Santorini and Mykonos are accessible by air or ferry. They both have international airports, with shuttles available from Santorini International Airport and Mykonos Airport. Regular flights operate from various European cities. In addition to that, ferries operate from the Athenian port of Piraeus, but travel times differ:
Santorini: 5 to 8 hours (depending on ferry speed)
Mykonos: 2.5 to 6 hours (depending on ferry speed)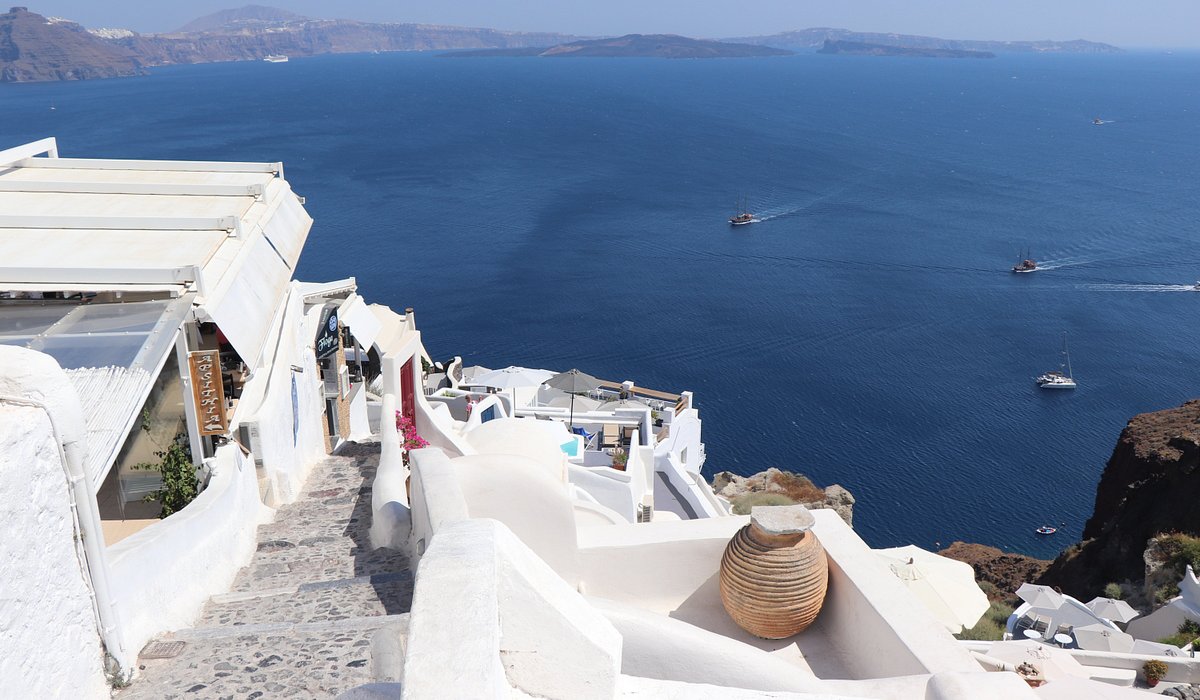 Traveling between the two islands typically takes 3 hours via ferry, with some faster and slower, but cost-effective, options available.
When it comes to exploring each island, Santorini and Mykonos both have extensive bus networks. Taxis and Ubers are also easily available. In Santorini, the best way to get around is by foot or bus as the island has lots of hills and stairs. However, buses may not run as often, so consider renting a car or organising private transfers for longer trips.
Ease of Access
Mykonos and Santorini are both relatively small islands:
Mykonos: 85.5 km² (33 sq mi)
Santorini: 90.69 km² (35.02 sq mi)
Given their sizes, both islands are not too challenging to navigate. However, walking could prove difficult in Santorini due to its hilly nature and abundance of stairs. On the other hand, Mykonos is known to be easier to traverse on foot or by bus.
Keep in mind that public transportation such as buses might not operate as frequently, so planning your route and time well will ensure a hassle-free experience.
Food and Cuisine
Local Specialities
Mykonos and Santorini both offer a wide range of traditional Greek dishes for visitors to enjoy. Some local specialities found in Mykonos include:
Kopanisti Mykonou: A spicy, creamy cheese usually served as a dip with bread or vegetables
Louza: Thin slices of cured pork seasoned with herbs and spices
In Santorini, some of the famous local dishes are:
Fava: A delicious yellow split pea puree, typically served as a starter or side dish
Tomatokeftedes: Traditional Santorini tomato fritters, made with fresh, sun-dried tomatoes and various local herbs
Dining Atmosphere
In Mykonos, the dining atmosphere is lively and vibrant, with a mix of high-end restaurants, casual tavernas, and beachside bistros. The island's cosmopolitan vibe is evident in the eclectic dining options, ranging from upscale Mediterranean fusion to authentic Greek cuisine.
On the other hand, Santorini presents a more romantic and relaxed dining setting. Visitors can enjoy sunset dinners with breathtaking views of the Caldera, as well as traditional tavernas in picturesque villages. The island offers a nice balance between fine dining and local eateries, ensuring a delightful experience for every palate.