Nestled on the picturesque island of Santorini, Perissa is a charming coastal village boasting an array of enticing activities for travellers to experience. Known for its unique black sand beaches and striking landscapes, Perissa, though not as famous as Oia or Fira, captivates visitors with its own alluring charm. From engaging in water sports to savouring delightful gastronomy, there's no shortage of things to do in this captivating destination.
A popular locale for both relaxation and adventure, Perissa offers a range of activities perfect for every kind of traveller. Visitors can explore the village through private sightseeing tours, day trips, and full-day excursions that showcase the diverse cultural and natural wonders that Santorini has to offer. As part of their adventures, travellers can indulge in the thriving food, wine, and nightlife scene or embark on adrenaline-pumping activities such as 4WD tours and sporting events.
Furthermore, Santorini's east coast is home to some of the island's best beaches, with Perissa and its southern counterpart, Perivolos, offering picture-perfect settings for sunbathing and leisurely beach walks. In short, Perissa is an idyllic destination that blends the very best of Santorini's stunning beauty and rich culture, providing visitors with a memorable and enriching experience.
Top Attractions
Ancient Thera
Ancient Thera is a fascinating archaeological site located on a steep hill with stunning views of Perissa and the surrounding area. Established in the 9th century BC by the Dorian settlers, Ancient Thera has plenty of historical and cultural significance for visitors to explore. The site features ruins from various eras, including Roman and Byzantine, revealing the layers of history that once thrived here. Take a guided tour to understand the significance of the ruins, such as the Agora (marketplace), the Sanctuary of Artemidoros, and the Terrace of Festivals. The serpentine path up to the site also offers breathtaking panoramic views of Santorini.
Perissa Beach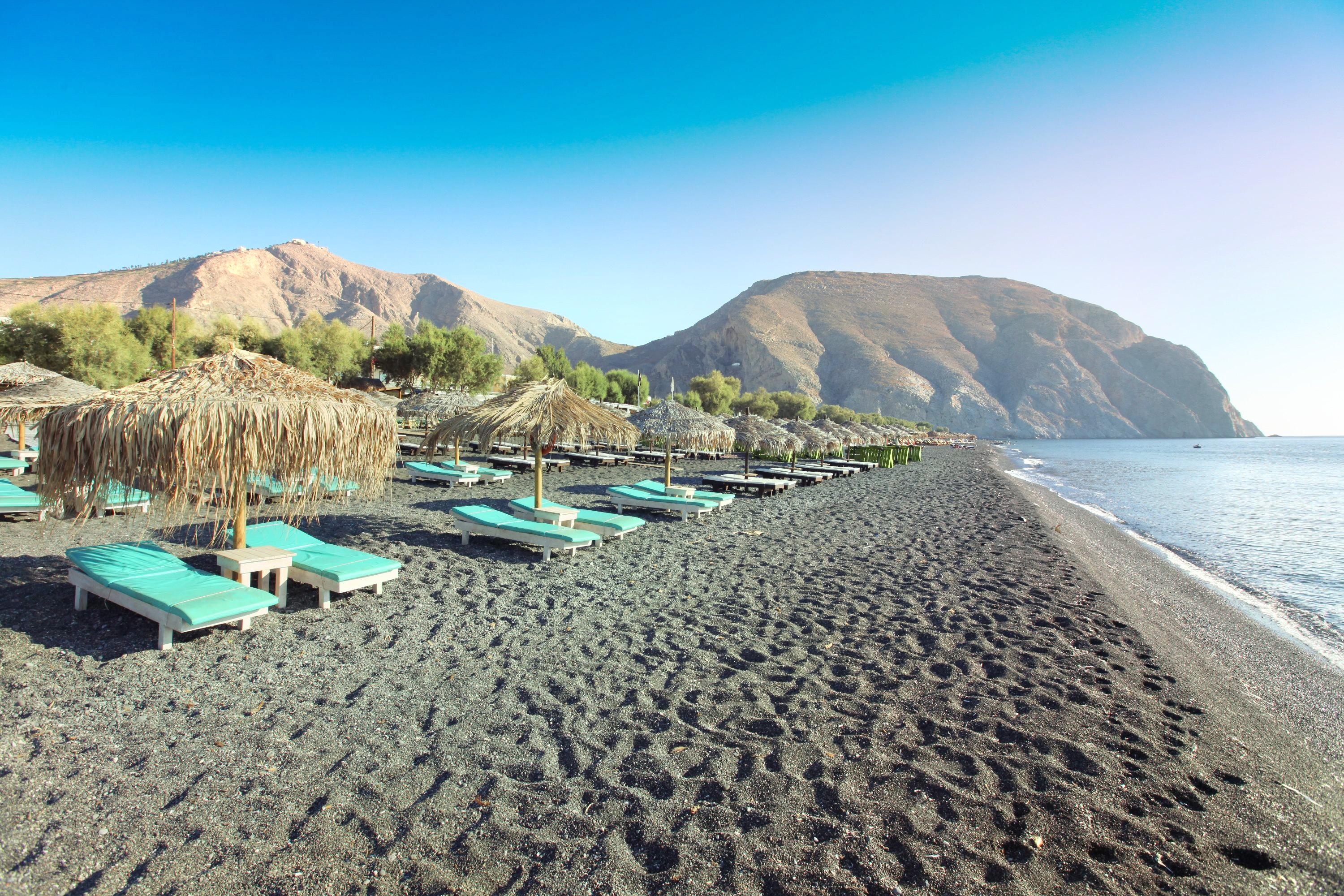 Perissa Beach, known for its distinctive black volcanic sands, is a popular destination for sun-seekers and water sports enthusiasts. The beach stretches for approximately 7km and is lined with beach bars, restaurants, and sunbeds, offering a lively atmosphere. Aside from basking in the sun and swimming in the crystal-clear waters, visitors can partake in various water sports, such as snorkelling, jet-skiing, and parasailing. Moreover, the beach is overlooked by the impressive Mesa Vouno Mountain, creating a stunning backdrop for a day of relaxation.
Outdoor Activities
Perissa, a beautiful seaside village in Santorini, Greece, offers a plethora of outdoor activities for visitors to enjoy. With its stunning landscapes and crystalline waters, you can participate in various adventurous and exhilarating activities.
Water Sports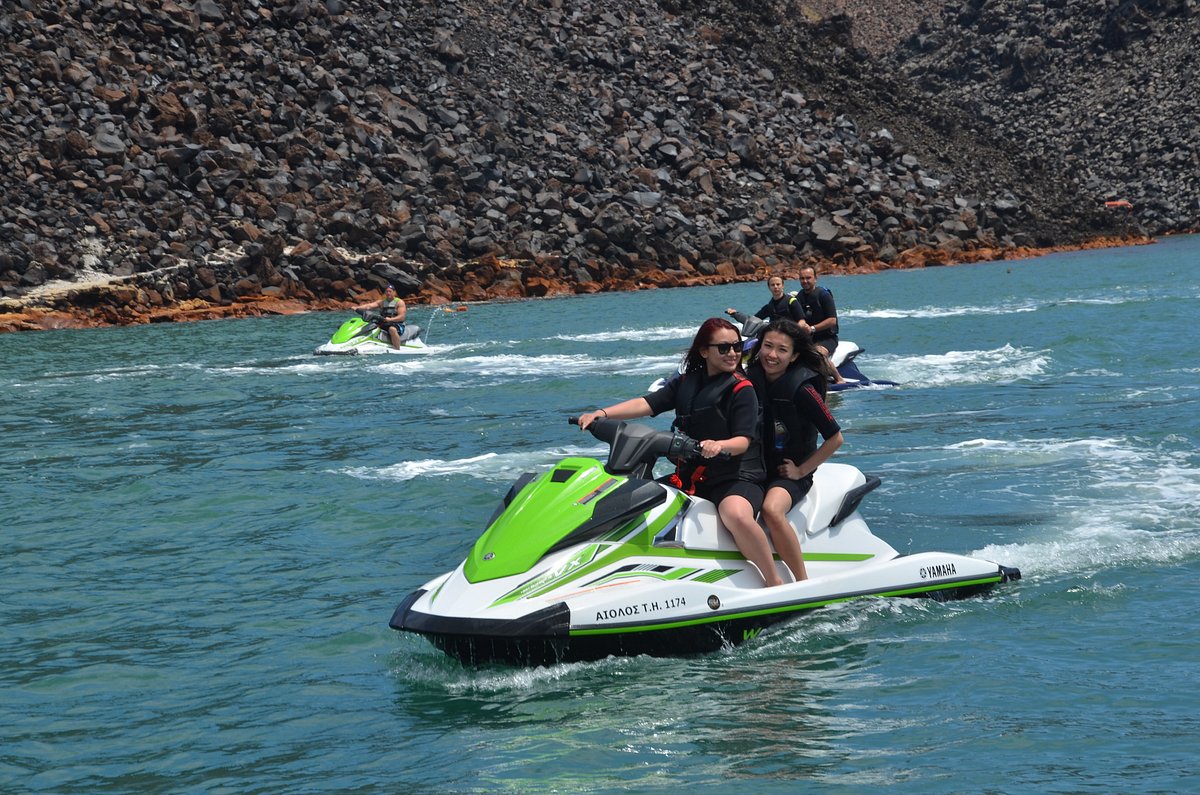 While in Perissa, make sure to take advantage of the beautiful Aegean Sea. There are numerous water sports available, including:
Jetskiing: Rent a jet ski and speed across Perissa's waters, feeling the ocean spray on your face.
Scuba Diving and Snorkelling: Explore the underwater world around Santorini with Santorini Dive Center, a popular spot for snorkelling and scuba diving. Discover vibrant marine life and possibly even hidden shipwrecks!
Paddleboarding: Enjoy calmer water sports by paddleboarding around Perissa's coast. It's an excellent way to take in the views and exercise at the same time.
Horse Riding
Another fantastic outdoor activity available in Perissa is horse riding. It is an exceptional way to explore the island's scenic trails and experience the natural beauty of Santorini. Some options for horse riding in and around Perissa are:
Guided Horse Riding Tours: Join a guided horse riding tour and explore the island's beautiful landscape with an experienced instructor.
Beach Horse Riding: Few things compare to the thrill of riding a horse along the shoreline of Perissa's Black Sand Beach. It's an excellent adventure, combining outdoor exploration and beautiful seaside views.
Remember to check for prices and availability, as some activities may require booking in advance or are subject to seasonal factors and weather conditions. Enjoy your time in Perissa, Santorini, and make the most of the outdoor activities it has to offer.
Cultural Experiences
Museums
One of the museums worth visiting in Perissa is the Mineral Museum. This unique museum showcases the geological history of Santorini, allowing you to delve into the island's volcanic past. The collection features fascinating rock formations, minerals, and other geological artefacts that provide insight into Santorini's formation and evolution.
Local Cuisine
When it comes to experiencing the local cuisine in Perissa, you have several options. Here are a few notable places to enjoy authentic Santorini dishes:
Pepito Restaurant: This eatery offers a delightful taste of Greek and Mediterranean cuisine, featuring locally sourced ingredients and traditional recipes. Some popular dishes include moussaka, souvlaki, and fresh seafood.
Sirocco: For a unique dining experience, visit Sirocco, which is known for its volcanic cuisine. Here, the chefs use the natural heat of the Santorini volcano to cook their dishes, resulting in delicious and memorable flavours.
Remember to sample the local wine, as Santorini has a rich winemaking history. Enjoy a glass or two with your meal to truly immerse yourself in the island's culinary culture.
Day Trips
Perissa, Santorini offers several exciting day trips for travellers to explore the beautiful island. Here are three popular destinations for day trips from Perissa:
Red Beach
The Red Beach is one of the most famous beaches in Santorini, known for its stunning red cliffs and volcanic sand. It's an excellent spot for swimming and sunbathing, as well as capturing the unique landscape of the island. To get to the Red Beach, you can take a short bus ride from Perissa to Akrotiri and then walk along the coast.
Akrotiri
Akrotiri is an ancient Minoan Bronze Age settlement that was buried and preserved by volcanic ash from the Theran eruption around 1600 BC. This archaeological site provides a fascinating glimpse into the ancient world, with well-preserved houses, frescoes, and artefacts on display. A guided tour of the site is highly recommended to get the full experience and learn about the history and significance of Akrotiri. Conveniently, it's located near the Red Beach, so you can visit both attractions on the same day trip.
Wine Tasting Tour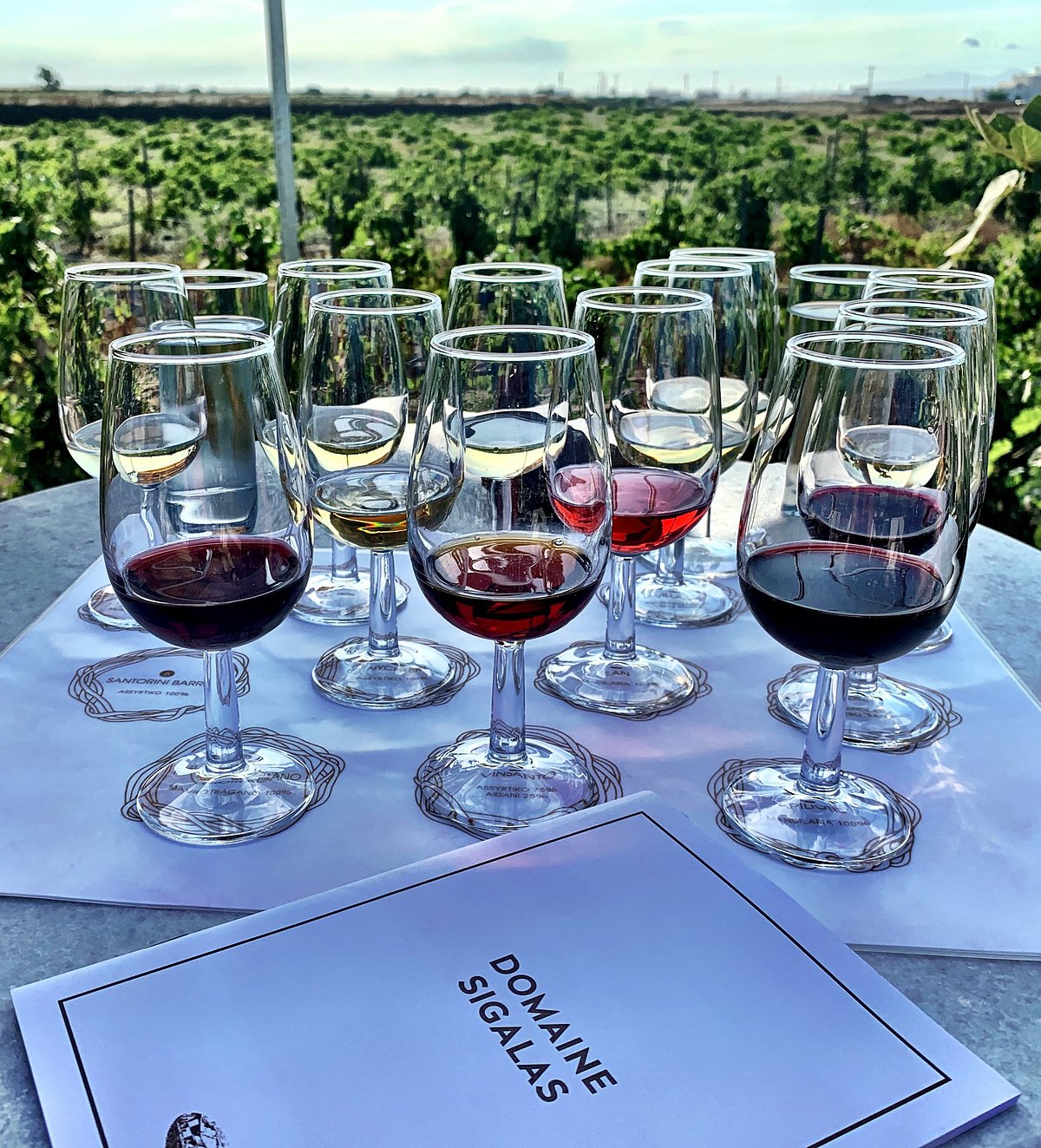 Santorini is home to some unique grape varieties and winemaking techniques, making a wine tasting tour an essential part of any visit to the island. Several wineries offer guided tours, where you can learn about the local viticulture, taste delicious wines, and enjoy stunning views of the island. Some popular wineries for a day trip from Perissa include:
Domaine Sigalas: Known for its crisp, refreshing Assyrtiko, Domaine Sigalas also offers tours and tastings with stunning views of the vineyards and the sea.
Santo Wines: Located in Pyrgos, this winery offers a wide range of wines and a terrace overlooking the caldera, perfect for tasting and enjoying the sunset.
Venetsanos Winery: Set on a cliffside in Megalochori, Venetsanos Winery combines modern facilities with traditional winemaking for a memorable tasting experience.
Accommodation Options
Perissa, Santorini, is a popular beach town where visitors can enjoy various activities, delicious food, and stunning scenery. The area attracts numerous travellers looking to relax and unwind. In this section, we will explore some of the top accommodation options available, ensuring you make the most of your stay in Perissa.
Anastasia Princess Luxury Residences is often considered the best hotel in Perissa. It is a high-end option for those who value luxury and comfort. With a prime location near the beach, guests can also enjoy an easy access to shops and tavernas. Note that Perissa tends to be quieter between November and April.
For a more boutique experience, consider Istoria Hotel in Perivolos. This lovely property has an exquisite design and is highly rated by guests. Its convenient location on the map makes it easy to explore Perissa and Perivolos. Reach out to the hotel by calling +30 22860 81957.
Meltemi Village Hotel and Aqua Blue Beach Hotel are also excellent choices for seafront stays. Both properties feature private beach areas and sun loungers, exclusively for their guests. These minor details can make all the difference for visitors seeking serious beach relaxation time.
Lastly, consider Smaragdi Hotel and Orabel Suites Santorini as alternative options for lodging. Each hotel boasts a unique style and atmosphere, catering to diverse preferences and budgets. Do not forget that for aficionados of a more intimate experience, Perissa also has B&Bs and holiday rentals.
In summary, Perissa, Santorini, offers a broad range of accommodation options to cater to every taste and budget. Whether you opt for a luxurious stay, a boutique hotel, or a B&B, you can count on quality lodging that will leave you with wonderful memories of your time in this captivating beach town.
Getting Around Perissa
Perissa is a beautiful beach town located on the picturesque island of Santorini, Greece. Travelling around the area is quite convenient and you have a few options to choose from, depending on your preferences.
If you prefer exploring by foot, walking is an ideal way to enjoy the Perissa landscapes at your own pace. The beach promenade and charming streets offer an aesthetically pleasing ambience, making the walks enjoyable.
A prevalent mode of transport in Perissa is renting scooters, bicycles or ATVs. Many rental shops can be found around the town, offering a variety of options at competitive prices. These vehicles are perfect for short trips and are a fun way to explore the island's natural beauty. They are suitable for covering a reasonable distance with ease, such as visiting the nearby ancient site of Thira.
When it comes to public transport, the bus service available in Perissa is reliable and offers routes connecting the town to other popular destinations on Santorini, like Fira and Oia. Buses frequently run throughout the day, providing an affordable and convenient way to travel around the island.
Taxis are also available in Perissa and can be pre-arranged or found at designated taxi stands. They are ideal for a more comfortable, private, and direct mode of transportation, especially when travelling with luggage or in a group. Keep in mind, though, that taxis might be a somewhat more expensive option compared to other means of transport.
Lastly, if you prefer having complete flexibility and control over your travel itinerary, renting a car is an excellent option. Numerous car rental agencies provide a range of choices to suit your needs. Driving around Perissa and the rest of Santorini allows you to visit even the most remote locations on the island at your convenience.
Overall, getting around Perissa is simple and efficient, offering various modes of transportation for different preferences and budgets.