Santorini, a stunning Greek island in the southern Aegean Sea, is famed for its breathtaking views, cliffside villages, and volcanic landscapes. A favourite destination among travellers, this crescent-shaped island offers a plethora of activities and attractions to suit all tastes. From witnessing extraordinary sunsets to exploring ancient ruins, Santorini has it all and will surely create unforgettable memories.
One of the island's most renowned attractions is its vibrant sunsets. Oia and Imerovigli are particularly famed for their spectacular sunset views, drawing thousands of visitors each year to appreciate nature's beauty. Beyond that, Santorini also offers the chance to delve into its incredible history. The ancient wonder of Atlantis, for instance, is said to provide insights into a catastrophic volcanic eruption that occurred over 3,000 years ago.
For those seeking more active pursuits, Santorini does not disappoint. Hiking enthusiasts can trek along the caldera's rim, enjoying the magnificent scenery between Fira and Oia. With its combination of natural beauty, rich history, and thriving culture, Santorini is a must-visit destination for travellers worldwide.
Santorini Beaches
Santorini, a beautiful island in Greece, is known for its stunning beaches and unique landscapes. Each of its picturesque beaches offers something special, making it the perfect destination for sunbathing and relaxation. In this section, we will explore three prominent beaches in Santorini: Red Beach, Perissa Beach, and Kamari Beach.
Red Beach
Red Beach, one of the most famous and unique beaches in Santorini, gets its name from its striking red cliffs and dark sand. This volcanic beach offers an unparalleled experience to its visitors. The colourful red rocks contrasting against the crystal-clear blue waters create a fantastic sight.
To reach Red Beach, you can either take a boat ride from Akrotiri port or hike for about ten minutes from the nearby parking area. Be sure to bring comfortable shoes, as the path can be rocky and steep. When visiting, keep in mind that parts of the beach are prone to landslides, so it's essential to pay attention to warning signs and avoid restricted areas.
Perissa Beach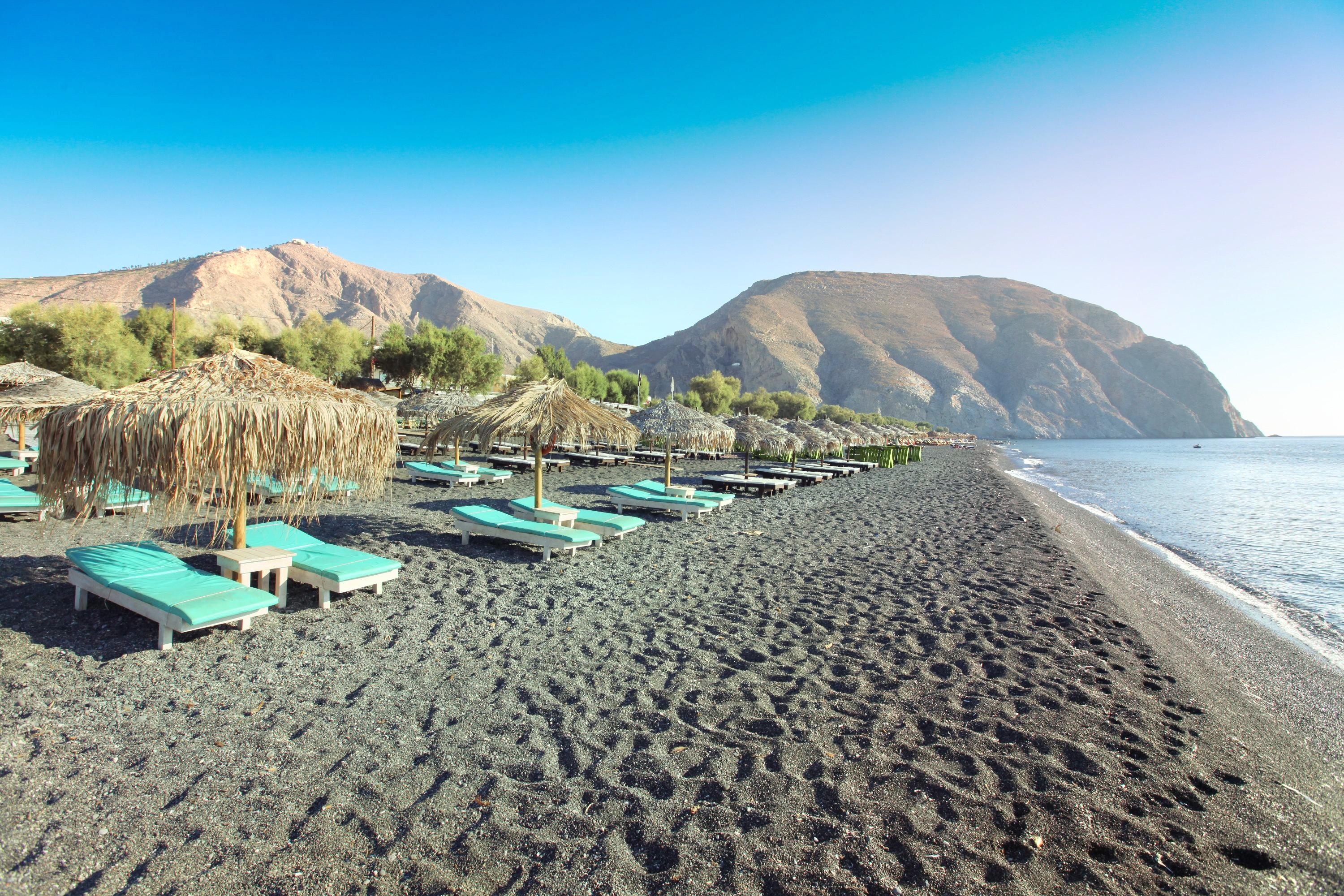 Located on the southeastern side of Santorini, Perissa Beach is widely adored for its pristine black sand shores, clear waters, and impressive views of the nearby Mesa Vouno Mountain. Perissa Beach offers its visitors an array of dining and accommodation options, making it an ideal place for a day trip or an extended stay.
At Perissa Beach, you can:
Enjoy numerous water sports activities like windsurfing, paddleboarding, and snorkeling
Rent sunbeds and umbrellas to relax in the sparkling sun
Sip on a refreshing cocktail from one of the many beach bars
Kamari Beach
Kamari Beach, situated close to the ancient city of Thera, offers visitors a delightful mix of natural beauty, history, and modern amenities. This bustling resort town is well-known for its extensive stretch of black sand beach, where you can find a variety of leisure activities and entertainment options.
Things to do at Kamari Beach:
Relish the delicious cuisine at nearby cafes and restaurants
Explore the ancient city of Thera with its archaeological ruins and breathtaking views
Indulge in water sports activities or relax on the sunbeds that line the beach
Kamari Beach is a family-friendly destination, ensuring a delightful experience for visitors of all ages to enjoy the beauty of Santorini.
Historical Sites
Ancient Thira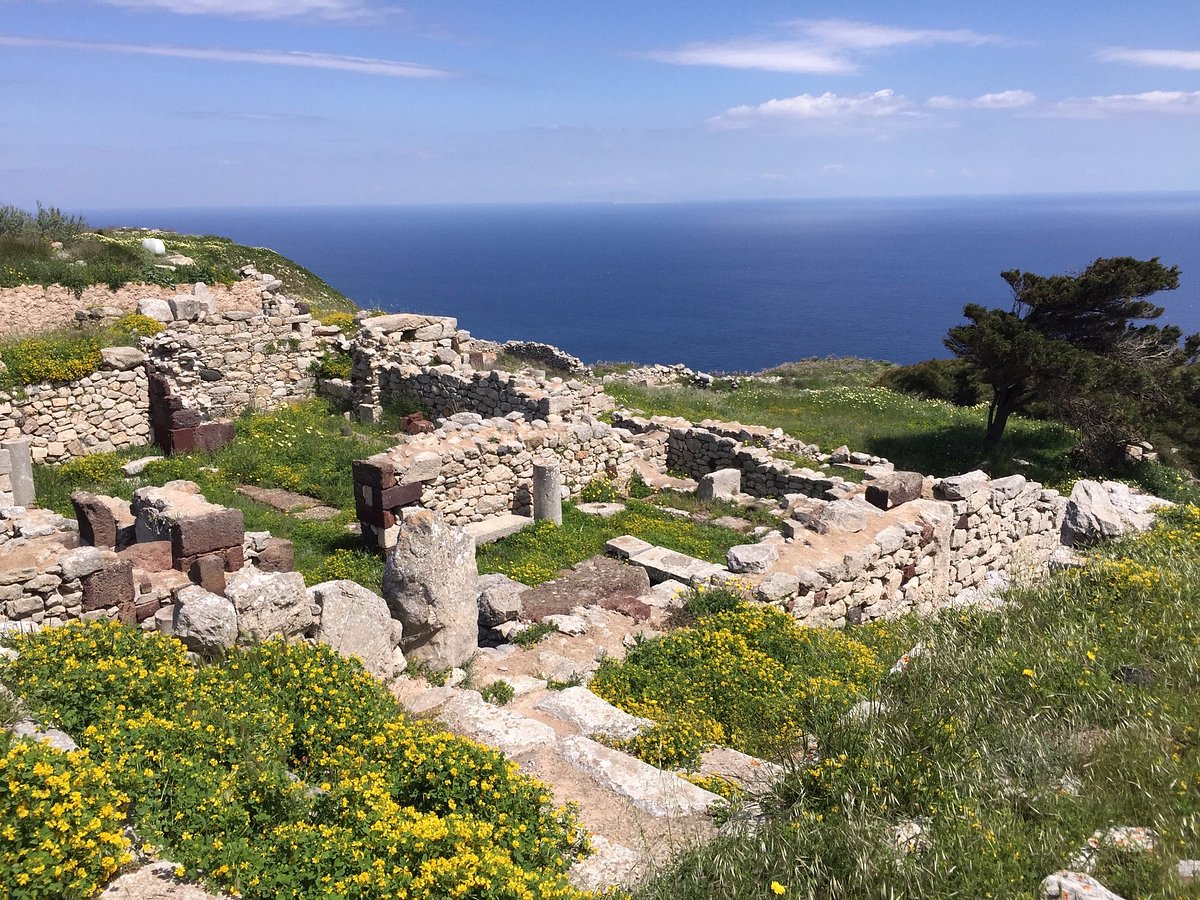 Ancient Thira, located on a rocky ridge on the southeastern part of the island, is an archaeological site showcasing the remains of the ancient city of Thira. Established in the 9th century BCE, this site features stunning ruins, such as the agora, theatre, temples, and stoa. It offers a glimpse into the history of the island and lets visitors experience the past while enjoying panoramic views of the surrounding areas.
Akrotiri Archaeological Site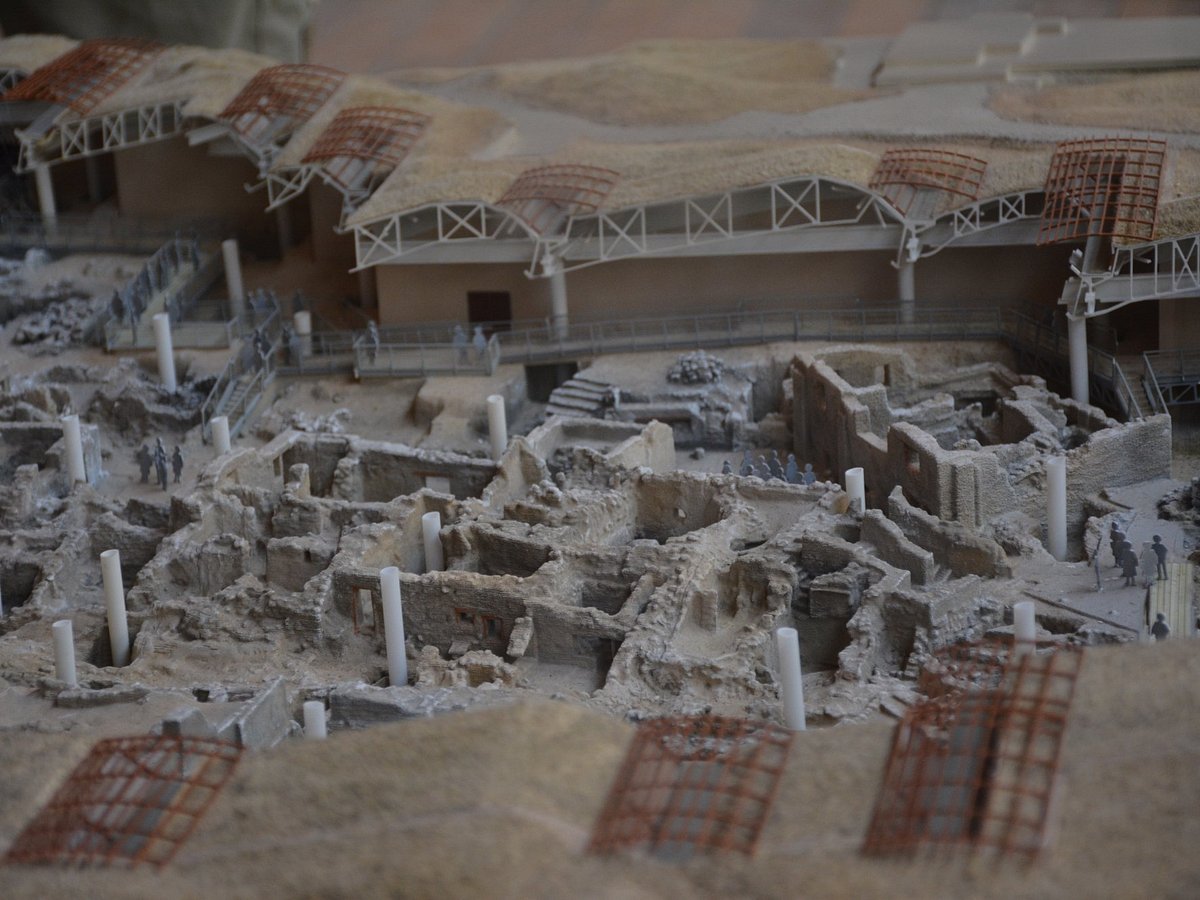 The Akrotiri Archaeological Site is a well-preserved Minoan Bronze Age settlement, discovered in the late 1960s. The excavation uncovered a wealth of artefacts, frescoes and preserved remains of buildings, indicating a highly developed society. The site is often referred to as the "Pompeii of the Aegean," as it was buried under volcanic ash during the Theran eruption around 1627 BCE. Visiting Akrotiri allows tourists to explore the ancient city's streets and marvel at the richness of its art and architecture.
Museum of Prehistoric Thira
The Museum of Prehistoric Thira exhibits a vast collection of artefacts discovered during excavations at Akrotiri and other sites on Santorini. Some highlights of the museum include:
Frescoes: Beautiful wall paintings from the Minoan period, reflecting the artistic style and techniques of the time.
Ceramics: A wide variety of pottery items, showcasing intricate designs and craftsmanship.
Stone and metal artefacts: Tools, weapons and decorative items provide insights into the daily life of the island's inhabitants.
Seal stones: Small engraved stones that were used as a form of identification, demonstrating the advanced nature of the ancient society.
Visitors to the museum can gain a deeper understanding of the history and culture of Santorini and its role in the ancient world.
Villages and Towns
Oia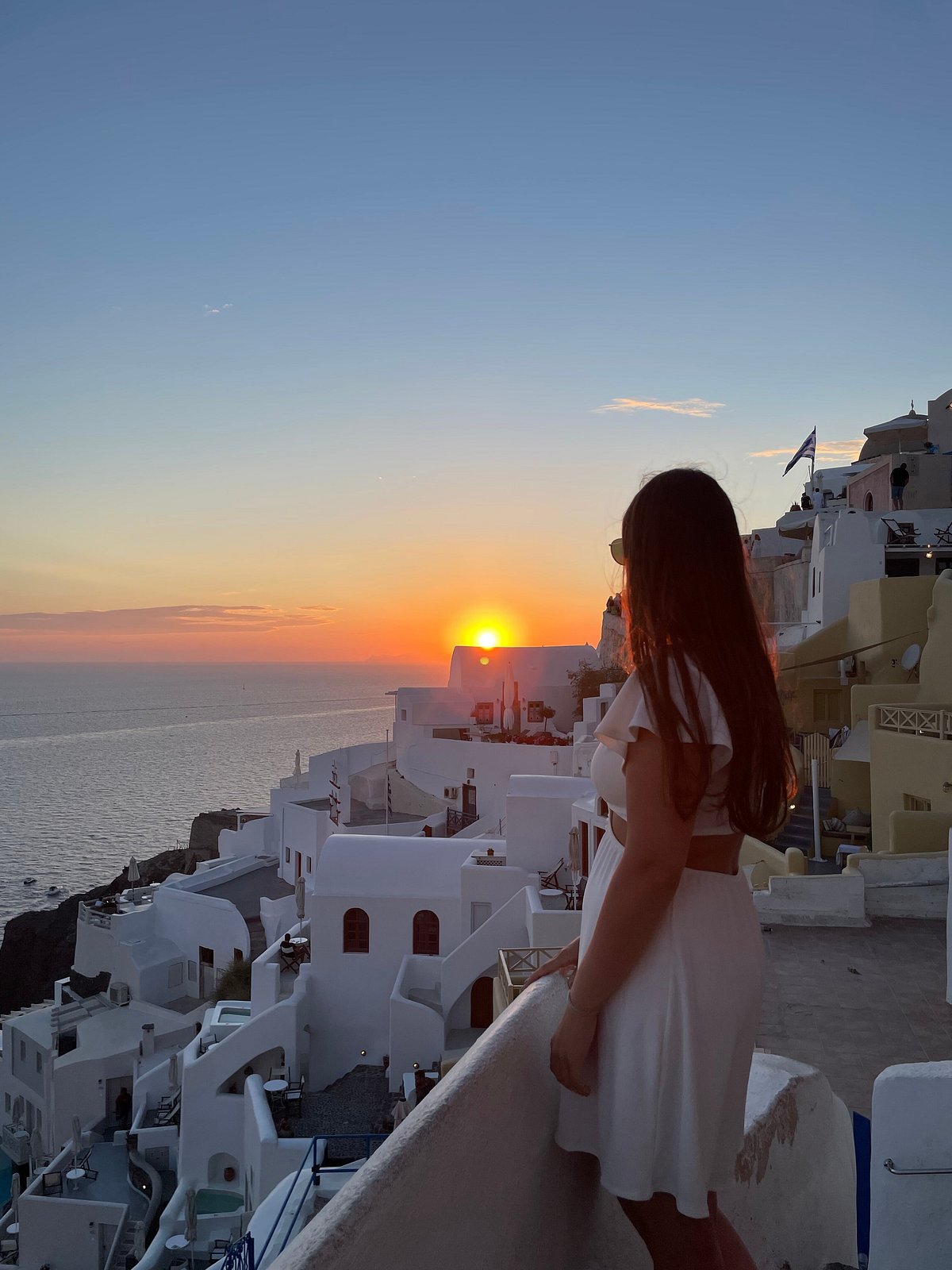 Oia is a picturesque town in Santorini, well-known for its blue-domed churches and white-washed buildings overlooking the glittering Mediterranean. It's famous for sunset viewing from the ruins of Oia's Byzantine castle, which provides an unobstructed view westward, making it a perfect spot to watch the sun set into the sea.
Fira
Fira is the main town of Santorini, perched on the edge of the volcano with incredible views over the caldera and surrounding islands. As the hub of the Santorini bus network, Fira provides an excellent base for exploring the island. The town also features various cafes, restaurants, bars, and shops to make your stay enjoyable.
Pyrgos
Pyrgos is a charming village situated on one of the highest points of the island, offering panoramic views of the sea and the island. Visitors can explore the medieval Kasteli Castle, and the narrow streets lined with traditional Cycladic architecture are ideal for a leisurely stroll. You can also visit the numerous churches and monasteries in the area, as well as enjoy delicious Greek cuisine in local tavernas.
Megalochori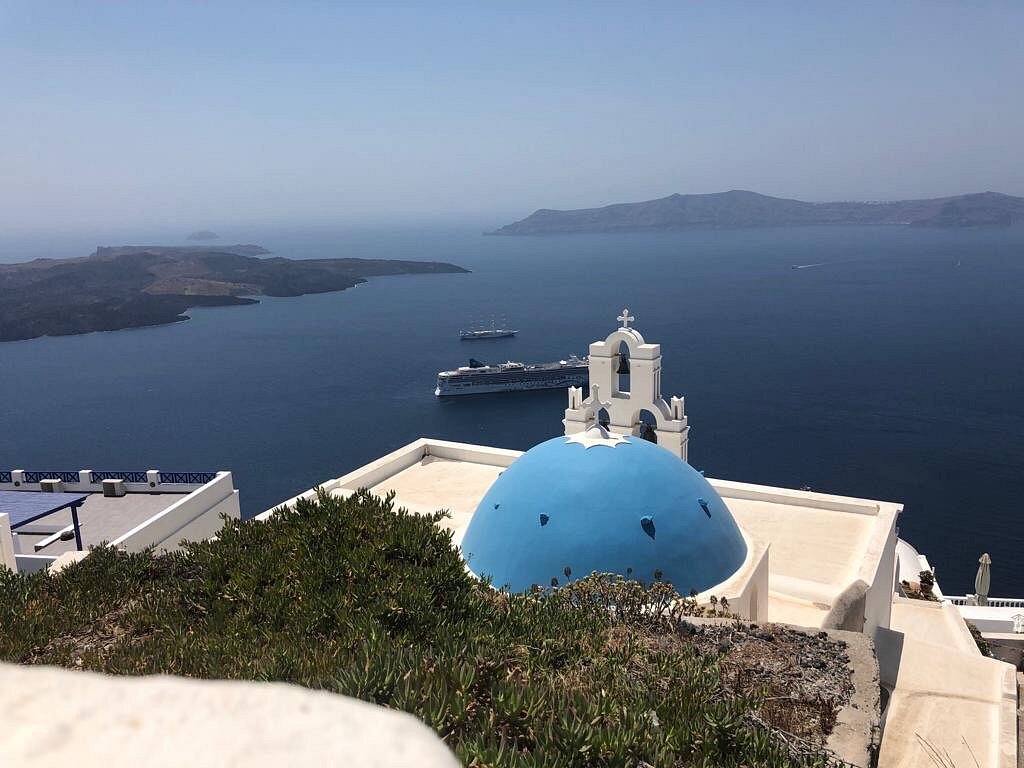 Megalochori is a traditional village wine-producing village in Santorini, known for its charming cobblestone streets, white-washed buildings, and stone archways. The village offers a slower-paced experience, giving visitors a chance to immerse themselves in the authentic local lifestyle and enjoy the lush vineyards surrounding the area. If you're a wine enthusiast, a visit to the local wineries is a must to taste some of Santorini's excellent wines.
Outdoor Activities
Hiking the Caldera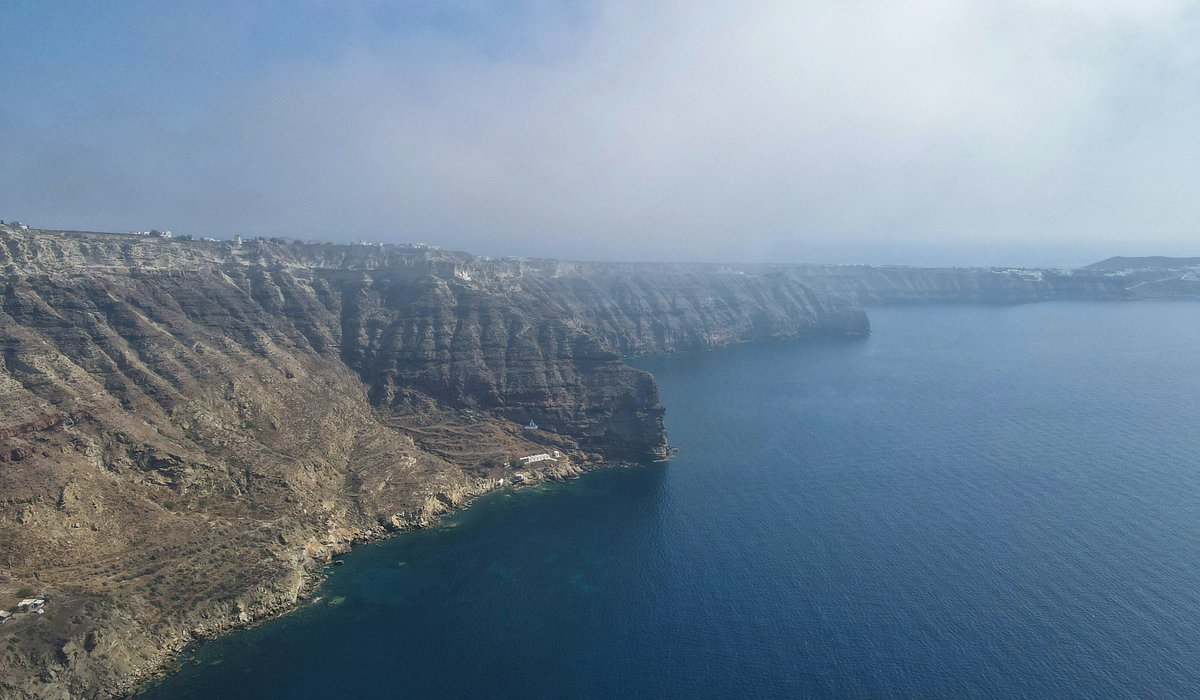 Santorini's unique volcanic landscape provides an excellent opportunity for hiking and exploring the caldera. One popular route for hikers is the Fira to Oia trail, which offers stunning views of the caldera and Aegean Sea. The hike takes about 3 to 4 hours and passes through picturesque villages like Firostefani and Imerovigli. The trail is well-marked, and although it may have some steep sections, it is relatively moderate in difficulty.
Wine Tasting Tour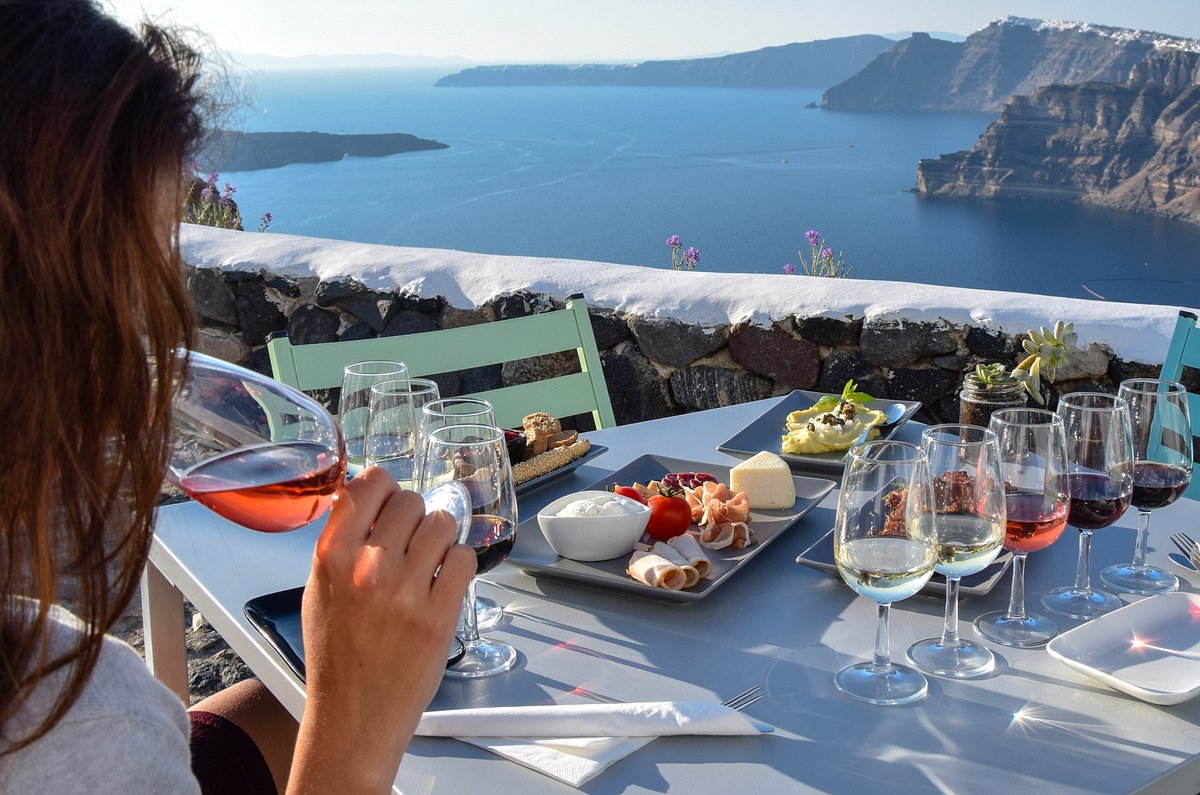 Santorini is well-known for its local wine production and unique grape varieties, such as Assyrtiko. A wine tasting tour allows you to visit traditional wineries, learn about the island's wine-making process, and of course, taste the delicious local wines. Some popular wineries on the island include:
Santo Wines: Offers panoramic views and a wide selection of wines.
Domaine Sigalas: Known for its organic wines and friendly atmosphere.
Venetsanos Winery: Located in a scenic spot overlooking the caldera.
Sailing Cruise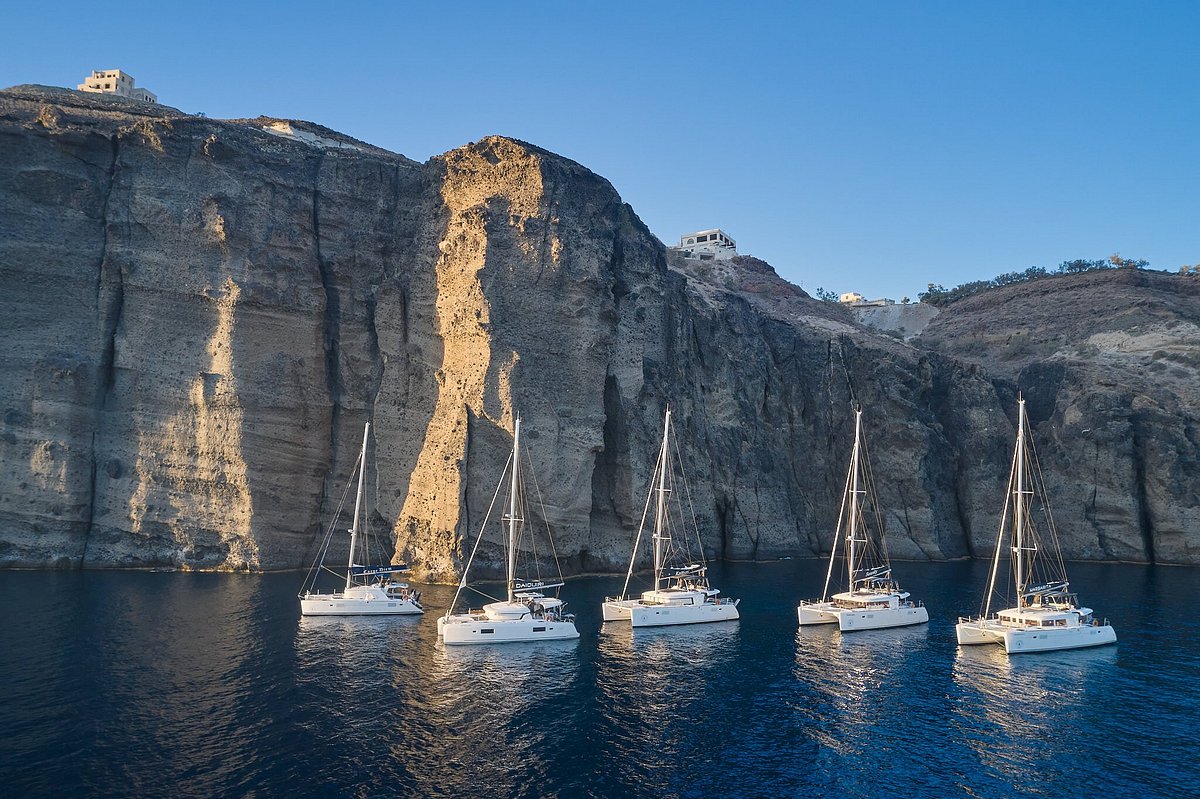 One of the best ways to experience Santorini's beauty is by taking a sailing cruise around the island. Options range from luxurious catamarans to traditional wooden sailboats, with both private and group tours available. A typical sailing cruise will provide:
A visit to the volcanic hot springs: Relax and soak in warm, mineral-rich waters.
Stops at popular beaches, such as Red Beach and White Beach, known for their unique coloured sands.
A chance to snorkel or swim in the crystal-clear waters of the Aegean Sea.
A picturesque sunset view, often with dinner and drinks served on board.
Local Cuisine
Santorini is known not only for its stunning views and sunsets but also for its unique and flavorful local cuisine. In this section, we will explore mouth-watering seafood dishes and traditional Greek specialties that you must try when visiting this beautiful island.
Seafood Dishes
One of the things you should not miss while in Santorini is the fresh and delicious seafood. Here are some dishes you should definitely try:
Grilled Octopus: Tender and juicy octopus, typically grilled and served with a drizzle of olive oil, lemon, and oregano.
Fish of the Day: Enjoy the catch of the day, grilled or fried, served with a side of vegetables and potatoes. The freshest fish make the most delicious meals.
Greek Specialties
In addition to seafood, Santorini has some amazing traditional Greek dishes made with local ingredients. Here are a few you should taste:
Fava: Santorini's most famous dish, made from mashed yellow split peas, known for its creamy texture and earthy flavour. Often served as a dip or appetiser with crusty bread.
Ntomatokeftedes: Made from the island's signature Santorini tomatoes, these tomato fritters are full of flavour and the perfect appetiser or light snack.
White Eggplant: Another local ingredient, white eggplant in Santorini is sweet and tender. It's often fried or grilled and used in dishes like moussaka or eggplant salad.
Cherry Tomatoes (Tomataki): Sweet and rich in taste, these PDO protected tomatoes are used in various dishes, like fresh salads or fritters.
Cretan Dakos: A simple yet delicious appetiser, made with barley rusk topped with tomatoes, feta or mizithra cheese, olives, and oregano.
While visiting Santorini, make sure to indulge in these local dishes, as they offer a true taste of the island's flavours and traditions. Remember, the best way to experience Santorini's cuisine is by trying food from local tavernas and restaurants that prepare their dishes with love and fresh ingredients.