As the summer months come to an end, October in Santorini offers visitors the opportunity to soak up the last of the warm weather before the island quiets down for the winter season. With temperatures ranging from 15-25 degrees Celsius (65-80 Fahrenheit), Santorini in October provides pleasant and comfortable weather for those looking to avoid the scorching hot summer months, but still enjoy the beauty of this iconic Greek destination.
During this time, travellers can expect mostly sunny days, and occasional spikes in temperature reaching up to 25-30 degrees Celsius. This makes it the perfect time to explore the island's stunning landscapes, famous beaches, and charming villages without the bustling crowds present during peak season. Integrating beach gear like swimsuits and cover-ups remains a must-pack, while a light jacket becomes necessary for cooler evenings.
In addition, as October marks the beginning of the off-peak season, travellers can take advantage of lower prices and fewer tourists while still enjoying the warm Mediterranean climate. This makes it an ideal time to visit Santorini for those seeking a more tranquil experience on this enchanting island.
Weather Overview in October
In October, Santorini, Greece offers lovely weather conditions, making it a delightful destination during this month. This section will discuss the temperature ranges, rainfall, humidity, and sunlight hours during October.
Temperature Ranges
During October, the average high-temperature in Santorini slightly drops from 25°C (77°F) in September to a comfortable 22°C (71.6°F). The average low-temperature is 16°C (60.8°F). Although it is rare, temperatures can sometimes rise above 27°C or fall below 13°C.
Rainfall
Although rainfall is not very common in October, it does increase compared to the previous months. The precipitation is not heavy and the month is overall relatively dry.
Humidity
Humidity levels in Santorini in October remain fairly consistent when compared to the summer months. The average relative humidity during this month is around 70%, which contributes to the pleasant weather conditions.
Sunlight Hours
October still provides ample sunlight hours, making it perfect for outdoor activities and sightseeing. The island enjoys an average of 8 hours of sunshine per day during this month.
Best Outdoor Activities
Sightseeing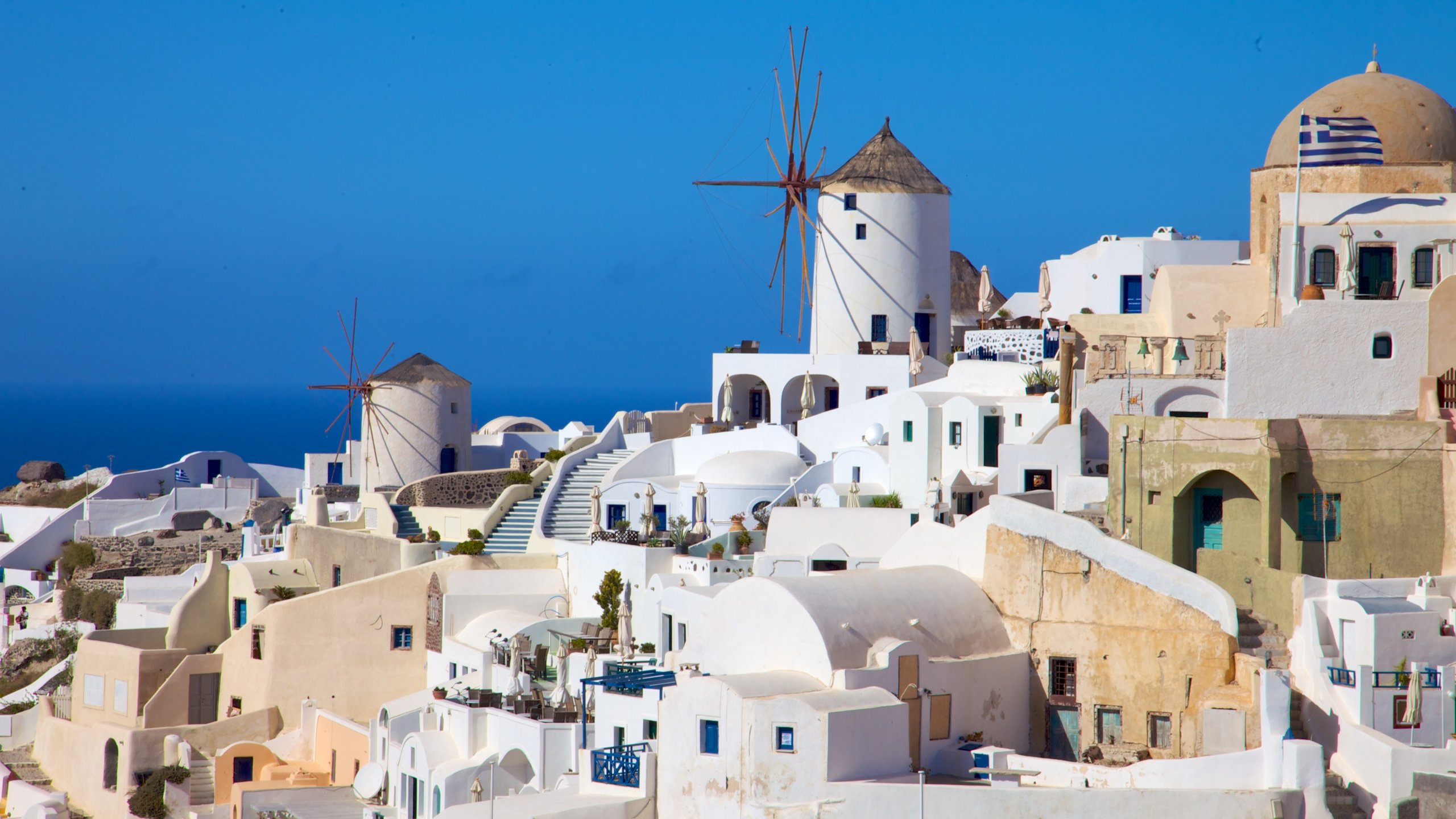 Santorini, Greece is a picturesque destination, and October is an ideal time to explore its scenic beauty. The weather is comfortable, with daytime temperatures ranging between 15-25 degrees Celsius (65-80 Fahrenheit), making it perfect for strolling through charming villages like Oia and Fira. Wander along the caldera, admiring the stunning views of the Aegean Sea, or venture to historic sites such as the ancient city of Akrotiri and the archaeological museum in Fira.
Beaches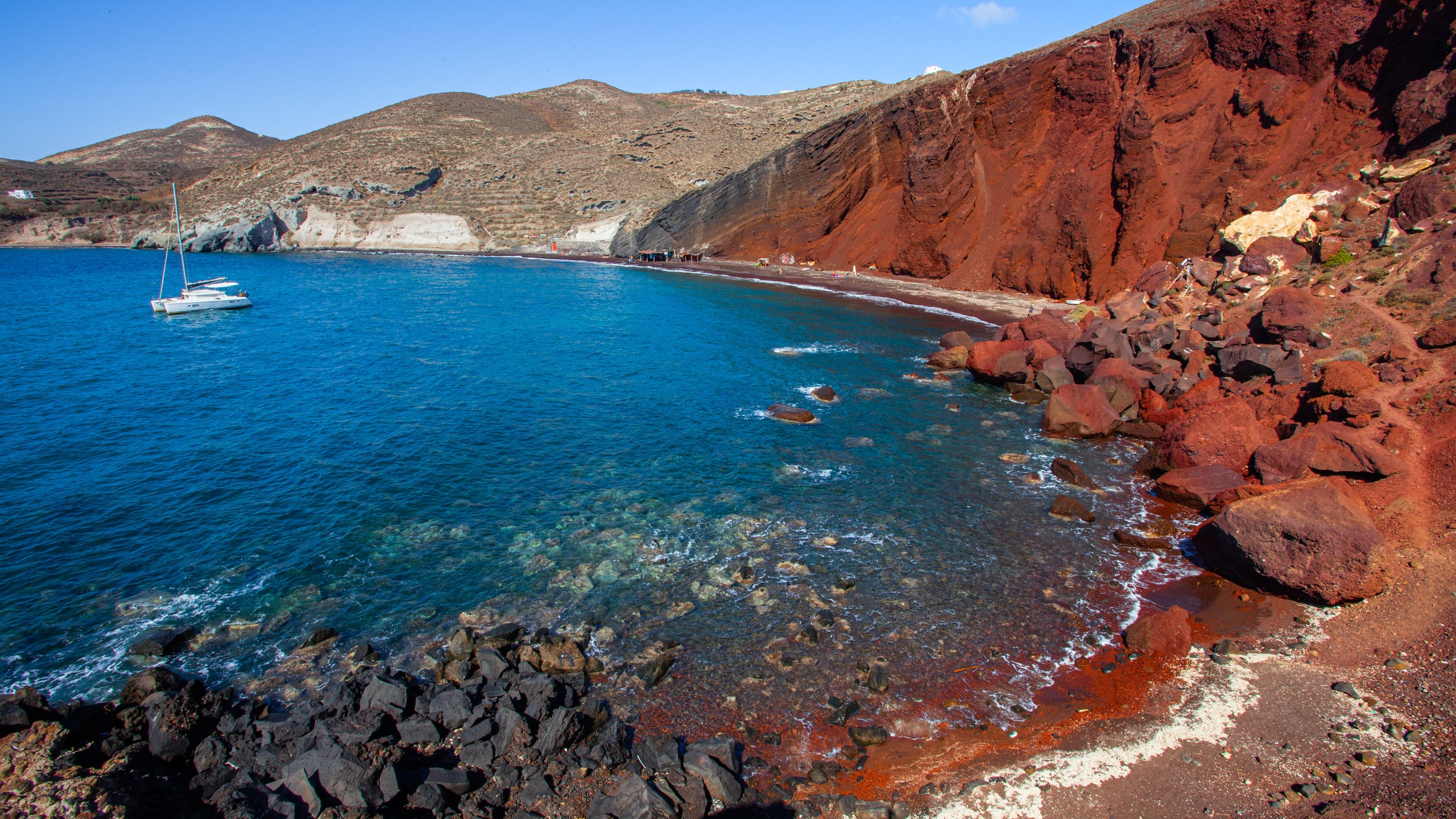 Although the water temperature in October is around 21 degrees Celsius (70 degrees Fahrenheit), it is still possible to enjoy Santorini's beautiful beaches. The cooler weather results in fewer crowds, allowing for a more relaxing experience at popular spots like Kamari, Perissa and Red Beach. Take this opportunity to soak up the sun and enjoy the unique volcanic sand before the colder months set in.
Hiking
October's mild temperatures make it a fantastic time to experience Santorini's famous hikes. The most iconic trail is the hike from Fira to Oia, which takes you alongside the caldera, offering breathtaking views of the sea and surrounding islands. This hike typically takes around 3-4 hours, depending on your pace. Another popular option is the hike around the ancient city of Thera, located at the top of Mesa Vouno. This archaeological site provides a fascinating look into Santorini's history as well as stunning panoramic views.
Packing Tips for Santorini in October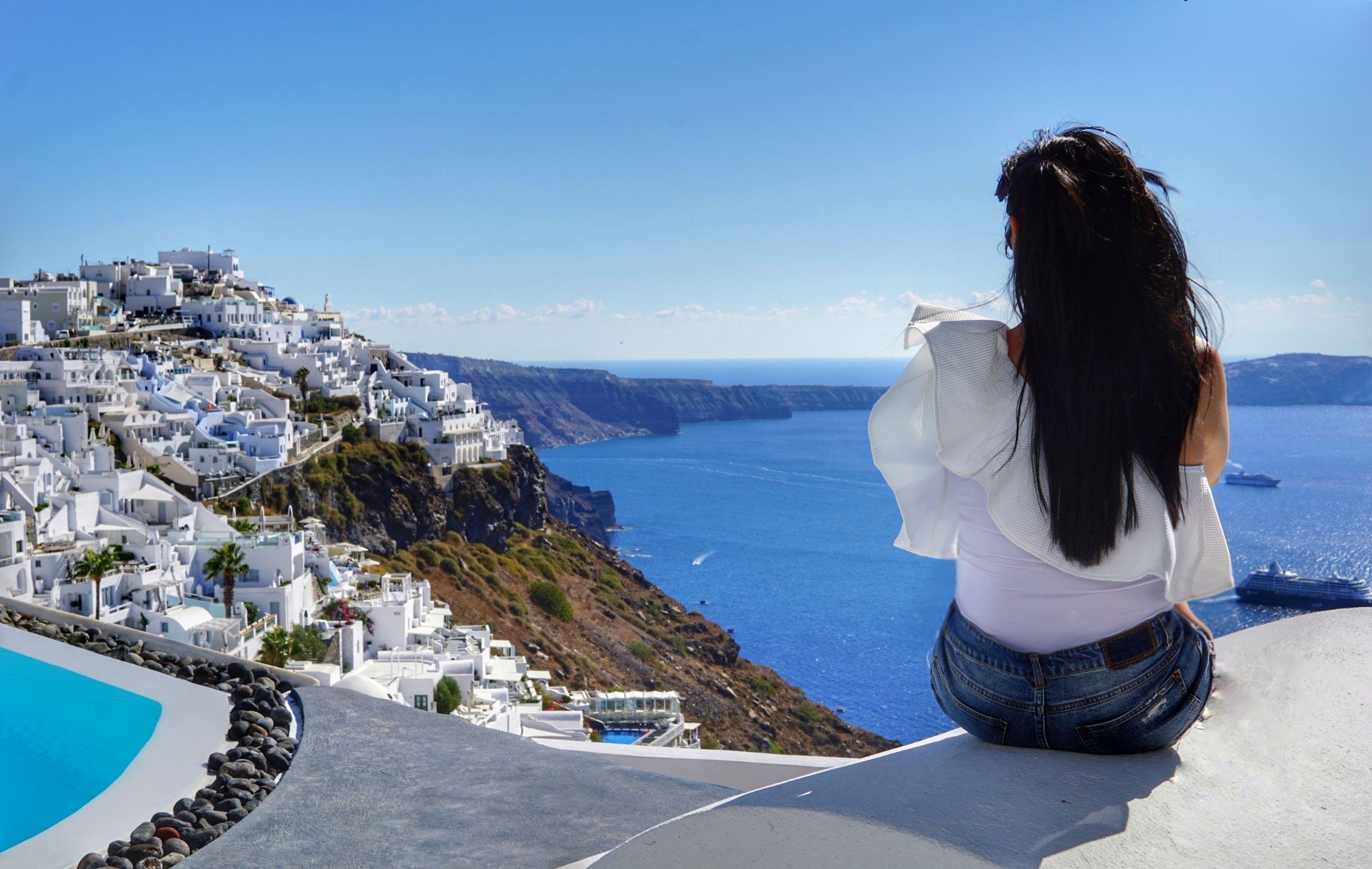 Clothing Essentials
In October, Santorini experiences pleasant weather with temperatures ranging between 15-25 degrees Celsius (65-80 Fahrenheit). It is essential to pack clothes that are suitable for this mild climate. Here are some clothing items you should consider bringing:
Lightweight layers: Pack some light jackets or cardigans that can be easily layered, as temperatures may drop in the evenings.
Summer clothes: Don't forget to bring breathable items like t-shirts, shorts, and dresses for daytime exploring.
Sturdy walking shoes: The streets in Santorini towns can be cobblestoned, so it's necessary to bring comfortable shoes for walking or hiking, especially if you're planning to take the trail connecting Thira to Oia.
Accessories
When visiting Santorini in October, you'll want to bring some accessories to prepare for the autumn Greek sun and the occasional cool breeze. Here are some essential items to pack:
Sunglasses: Protect your eyes from the sun by packing a stylish pair of sunglasses.
Sunscreen: Even though it's October, don't forget to apply sunscreen to avoid sunburns during your outdoor adventures.
Hat: A wide-brimmed hat or a cap can come in handy to shield your face from the sun.
Light scarf: A light scarf or pashmina is a versatile accessory that can be used to protect against the cooler evening breezes or to add a touch of style to your outfit.
In summary, when packing for Santorini in October, focus on bringing versatile clothing items that allow you to mix and match layers and colours, depending on the weather that day. Additionally, don't forget essential accessories like sunglasses, sunscreen, and hats to ensure you are comfortable and protected while enjoying your Greek island adventure.
Born and raised on the sun-drenched island of Crete, Sofia Mavromatis is a seasoned traveler and writer with a deep-rooted love for Greece's vibrant culture, stunning landscapes, and rich history.