Athens and Mykonos are two of Greece's most popular destinations, each offering its own unique blend of history, culture, and breathtaking scenery. Travellers who wish to visit these iconic locations often find themselves wondering how best to make the journey between Athens, the country's historic capital, and the picturesque island of Mykonos. In this article, we'll explore the various options available to ensure you have the most enjoyable and convenient experience possible.
Getting from Athens to Mykonos can be accomplished in a few different ways, including by car ferry or a short flight. The ferry option provides the opportunity to enjoy beautiful views of the Aegean Sea during the journey, with travel times ranging from 2.5 to 5 hours, depending on the type of ferry chosen. Prices for this option vary between €73 and €145, making it an affordable and scenic way to reach the island.
For those preferring a quicker journey, flights from Athens to Mykonos are also available. With a flight time of approximately 45 minutes, this option offers the greatest convenience, particularly for travellers with limited time. Prices for one-way flights can be found for as little as $42, making air travel both efficient and budget-friendly for those seeking to explore the best of what Athens and Mykonos have to offer.
Planning Your Trip
Best Time to Visit
The best time to visit Athens and Mykonos is between late April and early October when the weather is pleasant, and the temperatures are moderate. During these months, you can enjoy outdoor activities, beach visits, and sightseeing without worry. However, note that July and August tend to be the busiest and hottest months, so consider travelling during shoulder seasons (late April to June and September to early October) for a more relaxed experience.
Travel Duration
To make the most of your Athens to Mykonos trip, plan for a total of 7 to 10 days, including travel time. Here's a breakdown of how you may allocate your time:
2-3 days in Athens: Visit famous landmarks such as the Acropolis, Parthenon, Ancient Agora, and the National Archaeological Museum.
4-5 days in Mykonos: Explore the beautiful beaches, indulge in watersports, and experience the vibrant Mykonos nightlife.
Budget Considerations
When planning your trip, it's essential to account for several budget aspects. Below is a rough estimation of the costs you may need to consider:
Accommodation: Hotels in Athens and Mykonos vary in price, but you can find mid-range options for about £80-£150 per night. Luxury hotels and villas cost around £200-£500 or more per night.

Transport: To travel from Athens to Mykonos, you have two options:

Flight: A 45-minute flight costs approximately £45-£90 one way, depending on the airline and booking time.
Ferry: The ferry duration ranges from 2.5 hours to 4 hours and costs £25-£40 for economy tickets and £45-£70 for business class tickets.

Food: On average, meal prices in Athens and Mykonos are £10-£30 for mid-range restaurants. Fine dining experiences cost roughly £40-£100 or more per person.
Attractions and Activities: Expect to spend £10-£50 per person for various tours, activities, and entrance fees to attractions. Some historical sites charge a combined ticket fee for multiple locations.
By considering these factors, you can create a realistic budget and make the most of your Athens to Mykonos adventure.
Transportation Options
When travelling from Athens to Mykonos, there are several transportation options available. This section will outline three popular methods: flight, ferry, and yacht.
Flight
One mode of transport between Athens and Mykonos is by air. This option is usually the fastest, with flights lasting approximately 40 to 50 minutes. Multiple airlines operate on this route, including Olympic Air and Aegean Airlines. Prices can vary depending on the season and booking period, so it is advisable to book in advance to find the best deals.
Ferry
Ferry services are another popular means of travelling from Athens to Mykonos. The journey can take anywhere from 2 hours and 45 minutes to 5 hours, depending on the type of ferry chosen. There are two main ports in Athens offering ferry services to Mykonos, Piraeus and Rafina.
Piraeus: This port is well-connected to the Athens city centre, with regular services running between the two. The car ferry takes around 2 hours and 45 minutes and ticket prices range from €73 to €145.
Rafina: This smaller port is closer to Athens airport and has fewer services than Piraeus. It is recommended for tourists arriving at the airport, looking for a quicker connection to Mykonos.
Several ferry companies operate on this route, offering services with various ticket options, including economy, business class, and VIP. It's recommended to compare the ferry schedules and book your tickets in advance.
Yacht
For a more luxurious and unique travel experience, consider chartering a yacht from Athens to Mykonos. This option allows you to explore the beautiful Cyclades islands at your leisure, stopping at some of the smaller, less frequented islands along the way. Yacht services are available for any travel group size, with various options, such as catamarans and motor yachts.
Yacht rental prices depend on the season and type of the yacht, requiring a more substantial budget compared to flights and ferries. It's important to research yacht rental services and secure bookings ahead of time to ensure availability and secure the best rates.
Accommodation Recommendations
Athens
In Athens, there are plenty of vibrant neighbourhoods and various accommodation options. Whether you prefer luxury hotels, budget-friendly stays or boutique guesthouses, you'll find great lodging choices.
Some of the top hotels in Athens:
Hotel Grande Bretagne: This luxury hotel offers beautiful rooms with elegant décor, a lavish spa, and an incredible rooftop restaurant with stunning views of the Acropolis.
Coco-mat Athens BC: Located near the Acropolis, this eco-friendly boutique hotel offers stylish rooms, a rooftop bar, and a relaxing spa.
AthensWas: Situated in the Plaka district, this modern hotel provides a sleek design and excellent rooftop dining.
Mykonos
Mykonos is known for its picturesque streets, vibrant nightlife, and beautiful beaches. When visiting Mykonos, we recommend choosing accommodations that fit your travel preferences.
Some popular hotels in Mykonos:
Kenshō Boutique Hotel & Suites: Nestled above the famous Ornos beach, this luxurious boutique hotel offers stylish rooms, an elegant pool, and a soothing spa.
Santa Marina Resort & Villas: A family-friendly resort that offers a private beach, stunning sea views, and a variety of restaurants and bars.
Mykonos Theoxenia: Located next to the iconic windmills, this modern design hotel provides easy access to the old town while offering exceptional comfort and amenities.
When booking your stay in both Athens and Mykonos, be mindful of peak travel times (June to September) as hotels tend to fill up quickly and prices are higher. Alternatively, consider shoulder season (April to early June, late September, and October) to enjoy milder weather and lower accommodation prices.
Top Attractions
Athens Highlights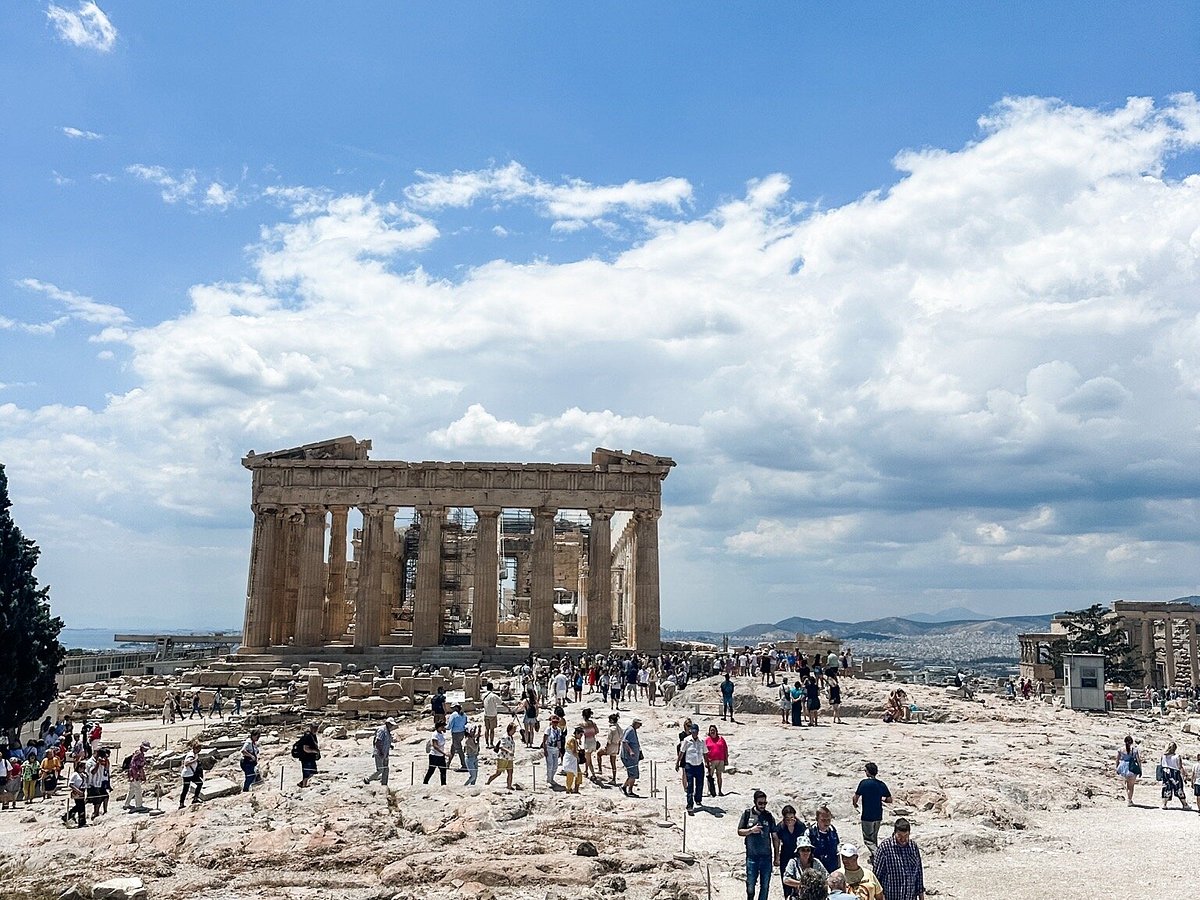 Athens, the capital of Greece, is known for its rich history and stunning ancient architecture. One of the must-visit attractions in Athens is the Acropolis, a UNESCO World Heritage site perched on a hill overlooking the city. Within the Acropolis, the Parthenon is an iconic temple dedicated to the goddess Athena.
Another popular destination is the Ancient Agora, a bustling marketplace dating back to Athenian times. The Temple of Hephaestus on the site is another well-preserved structure worth exploring.
For a taste of modern Athenian life, visit the vibrant neighbourhood of Plaka. Lined with cafés, shops, and museums, it's a perfect place to experience Greek culture.
Mykonos Must-Sees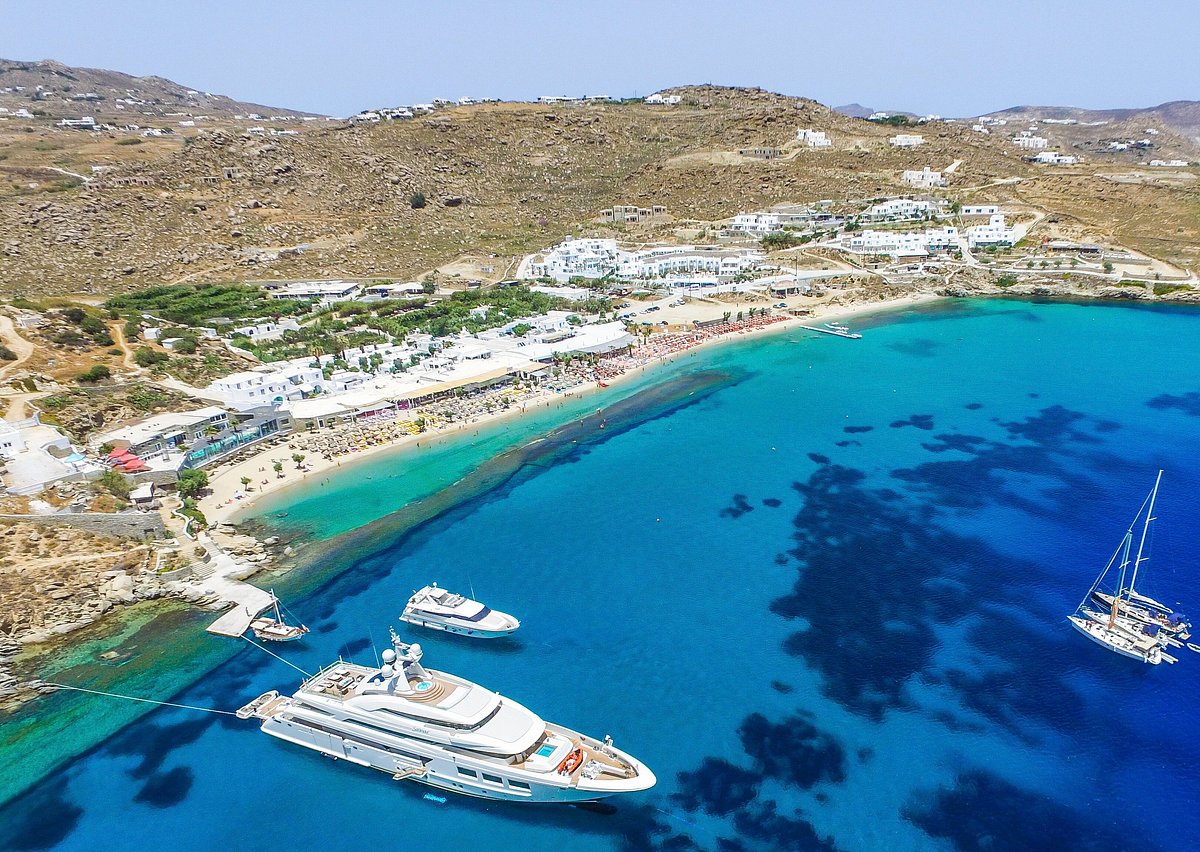 Mykonos, an idyllic island in the Aegean Sea, boasts a unique charm with its whitewashed buildings and turquoise waters. Start by exploring the enchanting Mykonos Town (also called Chora), where narrow streets, colourful doorways, upscale shops, and small blue and red domed churches create an unforgettable atmosphere.
Beaches are a major attraction in Mykonos. Some popular ones include:
Paradise Beach: Known for its lively beach bars and clubs, perfect for those who love to dance.
Super Paradise Beach: A cosmopolitan haven, offering a mix of relaxation and energetic parties.
Elia Beach: A family-friendly option, boasting calm waters and plenty of amenities.
For history enthusiasts, don't miss the UNESCO World Heritage site of Delos, just a couple of kilometres from the southwest coast of Mykonos. Discover its fascinating ancient excavations and learn more about Greek mythology and history.
Culinary Experiences
Favourite Restaurants in Athens
Athens offers a wide range of culinary delights with both traditional Greek and international dishes. Some of the top restaurants in Athens are:
Varoulko Seaside: Known for its innovative seafood dishes and picturesque seaside views, Varoulko Seaside provides a remarkable dining experience.
Ta Karamanlidika tou Fani: A hidden gem located near the central market, this traditional deli restaurant offers an array of meze and a selection of cured meats and cheeses.
To Kanoni: For fans of Greek souvlaki, To Kanoni is a must-try. Apart from the mouth-watering souvlaki, their gyros and pita bread are equally delectable.
Spondi: As a two-Michelin-starred French Mediterranean restaurant, Spondi serves a variety of exquisite dishes. The sophisticated ambience and impeccable service are also standouts.
| Restaurant | Cuisine | Location |
| --- | --- | --- |
| Varoulko Seaside | Seafood, Mediterranean, Greek | Piraeus |
| Ta Karamanlidika | Greek, Deli, Meze | Central Market |
| To Kanoni | Greek, Souvlaki etc. | Pagkrati |
| Spondi | French, Mediterranean | Pagkrati |
Best Dining in Mykonos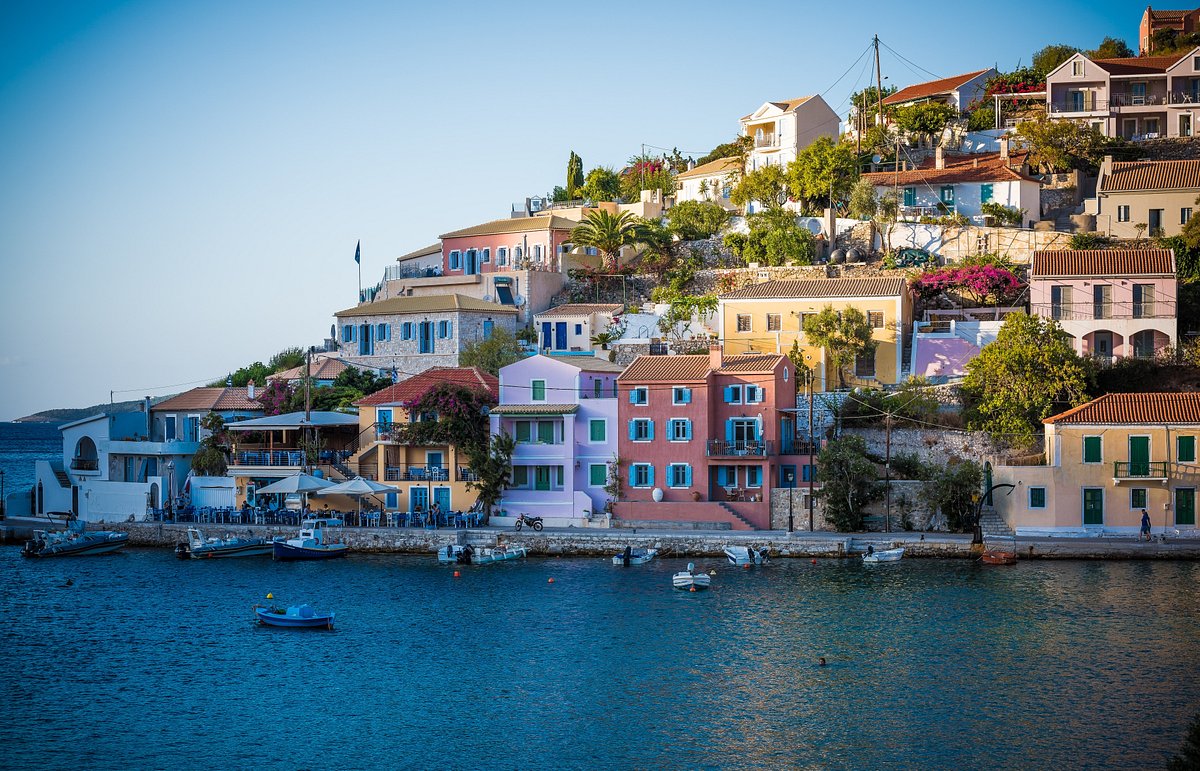 Mykonos is well-regarded for its unique culinary experiences and vibrant dining scene. Some top eateries in Mykonos include:
Kikis Tavern: This seaside tavern is famous for its simple, yet delicious, charcoal-grilled dishes. Its picturesque location overlooking the beach adds to the charm.
Mamalouka: With a lovely courtyard and distinctive Mediterranean-Asian fusion cuisine, Mamalouka presents a lovely atmosphere for an unforgettable evening.
Interni: Located in the heart of Mykonos Town, Interni offers exceptional Mediterranean dishes and a sophisticated, yet relaxed atmosphere.
| Restaurant | Cuisine | Location |
| --- | --- | --- |
| Kikis Tavern | Greek, Charcoal-grilled dishes | Agios Sostis |
| Mamalouka | Mediterranean, Asian fusion | Ornos |
| Interni | Mediterranean | Mykonos Town |
Do note that restaurants and venues are subject to change and it's recommended to verify their opening hours and current offerings before making plans.
Born and raised on the sun-drenched island of Crete, Sofia Mavromatis is a seasoned traveler and writer with a deep-rooted love for Greece's vibrant culture, stunning landscapes, and rich history.