Traveling between the stunning Greek islands of Crete and Santorini is a common desire for many tourists seeking to immerse themselves in the rich history, breathtaking landscapes, and inviting culture of these Mediterranean gems. With both Crete and Santorini offering a delightful array of sights and experiences to savour, it's no wonder that many visitors wish to explore both islands during their Greek holiday. In this article, we will guide you through the various ways to travel between Crete and Santorini, ensuring a smooth and enjoyable journey.
One of the most popular and efficient ways to embark on this island-hopping adventure is by taking a ferry, with several options available depending on your departure point and preferred duration of travel. Most ferries depart from the bustling port of Heraklion in Crete, while Rethymno can also be a viable option during the high season. These scenic ferry journeys can range from 2-5 hours and provide a fantastic opportunity to soak up the nautical atmosphere and take in the mesmerising views of the Aegean Sea.
Of course, if time is of the essence or you simply prefer to soar through the skies, flying between Crete and Santorini is also a feasible choice, with a journey time of approximately 3 hours 35 minutes. Additionally, organised tours offer another alternative, where you can be picked up from your hotel in locations such as Chania, Heraklion, Rethymno, or Agios Nikolaos, and taken directly to Santorini for a seamless travel experience.
Travel Options
Ferry Services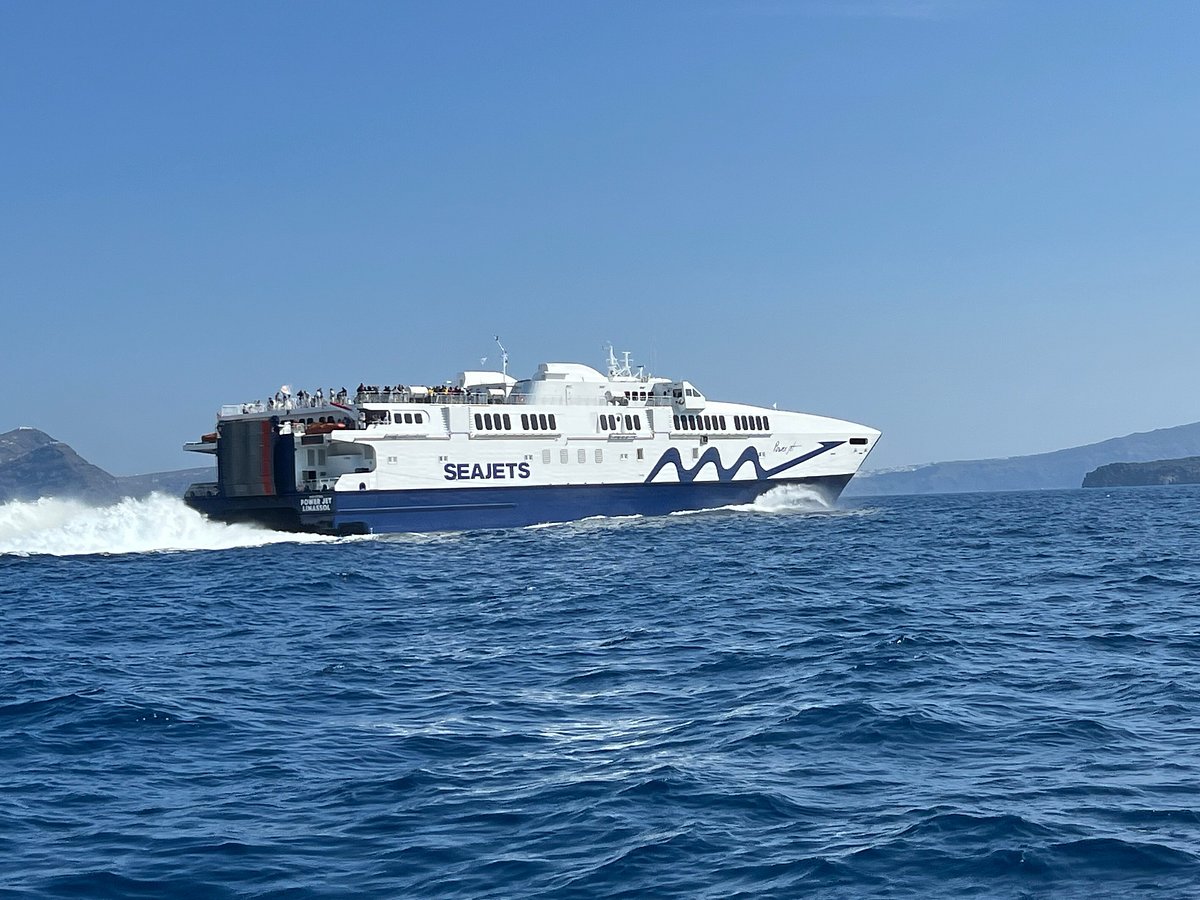 Traveling by ferry is a popular and convenient choice for getting from Crete to Santorini. There are high-speed ferry services available, such as Minoan Lines (Santorini Palace) and Seajets (Power Jet), which can transport you between the two islands in approximately 2 hours. A typical ferry ticket costs around $80.
Ferries depart from the central port of Heraklion and the port of Rethimnon on Crete, offering a range of options for travellers. If you're planning to visit multiple islands, some ferry providers also have tickets that cater to island hopping, making it an ideal choice for exploring the Greek islands.
Flight Connections
While flying directly between Crete and Santorini is not as common, there are other options to reach Santorini by air. For example, you can take a flight from Crete to Athens, then connect to a flight from Athens to Santorini. This would require careful planning and potentially increased travel time compared to taking a direct ferry, but it is an option worth considering if you prefer air travel or if ferry schedules do not match your itinerary.
Remember to keep an eye on prices and availability, as they can vary depending on the time of year and demand. Booking in advance is always a good idea to secure the best deals and ensure your trip goes smoothly.
Ferry from Crete to Santorini
Types of Ferries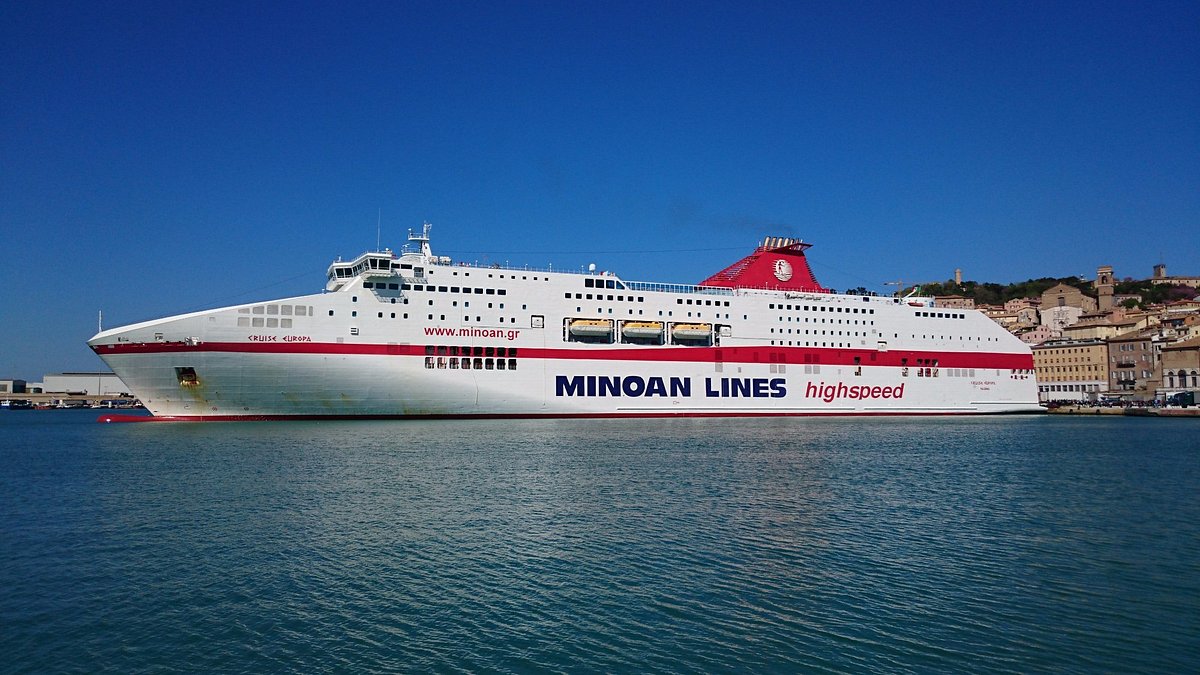 There are high-speed ferries available to take you from Crete to Santorini. Companies such as Minoan Lines (Santorini Palace) and Seajets (Power Jet) are popular options.
Travel Duration
Ferries are the quickest way to get from Crete to Santorini. High-speed ferries can take just around 2 hours for the journey. The time duration may vary depending on the ferry service you choose.
Ticket Booking
To book your ferry tickets, you have several options:
Check out sites like Ferryhopper, providing ferry timetables, ticket prices, and the ability to book directly online.
Ticket prices for the ferry trip from Crete to Santorini can be around $80. For those planning to visit multiple islands, some ferry services offer island hopping packages that include multiple destinations.
Keep in mind that prices and schedules may vary, so it's essential to plan your trip and book your tickets in advance to avoid any last-minute issues.
Flight from Crete to Santorini
Airlines and Routes
Unfortunately, there are no direct commercial flights from Crete to Santorini. To travel between these two popular Greek islands, passengers will need to transit through Athens. The primary airlines servicing this route are Aegean Airlines and Olympic Air.
Travel Duration
The overall travel duration for a one-way flight from Crete to Santorini, including a stopover in Athens, is approximately 2.5 to 3 hours. It's essential to factor in layover time in Athens when planning your journey, as this can significantly impact your total travel time.
Booking Flights
To book flights from Crete to Santorini, travellers can utilise various online booking platforms and search engines, such as:
Skyscanner: A popular and user-friendly search engine that compares numerous airlines and travel agencies
Expedia: An all-in-one platform for booking flights, accommodations, and car rentals
Aegean Airlines: The official website of Aegean Airlines, a major airline of Greece
Additionally, travellers can directly contact the airlines or consult with local travel agents for ticket reservations and assistance. It's worth noting that booking flights in advance can help secure better deals and a greater selection of available flights.
Practical Advice
Best Time to Travel
The best time to travel from Crete to Santorini is between April and October, during the peak season for Mediterranean travel. The weather is pleasant, and there are plenty of ferries available. However, keep in mind that the high season (July and August) can be quite crowded and expensive. If you prefer less crowded experience, consider travelling during the shoulder seasons (April, May, September, and October).
Luggage Considerations
When travelling by ferry, it's important to be mindful of your luggage. Space is limited, and you may need to carry your bags onboard. Here are some tips for a smoother experience:
Pack light and keep your luggage to a minimum.
Use luggage with wheels for easier transportation.
Carry a small backpack for essential items, such as passports, money, and medication.
Budget and Expenses
When planning your trip from Crete to Santorini, it's essential to consider your budget and expenses. Here's a breakdown of the approximate costs involved in the journey:
Ferry tickets: High-speed catamaran tickets cost around €80 one-way, while slower ferries are approximately €40.
Meals: Onboard meals and snacks can add up, so bring some food with you to save money.
Accommodation: Depending on your preferences, accommodation in Santorini can range from budget-friendly hostels to luxurious hotels. Research and book in advance for the best deals.
Excursions and activities: Santorini offers a variety of activities and experiences, such as wine tastings, volcano tours, and sunset cruises. Allocate funds for activities you're interested in, keeping in mind that costs can vary widely.
By considering these factors, you can plan a memorable trip from Crete to Santorini without breaking the bank.
Born and raised on the sun-drenched island of Crete, Sofia Mavromatis is a seasoned traveler and writer with a deep-rooted love for Greece's vibrant culture, stunning landscapes, and rich history.