Greece, a country known for its rich history and beautiful landscapes, also offers thrilling and fun experiences in the form of water parks. These parks provide visitors with a perfect way to cool off during the hot Mediterranean summers and are an excellent choice for a family day out. With a variety of water parks scattered across the country, Greece ensures that tourists and locals alike can find amusement and excitement close to their island destination.
Some of the most popular Greek water parks include Watercity Waterpark Themed Park, Acqua Plus Water Park, and the massive Faliraki Water Park in Rhodes. These attractions cater to a wide range of ages and interests, with amenities such as adrenaline-pumping water slides, splash pools, and wave machines just to name a few.
Another noteworthy park is Aqualand Corfu, considered one of the top water parks in Europe. This vast water park features 51 slides, pools, and a vast selection of other attractions suitable for young children all the way up to adventure-seeking adults. So, if you are visiting Greece and looking for a respite from the sun-soaked beaches, be sure to add one of these exhilarating water parks to your itinerary.
Popular Water Parks in Greece
Watercity Waterpark, Crete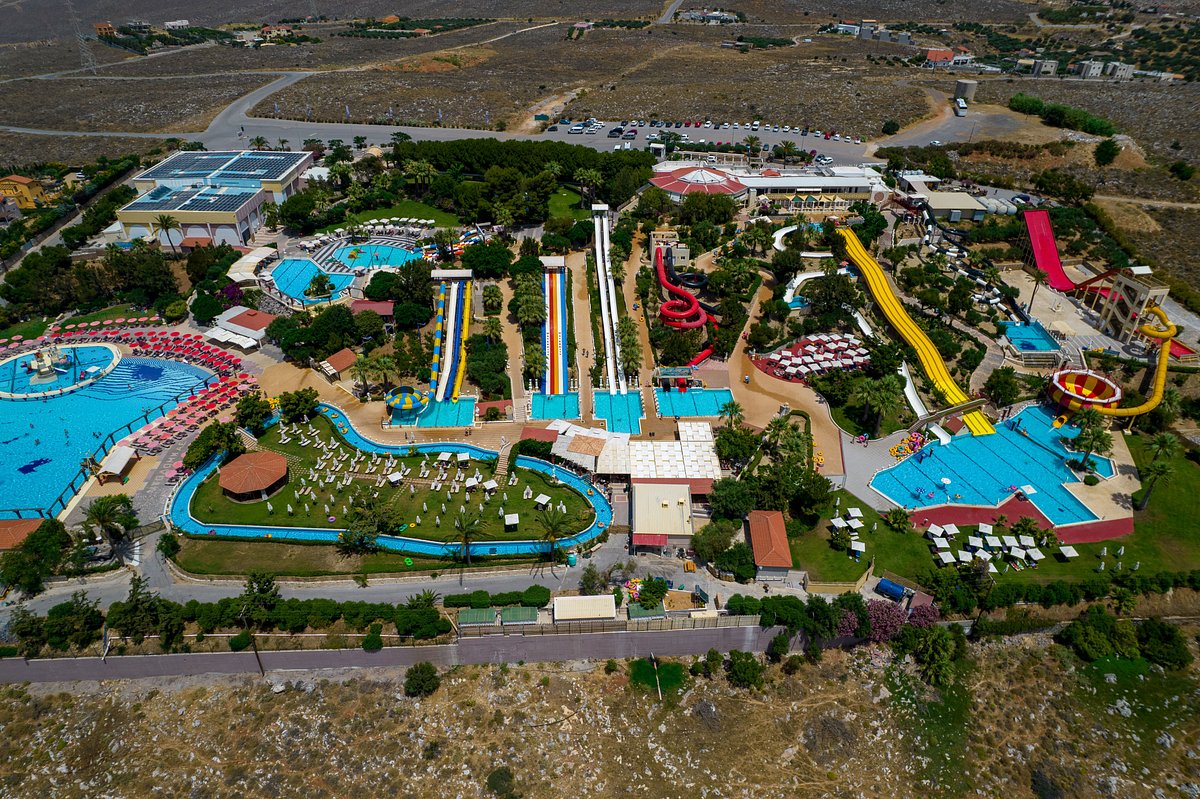 Watercity Waterpark, located in Themed Park, Crete, is a must-visit attraction for water enthusiasts. With a variety of slides and pools, families can spend an entire day splashing around in the refreshing waters. The water park has received glowing reviews, with visitors praising the friendly staff of the camera Pixel Holiday crew, particularly Joakin and Bruno. Make sure you don't miss this exciting spot on your next visit to Crete!
Aqualand Corfu Waterpark, Corfu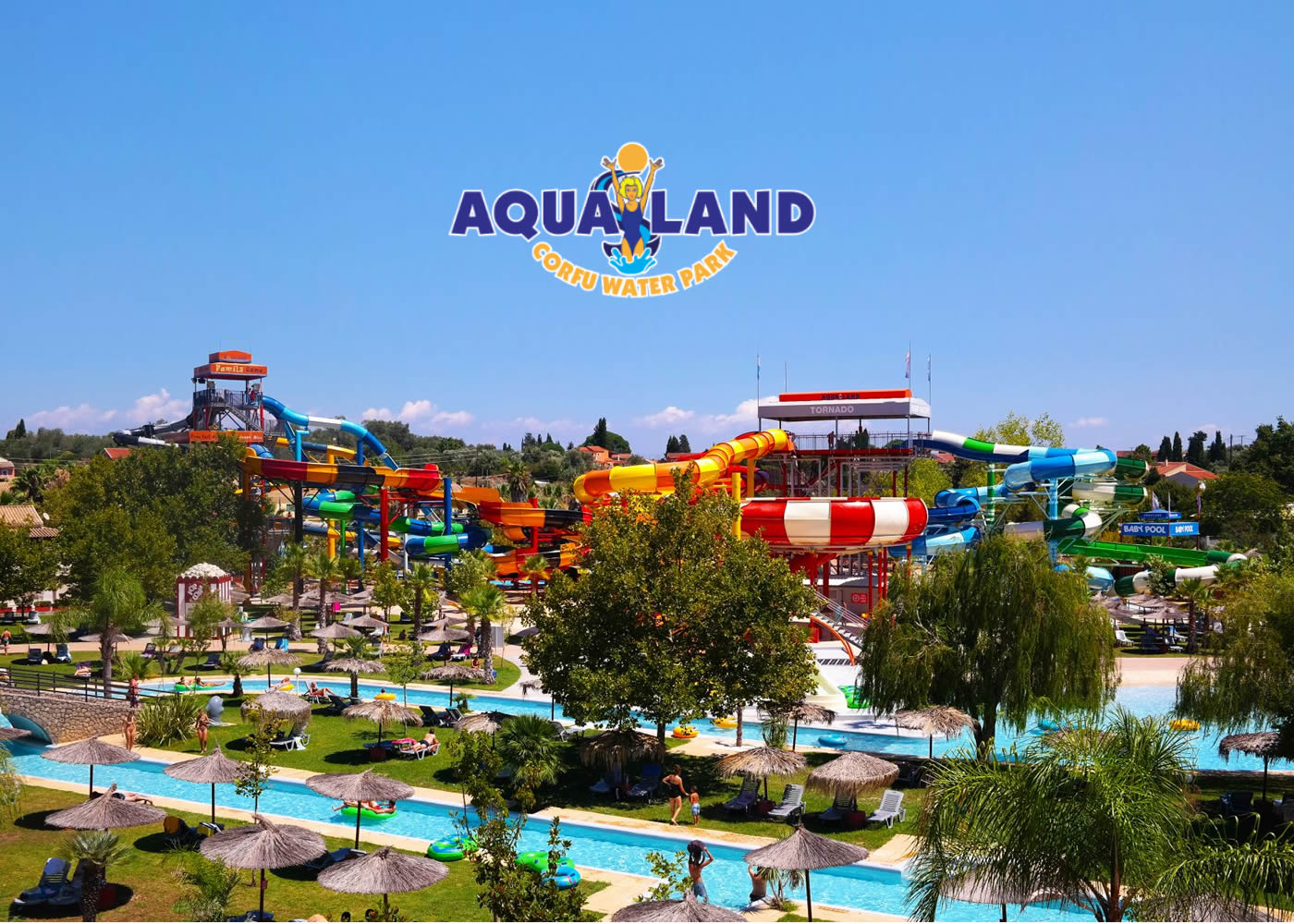 Aqualand, situated in Agios Ioannis, Corfu, is one of the biggest water parks in Europe. A perfect place for a fun-filled day with the family, it features a variety of thrilling water slides and rides for all ages. The park is open daily, from 10 am to 6 pm, providing ample time for visitors to enjoy all that Aqualand has to offer. The contact number for Aqualand is +30 2661 058351 if you require further information.
Aqua Plus Water Park, Hersonissos
Aqua Plus Water Park, tucked away in Hersonissos, provides an exciting array of water-related activities sure to delight both children and adults. This popular destination, highly rated by tourists, caters to visitors who wish to experience thrilling water rides or simply relax and soak up the sun. Keep Aqua Plus Water Park in mind as you plan your Greek adventure – it's sure to make a lasting impression!
Themed and Unique Water Parks
Allou! Fun Park, Athens
Allou! Fun Park is an exciting amusement park located in Athens, Greece. This enjoyable park features a variety of attractions, ranging from thrilling rides to entertaining games and activities. With its family-friendly atmosphere and exciting rides, Allou! Fun Park provides endless entertainment for visitors of all ages. Key attractions include:
Kidom: An area specifically designed for young visitors, full of fun and safe activities
4D Theatre: Experience the excitement of 4D movies with realistic simulations
Looping Star: A roller coaster that offers a thrilling loop-the-loop experience
Crazy Island Water Sports Park, Paros
Located on the picturesque island of Paros, Crazy Island Water Sports Park offers a unique and fun-filled experience for visitors who enjoy water sports. This water park provides a range of exhilarating aquatic activities, ensuring there's something for everyone to enjoy. Highlights of this park include:
Flyboard: Soar above the water using a jet-propelled flyboard, providing a thrilling experience for adventure-seekers
Stand up Paddleboarding: Explore the beautiful coastline of Paros while working on your balance and fitness with stand-up paddleboarding
Wakeboarding: Enjoy the rush of gliding across the water on a wakeboard, suitable for both beginners and experienced riders
These themed and unique water parks in Greece offer exciting and memorable experiences for all visitors. With a range of attractions and activities, both Allou! Fun Park and Crazy Island Water Sports Park provide the perfect escape for holidaymakers looking for a fun day out in the sun.
Tips for Visiting Greek Water Parks
Best Time to Visit
The best time to visit Greek water parks is during the summer months, from June to September, when the weather is warm and sunny. The water parks usually open around late May or early June and close in September or October. Operating hours may vary, so it is recommended to check each park's website for specific opening times.
Safety and Regulations
When visiting water parks in Greece, keep these safety tips and regulations in mind:
Always follow the park's safety guidelines and instructions given by the staff.
Supervise young children at all times, especially when they are in pools or on water slides.
Life jackets are often available for free or, in some cases, for rent. Make sure to wear one if you are not a confident swimmer.
Wear sunscreen with high SPF, as the sun can be intense during the summer months.
Wear appropriate footwear, such as water shoes or flip-flops, to prevent slipping on wet surfaces.
Budgeting and Prices
Greek water parks offer a range of pricing options, including single-day tickets and multi-day passes. Here are some budgeting tips for your visit:
Plan your visit and check each water park's website for specific ticket prices and special offers.
Discounts may be available for groups, families, or booking tickets online in advance.
Remember to budget for additional expenses such as food, drinks, lockers, and sunbed rentals.
Consider visiting during weekdays when parks are less crowded, and admission prices might be lower.
By planning your visit, familiarising yourself with safety measures and managing your budget, you will enjoy a fantastic day out at Greek water parks.