Nestled on the north coast of the picturesque Greek island of Corfu, Acharavi Beach is an idyllic destination for those seeking a relaxing and memorable Mediterranean getaway. This spacious beach resort is approximately 40 kilometres from the capital, Kerkyra, making it easily accessible for travellers who are eager to embrace the warm sun and crystal-clear waters that Corfu has to offer.
Acharavi Beach is a nature lover's paradise, boasting a long and inviting stretch of sand and pebbles that cater to both families and couples alike. With various tavernas, hotels, and activities in the surrounding area, visitors will find themselves immersed in the quintessential charm of an authentic Greek beach resort while still enjoying the comforts of modern amenities.
To make the most of your time in Acharavi, this guide offers useful information and helpful tips to ensure a memorable visit. From the best spots to sunbathe and swim, to uncovering local hidden gems, your Acharavi Beach experience awaits.
Acharavi Beach Overview
Location and Accessibility
Acharavi Beach is situated on the north coast of Corfu, approximately 40km from the island's capital, Kerkyra. It can be reached via a one-hour drive from Corfu Airport and Corfu Town. There are various transport options available to get to Acharavi Beach, including:
Private Transfers: A private transfer from the airport to Acharavi costs around €60.
Shared Transfers: Hoppa offers shared transfers from the airport.
Public Transport: Corfu's Green Bus system serves Acharavi with route A3, and there are daily buses from the KTEL bus station just outside Corfu Town. Tickets cost approximately €3.60 one way (prices may vary depending on where you purchase).
Beach Characteristics
Acharavi Beach is a long sandy beach with patches of pebbles, offering a shallow and sand-filled seabed. The beach is relatively quiet throughout the season, making it appealing for those seeking sunbathing opportunities and a casual swim. Furthermore, Acharavi offers a picturesque setting with stunning natural beauty and soft golden sands.
Weather and Climate
Acharavi enjoys a Mediterranean climate, with hot summers and mild winters. The warm season typically lasts from June to September, with average temperatures around 25°C, peaking in August at 30°C. The evenings are usually cooler, providing a pleasant atmosphere for strolls and outdoor dining. The water temperature is also inviting, averaging around 25°C during the summer months. While Corfu can experience occasional rainfall, it is generally short-lived and followed by sunny skies, ensuring an enjoyable beach experience during your visit.
Things to Do at Acharavi Beach
Acharavi Beach is a popular destination on the north coast of Corfu, Greece. Visitors can enjoy a wide range of activities and attractions while visiting this beautiful beach. In this section, we'll explore some of the top things to do at Acharavi Beach, including water sports and activities, beachside bars and restaurants, and nearby attractions.
Water Sports and Activities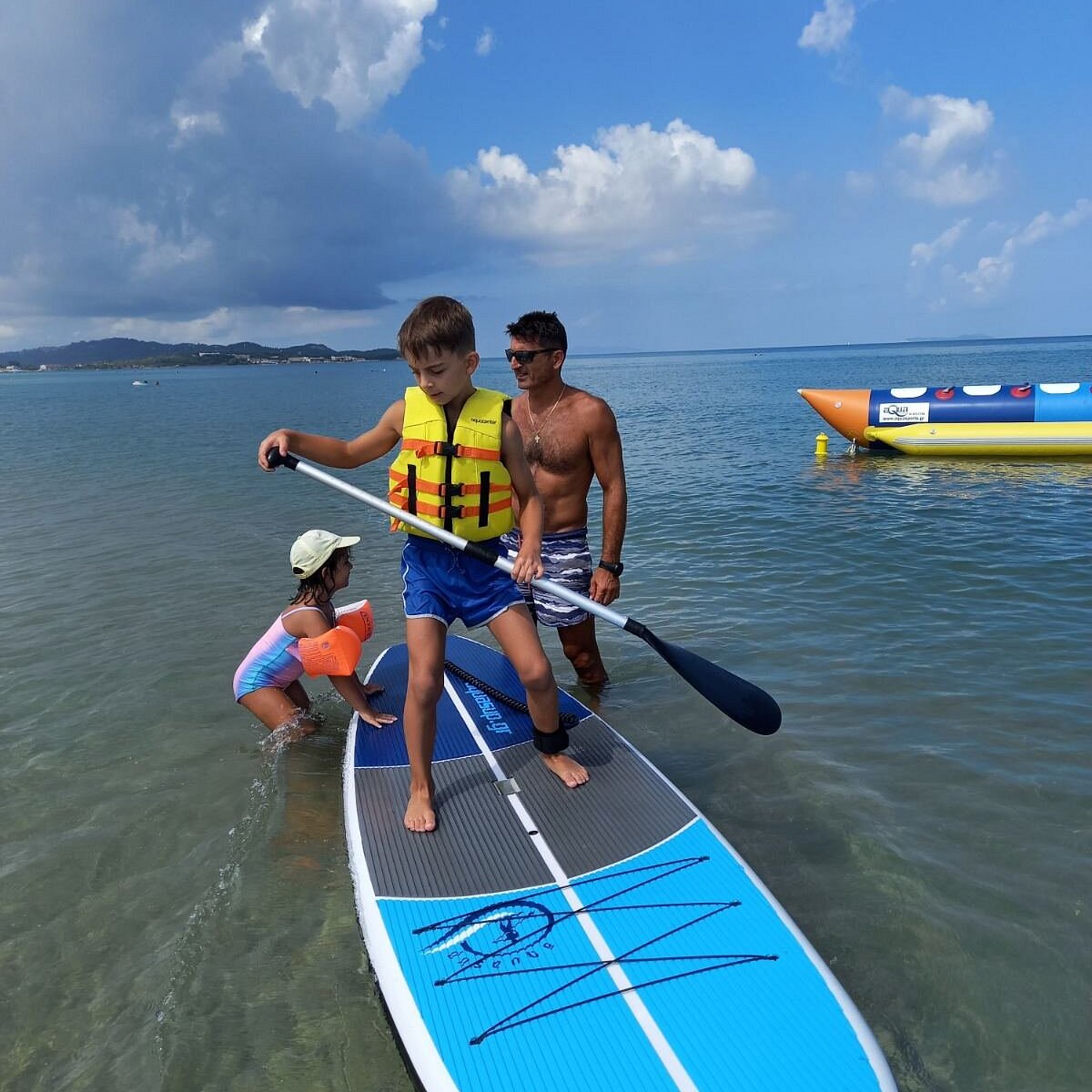 Acharavi Beach offers an excellent opportunity for water sports enthusiasts to have some fun in the sun. The shallow, sand-filled seabed makes it perfect for casual swimming and sunbathing. Visitors can also participate in water activities such as:
Kayaking
Windsurfing
Stand-up paddle boarding
Beachside Bars and Restaurants
When you're not enjoying the water, you may want to relax and unwind at one of Acharavi Beach's beachside bars and restaurants. With a diverse selection of options available, there's something to suit everyone's tastes. Visitors can enjoy:
Fresh seafood dishes at local Greek tavernas
International cuisine at numerous restaurants
Refreshing cocktails and drinks at beach bars
Nearby Attractions
Beyond the beach itself, there are plenty of nearby attractions that visitors can explore while visiting Acharavi. Some notable attractions include:
Almyros Beach: A picturesque beach just a short distance from Acharavi, popular among beachgoers.
Full Day Private Tour at Northern Corfu: Bus Tours starting from $542.43, allowing you to discover the beauty and charm of Acharavi and its surrounding areas.
Cultural & Theme Tours, Shore Excursions, and Walking Tours: These activities will enable you to delve into the rich history and culture of the region and make your visit to Acharavi even more memorable.
A visit to Acharavi Beach promises an exciting and memorable experience, with plenty of activities, delicious cuisine, and beautiful scenery to enjoy during your stay.
Accommodation Options
Acharavi Beach is a popular destination along the north coast of Corfu, offering beautiful sandy beaches and a variety of accommodations to suit all budgets and preferences. In this section, we will explore the different options available, focusing on hotels and resorts, and villas and holiday apartments.
Hotels and Resorts
Acharavi is home to many well-loved hotels and resorts that cater to visitors seeking a comfortable and luxurious experience. One highly rated choice is the Acharavi Beach Hotel, situated directly on the beachfront and showcasing modern amenities and high-class facilities. Prices at the Acharavi Beach Hotel can range from £69 to £120, making it an affordable yet excellent service option for visitors.
Another convenient option is Marie Hotel, nestled in Acharavi Village. This hotel features a beautiful surrounding garden, complete with a bar-restaurant and pool. of course, many other hotels can be found in the area to cater to a range of budgets and personal preferences.
Villas and Holiday Apartments
For those who prefer more private, personalised accommodation, Acharavi offers numerous villas and holiday apartments. These self-catering accommodations allow visitors to enjoy a more flexible and independent holiday experience. Options can range from budget apartments to luxurious villas with private pools and gardens.
Some popular platforms to find and book a villa or holiday apartment in Acharavi include:
When selecting the perfect accommodation option, consider factors such as proximity to the beach, local amenities, and individual preferences. With such a diverse range of options in Acharavi, you will undoubtedly find the perfect place to stay and enjoy all that the stunning beach resort has to offer.
Local Tips and Recommendations
Getting Around
Acharavi Beach is located on the north coast of Corfu, about 40 km from the capital Kerkyra. To reach Acharavi, you can use various roads which lead down between hotels and tavernas from the main road that goes through the town. However, it is recommended to rent a car or scooter to explore the area and nearby attractions at your own pace. Alternatively, you can use the local bus services to travel around the island.
Safety and Regulations
Acharavi Beach is generally safe for visitors, with lifeguards on duty during the peak season. However, to ensure a pleasant and secure experience, follow a few simple guidelines:
Don't leave your belongings unattended on the beach
Be cautious if swimming with children, as some parts of the beach have pebble patches
Wear appropriate footwear to protect your feet from sharp stones
Sunbathe safely by using sun protection and staying hydrated
Acharavi Beach adheres to the standard beach regulations in Corfu. Be respectful of the environment by:
Not littering or disposing of waste in the sea
Avoiding disturbing the local fauna
Respecting protected areas and dunes
Eleni Vasiliadis, a native of the picturesque island of Corfu and co-founder of Greek Island, is a seasoned traveller, accomplished writer, and passionate advocate for Greek culture and cuisine.