Nestled on the west coast of the beautiful island of Corfu, Agios Gordios Beach is a favourite destination for travellers from around the world. Its stunning golden sand stretches for 1.5km alongside a crystal-clear turquoise sea, and the picturesque cove is surrounded by a lush green landscape of olive tree forests, vineyards, and impressive rocks. The beach is conveniently located just 17km away from the capital, Kerkyra, making it easily accessible for both tourists and locals alike.
Agios Gordios Beach is perfect for holidaymakers looking for an ideal blend of relaxation, awe-inspiring nature, and fun-filled activities. The beach, whose name derives from the church of Agios Gordios situated literally on the sea at the centre of the beach, offers an array of activities, including watersports and quad biking. While its central location and free parking availability make it a popular spot for day trips, there are also plenty of options for extended stays, with a range of bars, clubs, and eateries providing a fulfilling holiday experience.
Visitors to Agios Gordios can expect to find everything they need within the quaint resort, including accommodation, dining establishments, and local amenities. While the beach itself is the main attraction, the surrounding area is also well worth exploring, with nearby hiking trails offering stunning views of Corfu's landscapes. So whether you're seeking the perfect beach getaway, a taste of traditional Greek culture, or simply a peaceful retreat from the world, Agios Gordios Beach has something for everyone.
Getting to Agios Gordios Beach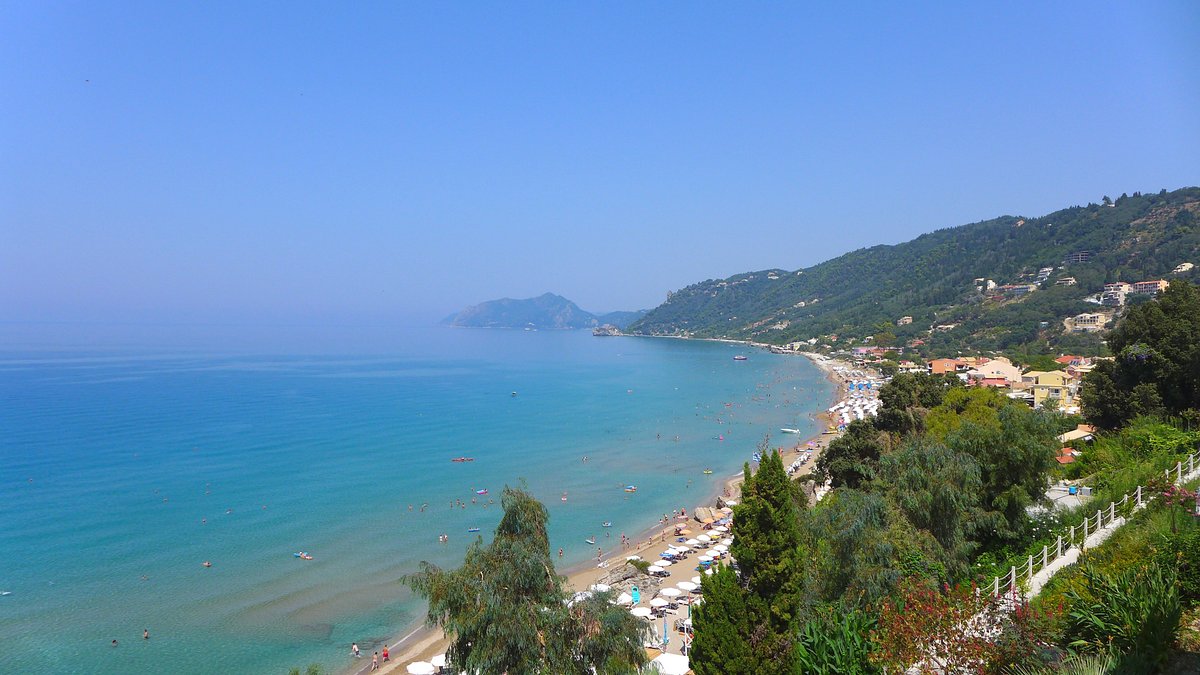 Agios Gordios beach lies roughly in the middle of the west coast of Corfu. Situated about 17 km away from the capital, Kerkyra, this beautiful beach can be easily reached through different modes of transportation.
By Car
Driving to Agios Gordios Beach offers a great opportunity to admire the scenic beauty along the way. It will take you approximately half an hour to cover the 17 km trip from the capital, Kerkyra. Free parking is available just behind the beach, making it convenient for those travelling by car. Remember to be cautious on the winding roads and adhere to the local driving regulations.
By Bus
The Green bus route connects Agios Gordios to Corfu Town, providing an affordable and convenient way to reach the beach. The buses run at regular intervals throughout the day, making it easy for visitors to plan their trip accordingly. Ensure to check the bus schedule beforehand and keep some change handy if needed.
By Taxi
For a more comfortable, direct, and time-saving option, you can choose to take a taxi from Corfu Town or other parts of the island to Agios Gordios Beach. Taxis are readily available and can be hailed from taxi stands, arranged through hotel reception, or pre-booked via phone or mobile applications. Remember to agree on the fare upfront or ensure the taxi is metered to avoid any discrepancies later.
Beach Amenities
Sunbeds and Umbrellas
Agios Gordios Beach offers sunbeds and umbrellas for visitors looking to relax and soak up the sun. There is usually a reasonable fee for the usage of these facilities; however, prices may vary according to demand and the season. The chairs and umbrellas can be found along the entire 1.5km stretch of golden sand, providing visitors with plenty of space to find their perfect spot on the beach.
Water Sports
For those seeking adventure, Agios Gordios Beach has a range of water sports to suit everyone. With its clear waters and fascinating underwater world, the beach is an ideal location for snorkelling and scuba diving. In addition, a variety of thrilling water sports such as jet skiing, windsurfing and parasailing can be enjoyed by adrenaline junkies and water sport enthusiasts.
Beach Bars and Restaurants
For a leisurely break, the beach at Agios Gordios is well-equipped with several beach bars and restaurants, some of which are located right on the shore offering stunning views of the surrounding area. Visitors can expect to find a mix of local and international cuisines, as well as refreshing drinks and snacks. When night falls, you can continue to enjoy their chilled atmosphere and indulge in a refreshing cocktail as you watch the sunset over the horizon.
Accommodation Options
Agios Gordios offers a variety of accommodation options for travellers. Ranging from hotels and beach resorts to villas and apartments, there is something to suit everyone's needs.
Hotels
Some of the popular hotels near the beach in Agios Gordios include:
Agios Gordios Beach Resort – traveler rating: 5/5
Romantic Palace Beach Apartments – traveller rating: 4.5/5
These hotels offer great views, comfortable rooms, and easy access to the beautiful Agios Gordios beach.
Villas
For those looking for a more private and luxurious option, there are plenty of villas available in Agios Gordios. Renting a villa offers more space for families or groups. Additionally, many villas come with their own pool and other amenities, making it the perfect choice for a relaxing holiday. Browse through villa rental websites or check with local agents to find your ideal holiday villa.
Apartments
If you prefer the comfort of a home away from home, consider renting an apartment. Agios Gordios offers numerous apartments, some close to the beach and others within the village. Many of these apartments offer fully equipped kitchens, private balconies and terraces, and stunning sea views. The Apartments in Agios Gordios cater to a range of budgets, so you can find something that works for you.
Nearby Attractions
Aqualand Waterpark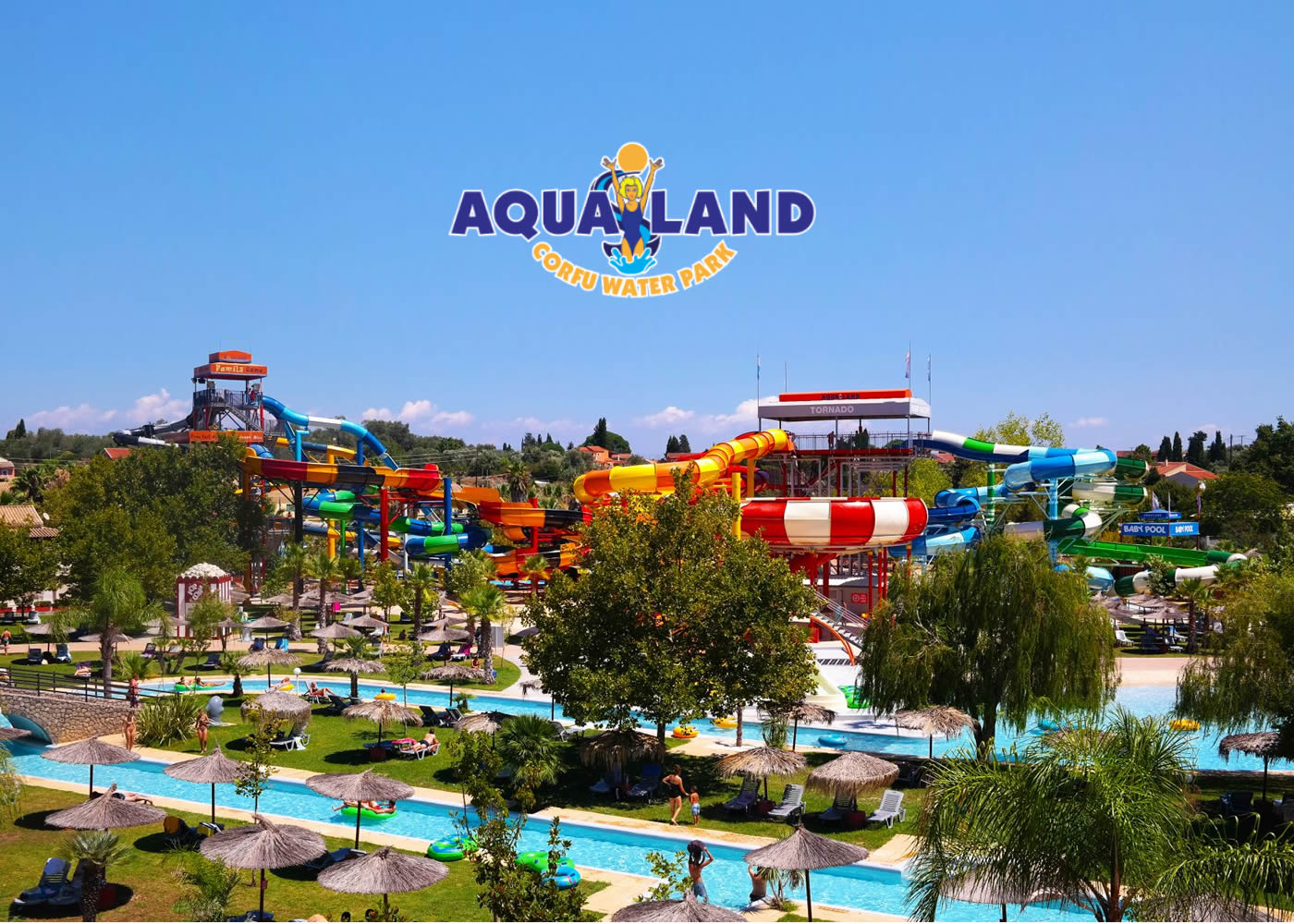 Aqualand Waterpark is an exciting destination for families and a great day out when visiting Agios Gordios Beach. Located about 14km away from Agios Gordios, the park offers a variety of water rides, slides, and pools for all ages to enjoy. Some popular attractions include the Black Hole, a thrilling ride through a dark tunnel, and the Lazy River, where visitors can relax and float along on a gentle current. There are also play areas for children and plenty of sun loungers to relax on during your visit.
Corfu Old Town
Corfu Old Town, a UNESCO World Heritage site, is rich with history and perfect for a day trip from Agios Gordios Beach. Approximately 16km away, the old town is an enchanting mix of Venetian, French, and British architecture. Narrow streets lined with shops and cafés lead to stunning plazas and historical landmarks, such as the Old Fortress and St. Spyridon Church. While exploring, be sure to stop at one of the local tavernas to sample some traditional Greek cuisine.
The Village of Sinarades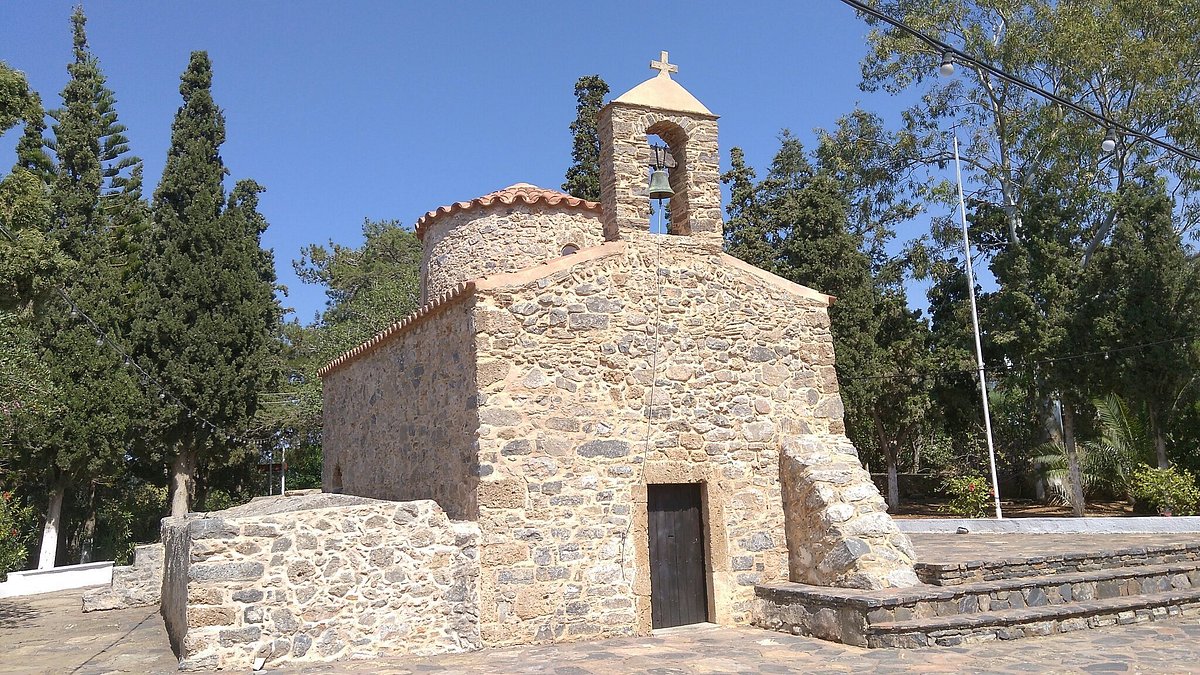 Only 3km away from Agios Gordios Beach, the picturesque village of Sinarades offers an authentic glimpse into traditional Corfiot village life. As you wander the narrow cobblestone streets and admire the colourful houses, you can also explore:
Folklore Museum of Sinarades: This museum is dedicated to preserving Corfu's traditional ways of life, featuring exhibits on local crafts, clothing, and daily life in the village.
Agios Nikolaos Church: Dating back to the 17th century, this church is an important landmark in Sinarades, featuring beautiful frescoes and a serene atmosphere.
Make sure to take the time to simply enjoy the village's relaxed pace and warm hospitality while immersing yourself in Corfu's charming culture.
Safety and Accessibility
Lifeguards
While Agios Gordios beach is known for its golden sand and serene waters, it's important for visitors to be aware of safety measures and facilities available on the beach. At the moment, there is no mention of lifeguards on duty at Agios Gordios beach. However, the sea tends to be calm and shallow which makes it suitable for swimming, even for children. It's always advisable to monitor the sea conditions and follow basic water safety guidelines when swimming or participating in water sports activities.
Disabled Access
Agios Gordios beach is accessible for wheelchair users and people with mobility issues, as it provides ramps and paths from the road down to the beach. The village of Agios Gordios offers a handful of tavernas along the beachfront, making it convenient for visitors with disabilities to dine and relax close to the shore. It's important to note that some areas of the beach may be less accessible due to soft sand or uneven terrain.
Eleni Vasiliadis, a native of the picturesque island of Corfu and co-founder of Greek Island, is a seasoned traveller, accomplished writer, and passionate advocate for Greek culture and cuisine.