Nestled along the southwest coast of Corfu, Halikounas Beach, often known as Chalikounas, offers a picturesque escape for travellers seeking sun, sand, and relaxation. A mere 30km from Corfu's capital and accessible within a 45-minute drive, visitors to this stunning stretch of shoreline will find themselves surrounded by natural beauty and tranquillity.
With its vast expanse of golden sand stretching over 3km and pristine waters, Chalikounas Beach presents an ideal destination for beach lovers seeking solitude or a fun-filled day of activities. Recognised for its ecological significance, this expansive beach also serves as a nesting ground for several species of sea turtles, including the endangered loggerhead turtle.
Watersport enthusiasts will especially appreciate the shallow waters and gentle winds, making Chalikounas Beach an ideal spot for both windsurfing and kitesurfing. With a backdrop of Lake Korission, this destination offers a unique blend of sandy shores, rich wildlife, and crystal-clear waters, promising a memorable experience for all who visit.
Chalikounas Beach Overview
Location and Accessibility
Chalikounas Beach, also known as Halikounas, is situated on the south-west coast of Corfu, Greece. The beach is approximately 30km south of the capital and can be reached within a 45-minute drive. Chalikounas Beach is 28 km away from Corfu city and is accessible to disabled visitors thanks to sea tracks available at the location.
Natural Features
The vast sandy beach of Chalikounas is renowned for its ecological significance. It is a nesting ground for several species of sea turtles, including the loggerhead turtle. Surrounded by cedars, the beach offers an exotic atmosphere and is considered the largest on Corfu island. The shallow waters and gentle winds make it an ideal spot for water sports enthusiasts, leading to its popularity among windsurfing and kitesurfing aficionados.
Best Time to Visit
The most favourable months to visit Chalikounas Beach and other nearby beaches are June, July, August, and September. During these months, the temperatures are warm, making it the perfect time to enjoy the sandy shores, crystal-clear water, and various activities available at Chalikounas Beach.
Activities and Attractions
Chalikounas Beach is a beautiful destination with plenty of activities and attractions for visitors to enjoy. From water sports and recreational activities to exploring nearby attractions and tasting local cuisine, there's something for everyone at Chalikounas Beach.
Water Sports and Recreation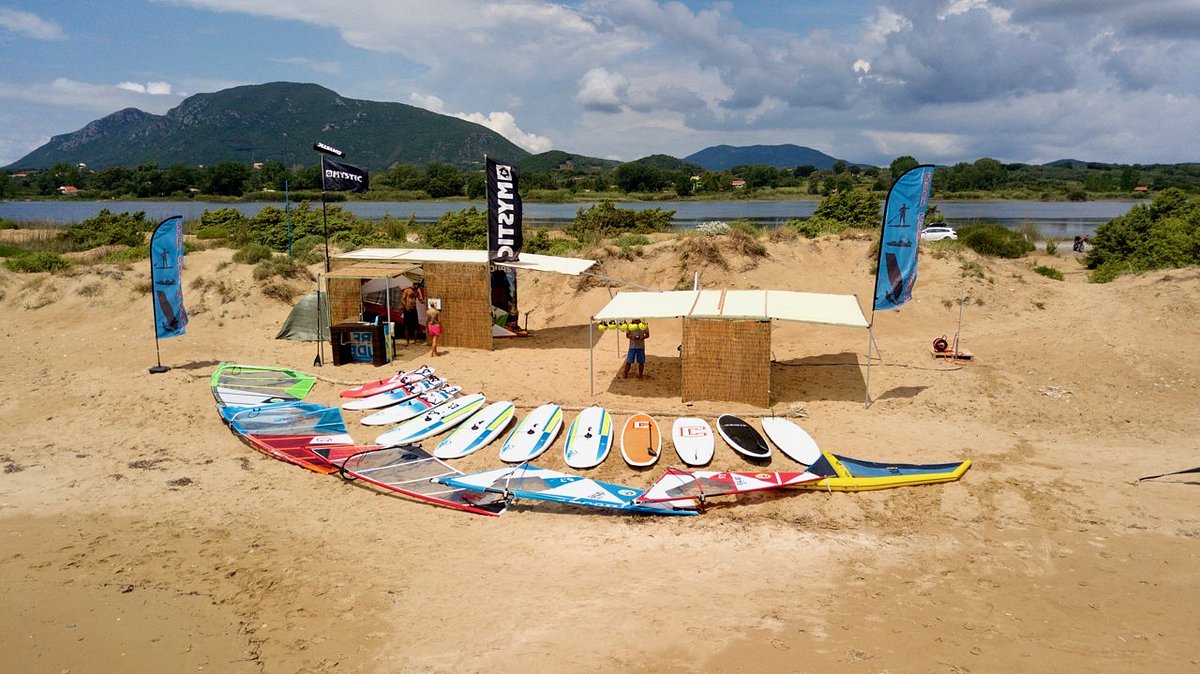 Halikounas Beach is the perfect spot for water sports enthusiasts. At the beach's entrance, there is a bar and watersports area where visitors can hire sunbeds and umbrellas. The beach offers various activities such as:
Jet skiing
Windsurfing
Paddleboarding
With its calm waters and stunning surroundings, it's an ideal place for those looking to relax and enjoy water-based activities.
Exploring Nearby Attractions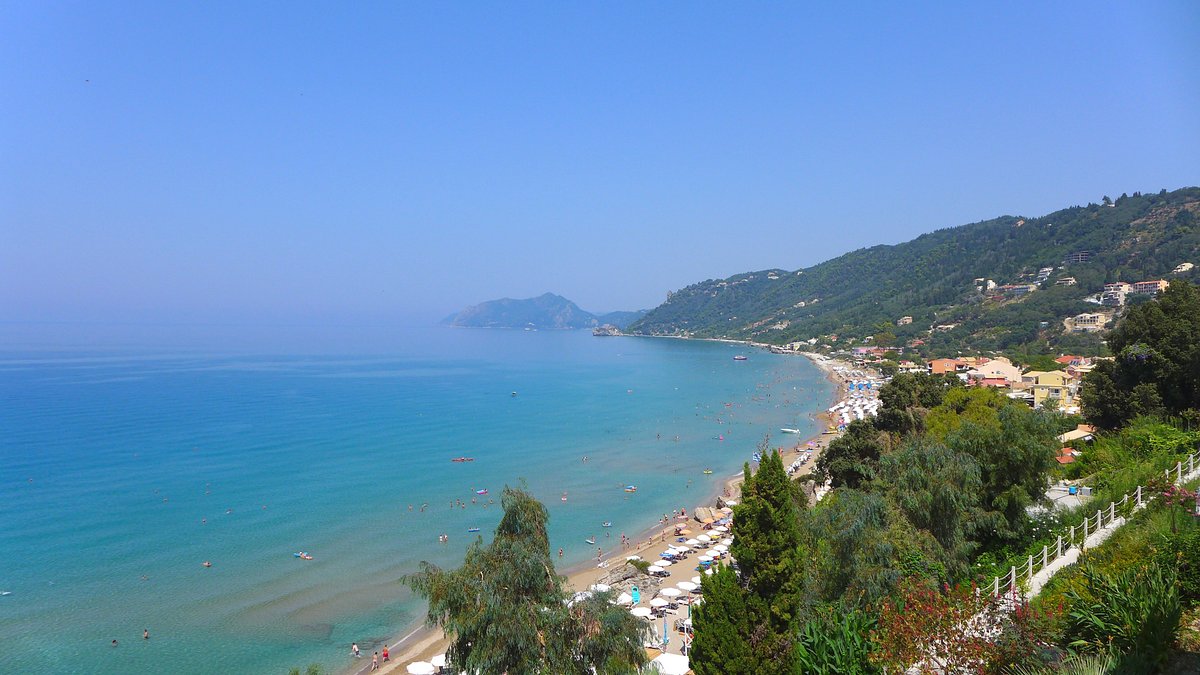 Chalikounas Beach isn't the only attraction to explore in the area. Nearby attractions worth visiting include:
Halikoura Beach: Just a short distance from Halikounas Beach, Halikoura Beach is another beautiful spot to enjoy the sun and sand.
Agios Georgios Beach: Situated near Chalikounas, Agios Georgios Beach boasts crystal clear waters and a long, sandy shoreline.
Local Cuisine
For those interested in tasting the local flavours, there are several restaurants and tavernas situated close to Chalikounas Beach. Sample traditional Greek dishes such as:
Souvlaki
Moussaka
Pastitsio
Dine at local establishments while enjoying the beautiful views of the beach and the stunning Corfu landscape.
Chalikounas Beach offers a range of exciting activities and attractions for visitors. With its beautiful beaches, water sports, nearby attractions, and local cuisine, it's a destination that truly has something for everyone.
Accommodation Options
Hotels and Resorts
Chalikounas Beach, located on the southwest coast of Corfu, offers a variety of nearby hotels and resorts for travellers. Some popular accommodation options in the area include:
All-inclusive hotels: A number of all-inclusive resorts provide a convenient and stress-free stay, catering to your every need.
Family-friendly options: Hotels with amenities such as swimming pools, free parking, and breakfast included can make your holiday comfortable and enjoyable for the entire family.
Luxury stays: For those seeking a more upscale experience, you can find 5-star hotels that offer top-notch amenities and services.
Here's a summary of some hotel options near Chalikounas Beach:
| Hotel Features: | Hotels near Chalikounas Beach |
| --- | --- |
| All-inclusive | 440 |
| Breakfast included | 204 |
| 5-star hotels | 26 |
| Free Wifi | 326 |
| Pool | 350 |
| Free parking | 416 |
Take the time to research and compare hotels in the area on websites like Tripadvisor to find the best option for you.
Villas and Holiday Homes
If you prefer a more private and spacious accommodation, Chalikounas Beach offers a range of holiday homes and villas. These properties can provide you with a more personalised holiday experience, with several benefits such as:
Self-catering facilities: Fully equipped kitchens allow you to prepare meals according to your preferences and schedule.
Privacy: Villas and holiday homes often offer more seclusion than hotels, giving you a chance to relax and unwind in a peaceful setting.
Customisable stay: Rentals can cater to individuals, couples, families or larger groups, providing a range of options to suit your specific requirements.
To find the perfect holiday home or villa near Chalikounas Beach, browse property listings on popular rental websites and carefully read reviews from previous guests to ensure you have an enjoyable stay.
Safety Tips and Recommendations
Beach Safety
Chalikounas Beach is known for being a safe and vast sandy beach, making it an excellent choice for families and visitors alike. However, it's essential to be mindful of normal beach safety guidelines, which include:
Always supervise children near the water to ensure their safety.
Be aware of the weather conditions and stay informed about potential hazards, such as strong winds, which can create stronger waves.
Keep a lookout for warning flags and heed any advice provided by local authorities regarding water conditions and safety precautions.
Chalikounas Beach is popular for surfing and sailing due to its wavier conditions compared to beaches further south; make sure to use proper equipment and follow guidelines for these activities.
Protecting the Environment
Chalikounas Beach is a beautiful natural location, and it's crucial that visitors respect its delicate ecosystem. To help preserve the environment, take into account the following recommendations:
Do not leave any rubbish on the beach. Dispose of your waste properly in designated bins.
Avoid picking up or disturbing any plants or wildlife found in the area. Chalikounas Beach is on the edge of Lake Korission, and it's essential to protect its ecosystem.
Be cautious about using any chemical-based sun lotions or insect repellents, as these can have adverse effects on the local environment. Choose eco-friendly alternatives when possible.
By following these simple guidelines, visitors can enjoy Chalikounas Beach and its surroundings while ensuring that the area remains unspoilt for future generations.
Hailing from the historic city of Thessaloniki, Nikos Tsakiris is a passionate explorer, seasoned writer, and co-founder of Greek Island, the definitive travel blog for the Greek Islands.