Corfu, a picturesque island nestled in the Ionian Sea, offers travellers an idyllic destination to bask in the sun. June is a superb time to visit, as the warm Mediterranean climate creates the perfect conditions for a beach holiday. The island experiences balmy evenings and hot days, encouraging visitors to explore its natural beauty and historical sites during their stay.
As summer begins to take hold, the average daily temperature during June in Corfu is a pleasant 23°C (73°F), with highs around 27°C (82°F) and lows of 17°C (64°F). This moderate heat is comfortable, allowing travellers to enjoy outdoor activities without feeling overwhelmed by scorching temperatures. The heat index is typically around 30°C (86°F), though it is advisable to take breaks from prolonged sun exposure or intense activity, as exhaustion may occur.
Sun-seekers can rejoice in the abundant sunshine during this period, with a 72% chance of daily sun and only 8mm of rain throughout the month. With such favourable weather conditions, June offers the opportunity to drink in the beauty and culture of Corfu, from its pristine beaches to historical landmarks, in ideal comfort.
General Weather in Corfu in June
Temperature and Sunshine
In June, the weather in Corfu, Greece, experiences moderate heat with an average high-temperature of 28°C (82.4°F) and an average low-temperature of 16.4°C (61.5°F). Throughout the day, you can expect an average temperature of 24.6°C (76°F) during daytime and around 23.5°C (74°F) during nighttime. Summer days are usually hot with balmy evenings, so it's recommended to pack light and cool clothing. You can expect approximately 10 hours of sunshine on average, offering plenty of daylight for outdoor activities.
Rainfall and Humidity
June is relatively dry in Corfu, with an average rainfall of just 20 mm throughout the month. The number of rainy days is typically around 4 days in June. However, it's still a great idea to be prepared with a light rain jacket or umbrella, just in case. The average humidity in June is around 69%, making the weather comfortable for most visitors.
Sea Conditions
The Ionian Sea surrounding Corfu becomes warmer during June, with an average sea temperature of 23°C (73°F). This makes it an ideal time for swimming and various water-based activities. Beachgoers can enjoy the pleasant sea conditions and partake in recreational activities such as swimming, snorkelling, and diving.
To summarise, June is a great time to visit Corfu, with warm temperatures, sunny days, and comfortable sea conditions. Be sure to pack light, breathable clothing and enjoy the delightful weather while exploring the beautiful island.
Best Activities and Places to Visit
Outdoor Activities
Corfu offers a variety of outdoor activities to enjoy during the pleasant June weather. Nature enthusiasts will love exploring the island's scenic hiking trails such as the Corfu Trail, a 220 km route that showcases the island's natural beauty. For those interested in water sports, the crystal-clear waters of Paleokastritsa and Glyfada beaches provide the perfect setting for swimming, snorkelling, and kayaking adventures.
Exploring Corfu Town
The historic Corfu Town is a UNESCO World Heritage site that provides a charming atmosphere for strolling through its narrow cobblestone streets. Visitors can explore the ancient fortresses, historic buildings, and fascinating museums, such as the Museum of Asian Art and The Archaeological Museum. Don't forget to pay a visit to the Church of Saint Spyridon, one of the most important religious sites in Corfu.
Beach Excursions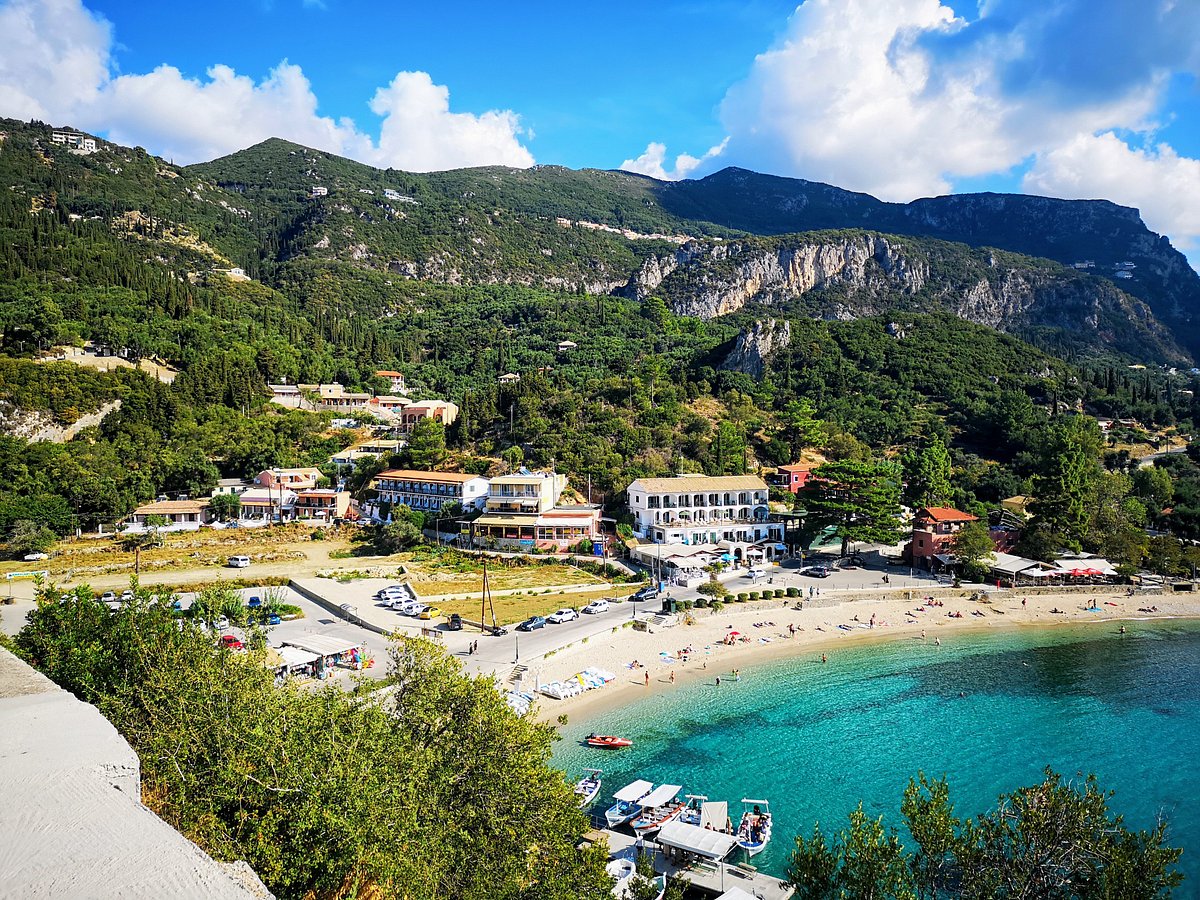 June is an ideal month to experience the many beautiful beaches that Corfu has to offer. Some must-visit beaches include:
Paleokastritsa: Known for its turquoise waters and golden sands, Paleokastritsa is perfect for sunbathing and swimming. Boat rentals are also available for exploring the nearby caves and secluded beaches.
Glyfada: A popular destination for beachgoers, Glyfada offers a lively atmosphere, beach bars, and water sports facilities.
Agios Gordios: This picturesque beach surrounded by cliffs offers a charming village atmosphere, calm waters, and plenty of sunbeds and umbrellas for a relaxing day by the sea.
Remember to bring sun protection and stay hydrated while enjoying these fantastic activities and places to visit during your trip to Corfu in June.
Packing Tips for June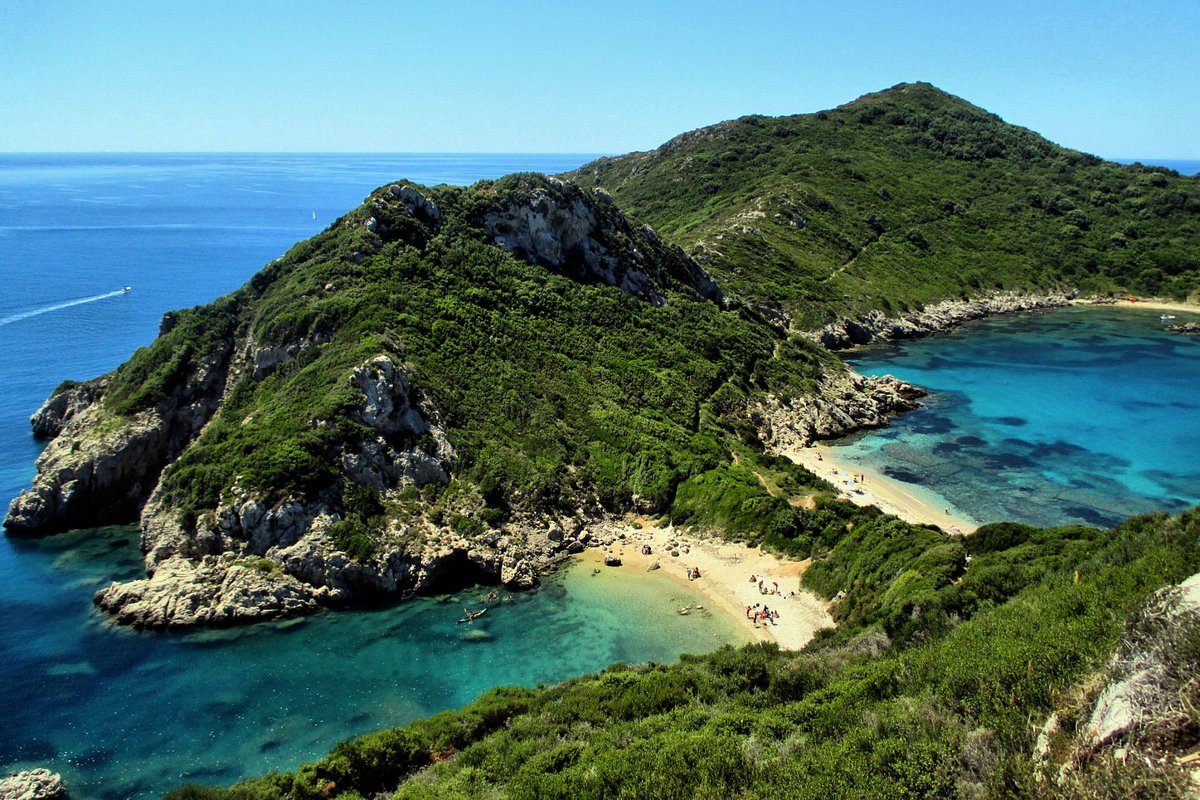 Clothing and Footwear
In June, Corfu experiences warm weather with temperatures averaging 26-28°C, making it an ideal time for a beach vacation. Make sure to pack the following types of clothing:
Lightweight clothes: T-shirts, shorts, skirts, and dresses
Swimwear: 2 swimsuits and a cover-up
Nighttime attire: 1 sundress and 1 evening dress for going out
Footwear: comfortable travel shoes, flip-flops, sandals, and water shoes for rocky shorelines
Having versatile clothing items will allow you to mix and match different outfits for various activities during your stay in Corfu.
Sun Protection
Protecting yourself from the sun is crucial during the hot summer months in Corfu. Here's what you need to pack for sun protection:
Sunscreen: Choose one with broad-spectrum coverage and at least SPF 30
Sun hat: A wide-brimmed hat will provide ample shade for your face and neck
Sunglasses: Opt for polarised lenses to reduce glare and protect your eyes from harmful UV rays
Lightweight shawl or scarf: Useful for covering shoulders when out in the sun or visiting religious sites
Remember to reapply sunscreen regularly and stay hydrated throughout your trip.
Travel Accessories
When travelling to Corfu in June, make sure to include these items in your luggage:
Beach bag: A lightweight bag to carry your essentials while enjoying the beautiful beaches
Microfiber travel towel: Useful for beach trips or drying off after swimming, these towels are lightweight and quick-drying
Water bottle: To stay hydrated during hot days, opt for an insulated bottle to keep your water cold for longer
Portable power bank: Ensure your devices stay charged during your trip, particularly when capturing photos and recording memories
By packing these items, you'll be well-prepared for your trip to Corfu in June. Enjoy the beautiful beaches, warm weather, and local events like the "Panigyri tou Agiou Spyridonos" celebration during your stay.
Travel Considerations
Budget and Accommodation
In June, Corfu experiences a Mediterranean climate marked by temperatures averaging between 22°C and 29°C, making it the ideal time for a warm and sunny escape. Accommodation prices during this period might be higher due to the increased number of travellers seeking a respite from the heat. Budget accordingly and consider booking your stay in advance to ensure availability and possibly nab better deals.
There are several types of accommodation to choose from, such as:
Hotels: A wide range of hotels cater to differing budgets and preferences, from luxury to budget options.
Apartments: Rent out an apartment if you prefer a home-like atmosphere and more privacy.
Villas: For larger groups or families, renting a villa is a great option with more space and facilities.
Transportation
Getting around Corfu in June can be both comfortable and convenient, thanks to the island's well-developed transportation network. Here are some transportation options to consider:
Public Bus: The green and blue buses service different areas in Corfu town and the island's villages, offering a cost-effective way of getting around.
Taxi: Taxis are available for quick and convenient journeys, but fares can add up for longer trips or frequent rides.
Car Rental: Renting a car gives you the freedom and flexibility to explore the island at your own pace. Keep in mind the fuel costs and possible parking fees.
Scooter Rental: For solo travellers or couples, renting a scooter can be an exciting and affordable way to see Corfu.
In summary, visiting Corfu in June offers travellers a chance to enjoy the island's beautiful weather and stunning landscapes. When planning your trip, consider your budget and accommodation options, and make transportation choices that suit your travel style and preferences.
Hailing from the historic city of Thessaloniki, Nikos Tsakiris is a passionate explorer, seasoned writer, and co-founder of Greek Island, the definitive travel blog for the Greek Islands.