Crete, the largest of the Greek islands, boasts an abundance of stunning beaches that delight visitors from around the world.
From the pristine shores of Balos to the vibrant atmosphere of Pahia Ammos, there's a perfect beach for every traveller.
Whether you're looking for a secluded spot to relax or an area bustling with activities, Crete's coastline offers something for everyone.
One of the most remarkable beaches in Crete is the famous Elafonissi, renowned for its soft pink-hued sands and crystal-clear waters. Equally impressive is the exotic Balos beach, situated in the Chania region and offering an extraordinary Caribbean-like experience.
In contrast, Preveli Beach in Rethymno, with its lush palm grove setting, exudes an entirely different charm, captivating sun-seekers and nature enthusiasts alike.
For travellers looking to explore the lesser-known gems of Crete, consider a visit to Vai beach in Lassithi, home to Europe's largest palm forest, or Matala, which features striking caves carved into sandstone cliffs.
No matter where you choose to soak up the sun on this captivating island, you'll find yourself immersed in breathtaking natural beauty and rich cultural experiences.
The Best Beaches in Northern Crete
Elafonisi Beach
Elafonisi is a spectacular beach, located a couple of hours' drive from the popular tourist city of Chania. This famous white-and-pink-sand beach is noted for the pink crushed seashells that line the shore, giving it a slight tinge of rose colour that contrasts beautifully with the turquoise glow of the sea.
The beach is divided by a shallow lagoon which makes it perfect for families with young children. Additionally, the beach offers a variety of facilities, such as:
Sunbeds and umbrellas for rent
Beach bars and tavernas nearby
Easy access and parking
Visitors can find a more secluded and less crowded area by crossing over to the nearby Elafonisi Island, perfect for those seeking privacy.
Balos Beach
Balos is a fantastic location on the northwestern side of Crete, in the region of Chania. Known for its exotic waters, soft white sand, and a stunning island with a Venetian castle on top, Balos amazes all visitors at first sight.
The beach is a mix of sand and shallow waters, ideal for snorkelling and exploring the abundant marine life. There are also facilities available for visitors, including:
Sunbeds and umbrellas
A small beach bar and a canteen for refreshments
Boat trips from nearby locations such as Kissamos
However, it is worth noting that access to Balos Beach may require a hike or a boat ride, as it is not directly accessible by car. Regardless, the stunning beauty of this pristine beach makes the journey worthwhile.
The Best Beaches in Southern Crete
Preveli Beach
Preveli Beach is a unique and must-visit destination on the south coast of Crete. No longer an off-the-beaten-track hidden gem, Preveli Beach offers a one-of-a-kind landscape that resembles a romantic fairytale scene. The beach is famous for its crystal-clear waters and lush palm tree forest that provides the perfect contrasting backdrop to the sandy shores. Here, visitors can enjoy swimming, sunbathing, and exploring the picturesque surroundings.
Preveli Beach is accessible by boat from nearby coastal towns or by foot via a well-maintained path. The journey itself offers stunning views and a memorable experience for travellers.
Matala Beach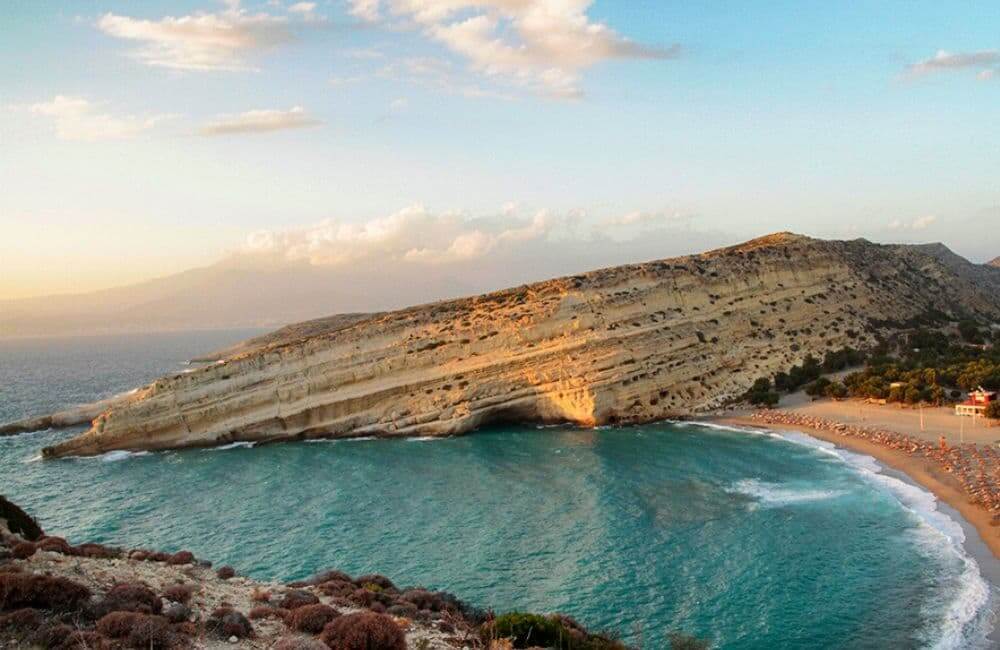 Matala Beach was once a popular spot for hippies and bohemian travellers in the 1960s and '70s. Today, it still retains its laid-back charm, while offering modern amenities such as beachfront cafes, restaurants, and water sports facilities. Located on the south coast of Crete, Matala Beach is known for its curious geological formations – the striking limestone cliffs with their prehistoric cave dwellings.
The turquoise waters at Matala Beach are perfect for swimming, snorkelling, or just relaxing in the sun. History and archaeology enthusiasts will also find plenty to explore in the area surrounding the beach, including an ancient Roman cemetery and the picturesque village of Matala itself.
Visitors to South Crete should not miss out on the opportunity to experience the unique charm and beauty of both Preveli Beach and Matala Beach.
Crete's Best Beaches for Families
Crete, a beautiful and enchanting island in Greece, offers an abundance of fantastic beaches for families to enjoy. This section highlights a couple of the best options for families seeking a stress-free, fun-filled time at the beach.
Stalis Beach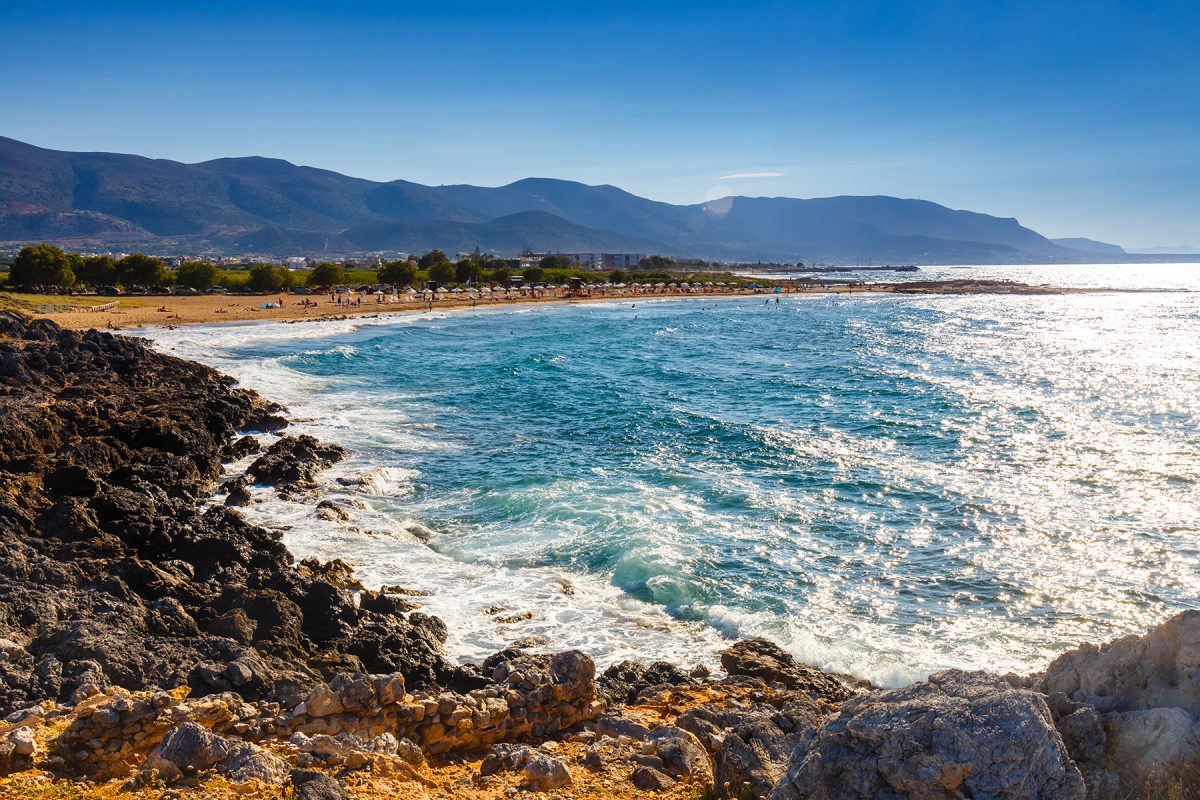 Stalis Beach, located on the northern coast of Crete, is an excellent choice for families. Known for its fine golden sand and crystal-clear shallow waters, this beach is perfect for small children and those who want to swim or paddle in comfort. The beach is well-organised, providing:
Sun loungers and umbrellas for rent
A range of water sports activities
Lifeguard services during peak season
Moreover, a variety of shops, tavernas, and restaurants located nearby offer a wide selection of refreshments and local cuisine for visitors to enjoy.
Almyros Beach
Another family-friendly option, Almyros Beach, can be found near the town of Agios Nikolaos. This beach boasts fine white sand and shallow waters, making it an excellent spot for young children and those who prefer calm swimming conditions. Amenities at Almyros Beach include:
Sun loungers and umbrellas to rent
A beach volleyball court
A children's playground nearby
Additionally, a picturesque river flows into the sea at one end of the beach, adding to the natural beauty of the area. Several tavernas and restaurants can be found nearby, offering visitors a selection of tasty food and drinks for a day on the beach.
With the combination of family-friendly facilities, shallow waters, and beautiful scenery, Stalis Beach and Almyros Beach stand out among Crete's many beaches as excellent options for families to create lasting memories.
The Best Beaches in Crete for Adventure Seekers
Vai Beach
Vai Beach, located on the eastern coast of Crete, is a unique destination for adventure seekers. The beach is famous for its natural palm forest, the largest in Europe, which provides a picturesque backdrop for visitors. Water sports enthusiasts will find various activities at Vai Beach, such as windsurfing, snorkeling, and paddleboarding. Additionally, the beach organises an annual windsurfing competition, attracting participants from across Europe. Vai Beach remains relatively uncrowded outside peak season, making it a perfect getaway for adventurers looking for a mix of relaxation and excitement.
Agiofarago Beach
Accessible via a scenic hike through a gorge, Agiofarago Beach is situated on the southern coast of Crete. This secluded gem, surrounded by imposing cliffs, offers a sense of adventure for visitors who wish to explore the island's natural beauty. The beach can be reached by hiking from the nearby village of Kambos, following a roughly 3 km route through Agiofarago gorge, or by boat from Matala, allowing visitors to fully immerse themselves in the stunning natural surroundings. Agiofarago Beach is popular among rock climbers, thanks to its surrounding cliffs, providing a thrilling experience for those seeking adrenaline-fueled activities.
Frequently Asked Questions
Where are the best beaches near Heraklion?
Heraklion is a great base for exploring nearby beaches that cater to different tastes. Some top beaches in the area include Amoudara Beach, which is a long sandy coast with numerous facilities, and Karteros Beach, offering a quiet retreat and golden sands.
Where is the warmest beach in Crete?
Crete is known for its warm and sunny climate, so most of the beaches tend to be warm throughout the summer months. However, the southern coast of Crete generally has warmer waters, as it's affected by the Libyan Sea. Some beaches on this coast include Lentas Beach and Matala Beach.
Best sandy beaches?
Crete is home to numerous sandy beaches, including the famous Elafonisi Beach, which is known for its pink-tinted sands and crystal-clear waters. Other popular sandy beaches include Falassarna Beach, located on the northwest coast, and the remote Vai Beach, surrounded by Europe's largest palm grove.
Where are the best beaches in Chania?
Chania is known for its picturesque coastlines and stunning beaches. Balos Lagoon is a must-visit spot, boasting turquoise waters and a unique landscape. Other notable beaches in Chania include Seitan Limani, a hidden gem featuring a secluded bay, and Stavros Beach, which is perfect for families due to its shallow waters and sandy shores.
Where are the top beaches for couples in Crete?
Crete offers some idyllic beach settings for couples seeking romance and relaxation. Agiofarago Beach is a secluded spot nestled between dramatic cliffs and accessible only by boat or hiking. Another option is Sweetwater Beach, where couples can enjoy the serene environment and natural beauty, with fresh spring water springs.
Where is the nicest beach town in Crete?
Crete has several charming beach towns, but one of the most popular is Agios Nikolaos, boasting lovely beaches like Ammoudara Beach and Almyros Beach, as well as a vibrant harbour front with bustling tavernas and shops. Other notable beach towns include Rethymno, with its Venetian architecture and lively atmosphere, and the picturesque village of Plakias, offering a more laid-back vibe.
Eleni Vasiliadis, a native of the picturesque island of Corfu and co-founder of Greek Island, is a seasoned traveller, accomplished writer, and passionate advocate for Greek culture and cuisine.