Malia, a charming coastal town located on the island of Crete, offers an eclectic blend of experiences for travellers to Greece.
While renowned for its sandy beaches and vibrant nightlife, Malia also boasts rich history and cultural attractions. With so many activities and sights available, one can find something to suit every taste and budget.
For history enthusiasts, the Malia Palace Archaeological Site is a must-visit attraction, offering insights into the ancient Minoan civilisation. Those seeking outdoor adventures can embark on quad safaris, or explore walking and biking trails that weave through the scenic landscapes. Of course, no trip to Malia would be complete without indulging in local food, wine, and nightlife, with a diverse range of culinary delights and entertainment options on offer.
Among the popular choices for day trips and excursions are cultural and theme tours, as well as extreme sports, full-day tours, and private custom tours. These make it easy to discover Malia's diverse offerings in-depth and create lasting memories. With so many experiences to choose from, this charming town truly caters to every type of traveller.
Historic Sites
Palace of Malia
The Palace of Malia is a remarkable archaeological site in Crete. It is the third-largest Minoan palace on the island, after Knossos and Phaistos. The palace offers a great location between the mountains and the sea, providing visitors with stunning views. The ruins showcase an interesting ancient town surrounding the palace and beautiful reconstituted pithoi (giant jars).
Visitors can witness the rich history of the Minoan civilization while exploring the palace grounds. The Malia Palace is an essential stop for those interested in archaeology and ancient history.
St. George's Church
St. George's Church is another point of interest in Malia where travellers can appreciate the culture and history of the region. This charming church boasts beautiful architecture and an exquisite collection of frescoes and icons.
Take a moment to enjoy the peaceful atmosphere and admire the intricate artwork inside the church. St. George's Church offers a glimpse into the region's religious and cultural history, making it an essential stop for visitors exploring Malia's historic sites.
Beaches
Malia, a beautiful coastal town in northern Crete, is famous for its stunning beaches and exhilarating nightlife. The pristine white sandy beaches attract visitors from around the world and offer a variety of activities to indulge in. In this section, we will focus on two prominent beaches in Malia: Malia Beach and Potamos Beach.
Malia Beach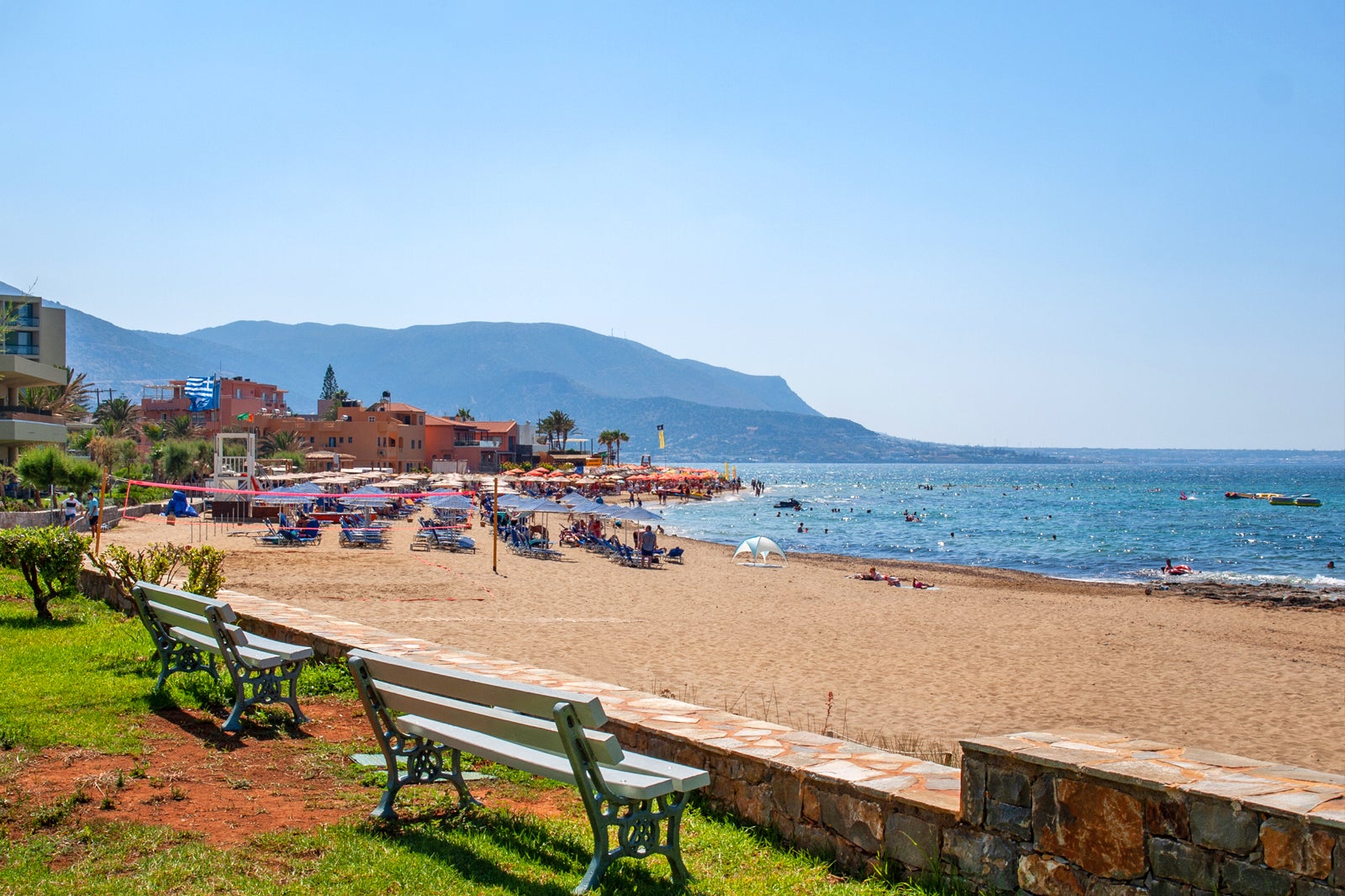 Malia Beach, located 36 km east of Heraklion town, is rightly considered one of the finest beaches in Crete. The beach boasts fine white sand and crystal-clear waters, making it an ideal destination for sunseekers and water enthusiasts.
Visitors can enjoy a wide range of activities at Malia Beach, including:
Boat Tours: Explore the surrounding areas and the stunning coastlines by taking a boat tour.
Water Sports: Indulge in adrenaline-pumping water sports such as parasailing, paragliding, and speed boat rides.
Scuba & Snorkelling: Discover the vibrant marine life and underwater world that lies hidden beneath the waves.
The beach is also well-suited for families and those seeking a more relaxed and tranquil experience. The beach offers sunbeds and umbrella rentals for those who wish to soak up the sun in comfort.
Potamos Beach
Potamos Beach is another popular beach near Malia, offering a quieter and more secluded experience compared to the bustling Malia Beach. The beach features golden sands and warm, shallow waters, making it a perfect spot for young families or couples seeking relaxation and seclusion.
Some highlights of Potamos Beach include:
Swimming: The calm and shallow waters make Potamos Beach an ideal spot for a leisurely swim or for children to play safely.
Beach Picnics: Pack a delicious picnic and savour the serenity of Potamos Beach while enjoying the incredible views.
Nature Walks: Explore the natural beauty of the surrounding area by embarking on picturesque nature walks or hiking trails.
While Potamos Beach does not offer as many activities as Malia Beach, it provides a peaceful alternative for those seeking a relaxing escape from the more vibrant and energetic beaches in Malia.
Outdoor Activities
Malia, Crete offers a variety of outdoor activities for adventure enthusiasts and nature lovers alike. The stunning landscapes and unique experiences make it a popular destination for those seeking adrenaline and tranquillity. This section will explore two main outdoor activities to enjoy in Malia: Safari and Jeep Tours, and Hiking and Trekking.
Safari and Jeep Tours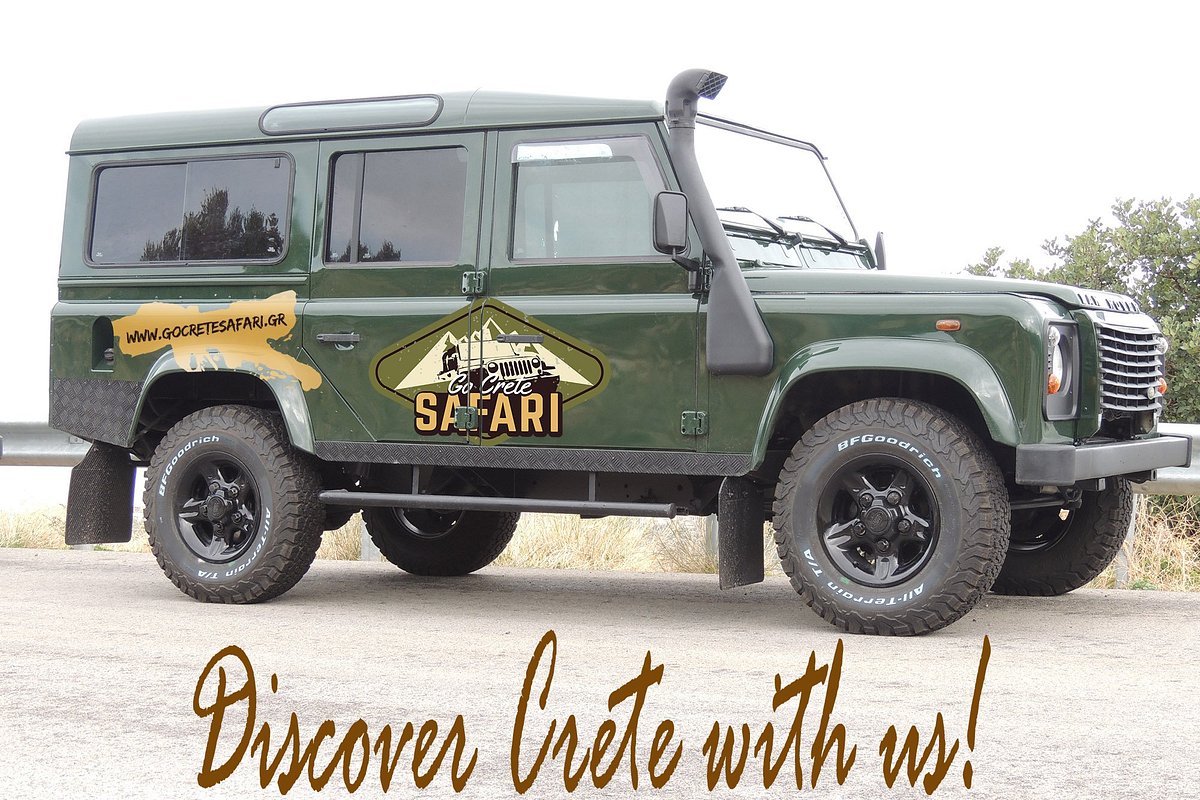 Safari and jeep tours provide an exciting way to explore the picturesque landscapes of Malia and its surroundings. These guided tours take you on off-road adventures, revealing the hidden gems and natural beauty of the region.
Go Crete Safari: This adrenaline-driven excursion offers a thrilling adventure across off-road terrain. You'll explore traditional Cretan villages, olive groves, and breathtaking views of the mountains, all while navigating challenging trails.
Quad Safari Off-Road Tour: Enjoy an exhilarating 4WD tour on a quad bike, taking you through winding trails, picturesque landscapes, and local wildlife habitats. This action-packed experience is suitable for both beginners and experienced riders.
Hiking and Trekking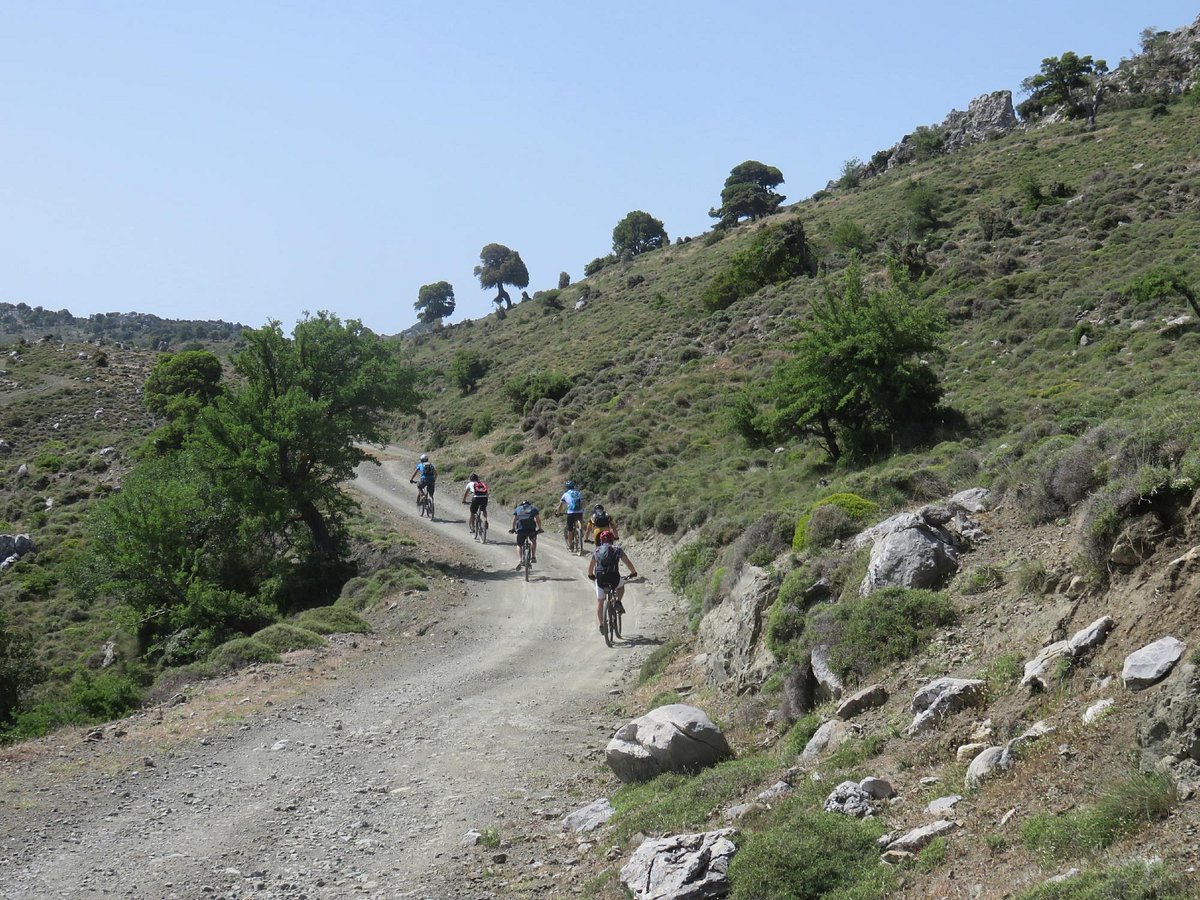 Malia boasts some spectacular hiking and trekking trails that allow you to immerse yourself in the beautiful Cretan scenery.
Hiking Crete: Discover the unspoiled beauty of Crete on a guided hiking tour. This adventure takes you through gorges, forests, and rugged coastlines, offering exceptional views of the island's diverse landscapes.
The Hub MTB Adventures: For the mountain biking enthusiast, The Hub MTB Adventures offers guided tours and bike rentals, allowing you to explore the rugged terrain of the region at your own pace. This is an exciting and challenging experience that caters to a variety of skill levels.
In summary, Malia, Crete offers a range of outdoor activities to suit different interests and abilities. From adrenaline-pumping safaris to peaceful hikes, visitors can enjoy the breathtaking scenery and unique experiences that this beautiful region has to offer.
Nightlife
When visiting Malia, Crete, experiencing the local nightlife is not to be missed. The vibrant scene offers a variety of exciting activities and entertainment, ensuring a fun, engaging experience. In this section, we will discuss some popular options for Bars and Clubs and Evening Shows.
Bars and Clubs
Malia offers an energetic and happening scene when it comes to bars and clubs. There are many lively places to visit, but here are a couple of the favourites:
Zoo Bar: Known as the one-stop entertainment venue, Zoo Bar is a trendy and stylish hangout in Malia. Visitors can enjoy dancing, drinking, playing pool, and watching films and sports while also mingling with fellow party animals.
Squeeze Bar: An excellent place to unwind and enjoy a well-deserved drink, Squeeze bar boasts a great atmosphere. With a wide selection of cocktails, drinks, and exceptional service, it is a favourite among tourists and locals alike.
Reflex Malia: For those looking to groove to some old school music in a welcoming environment, Reflex Malia is the ideal spot. The venue offers a wide variety of drinks to choose from, completing a memorable night out.
Evening Shows
Malia not only offers visitors a lively bar and club scene but also a range of entertaining evening shows. A visit to these shows adds a touch of culture and amusement to your nighttime activities in Malia.
Please note: Due to the current global situation, some venues and events may be closed or postponed. Always check for the most recent information before planning your visit.
From an action-packed nightlife to cultural experiences, Malia offers something for everyone looking to make the most of their night on this beautiful island of Crete.
Cultural Experiences
Cretan Cuisine Tastings
When visiting Malia, one of the best ways to immerse yourself in Cretan culture is through their delicious cuisine. Traditional dishes like moussaka, dakos, and dolmades are worth trying. Many local restaurants and tavernas offer wine and food tastings, giving you a chance to sample a variety of flavours and ingredients. Don't miss out on trying popular Cretan cheeses, such as graviera and mizithra. Besides, you can also join food and wine tours that showcase the best of Cretan produce, from olive oil to honey.
Traditional Music Performances
Another way to experience the rich culture of Malia is to attend traditional music performances. Cretan music is a unique blend of sounds, featuring instruments like the lyra and laouto. You can often find live performances at local tavernas and bars, where talented musicians showcase their skills. Some cultural festivals and events also highlight traditional Cretan music and dances. Be sure to check the local event schedule during your visit to Malia, so you don't miss the opportunity to enjoy some authentic and vibrant performances.
Eleni Vasiliadis, a native of the picturesque island of Corfu and co-founder of Greek Island, is a seasoned traveller, accomplished writer, and passionate advocate for Greek culture and cuisine.