Nestled on the stunning island of Crete, the charming village of Sissi offers travellers a unique taste of traditional Greece. Boasting a serene atmosphere and picturesque surroundings, Sissi is an ideal destination for those seeking a balance between relaxation and adventure. From its crystal-clear waters and rugged coastline to its centuries-old cultural heritage, there is truly something for every discerning visitor.
One of the top attractions in Sissi is the wide range of outdoor experiences available. Embark on a scenic hike or bike ride through the beautiful landscape adorned with lush flora and fauna. Discover the welcoming local beach, known as Limani Beach, with its shallow waters making it perfect for swimming and popular with families.
Immerse yourself in the rich Greek culture by participating in culinary delights and captivating performances. Take part in a private wine tasting experience at Domaine Paterianakis or savour a traditional Cretan Folklore Night featuring live music, dance, and authentic Greek dinner. From day trips and excursions to leisurely nights out at bustling bars like Jolly Roger and Kera, Sissi, Crete is brimming with memorable adventures for all to enjoy.
Historic Sites
Archaeological Site of Malia
The Archaeological Site of Malia is a must-visit for history enthusiasts visiting Sissi. Located just a few kilometres from the village, this site unveils the fascinating Minoan culture that thrived in Crete around 1900 BC. The ruins include a well-preserved Minoan palace, which was once a significant centre for political, economic, and religious activities. To make the most of your visit, consider exploring the site with a knowledgeable guide who can explain the history and significance of the archaeological discoveries.
Boufos Fortress
Another historic site worth visiting during your trip to Sissi is the Boufos Fortress. This Byzantine-era fortress is perched atop a hill, giving visitors a fantastic view of the surrounding landscape. Built around the 6th or 7th century, the fortress served as a defence against pirate invasions and as a watchtower.
To reach the Boufos Fortress, you can take a short hike from Sissi village, which offers an opportunity to appreciate the area's flora and fauna along your way. As you explore the fortress's remnants, imagine the challenges and triumphs faced by the soldiers who once guarded this site. This peek into Sissi's history will undoubtedly enrich your understanding of the area's past.
Beaches
Sissi, Crete, is known for its beautiful beaches and serene vibe. Here, we'll explore two stunning beaches: Avlaki Beach and Boufos Beach.
Avlaki Beach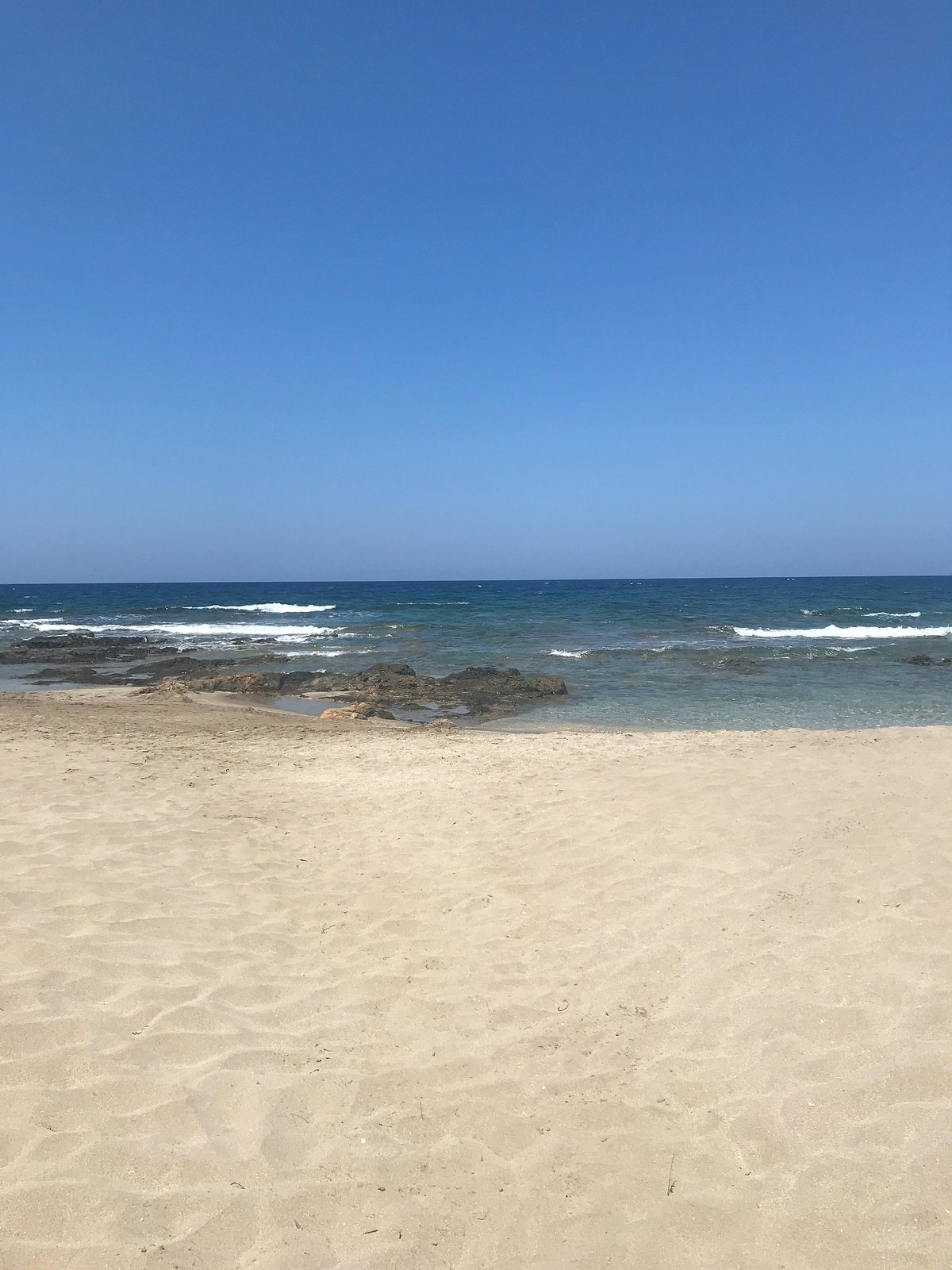 Avlaki Beach, nestled close to the heart of Sissi, provides a perfect setting for a relaxing day by the sea. The deep turquoise water of the natural harbour is calm, making it an ideal spot for swimming and sunbathing. Along with the beautiful scenery, you will find shady spots near the beach, thanks to the trees that line the area.
To make your day more enjoyable, there are several taverns nearby, where you can indulge in delicious traditional Greek cuisine after a refreshing swim. Avlaki Beach's unique combination of natural beauty and convenience makes it a top destination for beach lovers.
Boufos Beach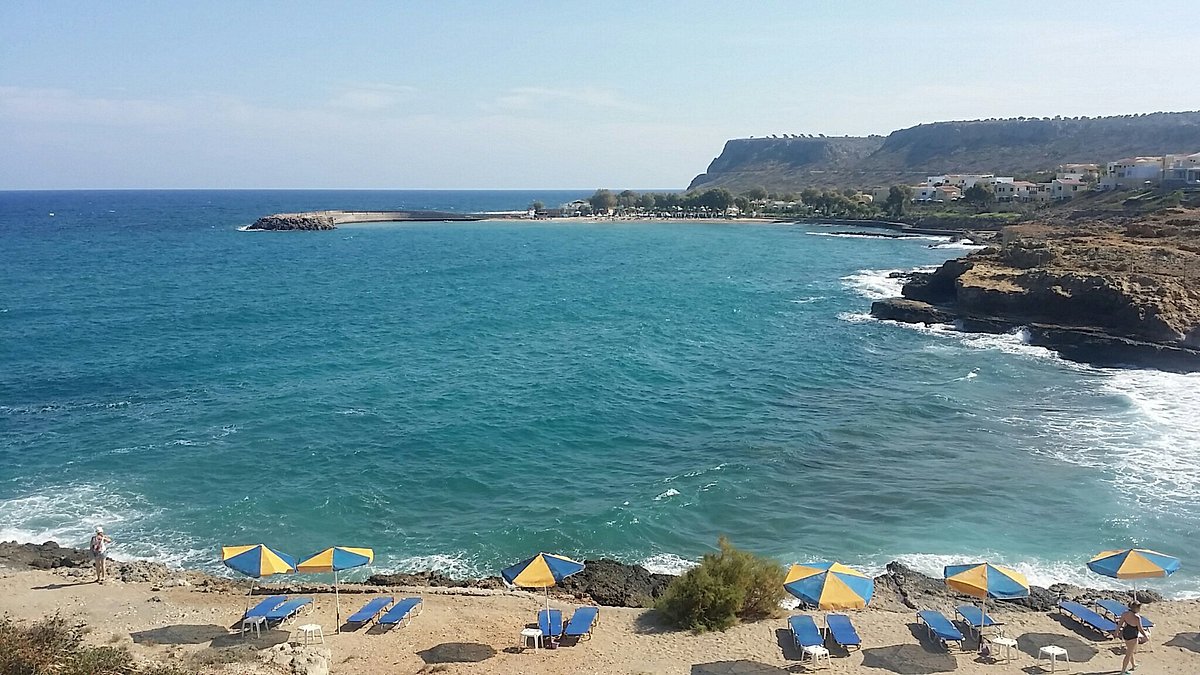 Boufos Beach is another picturesque location in Sissi, offering crystal-clear waters and golden sand. This beach is quieter compared to Avlaki, making it the perfect destination for a tranquil getaway. The rocky landscape surrounding the coast adds charm and character to the area.
While enjoying the serenity of Boufos Beach, don't forget to explore nearby trails for a leisurely hike or bike ride. These paths allow you to witness the breathtaking coastal views and the richness of Crete's flora and fauna.
No matter which beach you choose, a visit to Sissi's coastline is a must for any trip to Crete.
Outdoor Activities
Sissi, a picturesque village in Crete, offers a variety of outdoor activities that cater to different interests and preferences. Whether you prefer exploring scenic landscapes on foot or discovering the coastal beauty by boat, there's something for everyone in this charming destination.
Hiking and Walking Trails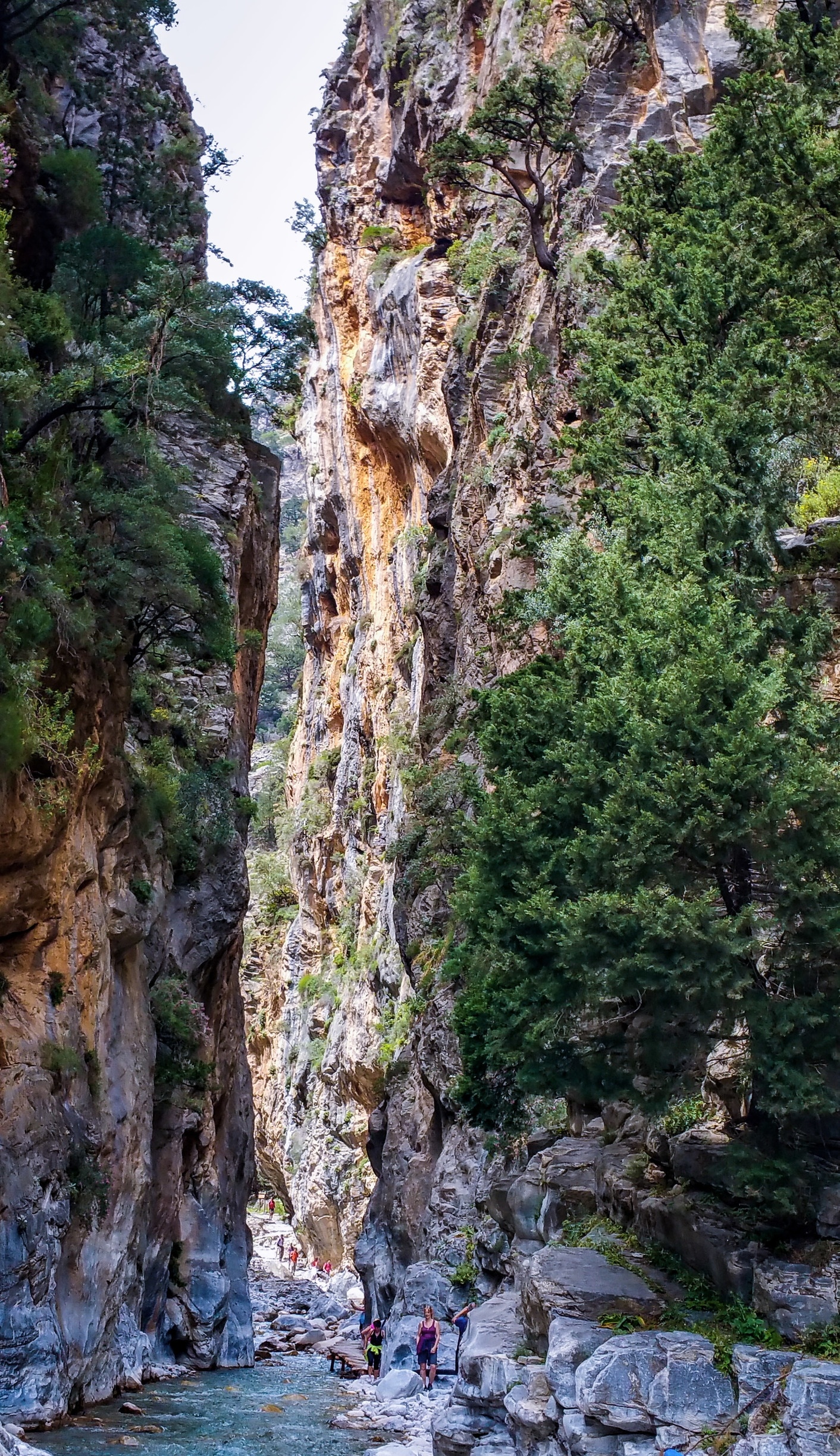 The area surrounding Sissi boasts numerous hiking and walking trails that cater to all levels of ability. One popular option is the Samaria Gorge Walk – a full day trek that takes you through the breathtaking beauty of the Samaria Gorge, one of Europe's longest canyons. The trail offers a unique opportunity to explore Crete's diverse landscape, from rugged cliffs to lush forests.
Another rewarding walking trail is the coastal path that leads to the hidden gem of Avlaki Beach. With its pristine waters and soft sand, the beach is the perfect place for a refreshing dip after a leisurely walk. The trail also provides picturesque views of the coastline, and visitors have the opportunity to spot local wildlife inhabiting the area.
Boat Tours
Sissi's idyllic location on the Mediterranean Sea makes it an ideal base for indulging in boat tours that explore the stunning coastlines and neighbouring islands. There is a variety of options to choose from, including:
Scuba & Snorkelling Excursions: Discover the diverse marine life, crystal-clear waters, and fascinating underwater landscapes of the Mediterranean by taking part in guided scuba diving or snorkelling tours. These trips cater to all levels of experience, from beginners to seasoned divers.
4WD, ATV & Off-Road Tours: For those seeking a more thrilling adventure, opt for a 4×4 self-drive safari tour that combines beach exploration with off-road driving. These tours often include a BBQ lunch, providing a fantastic opportunity to sample local cuisine while surrounded by nature.
Flexible Booking and Free Cancellation Options: Many boat tour operators in Sissi offer flexible booking and free cancellation policies, ensuring that you can plan your trip stress-free and with confidence, knowing you have the option to change your plans if needed.
In conclusion, Sissi, Crete is a fantastic destination for those who love to explore the great outdoors. With a host of hiking and walking trails to choose from, as well as enticing boat tour options, visitors are sure to be delighted by the array of outdoor activities available in this enchanting location.
Local Cuisine
Seafood Restaurants
Sissi boasts a range of delightful seafood restaurants, offering dishes made with fresh, locally sourced ingredients. The historic harbour of Sissi is particularly known for its seafood-serving tavernas, which have gained quite a reputation as some of the best on the island. With picturesque views by the waterfront, visitors can indulge in dishes such as grilled octopus, freshly caught fish, and various shellfish preparations.
Traditional Taverns
In addition to seafood, Sissi is home to numerous traditional taverns that offer a taste of authentic Cretan cuisine. Some of the top-rated establishments include:
Taverna Amelia: Known for its Greek and Mediterranean dishes, Taverna Amelia has received excellent reviews from visitors. Signature dishes include moussaka and chicken souvlaki.
Neromilos: A popular Mediterranean and Greek restaurant, Neromilos has consistently impressed guests with its excellent food and service. This tavern is known for its delicious, homemade dishes created using seasonal, local ingredients.
Menios Taverna: Open for business, Menios Taverna has made a name for itself with its distinctive Cretan dishes and warm service. A must-visit for tourists in Sissi, it offers a true taste of Crete in a welcoming environment.
Whether you're craving seafood, traditional Greek cuisine, or simply want to sample the best that Sissi has to offer, you won't be disappointed with the variety and quality of its local dining options.
Cultural Experiences
Sissi, Crete offers a variety of cultural experiences that allow visitors to immerse themselves in the local traditions and history. From exploring local festivals to discovering handmade treasures in handicraft shops, this charming Greek village has plenty to offer those seeking a more authentic travel experience.
Local Festivals
Sissi is home to a variety of festivals throughout the year that celebrate the local heritage, customs, and traditions. These events provide a unique opportunity to learn about Sissi's rich history and enjoy authentic Greek cuisine, music, and dancing. Although specific festivals may vary by year, visitors should always research current events and schedules to ensure they don't miss these vibrant cultural experiences.
Handicraft Shops
For those who appreciate handmade items and unique souvenirs, Sissi has a number of handicraft shops offering Cretan pottery, textiles, and traditional Greek items crafted by local artisans. Visitors can enjoy browsing these stores and perhaps purchase a one-of-a-kind keepsake to remember their time in Crete. By supporting these local businesses, travellers can help maintain the traditional techniques passed down through generations while simultaneously contributing to the local economy.
Day Trips
Agios Nikolaos
Agios Nikolaos is a picturesque coastal town in eastern Crete that boasts stunning beaches, charming narrow streets, and a vibrant harbour area. The town's focal point is the beautiful Lake Voulismeni, which is surrounded by quaint cafes and restaurants. A day trip to Agios Nikolaos allows visitors to experience a blend of traditional Cretan culture and modern amenities.
While in Agios Nikolaos, travellers can explore the Archaeological Museum, showcasing artefacts from the Minoan, Roman, and Byzantine eras. Additionally, the nearby marina offers various water activities, such as boat tours and scuba diving.
Spinalonga Island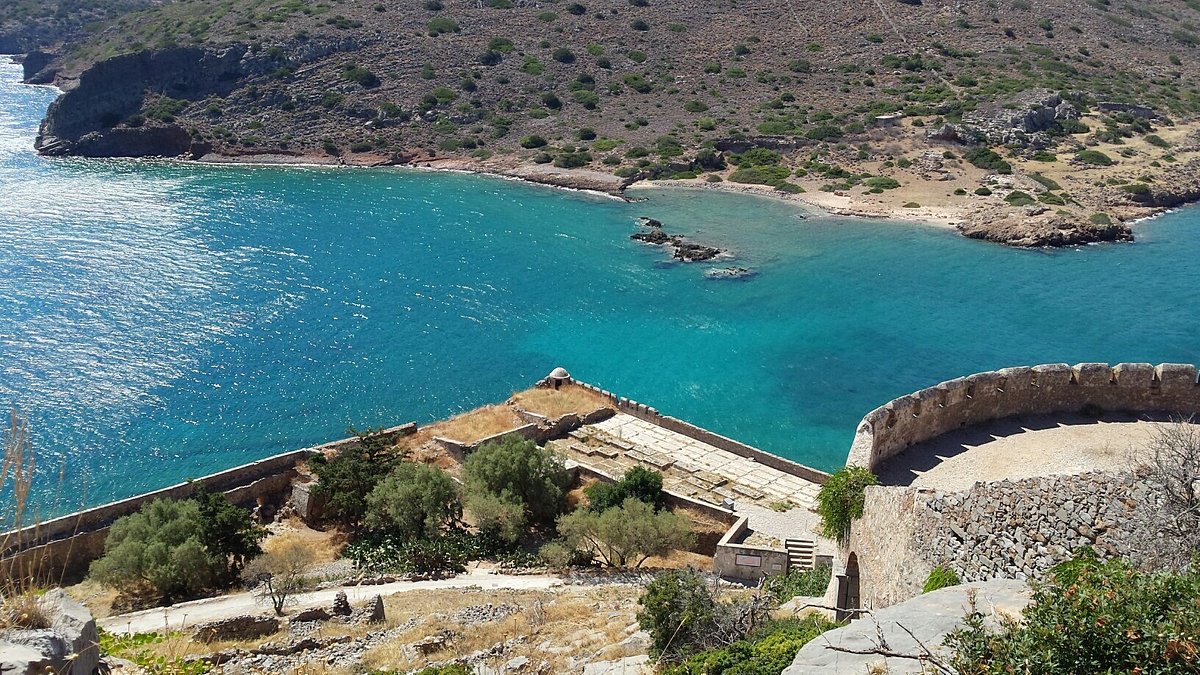 Spinalonga Island has a rich and intriguing history that attracts many visitors. Located off the coast of Elounda, this small island was once a Venetian fortress and later served as a leper colony until the mid-20th century.
A visit to Spinalonga Island involves a short boat trip from Elounda or Agios Nikolaos. Upon arrival, visitors can take a guided tour to learn about the island's fascinating history and its inhabitants. The well-preserved buildings and the breathtaking views of the sea add to the unique experience of exploring Spinalonga's history.
Additionally, travellers can enjoy a swim in the crystal-clear waters of the nearby beaches, making it a perfect day trip destination for those seeking a mix of culture, history, and relaxation.
Remember to wear comfortable shoes, carry water, sunscreen, and a hat to protect yourself from the sun during your day trips. Capture the stunning views and the memories you create while exploring the beauty and rich heritage of these remarkable destinations in Sissi, Crete.
Eleni Vasiliadis, a native of the picturesque island of Corfu and co-founder of Greek Island, is a seasoned traveller, accomplished writer, and passionate advocate for Greek culture and cuisine.