Often associated with Homer's Odyssey as the home of the legendary hero Odysseus, Ithaka, also known as Ithaca, is a gem of an island located in the Ionian Sea. Offering amazing natural attractions and a rich archaeological heritage, this enchanting island attracts travellers from all corners of the globe. Boasting lush green landscapes and exotic beaches with emerald waters, Ithaca provides an idyllic escape for those seeking tranquillity and natural beauty.
While historically significant, the island is also known for its irresistible charm. From the cascading waterfalls in Ithaca, New York to the serene beaches in Greece, Ithaka has something for everyone. Offering numerous activities and must-see sights, a visit to Ithaka is an opportunity for discovery and fulfilment in the footsteps of a great hero.
As a tourist, a visit to Ithaka allows you to delve into its mythical essence, explore the island's captivating scenery, and indulge in its easily accessible attractions. Whether you're marvelling at the stunning Gidaki beach or appreciating the artefacts at the Maritime & Folklore Museum of Ithaca, this island promises an unforgettable and unique experience for every visitor.
Getting to Ithaka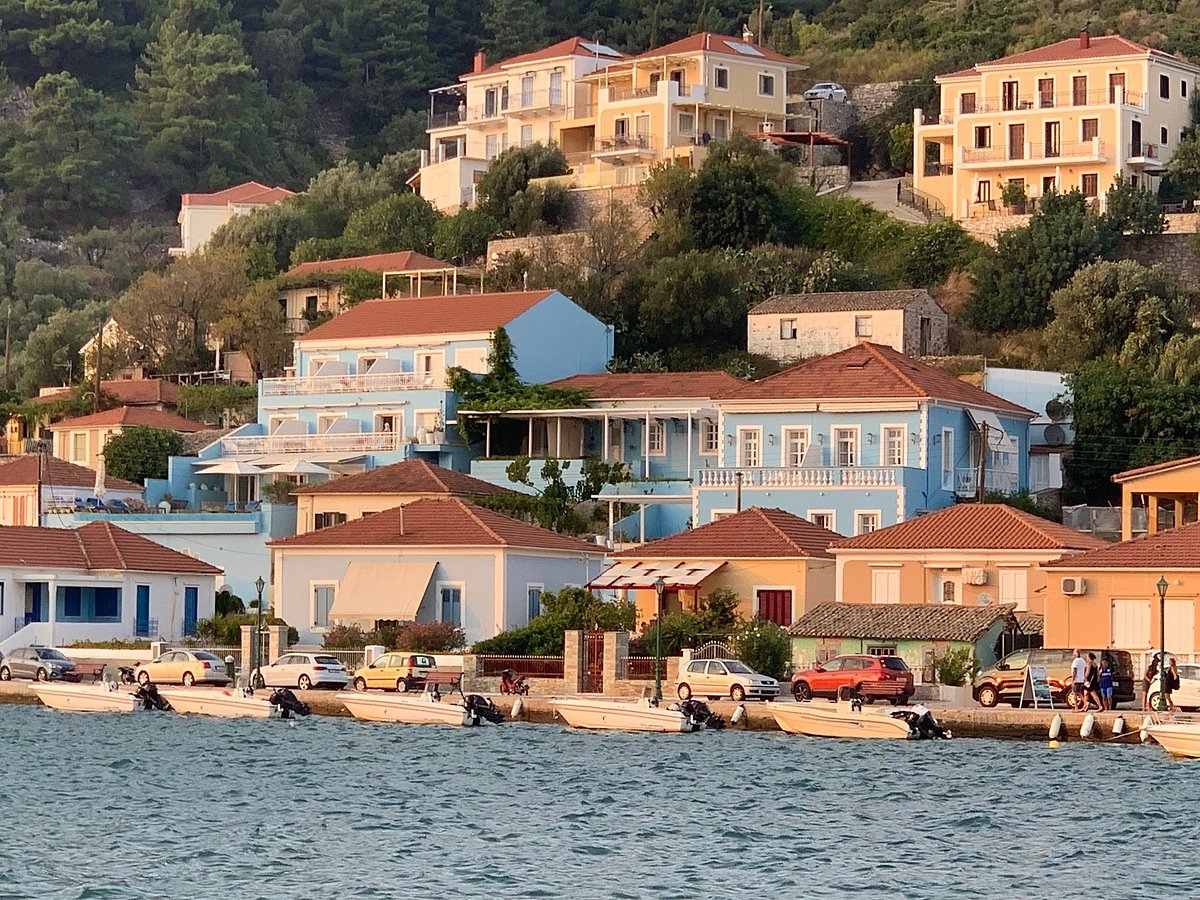 By Air
Ithaka itself doesn't have an airport. However, you can fly to the nearby island of Kefalonia which has an international airport, offering flights from several European destinations. From Kefalonia, you can then take a ferry to Ithaka.
By Ferry
There are several options for reaching Ithaka by ferry from mainland Greece and neighbouring islands. Here are the main routes:
From ports on the Greek mainland: You can drive or take a bus from Athens to one of the ports offering connections to Ithaka, such as Patras, Kyllini, or Astakos. Regular ferry services are available, particularly during the summer months.
From Kefalonia: If you have flown into Kefalonia, you can take a ferry to Ithaka from the ports of Sami, Fiscardo, or Pessada. The journey duration varies, but it usually takes around 1 to 1.5 hours.
From other Ionian islands: During the peak season, it's possible to find ferry connections from other nearby islands like Lefkada and Zakynthos. Some routes might be less frequent, so it's best to check the timetables in advance.
Keep in mind that Ithaka has two main ports: Vathy and Piso Aetos. Make sure to check which port your ferry will be arriving at and plan your onward journey accordingly. Renting a car, or motorcycle, or using taxis are options for getting around Ithaka once you've arrived.
Top Attractions in Ithaka
Odysseus's Palace
The Ruins of Odysseus Palace, also known as Homer's School, is a top historical landmark in Ithaca. This fascinating site was once thought to be the stuff of legends until an archaeological team discovered what is believed to be the mythical palace of Odysseus.
Beaches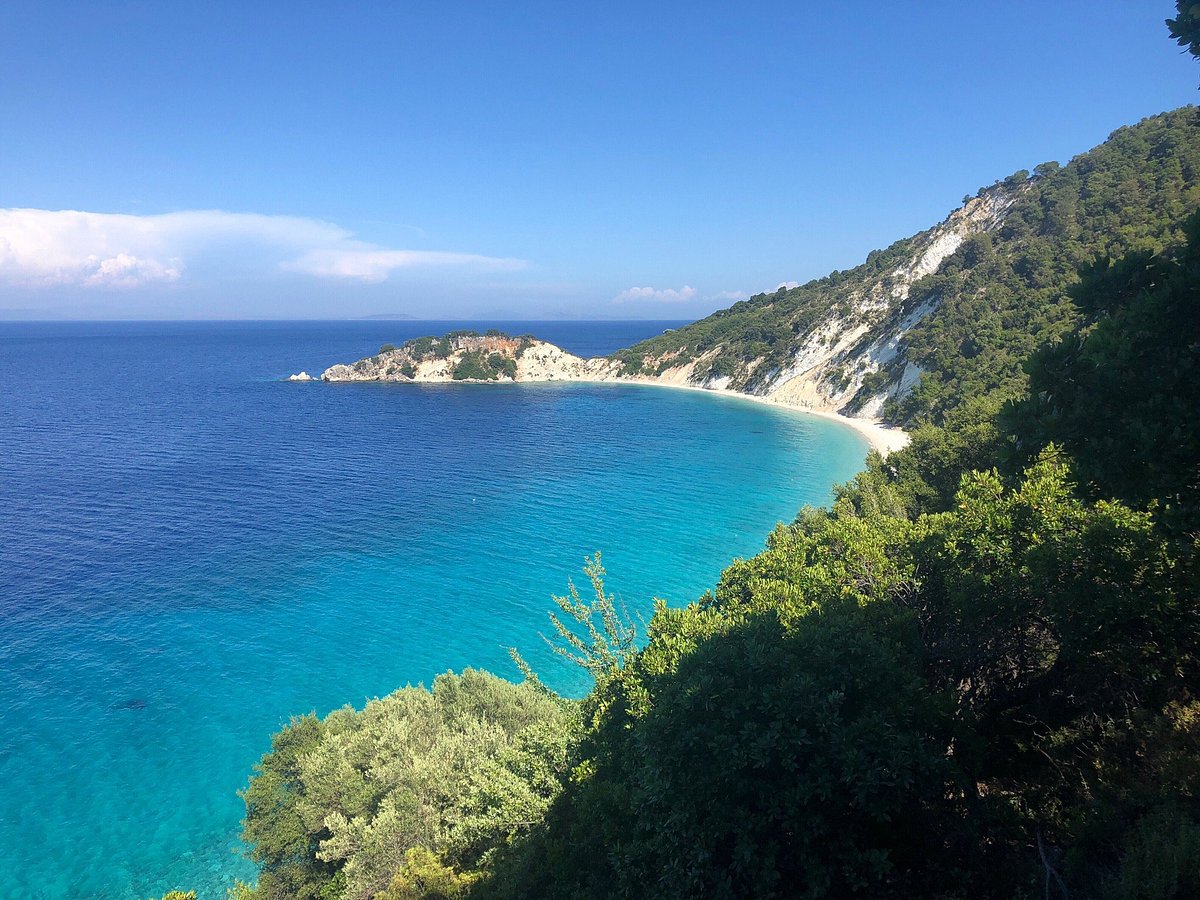 Ithaka boasts several beautiful beaches for visitors to enjoy, amongst which Gedaki Beach stands out for its stunning clear green waters. Vathy Bay is another popular spot, particularly due to its lively marina and frequent arrivals of yachts. Lastly, Kioni Harbour invites visitors to take a leisurely stroll along the waterfront and admire the picturesque scenery.
Museums and Archaeological Sites
Ithaca is rich in history and culture and is home to a few museums and archaeological sites. The Downtown Ithaca Visitor Centre, located inside the Tompkins Centre for History & Culture, offers an excellent starting point to learn about the region's history before exploring further.
Hiking Trails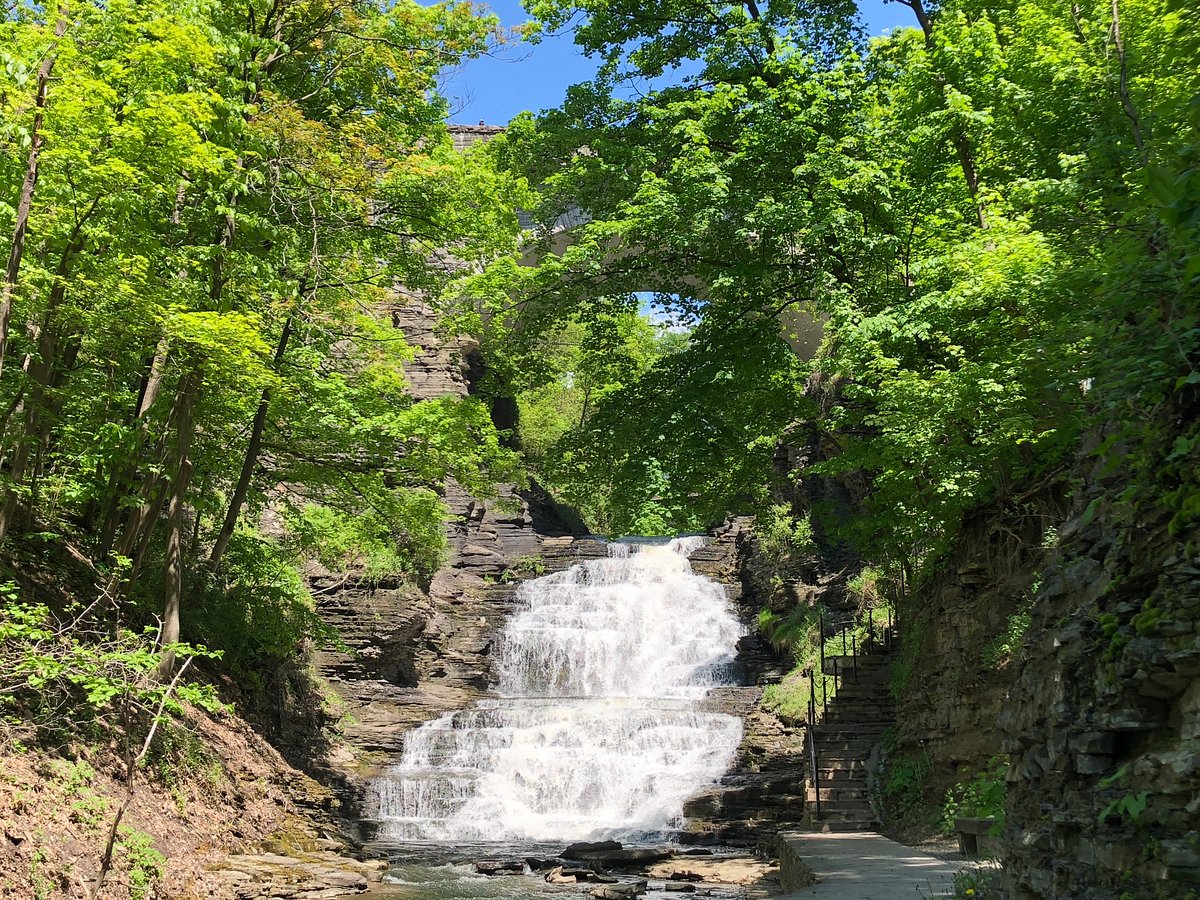 For nature enthusiasts, Ithaca has a variety of wonderful hiking trails, including the Cascadilla Gorge Trail. Walk through lush greenery and marvel at the unique geological formations as you traverse this popular route. Additionally, the state parks of Robert Treman and Buttermilk Falls provide fantastic opportunities for hiking and outdoor recreation, featuring scenic paths alongside stunning waterfalls and river gorges.
Accommodation Options
Hotels
Ithaca boasts several hotels that cater to different budgets and preferences. Some popular options include:
Aenos Hotel: Located in Vathy, this modern establishment offers comfortable rooms with stunning sea views.
Perantzada Art Hotel: This boutique hotel tucked away near the sea boasts eclectic decor and a relaxing atmosphere.
Nostos Hotel: A family-owned hotel in Frikes, Nostos is well-known for its warm hospitality and close vicinity to the town centre.
Villa Rentals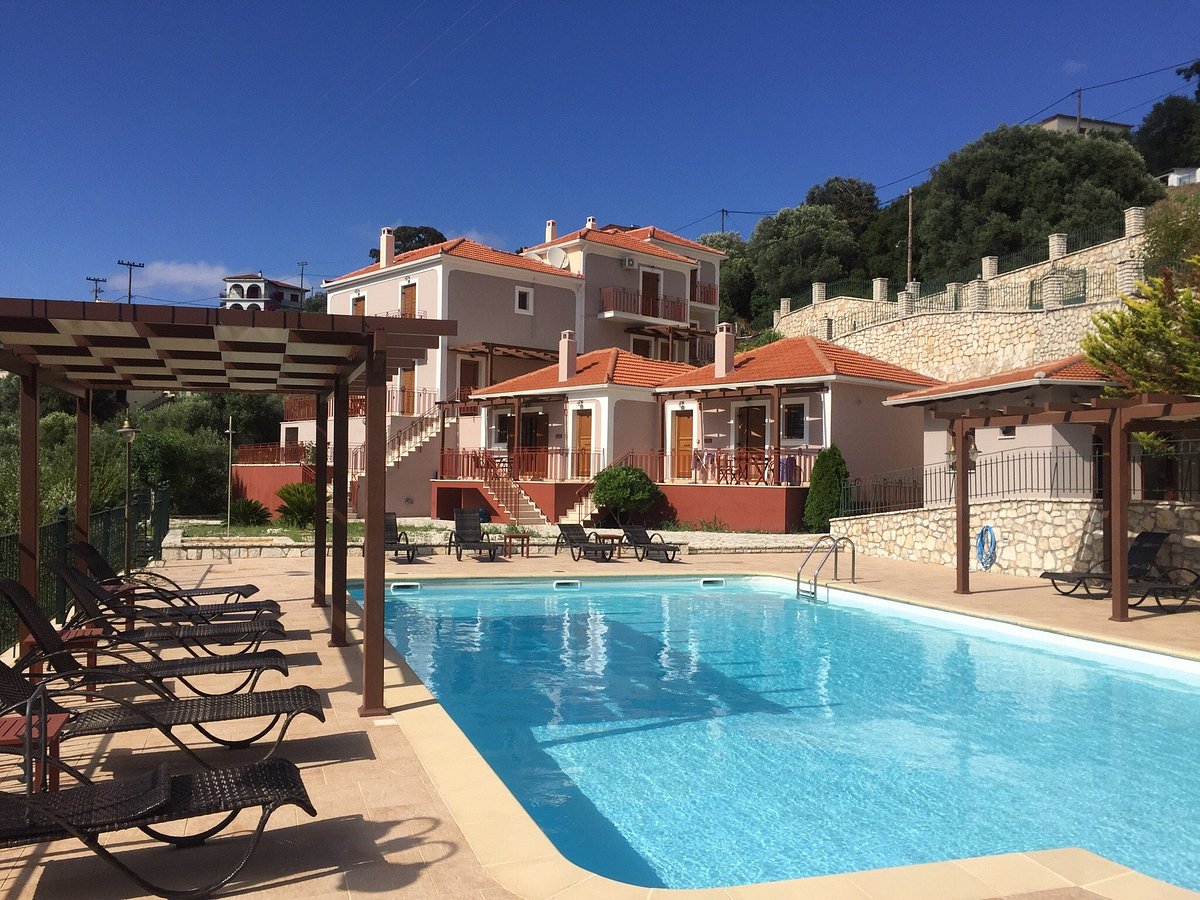 If you prefer more privacy and space, villa rentals are an excellent choice. These fully-furnished properties often come with private pools and gardens. Some popular options available on the island are:
Ithaca Luxury Villas: These villas are nestled in some of the island's most stunning locations and offer top-notch amenities and services.
Olive Tree Villas: Perfectly suited for families and larger groups, these villas come with picturesque views, outdoor dining areas, and easy access to beaches.
Hidden Villa Gems: These private villas situated in tranquil settings provide a perfect retreat for those seeking a serene holiday experience.
Guesthouses
Guesthouses offer a cosy, intimate atmosphere that allows you to experience authentic Greek hospitality. Some well-regarded guesthouses in Ithaca include:
Captain's Apartments: Located in Kioni, this charming guesthouse offers spectacular views of the Ionian Sea and easy access to nearby beaches and restaurants.
Anamartitos Guesthouse: Situated in Stavros, this guesthouse provides comfortable rooms and a warm, welcoming environment.
Homer's View: Set in a quiet hillside village, this guesthouse features elegant rooms, a lovely garden, and fantastic panoramas of the surrounding landscape.
Food and Restaurants
Traditional Cuisine
Ithaka Island offers a variety of catering establishments, including local cafes called taverns, where you can experience traditional Greek cuisine. These taverns often serve homemade dishes with locally sourced ingredients, showcasing the authentic flavours of Ithaka.
Seafood Restaurants
Being an island destination, Ithaka is an excellent place for seafood lovers. Some popular dishes include calamari, vegan crab cakes, scallops, and swordfish. While seafood restaurants can be found throughout the island, MIX Kitchen and Bar is a highly-rated eatery known for its fusion cuisine, offering an exquisite selection of seafood dishes to choose from.
Cafes and Bars
When in Ithaka, Greece, visitors can find several cafes and bars serving both local and international food and drinks. Levendis Estate is one such establishment that offers delicious food options as well as a beautiful ambience to enjoy. Additionally, Ithaca, New York, boasts a vibrant food scene with farm-to-table restaurants and establishments located downtown and around Taughannock Falls State Park.
Local Customs and Etiquette
Language and Communication
In Ithaka, the primary language spoken is Greek. However, English is also widely understood, especially in tourist areas. To show respect and appreciation for the local culture, it is a good idea to learn a few basic Greek phrases like hello (Γεια σου), thank you (Ευχαριστώ), and excuse me (Συγνώμη). Greeks are known for their warm and welcoming nature, so a respectful attitude will go a long way.
Gestures and body language are important in Greek culture. However, there are a couple that can unintentionally cause offence: making the "OK" sign (finger and thumb in a circle) can be seen as rude, and raising your palm towards someone can be interpreted as a signal to ward off evil. To avoid misunderstanding, be aware of these cultural differences and maintain polite gestures during your interactions.
Tipping and Gratuities
In Greece, tipping is generally appreciated but not obligatory. In many cases, it has become customary to leave a small tip to show gratitude for good service. Some guidelines for tipping include:
Restaurants: A tip of around 10% of the bill is considered standard. However, if a service charge is included in the bill, you are not required to tip additionally.
Cafés and bars: Depending on the establishment, it's acceptable to either round up the bill or leave a €1-€2 tip.
Taxi drivers: Round up the fare to the nearest whole euro or add a small tip of around 5%.
Hotel staff: For porters and housekeeping, €1-€2 per day or per service is considered appropriate.
By making an effort to understand and respect the local customs and etiquette in Ithaka, you will have a richer and more enjoyable travel experience. The warm and welcoming nature of the locals will ensure that you feel comfortable and at ease during your visit.
Hailing from the historic city of Thessaloniki, Nikos Tsakiris is a passionate explorer, seasoned writer, and co-founder of Greek Island, the definitive travel blog for the Greek Islands.