Kos, a stunning Greek island in the Dodecanese group, offers a perfect blend of rich cultural history, picturesque landscapes, and vibrant nightlife, making it a fantastic holiday destination for families. With its charming villages, sandy beaches, and numerous leisure activities, the island can cater to a wide range of preferences and needs. Families enjoying a relaxing vacation will be spoilt for choice when it comes to finding the ideal accommodation in the most suitable area.
Among the top areas to stay in Kos for families are Kos Town, Kardamena, Mastichari, Tigaki, and Marmari. These locations boast of family-friendly hotels, resorts, attractions, and amenities, ensuring a memorable and enjoyable experience for everyone. Kos Town, the island's capital, is an excellent choice for first-time visitors who desire a blend of cultural experiences, recreational activities, and a lively atmosphere.
Kardamena, on the other hand, is perfect for families who prefer being close to thriving nightlife while also enjoying a more laid-back environment during the day. Mastichari is ideal for those looking forward to a traditional Greek village experience with pristine beaches and taverns by the sea. The serene villages of Tigaki and Marmari cater to families looking for a relaxing beach holiday with picturesque surroundings and a range of family-oriented accommodations.
Top 3 Family-Friendly Areas
Kardamena
Kardamena is a popular destination for families visiting Kos, thanks to its beautiful sandy beaches and range of activities. The area offers a variety of family-friendly accommodation options, as well as a lively atmosphere with numerous restaurants, cafes, and shops. Families can enjoy water sports, beachside activities, and cultural experiences, such as visits to the ancient Ag. Theodoros Church and Kardamena Castle.
Mastichari
Mastichari is another fantastic area for families travelling to Kos. This picturesque village boasts stunning white-sand beaches and crystal-clear waters ideal for swimming and snorkelling. The area is known for its relaxed ambience, making it perfect for families looking for a laid-back holiday experience. In addition to its natural beauty, Mastichari offers a range of family-oriented activities, including the Lido Water Park, which features thrilling water slides, pools, and play areas for children of all ages.
Tigaki
Tigaki is a top choice for families visiting Kos due to its spectacular long sandy beach, shallow waters, and various attractions. The area's beachfront promenade is lined with an array of family-friendly restaurants and cafes, offering delicious local cuisine and refreshing beverages. In Tigaki, families can engage in water sports, horse riding, and bicycle hire to explore the surrounding scenery. Furthermore, the town hosts fun-filled events during the summer that offer entertainment both for children and adults alike.
Accommodation Options
When planning a family holiday in Kos, there are various types of accommodations suited for families. In this section, we will explore the options available, including hotels, resorts, and holiday apartments.
Hotels
Kos Town offers a variety of family-friendly hotels to suit different budgets. Some notable options are Albergo Gelsomino and Diamond Boutique Hotel, both located in the town for easy access to local attractions. These establishments typically provide amenities such as swimming pools, kids' clubs, and family rooms.
Albergo Gelsomino: A boutique hotel with a mix of modern and traditional designs, offering comfortable rooms and an excellent location near the beach.
Diamond Boutique Hotel: A stylish hotel featuring a large outdoor pool, children's playground, and on-site restaurant. Ideal for families seeking a relaxing holiday in Kos Town.
Resorts
Kos offers various resorts catering to families, with all-inclusive options and a range of activities to keep everyone entertained. Two such family-friendly resorts located in close proximity to the beach are Astir Odysseus Resort & Spa in Tigaki and Holiday Village Atlantica Kos in Marmari.
Astir Odysseus Resort & Spa: A five-star property boasting a stunning beachfront location, multiple outdoor pools, a spa, and a kids' club. The resort offers family rooms and suites for added space and comfort.
Holiday Village Atlantica Kos: A popular all-inclusive option with its own water park, kids' clubs, and sports facilities, providing entertainment for all ages. The resort offers various accommodation options, including rooms, suites, and villas.
Holiday Apartments
For families preferring self-catering options or those seeking the comfort of a home-away-from-home, holiday apartments in Kos can be an excellent choice. Areas such as Kardamena, Mastichari, Tigaki, and Marmari offer a variety of holiday apartments or rental properties equipped with kitchens, living areas, and separate bedrooms, allowing more space and flexibility for families.
Family-Friendly Activities
Beaches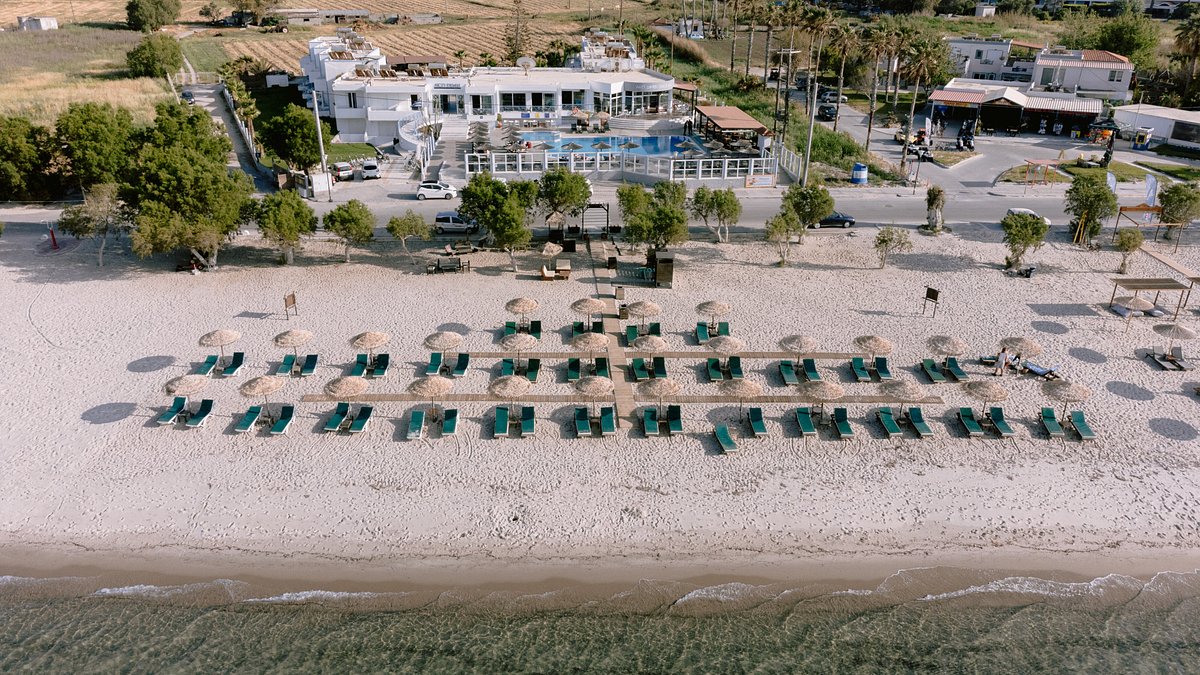 Kos is an island known for its beautiful beaches, perfect for a family holiday. Some of the finest family-friendly beaches include:
Tigaki Beach: A popular beach with golden sands and crystal-clear waters. Readily equipped with sun loungers, umbrellas, and beach bars.
Marmari Beach: A quieter beach with soft white sands and shallow waters, perfect for children to safely play and swim.
Kardamena Beach: A more active beach that offers water sports facilities, as well as nearby restaurants and shops for a convenient day out.
Water Parks
For a day of fun-filled excitement for the whole family, there are superb water parks on Kos, such as:
Lido Waterpark: A fantastic water park in Mastichari that features numerous slides, pools, and children's playgrounds. The park has a range of facilities, such as cafes, bars, and lockers for your convenience.
Aqua Blu: A smaller water park on the northeastern coast in Tingaki that has various water slides and a lazy river, ideal for a relaxing day in the sun with your family.
Cultural Attractions
Kos boasts a rich history and offers many cultural attractions suitable for families, such as:
Kos Ancient Agora: The ruins of an ancient marketplace in Kos Town, where families can explore and learn about the island's history.
Asklepieion: An ancient temple and medical centre dedicated to the Greek god of medicine, Asklepios. Situated in a serene location surrounded by lush greenery, it's perfect for an educational family excursion.
Kefalos Villages: These picturesque traditional villages around the Kefalos area are excellent to wander through and discover the authentic Greek island life. Families can also enjoy the local tavernas that serve delicious Greek cuisine.
Frequently Asked Questions
What are family-friendly resorts in Kos?
Kos offers various family-friendly resorts catering to the needs of families with children, ensuring a pleasant stay on this beautiful Greek island. Some popular options include Tigaki, Kardamena, and Marmari. These resorts provide child-friendly swimming pools, playgrounds, entertainment, and activities tailored to families, making it convenient for you to fully enjoy your holiday.
Which areas have the best beaches?
When it comes to beaches in Kos, the areas of Kefalos, Mastichari, and Tigaki are known for their pristine sandy beaches and clear blue waters. If you're looking for a relaxing family beach day, these locations offer a variety of beachfront amenities, such as sunbeds, umbrellas, and beach bars, alongside calm waters perfect for swimming and playing with children.
Which area has family-friendly activities?
Kos has plenty of family-friendly activities to keep everyone entertained during the holiday. Kos Town, the island's capital, is an excellent area for sightseeing and cultural exploration, with historical sites, museums, and nearby beaches. Tigaki and Kardamena also offer exciting things to do, including water sports, boat tours, and bike rentals, suiting the preferences of active families.
Are there any quiet towns for families?
If you're seeking more peaceful towns for your family holiday, consider Mastichari and Marmari. These tranquil villages provide a serene atmosphere away from the bustling tourist hotspots, yet still offer a great range of amenities and attractions, such as lovely beaches, nearby nature areas, and quality restaurants serving delicious Greek cuisine.
What areas have great restaurants?
Kos is renowned for its culinary scene, with a diverse range of eateries in most tourist areas. Kos Town, Kardamena, and Tigaki boast fantastic eateries, from traditional Greek tavernas to popular international restaurants. Whether you're in the mood for seafood, Mediterranean flavours, or child-friendly options, these areas cater to a variety of tastes and preferences.
Are there any all-inclusive family hotels?
Yes, Kos has an array of all-inclusive family hotels, ensuring a worry-free and memorable stay. Hotels like Ikos Aria and Mitsis Blue Domes Resort & Spa offer luxury accommodation and a wide range of facilities, including swimming pools, children's clubs, and entertainment for the whole family. These all-inclusive options provide convenience and excellent value, allowing you to effortlessly enjoy the island's beauty with your family.
Hailing from the historic city of Thessaloniki, Nikos Tsakiris is a passionate explorer, seasoned writer, and co-founder of Greek Island, the definitive travel blog for the Greek Islands.