Kos, a stunning Greek island known for its beautiful beaches, rich history, and vibrant nightlife, also boasts some fantastic water parks for visitors to enjoy. These attractions offer the perfect blend of relaxation and excitement, ensuring a fun-filled experience for the entire family. With an array of aquatic activities, including thrilling slides, winding rivers, and splash-filled play areas, visitors can stay cool and entertained throughout their visit.
Two of the best water parks on the island are Aquatica Water Park and Lido Waterpark. Located in Kardamena, Aquatica Water Park features a lazy river, a separate kids' play area, and a range of slides for younger visitors. With a 4.5 star rating on Tripadvisor, this park is a popular choice for families looking for a day of splash-filled fun. On the other hand, Lido Waterpark in Mastichari provides an expansive 75,000 sqm of aquatic entertainment. From pools and slides to rivers and wave attractions, this water park caters to thrill-seekers and relaxation-lovers alike.
With top-notch facilities, welcoming staff, and an assortment of aquatic attractions for all ages, Kos' water parks have earned their reputation as must-visit destinations. Whether you're seeking an adrenaline-pumping adventure or a refreshing break from the island's warm sun, these parks provide the perfect setting for creating unforgettable holiday memories.
Top Water Parks in Kos
Kos, a popular Greek island, offers a variety of water parks for visitors to enjoy during their stay. Two of the most notable ones, catering to all age groups and providing a fun-filled day, are Lido Water Park and Aqua Blu Water Park. Let's take a look at what each water park has to offer.
Lido Water Park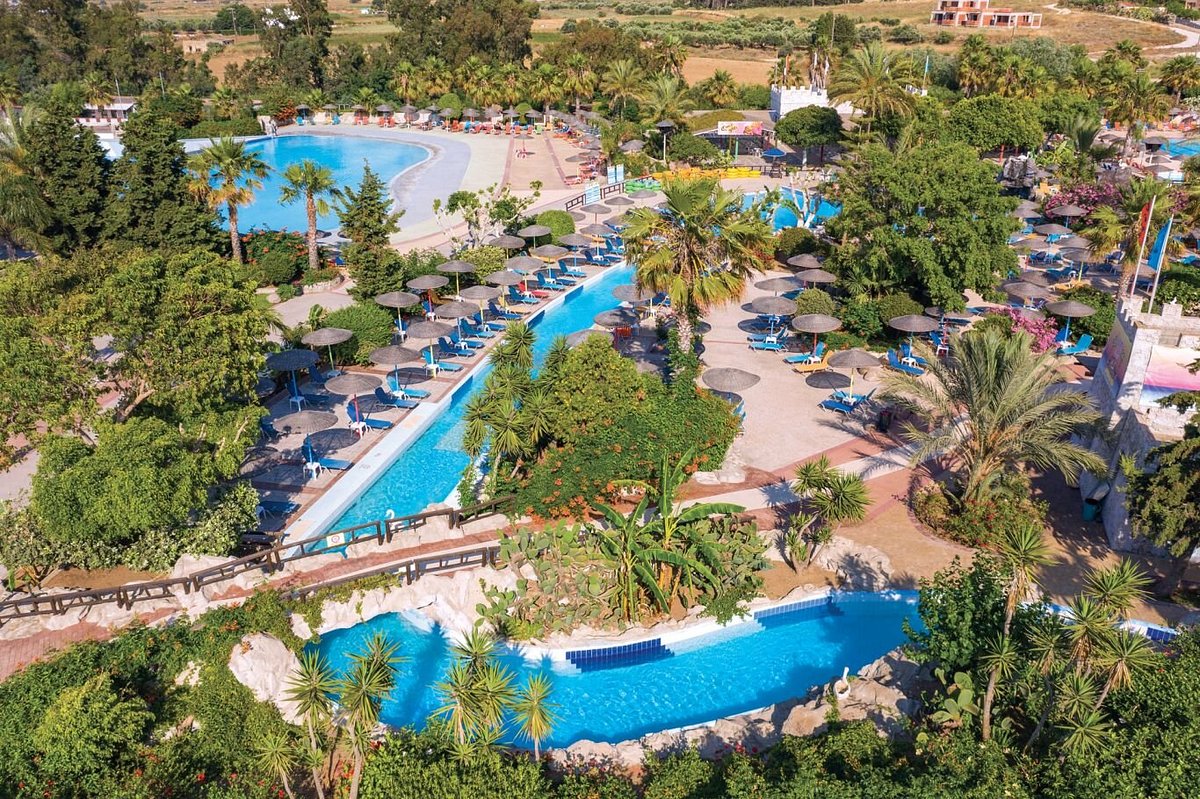 Lido Water Park is located near the village of Mastichari on the north coast of Kos. It's approximately 17 km from the capital, Kos Town, which takes about 20 to 25 minutes by car or taxi. If you're coming from one of the nearby towns or villages such as Tigaki, there's a bus service available to bring people to the park.
Lido Water Park offers:
A range of slides and attractions for all age groups
Friendly and helpful lifeguards
Food and beverage options on-site
Relaxing leisure facilities, including loungers and shaded areas
Aqua Blu Water Park
Aqua Blu Water Park, also known as Aquatica Water Park, caters to all ages with both thrilling and leisurely attractions. The water park features:
The Lazy River, a calm waterway for visitors to float and unwind
A separate kids' play area with small slides for younger ones
Friendly lifeguards ensuring the safety of all visitors
Delicious food and drinks such as milkshakes available on-site
Both Lido Water Park and Aqua Blu Water Park provide an exciting day out for the entire family. Bank on unforgettable memories as you splash and slide your way through these top water parks in Kos.
Additional Activities at the Water Parks
Slides and Attractions
Kos offers a variety of exciting water parks that cater to visitors of all ages. The Aquatica Water Park in Kardamena is a popular choice, boasting a wide range of slides and attractions for the whole family. Kids will love the lazy river and the separate play area featuring smaller slides for younger visitors.
Lido Water Park in Mastihari, occupying an area of 75,000 square meters, is known as one of the largest water parks in Greece. With a multitude of thrilling waterslides, wave pools, and enjoyable water games, there is plenty of excitement for everyone to enjoy.
Both water parks prioritise visitor safety, with specially trained lifeguards always on standby to assist when necessary.
Food and Drinks
Aside from its entertaining attractions, Kos' water parks also offer a variety of delicious food and drink options to keep guests satisfied throughout the day. Aquatica Water Park is particularly noted for their tasty milkshakes, while Lido Water Park provides convenient snack bars dotted throughout the area for guests to refuel.
For those looking for a complete meal, both water parks feature on-site restaurants serving a selection of dishes, including Greek and international cuisine. Patrons are sure to appreciate the comfortable seating areas where they can enjoy their meals and take a break from the sun.
In summary, with enjoyable slides and attractions, as well as diverse food and drinks options, Kos' water parks provide a fun-filled experience for the whole family to enjoy.
Planning Your Visit
Kos, a beautiful Greek island, is home to some fantastic water parks for you to enjoy during your stay. This section will guide you through essential information like ticket prices, opening hours, and reaching the parks.
Ticket Prices
The two best water parks in Kos are Lido Waterpark and Aquatica Water Park. Ticket prices at these parks vary depending on factors such as age and duration of the visit. Here's an overview of the pricing for each park:
Lido Waterpark:
Adults: €25
Children (5-12 years): €15
Infants (0-4 years): Free entrance
Aquatica Water Park:
Adults: €24
Children (4-12 years): €14
Infants (0-3 years): Free entrance
Opening Hours
Operating hours for these water parks are as follows:
Lido Waterpark: This park is open daily from 10:00 AM to 6:00 PM during the summer season(May to October).
Aquatica Water Park: This park is open from 10:30 AM to 5:30 PM daily during the summer season.
It's a good idea to check the parks' websites before visiting to stay updated on any changes in opening hours or special events.
Travelling to the Parks
Lido Waterpark: Located in Mastichari, it's about 25 km from the Kos town centre. You can reach the park by car, taxi, or the regular shuttle bus service provided by the water park.
Aquatica Water Park: Found in Kardamena, this park can be easily accessed by car or taxi. Public transportation options include local buses that run between Kos Town and Kardamena.
Remember to carry essentials like sunscreen, towels, and swimwear for your visit to make the most of your time at these fantastic water parks in Kos.
Frequently Asked Questions
Top water parks in Kos?
Kos has a couple of popular water parks for visitors to enjoy. The major ones include the Lido Waterpark in Mastichari and Aquatica Water Park in Kardamena. Both parks provide a variety of water activities for all ages and offer hours of entertainment.
Lido Water Park prices?
The pricing information for Lido Water Park tickets was not found, but tickets can be purchased on their official website or at the park entrance. Sometimes tour packages might include admission as well.
Lido opening dates?
Lido Water Park operates during the warm months, usually from early May to late September. The park is open daily from 10:00 AM until 6:00 PM, providing visitors with plenty of time to enjoy the various water attractions.
Transport to Lido park?
Getting to Lido Waterpark can be achieved via several transportation options. You can drive to the park by car or motorbike, as there is adequate parking available. Alternatively, you can take a taxi or join a tour group that offers transport to the water park. If you're staying nearby, some hotels also offer complimentary shuttles to the park.
Safety measures at parks?
Safety at water parks is their top priority, ensuring guests have a stress-free and enjoyable experience. There are lifeguards and park staff on duty, overseeing all rides and pools. Proper and regular maintenance of park facilities is also conducted. Guests are encouraged to follow all safety guidelines and requirements.
Water activities in Kos?
In addition to visiting the water parks, Kos offers a wide range of water activities for visitors. These can include swimming, snorkelling, scuba diving, windsurfing, and stand-up paddleboarding. There are also boat tours, fishing trips, and sailing excursions available from various locations around the island.
Hailing from the historic city of Thessaloniki, Nikos Tsakiris is a passionate explorer, seasoned writer, and co-founder of Greek Island, the definitive travel blog for the Greek Islands.