June is a fantastic time to visit the beautiful island of Kos, Greece, as the weather starts to heat up and summer approaches. This period offers a perfect mix between warmth and sunshine, with moderate humidity, making it an ideal time for travellers looking to indulge in the various outdoor activities that Kos has to offer. From exploring the ancient ruins to lounging on sandy beaches, June's weather sets the stage for an unforgettable holiday experience.
During June, the average temperature ranges between 22.1°C and 25.2°C, with an average high of 25.2°C in Kos, ensuring that the days are pleasantly warm. As for rainfall, it's minimal, averaging only 8mm throughout the month, making it a great time to visit the island without the worry of disruptions due to heavy rain. With around 10 hours of sunshine per day, the island is filled with vibrant energy, perfect for exploring stunning landscapes and engaging in water sports as the sea temperature sits at a comfortable 22°C.
Weather Overview in June
Temperature Averages
In June, the weather in Kos starts to become warmer as it marks the beginning of the summer season. The average high temperature during this month is around 25.2°C (77.4°F), making it a moderately hot month. Nights are relatively warm, with the average low-temperature settling at 22.1°C (71.8°F).
Rainfall and Sunshine Hours
Rain is quite rare in Kos during June, making it a popular time for visitors in search of sunny beach weather. The amount of precipitation during this month is almost negligible, with 0 mm of average rainfall. The island enjoys plenty of sunshine, with a 84% chance of sunny days and relatively low humidity levels, averaging at 64%.
Wind Speed and Direction
Whilst the temperature and sunshine hours are favourable, it is also important to take into consideration the wind conditions during your visit to Kos. The island can experience varying wind speeds in June, providing a cooling effect on hot days. More detailed information regarding wind speed and direction can be found by checking local forecasts closer to your planned trip.
What to Expect in Kos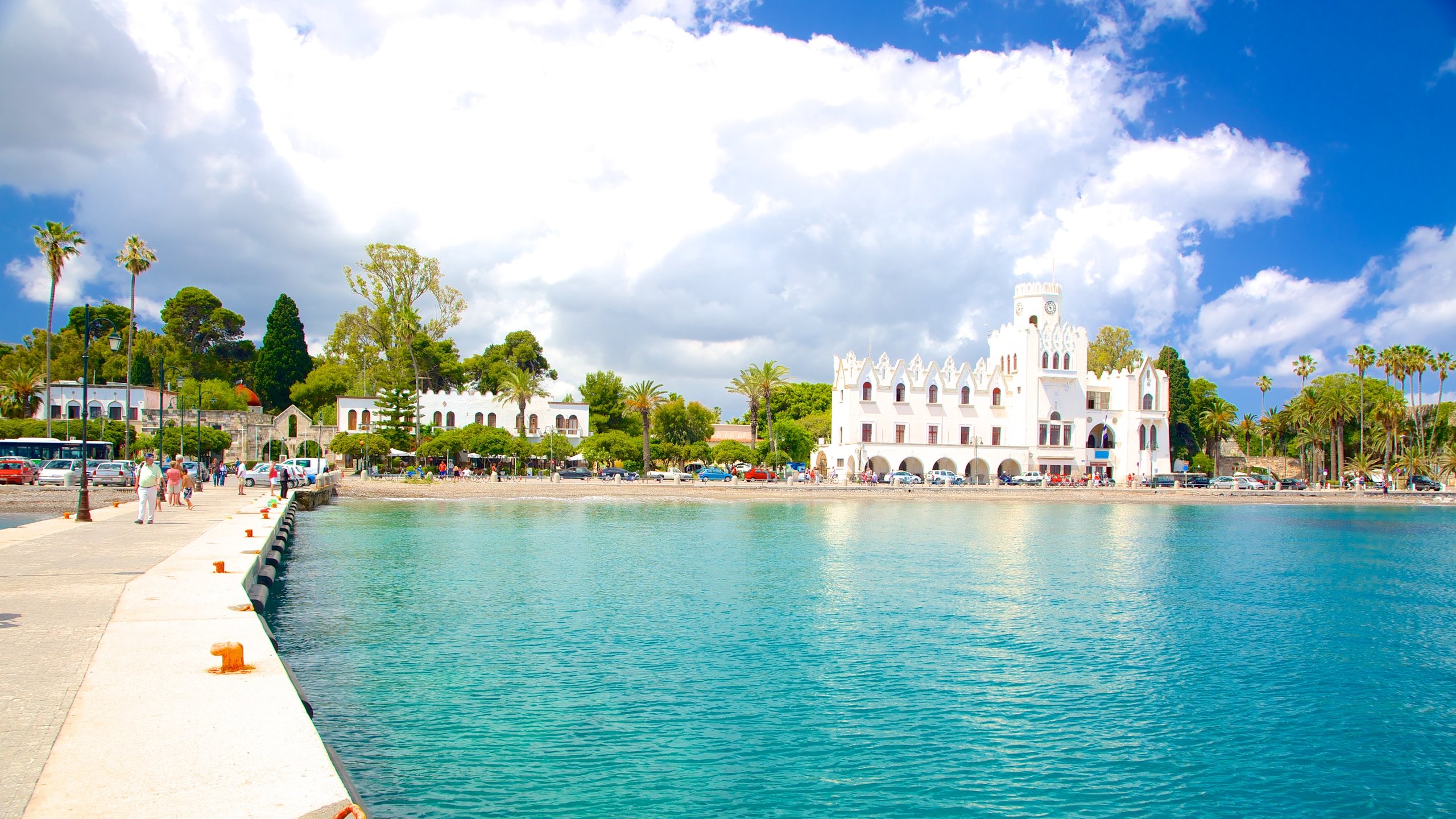 Kos, a beautiful Greek island, enjoys lovely weather in June, with high temperatures averaging around 27°C (81°F) and low temperatures at 19°C (66°F) 1. With 10 hours of sunshine per day and just 3 days of rainfall, the conditions are ideal for various outdoor activities and beach visits. In this section, we will discuss the best outdoor activities, beaches, and swimming conditions to expect during your visit to Kos in June.
Outdoor Activities
June is a great month for outdoor activities in Kos, thanks to the warm temperatures and minimal rainfall. You can easily explore the island's historical sites, such as the Asklepion and the Castle of Neratzia, comfortably in the pleasant weather. If you're up for an adventure, why not try cycling or hiking around the island? The daytime temperatures are perfect for these activities. Just be sure to bring sunscreen and stay hydrated!
Beaches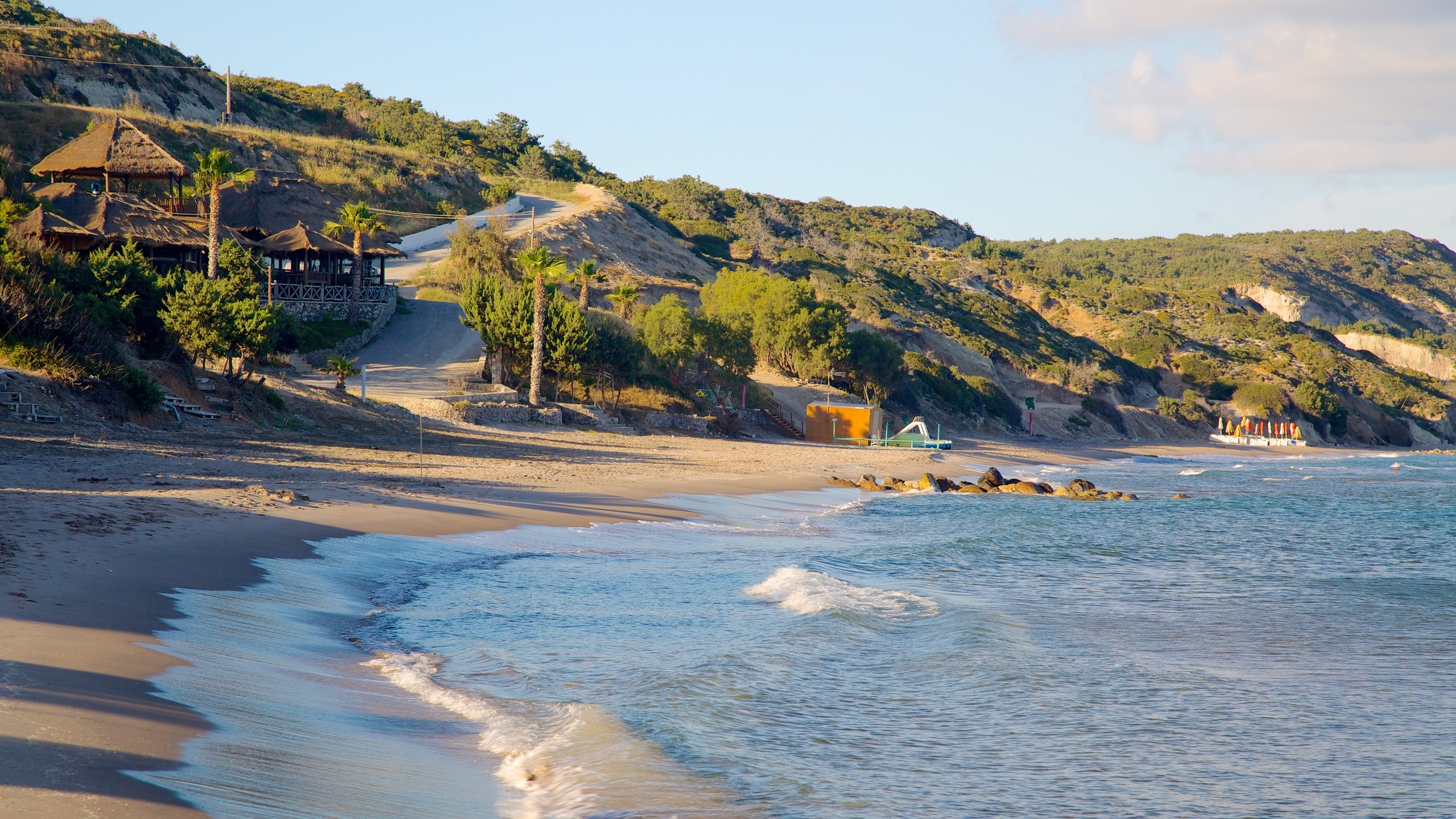 Kos is well-known for its beautiful beaches, and June is the perfect time to visit them. Some popular options include Paradise Beach, Agios Stefanos Beach, and Kardamena Beach. The sea temperature in Kos in June is around 22°C (72°F), making it a pleasant time to dip your toes in the water or enjoy a refreshing swim. The beaches are also typically less crowded in June compared to the peak summer months of July and August, so you can enjoy a more relaxed atmosphere and have a peaceful time soaking up the sun.
Swimming Conditions
The swimming conditions in Kos in June are generally favourable, as the sea temperature is a comfortable 22°C (72°F), allowing for a refreshing swim in the turquoise waters of the Aegean Sea. Though June doesn't have the warmest sea temperatures of the year, it's still a fantastic time to take a dip and enjoy various water sports, such as stand-up paddleboarding, snorkelling, and scuba diving. Be sure to apply waterproof sunscreen and follow any safety guidelines to make the most out of your time in Kos.
Packing Tips for June
When planning your trip to Kos in June, it's essential to pack the right items for the warm, sunny weather. In this section, we'll discuss packing tips for clothing and accessories, gadgets, and miscellaneous items.
Clothing and Accessories
In June, the average high temperature in Kos is 27°C (81°F) during the day and 19°C (66°F) at night. Since it's warm and balmy, you should pack light and breathable clothing, including:
Short-sleeved shirts or tank tops
Shorts, skirts, or dresses
Lightweight trousers for evenings
Swimsuits or swim trunks
A light, airy cover-up for beach days
Sunglasses and a wide-brimmed hat to protect against the sun
Comfortable sandals for walking and a pair of closed-toe shoes for evenings
A light jacket or cardigan for cooler evenings
Sunscreen with high SPF, as well as lip balm with SPF
Gadgets
For a comfortable and enjoyable trip to Kos in June, consider packing the following gadgets:
A compact, waterproof digital camera or smartphone for capturing memories
Portable charger to keep your devices powered during a long day of exploring
Travel adaptor compatible with Greek outlets
Earplugs and a sleep mask for restful sleep
A reusable water bottle to stay hydrated in the heat
Miscellaneous
In addition to clothing and gadgets, don't forget these miscellaneous items for a stress-free holiday in Kos:
A lightweight, collapsible beach bag for beach essentials
Travel-size toiletries, including shampoo, conditioner, and body wash
A quick-dry travel towel that can be used for both the beach and showers
A small, collapsible umbrella in case of unexpected showers
Insect repellent to avoid pesky mosquito bites
A travel journal or notebook to record your experiences
Hailing from the historic city of Thessaloniki, Nikos Tsakiris is a passionate explorer, seasoned writer, and co-founder of Greek Island, the definitive travel blog for the Greek Islands.