October in Kos, the third-largest island in the Dodecanese, offers visitors a blend of mild temperatures and a less crowded atmosphere than the peak summer months. As autumn unfolds, the island begins to embrace a more tranquil ambiance, while still keeping the charm of its undeniably pleasant weather. For those who love to explore the natural beauty of Greece without the bustling crowds, this picturesque island is a perfect destination during the month of October.
The average temperature during the day in October hovers around 20.6°C, making it an idyllic setting for outdoor activities such as sightseeing, hiking, or beach visits. While travelling to Kos this time of year, it's wise to pack a light jacket or jumper for the evenings, as the average low temperature is about 16°C. The sea remains warm enough for a swim, with an average temperature of 23°C. Rainfall during October is minimal, with approximately 59mm of rain spread over six days, ensuring that your days on the island can be pleasantly sunny while still experiencing the refreshing breezes of autumn.
Overview of Weather in Kos in October
In October, the weather in Kos, Greece, starts to change from the warm summer temperatures to the cooler autumn climate. This month is a good time to visit if you prefer milder weather conditions and fewer crowds. This section will explore temperature ranges, rainfall, humidity, and sunlight hours in Kos during October.
Temperature Ranges
The average temperature in Kos in October is around 19°C (66°F), with daily highs reaching up to 22°C (72°F) and lows dipping to 16°C (61°F) at night source. While the overall temperature remains pleasantly mild, it is advisable to bring a jumper or light jacket for the cooler evenings.
Rainfall
October sees an increase in rainfall compared to the summer months, with a total of 59 mm of precipitation spread across an average of 6 days source. While rain may be more frequent than earlier in the year, it is still relatively infrequent, and sunny days remain common.
Humidity
The average humidity in Kos during October is around 67% source. This is a comfortable level, ensuring that the general atmosphere is not overly dry or stuffy. The combination of moderate humidity and cooler temperatures makes it an enjoyable time for sightseeing and other outdoor activities.
Sunlight Hours
In October, Kos enjoys an average of 7 hours of sunshine per day source, which is less than the summer months but still enough for days spent exploring the island or relaxing on the beach. As the days begin to shorten, the sun sets earlier, ushering in the cool, autumnal evenings.
Factors Affecting October Weather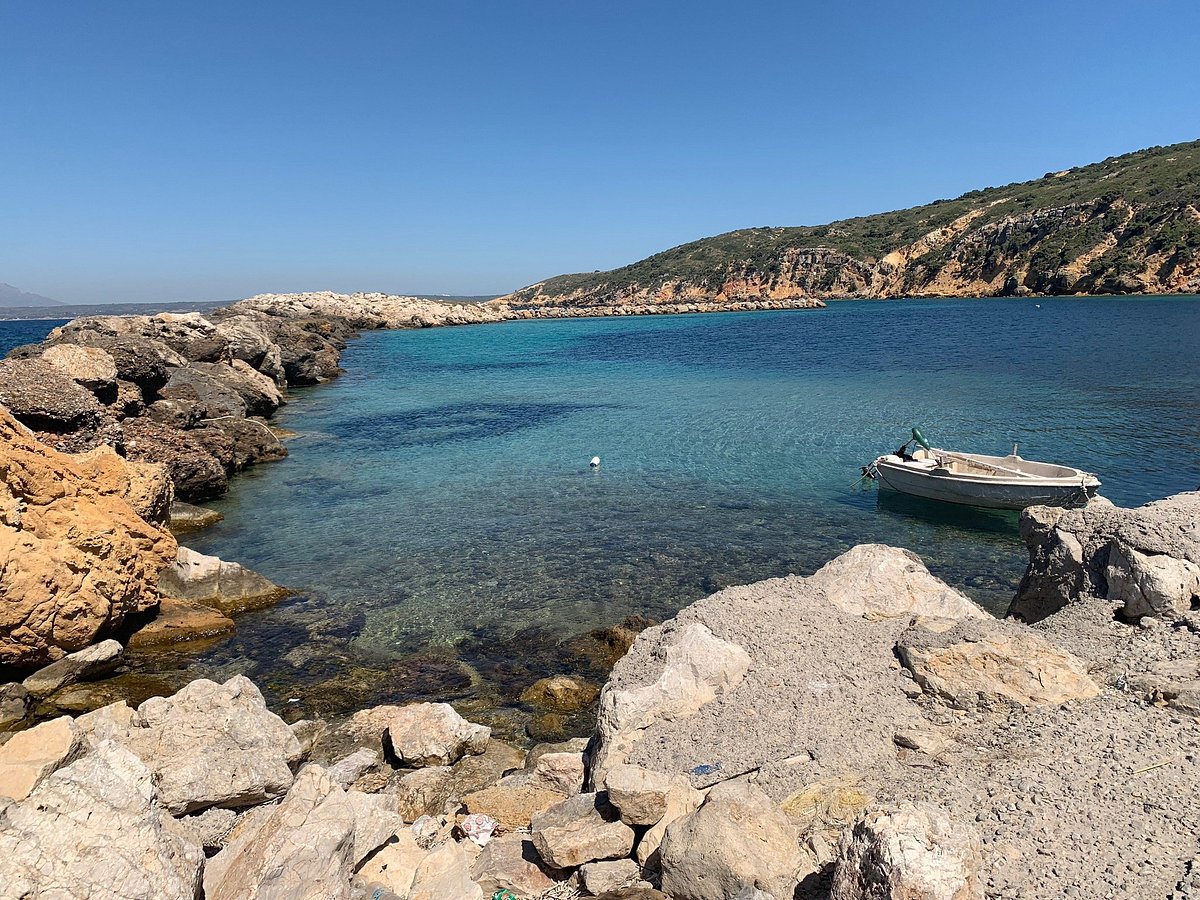 Location and Climate
Kos is a Greek island in the southeastern Aegean Sea and is part of the Dodecanese island chain. The island has a Mediterranean climate, known for its warm summers and mild winters. In October, the weather begins to change as autumn sets in, with cooler temperatures and increased rainfall. The average daily maximum temperature in Kos during October is 23°C, while the average daily minimum is 17°C.
During this month, days become shorter, and cloud cover increases. Even so, the weather remains predominantly sunny, with a 69% chance of sunshine in October. Humidity levels usually sit around 67%, making the air feel relatively comfortable.
Regional Influences
Kos's location in the southern Aegean Sea exposes it to various regional weather systems, which can affect its local climate. In October, the dominant weather pattern shifts from the warm, dry northwesterly Etesian winds to cooler southwesterly winds carrying moisture from the Mediterranean. With this shift, the island experiences increased rainfall as the month progresses.
Additionally, Kos is affected by weather systems originating from the nearby Turkish mainland, which can bring occasional storms in October. These often result in short, sharp bursts of rainfall, followed by clear skies.
Overall, though the weather in Kos in October is not as sunny and warm as it is during the summer months, it is still a pleasant time to visit due to the mild temperatures and ample sunshine.
Activities to Enjoy in October
Outdoor Attractions
In October, the weather in Kos is pleasant, with average temperature highs around 22ºC and more rain than September. This mild weather makes it perfect for exploring the natural beauty of the island. Hiking and mountain biking are popular activities, as they are more comfortable under the cooler sun. In addition, the beaches are less crowded, so you can relax and enjoy the sun, surf, and sand without the summer bustle.
Cultural Events
October offers a unique opportunity to enjoy Kos's rich historical sites while avoiding the massive summer crowds. You can visit impressive landmarks, such as the ancient ruins of Asklepieion or the Castle of the Knights. These archaeological sites are more enjoyable in the cooler weather and provide a lovely insight into the island's past. Walking tours around the city are particularly delightful during this time, and you can discover the island's rich history at a more leisurely pace.
Culinary Experiences
Another fantastic aspect of visiting Kos in October is the chance to sample its delicious local cuisine. The autumn flavours bring a fresh, unique perspective to Greek dishes that are sure to entice your tastebuds. With an abundance of local produce, traditional tavernas serve up dishes like stuffed peppers, moussaka, and freshly caught seafood. Enjoy these culinary delights while sitting alfresco at a picturesque beachside tavern or a charming village eatery, taking in the beautiful surroundings as the sun sets over the Aegean Sea.
Eleni Vasiliadis, a native of the picturesque island of Corfu and co-founder of Greek Island, is a seasoned traveller, accomplished writer, and passionate advocate for Greek culture and cuisine.