Mykonos is a mesmerising Greek island that boasts stunning landscapes, beautiful beaches and vibrant nightlife. For families looking to experience all the charm and adventure this enchanting destination has to offer, selecting the right area to stay is vital. With numerous beach resorts and picturesque villages to choose from, families can easily find the perfect spot that caters to their unique needs and preferences.
Among the top choices for family-friendly areas in Mykonos are Mykonos Town, Agios Ioannis, Ornos, Platis Gialos, and Psarou. Each of these locations offers a different yet exceptional experience for travellers. Mykonos Town, for instance, is a convenient and bustling area with the main town's attractions nearby, while the charming villages of Agios Ioannis, Ornos, and Platis Gialos bestow a more authentic atmosphere and captivating views.
Apart from the exceptional areas mentioned above, the island is home to several luxury resorts and budget-friendly hotels that cater specifically to families. Some of the best family hotels include Santa Marina, A Luxury Collection Resort, Mykonos; Mykonos Dove Beachfront Hotel in Platis Gialos; and Destino Pacha Mykonos near Agios Stefanos Beach. Each of these establishments aims to provide a comfortable and memorable stay to families visiting the captivating island of Mykonos.
Best Areas in Mykonos for Families
Platis Gialos
Platis Gialos is an excellent area for families to stay in Mykonos, as it is known for its clean and safe beach. The waters are clear and perfect for children to play in, and the beach offers various water sports for the whole family to enjoy. There are a vast number of restaurants and cafes nearby, providing a variety of cuisines to suit everyone's taste buds. Notable family-friendly hotels in Platis Gialos include the Mykonos Dove Beachfront Hotel.
Ornos
Ornos is another great area for families to stay in Mykonos. The village is located on a beautiful bay with a sandy beach and calm waters, making it ideal for young children. The area features numerous family-friendly restaurants, shops, and cafes, ensuring that families have everything they need during their stay. In addition, Ornos is relatively close to Mykonos Town, offering easy access to the vibrant nightlife and shopping options when desired. A top family-friendly hotel in Ornos is the Santa Marina, A Luxury Collection Resort, Mykonos.
Agios Ioannis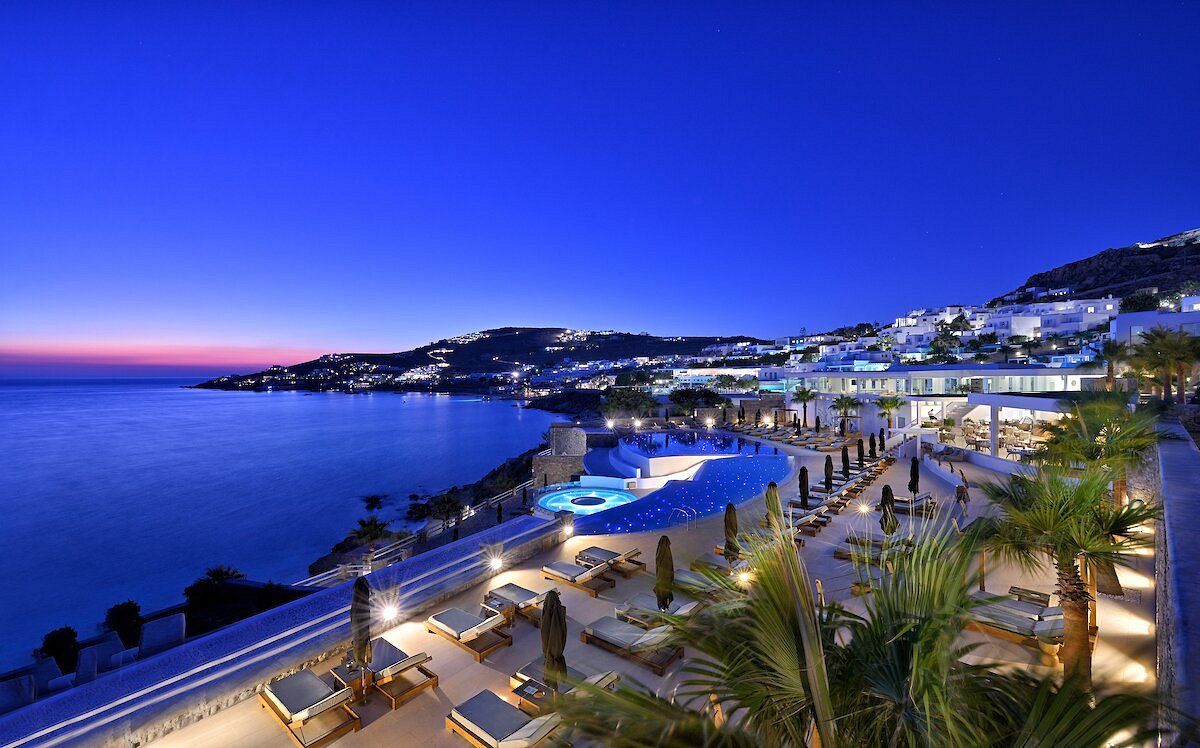 Agios Ioannis is a quiet and picturesque area on the island that is perfect for families seeking a more tranquil, authentic experience in Mykonos. With its stunning beach and calm waters, families can spend long days together swimming and sunbathing in this peaceful location. The village also has several family-friendly dining options and is close to the lively Mykonos Town if families care for a change of pace. A recommended family hotel in Agios Ioannis is the Destino Pacha Mykonos.
Family-Friendly Accommodation Options
Hotels
When it comes to family-friendly hotels in Mykonos, there are several highly-rated options. Some of the best hotels for families include:
Semeli Hotel in Mykonos Town
Santa Marina in Ornos
Petasos Beach Resort & Spa in Platis Gialos
Myconian Villa Collection at Elia Beach (ideal for families seeking a villa experience)
These hotels offer amenities such as pools, spacious rooms, and proximity to popular attractions.
Villas
For a more private and spacious accommodation, families can opt for villas. Some of the best family-friendly villas in Mykonos are:
Myconian Villa Collection at Elia Beach – offering exceptional amenities and breathtaking views
Nissaki Boutique Hotel near Psarou Beach – featuring elegant rooms, suites, and self-contained villas perfect for families
Villas in Mykonos usually come equipped with a private pool, kitchen, and multiple bedrooms, making them ideal for families who value privacy and independence during their stay.
Apartments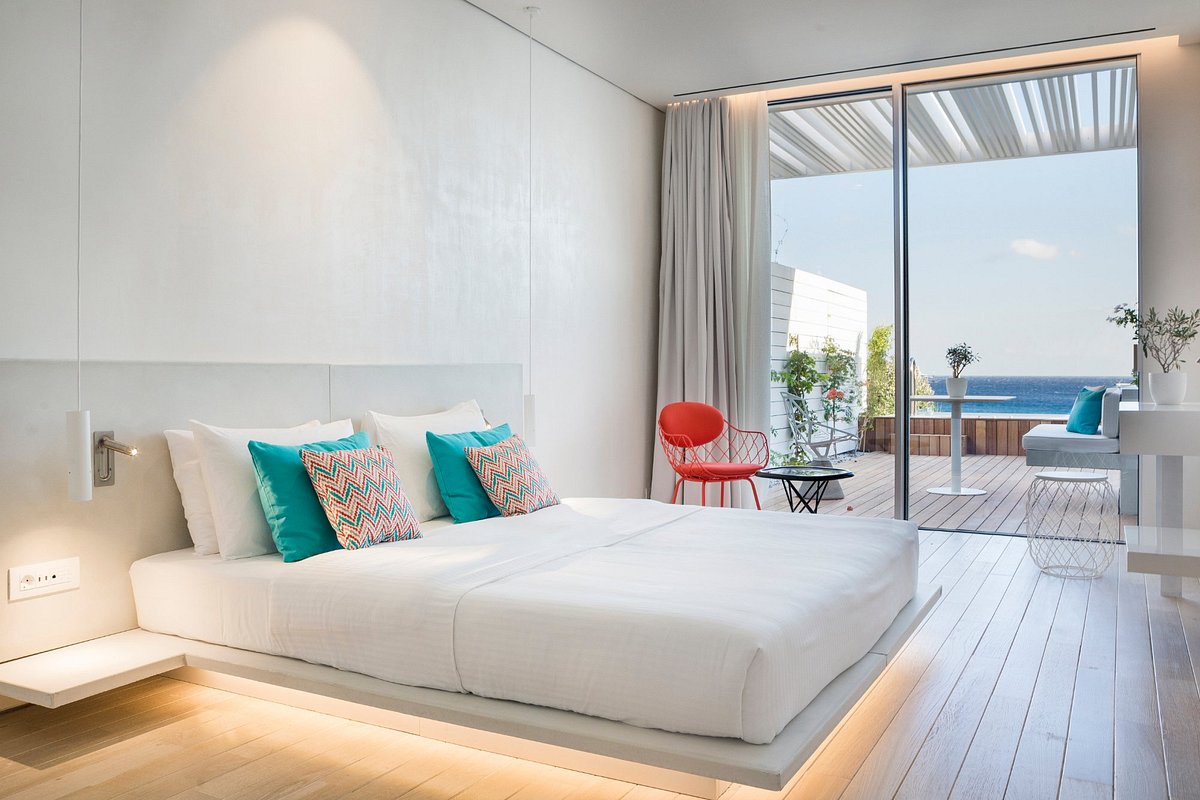 Apartment rentals are another excellent option for families visiting Mykonos. They provide the comfort of home and flexibility to cater to various preferences within the family.
Some of the top family-friendly apartments in Mykonos include:
Mykonos Dove Beachfront Hotel in Platis Gialos – offers a selection of luxury apartments with access to hotel amenities
Destino Pacha Mykonos near Agios Stefanos Beach – featuring stylish apartments with modern amenities and hotel services
When choosing a family-friendly accommodation in Mykonos, consider factors such as location, proximity to attractions, budget and facilities that cater to the needs and preferences of your family.
Activities and Attractions for Families
Beach Activities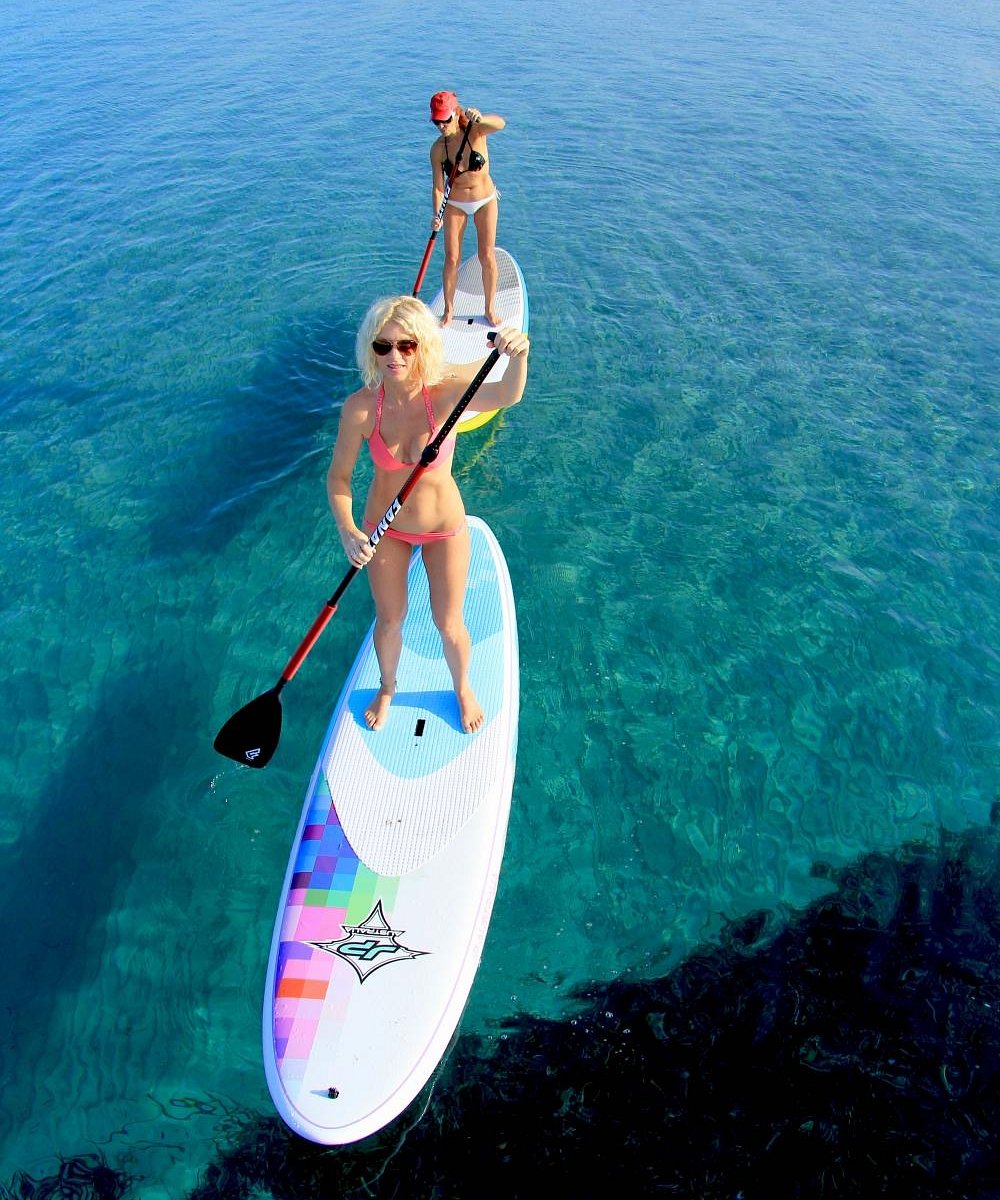 In Mykonos, families can have a fantastic time participating in various beach activities. Many stunning beaches are suitable for families, such as Ornos, Platis Gialos, and Psarou. Parents and children can enjoy:
Swimming and sunbathing
Snorkelling
Paddleboarding
Beach games
Mykonos offers boat tours and water sports, so families can choose from a range of exciting activities like jet-skiing, parasailing, and banana boat rides.
Cultural and Historical Sites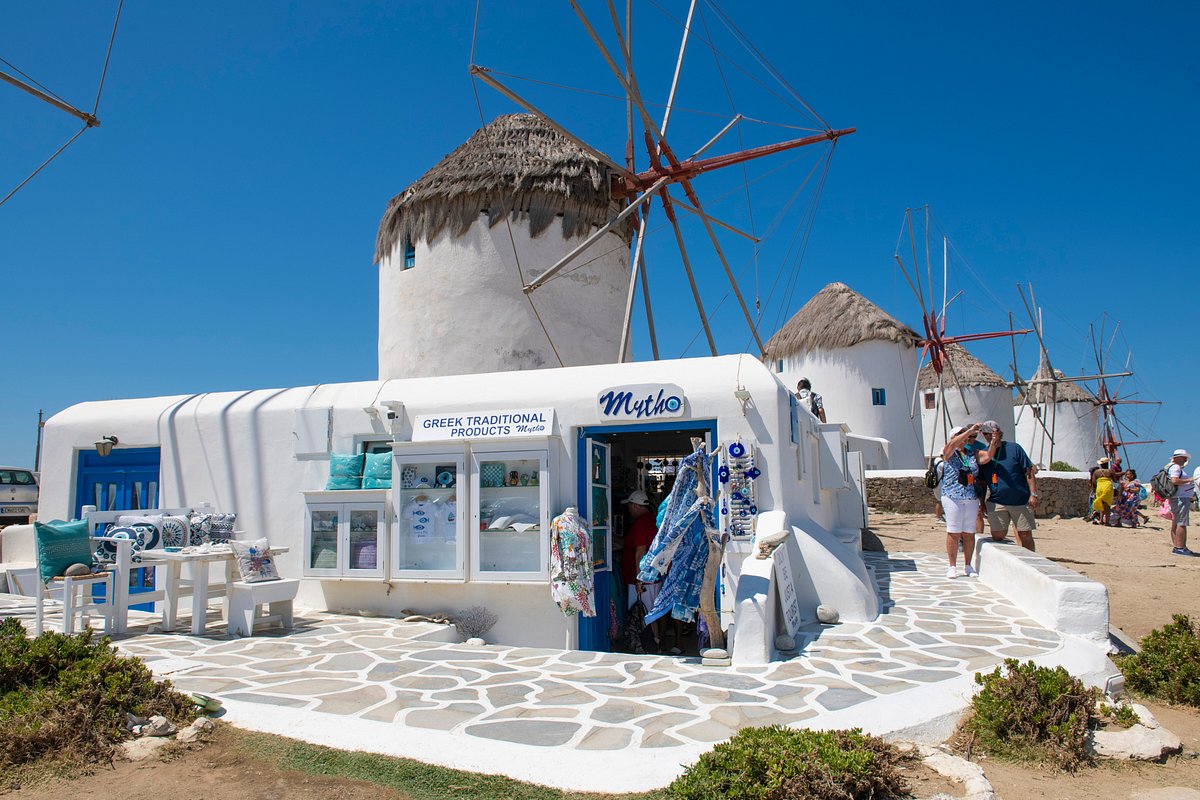 Mykonos holds a rich history that families can explore by visiting various cultural and historical sites. Some noteworthy attractions include:
Mykonos Windmills: These iconic windmills are a symbol of the island's past and offer a beautiful spot for family photos.
Panagia Paraportiani: This unique church, consisting of five chapels, showcases the island's architectural history and is a must-visit for families.
Archaeological Museum of Mykonos: This museum is perfect for families looking to learn about the island's ancient history through artefacts and exhibitions.
Little Venice: This picturesque area offers stunning views, and families can take a leisurely stroll to soak in the charming atmosphere.
Kid-Friendly Dining Options
When exploring Mykonos with kids, finding suitable dining options can be crucial. Here are some family-friendly restaurants to consider:
Kuzina: Offering a diverse menu with Mediterranean and Asian flavours, Kuzina has options for both children and adults, making it a great family dining spot.
Appaloosa: Known for its delicious Mexican cuisine, Appaloosa welcomes families and has a relaxed, colourful atmosphere.
Joanna's Nikos Place: A popular family-run taverna, Joanna's Nikos Place serves traditional Greek dishes, providing an authentic culinary experience for your family.
In summary, Mykonos offers a variety of activities and attractions for families, from beautiful beaches to cultural sites and kid-friendly dining choices.
Frequently Asked Questions
Top family-friendly resorts?
Some of the best family-friendly resorts in Mykonos are Santa Marina – A Luxury Collection Resort, Mykonos Dove Beachfront Hotel for Families in Platis Gialos, and Destino Pacha Mykonos near Agios Stefanos Beach. These resorts offer luxurious facilities and cater to the needs of families with children.
Best beaches for kids?
There are several family-friendly beaches in Mykonos, such as Platis Gialos, Agios Stefanos Beach, Kalafatis, and Ornos Beach. These beaches have shallow waters, soft sand, and offer various water sports activities suitable for children.
Family attractions in Mykonos?
Mykonos offers several family-friendly attractions, including the Aegean Maritime Museum, the Archaeological Museum of Mykonos, taking a stroll around Mykonos Town, visiting the iconic windmills, and exploring Little Venice. A day trip to the nearby archaeological site of Delos is also a great option for families interested in ancient history.
Car-free areas for lodging?
Most of the lodging options in Mykonos Town are within pedestrian-friendly zones, making it convenient for families with young children. Please note that accommodation in these areas may require walking on cobblestone streets, which could be challenging for pushchairs.
Child-safe night activities?
Mykonos is known for its vibrant nightlife, but there are several child-safe activities for families to enjoy during the evening. Watching the sunset is a popular activity, visiting the windmills, exploring Little Venice, or having dinner at a family-friendly restaurant are some options.
Mykonos family day trip ideas?
Day trips around the island can include exploring nearby beaches, taking a boat trip to Delos, or visiting the traditional villages of Ano Mera and San Giorgio. Additionally, families can rent a car or use taxi boats to hop between different regions and discover pristine beaches, historical sites, and local cuisine.
Eleni Vasiliadis, a native of the picturesque island of Corfu and co-founder of Greek Island, is a seasoned traveller, accomplished writer, and passionate advocate for Greek culture and cuisine.