Mykonos is known as a spectacular island destination in Greece, offering visitors a range of water parks and activities to enjoy during their stay. With its crystal-clear waters, golden sandy beaches, and sunny climate, it's no surprise that water lovers find this island paradise a perfect spot to indulge in some exciting and entertaining water-based activities.
There are a variety of water sports and activities available in Mykonos, catering to all ages and preferences. From the thrilling water sports at Platys Gialos and Kalafatis beaches to the leisurely boat cruises along the stunning south coast, adventure-seekers and families alike will find something to suit their tastes. Many rental shops and centres provide equipment and guidance, such as the Mykonos Dive Center, which offers snorkelling and scuba diving experiences at Paradise Reef.
So, whether you're planning a family vacation or just seeking some watery adventures during your trip to this gorgeous Greek island, these water parks and activities in Mykonos won't disappoint. Dive into the fun, and prepare to make unforgettable memories as you explore all the aquatic offerings that Mykonos has to offer.
Best Water Parks in Mykonos
Mykonos is a beautiful Greek island known for its stunning beaches and water sports. Among these attractions, there are two water parks that stand out and are worth visiting: Paradise Waterpark and Aqua Playground Mykonos. In this section, we will explore what each water park has to offer.
Paradise Waterpark
Paradise Waterpark is located at the famous Paradise Beach, which is known for its crystal-clear waters, lively atmosphere, and the Tropicana Bar, one of the best beach bars in the world. The water park offers a wide range of exciting attractions, including:
Slides: Multiple water slides that cater to all ages and thrill levels
Splash Pools: A designated area for children to enjoy water play in a safe environment
Sun Loungers: Plenty of sun loungers to relax and soak up the sun while watching others enjoying the water park activities
Paradise Waterpark provides a fun-filled, family-friendly experience that complements the vibrant beach atmosphere. Visitors can enjoy a full day of water activities followed by an evening of entertainment at the Tropicana Bar.
Aqua Playground Mykonos
Aqua Playground Mykonos is an inflatable water park located on one of Mykonos' beautiful beaches. The park offers a unique and entertaining water experience that's suitable for people of all ages. Some of the park's features include:
Inflatable Obstacles: Challenging and fun inflatable obstacles such as climbing walls, balance bridges, and slides
Jumping Pillows: Large bouncing pillows for jumping and tumbling on the water
Splash Zones: Areas with water sprayers, fountains, and other water features, perfect for cooling off on a hot day
Aqua Playground Mykonos is an excellent choice for visitors seeking a fun and engaging water activity without being overwhelmed by large crowds typically found at other water parks. With a focus on safety and fun, the park is a great addition to any Mykonos vacation.
Top Attractions in Each Water Park
Slides and Pools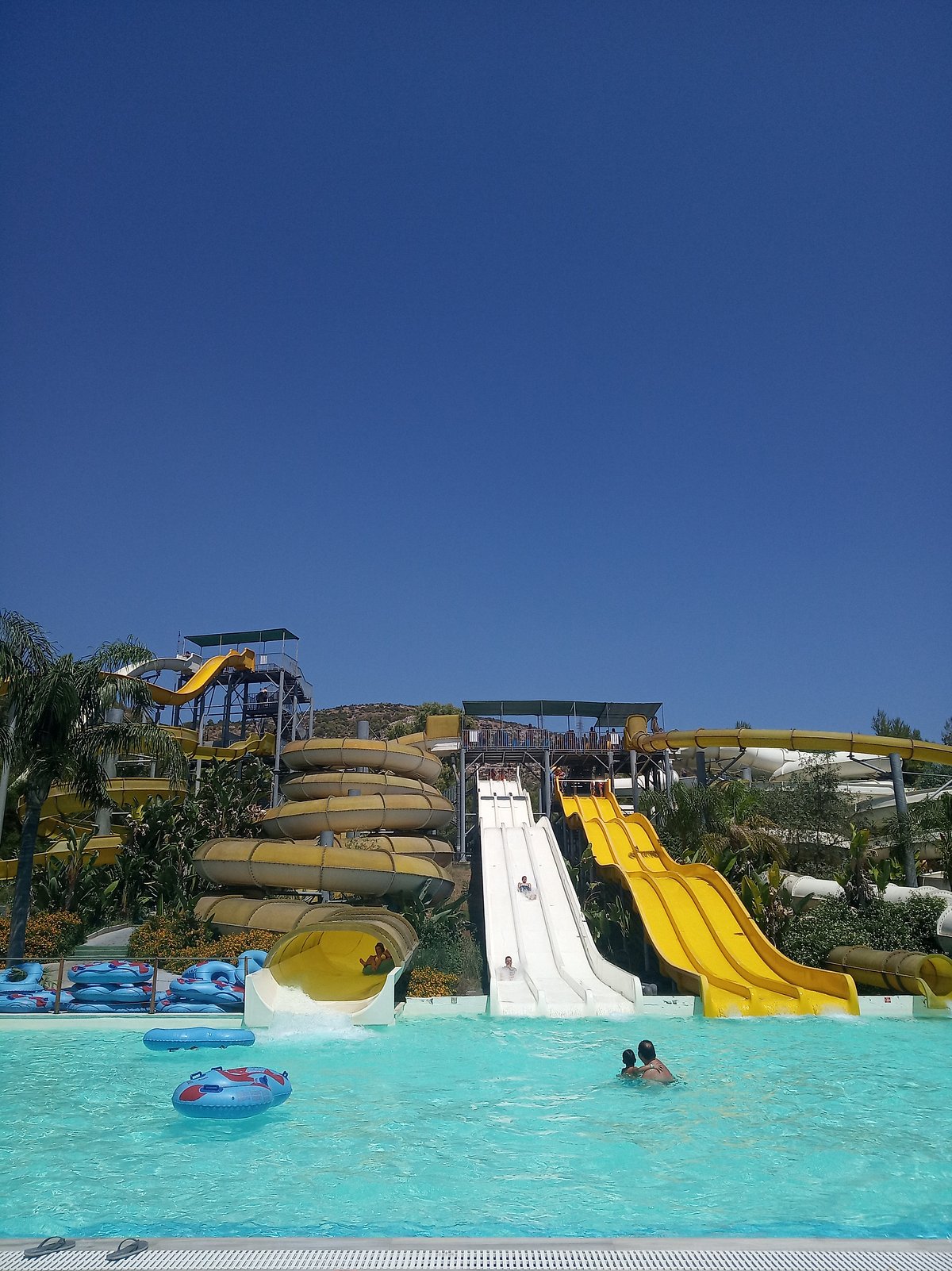 Mykonos offers a variety of water sports and activities for visitors to enjoy. However, it doesn't have any specific water parks with slides and pools. Instead, the island's top attractions are its beautiful beaches and water sports providers.
For those seeking thrilling slides and pools, you can enjoy activities such as snorkeling, diving, and sailing. Snorkeling Adventure Trip, for example, is a popular experience that lets you explore the beautiful underwater world around Mykonos. Another option is the full-day sailing cruise to Delos and Rhenia islands, which includes lunch and time for swimming.
With its crystal-clear waters and sandy beaches, Mykonos is an ideal destination for water sports enthusiasts of all kinds.
Adventure Areas
The island of Mykonos offers a wide range of water-based adventure areas, allowing visitors to partake in various activities during their stay. Among the most popular of these activities are:
Windsurfing: Mykonos' consistent wind conditions make it a windsurfing paradise. There are several spots, such as the beaches of Ftelia, Kalafatis, and Korfos, where you can find windsurfing schools and rent equipment.
Paddleboarding: Stand-up paddleboarding is becoming increasingly popular around Mykonos. It's a fantastic way to explore the island's coastline and enjoy the turquoise waters. Rent equipment from local providers or join guided tours.
Jet skiing: For those who crave speed, jet skiing is an exciting way to explore the Mykonos coastline. Several companies offer jet ski rentals and guided tours around the island.
Water Skiing: Mykonos Water Ski offers private lessons for beginners and experienced water skiers alike. Learn the basics or sharpen your skills while enjoying the beautiful surroundings.
While Mykonos may not have traditional water parks with slides and pools, it boasts a wealth of water-based adventure areas and activities that cater to all tastes. Whether you're a thrill-seeker, a family on vacation, or a couple looking for a romantic getaway, Mykonos is sure to exceed your expectations.
Visiting Tips
Best Time to Visit
Mykonos is a popular destination for tourists, especially during the peak travel months of June to September. During this time, you can expect the water parks to be busy, and hotel prices to be at their highest. However, if you prefer a more relaxed experience at the water parks, consider visiting during the shoulder season, which is from April to early June, and late September to October. During this time, the weather is still pleasant, there are fewer crowds, and accommodation prices are generally lower.
Ticket Information
When planning your visit to the water parks in Mykonos, it's important to be aware of the ticket options available. There are typically single-entry tickets, as well as multi-entry passes for those looking to spend more time at the parks. If you're travelling with a group or family, look out for group discounts or family packages to save on ticket costs.
Single-entry tickets: These are ideal for visitors who are only planning to spend a day at the water park. Prices may vary depending on the park and the season but always check the official website for the most up-to-date information.
Multi-entry passes: For water park enthusiasts or those with a longer stay in Mykonos, this option offers better value for money. These passes often allow for unlimited access to the park over a certain number of days, making it perfect for those who want to make multiple visits.
Group discounts and family packages: If you're visiting with a group of friends or family members, look for group discounts or family packages offered by the water parks. These typically include discounted entry fees and sometimes additional perks like group locker rentals or food and beverage deals.
Remember that opening hours may vary depending on the time of the year, so be sure to check the park's official website for the most accurate information before planning your visit.
Facilities and Amenities
Food and Drink Options
Mykonos offers a fabulous variety of food and drink options at its water parks. Visitors can enjoy a range of delightful meals and refreshments at the on-site restaurants and cafés. The menus cater to diverse tastes, featuring Greek specialties, international cuisine, and kid-friendly options. Here are a few examples:
Seaside Snacks: Satisfy your hunger with a selection of tasty bites like sandwiches and wraps.
Beachside Cafés: Enjoy a refreshing coffee or tea break while indulging in traditional Greek pastries.
Refreshing Drinks: Stay hydrated with a choice of water, soft drinks, and fresh fruit juices, and for the adults, beer and cocktails.
Locker and Changing Rooms
For a more comfortable and convenient experience, Mykonos water parks provide secure, clean, and well-maintained locker and changing room facilities. They cater to the needs of all guests, ensuring a safe and enjoyable visit. A few of their features include:
Lockers: Spacious lockers are available for rent, so you can securely store your belongings while having fun at the park.
Changing Rooms: Keep your privacy with separate changing areas for men and women, equipped with showers, toilets, and clean, dry spaces for changing.
Family Facilities: Accessible and family-friendly changing rooms cater to the needs of parents with young children, as well as wheelchair users.
With these fantastic facilities and amenities, visitors to Mykonos water parks can make the most of their day out, enjoying the thrilling rides, relaxing on the shore, and sampling delicious cuisine.
Frequently Asked Questions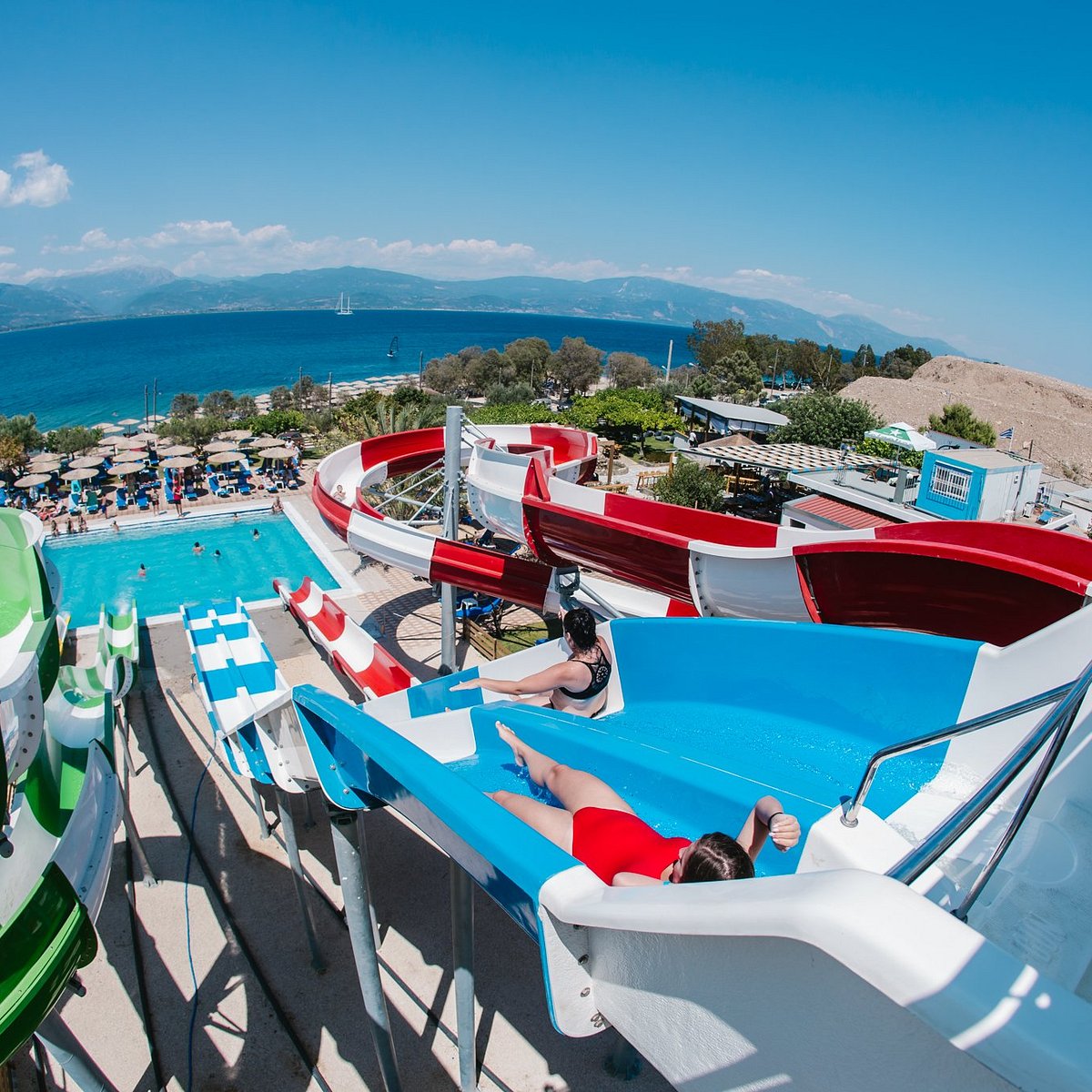 Top water park options?
There is a water park in Mykonos called Watermania, which is situated near Elia Beach. While there is limited information available online, it is still worth checking out if you are interested in water park activities.
Suitable for all ages?
Water parks are generally designed to cater to a wide range of ages and abilities, from young children to adults. While specific activities and attractions at Watermania may vary, it is likely that there will be options suitable for all ages.
Nearby accommodation?
There are many accommodation options in Mykonos, ranging from budget-friendly hotels to luxury resorts. Some popular choices near Elia Beach and Watermania include Myconian Villas, the Royal Myconian Resort, and Greco Philia Hotel Boutique. Be sure to research and book accommodations ahead of your visit, as Mykonos can be quite busy during peak seasons.
Ticket prices?
Ticket prices for Watermania may vary depending on the time of the year, age of the visitor, and specific attractions or packages. It is advisable to check their official website or contact the water park directly for accurate and up-to-date pricing information.
Best time to visit?
The best time to visit Watermania and Mykonos in general would be during the months of May, June, September, and October. This is because the weather is pleasant, and the island is not as crowded as it is during the peak summer months of July and August.
Seasonal operating hours?
The seasonal operating hours for Watermania may vary year to year. It is best to check their official website or contact them directly to find out their current operating schedule before planning your visit.
Eleni Vasiliadis, a native of the picturesque island of Corfu and co-founder of Greek Island, is a seasoned traveller, accomplished writer, and passionate advocate for Greek culture and cuisine.