Mykonos, a picturesque island in the Aegean Sea off the coast of Greece, is often thought of as a party destination with its vibrant nightlife and celebrity presence. But beyond the sparkling sands and dancing beats, Mykonos offers a wealth of activities and attractions that make it surprisingly suitable for family holidays.
With a wide array of pristine beaches, families are sure to find a stretch of sand to suit their needs.
Elia is Mykonos' longest sweep of white sand, perfect for families, while Platys Gialos and Kalafatis are known for their water sports offerings. For those who prefer a more secluded setting, the north coast beaches of Panormos and Agios Sostis are excellent choices.
Aside from the sun and sea, Mykonos is home to fascinating museums and a relaxed vibe that appeals to visitors of all ages.
There are various family-friendly activities available, such as island tours on ATVs or boat trips to explore the local parks and natural reserves. Overall, Mykonos presents a versatile destination for families seeking an unforgettable experience in the heart of the Aegean.
Mykonos for Families: An Overview
Mykonos is a popular Greek island known for its vibrant nightlife and stunning beaches. While it's often associated with party-goers and celebrities, Mykonos also offers a great family-friendly atmosphere, ensuring a memorable holiday experience for families with kids.
Family-Friendly Atmosphere
Contrary to popular belief, Mykonos has much to offer for families with children. Apart from its pristine beaches, such as Elia and Platys Gialos, the island boasts ample family-friendly activities. Kids can delight in visiting interesting museums, exploring the iconic windmills, and wandering around the labyrinth-style streets of Mykonos Town.
Safety and Convenience
Mykonos is known for its safety, making it an ideal destination for families. The locals are welcoming and helpful, ensuring tourists feel at home during their stay. Moreover, the island's convenient layout makes it easy to navigate and access essential amenities, such as restaurants, supermarkets, and health centres.
With its perfect blend of family-friendly atmosphere, safety, and convenience, Mykonos is an excellent choice for a family holiday. By steering clear of the island's party scene, families can enjoy the island's natural beauty and create unforgettable memories together.
Accommodation Options
Mykonos offers a variety of lodging options for families to ensure a comfortable and enjoyable stay on the island. In this section, we will discuss two main accommodation options: family-friendly hotels and resorts, and villa and apartment rentals.
Family-Friendly Hotels and Resorts
Mykonos is home to several hotels and resorts that cater specifically to families. Some of the best options include:
Santa Marina, A Luxury Collection Resort, Mykonos: Known as the best family hotel in Mykonos, it offers spacious rooms, a semi-private beach, and a small covered playground for kids.
Mykonos Dove Beachfront Hotel: Located in Platis Gialos, this hotel is perfect for families with its proximity to the beach and amenities like a playground, pool, and kids' club.
Destino Pacha Mykonos: Situated near Agios Stefanos Beach, this hotel provides family-friendly features such as spacious rooms, a kids' club, and a variety of activities for all ages.
Villa and Apartment Rentals
For families who prefer more privacy and independence, villa and apartment rentals can be an excellent option. These rentals offer:
Space and comfort: Villas and apartments often come with multiple bedrooms, fully equipped kitchens, and living areas, providing ample space for families to relax and enjoy each other's company.
Flexibility: Renting a villa or an apartment gives you the freedom to set your own schedule and plan meals according to your family's preferences.
Location: Many villas and apartments are situated close to the beach or in Mykonos Town, offering easy access to local attractions, restaurants, and activities.
When choosing the right accommodation for your family, be sure to consider factors like location, budget, and amenities to ensure a pleasant stay on the island.
Activities and Attractions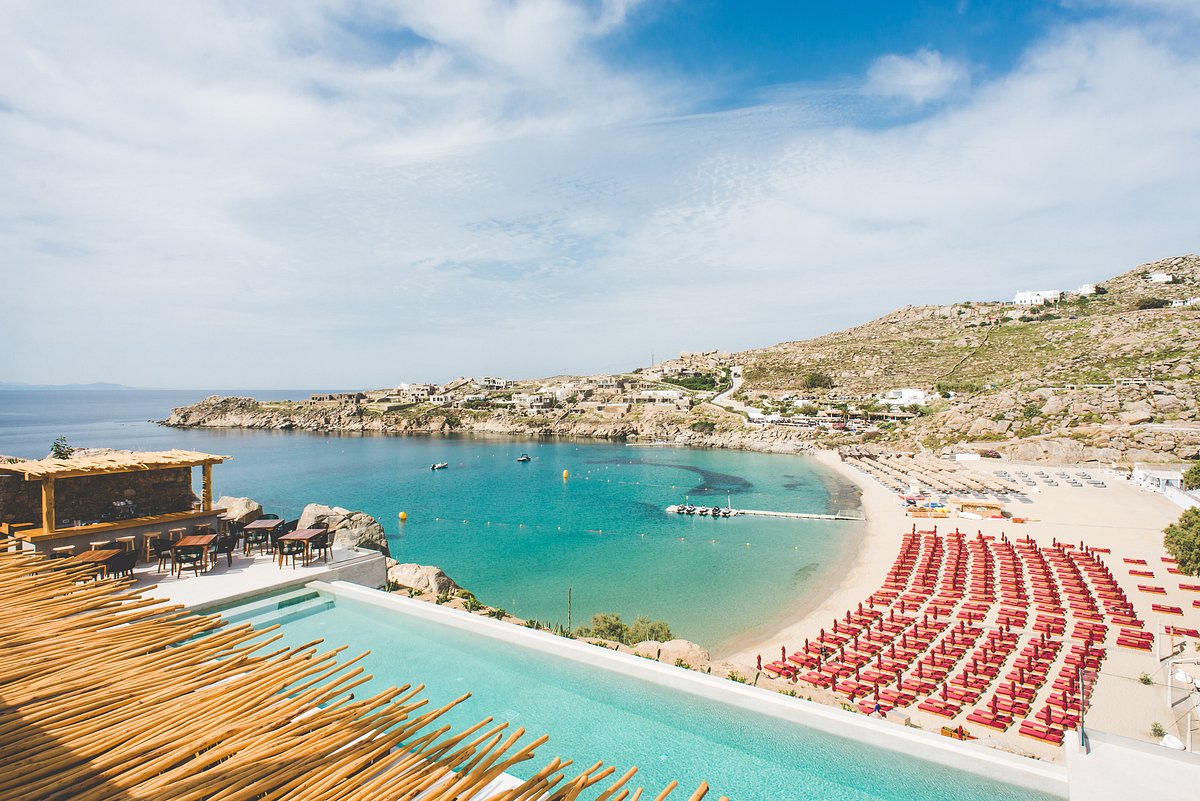 Kid-Friendly Beaches
Mykonos is known for its beautiful beaches, many of which are suitable for families. Elia, Mykonos' longest stretch of white sand, is popular with families and offers a variety of water sports. Platys Gialos and Kalafatis are additional beaches that are particularly excellent for water sports activities.
Educational and Cultural Experiences
Mykonos has plenty of educational and cultural experiences for families. Some of the must-visit historical sites include:
Windmills of Kato Mili: The iconic windmills are a symbol of Mykonos' past as an important trading centre. A great spot for family photos and learning about the island's history.
Archaeological Museum: This museum houses a collection of artefacts from the nearby island of Delos, Mykonos, and other Cyclades islands. It offers an excellent opportunity for kids to learn about the ancient civilizations and art that once thrived here.
Outdoor Sports and Adventures
For families seeking outdoor sports and adventures, Mykonos has various activities to offer, such as:
ATV Tours: Rent ATVs for older children and teenagers to explore the island, both on- and off-road. ATVs are safe enough for older kids and offer a unique way to experience the island's hidden gems.
Boat Tours & Water Sports: Nature and park attractions in Mykonos provide boat tours for families to explore the island by water. Also, consider engaging in water sports like snorkelling or windsurfing for an even more exciting experience.
Dining Options
Mykonos is a fantastic destination for families, offering a wide range of dining options that cater to all age groups and tastes. The island's culinary scene is rich in traditional Greek flavours, and there is no shortage of family-friendly restaurants to choose from. In this section, we will focus on some popular family-friendly restaurants in Mykonos.
Family-Friendly Restaurants
Niko's Taverna: One of the most frequently mentioned family-friendly restaurants in Mykonos, Niko's Taverna serves a delightful array of traditional Greek dishes in a warm and welcoming atmosphere. A perfect spot for families to enjoy a meal together.
M-Eating: Offering upmarket fusion dining, M-Eating is an excellent choice for families willing to try something different from traditional Greek food. Their menu includes a variety of dishes, with options that are sure to please both adults and children.
Funky Kitchen: Another fusion dining option in Hora, Funky Kitchen is known for its innovative approach to Greek cuisine. The restaurant offers a cosy and friendly environment, making it an ideal dining spot for families.
Joanna's Nikos Place: For families seeking a truly authentic Greek dining experience, Joanna's Nikos Place is a must-visit. The traditional Greek taverna serves delicious home-cooked meals and has a reputation for warm hospitality.
Efisia Greek Fine Dining: A more upscale option for families, Efisia offers a fine dining experience with a focus on Greek cuisine. With a diverse menu and elegant atmosphere, it's a great choice for special occasions or a treat during your stay in Mykonos.
Rhino Vegan Mykonos: If your family includes vegetarians or vegans, Rhino Vegan Mykonos is the perfect restaurant to visit. They serve healthy and delicious Greek dishes with a vegan twist, such as their popular White Rhino Salad.
In addition to these recommendations, Mykonos has a dense concentration of dining options, particularly around Hora, Platys Gialos Beach, and other popular locations. With so many family-friendly restaurants to choose from, you're sure to find one that suits your family's preferences and budget.
Transportation Tips
Getting to and around Mykonos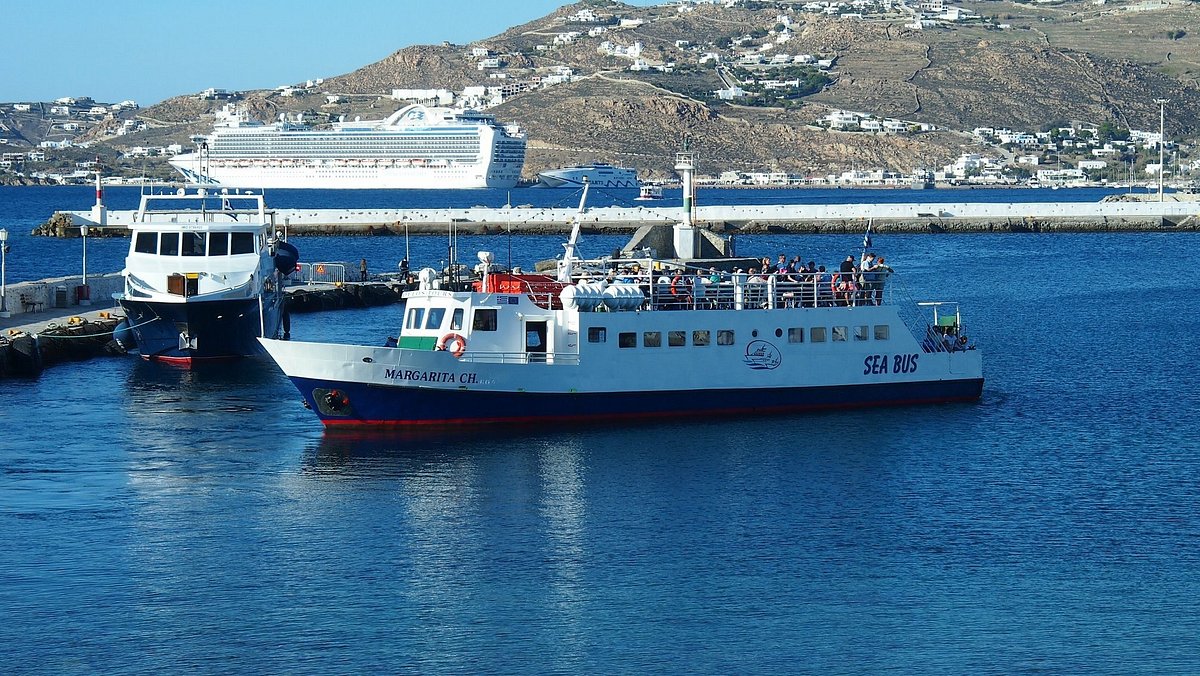 Mykonos is a fantastic destination for families, and one of the key aspects of any family holiday is transportation. Here are some helpful tips for getting to and around Mykonos with ease.
To get to Mykonos, you can choose between flying and taking a ferry. The island has an international airport with regular flights connecting to other major European cities during the holiday season. Alternatively, you can take a ferry from Piraeus or other nearby islands, such as Santorini or Naxos.
Once you've arrived on the island, getting around Mykonos is quite simple, with a variety of transport options available. Here are some popular choices:
Buses: The most economical way to explore Mykonos is by bus. There are two central bus stations on the island – Fabrika and Old Port. Bus services connect to the airport, the port, various villages, and many of the island's famous beaches.
Taxis: Taxis are readily available on Mykonos, providing a convenient mode of transportation for families. They can be a bit more expensive, but they offer a more personalised service and can get you to your destination more quickly than the bus.
Car rental: If you prefer to have more control over your schedule and destinations, you can rent a car. However, it's worth noting that many of the roads on the island are narrow, and parking can be challenging.
Scooters and ATVs: For an exciting alternative, consider renting a scooter or an ATV (all-terrain vehicle). This option allows you to navigate the island's narrow roads with ease and enjoy a unique sightseeing experience. Keep in mind that you'll need a valid motorcycle or motorbike license from your home country if you're a non-EU resident.
Water taxis: To experience a different perspective of Mykonos and access its beautiful beaches, water taxis are an excellent option. These small boats run along the coast and connect some of the popular beaches, offering an enjoyable and scenic mode of transport.
Remember to take into consideration the needs and preferences of your family when choosing your transportation options on Mykonos. Regardless of which methods you choose, you'll undoubtedly create unforgettable memories as you explore this enchanting island together.
Hailing from the historic city of Thessaloniki, Nikos Tsakiris is a passionate explorer, seasoned writer, and co-founder of Greek Island, the definitive travel blog for the Greek Islands.