Mykonos, a stunning Greek island in the Aegean Sea, is famed for its vibrant nightlife, picturesque landscapes, and cultural attractions. With its traditional white-washed houses and iconic windmills, it's no wonder that this Mediterranean paradise has become one of Greece's most sought-after tourist destinations. From lounging on beautiful beaches to exploring the island's charming streets, Mykonos offers a plethora of memorable experiences for all who visit.
One of the key attractions on this glamorous island is its impressive array of beaches, such as Paradise Beach and Super Paradise Beach, which offer not only sun-soaked relaxation but also lively beach bars for those who love to dance the night away. For travelers seeking a more tranquil experience, a stroll along the cobblestone alleyways of Hora, the main town, unveils the magic of Mykonos with its vibrant bougainvillea and Aegean-coloured doors and balconies.
Food lovers will be delighted by the island's rich culinary scene, featuring delicious Greek fare and fresh seafood. Additionally, unique cultural experiences like wine tastings, cooking classes, and art galleries make Mykonos an ideal destination for those looking to immerse themselves in the essence of Greek life. Whether you're seeking relaxation, adventure, or a mix of both, Mykonos promises an unforgettable holiday experience.
Beaches and Coastal Attractions
Mykonos offers various beautiful beaches and coastal attractions suitable for different moods and preferences. From sunbathing and sipping cocktails to engaging in water sports, Mykonos has something for everyone.
Paradise Beach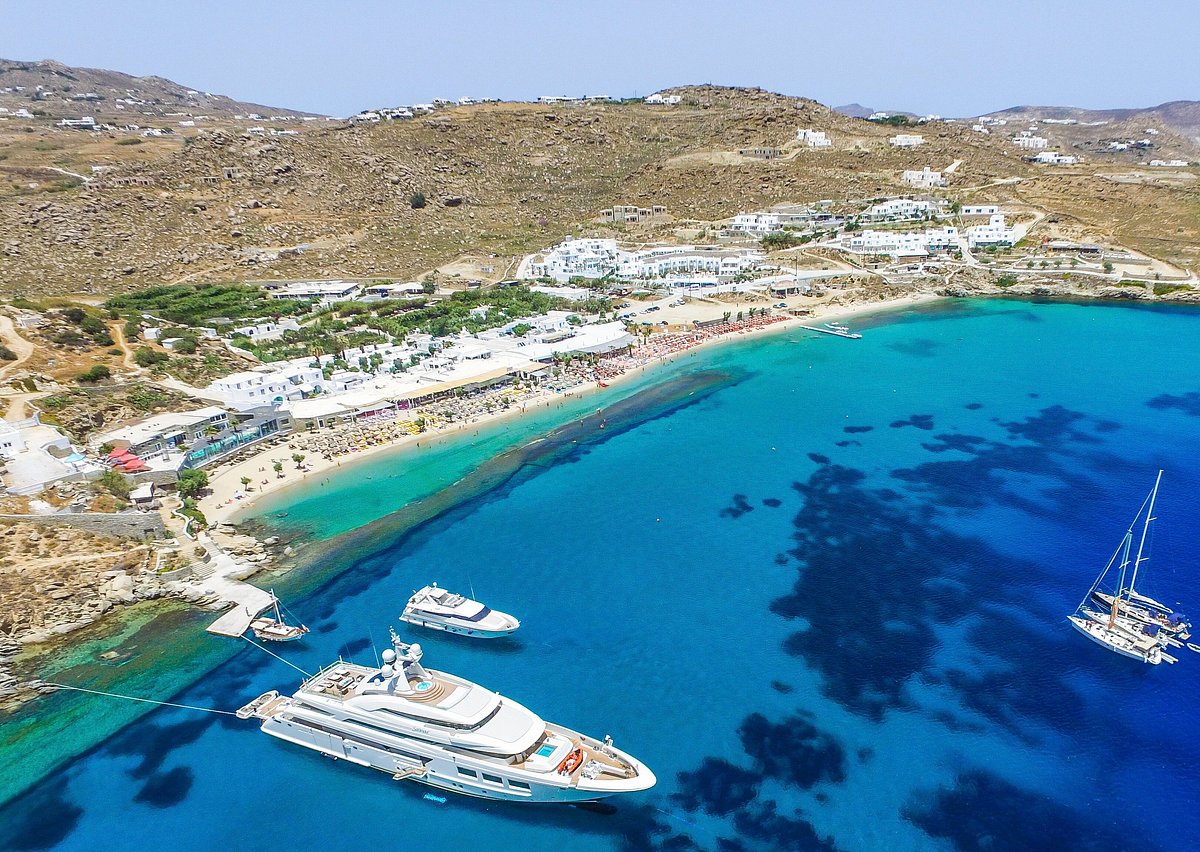 Paradise Beach is known for its lively atmosphere and scenic beauty. This beach is popular among the younger crowds and offers a wide range of amenities for visitors, including:
Sunbeds and umbrellas for rent
Beach bars and restaurants
Watersports centre for activities like jet skiing and windsurfing
Music events and beach parties
Visitors can spend their day relaxing on the sandy shores or take part in adrenaline-pumping activities.
Super Paradise Beach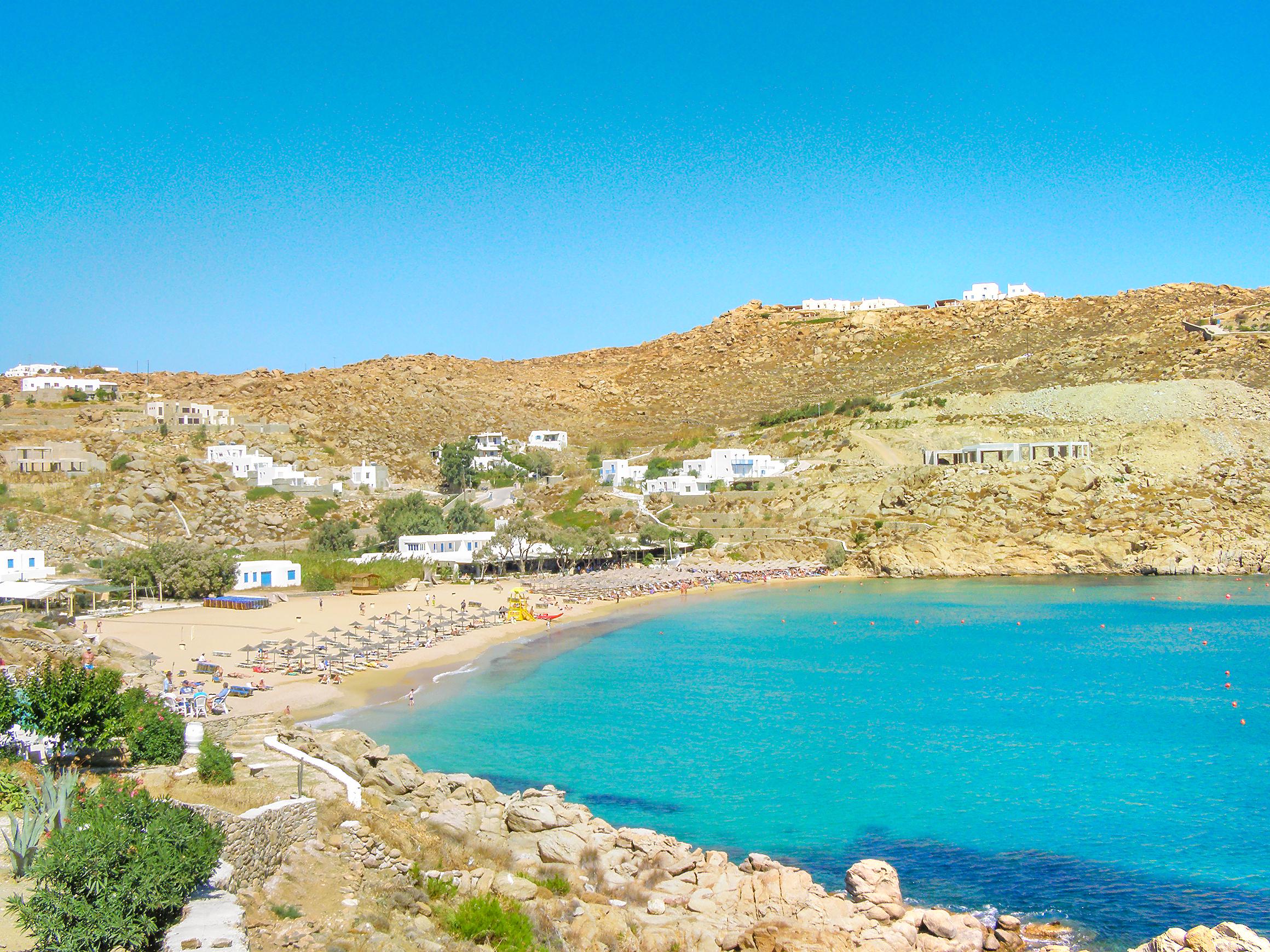 Just a short distance from Paradise Beach, Super Paradise Beach offers a more upscale and exclusive atmosphere. It attracts a diverse crowd with its vibrant parties and luxurious amenities. Enjoy the following at this beach:
Premium sunbeds and umbrellas for rent
Beach lounges and clubs
DJ sets and live music events
A gay-friendly party scene
Apart from enjoying the lively atmosphere, visitors can also appreciate the crystal-clear waters and beautiful natural surroundings of Super Paradise Beach.
Elia Beach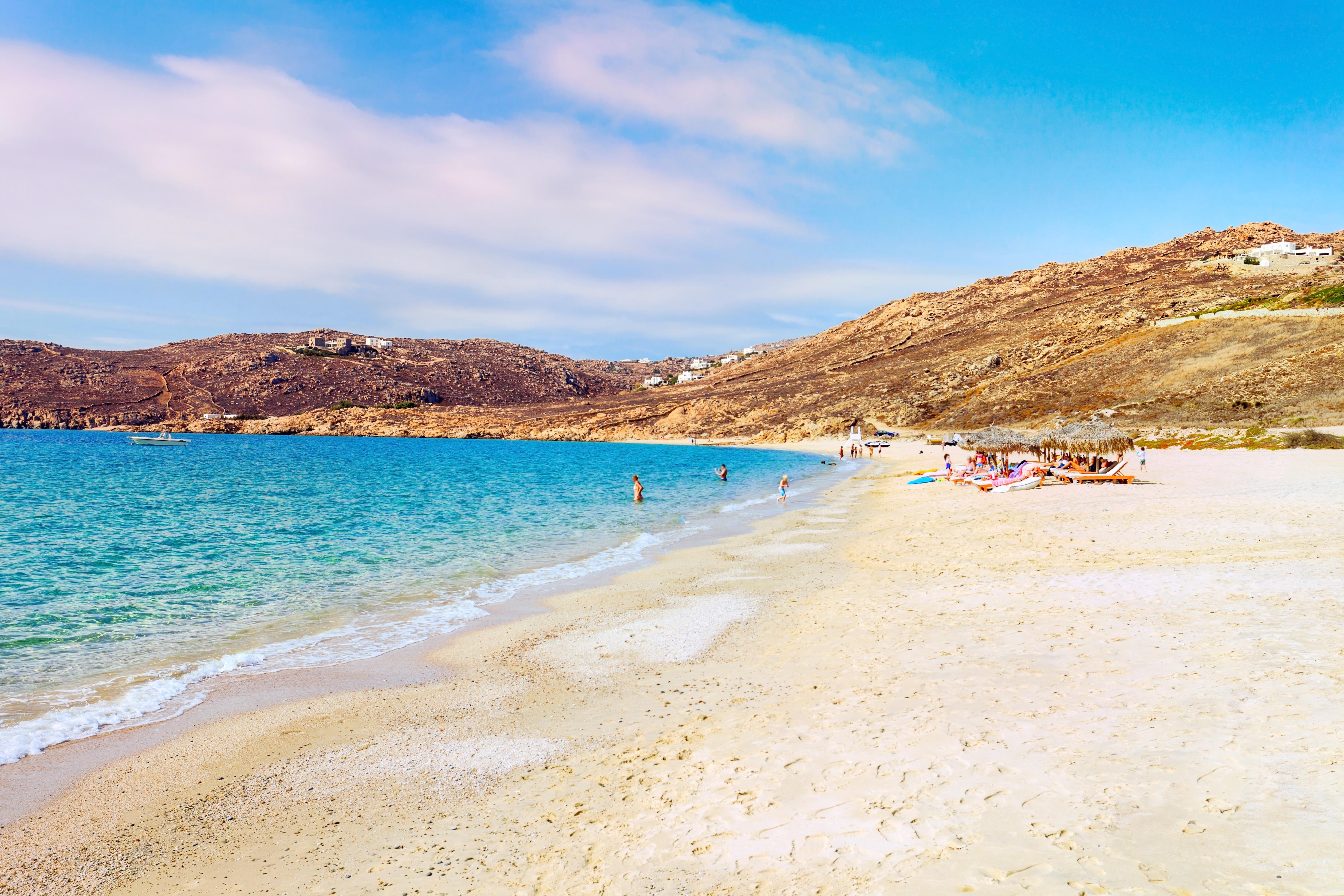 Elia Beach is a more tranquil option, preferred by families and those seeking a calmer beach experience. This is the longest sandy beach in Mykonos, providing:
Plenty of space for sunbathing and relaxation
Sunbeds and umbrellas available for rent
A variety of water sports activities, such as wakeboarding and waterskiing
Beachfront restaurants and cafes
Those who wish to take a break from the bustling beach scene can find solace in the serene environment and pristine waters of Elia Beach.
Historical Sites
Panagia Paraportiani Church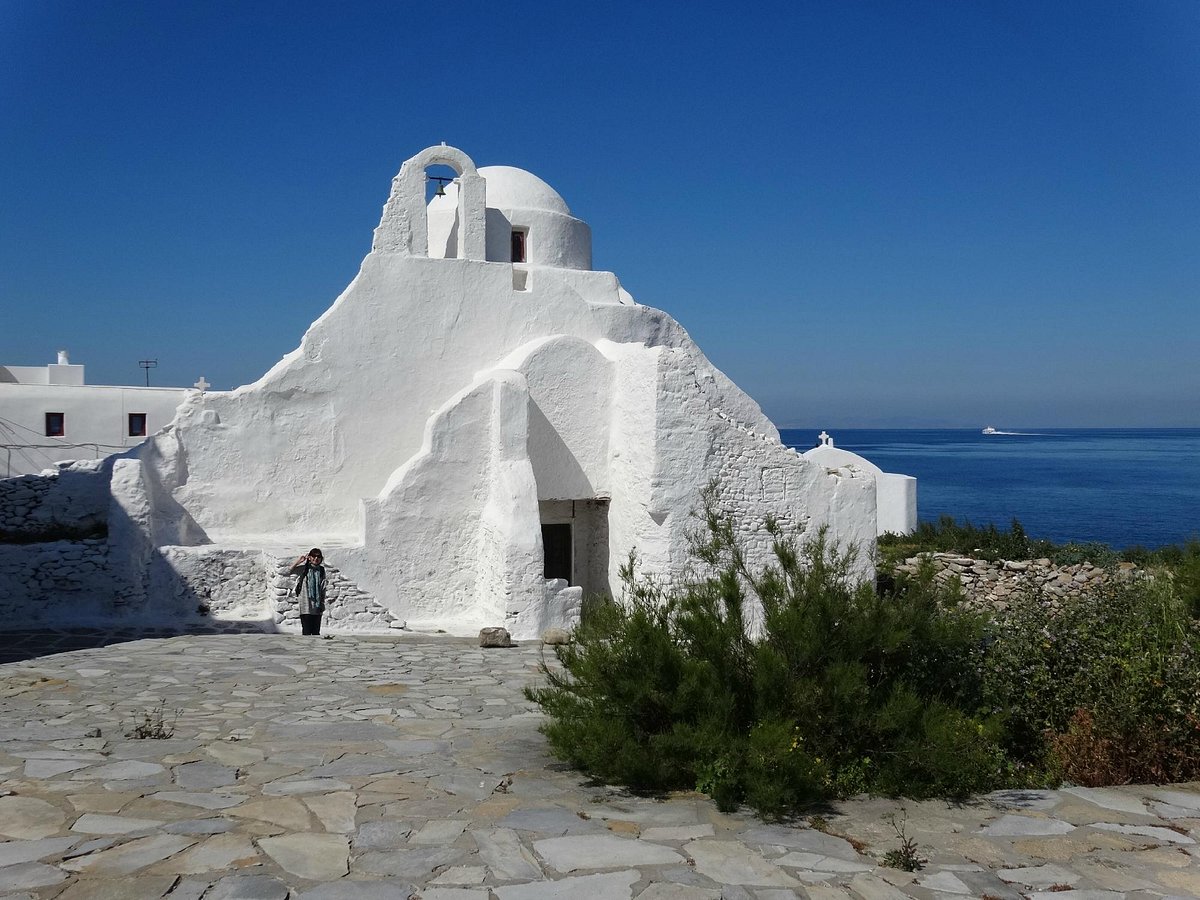 Panagia Paraportiani Church is a remarkable architectural treasure located in the charming town of Hora. This unique complex consists of five churches built on top of each other, with the oldest dating back to the 14th century. The stunning white facade contrasts beautifully with the azure waters surrounding the island. Be sure to make time for a visit to this incredible landmark during your time in Mykonos.
Archaeological Museum of Mykonos
The Archaeological Museum of Mykonos houses a fascinating collection of artifacts dating back to prehistoric times. Established in 1902, the museum showcases objects from nearby islands, including pottery, sculptures, and jewelry, providing a glimpse into the life and culture of ancient Greece. Make sure to explore the various exhibitions for a deeper understanding of the region's rich history.
Delos Island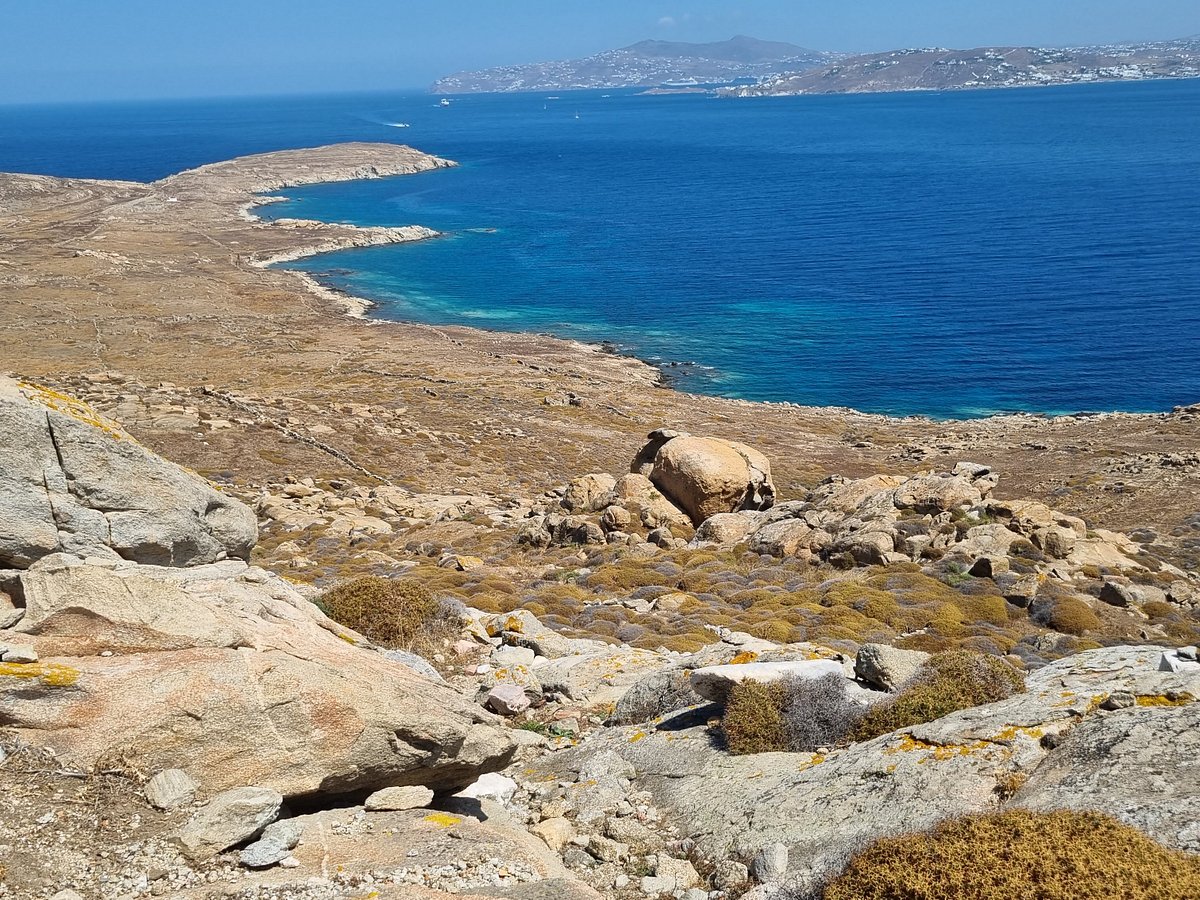 Just a short boat ride from Mykonos, Delos Island is a UNESCO World Heritage Site and one of the most important archaeological sites in Greece. Revered as the mythical birthplace of Apollo and Artemis, the island is home to an array of ruins, including temples, mosaics, and a well-preserved amphitheater. Visitors can spend hours exploring the site, soaking in the history and breathtaking scenery of this ancient island.
Nightlife and Entertainment
Little Venice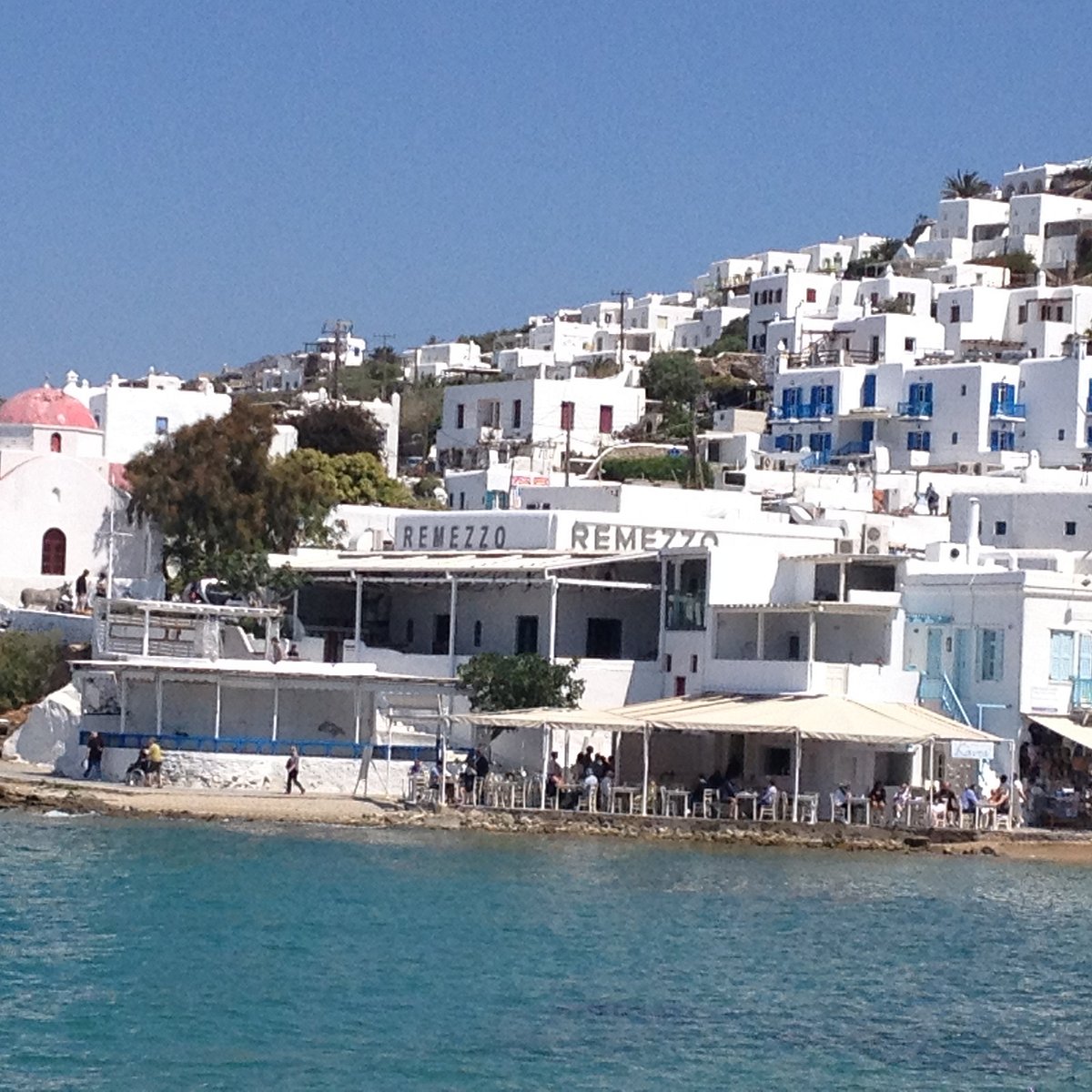 Little Venice is a picturesque area of Mykonos Town, known for its vibrant nightlife and stunning waterfront views. Many of the bars and restaurants in this area feature candlelit seating on balconies overlooking the sea. If you are looking for a cozy atmosphere and excellent signature cocktails, Galleraki is a must-visit spot. They are particularly well-known for their fresh fruit cocktails such as the 'katerinaki' made with melon.
Cavo Paradiso Club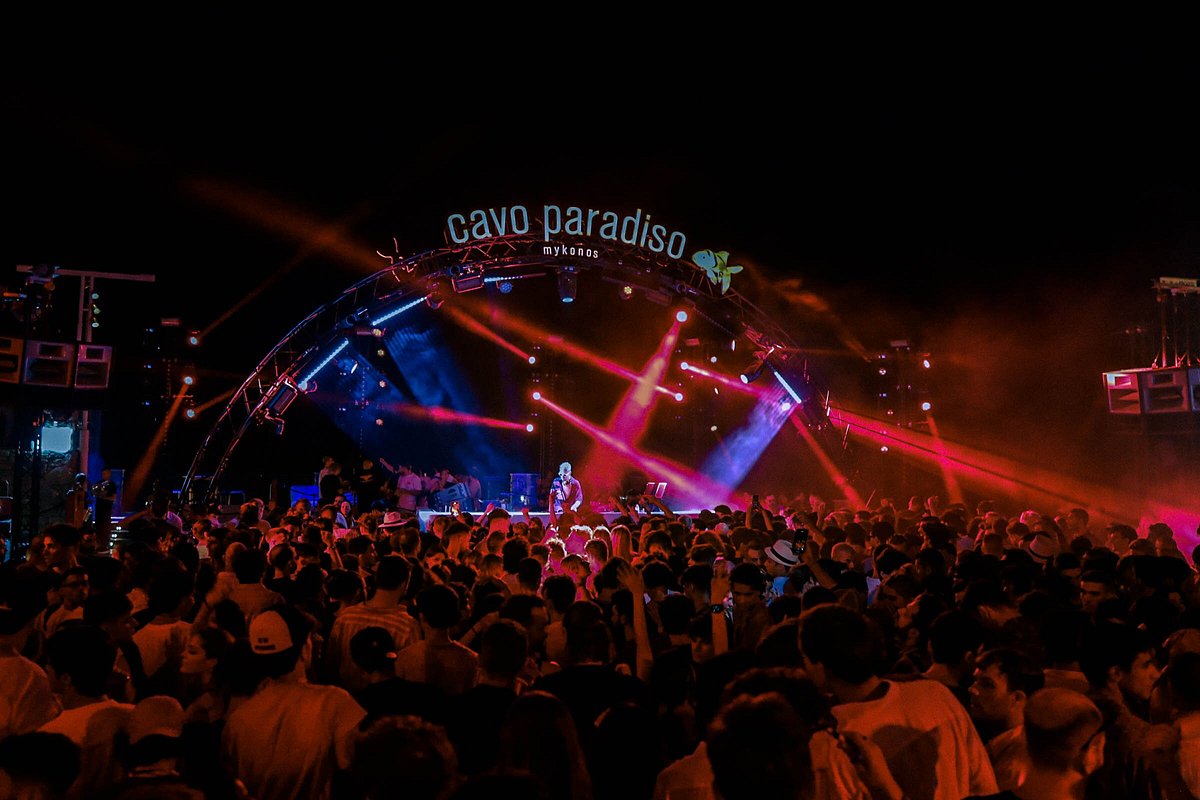 Cavo Paradiso Club is one of Mykonos' most famous nightclubs, located on a hill overlooking Paradise Beach. This open-air club boasts an impressive line-up of international and local DJs playing electronic dance music. Known for its all-night parties and beautiful sunrise views, Cavo Paradiso Club attracts both tourists and locals alike. The venue features:
A large swimming pool
VIP areas with private tables
World-class sound system
Nightly themed events
Remember to dress comfortably and be prepared for a wild party experience.
Skandinavian Bar
Offering a lively atmosphere and a wide range of drinks, Skandinavian Bar is a popular nightlife destination in Mykonos Town. This bar consists of an indoor area for dancing and an outdoor lounge where you can enjoy conversations with friends or fellow travelers. The main attractions of this venue include:
Friendly staff and a welcoming atmosphere
Happy hour specials on drinks
A mix of international and Greek music
Option to reserve a VIP table
Whether you're in the mood for dancing or simply enjoying a drink with friends, Skandinavian Bar caters to all tastes in nightlife and entertainment.
Outdoor Activities
Mykonos is a stunning destination with plenty of outdoor activities to enjoy. This section looks specifically at Mykonos Sailing, Mykonos Dive Center, and the Windmills of Kato Mili.
Mykonos Sailing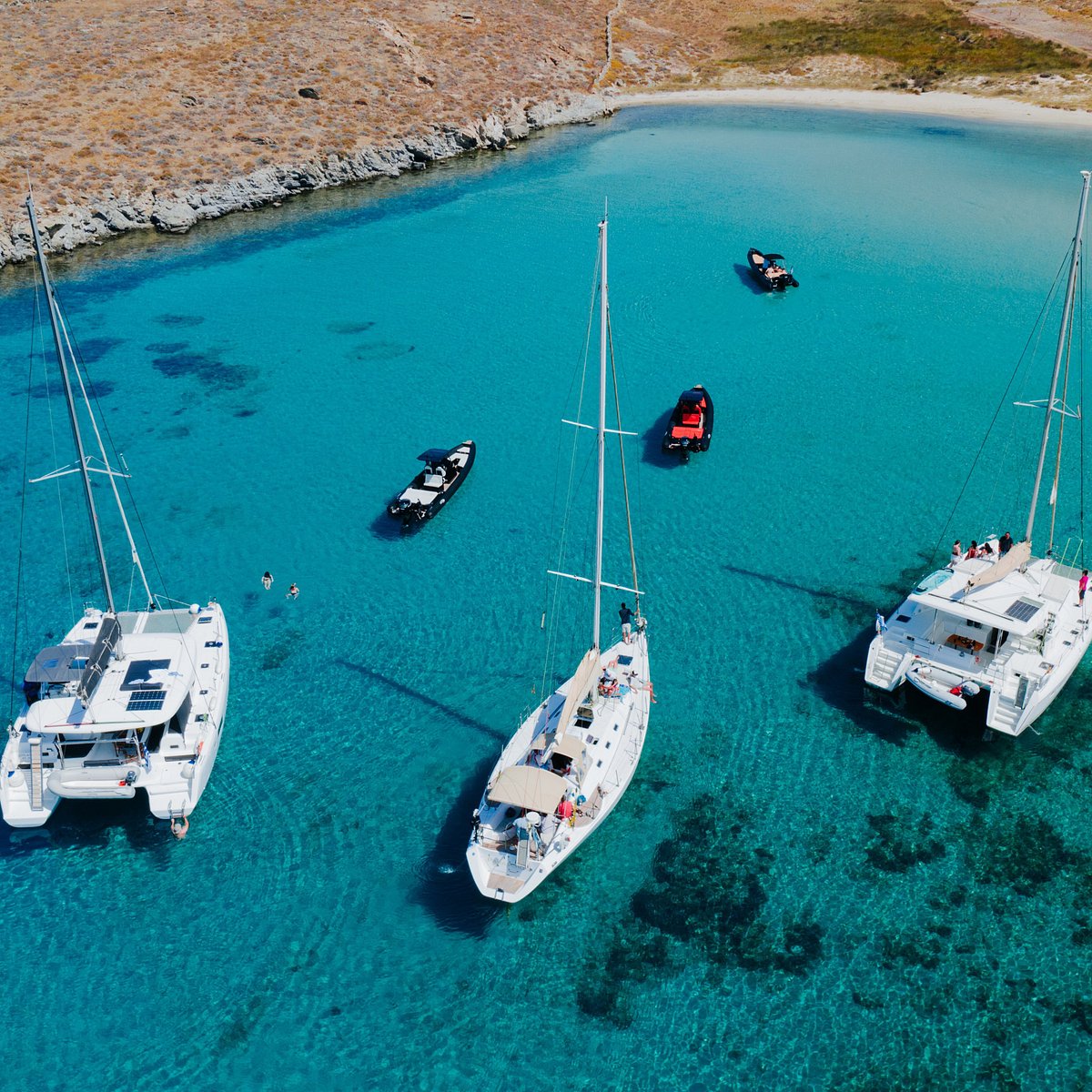 Sailing in Mykonos provides a unique way to explore the island's beauty and hidden gems. There are various options to choose from, such as:
Private yacht cruises: A luxurious experience allowing you to enjoy Mykonos at your own pace, and visit secluded beaches only accessible by boat.
Small-group tours: Share the adventure with like-minded travelers and make new friends, while exploring the nearby islands or making a trip to Delos and Rhenia.
Mykonos Dive Center
Mykonos is home to crystal-clear waters and diverse marine life, making it a fantastic location for scuba diving. The Mykonos Dive Center offers:
Beginner lessons: If you are new to scuba diving, take part in introductory courses to learn the basics and gain confidence underwater.
Certified dives: Already a certified diver? Join a guided dive trip to explore the beautiful underwater landscape around Mykonos and spot various marine life like fish, octopuses, and sea turtles.
Windmills of Kato Mili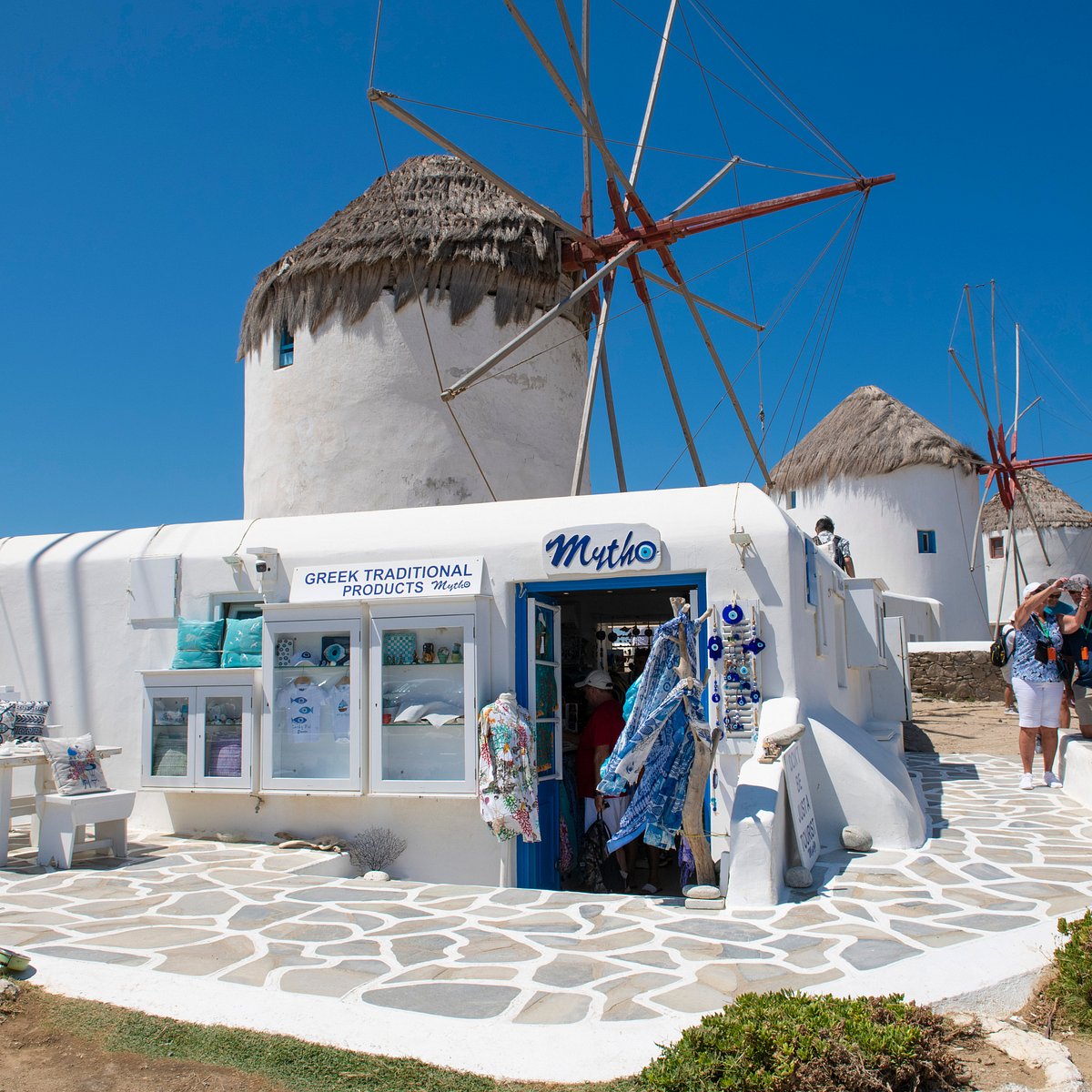 The iconic windmills of Kato Mili are a must-visit attraction in Mykonos. Located atop a hill overlooking the harbour, the seven windmills offer:
Spectacular views: Take a short walk up the hill to enjoy panoramic views of the island and watch ferries arriving with holidaymakers.
Sunset spot: Stay put for one of the island's best sunset views, making for perfect photo opportunities and unforgettable moments.
Local Cuisine
Mykonos is known for its vibrant nightlife and beautiful beaches, but the island also offers a unique culinary experience. Featuring a variety of traditional Greek dishes with a Mykonian twist, visitors can indulge in fresh seafood, flavourful meats, and delicious local produce. In this section, we will explore three popular restaurants in Mykonos: Kikis Tavern, Funky Kitchen, and Oregano Cook & Grill.
Kikis Tavern
Kikis Tavern is a charming, family-run restaurant situated on the northern coast of the island, near Agios Sostis beach. Known for its delicious grilled dishes and idyllic seaside location, Kikis Tavern offers:
A variety of fresh local seafood, such as octopus and sea bream
Succulent grilled meats, including pork chops and sausages
Tasty Greek salads and side dishes, made from seasonal, locally-sourced produce
A cozy atmosphere and friendly service
Please note that Kikis Tavern does not take reservations, so it's best to arrive early to secure a table.
Funky Kitchen
Located in the heart of Mykonos Town, Funky Kitchen boasts a relaxed atmosphere, modern decor, and an eclectic menu inspired by traditional Greek cuisine. Some highlights of their offering include:
Creative starters and salads, such as the fava bean puree and soft-shell crab
A selection of inventive main dishes, such as lamb shank with orzo pasta and seabass with black risotto
Delicious desserts, including baklava cheesecake and Greek yogurt mousse
An extensive wine list featuring local and international options
Funky Kitchen's innovative take on classic Greek flavours has made it a favourite among locals and tourists alike.
Oregano Cook & Grill
Oregano Cook & Grill, located in the bustling area of Ornos, serves up traditional Mykonian and Greek dishes in a welcoming, casual environment. Known for high-quality ingredients and generous portions, their menu offers:
Classic Greek meze and appetisers, like tzatziki, dolmades, and grilled halloumi
A variety of seafood dishes, such as grilled sardines and calamari
Hearty meat options, including souvlaki, gyro, and traditional moussaka
A choice of vegetarian options, including gemista (stuffed peppers) and spanakopita (spinach and feta pie)
Oregano Cook & Grill is an excellent option for those looking to enjoy a delicious and authentic meal while experiencing Mykonos's lively atmosphere.
Eleni Vasiliadis, a native of the picturesque island of Corfu and co-founder of Greek Island, is a seasoned traveller, accomplished writer, and passionate advocate for Greek culture and cuisine.