Mykonos, a popular tourist destination in the Southern Aegean region of Greece, experiences a mild Mediterranean climate throughout the year. However, as the island transitions from autumn to winter, the weather in December can be quite different from the warmer months. The arrival of cooler temperatures and increased precipitation can offer a distinct atmosphere for travelers visiting during this time.
In December, the average temperatures on Mykonos typically range from a low of 8°C to a high of 13°C, indicating a noticeable drop from those experienced in November. With rainfall levels on the rise, visitors can expect chillier and windier days during their stay. These winds can sometimes be strong, making the air feel colder than it actually is, hence it's essential to pack appropriate warm clothing and waterproof gear.
Despite the cooler weather, Mykonos still offers its unique charm and beauty in December. The island's trademark whitewashed buildings, winding alleyways, and pristine beaches can provide a quieter and more tranquil experience, as the bustling tourist crowds from the peak summer months have dwindled.
General Weather Conditions in December
Temperature Ranges
In December, Mykonos experiences mild weather with an average temperature of 12.4 °C (54°F). The minimum temperature is usually around 10.7 °C (51.2°F), while the maximum temperature reaches approximately 14°C (57.3°F). During the coldest nights of the month, the temperature may drop to around 5°C (41.5°F), with the lowest temperature ever recorded being 2 °C (35.6 °F) in December 1991.
Precipitation Levels
December receives a significant amount of rainfall, averaging 165mm throughout the month. There are usually about 8 days with measurable precipitation, making it important to bring rain gear when visiting Mykonos during this time.
Wind Speed and Direction
Mykonos is known for its strong winds, particularly during the summer months. However, in December, wind speeds are generally lighter compared to other seasons.
What to Pack for Mykonos in December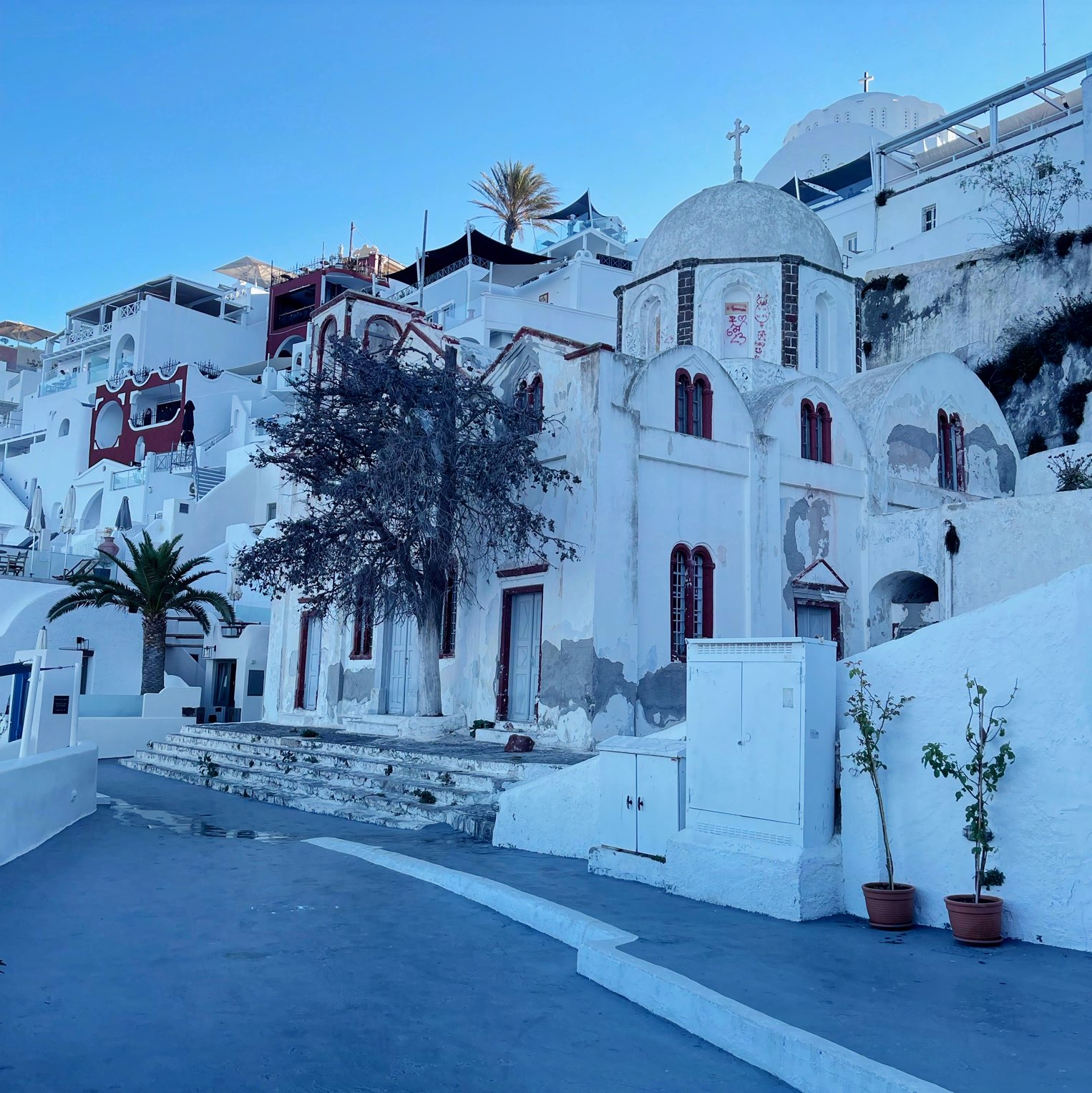 Clothing Tips
In December, Mykonos experiences mild temperatures, with lows in the mid-50s°F (12-15°C). Therefore, it's important to pack clothes that can be layered for warmth and comfort. Consider these clothing items while packing for Mykonos in December:
Long-sleeve shirts and sweaters: Opt for light layers like long-sleeve shirts, sweaters, and cardigans that can easily be added or removed as the temperature changes throughout the day.
Light jacket: Bring a lightweight jacket or coat for the evenings when temperatures drop.
Trousers and jeans: Pack a few pairs of jeans or trousers to stay warm and comfortable during your visit.
Comfortable shoes: Mykonos streets can be uneven and steep, so it's essential to pack comfortable, sturdy shoes for walking and exploring the island.
Swimsuit: Although it may not be prime beach season, indoor pools and hot tubs are still available at some accommodations, so pack a swimsuit just in case.
Essential Accessories
Along with suitable clothing for the cooler December weather, remember to pack these essential accessories for a comfortable and enjoyable trip to Mykonos:
Umbrella or raincoat: December can bring occasional rain showers, so be prepared with an umbrella or a lightweight, waterproof jacket.
Sun protection: Despite the cooler temperatures, the sun can still be strong, so pack sunglasses, sunscreen, and a hat to protect your face and eyes from harmful UV rays.
Travel adapter: Greece uses the Europlug Type C and Type F sockets, so if your electronic devices have a different plug type, bring a travel adapter to keep them charged and operational.
Day bag: Carry a small, lightweight day bag for essentials like your wallet, phone, camera, and any personal items you'll need while exploring the island.
Outdoor Activities and Events in December
Popular Beaches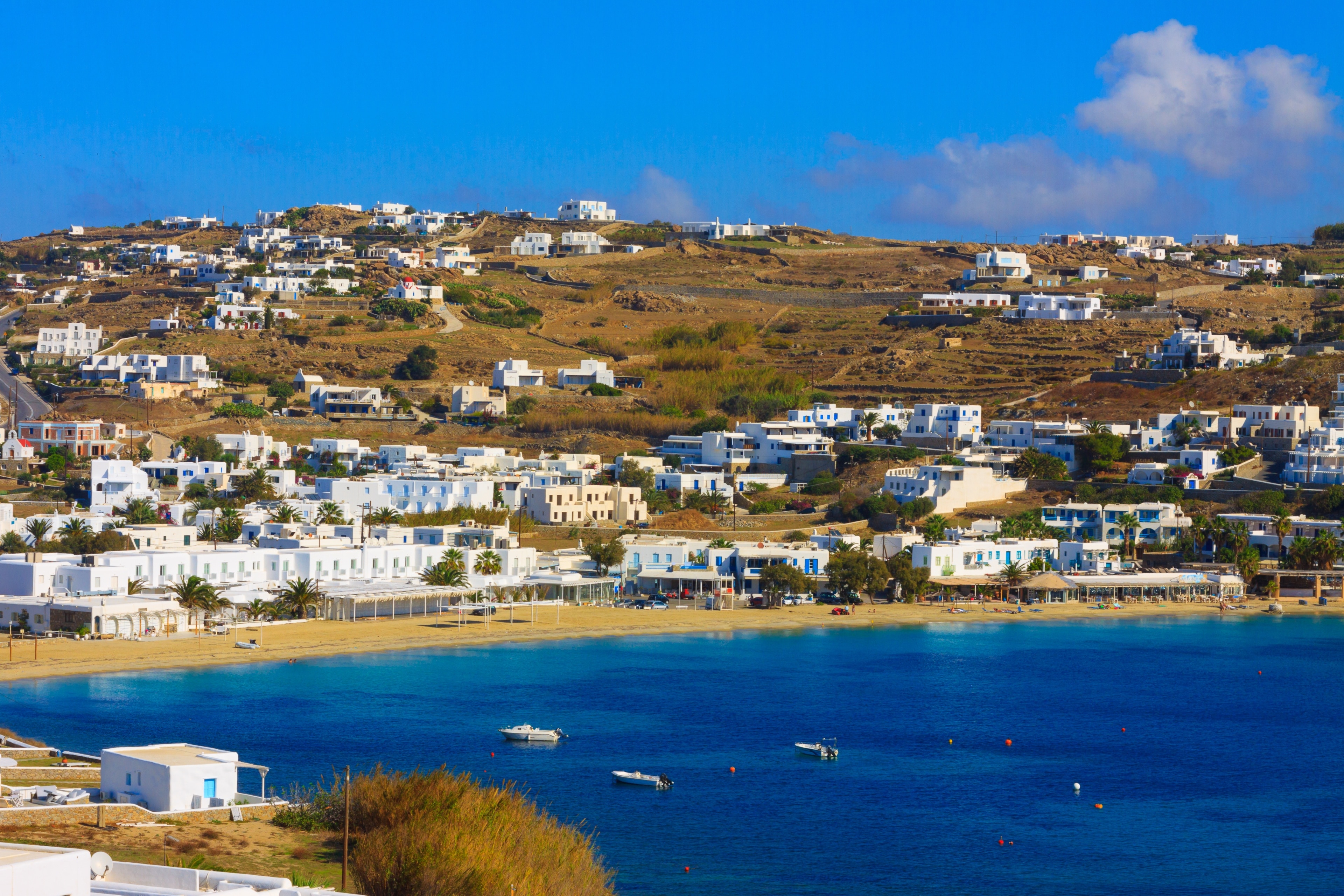 In December, the weather in Mykonos is mild with temperatures around 16°C and 11 hours of sunshine per day. While it might not be the ideal beach weather, you can still stroll along the coast and enjoy the quieter atmosphere:
Ornos Beach: A family-friendly beach known for its tranquil environment and soft sands. It has beach bars and sunbed rentals, perfect for a peaceful day by the sea.
Agios Ioannis Beach: This picturesque beach offers stunning views and a quiet atmosphere, ideal for a leisurely walk or a romantic picnic.
Cultural Experiences
December is a lovely time to explore the cultural side of Mykonos. The cooler temperatures and fewer tourists make it comfortable and relaxing to visit historical sites and attend local events:
Mykonos Town: Enjoy strolling through the narrow, winding streets of Mykonos Town, admiring the iconic windmills and whitewashed buildings. Visit the Panagia Paraportiani Church and explore the fishing harbour of Little Venice.
Mykonos Biennale: Held in early December, this art festival offers a unique cultural experience, showcasing works by artists from around the globe in various locations across the island.
Archaeological Museum of Mykonos: Discover the ancient artifacts and sculptures housed in this museum, which provide a glimpse into Mykonos' rich history.
Hailing from the historic city of Thessaloniki, Nikos Tsakiris is a passionate explorer, seasoned writer, and co-founder of Greek Island, the definitive travel blog for the Greek Islands.