Mykonos and Naxos are two of Greece's most popular islands, known for their stunning beaches, vibrant culture, and picturesque landscapes. Located in the Cyclades Islands group, these two destinations boast a combination of glamour and tradition that attracts countless travellers eager to explore their charm. Travelling between these two islands is a great way to experience their unique offerings and make the most of your time in the Aegean Sea.
One of the most convenient ways to travel between Mykonos and Naxos is by ferry. The journey typically lasts between 35 and 45 minutes, with daily crossings available from the end of March to October. The Mykonos-Naxos connection is operated by three ferry companies: Seajets, Minoan Lines, and Fast Ferries. It is essential to keep in mind that ferry timetables are subject to change depending on the season, so it's vital to check schedules before planning your trip.
In addition to the convenience factor, the ferry ride between Mykonos and Naxos also provides travellers with an opportunity to soak in the breathtaking views of the Aegean Sea. As you make your way between these two beautiful islands, you'll be surrounded by crystal-clear waters, towering cliffs, and endless opportunities for adventure. By choosing to explore both Mykonos and Naxos, you'll be treated to a truly unforgettable Greek island experience.
Getting from Mykonos to Naxos
By Ferry
There are daily ferry crossings from Mykonos to Naxos, typically running from the end of March until October. The journey takes approximately 1h 17m, with ticket prices ranging from €29.50 to €79.70. Multiple ferry companies offer this route, including SeaJets, Minoan Lines, and Fast Ferries.
Frequency: Every day
First trip: 10:40
Last trip: 16:05
Average duration: 1h 17m
Price range: €29.50 – €79.70
During peak travel season, up to nine ferries a day sail from Mykonos to Naxos. It is essential to keep in mind that ferry schedules may vary depending on the time of year and overall demand.
| Ferry Company | Estimated Duration |
| --- | --- |
| SeaJets | 35 min |
| Fast Ferries | 45 min |
| Minoan Lines | 45 min |
By Air
Currently, there are no direct flights between Mykonos and Naxos. The most feasible option for travellers remains the ferry service mentioned above.
Comparison of Transportation Methods
Speed and Duration
There are two main ways to travel between Mykonos and Naxos – by car ferry or by ferry. The car ferry typically takes around 35 minutes to reach Naxos from Mykonos, while the regular ferry takes about 45 minutes. Both options provide a relatively fast and efficient way to travel between the two islands.
Cost
The cost of the car ferry ranges from €9 to€90, depending on the type of seat and vehicle you have (if any). On the other hand, the regular ferry offers different pricing options based on the ferry operator and seating class. Mykonos to Naxos ferry operators include Blue Star Ferries, SeaJets, Minoan Lines, and Fast Ferries, with up to 9 ferries per day during the high season.
Comfort and Convenience
Both car ferries and regular ferries offer a range of amenities to ensure a comfortable journey. The seating options on each ferry type can vary but generally include:
Economy class seating: Basic seats in a shared communal area.
Air seats: Reserved seats in a quieter, air-conditioned area.
Business class: Spacious, comfortable seating with access to additional amenities, such as complimentary snacks and beverages.
In addition, some ferry services offer onboard facilities such as food and drink outlets, restrooms, and outdoor seating areas. Wi-Fi and electrical sockets for device charging may also be available on select services.
Things to Do on Naxos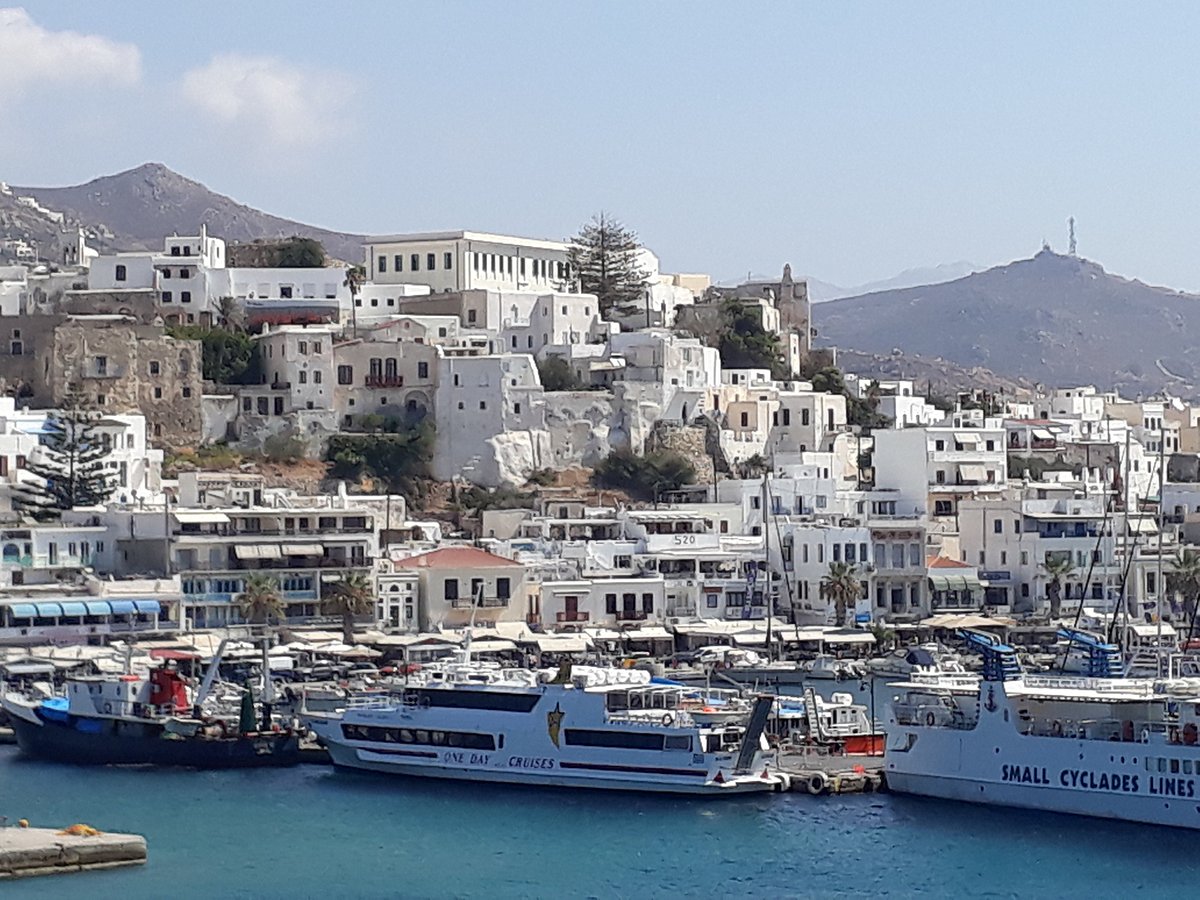 Naxos, a beautiful island in Greece, offers numerous attractions for visitors to enjoy. In this section, we will explore some of the popular activities and sights on the island, including its breathtaking beaches, awe-inspiring historical sites, and exciting outdoor activities.
Beaches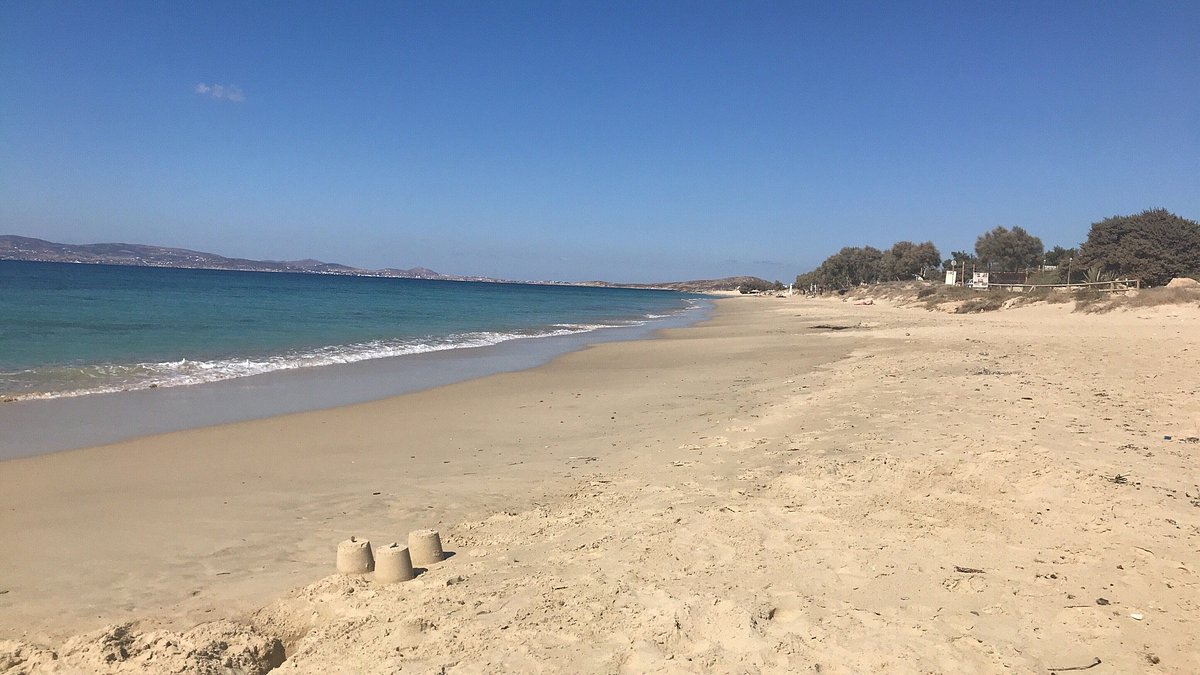 Naxos boasts a variety of stunning beaches, including white sandy shores and crystal-clear waters. Some of the top beaches to visit are:
Plaka Beach: This picturesque location offers soft sands and turquoise waters, perfect for sunbathing and swimming.
Agios Prokopios: Often considered one of the best beaches in Naxos, Agios Prokopios is known for its beautiful shoreline and clear waters.
Agia Anna: A quieter spot, Agia Anna is ideal for those seeking a more peaceful beach experience.
Historical Sites
The island is steeped in history, with several ancient ruins and historical sites that you can't miss:
Portara: This ancient stone gateway, dating back to the 6th century BC, offers amazing views of the surrounding landscapes.
Temple of Demeter: Dedicated to the goddess of agriculture, this well-preserved temple is an important piece of Naxos's history.
Kastro District: Explore the narrow streets and historic buildings in Naxos Chora's medieval district, home to the Venetian castle and other intriguing sites.
Outdoor Activities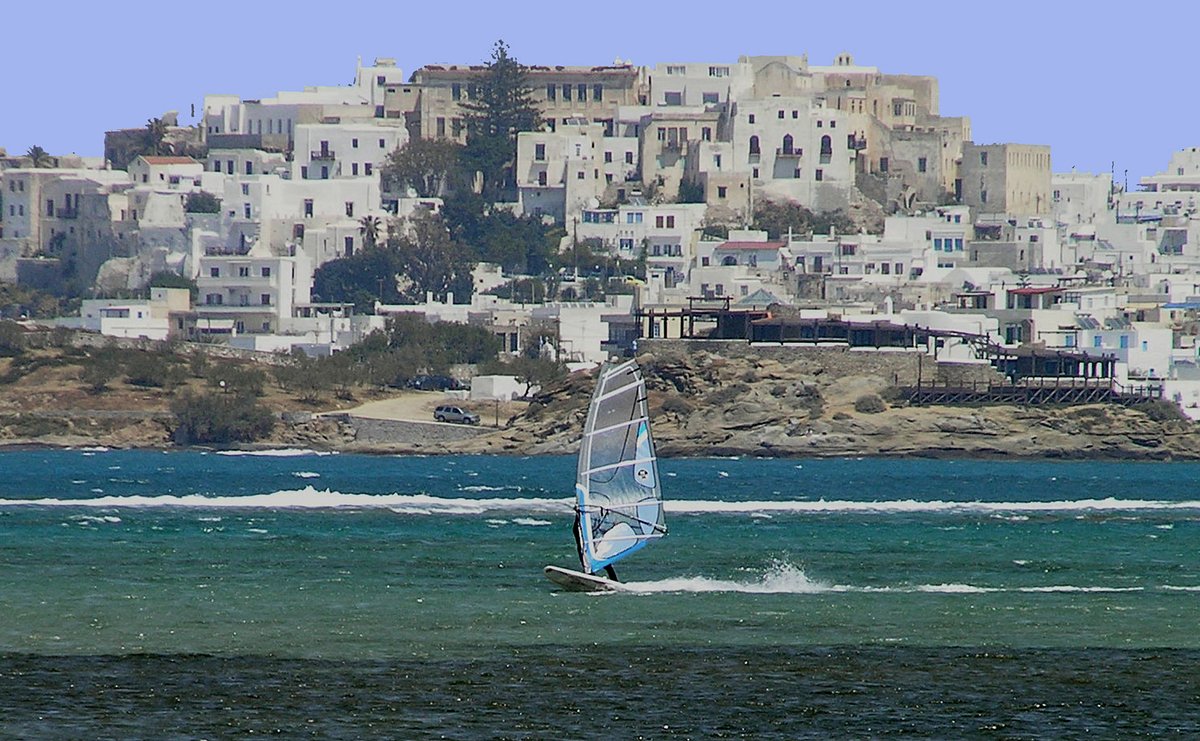 For those interested in more active pursuits, Naxos offers a wealth of outdoor activities:
Hiking: Make your way to the summit of Mount Zas, the highest point in the Cyclades, offering spectacular panoramic views.
Windsurfing: Known as a windsurfing paradise, Naxos is the perfect place to try this exhilarating water sport.
Cycling: Rent a bike and explore charming villages or picturesque countryside, experiencing the beauty of the island at your own pace.
In summary, Naxos is a captivating destination, offering visitors a wide array of activities and attractions amid its stunning natural beauty and rich history.
Accommodation Options
Hotels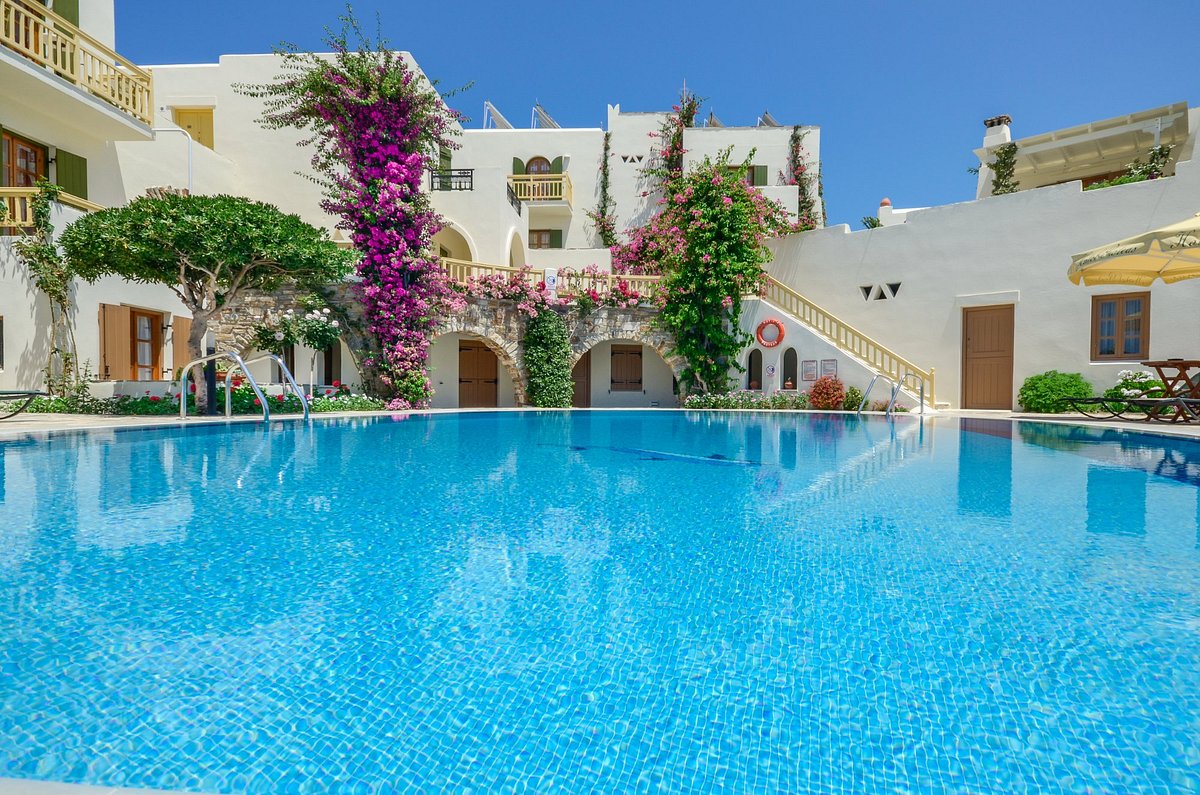 Mykonos and Naxos both offer a wide range of hotels to fit every budget and preference. From luxurious five-star hotels to budget-friendly options, these islands cater to all types of travellers. Many upscale hotels provide world-class amenities such as spa facilities, private pools, and exquisite dining experiences. On the other hand, there are numerous affordable hotels perfect for those on a tighter budget, yet still offer comfortable rooms and essential amenities.
Villas
For those seeking a more exclusive and private experience, renting a villa on either Mykonos or Naxos is an excellent option. These islands are home to many holiday homes, villas, and resorts that are available for short-term or long-term stays. Villas in Mykonos and Naxos often feature modern designs, private swimming pools, and stunning views of the Aegean Sea. These accommodations allow guests to fully immerse themselves in the relaxed, Mediterranean lifestyle while enjoying the comfort and privacy of their own space.
Guesthouses
Alternatively, if you're looking for a more personalised and intimate accommodation experience, guesthouses are a great choice. Mykonos and Naxos are home to several charming guesthouses, which often combine traditional Greek architecture with modern comforts. Staying in a guesthouse allows visitors to experience the warmth and hospitality of the islands while enjoying cosy rooms and home-cooked meals. These accommodations typically offer a more affordable and authentic island experience in comparison to hotels or villas.
Hailing from the historic city of Thessaloniki, Nikos Tsakiris is a passionate explorer, seasoned writer, and co-founder of Greek Island, the definitive travel blog for the Greek Islands.